30th Anniversary Gift Ideas for Your Husband, Wife or Favorite Couple
Celebrate the pearl anniversary with one of these sentimental presents.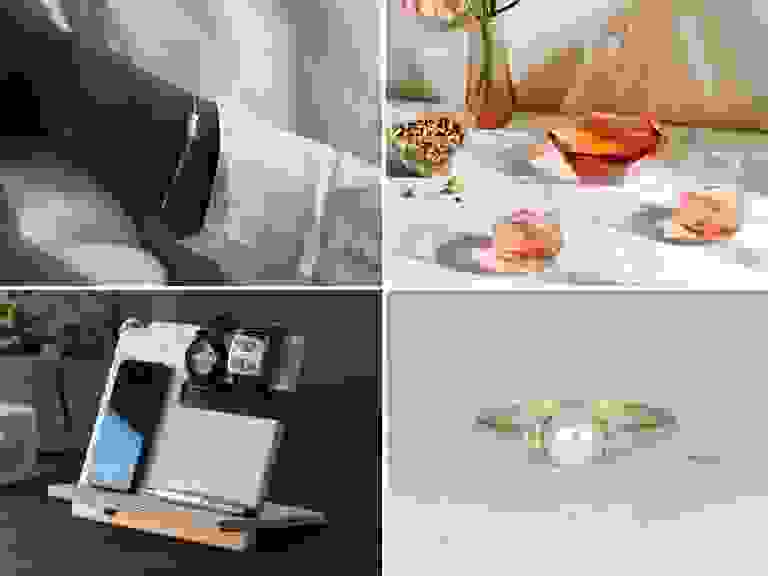 We have included third party products to help you navigate and enjoy life's biggest moments. Purchases made through links on this page may earn us a commission.
Congrats! You've made it to a milestone 30 years with your spouse (or you know a couple that has). Now it's time to pick out the perfect 30th anniversary gift. Three decades together is a feat that deserves to be celebrated, so we've compiled the best 30-year anniversary gift ideas for him, her and them that you can buy right now. Whether you and your spouse are celebrating together or you want to shower your parents with love for their anniversary, one of these presents will be an extra-thoughtful gesture to mark the date. 
What is the 30th anniversary gift?
Traditional: Pearl
It's tradition to pair each anniversary year with a material or gemstone, and the 30th anniversary is represented by pearl. Pearls symbolize beauty from within. And while pearl jewelry is a timeless gift, you can definitely interpret the theme in more creative ways. We've done the work for you and found a variety of pearl-inspired presents that'll cater to any taste.  
Modern: Diamond
In addition to pearls, modernists have also adopted diamonds to represent the 30th anniversary gift. Like pearls, diamonds can withstand pressure and time—so what better way to represent your marriage than with the most precious gem? While diamond jewelry may be the first thing that comes to mind, diamond-shaped presents are a more unique (and still totally acceptable) twist.
In this article:
30th Anniversary Gifts for Him
If you're looking for a classic anniversary gift for your husband that doesn't follow the traditional pearl or diamond theme, we've compiled some alternative 30th anniversary gift ideas for him that he'll love.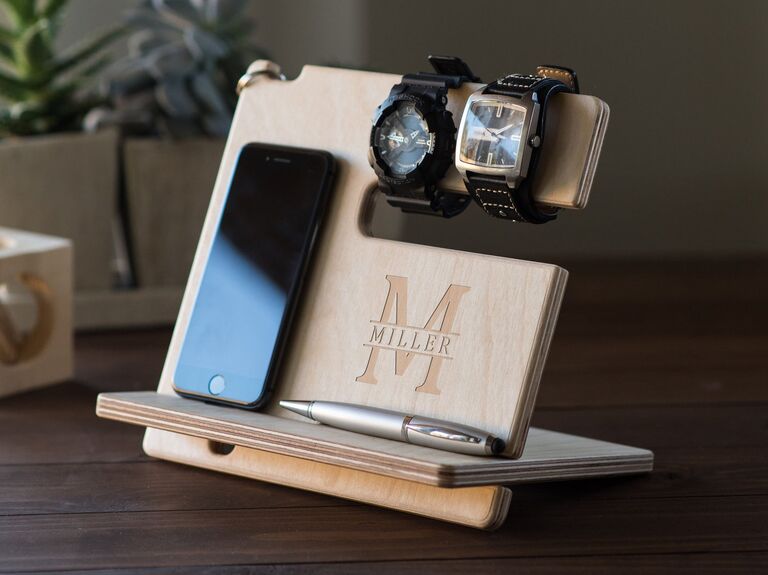 A wooden docking station is the perfect gift to help your husband keep all his everyday essentials organized and mess-free. Have it engraved with his name for a 30th wedding anniversary idea that's both personal and practical.
Etch Craft personalized docking station, $39, Etsy.com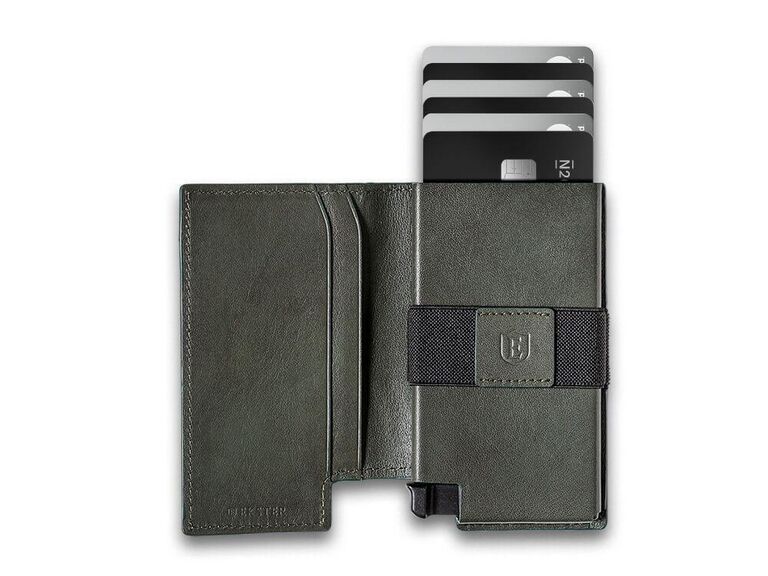 Upgrade his old wallet to this sleek leather card case. It comes in stylish green (which just happens to be the 30th anniversary color), but the best part is the discrete button that pops out his card slots for ultra-easy access.
Ekster Classic Collection Parliament wallet in Juniper Green, $89, Ekster.com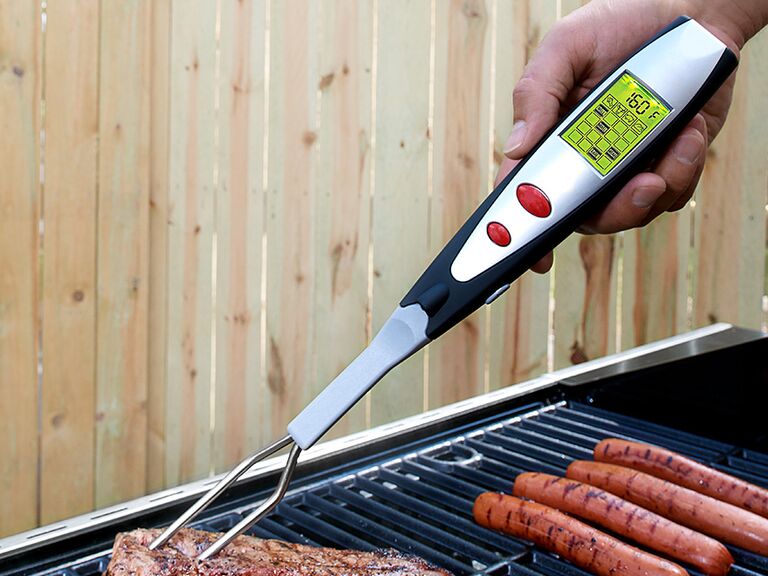 Shopping for a guy who loves to cook? Check out this 30th anniversary gift for your husband to pull out at backyard barbecues and summer soirees. With this nifty digital thermometer, he'll be the king of the grill, always charring food to the perfect temp.
Sharper Image digital BBQ fork, $45, SharperImage.com
If your S.O. has accumulated an impressive tie collection over the years, consider gifting him a stylish travel case for them. This 30-year anniversary gift for your husband will be his new favorite companion (after you, of course).
The Tie Bar navy travel tie storage case, $35, TheTieBar.com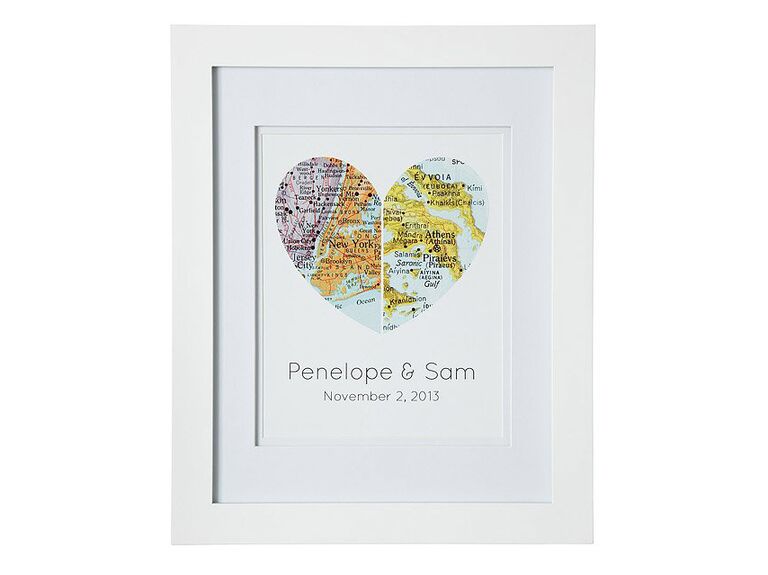 Looking to wow your sweetheart with something sentimental? There are plenty of 30th anniversary gift ideas to choose from, like this personalized heart map. Pay tribute to the places you're from while celebrating the love that brought you together with this 30th wedding anniversary gift for your husband.
Melissa Schwall Map of Our Hearts, $130, UncommonGoods.com
30th Anniversary Gifts for Her
After 30 years together, your wife deserves to be showered with gifts that will make her feel special. Below, we've rounded up the best 30th anniversary gift ideas for her that don't follow the traditional pearl theme.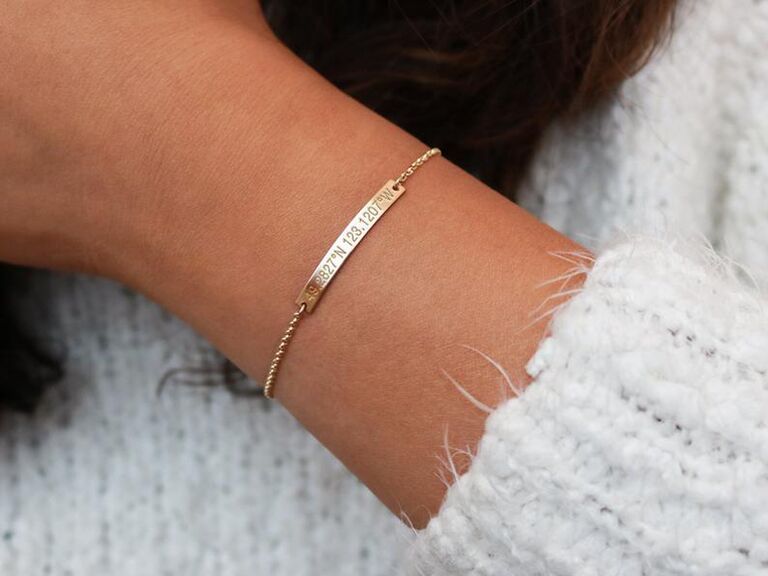 What's the 30th anniversary without a little sparkle? You don't have to splash out on diamonds or pearls to gift your wife some gorgeous jewelry. Sway from the traditional and modern 30th anniversary gifts with this intricate coordinates bracelet. Hint: Choose somewhere meaningful like where you met or where you tied the knot.
GIGIMEY dainty custom coordinates bar bracelet, from $43, Etsy.com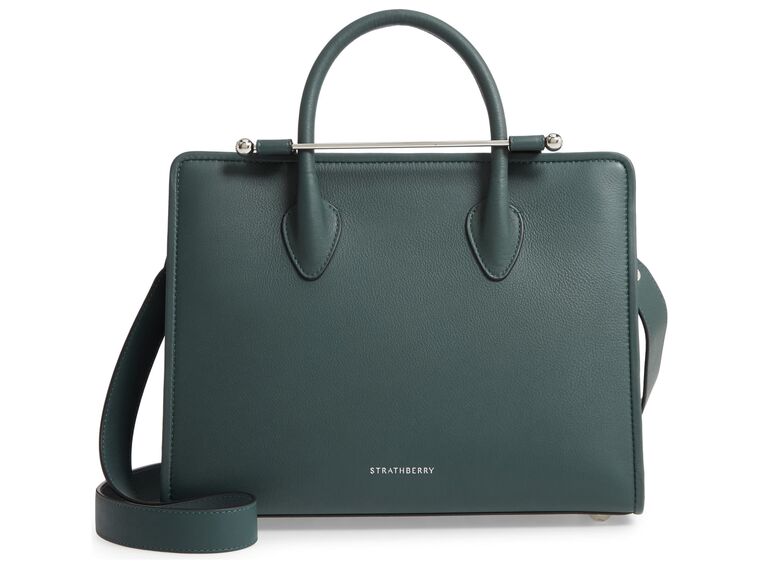 Upgrade her handbag collection with a sleek leather tote she can take everywhere. She'll love carrying this sturdy (yet stylish) bag day in and day out. To top it all off, this wedding anniversary gift for your wife is in the 30-year anniversary color. 
Strathberry midi calfskin leather convertible tote in Bottle Green, $750, Nordstrom.com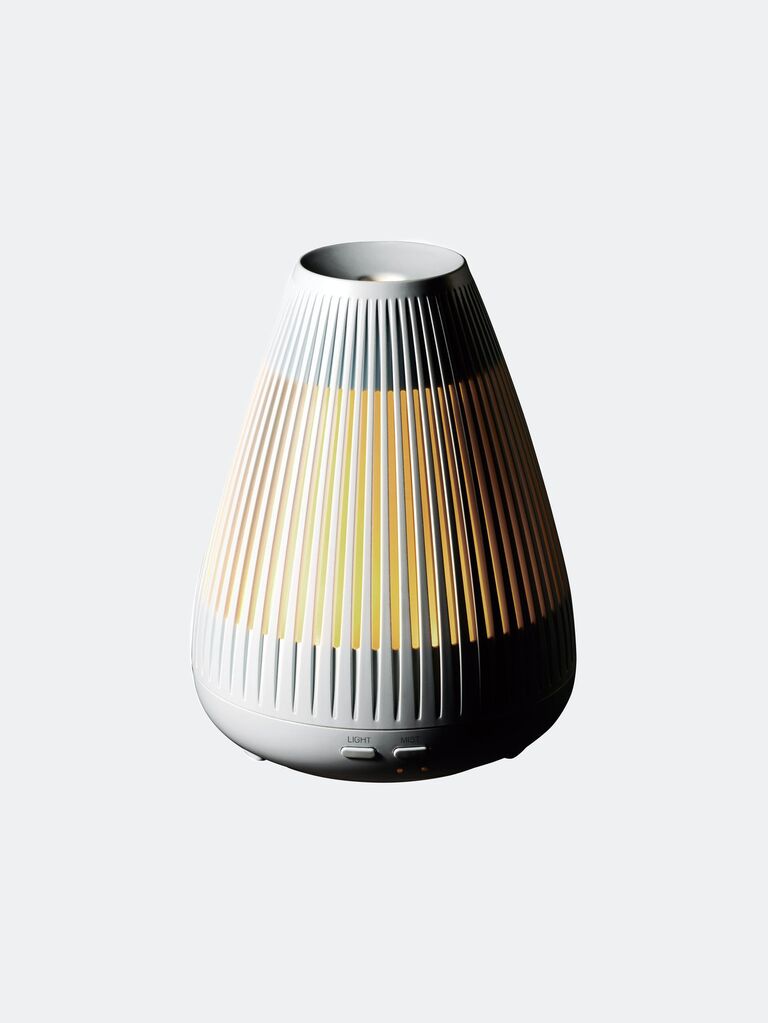 Help her relax more this year with a soothing aromatherapy diffuser. Elegant and thoughtful, your wife will love this 30th anniversary present. 
Objecto W2 aroma diffuser, $70, Verishop.com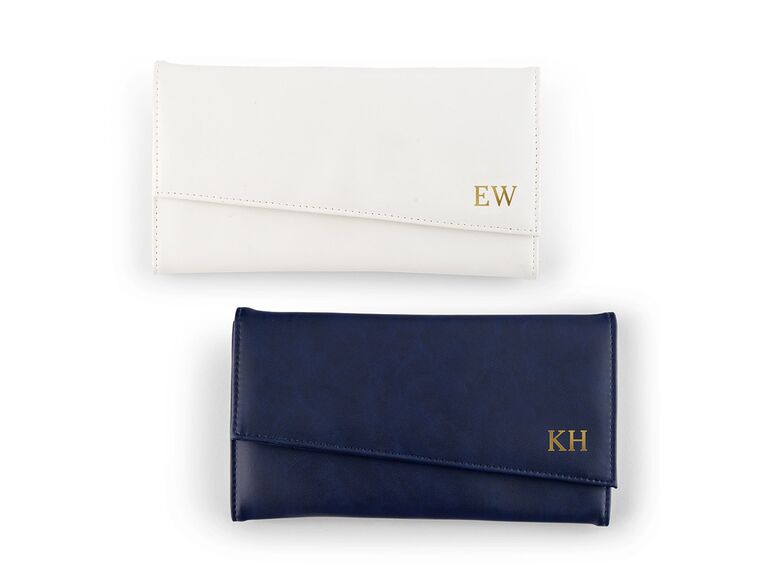 A chic, monogrammed jewelry organizer is a must for any woman who wants to keep her prized pieces safely stored during her travels. This 30th anniversary gift is for the wife who loves to accessorize.
The Knot Shop personalized faux leather travel jewelry organizer, $21, TheKnotShop.com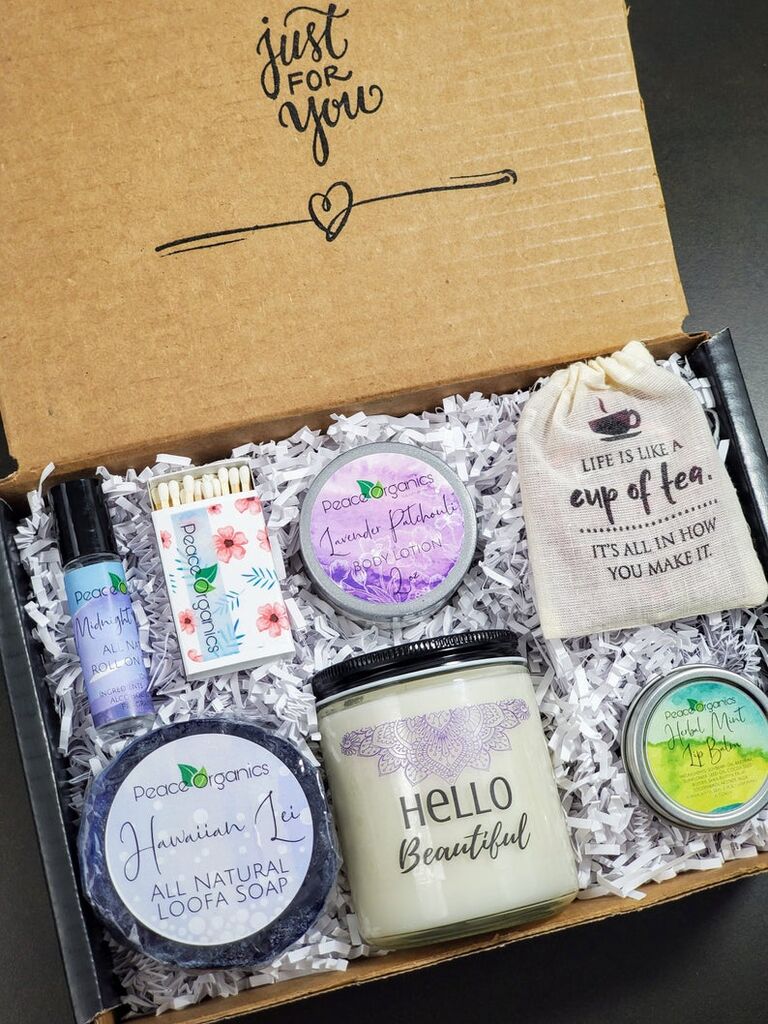 Give her the gift of self-care with a personalized spa box. Her next night in will be spent with a nice cup of tea, a bath bomb and a soothing scented candle—what could be better?  
Peace Organics Hello Beautiful luxury spa box, from $39, Etsy.com
30th Anniversary Gifts for Them
If you need the perfect 30th anniversary gift for your parents (or family friends), look no further. They'll be excited to ring in their milestone with these unique finds.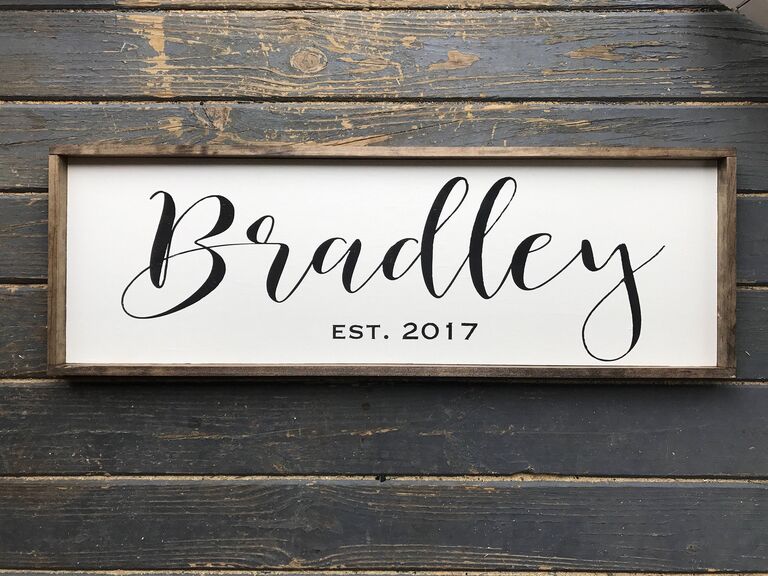 Celebrate the family that was established three decades ago with this 30th wedding anniversary gift for the couple that shares a last name. They'll love decorating their home with a sentimental art piece like this personalized family name sign. 
Blair Made last name sign, from $60, Etsy.com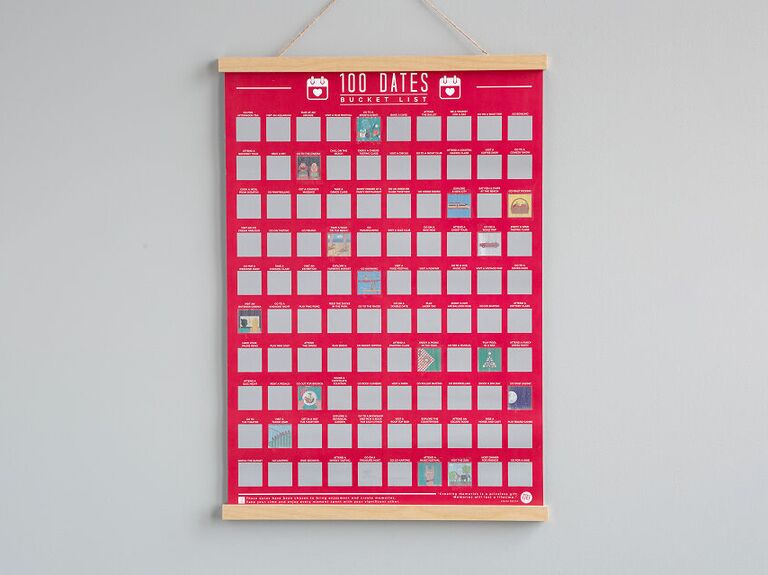 Deciding what to do on date night doesn't get any easier 30 years on. This scratch-off list features 100 options to help spice up their quality time together. This one's a great 30th anniversary gift idea from friends of the couple. Pair it with a magnetic frame so they can add it to their home decor.
Uncommon Goods 100 dates scratch off poster, $15, UncommonGoods.com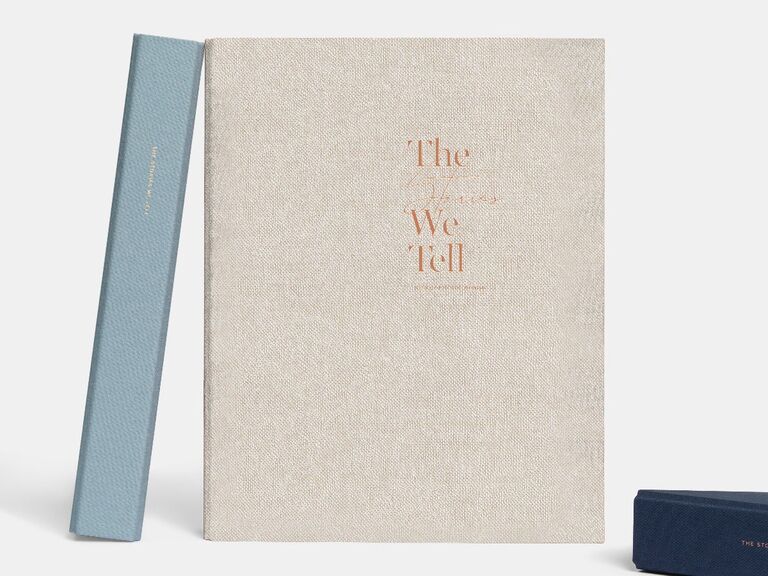 Celebrating 30 years of marriage is huge! Help them toast to the years ahead with a trendy scrapbook photo album filled with interesting prompts and adorable pockets. This lovely keepsake will make a meaningful 30th anniversary gift for parents. (And who knows? Maybe scrapbooking will be their next favorite hobby.) 
Artifact Uprising The Stories We Tell scrapbook album, from $119, ArtifactUprising.com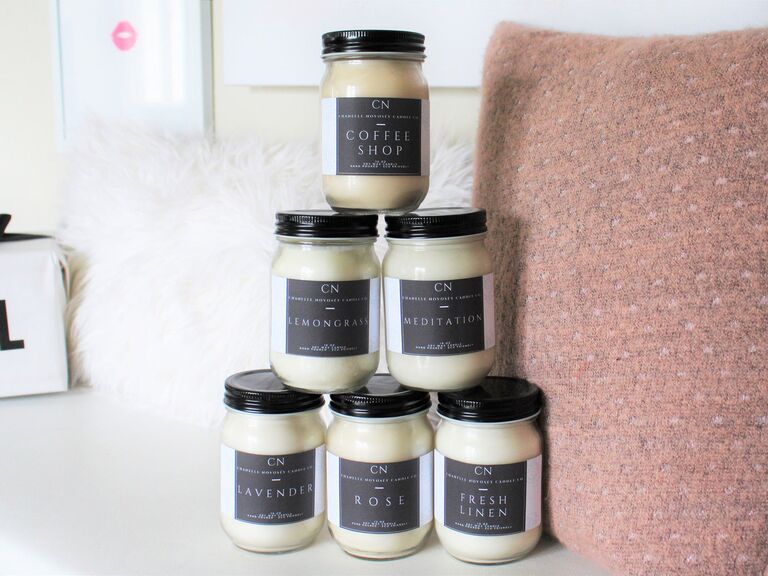 Nothing makes a home feel warm and cozy like the scent of a luxurious candle. With fragrances from Coffee Shop to Smoked Cognac, there's something for everyone. Bonus: This budget-friendly 30th anniversary gift works for parents and friends alike.
Chanelle Novosey natural soy wax eco friendly scented candle, $18, Etsy.com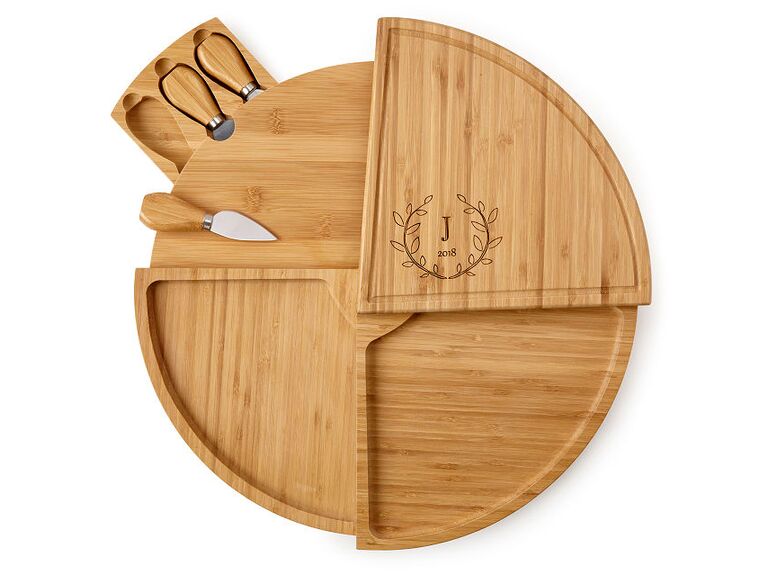 A swivel cheese board is a mouthwatering addition to the kitchen of any couple who loves to entertain (just as much as they like to snack). Who can say no to a delicious charcuterie board? 
Uncommon Goods personalized compact swivel cheese board, $78, UncommonGoods.com
Pearl Anniversary Gifts for Him
If you want to stick to the traditional 30th anniversary gift theme, there are plenty of picks that will please the man in your life. Below, find our top selections for pearl anniversary gifts for your husband.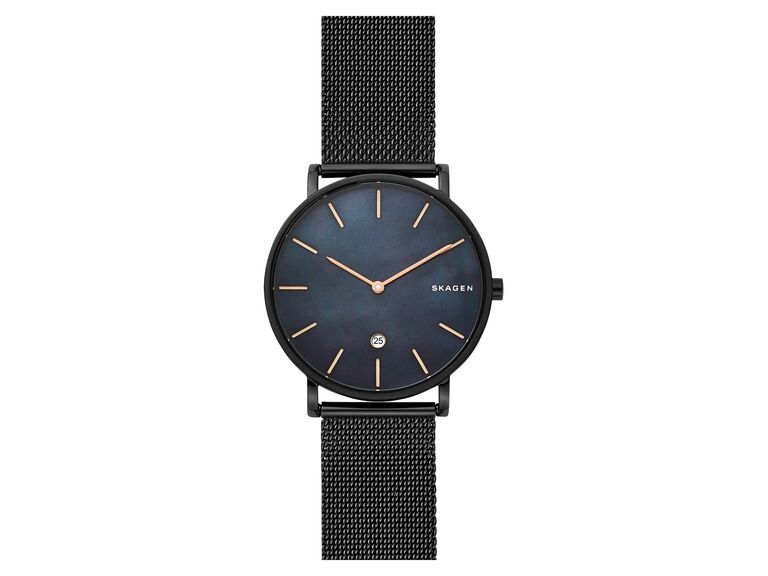 There are lots of ways to honor the 30-year anniversary stone to match your partner's signature style. If he likes watches, he'll appreciate this minimalist timepiece with a mother-of-pearl dial. 
Skagen Hagen slim mesh strap watch, $185, Nordstrom.com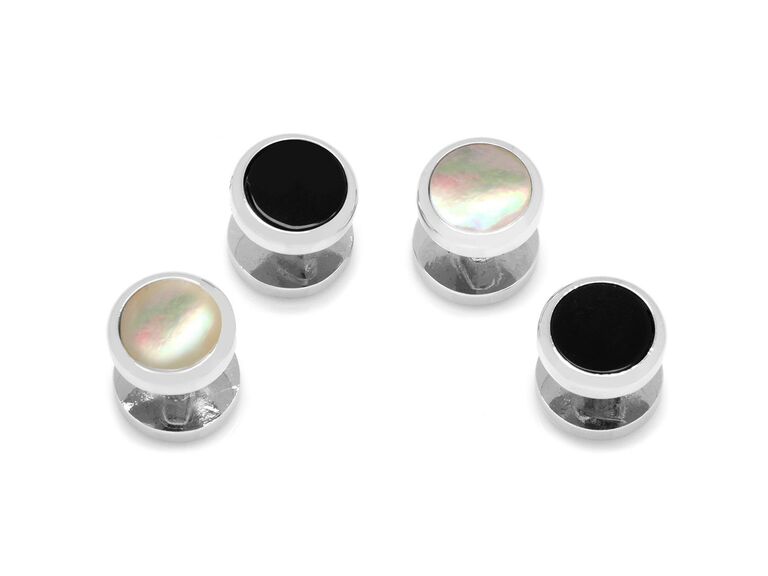 A gorgeous pair of pearl cuff links are the perfect way to incorporate the 30th anniversary gift material. These unique accessories feature mother-of-pearl on one side and onyx on the other, making them a versatile addition to his wardrobe. Pearl gifts for men never looked so good.
Ox and Bull Trading Co. double sided mother of pearl round beveled stud set, $125, Cufflinks.com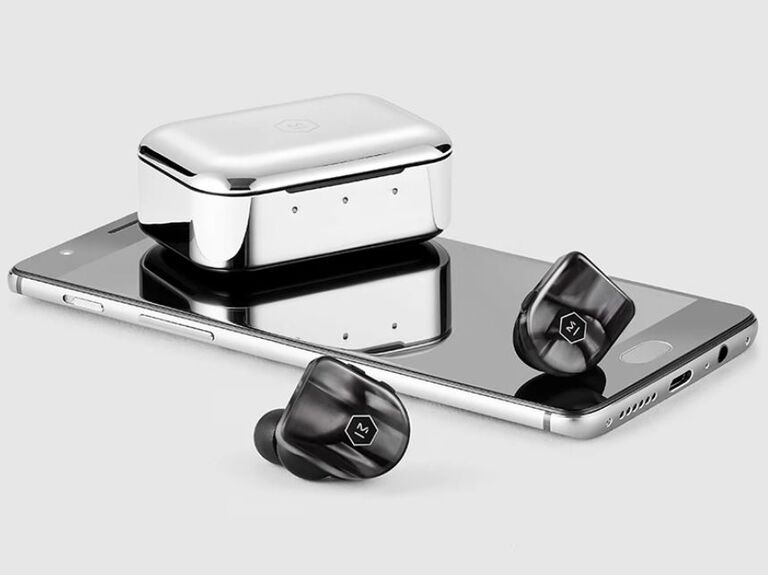 Pearl anniversary gifts don't have to come in the form of fashion accessories. Treat your husband to a tech upgrade with a pair of true wireless earphones. These ones have a stylish black pearl design, paying tribute to the traditional 30-year anniversary theme.    
Master & Dynamic MW07 Plus true wireless earphones in Black Pearl, $299, MasterDynamic.com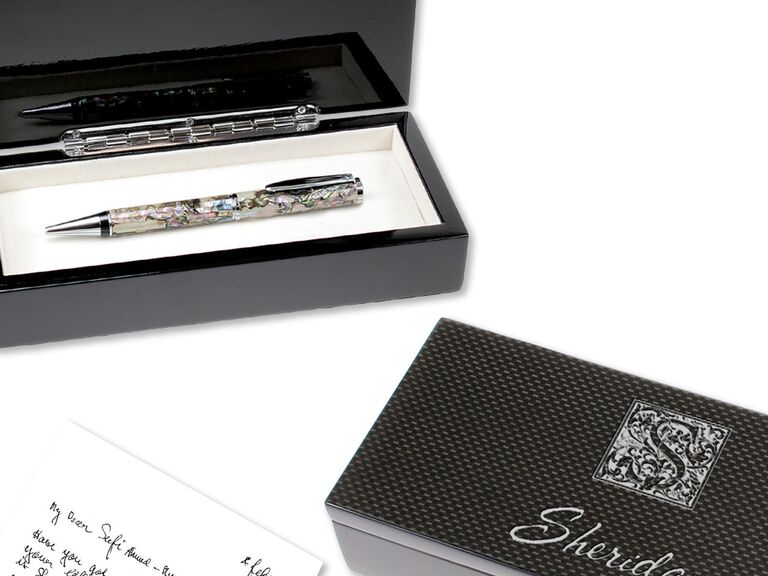 If he's constantly writing memos (or love notes to you), he'll enjoy using this sleek mother-of-pearl pen.
Executive Gift Shoppe luxury mother of pearl pen in engraved box, $94, Etsy.com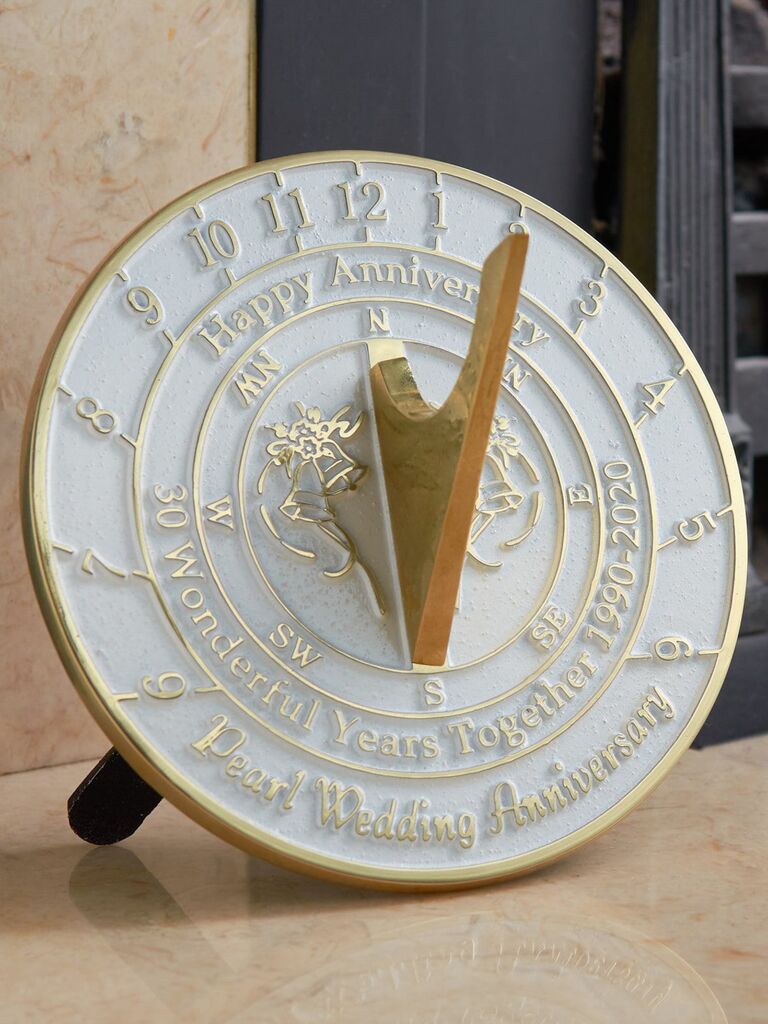 Commemorate your pearl wedding anniversary with this unique 30th anniversary gift celebrating "30 wonderful years together." He'll be lost for words when you give him this sentimental, pearly sundial. 
The Metal Foundry unique 30th wedding anniversary pearl sundial gift for him, from $69, Etsy.com
Pearl Anniversary Gifts for Her
If you want to stick to the traditional pearl gift for your 30th anniversary, there are plenty of presents she'll be happy to receive. Below, find the best pearl anniversary gifts for her.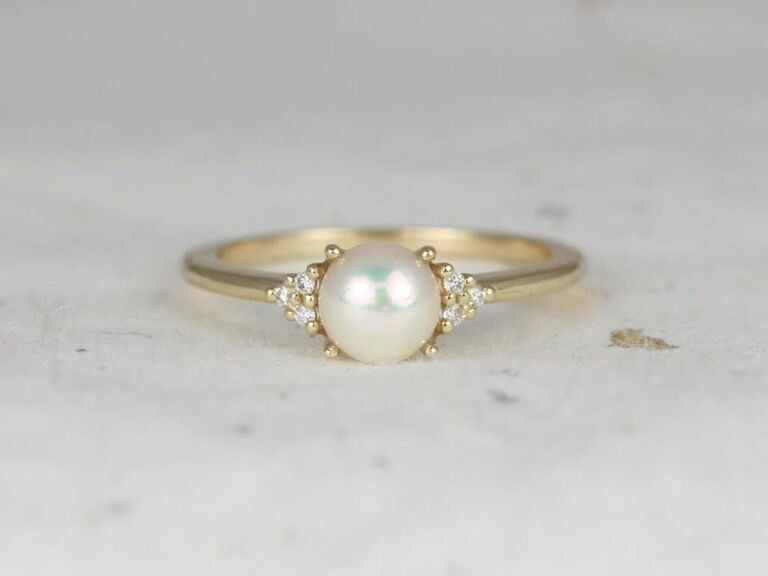 Nothing says "I still do" like a 30-year anniversary ring. With both pearl and diamond baubles to choose from, there are plenty of options to suit your wife's unique style. This elegant pearl anniversary ring comes with a yellow, white, rose gold or silver band.  
Rosados Box Mio 6mm pearl cluster ring, from $175, Etsy.com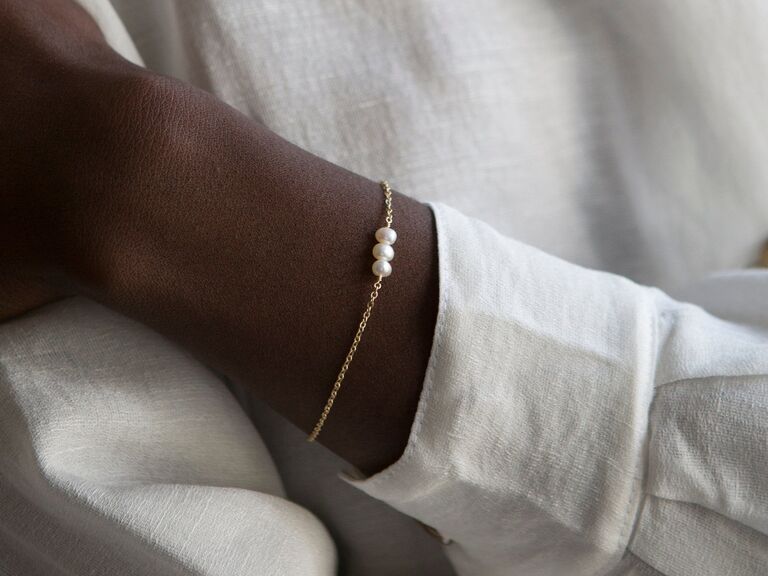 A stunning pearl bracelet is a no-fail gift guaranteed to make her fall in love all over again. This dainty piece of jewelry will add a subtle shine to her everyday wardrobe. 
GLDN x Layered and Long pearl bracelet, from $36, Etsy.com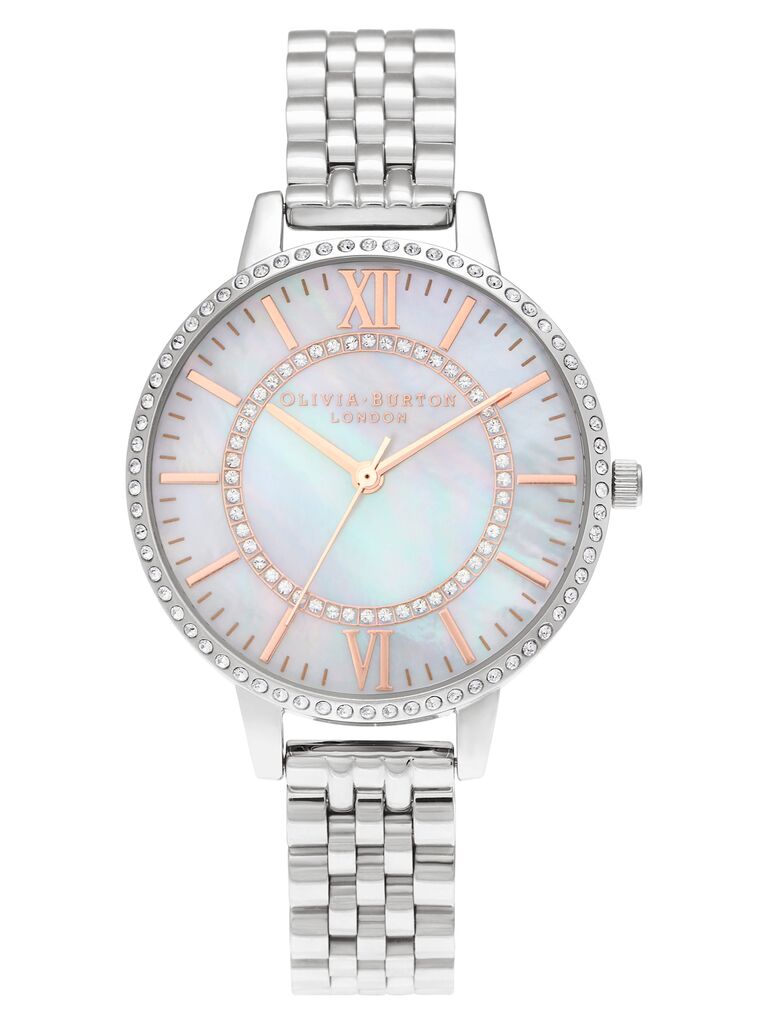 A chic timepiece is a must for any jewelry lover's collection, and this iridescent mother-of-pearl bracelet certainly fits the bill. 
Olivia Burton Sparkle Blush Sunray bracelet watch 34mm, $190, Nordstrom.com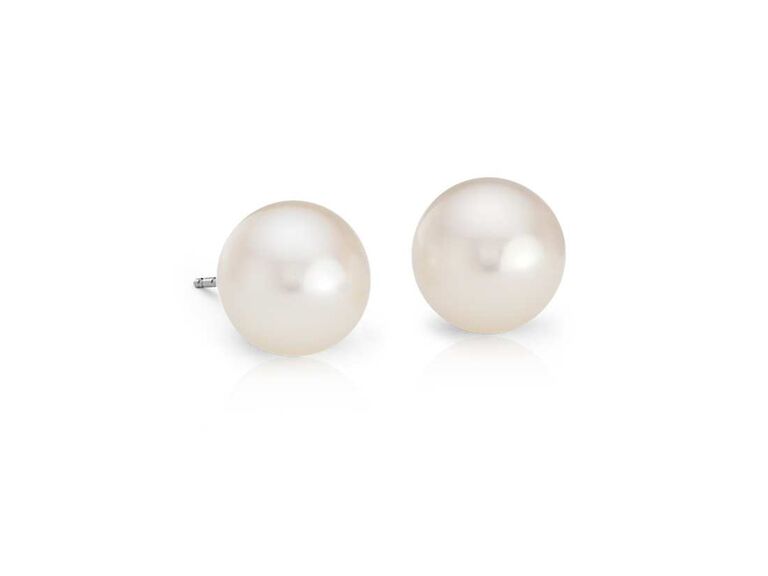 Not only are pearl studs a classic take on the traditional 30th anniversary gift idea, they're also a timeless accessory to add to her jewelry box. 
Blue Nile freshwater cultured pearl stud earrings in 9mm, $140, BlueNile.com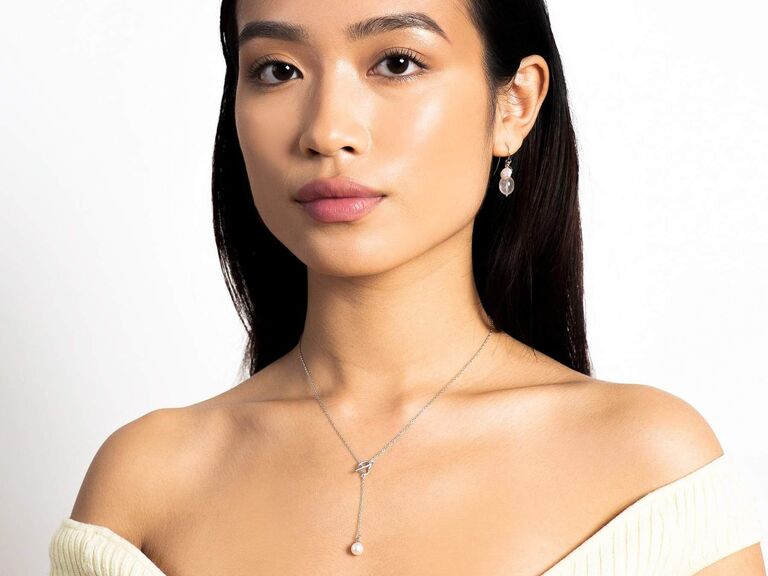 Make it a 30th wedding anniversary for your wife to remember with this pearl necklace. The romantic chain features a dainty silver heart and gorgeous freshwater pearl, putting a modern spin on the traditional 30th anniversary gift. 
PearlStory NYC heart and pearl lariat necklace, $70, PearlStoryNYC.com
Pearl Anniversary Gifts for Them
If your parents or close friends are preparing to celebrate their 30th anniversary, choose one of these on-theme pearl gifts to commemorate their love.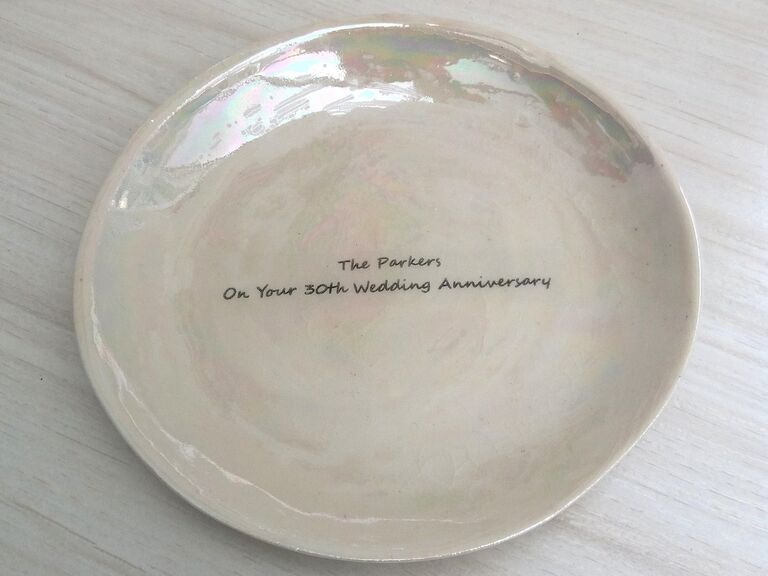 This gorgeous pearlescent plate perfectly pays tribute to 30 years of marriage. Personalized with the couple's first or last names, it will make a meaningful 30-year anniversary gift for both parents and friends.
Melissa Choroszewska Ceramics personalized pearl anniversary gift for couple, from $20, Etsy.com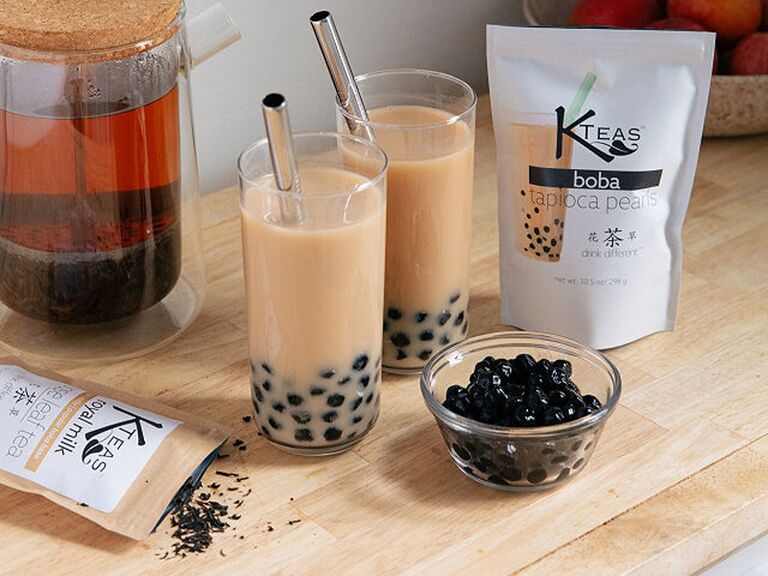 Put your own spin on the traditional pearl wedding anniversary gift by swapping out the 30-year anniversary stone with tapioca pearls. This trendy bubble tea set will make their morning brew something to look forward to. Add this one to the list of fun and super-creative pearl anniversary gifts!
Katie and Dustin Watts bubble tea kit, $38, UncommonGoods.com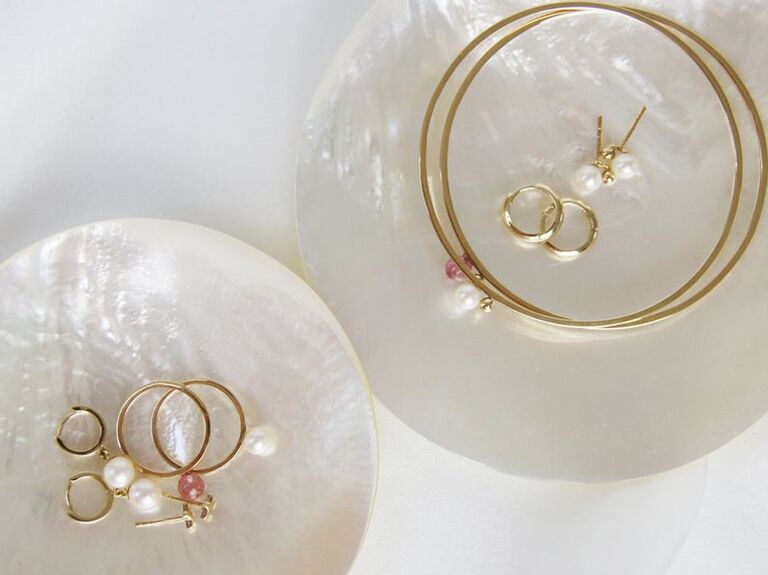 A mother-of-pearl ring dish is the perfect gift to help them keep their wedding jewelry safe while sprucing up their home decor.
Xiss Jewellery round mother of pearl ring dish, from $21, Etsy.com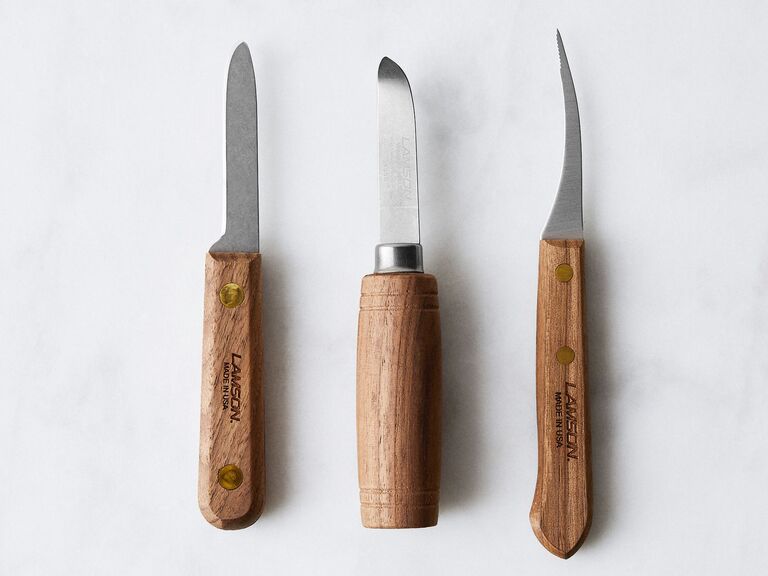 Get as creative as you like while shopping for pearl-themed anniversary gifts. This seafood tool set contains an oyster knife, a clam knife and a shrimp deveiner for the couple that loves shellfish.
Lamson seafood set with walnut handles, $54, Food52.com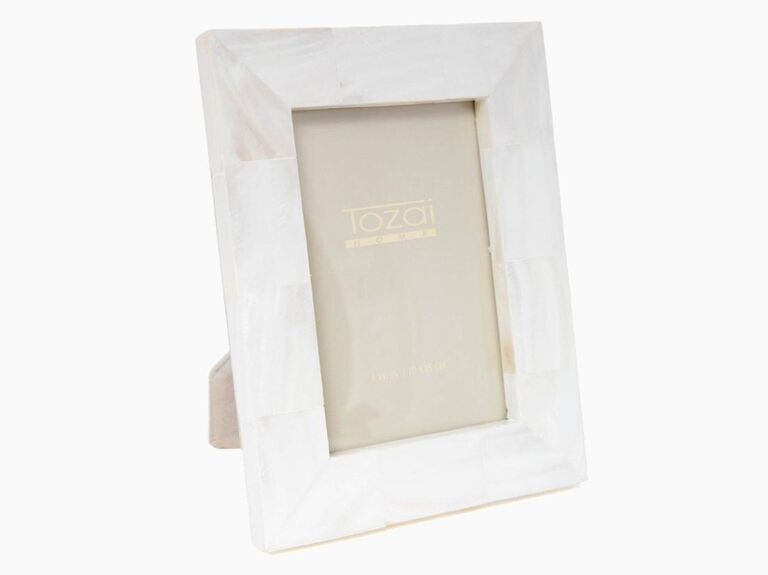 Fill this mother-of-pearl picture frame with a throwback to their wedding day or something more recent—the choice is yours. This unique 30-year wedding anniversary gift will add the perfect amount of shine to any room in their house. 
Twos Company mother of pearl picture frame, from $100, Tuckernuck.com
Diamond Anniversary Gifts
A modern take on the traditional 30-year anniversary gift is diamond. Below, find a collection of the best diamond anniversary gifts for your other half, your parents or your happily married friends.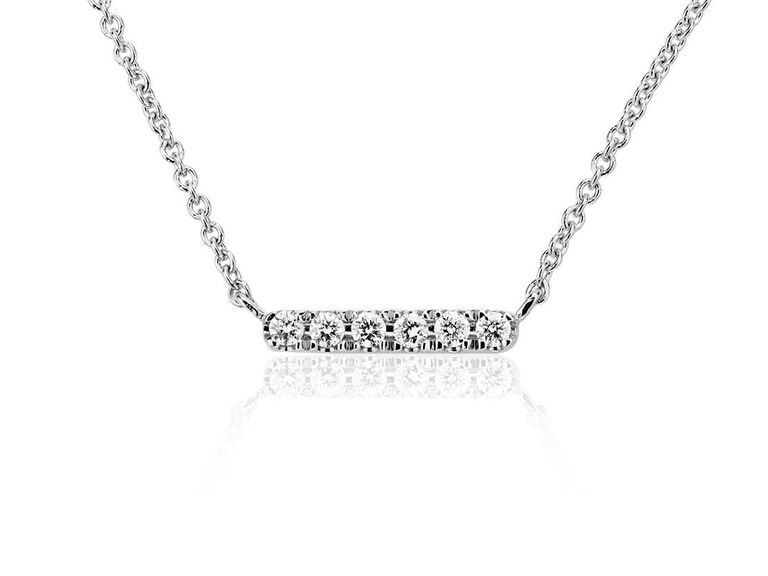 You can never go wrong with a diamond necklace, and it's even more meaningful now that it fits the 30-year anniversary theme. She'll think of you every time she wears this sparkling 30th anniversary symbol around her neck. 
Blue Nile mini diamond bar necklace, $325, BlueNile.com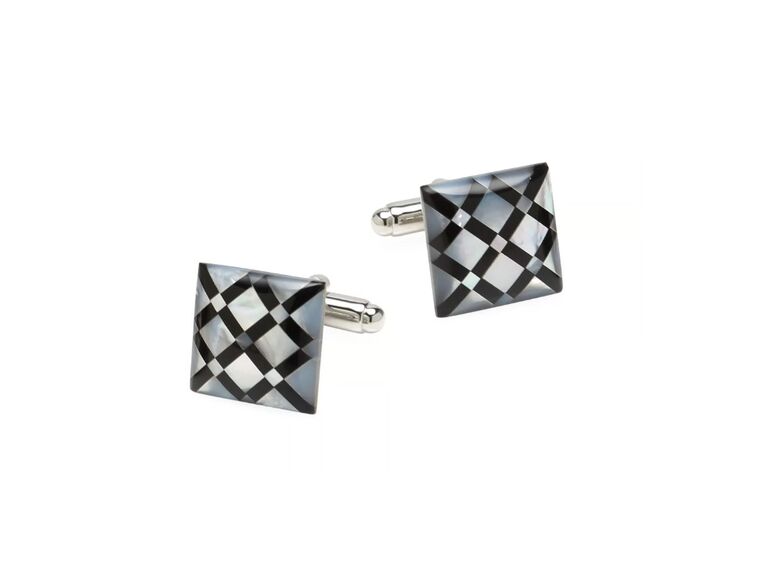 These mother-of-pearl diamond-patterned cuff links are a double whammy, incorporating both the traditional and modern 30-year anniversary themes. They'll make a perfect 30th anniversary gift for the guy who has great style.
Ox & Bull Trading Co. white mother of pearl diamond cufflinks, $80, SaksFifthAvenue.com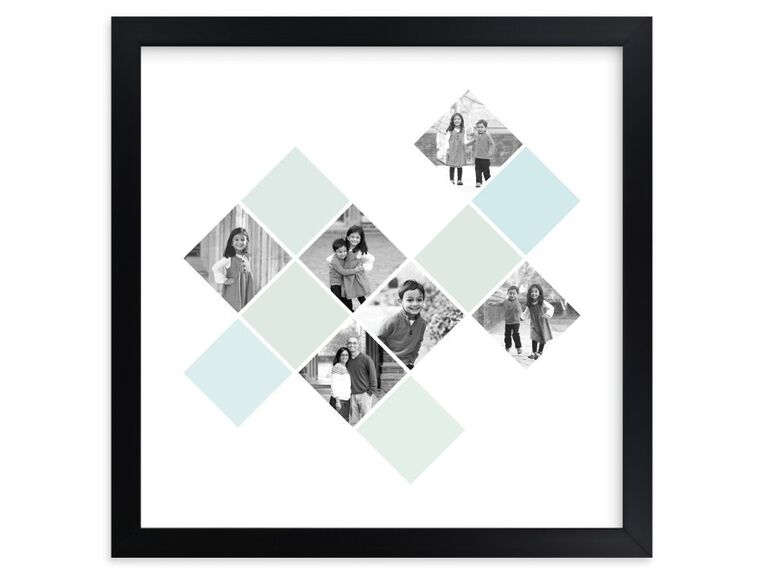 What better way to honor your parents celebrating 30 years than custom photo art? If you're gifting with siblings, include some of your favourite moments together for a truly special keepsake.   
Fig and Cotton Diamond Mosaic custom photo art, from $29, Minted.com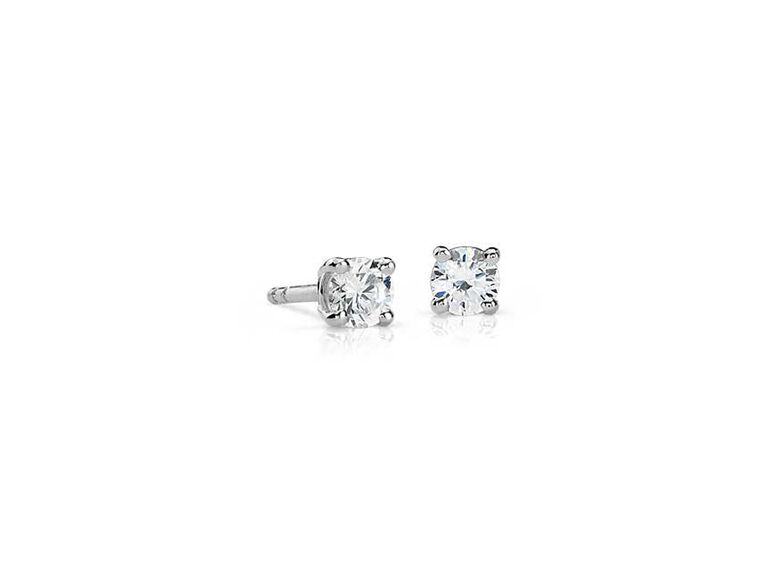 This simple pair of stud earrings is as timeless as it gets. 
Blue Nile diamond stud earrings, $320, BlueNile.com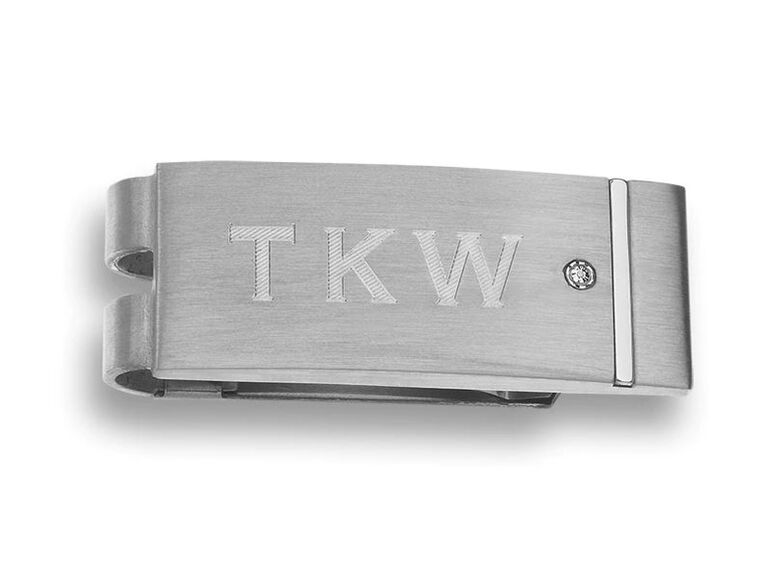 Diamonds can be a guy's best friend too. Spoil him with a 30th anniversary gift that sparkles (just like his personality). This monogrammed money clip will keep his bills safely tucked away.
Zales men's engravable diamond accent money clip, $79, Zales.com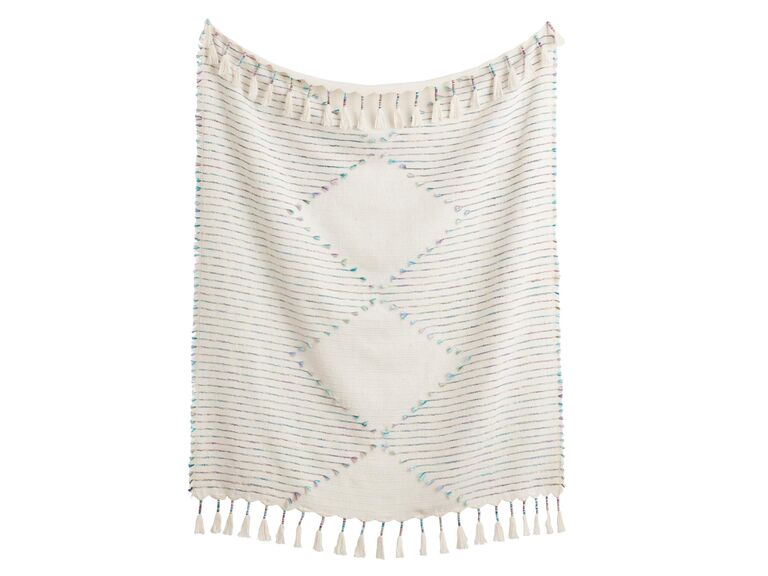 This chic throw makes an excellent 30th wedding anniversary gift for him, her or the couple. Picture cozy nights in under this snug diamond-patterned blanket. 
World Market ivory diamond cotton throw blanket, $40, WorldMarket.com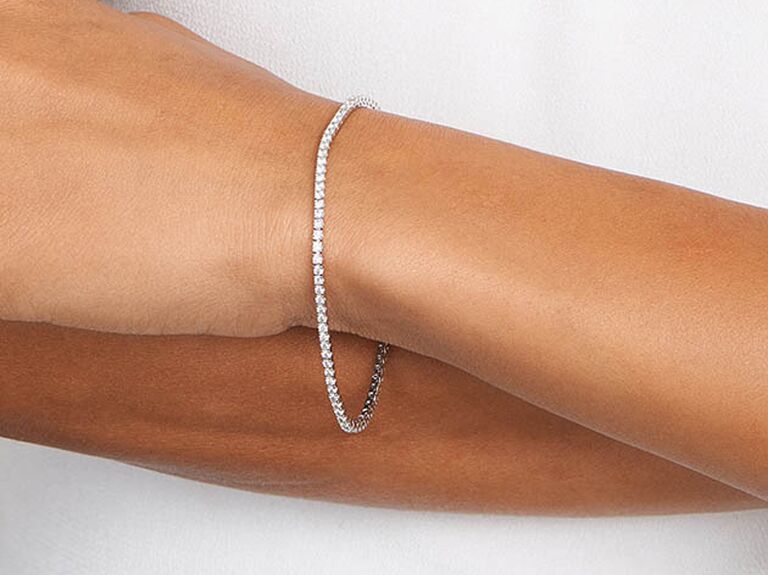 Want to splurge after 30 years together? While this piece is an investment, it's something she'll cherish forever.
James Allen 14k white gold diamond tennis bracelet, $2,800, JamesAllen.com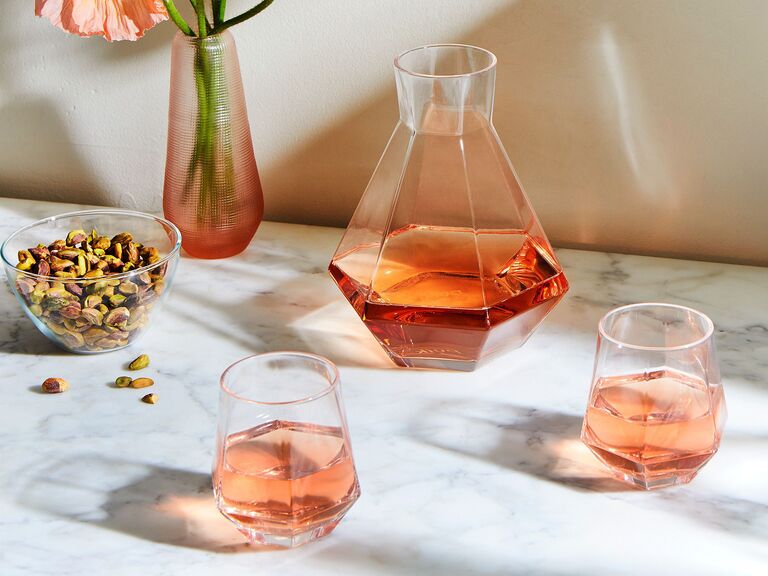 Level up their glassware with this elegant diamond-shaped set, perfect for raising a toast to the 30th anniversary.  
Puik faceted crystal carafe & glasses, $88 for a carafe and two glasses, Food52.com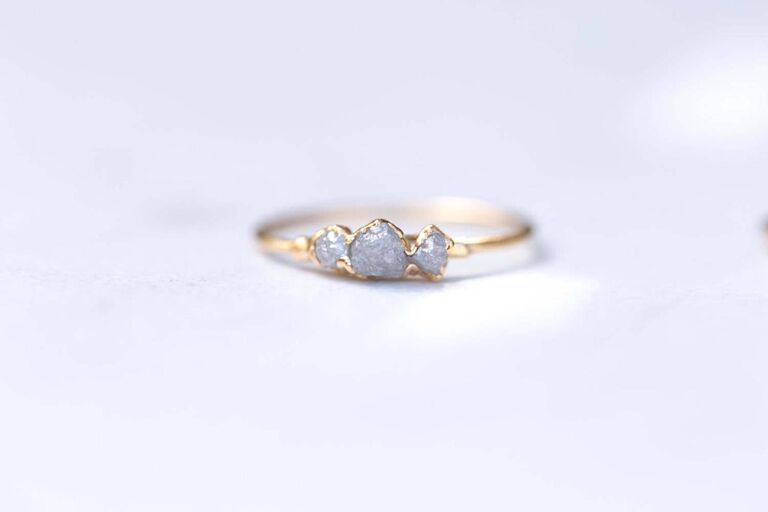 A diamond gift doesn't have to break the bank. This Etsy find is a stunning piece of jewelry that she can add to her everyday collection. She'll instantly fall in love with this 30-year anniversary ring. 
Ringcrush gold triple raw diamond ring, from $44, Etsy.com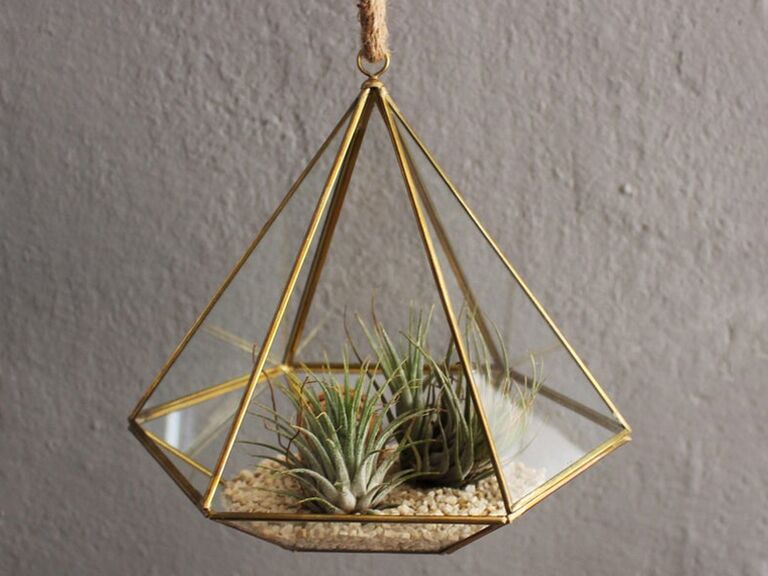 Their home will look fresh and trendy with the addition of greenery, especially if it's placed in a unique diamond-shaped hanging terrarium. 
Mitienda Shop diamond geometric terrarium made of glass, $38, Etsy.com
For more of the best anniversary gift ideas for all the major milestones, check out our comprehensive guide to anniversary gifts by year.