30th Anniversary Gift Ideas Your Spouse (or Favorite Couple) Will Love
Looking for the perfect 30 year anniversary gift for your spouse or favorite couples? These are the best 30th anniversary gift options (and what they represent).
by The Knot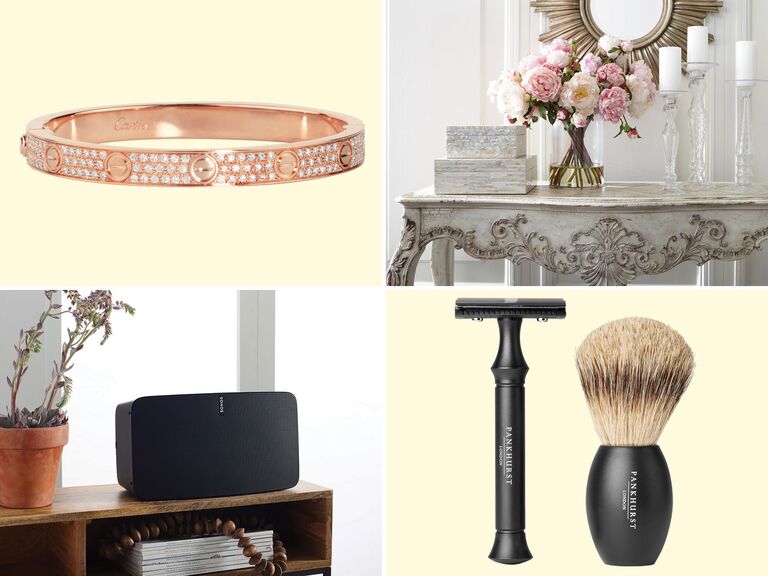 Congrats! You've made it to a milestone 30 years with your spouse (or have a loved one who has), and now comes the hard part: picking out that perfect 30 year anniversary gift.
When it comes to anniversary gifts, you might be familiar with the "anniversary materials." Whether it's paper for your first anniversary or aluminum for your tenth, every year signifies a new landmark and a new symbol of your love. As for 30 year anniversary gifts? The classic material is pearl and a modern take is diamond, but you also have free range to get whatever you see fit. Read more about 30 year anniversary gifts, what they symbolize and some serious gift-spiration, below.
What Is the 30 Year Anniversary Gift?
Traditional: Pearl
Traditionally speaking, the material that represents the 30 year anniversary gift is pearl. Pearls are enduring and last under pressure, just like your marriage. Pearl gifts don't necessarily have to be necklaces and earrings (although those work too)—we'll provide plenty of other 30 year anniversary gift ideas that work outside of a jewelry box.
Modern: Diamond
A more modern option for 30 year anniversary gift ideas is diamond—it's said to be the symbol of the enduring flame that fuels relationships, and your 30 year marriage is no exception.
In this article: