The Best 30-Year Anniversary Gift Ideas for Your Spouse, Parents or Friends
Celebrate the pearl anniversary with one of these sentimental presents.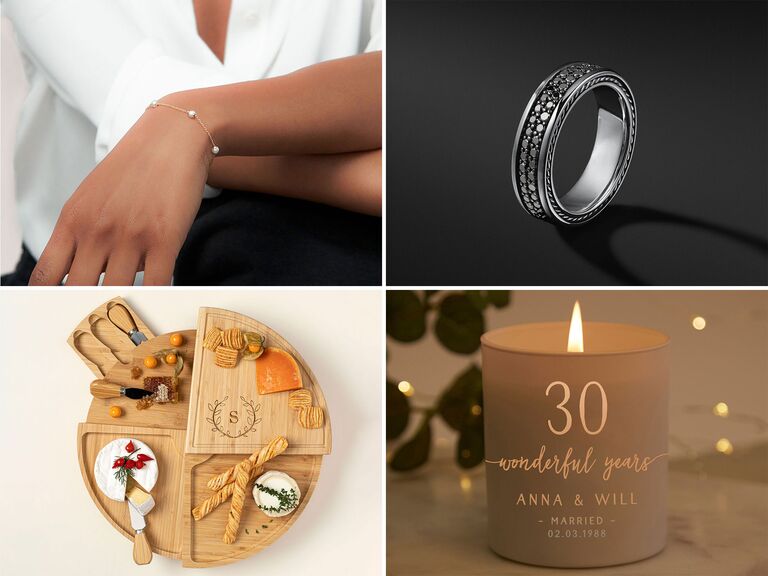 We have included third party products to help you navigate and enjoy life's biggest moments. Purchases made through links on this page may earn us a commission.
Three decades of marital bliss is certainly worth celebrating. If you and your spouse are approaching this milestone (or you know a couple who is) picking out a meaningful 30th anniversary gift is a great way to commemorate the occasion. That's why we've compiled the best wedding anniversary gift ideas you can buy right now. From traditional pearl presents to unique alternatives, there's something on our list for everyone. Whether you're celebrating 30 years with your partner or you're congratulating your parents or friends, you're bound to find the perfect pearl anniversary gift for this incredible achievement.
In this article:
What Is the 30-Year Anniversary Gift?
Traditional: Pearl
Each year of marriage is associated with a traditional material. The 30-year anniversary's material is pearl. Pearls symbolize beauty from within and the kind of special bond that drives a 30-year relationship. While pearl jewelry is a timeless gift, you can definitely interpret the theme in different ways. We've done the work for you and found a variety of presents inspired by the material that'll cater to any taste.
Modern: Diamond
In addition to pearls, modernists have also adopted diamonds as one of the 30th anniversary's symbols. Like pearls, diamonds can withstand pressure and time—so what better way to represent your long-lasting marriage than with the most precious gem? While diamond jewelry may be the first thing that comes to mind, diamond-shaped presents are a unique (and still totally acceptable) twist.
Other 30th Anniversary Symbols
If you don't want to go down the gemstone route at all, there are a few other 30th anniversary symbols to check out. Lily flowers and the color green are also associated with the 30-year milestone. Lilies are a timeless flower representing humility and devotion while green represents growth.
Pearl Anniversary Gifts
If you want to stick to the traditional 30th anniversary gift theme, you've come to the right place. We've picked out the most unique and romantic pearl presents for this special milestone. The best part? You can shop all of these meaningful picks online.
Pearl Shell Photo Frame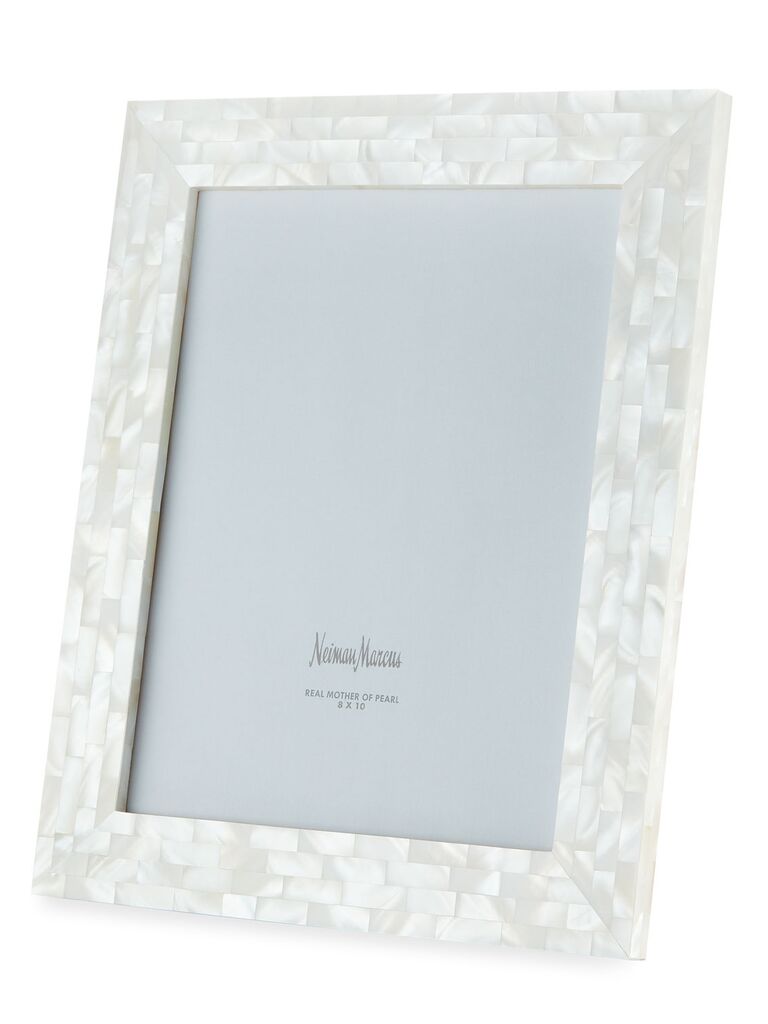 Pearly accents are a unique addition to any home's decor. This sophisticated mother-of-pearl picture frame will look great filled with a nostalgic wedding photo. It's a timeless 30-year anniversary gift for your spouse, couple friends or parents.
Stainless Steel Pearl Watch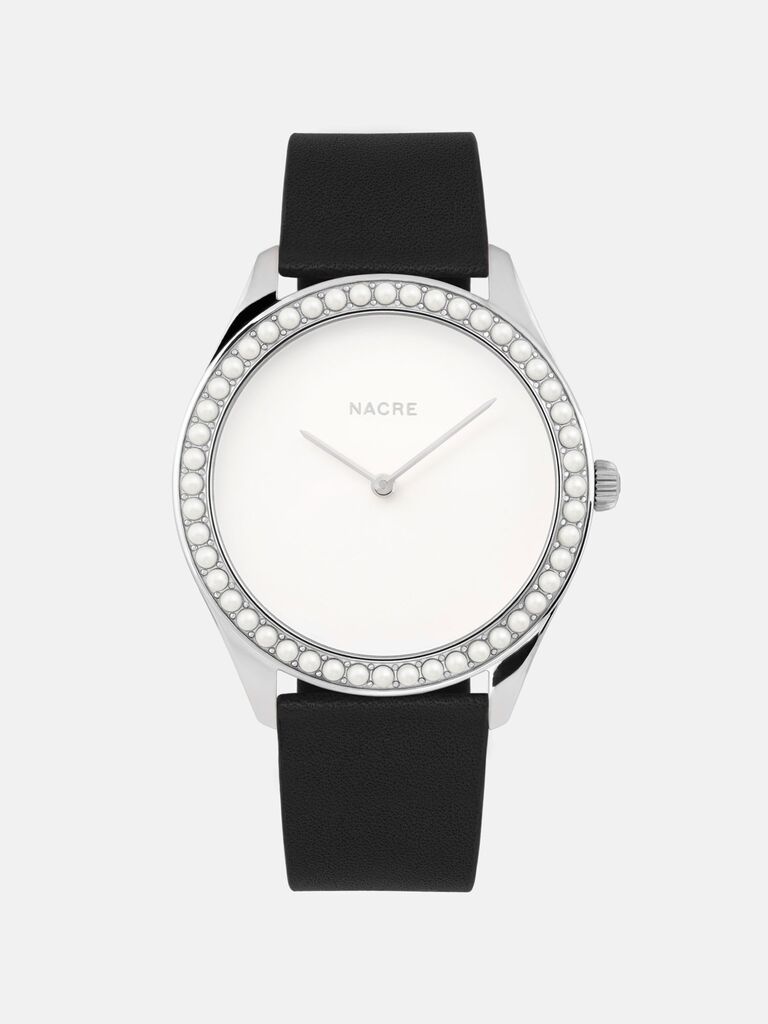 Watches are a sweet way to let your other half know just how much you cherish the time you've spent together. This stunning timepiece features a luxurious black Italian leather strap complemented by 48 beautiful hand-set nacre pearls that encompass the dial. Equal parts modern and minimalist, this 30-year anniversary gift will add a smart, sophisticated touch to any ensemble.
Assorted Parisian Chocolate Pearls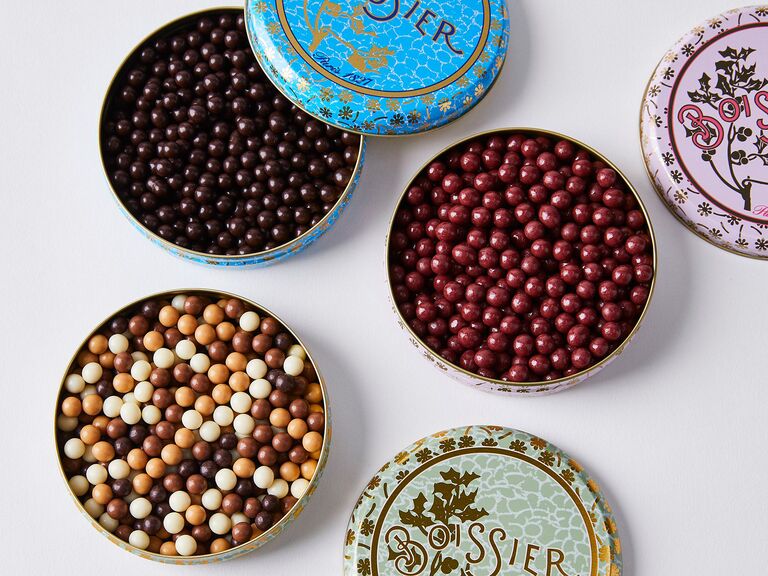 Looking for a unique gift for the 30th anniversary that still acknowledges the traditional theme? Instead of pearl gemstones, buy pearl chocolates. These decadent treats from Parisian confectionery brand Maison Boissier come in three different flavors (dark chocolate, crispy chocolate and raspberry chocolate) packaged in decorative floral tins.
Mother-of-Pearl Ring Dish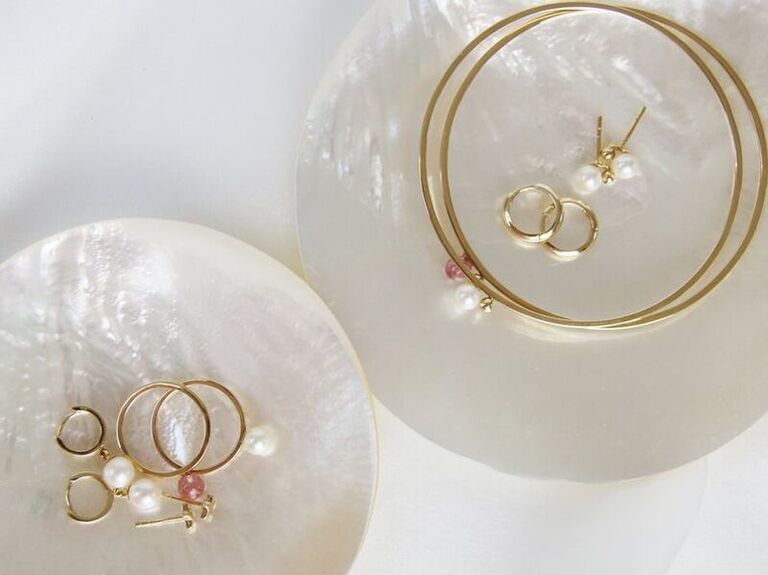 Proper wedding jewelry care only gets more important as time goes on. That's why a shiny new ring dish is an excellent 30-year anniversary gift for your wife or husband. This round trinket dish is made from iridescent mother-of-pearl, so you'll be hitting the nail on the head when it comes to the 30th anniversary's traditional theme. It comes in two different sizes or you could buy a pair: one for them and one for you!
Pearl Stud Earrings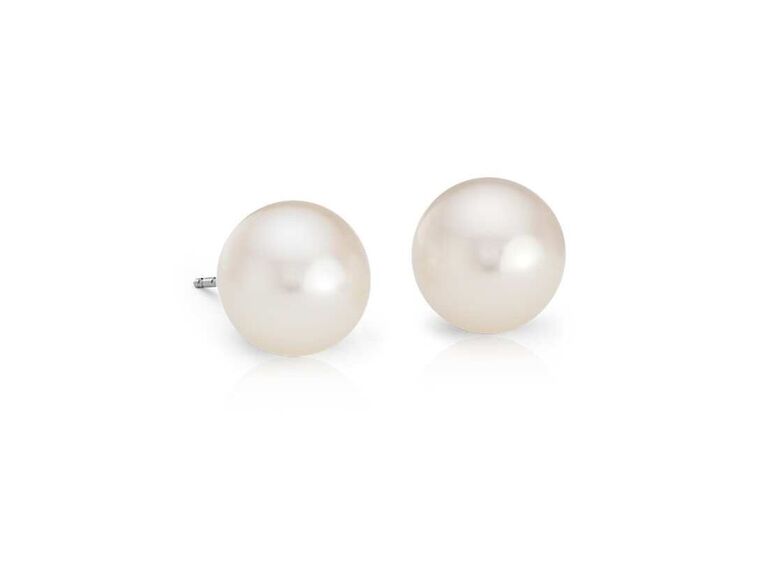 We couldn't write a roundup of pearl anniversary gifts without including beautiful pearl jewelry. Pearl earrings are not only a quintessential take on the traditional 30-year anniversary gift, but they're also a timeless accessory to add to your spouse's jewelry box. These freshwater cultured pearl studs mounted on 14K white gold come in four different sizes. Opt for a smaller pair if your partner likes low-key jewelry, or buy the largest size for the person who wants their bling to stand out.
Oyster Grill Set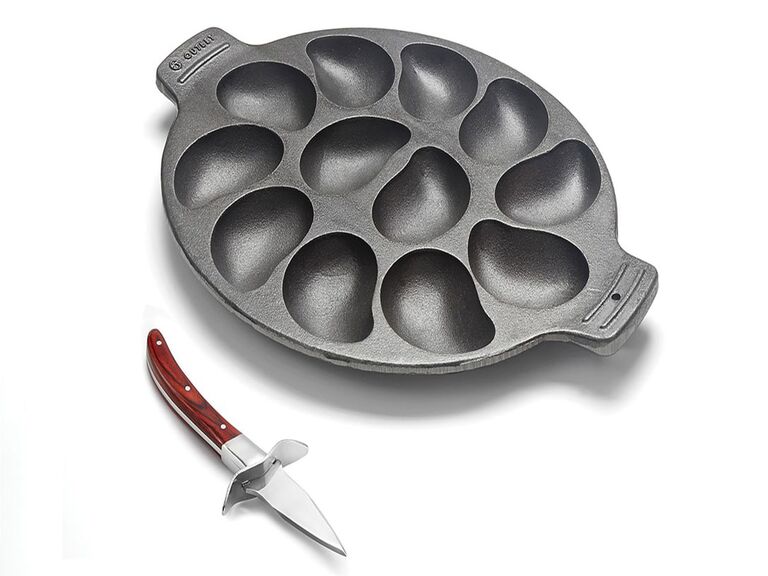 Swap the pearls for oysters with this creative 30th anniversary gift. ​​The grill set includes a stainless steel and pakka wood oyster knife (with a leather pouch for safe keeping) and a non-stick cast iron oyster pan. It's a fun and unusual 30th anniversary gift for anyone who's obsessed with seafood. Now, all you need is some shellfish to prepare a delicious anniversary dinner for two.
Black Pearl Wireless Earphones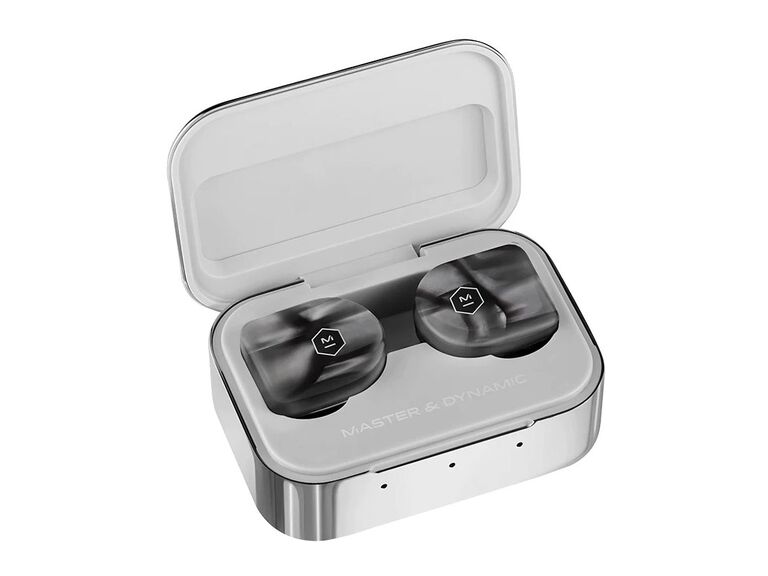 Treat your spouse to a tech upgrade with a pair of wireless earphones. These earbuds have a stylish black pearl design to pay tribute to the traditional 30-year anniversary theme. But they're not just pretty to look at—they offer crystal-clear sound with clever noise-canceling technology. They also come with a sturdy stainless steel case for safe keeping and on-the-go charging. Best of all, you can personalize the case with your S.O.'s initials.
Boba Bubble Tea Kit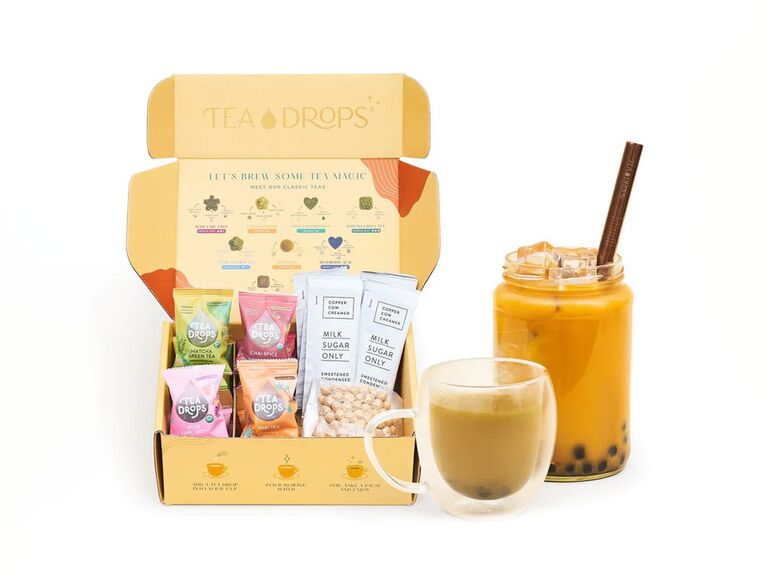 For a tasty take on the 30-year tradition, gift tapioca pearls in place of gemstone pearls. If your partner loves bubble tea, this gift box will make them smile from ear to ear. It's stuffed with seven different tea flavors including chai, matcha and Earl Grey, tapioca pearls, milk and sugar.
Freshwater Pearl Necklace
If we haven't already proven how effortlessly elegant pearl gifts can be, this necklace confirms it. A stylish gold vermeil toggle clasp is flanked by freshwater pearls to create a beautiful but subtle accessory that can easily be incorporated into their everyday wardrobe. Best of all, the metals and stones are ethically and sustainably sourced.
Akoya Cultured Pearl Bracelet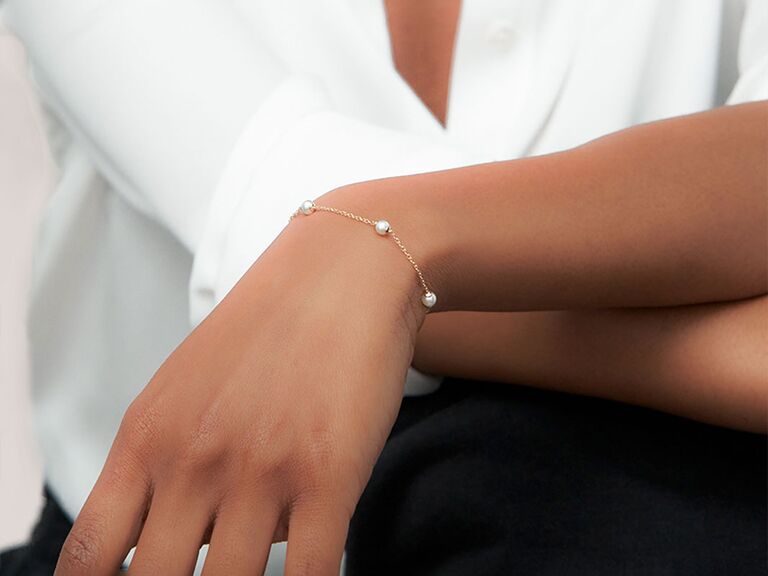 Pearl jewelry is timeless—it adds a classy touch to pretty much any outfit. If your partner prefers wristwear to necklaces or earrings, you can't go wrong with this dainty pearl strand bracelet. Five Akoya pearls are placed evenly along a lustrous 14K yellow gold cable chain. It's a perfect 30-year wedding anniversary gift for anyone with understated style.
Silver Mother-of-Pearl Cuff Links
Add a pearly touch to your partner's suit. These stunning Ox & Bull Trading Co. cuff links have iridescent mother-of-pearl discs placed inside silver-finished settings for an on-theme 30-year anniversary gift.
Pearl Anniversary Commemorative Sundial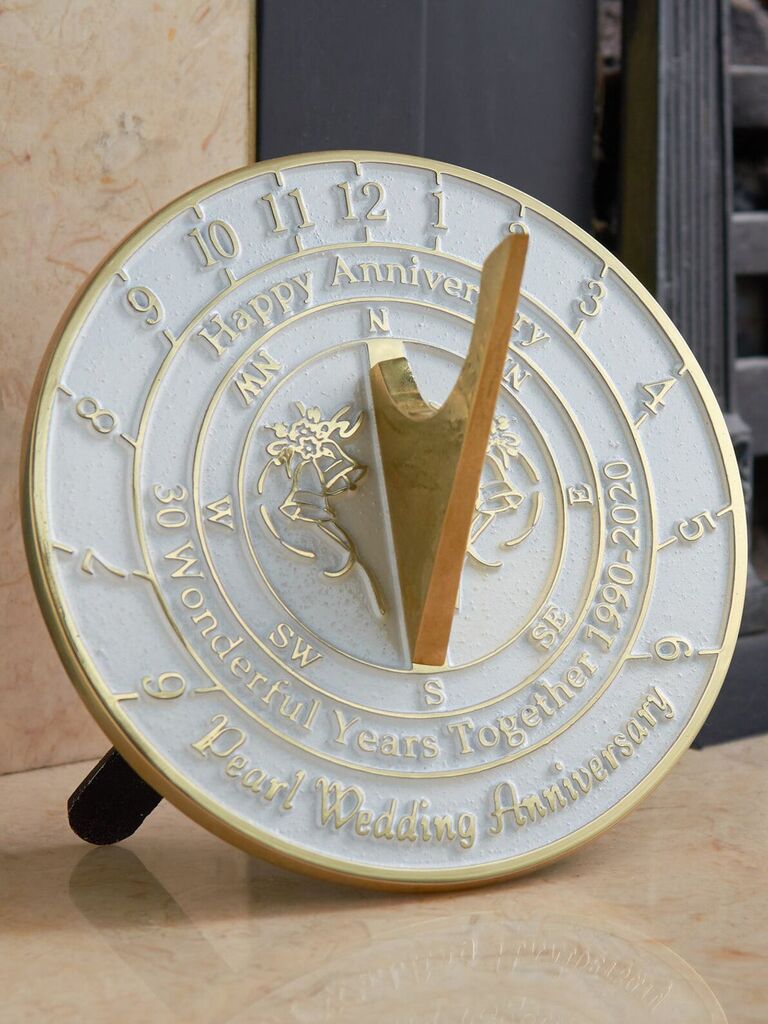 This sentimental white and gold sundial from The Metal Foundry beautifully commemorates the couple's marital success. It features the date they tied the knot as well as the year they hit the big 3-0. They'll be lost for words when you hand over this unique piece of garden decor that reads: "30 wonderful years together."
Mother-of-Pear Ballpoint Pen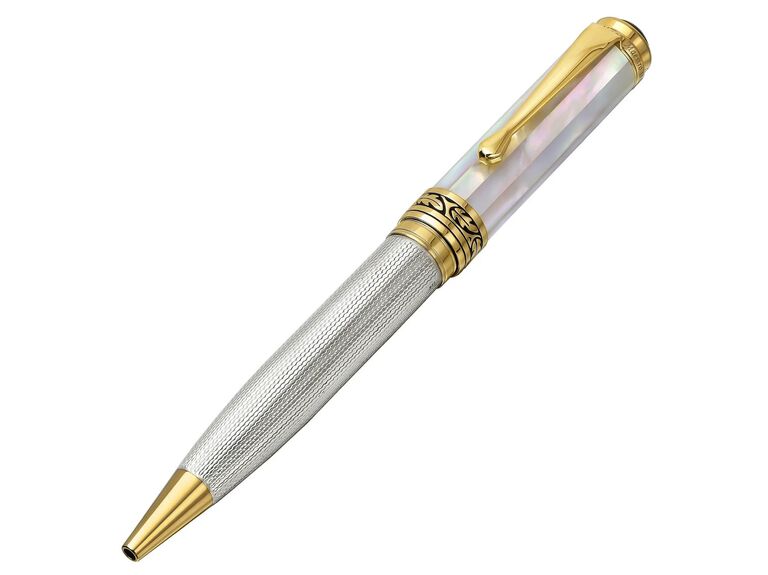 If you're married to a writer, this sleek mother-of-pearl twist-action ballpoint pen will be a welcome 30-year wedding anniversary gift. The iridescent panels pair with 18K gold-plated brass fittings and a sterling silver barrel for a luxurious look and feel. The design is also available as a fountain pen.
Heart-Shaped Pearl Drop Earrings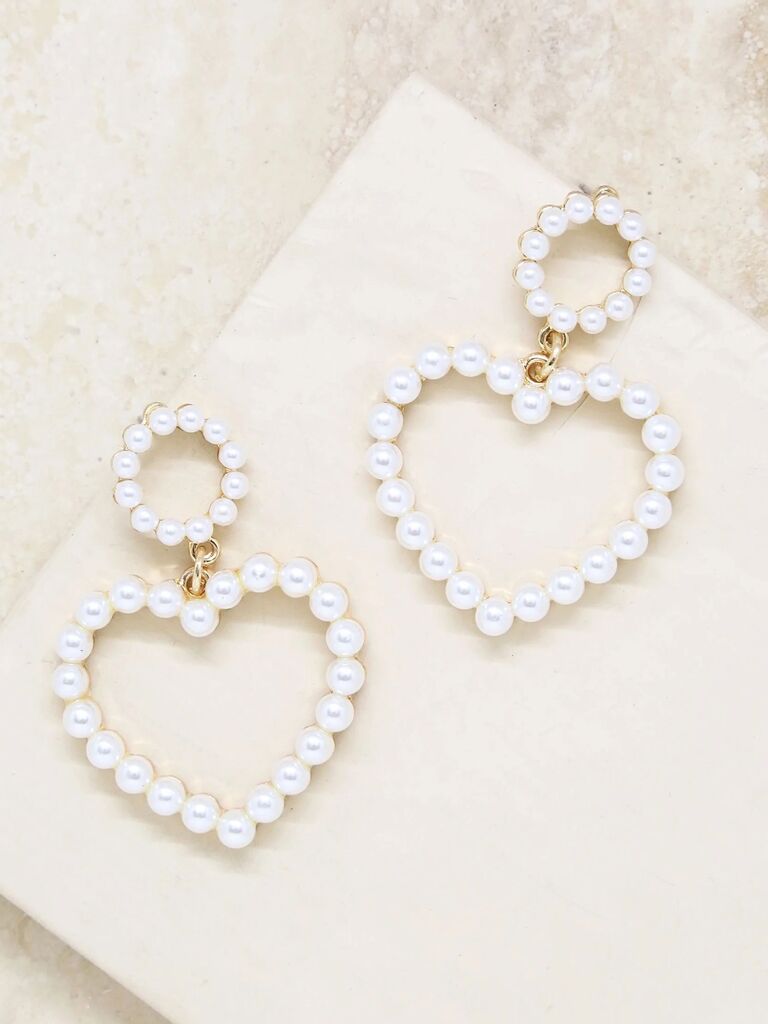 Pearly jewelry doesn't have to have such a traditional look. These gold-plated drop earrings adorned with faux pearls are beautifully bold accessories. Not only does the heart design show your partner just how much you love them, but it also fits the 30-year anniversary theme.
Pearl Anniversary Milestone Tree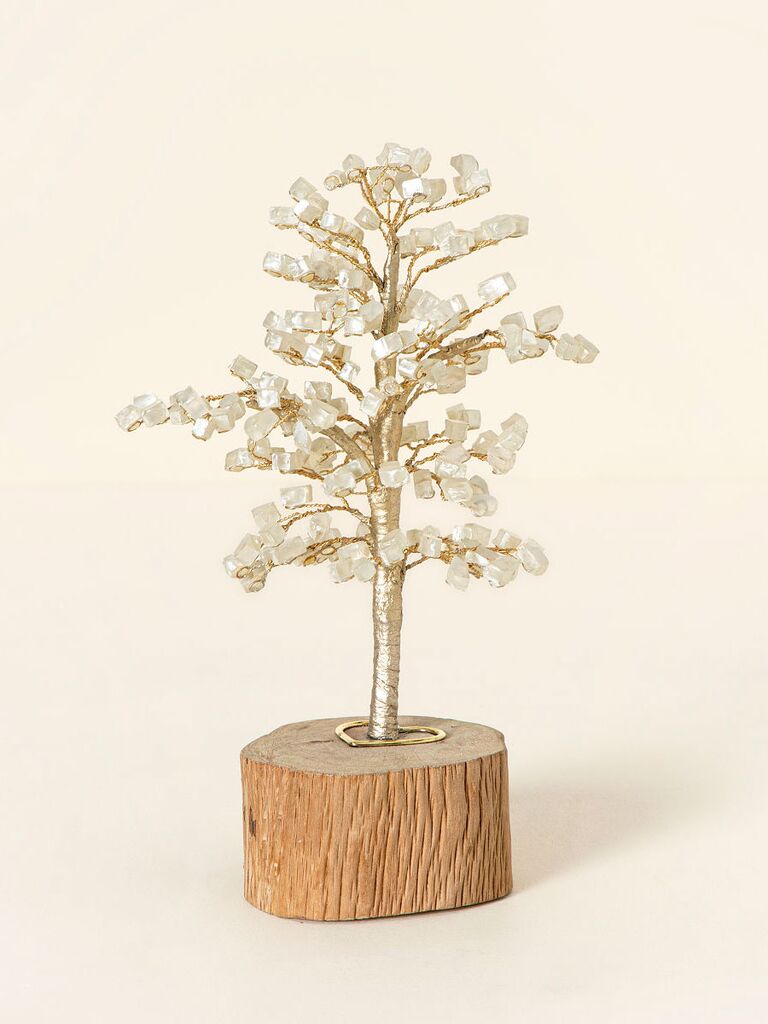 If there's one thing to be learned after 30 years of marriage, it's that love grows. This cute tree sculpture represents just that. The wire tree artwork set in a wooden base is decorated with leaves made from fragments of recycled glass colored white to represent the 30th anniversary's pearl theme. The tree is even encircled in a metal heart for even more sentiment.
Diamond Anniversary Gifts
If you aren't inspired by pearls, don't sweat it. The modern 30th wedding anniversary material, diamond, can be anyone's best friend. A symbol of love and faithfulness, it's no surprise that this sparkly stone represents 30 years of marriage. Ready to start shopping? We've listed the top diamond-themed gifts below.
Diamond-Cut Crystal Champagne Flutes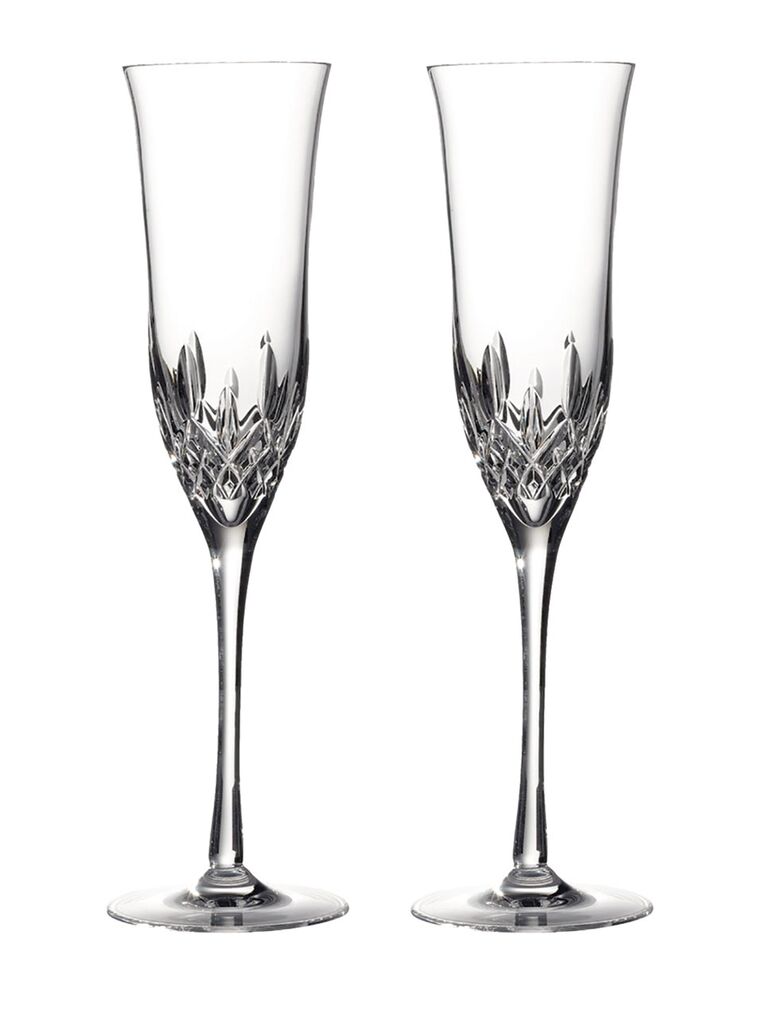 Toast to 30 years of marriage with beautiful crystal champagne flutes. This set of two is cut with Waterford's signature Lismore diamond crosshatch. They're purposely shaped to enhance the effervescence of sparkling wine; plus, their flared rims are a symbol of celebration. For an even more thoughtful gift, have the champagne flutes custom engraved.
Diamond Accent Money Clip
How about a practical 30-year anniversary gift? This money clip will keep their bills safely tucked away in style. It's crafted from gold-plated stainless steel with a black enamel center. And, of course, a sparkling diamond accent to fit the theme.
Stainless Steel and Diamond Watch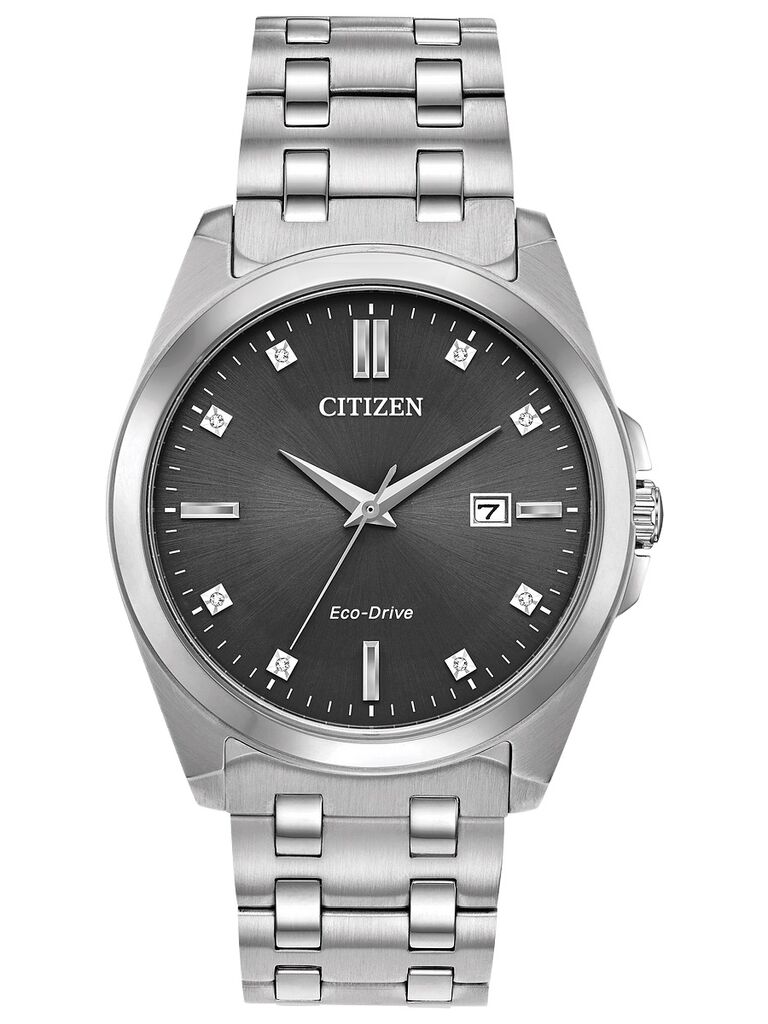 If your partner is a major watch aficionado, this sleek accessory is sure to excite them. The stainless steel bracelet and sapphire crystal face are designed for durability, while the diamond-studded dial adds a lavish finishing touch. It's a stylish way to acknowledge all the time that's passed since you said "I do."
Raw Diamond Necklace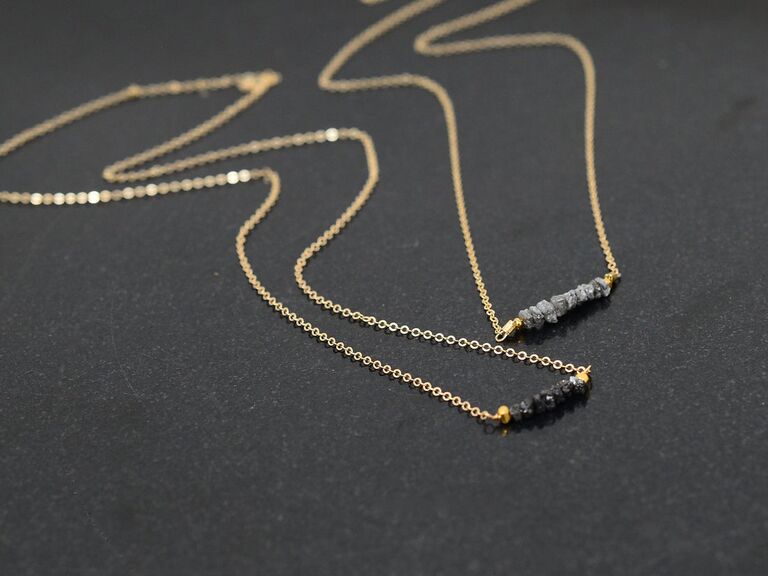 This raw diamond necklace is a cool spin on the modern 30th anniversary gift. Unpolished and unshaped black or grey diamonds hang on a silver, gold or rose gold chain to create an edgy look. It'll add a subtle statement to your spouse's attire whenever they wear it.
Black Diamond Anniversary Band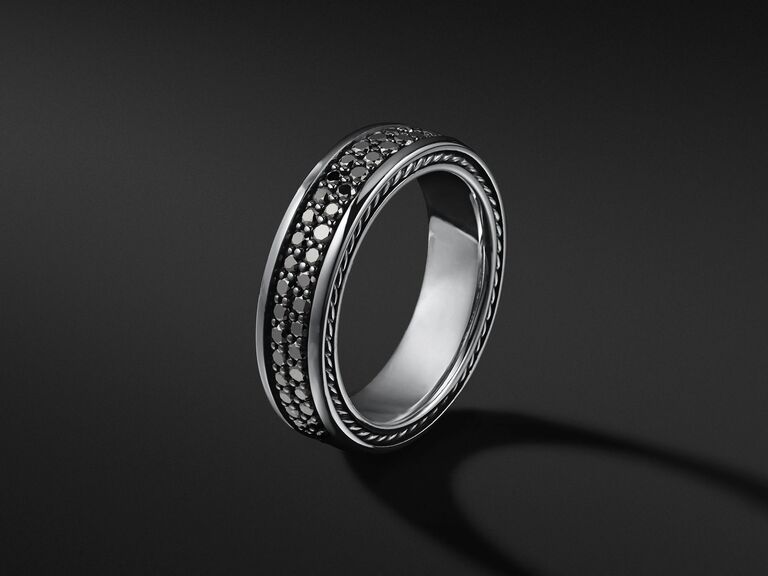 The 30-year wedding anniversary can be a great time to refresh your partner's wedding band or add another ring to their collection. This sleek sterling silver band—complete with two rows of pavé black diamonds—is a luxurious and fashionable option. It's bound to impress the spouse who appreciates contemporary style.
Emerald and Diamond Stacking Ring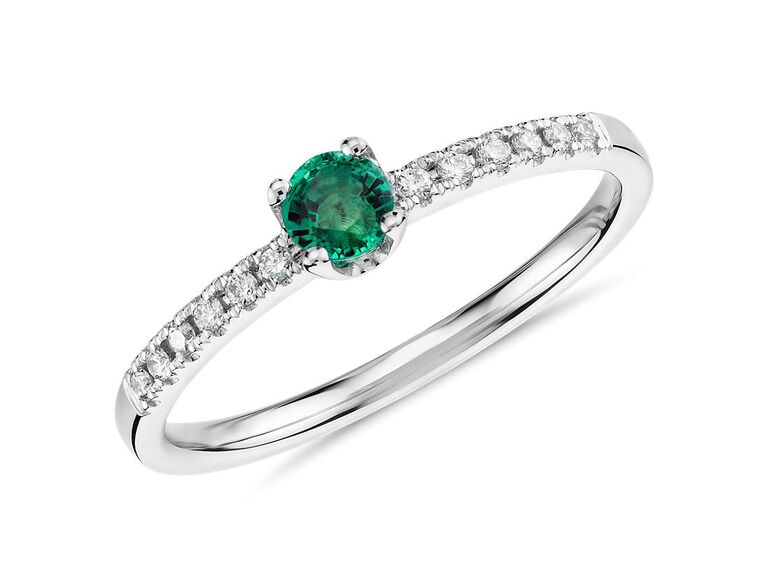 Intrigued by the idea of giving your spouse a 30th anniversary ring? This 14K white gold ring with diamond side stones will stack beautifully alongside their other bling. A petite emerald gemstone—fitting for the 30th anniversary's color, green—sits at the center for another layer of meaning.
Elizabeth Taylor White Diamonds Perfume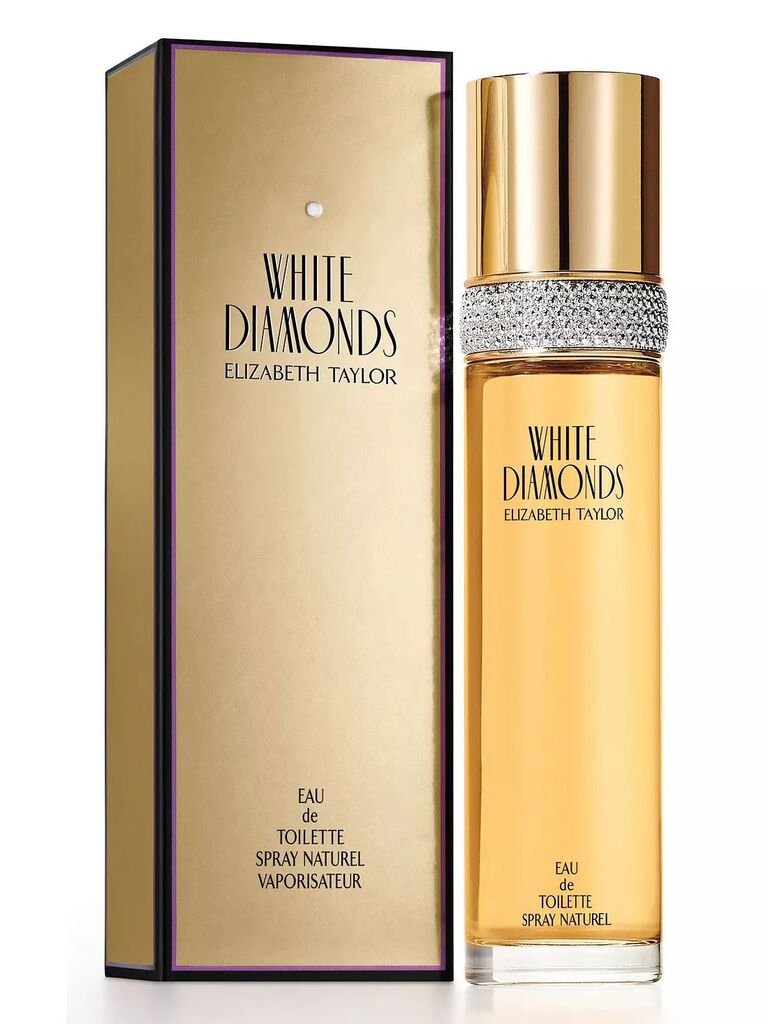 Feel free to think outside the box when it comes to modern 30-year anniversary gifts. Elizabeth Taylor's White Diamonds perfume is a soft blend of floral scents—including the 30th anniversary's flower, lily. The bottle is even fashioned with faux diamond details.
Giant Diamond-Shaped Chocolate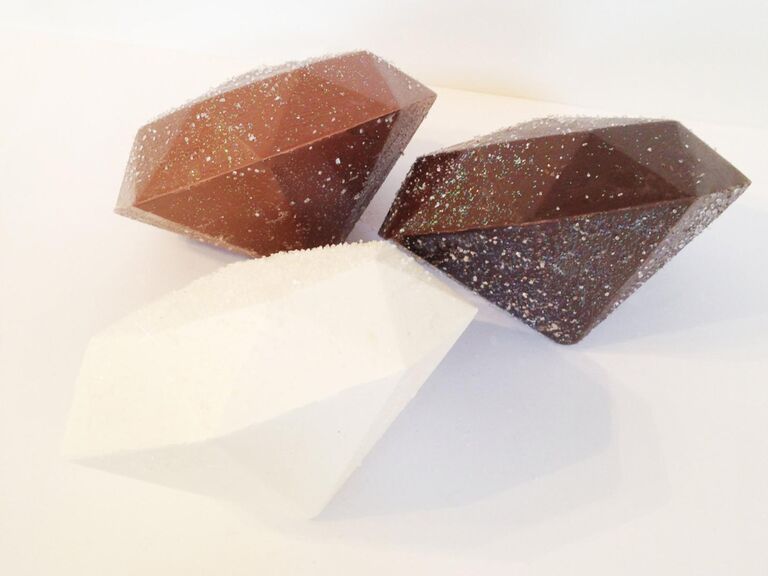 Like we said earlier, diamond-shaped gifts are a totally acceptable spin on the modern theme. Whether you're shopping for a 30-year anniversary gift for your parents, friends or spouse, a giant chocolate diamond is sure to leave an impression. After all, who doesn't love chocolate? Choose white, dark or milk chocolate then have it covered in sugar sprinkles for a sweet and shimmery gift.
Geometric Diamond Whiskey Tumblers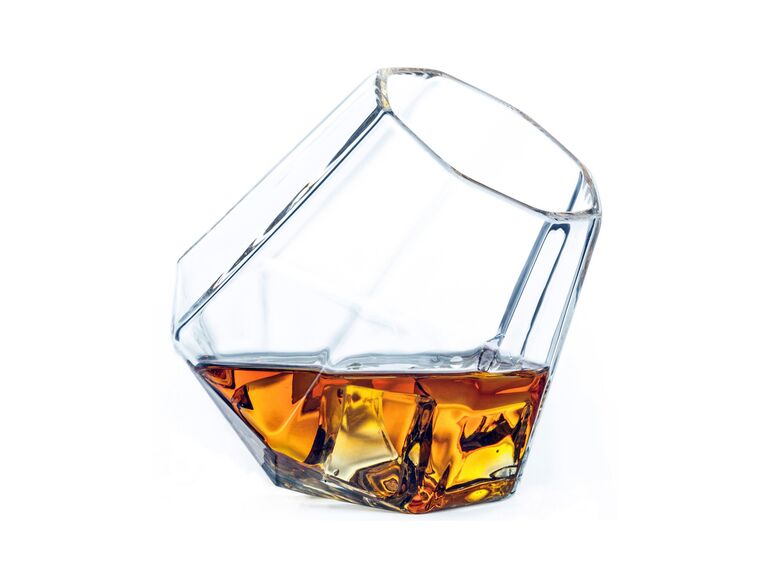 Speaking of diamond-shaped gifts, these unique glass tumblers are a great gift for the whiskey lover(s) in your life. The quadrilateral design helps aerate the drink as it's poured. Don't worry—despite the angles, these glasses are spill-proof. Pick up a set of two, four or six then have them pre-wrapped for a ready-to-present 30-year anniversary gift.
Personalized Star Map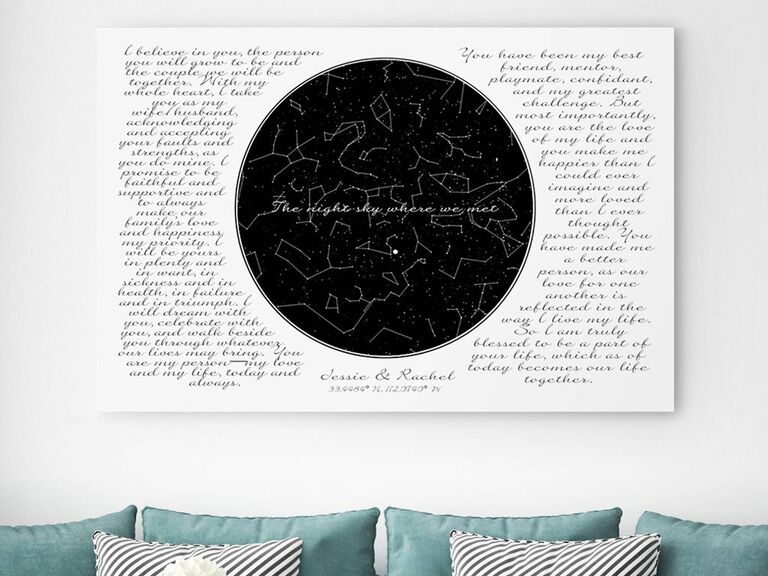 Rihanna said it best: Stars are like diamonds in the sky. If you're willing to stretch the theme a little, this custom map of the night sky is a great 30th anniversary gift for your husband, wife or the happy couple. Each work of art displays a map of the stars from a meaningful date and location of your choosing (the couple's wedding day, perhaps?) and can be personalized with their vows, the lyrics to their first dance song or a heartfelt message.
Alternative 30th Anniversary Gifts
If you're looking for a 30th wedding anniversary gift that doesn't follow the traditional pearl or diamond themes, you're in luck. We've compiled some alternative ideas they'll appreciate just as much. From pretty personalized homeware to the trendiest new gadgets, these are truly unique 30-year anniversary gift ideas.
Green Leather Smart Wallet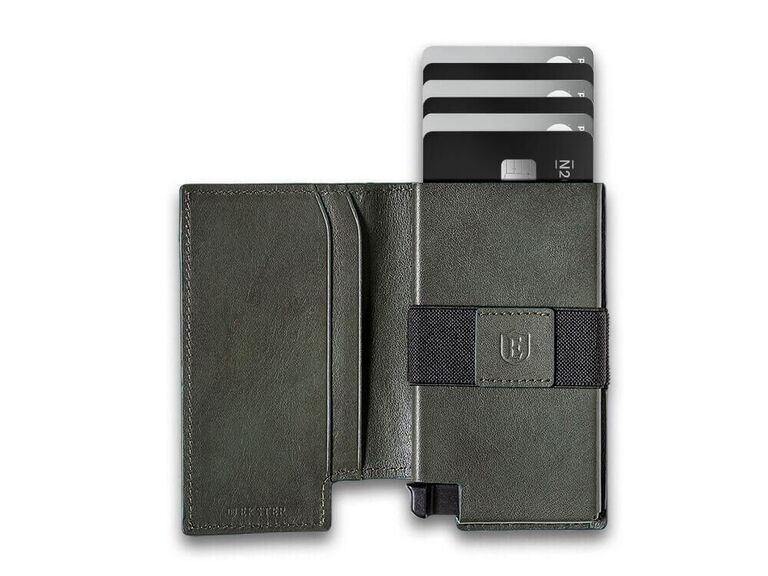 Trust us, this wallet is anything but boring. Its slim design comes in many shades of leather, including the 30-year anniversary color: green. But the standout feature is the ejectable cardholder for quick, hassle-free access. How cool is that?
Engraved Wooden Cheese Board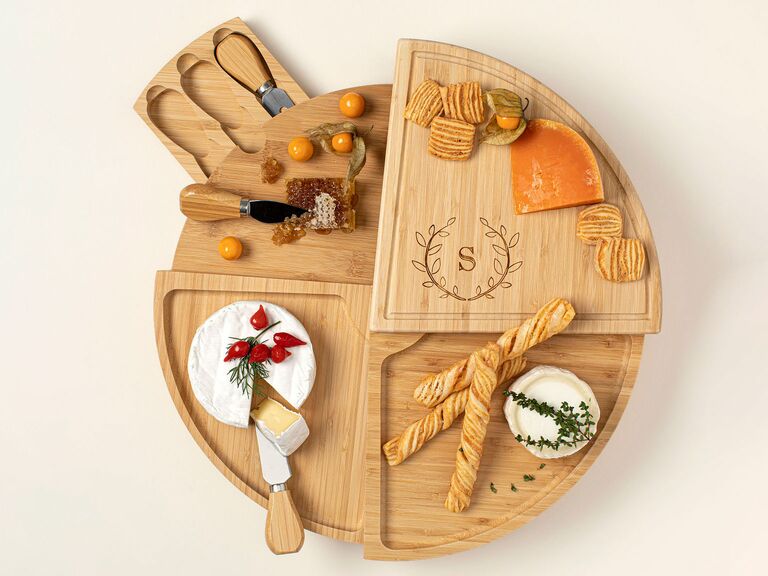 Here's a 30-year wedding anniversary gift that's personal and practical. This elegant wooden serving board comes personalized with an initial and a noteworthy date (aka their anniversary date). Four tiered compartments conveniently fold away for easy storage, and there's also a built-in utensil drawer with a stainless steel cheese fork and two knives. Maybe they'll be inspired to host a wine and cheese night.
Digital Photo Frame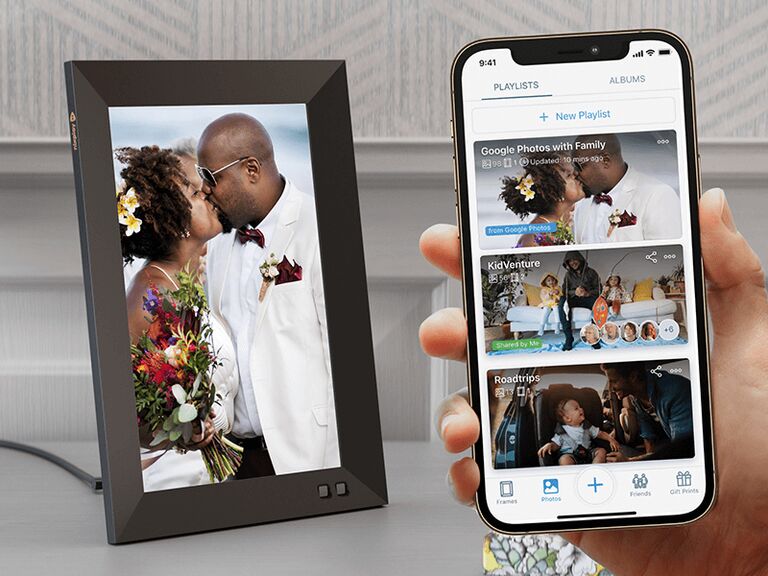 Photos are classic, meaningful gifts for your spouse, friends or parents. Take the idea to the next level to celebrate 30 years of marriage. This digital picture frame connects to an app to display a custom stream of photos that you can update regularly. It's not just stylish home decor, but also a sweet way to share precious memories.
30th Anniversary Keepsake Candle
Set a romantic mood with this personalized candle. It's an affordable 30-year anniversary gift for her, him or them that doubles as a cute memento of this once-in-a-lifetime milestone. The candle jar reads "30 wonderful years" followed by the couple's names and wedding date. Choose between a selection of amazing scents, from exotic floral aromas to warm spice blends.
Personalized Heart Map Wall Art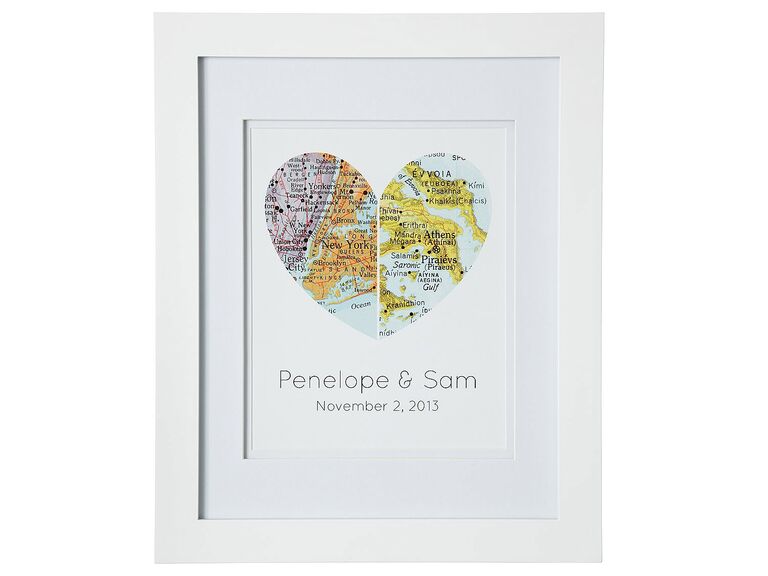 Pay tribute to your hometowns and the love that brought you together with this personalized map art. Shaped like a heart, each half charts where you and your partner came from before being united. The print is finished with your names and an important date (like your wedding day) then framed in a white or black wooden frame.
Smart Indoor Garden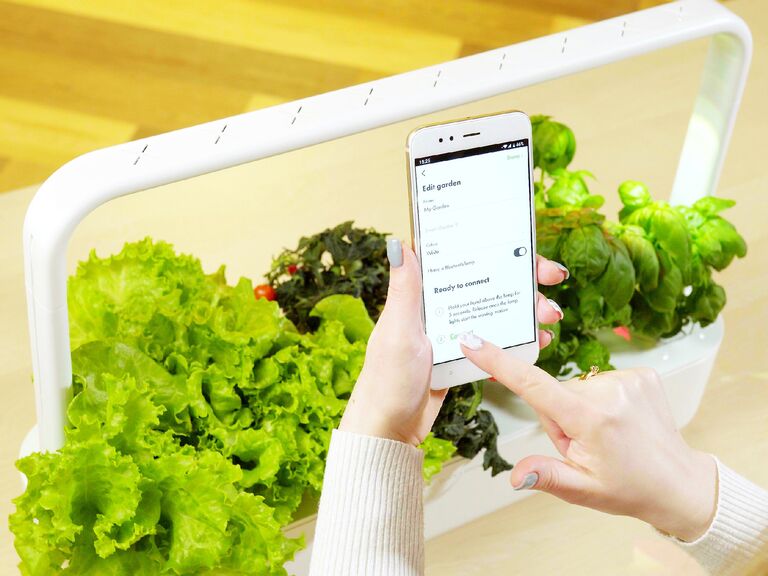 Shopping for a green-thumbed spouse or a couple who loves to cook together? Look no further than Click & Grow's smart garden. This genius indoor grow kit is quickly becoming a kitchen staple—especially for anyone who doesn't have a backyard to do their planting in. The smart garden takes care of pretty much everything, from automatic watering to regulating light exposure—all they have to do is set their preferences using the handy app.
Luxury Silk Pajamas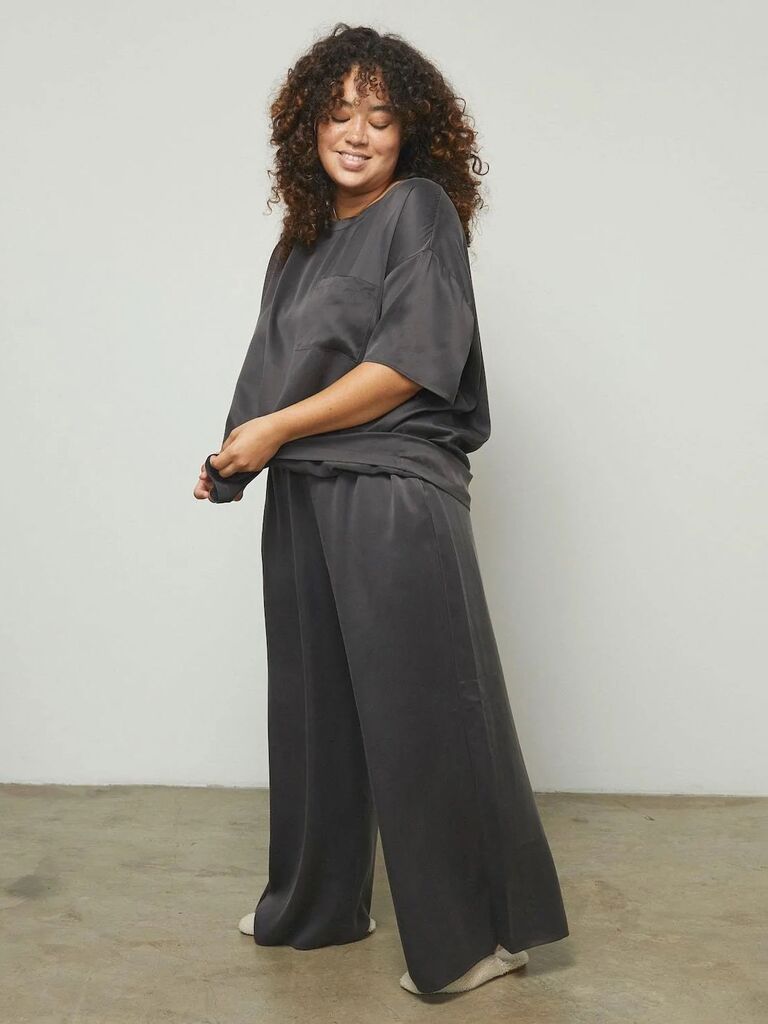 You really can't go wrong with a set of silk pajamas from Lunya—the company's high-quality loungewear is soft, stylish and machine washable to boot. We especially love the cozy look of this oversized tee and pant set. The best part? There are pockets! Use code FOR-TK20 to get $20 off your first order of $100 or more.
Green Cashmere Sweater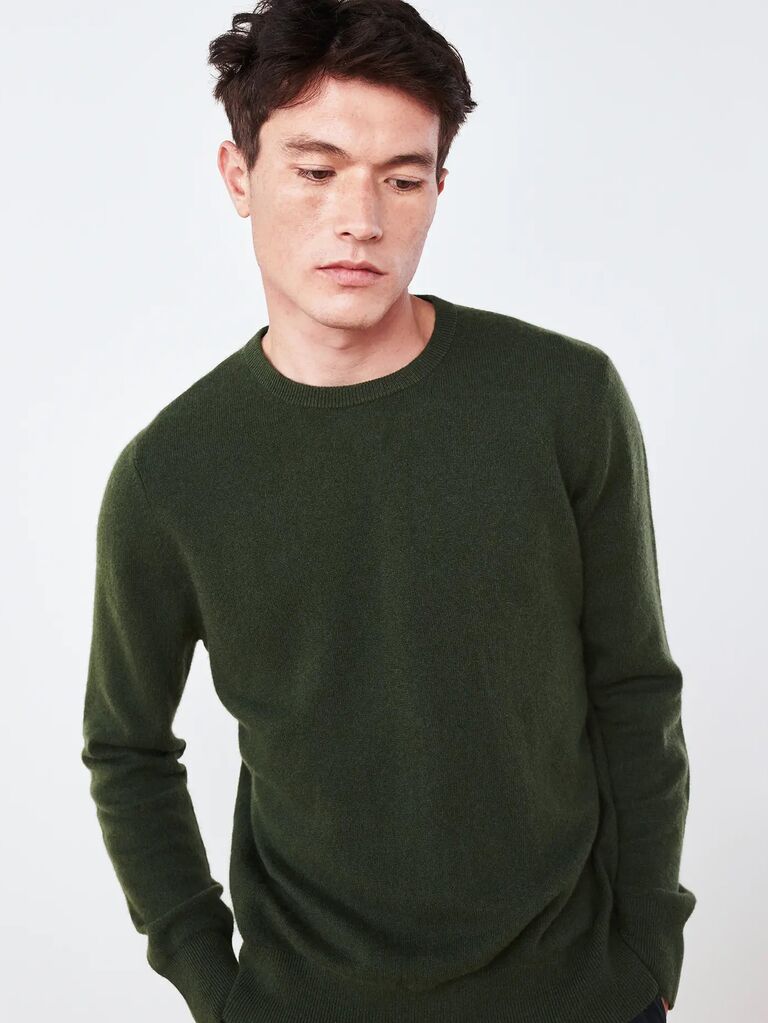 A cozy cashmere sweater is the kind of luxury gift your S.O. truly deserves after 30 years (and counting!). The perfect balance of smart and casual, this stylish crewneck sweater will be a valuable addition to their wardrobe. Get it in green for a subtle nod to the milestone's traditional color.
Embroidered Monogram Throw Blanket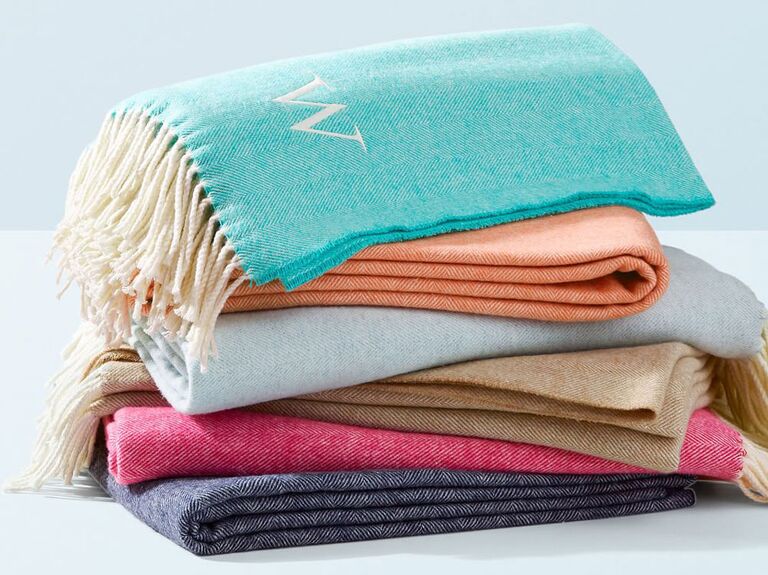 If your partner is always cold, they'll love to receive this super-soft throw. It's lightweight and versatile so they can use it as a blanket, scarf or shawl. The embroidered monogram adds a sweet, personal touch.
Custom Wooden Family Sign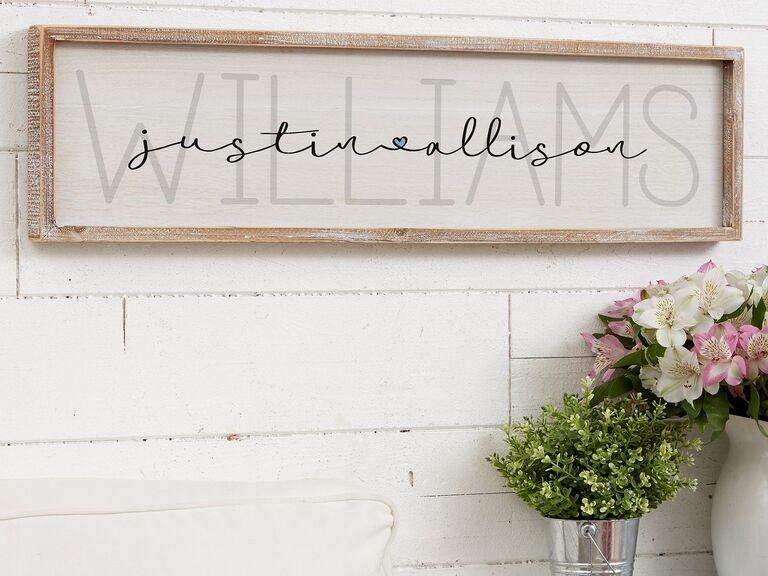 If the happy couple shares a last name, this farmhouse-style wall art will help them celebrate their three-decades-long union. Their family name is printed in light gray with their first names overlayed in black script and connected with a heart. Choose between a whitewashed or black wooden frame. They'll love to hang this sentimental art piece in their entryway to welcome guests into their loving home.
Congratulations Video Montage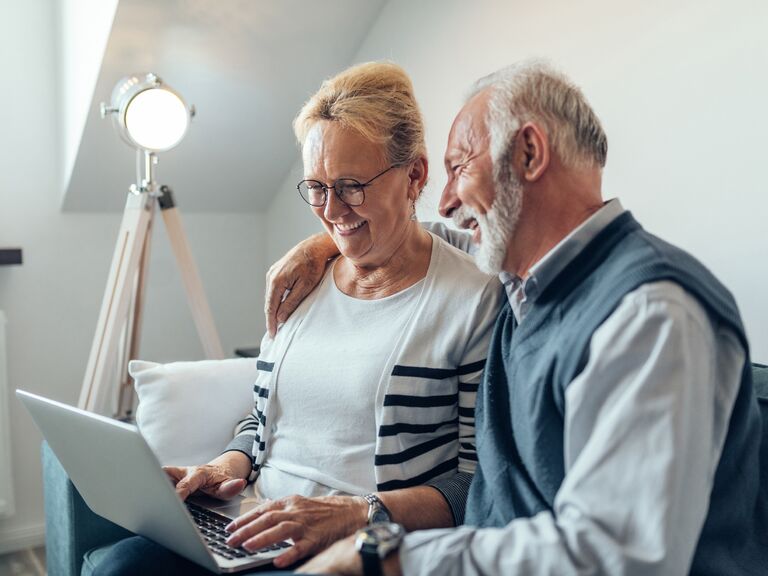 If it's sentimental 30th anniversary ideas you're after, prepare to be blown away. Tribute is a cool online service that makes putting together a heartfelt montage of well-wishes super simple. Invite loved ones via email to record personalized video messages, then use the online editing tools to turn them into a sweet compilation. It's a great anniversary gift for parents that shows them just how much you love their love story. The couple can watch it at home on their computer or you can send a sleek LCD video card.
Preserved Rose Bouquet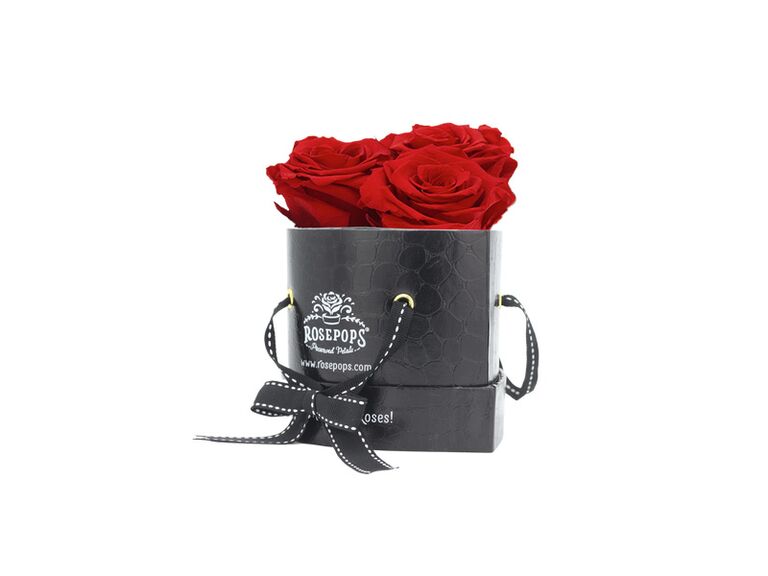 Roses are a classic romantic flower—make them even more charming with Rosepops. These real roses last up to a year so your partner is all set until the next anniversary. This gift box comes with three red roses (one for every decade you've spent together) displayed in a heart-shaped box. Feel free to add a fragrance, message on the lid or a charm to make it even more personal. And use the code THEKNOT15 for 15% off at checkout.
Crystal Photo Cube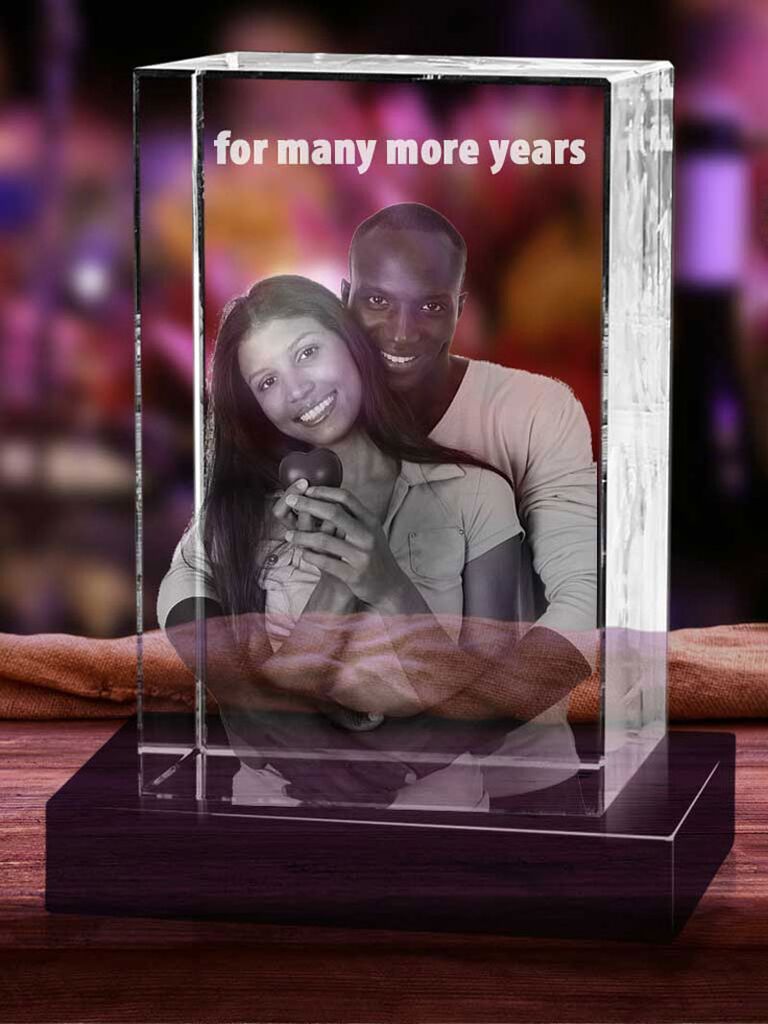 Here's another next-level photo gift idea. Swap a traditional frame for a crystal cube displayed on a light-up base. Choose your favorite picture with your spouse then add a personalized engraved message like "Happy 30th Anniversary."
Monthly Wine Delivery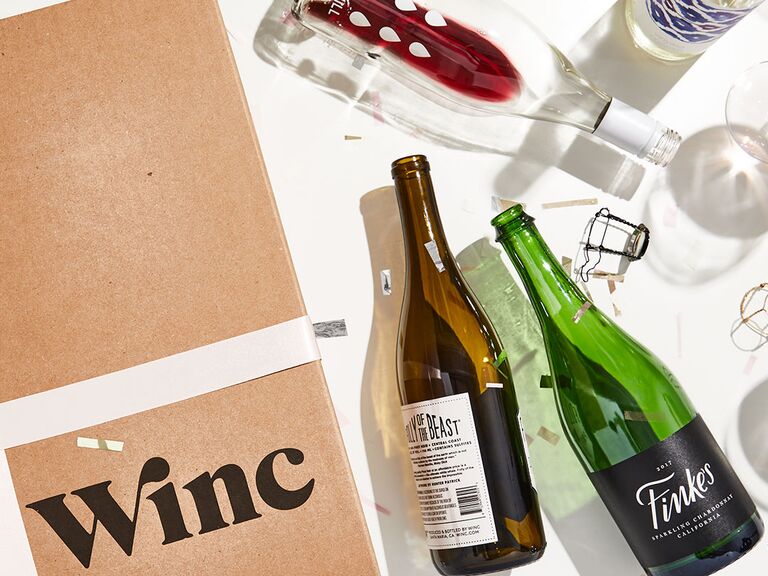 What better gift to commemorate 30 years of marriage than a celebratory wine subscription? Treat your parents, friends or relatives to a gift card entitling them to a monthly delivery of delicious vino they can enjoy not just for their anniversary, but for dinner parties, future date nights and more.
Guided Group Trip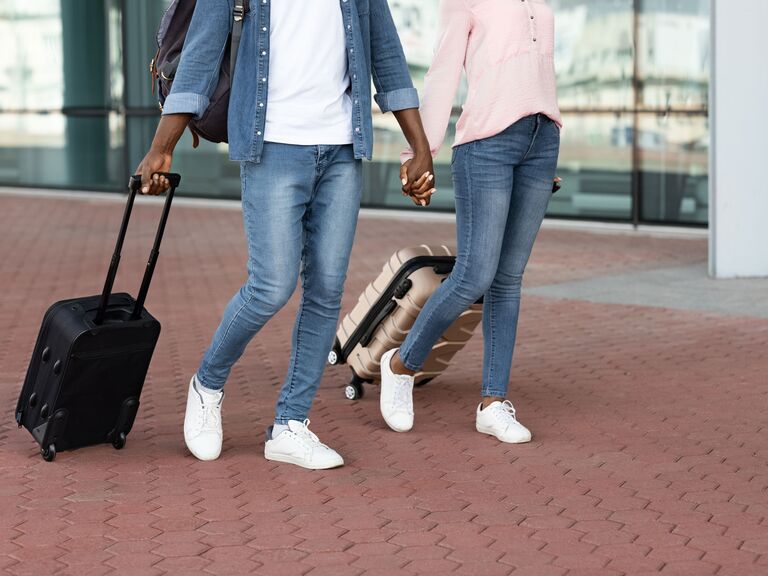 Three decades of marriage is the perfect time to splurge on a fun trip abroad for you and your partner. And with EF Go Ahead Tours, planning will be easier than ever. They find hotels and flights, design exciting itineraries and pair you with local guides so you can enjoy the sites and culture of a new place without any of the stress. You can shop over 175 trips across all seven continents to find an adventure you'll both enjoy.