The Best 30th Anniversary Gift Ideas for Your Spouse, Parents or Friends
Celebrate 30 years of love and happiness with one of these meaningful gifts.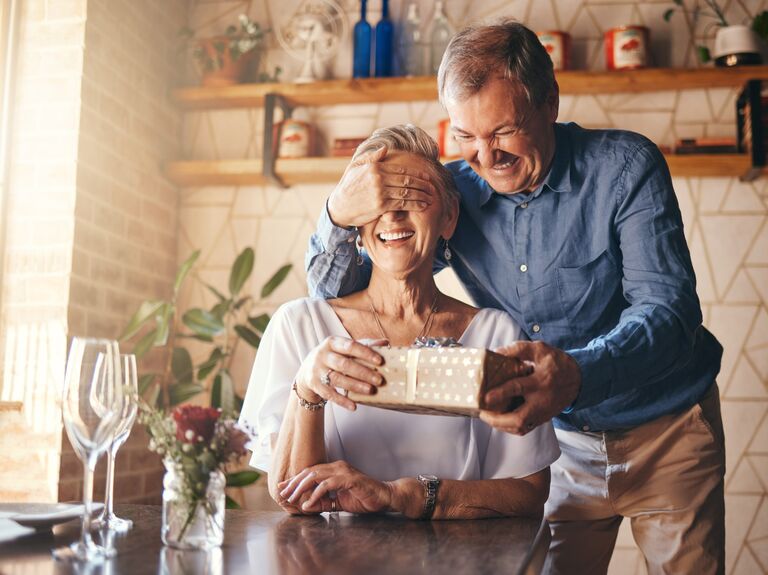 Photo: PeopleImages / Getty Images
We have included third party products to help you navigate and enjoy life's biggest moments. Purchases made through links on this page may earn us a commission.
Three decades of marital bliss is certainly an occasion worth getting excited about. If you and your spouse (or a couple you know) are approaching this milestone, you're probably looking for a meaningful 30th anniversary gift to get the celebrations started. To help you feel inspired, we've compiled a selection of sweet and thoughtful gifts for the 30th wedding anniversary that are sure to bring on all the warm fuzzies. From traditional and modern presents to alternative gifts that break the mold, there's something for everyone on our list. Whether you're celebrating 30 years with your partner or are looking to congratulate your parents (they are the blueprint, after all), we'll help you find the perfect gift to honor the pearl wedding anniversary.
In this article:
Traditional 30th Anniversary Gifts
Traditional 30th anniversary gifts are made from pearls—shiny, iridescent gems that represent the love, purity and wisdom of a marriage that has lasted for three decades. Pearls also symbolize beauty from within and the kind of special bond between a couple in a loving and successful 30-year relationship. While pearl jewelry is always a timeless gift, you can interpret the traditional 30th anniversary theme in several different ways in order to find a unique present for your wife, husband, friends or parents. From pearl-inspired sweet treats to elegant pearlescent accessories, the world is your oyster when it comes to choosing a gift they'll love (and actually use!).
Pearl Shell Photo Frame
After three decades of marriage, we bet the lovebirds have accumulated their fair share of photos. This pink mother-of-pearl picture frame will look great filled with a nostalgic wedding picture or a snapshot from their 30th anniversary celebration. The subtle rosy tones add a romantic touch for a classic 30-year anniversary gift they'll admire for years to come.
Stainless Steel Pearl Watch
A watch is a sweet way to let your other half know how much you cherish the time you've spent together. This stunning timepiece features a luxurious black Italian leather band, complemented by 48 beautiful handset nacre pearls that encircle the dial. Equal parts modern and minimalist, this 30-year anniversary gift will add a smart, sophisticated touch to any ensemble.
Pearl Anniversary Milestone Tree
True love grows over time, and what better way to represent that than with this pearlescent tree sculpture? The wire branches are decorated with "leaves" made from fragments of white recycled glass to represent the 30th anniversary pearl theme, while the base is adorned with a metal heart for a sentimental touch. It's a thoughtful, thematic gift they'll proudly display in their home to celebrate their ever-evolving loving relationship.
Black Pearl Wireless Earphones
Treat your music-loving spouse to a tech upgrade with a pair of convenient wireless earphones. These earbuds have a stylish black pearl design that pays tribute to the traditional 30-year anniversary theme in a subtle and sophisticated way. But they're not just pretty to look at—they offer crystal-clear sound with clever noise-canceling technology (which will come in handy during their next noisy commute to the office). They also come with a sturdy stainless steel case for safe keeping and on-the-go charging.
Assorted Parisian Chocolate Pearls
Looking for a unique present that still acknowledges the traditional theme? Instead of real gemstones, buy pearl chocolates for a delicious edible anniversary gift you and your spouse can enjoy together. These decadent treats from Parisian confectionery brand Maison Boissier come in three different flavors (dark chocolate, crispy chocolate and raspberry chocolate) and are packaged into decorative floral tins that are so pretty, you can forgo the wrapping paper altogether.
Mother-of-Pearl Ring Dish
Keeping your wedding jewelry safe only gets more important as time goes on, which is why a shiny new ring dish is an excellent 30-year anniversary gift for your other half. This round trinket tray is made from iridescent mother-of-pearl, making it a lovely way to pay tribute to the 30th anniversary's traditional theme. Bonus: It's also available to buy as a pair, so you can snag one for yourself too!
White Pearls Candle
If you're looking for a traditional 30th wedding anniversary gift for your partner, parents or friends, this elegant candle is right on theme. Made from paraffin wax and poured into a hand-blown glass vessel, it will add a refined touch to their coffee table or nightstand. Once lit, it emits a warm, woody scent of white musk and jasmine throughout the room to immediately set the tone for relaxation (or romance). Choose from three different sizes: small, medium and extra large, which boasts a whopping 800 hours of burn time.
Pearl Drop Hoop Earrings
The classic pearl gets a fun and modern update in these stylish hoop earrings from BaubleBar. They're made from 18K gold-plated silver and decorated with five dangling keshi pearls for a wow-worthy 30th anniversary gift your spouse will love. Whether they wear them daily or keep them for special occasions, they'll think of you every time they put them on.
Mother of Pearl Cuff Links
Whether your partner loves to be suited and booted for work or prefers to dress to the nines for every date night, these pearlescent cuff links will ensure they look as dapper as they feel. They're crafted from stainless steel and feature a minimalist mother-of-pearl stripe design that'll elevate any shirt sleeve. If you want to make this 30th anniversary gift even sweeter, take them out for a celebratory meal so they have an excuse to show them off.
Pearlescent Marble Coasters
If you want to get your favorite couple a traditional pearl anniversary gift that's pretty and practical, look no further than these stylish coasters. They're made from white marble with mother-of-pearl accents and come with a holder to keep them neatly stacked on the coffee table when not in use. They're a thoughtful and useful 30th anniversary gift that'll add a sophisticated touch to their morning coffee ritual.
Modern 30th Anniversary Gifts
If pearl-themed presents aren't for you, look to the modern 30th anniversary gift of diamonds for inspiration instead. As well as being a symbol of love and faithfulness, this sparkly stone can withstand pressure and time, making it a fitting tribute to a 30-year marriage that has most certainly been through its own trials and tribulations. While diamond jewelry may be the first thing that comes to mind, we've also found a few diamond-shaped presents for a creative twist on the modern gifting theme. Ready to start shopping? Read on to uncover our brilliant diamond-inspired picks for the 30th wedding anniversary.
Personalized Star Map
If you're willing to stretch the modern anniversary theme a little, this custom map of stars looks like diamonds in the night sky. The personalized work of art displays a starry scene surrounded by the lyrics of your first dance song (or a heartfelt message) for a super romantic gift that'll dazzle your partner. We bet they'll be counting their lucky stars for having such a spouse as thoughtful as you.
Stainless Steel and Diamond Watch
Time flies when you're having fun, and you and your spouse are living proof of that. It's hard to beat a watch if you're looking for a meaningful gift that celebrates all the time that has passed since your wedding date, and this stainless steel stunner is sure to leave a lasting impression. The diamond-studded dial adds sparkle and sophistication, while a light-powered interface ensures they'll never need to replace the battery.
Diamond-Cut Champagne Flutes
Toast to 30 years of marriage with these beautiful crystal champagne flutes cut with Waterford's classic diamond crosshatch design. They're intentionally shaped to enhance the effervescence of sparkling wine and can be custom engraved for a personalized touch. Our bet? The lucky recipients will get to popping a bottle of bubbly right away.
Raw Diamond Earrings
These handmade raw diamond earrings are such a cool take on the modern 30th anniversary gift. Shaped like teardrops, the elegant rose gold hoops are adorned with unpolished black diamonds, creating a pair of edgy accessories that'll please any stylish spouse. We're pretty sure the only tears you'll have to contend with will be happy ones.
Elegant Diamond Necklace
If your spouse has an eye for elegant fine jewelry, they'll love this timeless trio necklace from Gorjana. Subtle and sophisticated, it features three sparkling diamonds hanging from an adjustable 14K gold chain. It's ideal for everyday wear and special occasions alike and is sure to become their new signature accessory.
Diamond Whiskey Tumblers
There are other ways to honor the modern 30th anniversary material, besides fine jewelry and accessories. Whether you're on a budget or just feel like interpreting the theme differently, these diamond-shaped glasses are a great choice. The quadrilateral design helps aerate the drink as it's poured, enhancing the flavor of your partner's favorite whiskey or wine. Don't let the angles put you off, though—despite looking a little off-center, these elegant tumblers are actually spill-proof. They're available in sets of two, four or six, if you want to stock up.
Diamond Eternity Ring
There's nothing like a bit of old-school romance to sweep your partner off their feet all over again. If you want to put a (new) ring on it, this diamond eternity band is bound to bring a twinkle to their eye. Pavé lab-grown diamonds take center stage for a simple yet elegant piece that looks beautiful worn alone or stacked with their engagement ring and wedding band. It's a meaningful 30th wedding anniversary gift they'll be delighted to show off at every future occasion.
Diamond-Shaped Cookie Cutters
If your partner, parents or married friends love to bake, a cooking gift is a good way to incorporate the modern 30th anniversary theme. This set of cookie cutters includes seven diamond-shaped pieces made from biodegradable, eco-friendly plastic derived from natural resources like corn starch or tapioca roots. (Cool, right?). It's a unique diamond-inspired gift that'll impress anyone who makes cookies on the reg and is conscious of the environment.
Personalized Diamond Bracelet
For a diamond-themed anniversary gift that's a cut above the rest, you won't go wrong with this personalized bracelet. Timeless and elegant, it features a diamond-dotted chain with a smooth white-gold plate engraved with your spouse's name. The length of the bracelet can be adjusted for a beautiful and meaningful accessory that'll always remind them of how treasured they are.
Diamond-Shaped Pendant
Have a spouse who favors fashion accessories over fine jewelry? No problem. This dainty diamond-shaped pendant is made from sterling silver and is available in three metallic finishes: gold, rose gold or silver. The sleek minimalist design looks amazing on its own or layered with other necklaces and is guaranteed to please anyone who appreciates quirky jewelry.
Unique 30th Anniversary Gifts
While pearls and diamonds certainly make beautiful gifts, it's okay if you don't want to go down the gemstone route. There are a couple of other 30th anniversary symbols you can take inspiration from, like the milestone's flower and color. Lilies are the official anniversary flowers for the 30th wedding anniversary, while green is the associated hue. The fragrant and beautiful lily flower represents humility and devotion—two key characteristics of a marriage that has flourished over several decades. Green, on the other hand, symbolizes growth and renewal, which are also important to keep a relationship happy and healthy. If you'd rather avoid themed anniversary gifts altogether, we've also included some awesome alternatives for your spouse, friends or parents. From personalized photo gifts to luxurious nightwear, these unique 30-year anniversary gifs are destined to delight.
Engraved Wooden Cheese Board
Here's a 30-year wedding anniversary gift that's anything but cheesy. Practical and stylish, this compact wooden serving board comes personalized with an engraved initial surrounded by a leafy border. When folded, it looks like a large chunk of cheese and opens up to reveal four tiered compartments perfect for displaying sliced cheese, charcuterie and fruit. The best bit? It also has a built-in utensil drawer with a stainless steel cheese fork and two knives. Pair this with a bottle of your favorite anniversary wine for a romantic night in with your other half.
Crystal Photo Cube
Photo gifts are always a great idea, especially for the more significant marriage milestones. Swap a traditional frame for a crystal cube displayed on a light-up base with your favorite picture of you and your spouse. To make this personalized anniversary gift really pop, add a special message like "Happy 30th Anniversary" or "I Love You Always" to give your partner all the feels.
Luxury Silk Pajamas
You really can't go astray with a set of silk pajamas from Lunya—they make soft, stylish loungewear that looks as good as it feels. This oversized tee and pant set is made from machine-washable silk (yes, really!) and is available in three neutral colors: navy, black and beige. It also has pockets so your spouse can keep all their essentials nearby on their next lazy lounging day. Use code FOR-TK20 to get $20 off your first order of $100 or more.
Green Leather Smart Wallet
If your spouse needs a new wallet, they'll love this sleek and smart design from Ekster. Made from environmentally certified leather, it has space for up to 12 credit cards, all of which can be accessed at the touch of a button. To top it all off, it's designed to protect cards from skimming and wireless fraud, so your partner can rest easy knowing their cash is always safe. Choose from a variety of colors, including green, the 30th anniversary hue.
Custom Engraved Hourglass
After 30 years in a loving marriage, your favorite couple deserves a thoughtful anniversary gift that pays tribute to all the time they've devoted to one another. This elegant hourglass is engraved with their names and wedding date, alongside a simple, sweet message that reads: "Our Love is Timeless." It's filled with white sand and is timed to the hour so that they can use it as a timepiece and as a beautiful piece of home decor.
Cashmere Zip Sweater
A cozy cashmere sweater is the kind of luxury gift your S.O. truly deserves after 30 years (and counting!). The perfect balance of smart and casual, this stylish sweater features a quarter zip for an updated take on a wardrobe classic. It's made from ethically and sustainably sourced cashmere and is available in a range of muted colors that'll go well with any outfit. Don't forget to add a cashmere comb so they can easily maintain their new threads in the years to come.
Personalized Tree Ring Art
Personalized anniversary gifts that feel as unique and special as the couple being celebrated are always a win. Whether you're shopping for your parents or happily wedded friends, this tree-inspired art is bound to please. Made from wood, the heart-shaped design is inspired by a cross-section of a tree and commemorates some of the couple's most precious milestones, like their engagement, wedding day and 30th anniversary. Their initials are carved at the center for a sweet piece of wall art that'll have them reminiscing on all the good times they've shared.
Fresh Lily Bouquet
Take your cue from the 30th anniversary flower, the lily, with this vibrant bouquet. Lilies and roses combine in varying shades of pink for a bunch of blooms that's as fragrant as it is romantic. There's even an option to add a pink vase so your spouse's buds are ready to display right away. It's a thoughtful anniversary gift that'll inspire them to stop and smell the roses (and lilies!) long after your special day has passed.
Body Care Gift Set
Switch up your spouse's daily self-care routine with this luxurious gift set from Rituals. Infused with notes of almond oil and rose, its sumptuous scent will make any shower feel like a treat. The collection includes a mini reed diffuser, hair and body mist, foaming shower gel and ultra-moisturizing body cream for baby soft skin. Just don't be surprised if your partner spends more time hanging out in the bathroom as a result!
Heart-Shaped Bamboo Plant
If you're choosing a gift for a green-thumbed spouse or a plant-loving pair, this heart-shaped bamboo plant ticks all the right boxes. The unique shape is a sweet tribute to the happy couple and is sure to draw plenty of compliments (and curiosities) from house guests who come over. Aside from looking pretty, this low-maintenance plant scores extra points for purifying the air and removing pollutants. Plus, it only needs to be watered once a week, so they won't have to spend a ton of time keeping it fresh.
Our team received [some of] these products as promotional samples in exchange for editorial consideration and independent review.