The Best 21st Anniversary Gifts to Celebrate Over 2 Decades of Marriage
Honor 21 years of love with meaningful gifts of nickel, brass and more.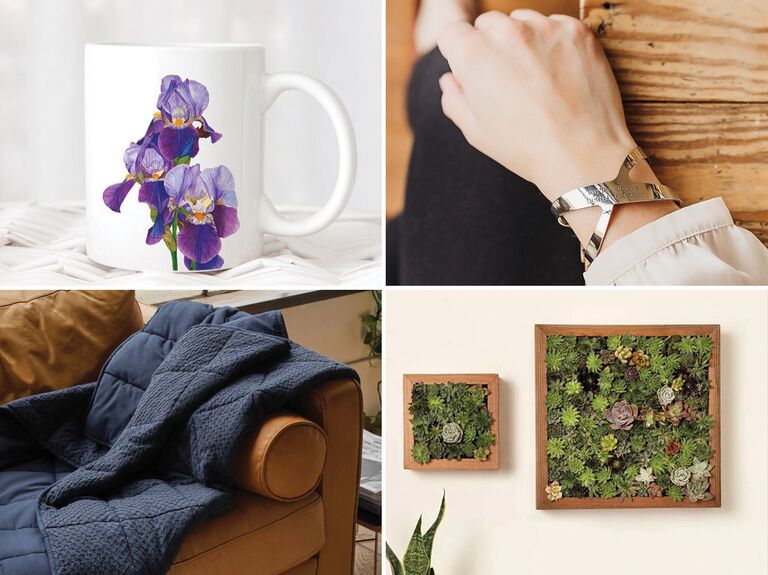 Photos: Etsy, Brooklinen, Uncommon Goods
We have included third party products to help you navigate and enjoy life's biggest moments. Purchases made through links on this page may earn us a commission.
While the big milestone anniversaries often grab the most attention, we think every year of marriage should be commemorated in a meaningful way. If you and your spouse have been married for 21 years, you're probably on the lookout for a great 21st anniversary gift to help get the celebrations started. Whether you're looking for a thoughtful themed present or something totally unique, we're here to help you find the perfect gift for your 21st wedding anniversary.
In this article:
Traditional 21st Anniversary Themes
Unlike other wedding anniversaries, the 21st anniversary has two modern gifting themes instead of a traditional one. Brass and nickel are the official materials for this marriage milestone, symbolizing the strength and durability of a union that has surpassed two decades. They're also associated with emotional well-being and are said to protect against negative energy—two key ingredients for a long and happy relationship. When it comes to brass and nickel anniversary gifts, there are plenty of options are your disposal, although this isn't the only approach to consider.
The 21st wedding anniversary also has a specific flower, gemstone and color, all of which can be used for gift-giving inspiration. The 21st anniversary flower is an iris, a strikingly beautiful bloom that represents faith, wisdom and positivity, and the designated gemstone is iolite, a pretty purple stone that symbolizes clear vision and intuition. According to legend, sailors often used iolite to determine the position of the sun so they could safely find their way home. Last but not least is the 21st anniversary color, orange, which signifies warmth, vibrance and life, making it a fitting tribute to passionate love that never fades.
Symbolic 21st Anniversary Gifts
If you'd like to treat your spouse to a meaningful and symbolic gift, we've found lots of great options that incorporate the various 21st anniversary themes and symbols. From brass and nickel homewares to elegant jewelry and fresh blooms, our list is bursting with themed gifts for him, her or them. Keep reading to shop our top gifts for the 21st wedding anniversary gift that ticks all the right boxes.
Brass and Copper Drink Dispenser
Your marriage has officially reached drinking age, so why not serve up your spouse's favorite sip in honor of the occasion? This quirky drink dispenser looks like something straight out of a professional distillery, thanks to copper tubes that aerate the contents of the bottle. The brass spout is mounted on a liquid-resistant wood board for a seriously cool 21st anniversary gift that'll draw plenty of compliments (and attention!) at your next dinner party or family gathering.
Gold-Plated Brass Earrings
If your spouse has an eye for sleek, gold accessories, they'll love this pair of retro huggie earrings from Gorjana. The elongated hoops are made from 18K gold-plated brass and look seriously chic worn alone or stacked with other earrings. They'll add the perfect finishing touch to any outfit, from smart office attire to elegant evening wear. Not sure about gold? If your partner prefers cooler tones, they're also available in silver.
Nickel Photo Frame
Time to bring the wedding album out of the archives! If you got married on a beach or honeymooned on an island, this nickel picture frame will take you right back to the sounds of the ocean. The intricate coral-inspired design creates an elegant backdrop for your favorite romantic snapshot, so you can give your special memories pride of place on your mantle. If you want to make this 21st anniversary gift even sweeter, we suggest swapping the image once a year for a romantic ritual that'll leave you both smiling.
Elegant Iolite Pendant
Want to spoil your spouse with a new piece of jewelry to celebrate your latest marriage milestone? Take inspiration from the 21st anniversary gemstone, iolite, with an elegant pendant they'll be excited to wear every day. The bold blue stone at the center contrasts beautifully with 18K gold vermeil hardware for an accessory that makes a subtle yet stylish statement. Given that iolite is said to inspire clarity and intuition, we bet your partner's joy will be clear as day when they receive this romantic gift.
Brass Table Lamp
Whether your spouse works from home or has a designated area to indulge in their favorite hobby, they'll love this retro table lamp. It boasts a playful mid-century modern design aesthetic, with brass finishes that are right on-theme for the 21st wedding anniversary. That's not even the best bit, though—the base has a wireless charging pad for their phone, watch or headphones for dual practicality.
Blue Iris Flower Delivery
A bouquet of flowers is always a super romantic gift, even after 21 years together. This vibrant bunch of blooms takes inspiration from the 21st anniversary flower, the iris, which looks beautiful paired with red tulips. You can even have them delivered right to the door to treat your love on the morning of your 21st wedding anniversary. Just don't forget to keep a lookout for the delivery so you don't give away the big surprise.
Brass Wine Rack
Your love has aged like a fine wine—make sure your vino does the same. Wine bottles sealed with a cork should be stored on their side to prevent the cork from drying out and keep air from entering the bottle. This brass wine rack can hold five bottles horizontally, ensuring your favorite red or white will be in tip-top condition for your next celebration (like your 21st anniversary dinner, perhaps?).
Sheet Music Wall Art
Few moments are as memorable as your first dance as newlyweds, even after over two decades of wedded bliss. Take your partner right back to that special moment with this canvas art displaying the sheet music from your wedding song (or another tune you both find meaningful). Choose the silver tone finish for a subtle nod to the nickel anniversary material and get ready to dance the night away all over again.
Monogrammed Cocktail Shaker
If your spouse has a flair for making top-notch drinks, why not upgrade their toolkit with a sleek cocktail shaker? This nickel-plated stainless steel design boasts a brilliant gold finish that can be personalized with their initials for a thoughtful touch. Compliment the gift with a bottle of their favorite liquor and mixer so you can celebrate the 21st anniversary with delicious homemade cocktails. Margaritas, anyone?
Orange Bee Drinking Ball
Here's a novel gift that incorporates the 21st anniversary color, orange, in a really creative way. This glass bee drinking ball is specially designed to catch and hold water droplets from a garden hose, so busy pollinators can keep hydrated while they buzz about the place. It's a really great gift for anyone who loves spending time in the garden (or even just appreciates obscure facts, like the fact that bees need drinking water to regulate the temperature inside their hive).
Nickel Anniversary Bracelet
Shopping for a thoughtful trinket that symbolizes your long-lasting relationship? Look no further than this handmade cuff. It's made from nickel and designed to look like an infinity symbol, which is a fitting tribute to your forever love. You can add a personalized engraving to the front and edges, including your wedding date, names or a special message for a unique touch. This elegant accessory is also available in brass, so you have your choice between two of the modern 21st anniversary materials for this meaningful gift.
Brass Plant Mister
Watering plants can seem like a chore, but we've found something to bring a touch of style to this daily ritual. This petite brass mister is a great alternative to a plastic watering can and is ideal for keeping succulents and delicate flowers hydrated. Over time, the brass finish acquires a unique patina, which will add a rustic touch to the retro design. It's a practical 21st anniversary gift they'll love and use, especially if they enjoy growing cacti and other succulents.
Iris Coffee Mug
Want to incorporate the 21st anniversary flower into your gift without buying fresh blooms? This pretty coffee mug is a great budget-friendly option that won't bring on any allergies. It's beautifully decorated with a hand-drawn illustration of a purple iris on both sides of the handle, with space in the middle for a personalized message or your partner's name. The affordable price point means you can even pick one up for yourself to create a matching pair that'll bring a happy touch to your morning ritual.
Nickel-Plated Wallet
If your spouse's wallet has seen better days, this unique design is a worthy (and necessary!) upgrade. Designed to hold up to 12 cards, this sleek accessory is made from nickel-plated leather for a sophisticated finish. The materials are assembled and polished by hand for over an hour, before being baked to set the hard coating for added durability. But that's not all—this wallet also has an RFID-blocking shield that protects cards from wireless fraud and skimming. Choose from three colors (black, rawhide or whiskey brown) for a winning 21st anniversary gift that'll impress your other half.
Brass House Plaque
Home is where the heart is, which is something you probably appreciate even more after 21 years with your spouse. If you want to add a sophisticated touch to your abode, it's hard to go wrong with a personalized wall plaque. This antique-style plate is crafted from rust-free aluminum with an antique brass finish and can be customized with your family name and wedding date for a thoughtful 21st anniversary keepsake.
Alternative 21st Anniversary Gifts
Of course, you're free to think outside the box if you don't want to be tied to a specific theme when gifting. Sometimes, anniversary gifts that are fun, random or unexpected are the best because they take your spouse completely by surprise. Thinking about their interests, hobbies and lifestyle is a great place to start if you're looking for a winning anniversary gift they'll love and use. Whether they spend time gardening every day, love to chill on the sofa or live for entertaining guests, we've picked out the best alternative gifts for the 21st wedding anniversary.
Personalized Serving Tray
Are you and your spouse high school sweethearts? The cute carved tree design of this wooden serving tray will take you back to those heady days when you were young and falling in love. You can even have your own initials engraved onto the tree just like you did all those years ago. It's a sentimental 21st anniversary gift that's pretty and practical and one that you'll get lots of use out of in the years to come. (Did someone suggest breakfast in bed?).
Indoor Smart Garden
Fresh herbs and veggies without the labor and seasonality of an outdoor garden? Yes, please! Help your spouse grow produce all year long with an indoor smart garden. This fun kitchen gadget automates watering and light for fuss-free gardening that doesn't require any outdoor space. It comes with a complimentary set of three basil plant pods, but they can also use their own flower and vegetable seeds if they prefer.
Compact Carry-On Suitcase
Planning a romantic getaway for your 21-year anniversary? It may be time to upgrade your spouse's luggage, especially if their current baggage dates back to your honeymoon. This compact carry-on suitcase is ideal for an overnight or short trip, like a weekend away to your favorite vacation spot. The polycarbonate hard shell is durable yet lightweight, while the 360-degree spinner wheels are excellent for navigating through airport queues. There's also plenty of space inside to stash items securely and an exterior pocket for a laptop or electronic devices. (Psst: You can even add a personalized luggage tag for good measure).
Date Night Subscription
After 21 years of marriage, it's totally understandable if you and your spouse have run out of new date night ideas. While scheduling time for each other may not always be easy, we've found the perfect gift to help you reconnect—a monthly date night subscription service. Every month, you'll receive a surprise box containing everything you need for a fun date at home, like making art together or playing truth or dare jenga. Whatever you two get up to, you won't regret making your relationship a priority.
Linen Pajama Set
Getting a good night's sleep is something we all crave, especially when life gets really hectic. Help your partner catch up on some z's with this light and airy set of linen pajamas. Perfect for hot sleepers, the button-down top and high-rise shorts are made from 100% linen, a naturally cooling fabric that absorbs moisture and dries even quicker than cotton. The set is available in two colors: vibrant blue and neutral beige.
Cookie Gift Box
It wouldn't be an anniversary gifting roundup if we didn't include an edible anniversary gift for you and your spouse to savor together. This delicious cookie gift box is curated especially for wedding anniversaries and is brimming with delectable treats like snack-size cookies, confection clusters and chocolate-covered pretzels. It's a winning 21st anniversary gift for anyone who has a sweet tooth but doesn't want to bake. The box includes 29 tasty bites, with flavors ranging from chocolate chip and oatmeal raisin to buttercream-frosted "wedding cake" cookies. Yum!
Chunky Leather Loafers
If you're married to someone who loves fashion, here's a gift that's wearable, chic and super on-trend. Leather loafers are having a major moment right now, and it's not hard to see why—they're smart enough to wear to work but also look really great with rolled-up jeans, floaty midi dresses and even shorts. This classic black pair from the eco-conscious brand Reformation is made from regenerated leather and recycled materials for footwear that feels as good as it looks.
Glass Whiskey Tumblers
Does your partner like to unwind with a nightcap after a long week in the office? Then a set of new glassware could be in order. These hand-cut whiskey tumblers feature a sleek, modern grid pattern that'll make their favorite sip feel a bit more sophisticated. They come in a pair, meaning you can join them for a celebratory drink on the evening of your 21st wedding anniversary. Cheers!
Succulent Grow Kit
Your spouse doesn't have to be a pro to make things grow, thanks to this handy DIY succulent kit. It includes all the essentials to create their very own succulent display, including plant cuttings, soil and a wooden frame. It's available in three sizes and is a great gift for anyone who is short on space but big on plants. Bonus: After the succulents have taken root, the frame can be fixed vertically to a wall to create a living piece of art. Cool, right?
Weighted Throw Blanket
If your partner frequently falls asleep on the sofa, here's a thoughtful 21st anniversary gift that'll help them feel relaxed after a long day. This textured cotton blanket is gently weighted to help reduce anxiety and support a more restful slumber (who doesn't want that?). Plus, it's filled with tiny glass beads, which are a more eco-friendly alternative to plastic or polystyrene pellets. Choose from two colors, navy or dark green, to match your living area or bedroom color scheme.