The Top 21-Year Anniversary Gift Ideas to Celebrate Long-Lasting Love
Find the best brass, nickel and alternative anniversary gifts below.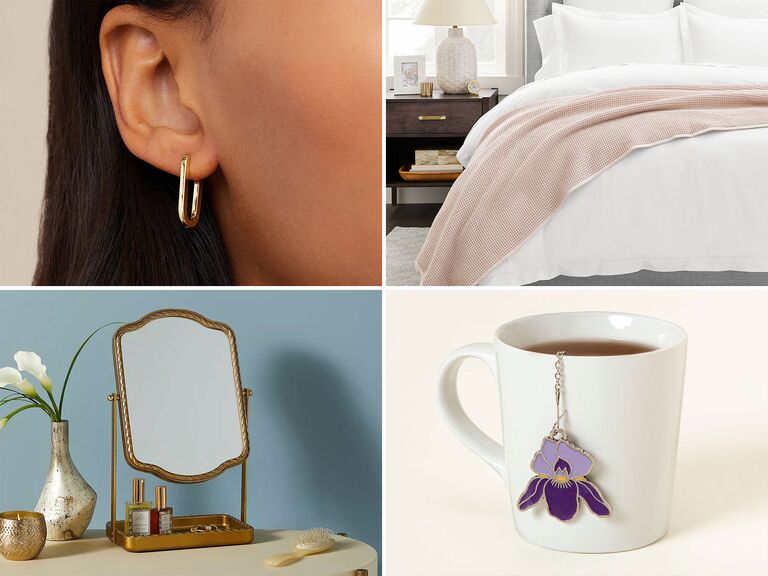 We have included third party products to help you navigate and enjoy life's biggest moments. Purchases made through links on this page may earn us a commission.
Another year of marital bliss has come and gone, so it's time to celebrate! And what better way to mark 21 years together than with a stellar 21st anniversary gift? Unlike past anniversaries, the 21st anniversary does not have a traditional gift associated with it. Don't worry though—modernists have come up with gifting themes for the year nonetheless. Keep reading to learn all about the 21-year wedding anniversary symbols and to shop our selection of the best 21st anniversary gifts.
In this article:
What Is the 21st Anniversary Gift?
Unlike past anniversaries, the 21st anniversary doesn't have a traditional gift, just a modern one: brass and nickel. These metals symbolize durability, strength and have been associated with emotional well-being and purifying negative energy—all critical components of a long-lasting marriage, if we do say so ourselves. The best part? When it comes to brass and nickel anniversary gifts, there's a lot to choose from, like trendy home goods, rustic jewelry and even kitchenware.
The 21st wedding anniversary also has a specific flower, gemstone and color, all of which can be used for gift-giving inspiration. The 21st anniversary flower is an iris, a bloom that comes in nearly every color of the rainbow, each of which holds a slightly different meaning. In general though, irises are symbolic of faith, hope, wisdom and positivity. The 21st anniversary gemstone, iolite, has an equally sentimental meaning. This pretty purple stone represents clear vision—it was thought to be able to help lost sailors find their way home—but can also mean clarity and intuition, both of which have likely been guiding forces in your relationship over the last two decades. Lastly, you can also draw inspiration from the 21st anniversary color, orange, which represents warmth, vibrance and life.
Whether you want to get a thoughtful gift for your partner or the perfect present for a pair of lovebirds in your life, there are a ton of great 21st anniversary symbols to draw inspiration from. That being said, you don't have to stick to tradition to find a great gift. From sweet and sentimental to cute and quirky, we've found the best thematic and alternative 21st anniversary gifts that say "I love you," "Congratulations" or "Thanks for sticking with me through the past 21 years."
The Best 21st Anniversary Gifts
You don't have to stick to the brass and nickel anniversary theme to pick a great 21-year anniversary gift. We've included plenty of alternative 21st wedding anniversary gift ideas too. Here's a roundup of fantastic gifts—both on-theme and off—that you can buy with just a couple of clicks. At least one is sure to be perfect for whoever is on your list.
Brass and Copper Drink Dispenser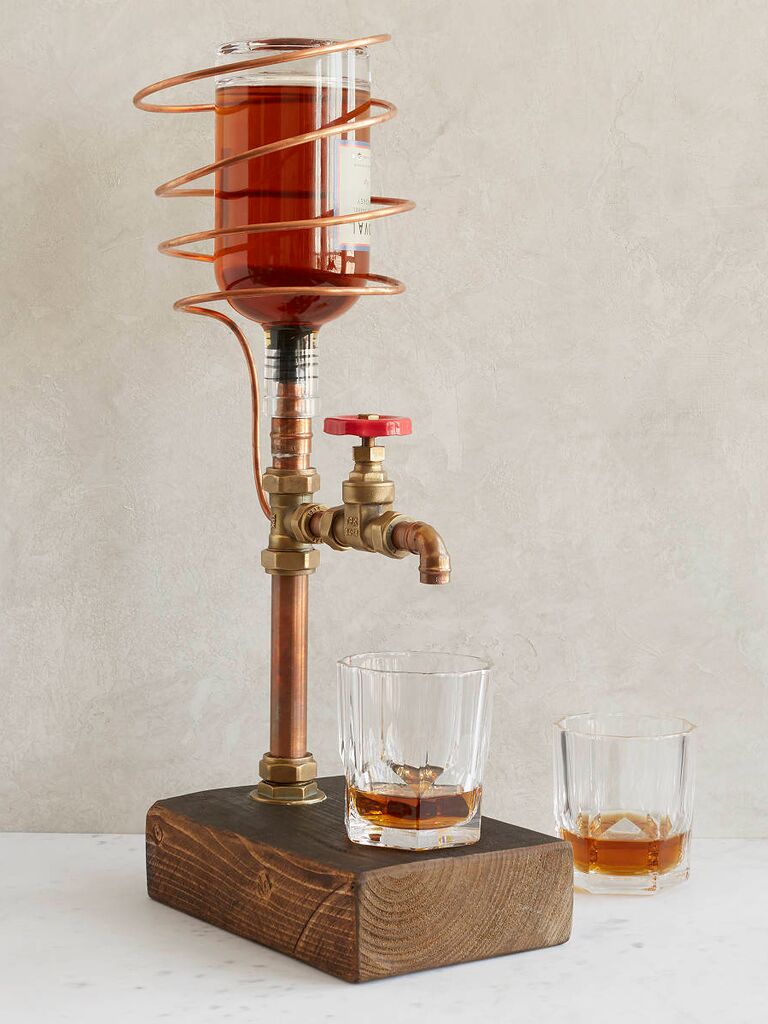 Your marriage has officially reached drinking age! In honor of this milestone, serve up you and your spouse's favorite boozy refreshment in this quirky drink dispenser. The copper tubing hugs any bottle (and aerates it), seamlessly connecting to a brass spout all mounted on a reclaimed wood board with a liquid-resistant Danish oil finish. Just insert your liquor of choice and let the good times flow.
Iolite Necklace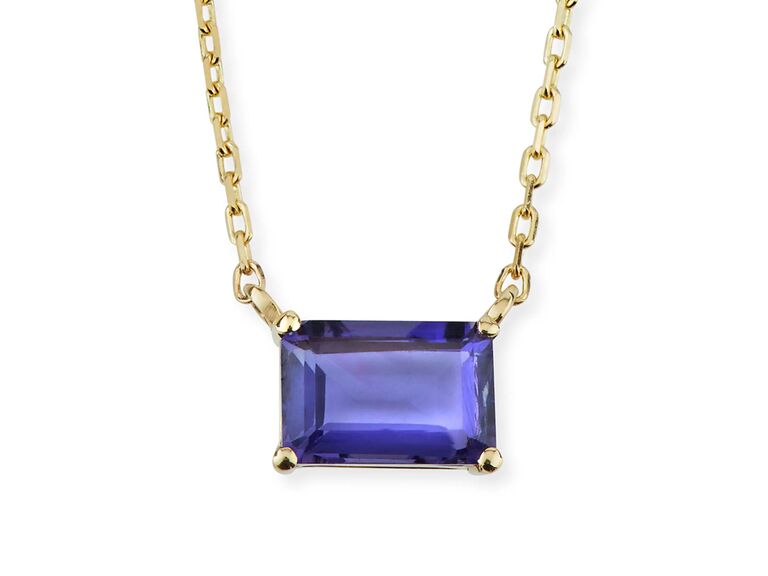 The 21st anniversary gemstone, iolite, makes for gorgeous jewelry (see above for exhibit A). This pendant necklace boasts an emerald-cut stone with a 14K yellow gold chain and hardware. Though simple, the colorful gem will add a fun pop to any outfit—perhaps their formal attire for your anniversary date out on the town.
Brass Wine Rack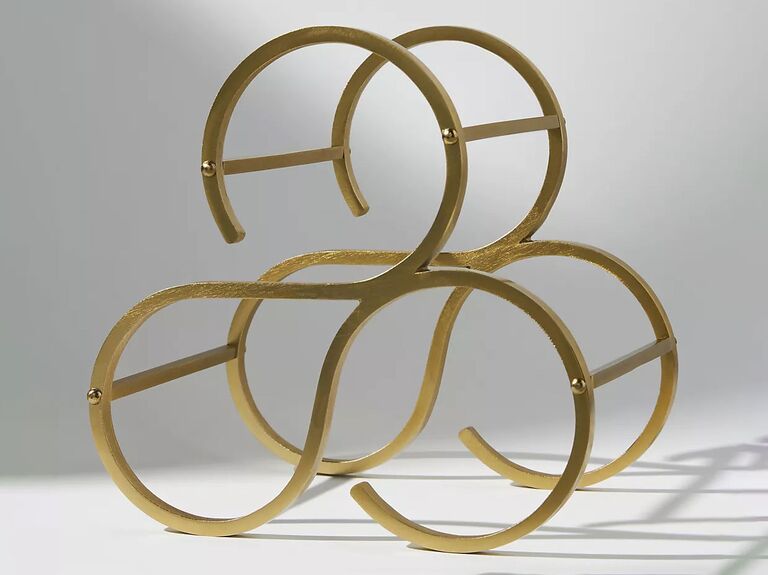 Your love has aged like a fine wine—make sure your vino does the same. Wine bottles sealed with a cork should be stored on their side because it keeps the cork from drying out and thus letting air into the bottle. This brass wine rack can hold three bottles horizontally so your best drinks are yet to be sipped. Pair it with a bottle of wine to toast to your 21st wedding anniversary and a bottle of wine to save until your 22nd.
Expandable Luggage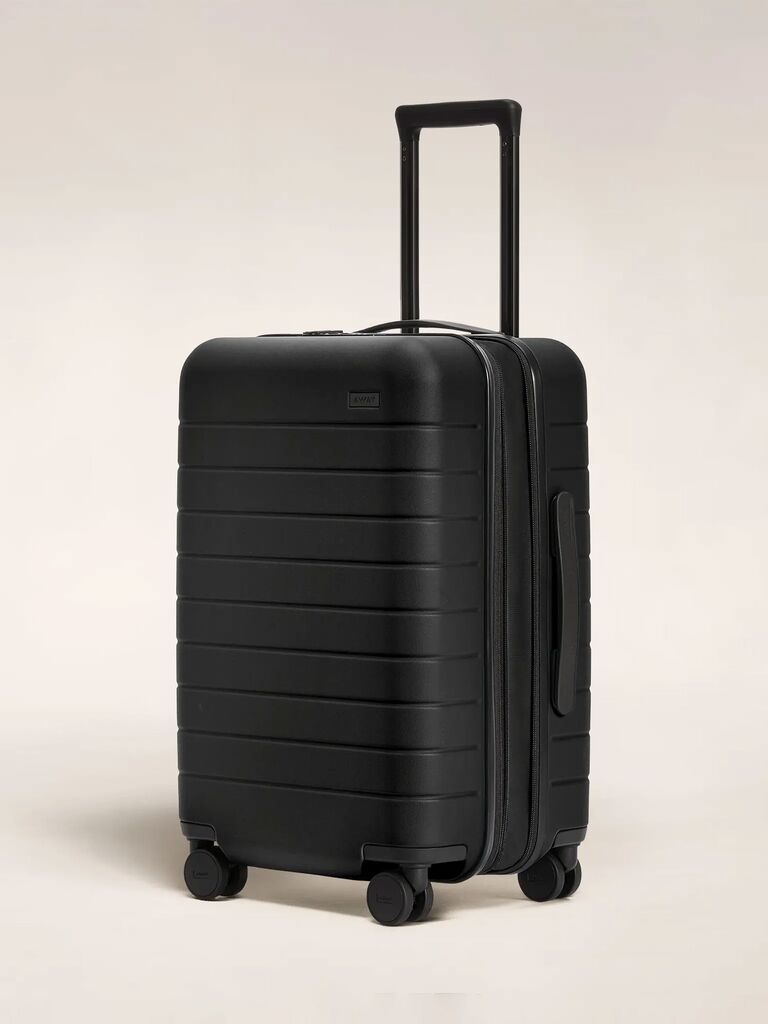 While 21 years of marriage feels like quite the milestone (and it totally is), your life of adventure is far from over. Gift your spouse a sleek carry-on suitcase for all the romantic getaways yet to come (or perhaps one already being planned to celebrate the 21st anniversary?). Away's luggage has a durable exterior shell and spacious interior (this one can expand an additional 2.25 inches) that fits everything you could possibly need for any kind of trip. Plus, it has 360 degree spinner wheels and a TSA-approved lock for convenient and safe travel.
Nickel Coin Key Chain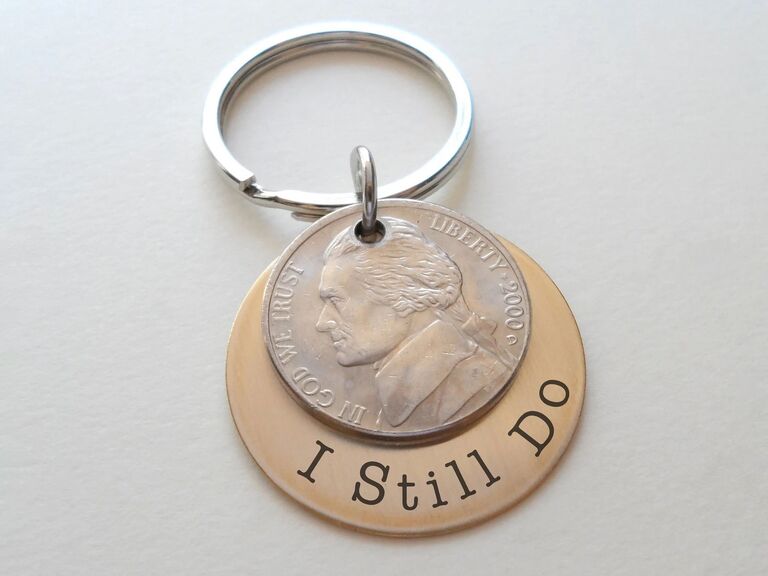 Celebrate the brass and nickel anniversary with just that—brass and nickel. This key chain features a five-cent coin from the year you tied the knot and a brass disc engraved with a custom message, date or name. We love the sweet note on this one: "I still do."
Gourmet Candy Box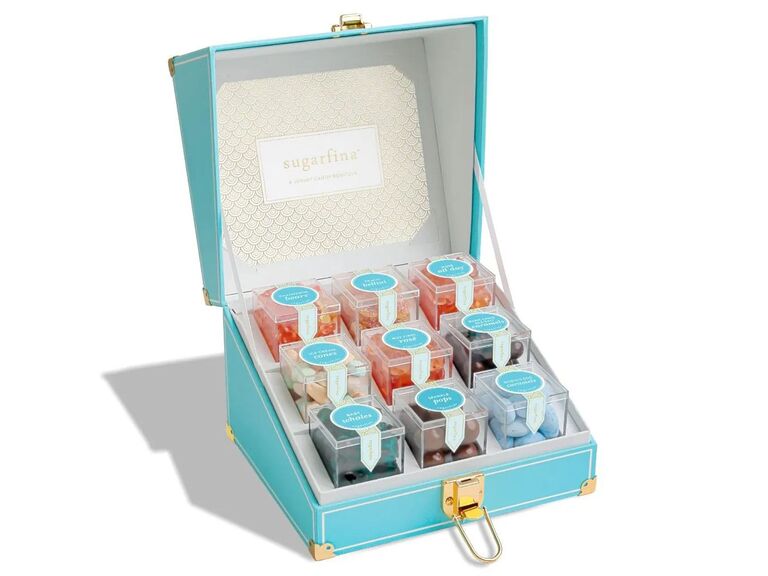 Shopping for someone with a sweet tooth? You can't go wrong with a candy box—well, really a candy trunk—of gourmet gummies and chocolate. Choose nine favorites from Sugarfina's collection of bespoke candy, then personalize with a thoughtful note. Our favorite bites? Champagne Bears (so celebratory), Peach Bellinis and Dark Roast Espresso Beans.
Monogrammed Cocktail Shaker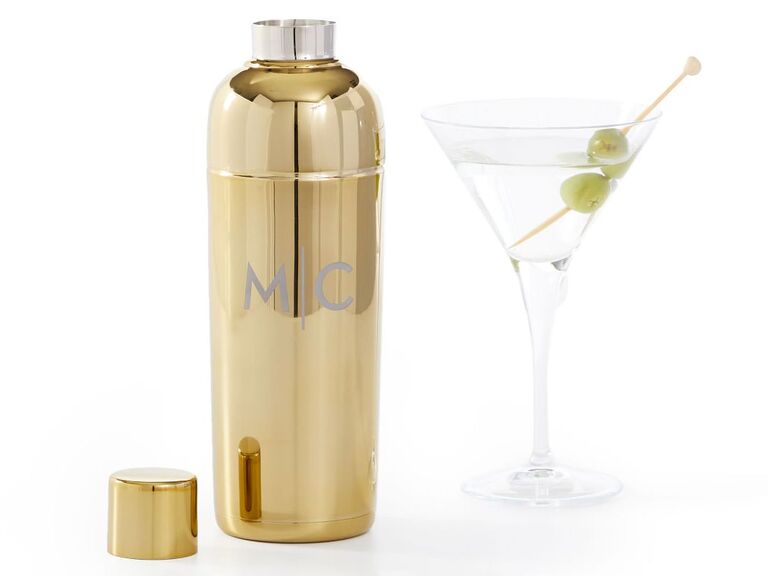 If your spouse doubles as your own personal bartender, upgrade their toolkit with this nickel-plated stainless steel cocktail shaker. It has a brilliant gold finish and can be personalized with their initials. Complete the gift with their favorite liquor and mixer so you can celebrate the 21st anniversary with delicious homemade cocktails.
Iris Flower Tea Infuser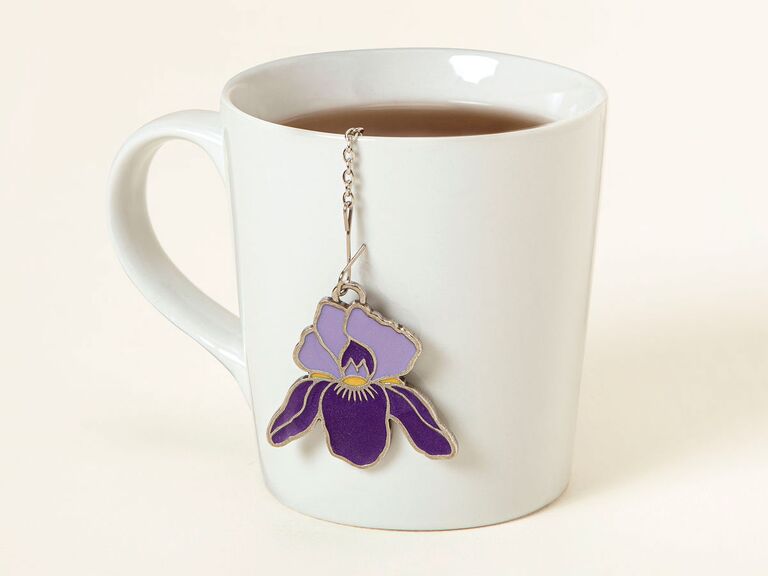 Looking for a sweet, yet simple 21-year anniversary gift for your wife or husband? If they're a habitual tea drinker, they'll love this cute stainless steel tea infuser with a handmade iris charm (the 21st anniversary flower). Pair it with their favorite bag of loose-leaf tea or a monthly tea subscription to encourage their relaxing habit.
Brass Table Lamp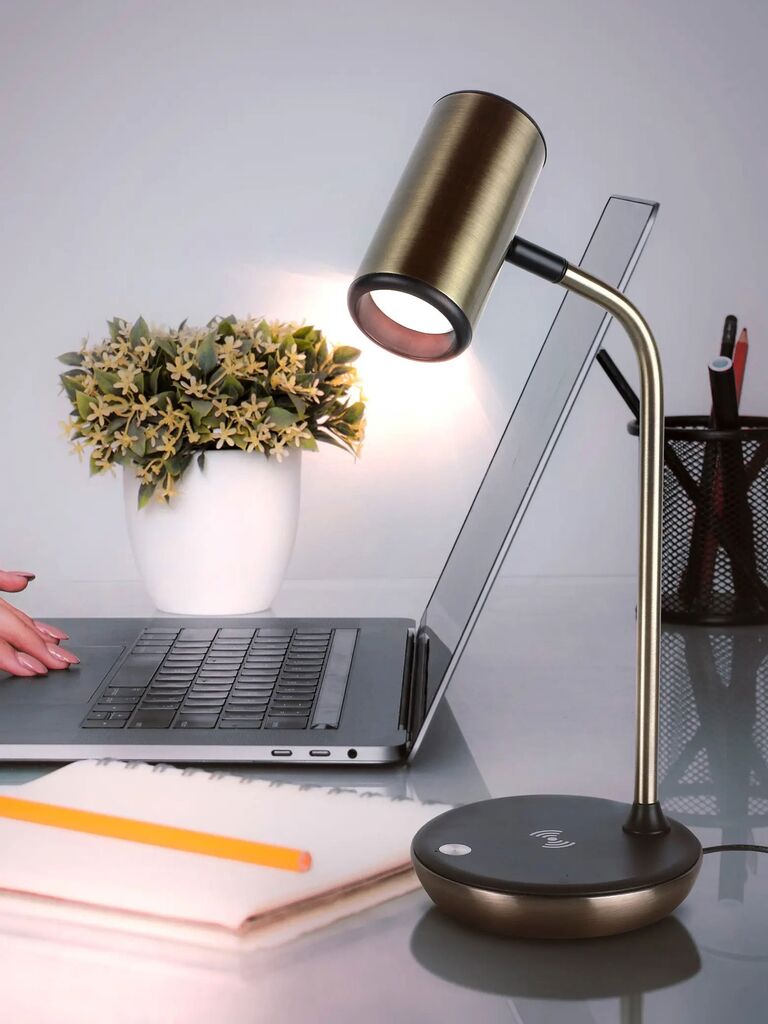 Everyone deserves a luxe WFH set-up, especially your hard-working spouse. Add this sleek mid-century brass lamp to their desk to brighten their office like they brighten your life. The base even has a wireless charging pad for their phone, watch or headphones for dual practicality.
Date Night Dice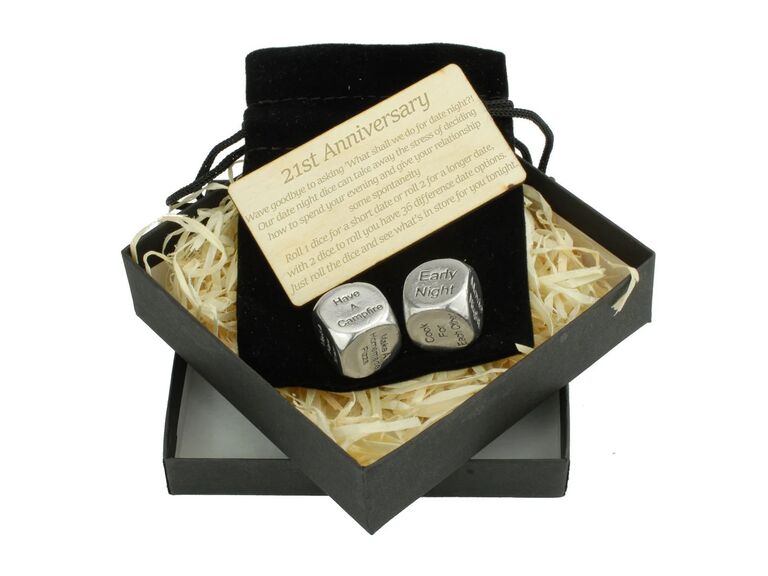 Shake 'em! If you never know what to do for date night, these nickel dice will solve that problem. Each dice is engraved with easy date night ideas, and you can roll one or both depending on your allotted time. They even come in a gift box with a card dedicated to celebrating the 21st wedding anniversary, so you can get away without wrapping paper.
Waffle Cotton Blanket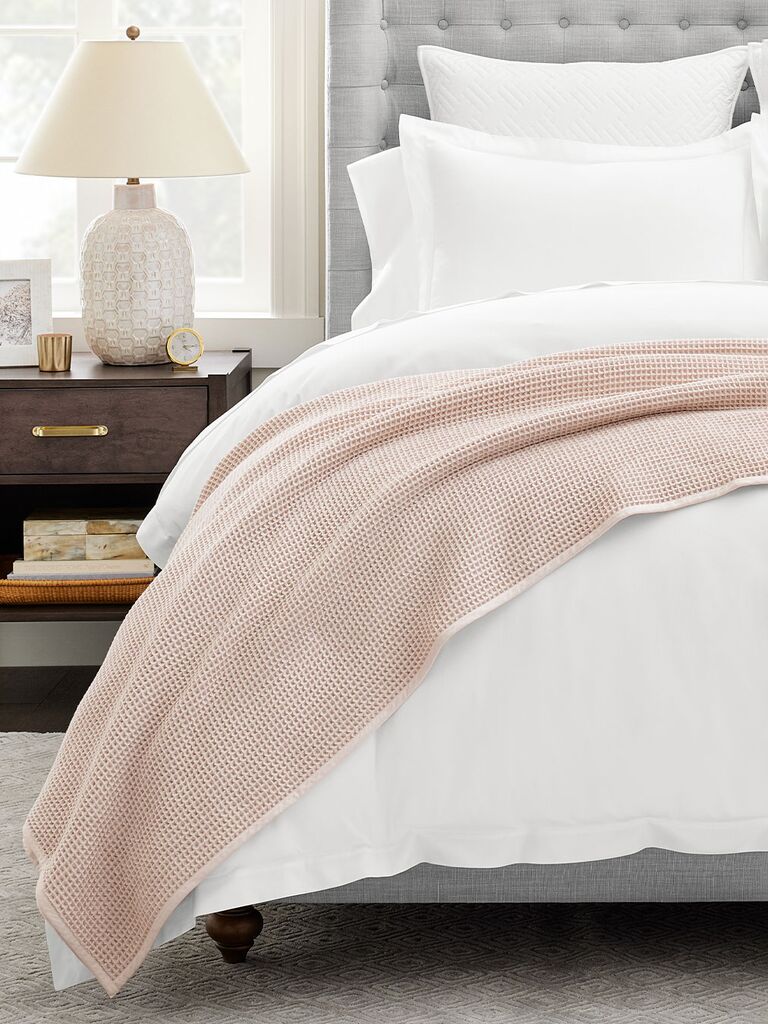 PSA: They'll never want to get out of bed (or off the couch) once you add this cozy throw to their collection. Boll & Branch's waffle blanket is made from high-quality long-staple 100% organic cotton for a breathable, plush fabric that only gets softer with every wash (and snuggle sesh).
Indoor Smart Garden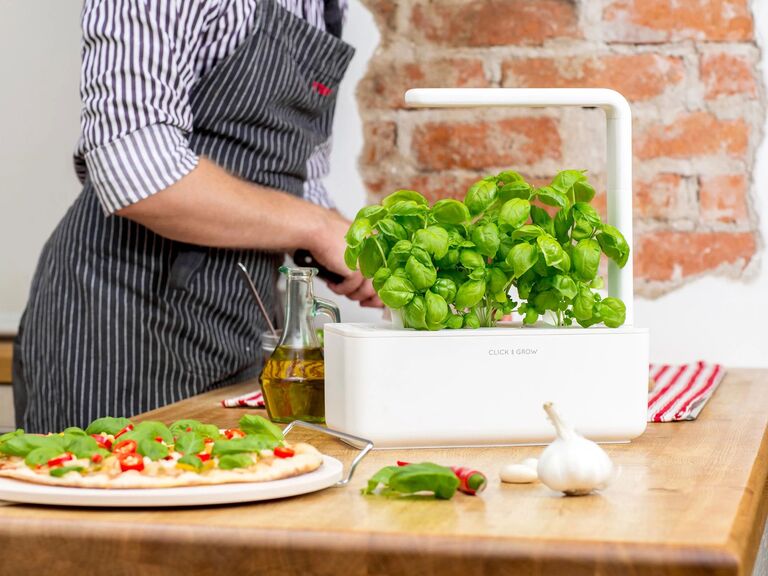 Fresh herbs and veggies without the labor and seasonality of an outdoor vegetable garden? Yes, please! Help your spouse or the happy couple grow produce all year long with an indoor smart garden. This fun kitchen gadget automates watering and light so no matter the environment (or their green thumb), success is guaranteed.
Brass Measuring Cups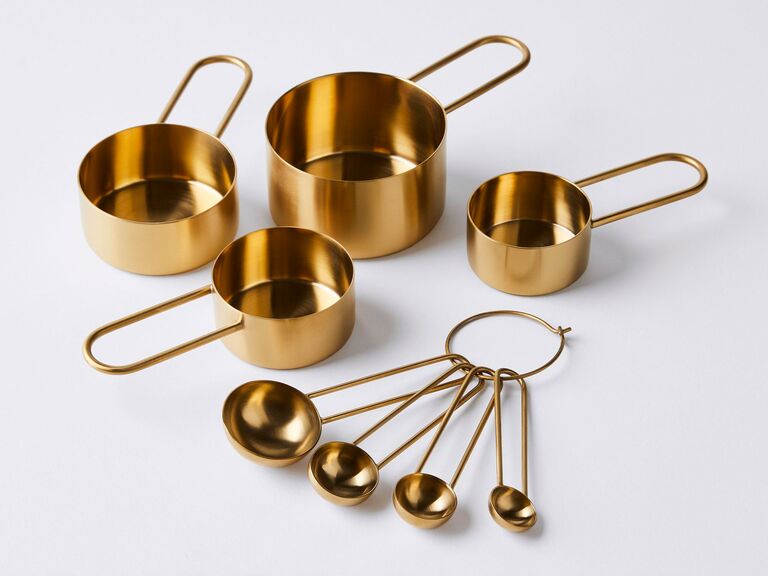 When measuring tools look this good, it's okay to delay cleaning the kitchen after the latest bake-off, right? Your personal chef will be so obsessed with the minimalist design and shiny brass finish of these measuring cups and spoons, they'll be making you thank you cookies in no time.
Nickel Photo Frame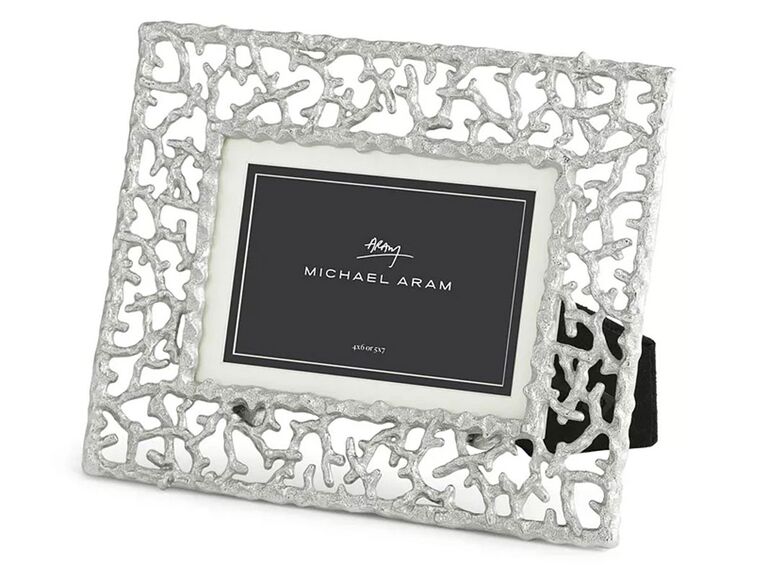 Bring the wedding album out of the archives! If you got married on a beach or honeymooned on an island, this nickel picture frame reminiscent of ocean coral is the perfect backdrop for those romantic photos. Your spouse will be so surprised to see those special memories resurrected 21 years later.
Craft Cocktails Tasting Kit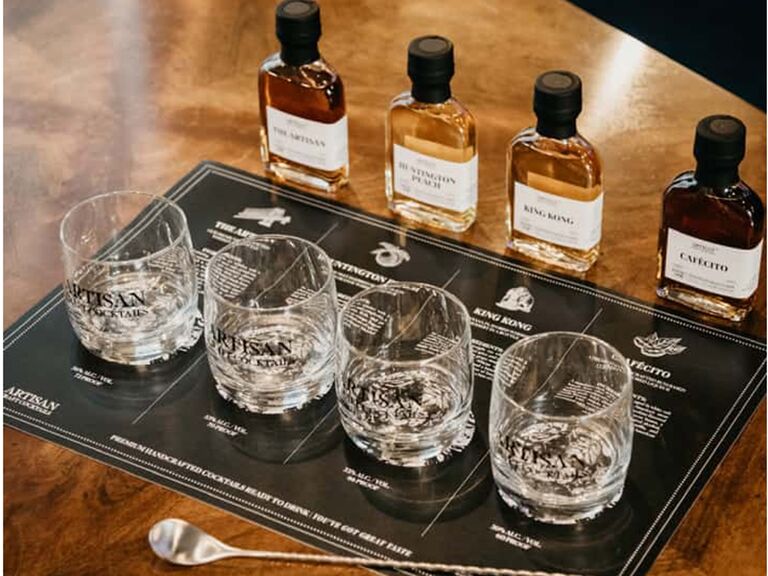 An artisan cocktail tasting kit will be the perfect accompaniment to a 21st anniversary date night in. It comes with four ready-to-drink bottles of dessert cocktails, as well as glasses, a stirring spoon and a tasting mat. Just add ice, then cheers to two decades (and one year) of love!
Personalized Serving Tray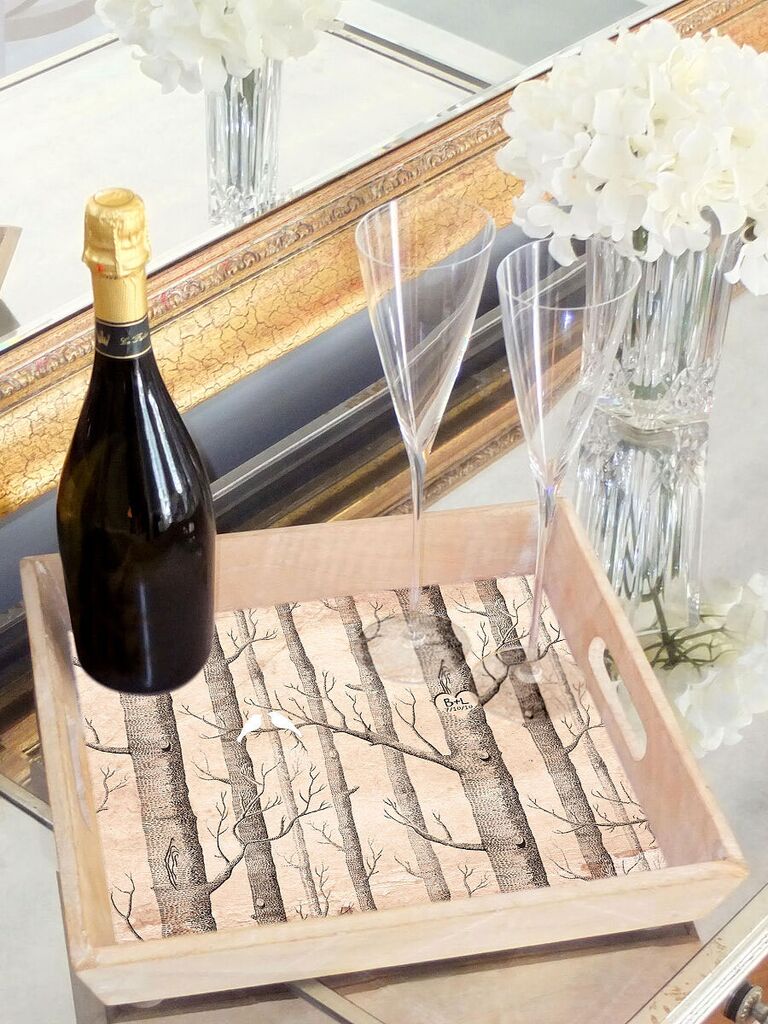 As you've probably learned from experience at this point, love only grows overtime. This chic serving board makes the perfect personalized anniversary gift for him, her or them. It's made from mango wood with a water resistant top and decorated with the likeness of an Aspen forest. "Carve" one of the trees with the lovebirds' initials and wedding date for extra romance.
Shear-Lined Slippers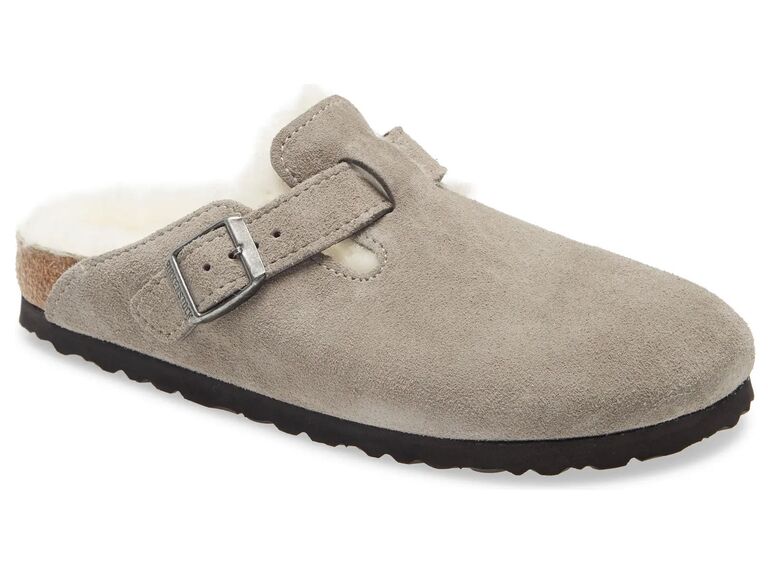 Sometimes the most romantic gifts are the ones you know your spouse will love because they've specifically asked for them. And if there's one product we know is high on everyone's list, it's Birkenstock's suede clogs (yep, they're making a comeback). This pair ups the ante with a plush shearling lining for extra cushioning. Trust us, they won't just be wearing these slides around the house.
Gold-Plated Brass Earrings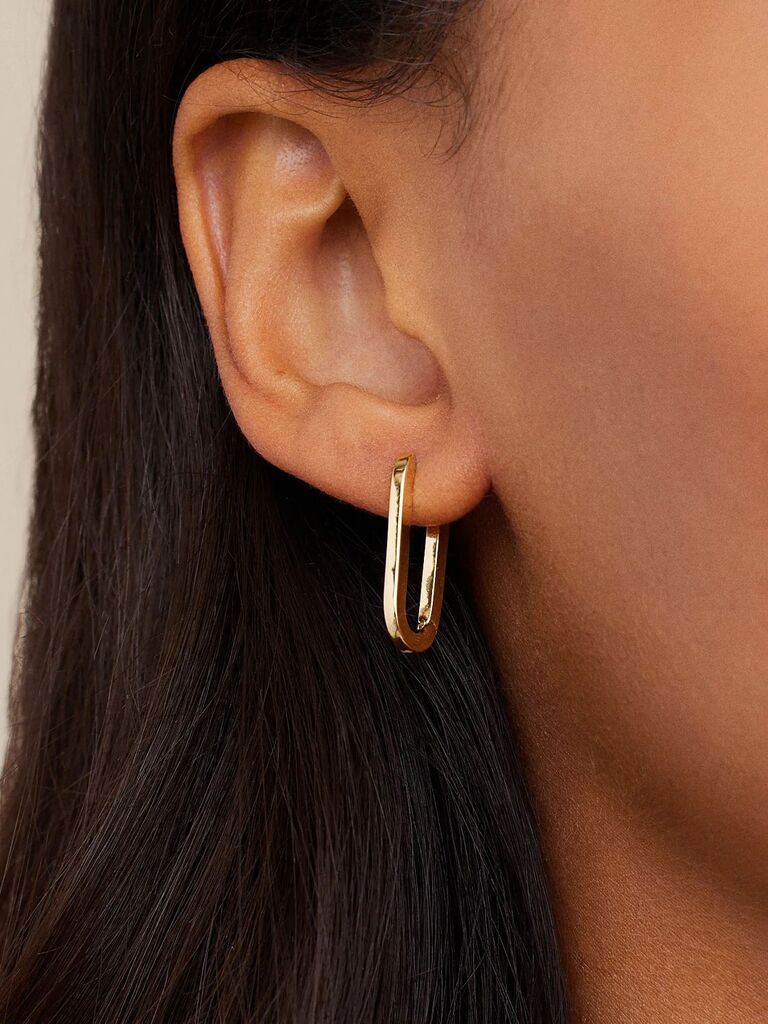 While most people look for nickel-free earrings, brass is totally hypoallergenic. Impress your spouse with these retro huggies from Gorjana. The elongated brass hoops have a high-shine 18K gold- or silver-plated finish for everyday baubles that still stand out.
Buffalo Nickel Coin Cuff Links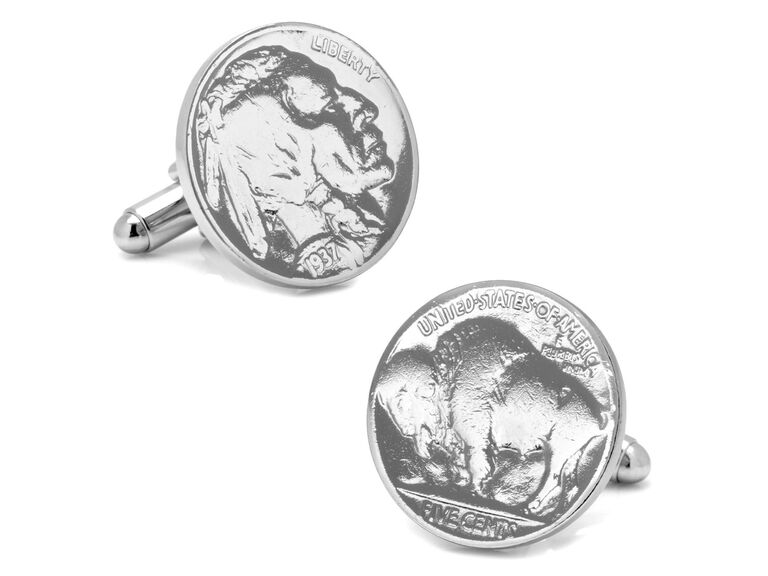 Married to a history buff? These intricate cuff links made with genuine Buffalo Nickels will be an impressive addition to their formalwear. Buffalo Nickels are copper-nickel five-cent coins minted in the U.S. from 1913-1938 as a way to beautify currency. Each set of cuff links comes with a certificate of authenticity so they know they're literally wearing a piece of history on their arm. Talk about a 21st wedding anniversary gift to remember!
Brass-Finished Tabletop Mirror
If your spouse is the fairest of them all, upgrade their vanity with this vintage-inspired table-top mirror with a brass finish to nod to the 21st anniversary theme. Bonus: The base doubles as a trinket dish so they can store their everyday baubles, fragrances or lipstick within easy reach.
Orange Flower Bouquet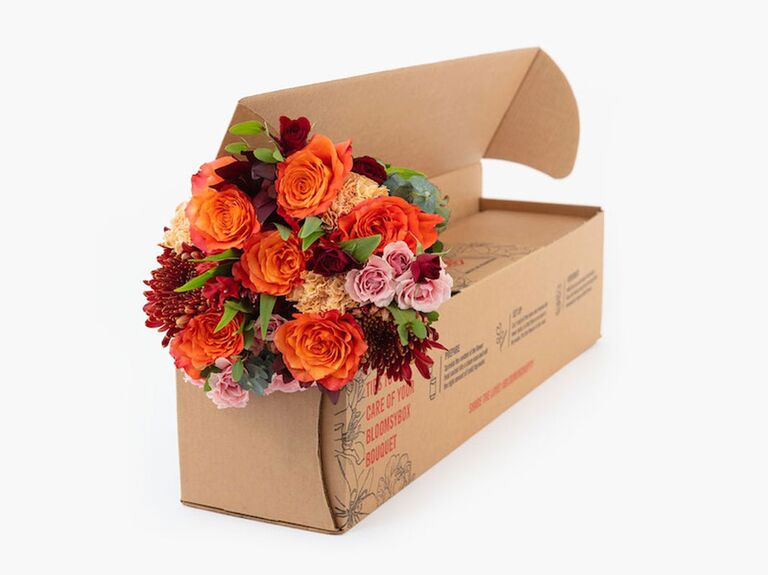 No matter what you get your spouse for the 21-year wedding anniversary, it's a great idea to pair it with a gorgeous bouquet of flowers. This arrangement of sermones, carnations and pink and orange roses (the 21st anniversary color) will add warmth to any room. Best of all, they can be delivered straight to your door the day of your anniversary so you can spend more time with your partner instead of running "errands."