20 50th Anniversary Gifts For Parents That'll Bring Happy Tears
Secure your place as the favorite child with these gifts.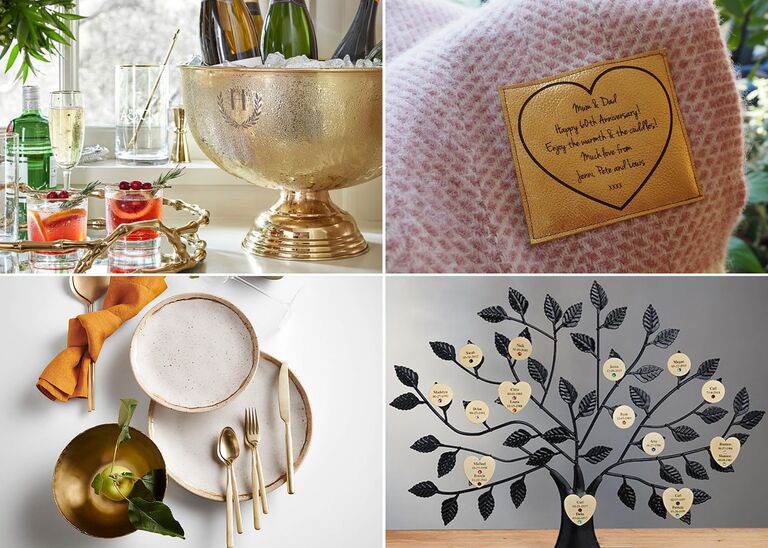 Photo, clockwise: Mark & Graham, stabo, Personalization Mall, Crate & Barrel
We have included third party products to help you navigate and enjoy life's biggest moments. Purchases made through links on this page may earn us a commission.
Epic love stories deserve epic celebrations, especially if the madly in love pair in question is your parents. Recognizing their enduring marriage is so important—especially considering they powered through your teenage years as a couple—and nothing shows your appreciation better than surprising them with some 50th anniversary gifts for parents when they hit that special milestone. For a pair celebrating five decades together, it may feel like the pressure is really on. But don't worry—we have a ton of 50th anniversary gift ideas for parents to make treating your favorite duo simple and special.
The 50th wedding anniversary is commonly referred to as the golden anniversary, a theme that offers up endless gifting inspiration—from classic dishware to glam home accessories. But the fun doesn't stop there! Our list of the best 50th anniversary gifts for parents also includes unique present picks that will help them reconnect with each other, learn something new together and even revisit hallmark moments from their love story. Rally your siblings or tap your own spouse for their input and prepare to wow with these unique 50th anniversary gifts for your parents.
1. Monogrammed Wine Chiller
For a 50th anniversary gift to your parents that'll see a lot of use, look no further than this glam wine chiller. Available in thematic gold (as well as copper and silver), it boasts a generous 15.5-inch diameter to hold several bottles of their favorite bubbly or wine at once. Personalize the front with your choice of a pre-designed monogram (or up to 12 letters) for a party-ready present they'll be dying to show off.
2. Hardbound Memory Book
After 50 years together, your parents surely have stories to tell and wisdom to share. Ensure it's all memorialized for future generations with Storyworth. This thoughtful 50th anniversary present for your parents will allow them to spend quality time together, recounting their love story and lives over the years. Here's how it works: Each day, for one year, they'll be emailed a prompt and invited to write freely about whatever comes to mind. At the end of 365 days, the team at Storyworth will compile all their responses into a hardcover, heirloom-worthy book the whole family can enjoy.
3. Cookware Collection
If your parents love to cook together, surprising them with a new set of pots and pans is a great way to treat them to something special for their 50th anniversary. This comprehensive collection from Caraway includes everything they'll need to whip up chef-worthy meals (including a frying pan, saucepan, sauté pan and Dutch oven), all realized in a chemical-free, non-stick ceramic coating. Choose from 10 colors, including several shades with thematic gold detailing.
4. Gold-Accented Metallic Vase
Flowers and wedding anniversaries are a classic duo, but this luxe vase from Michael Aram certainly takes the traditional anniversary gift of gold up a notch, with glam metallic details and whimsical metalwork. It'll be the perfect 50th wedding anniversary gift for parents who appreciate the little things in life, like a fresh bouquet of blooms. Bonus points if you find a florist to recreate their wedding florals and gift the vessel filled to the brim with petals.
5. Giant Gilded Chocolate Slab
What better way to celebrate a pair of sweethearts than with a sweet treat? This Wonka-sized bar of chocolate from iconic chocolatier company Vosges Haut-Chocolat comes packaged in a high-fashion marbled box and is dotted with flecks of edible gold leaf for a glam (and on-theme) 50th anniversary treat your parents will love. Oh, and don't worry—it's a whopping 2.2 pounds, so they'll be able to share it without coming to blows over the last piece (maybe).
6. Anniversary Clock
18,262 days, 2,608 weeks, 600 months—no matter how you slice it, 50 years together is a long time. Memorialize all those moments with this sweet and sentimental 50-year anniversary gift for your parents. The unique clock tracks the years, months, days, hours and minutes since they said their "I do"s for an ever-evolving live look at their commitment. You can also personalize the front with an engraved plaque and choose a special song (like their first dance tune) to play at the push of a button.
7. Virtual Class Subscription
Even after 50 years of marriage, learning about each other—and learning together—is never done. For the couple that continues to want to grow alongside each other, there's Masterclass, a dynamic online platform that boasts thousands of courses on topics ranging from gardening, to cooking, to dramatic writing, to playing the ukulele. Give your parents a yearlong membership and you'll be granting them access to learnings from big names like Gordon Ramsay, Alicia Keys and Judy Blume. Whether they use their membership to reinvent their date nights or pursue a lifelong passion, they're sure to appreciate this creative 50th wedding anniversary gift. It's a great last-minute anniversary gift, too, since the subscription starts right away.
8. Gilded Dinnerware Set
If your parents are still eating off of the same plates they registered for all those years ago, it's probably time for an upgrade. Enter: this set of stunning gilded dishware from Crate & Barrel. Each piece of speckled stoneware is painted with a thin gold band for a rustic-yet-refined vibe that will elevate even the most casual meal into a memorable occasion. The 16-piece collection comes with four mugs, four dinner plates, four salad plates and four bowls for a comprehensive (and chic) homeware upgrade.
9. Personalized Bench Swing
At this stage in their lives, your parents have probably accumulated several charming rituals they rely on to connect with one another throughout their busy lives. If your favorite pair likes to spend evenings on the porch or sip coffee together alfresco every morning, they'll be so moved by this 50th wedding anniversary gift. Made from durable pine lumber, this handcrafted gliding bench can be personalized with their names and wedding date for a thoughtful 50th anniversary gift that's sure to bring on relaxation (and maybe a few happy tears).
10. Iconic Wedding Cake
Nothing says "happy anniversary" like a delicious slice of wedding cake and Goldbelly is taking care of the baking for you, delivering this delectable treat right to your parents' front door from Montilio's Baking Company in Boston. Their famous Presidential White Cake is a favorite of several past presidents—including JFK and Ronald Reagan—and is a yummy combination of fluffy white cake with raspberry preserves, raspberry frosting and vanilla buttercream. It's the perfect way to celebrate a 50th anniversary, whether they're digging in as a duo or sharing slices with the whole family.
11. Cozy Throw Blanket
Any gift that encourages relaxation is a win in our book and we can't get enough of this cozy and chic throw from Etsy. It's made of 100% wool, available in nine stylish shades (including pink and yellow) and includes a gold patch on the front, which can be personalized with your choice of phrase or anniversary message. It's one of the best gifts for your parents' 50th wedding anniversary if they love to cuddle on the couch or consider themselves professional nappers.
12. Anniversary Wine Box
If your parents are oenophiles, they're probably already planning on uncorking a few bottles in celebration of their milestone, making this wine box an ideal 50th anniversary gift for them. This vintage-inspired wine vault touts space for three bottles of the good stuff, with a personalized seal (reminiscent of a vineyard logo) etched into the front that includes their names, anniversary date, wedding location and years married. Fill it with a few vintages from the year they pledged for life, plus a bottle they can let age until next year, too.
13. Anniversary Garden Stone
Nurturing a marriage is a lot like nurturing a garden—they both take a lot of attention, care and just a bit of luck in order to thrive. Ensure your parents' backyard happy place is also a reflection of their successful partnership with this charming decorative paver, which is personalized with an illustration of a tree, alongside their names and wedding date. Want to make this gift really special? Pair it with a beautiful yellow rose bush (the official 50th anniversary flower) they can plant alongside it as a tribute to their many decades together.
14. Destination Photo Shoot
An occasion as momentous as a 50th wedding anniversary deserves to be cemented in family history forever, which is exactly what this next gift will help your parents achieve. Flytographer is an on-the-go photography service that will allow them to hire a pro photographer wherever they want, from vacation in Venice to their own backyard. Post-shoot, they'll get a custom gallery of images they can then print out or turn into an album and enjoy. Gift them the photoshoot and cover the cost of the album or framing a few images.
15. Soft Sheet Set
Your parents deserve the best life has to offer—in love and in linens. Quince is known for luxury bedding without the luxury price tag, making it the ideal place to shop for a 50th wedding anniversary gift for your parents. Spring for their buttery soft sateen sheet set, which is made from 100% organic cotton and boasts a luxurious, silky feel that only gets better with each wash. Choose from of-the-moment hues, including rich clay and soft sky blue.
16. Signature Frame
If you're planning to throw a party for your parents in honor of their milestone anniversary, why not fold your gift into the occasion? This oversized picture frame from Personalization Mall features a generous mat, so it can be displayed during the party and double as a guest book. Set it on an easel, pair it with some permanent markers and encourage friends and family to leave a message for the happy couple.
17. Kintsugi Pottery Kit
Looking for a gift that's rich with symbolism? You've found it in this Kintsugi kit from Etsy. Kintsugi is the Japanese art of repairing broken pottery using a lacquer dusted with powdered gold, highlighting the imperfections instead of masking them. After 50 years together, your parents have surely made their relationship stronger and more beautiful. This hands-on kit will help them create the physical embodiment of their love, with supplies to break (yes, break!) a piece of pottery and then repair it using a modified Kintsugi method.
18. Digital Photo Frame
Help your parents keep up with everything their children and grandchildren are up to with Skylight's genius digital picture frame. This easy-to-use device is great for even digital novices, with a user-friendly interface that allows contributors to email photos that will appear on the screen instantly. It's the perfect 50th anniversary gift for parents who value the family they created above all else.
19. Family Tree Sculpture
Love leaves a legacy and your parents' decades-long relationship has surely changed (and even created) a few lives. Pay tribute to your family with a 50th anniversary present that puts every member front and center. This metal family tree features a gold-toned base plate engraved with your choice of anniversary message. Even better? Each leaf on the tree can be hung with a gold disk, engraved with a family member's name and bedazzled with their birth month gemstone. We can't even handle the sweetness.
20. Gold Foil Portrait
Talk about a golden couple! Celebrate your favorite pair with a gilded portrait that helps their love truly shine. Here's how it works: Include a photo of your parents with your order—it can be a current picture or a snapshot from their wedding day—and the Etsy shop owner will replicate all the beautiful details in stunning gold foil.