The Best 23-Year Anniversary Gift Ideas to Celebrate Long-Lasting Love
Honor another year together with a symbolic gift.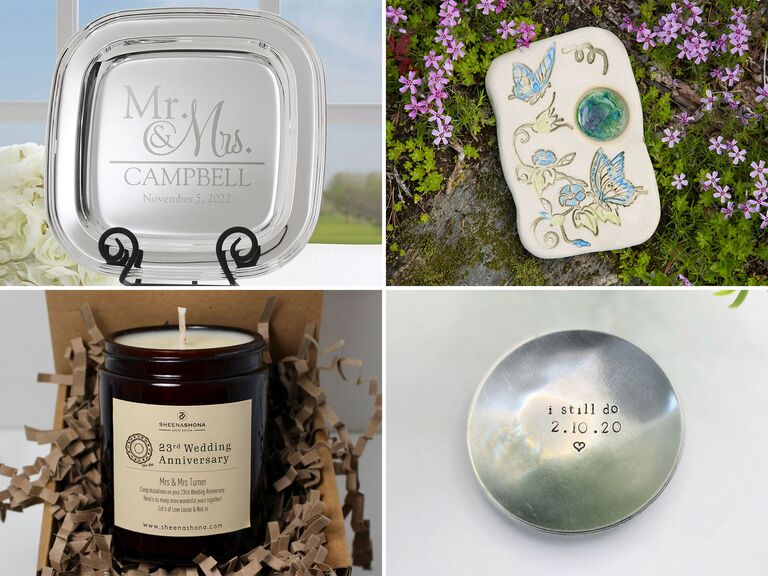 We have included third party products to help you navigate and enjoy life's biggest moments. Purchases made through links on this page may earn us a commission.
Another year has come and gone (and come and gone), meaning it's time to celebrate 23 years of marriage. Marking the occasion with a thoughtful 23rd anniversary gift for your spouse or the happy couple is a no-brainer and, lucky for you, we have just the gift inspiration you need to make it memorable.
In this article:
What Is the 23rd Anniversary Gift Theme?
Every wedding anniversary has a designated gifting theme(s) some shoppers prefer to adhere to. While some anniversaries have both a traditional and modern gift, the 23-year anniversary only has a modern one: a silver plate. The combination of this fine metal with serveware is a reminder to find joy in the small moments with your partner, like sharing a home cooked meal. If a silver plate doesn't feel like the right gift for your loved one, it's okay to expand your search to anything made of silver, like jewelry or home decor. Silver itself is a symbol of clarity, purity, strength and persistence, much like your feelings of commitment towards your partner after all these years.
The 23rd anniversary also has an official flower, color and gemstone. The milestone's color is, unsurprisingly, silver and the 23-year anniversary flower is nil, a type of morning glory, which symbolizes love, romance, thoughtfulness and gratitude. Lastly, the 23rd anniversary has two gemstones: imperial topaz and sapphire. Imperial topaz is said to encourage self-confidence and emotional generosity, while sapphire is believed to attract abundance and gifts (ahem, like a 23rd anniversary gift!) and calm the mind.
Whether you choose to take inspiration from one of the 23rd anniversary symbols or find an alternative gift you know your spouse or friends will love, we've sourced the best 23-year anniversary gift ideas for you to shop right now.
The Best 23rd Anniversary Gifts
From traditional (or well, modern) 23rd anniversary gifts to creative, but themeless gift ideas, these are our favorite goodies for the 23-year anniversary. The best part? You can buy them right now with just a few clicks.
Engraved Silver Tray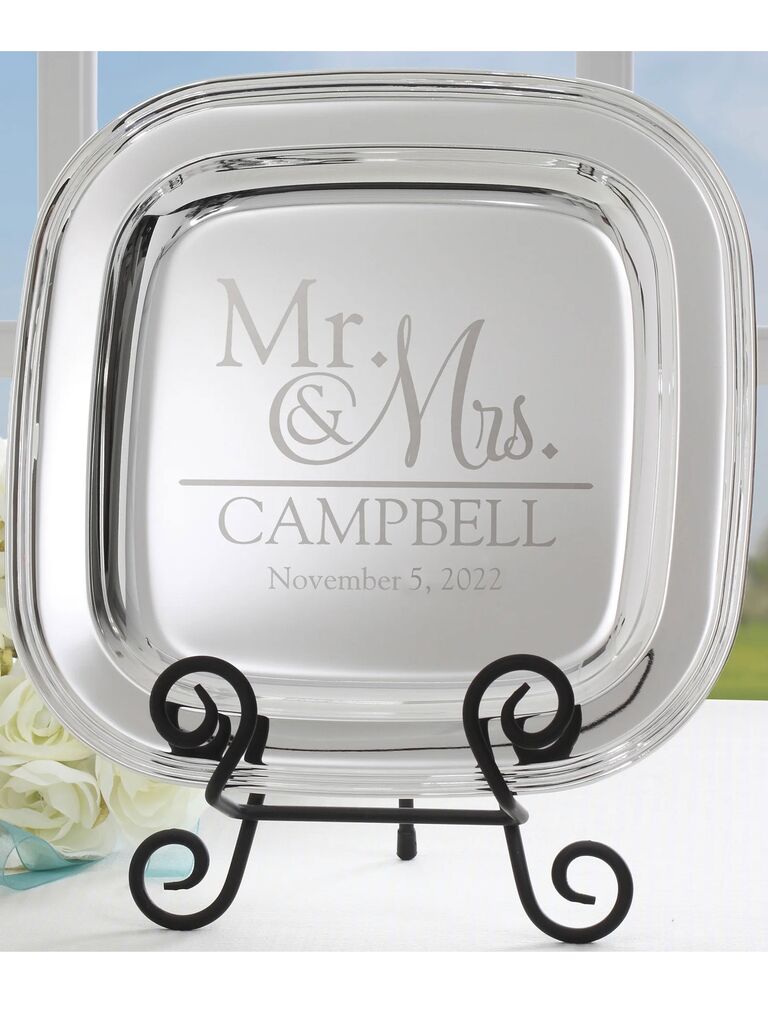 We couldn't start a round-up of the best 23rd anniversary gifts with anything but a silver plate. This decorative tray is custom-engraved with you or the couple's prefixes and shared last name, along with the wedding date. (Note: The black easel for easy display is sold separately.)
Blue Topaz and Sapphire Ring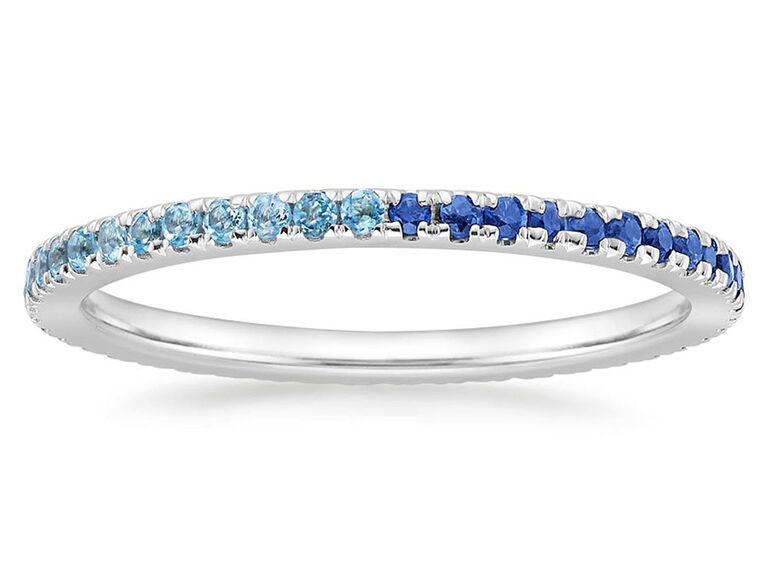 This ring was practically made for the 23-year wedding anniversary. Not only are eternity rings a symbol of never-ending love, but half of this ring is adorned with Swiss Blue topaz while the other half features sapphires, representing both of the 23rd anniversary stones. As we said, it was made for this milestone!
Cashmere Sheet Set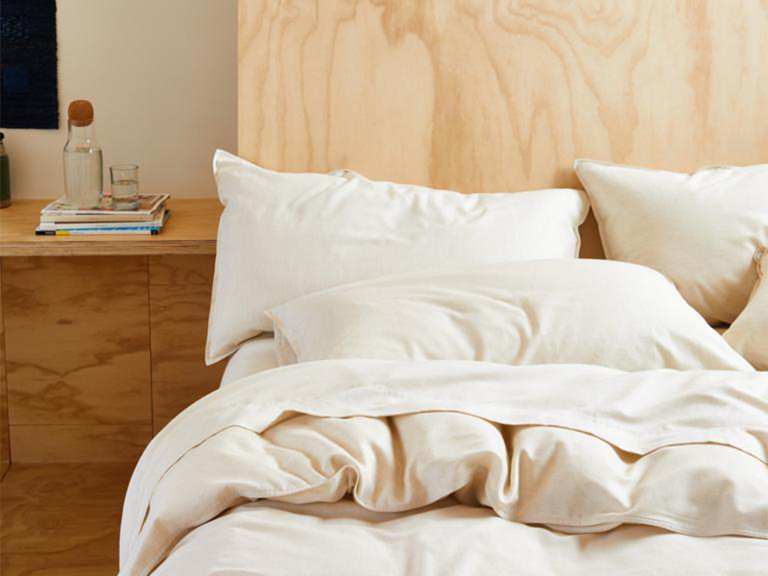 The only thing dreamier than your love is this cashmere sheet set. Soft and warm (but still breathable), it will allow you to spend the next 23 years sleeping in pure luxury. This set comes with a fitted sheet, flat sheet and two pillowcases, all in your choice of six colorways.
Sterling Silver Frame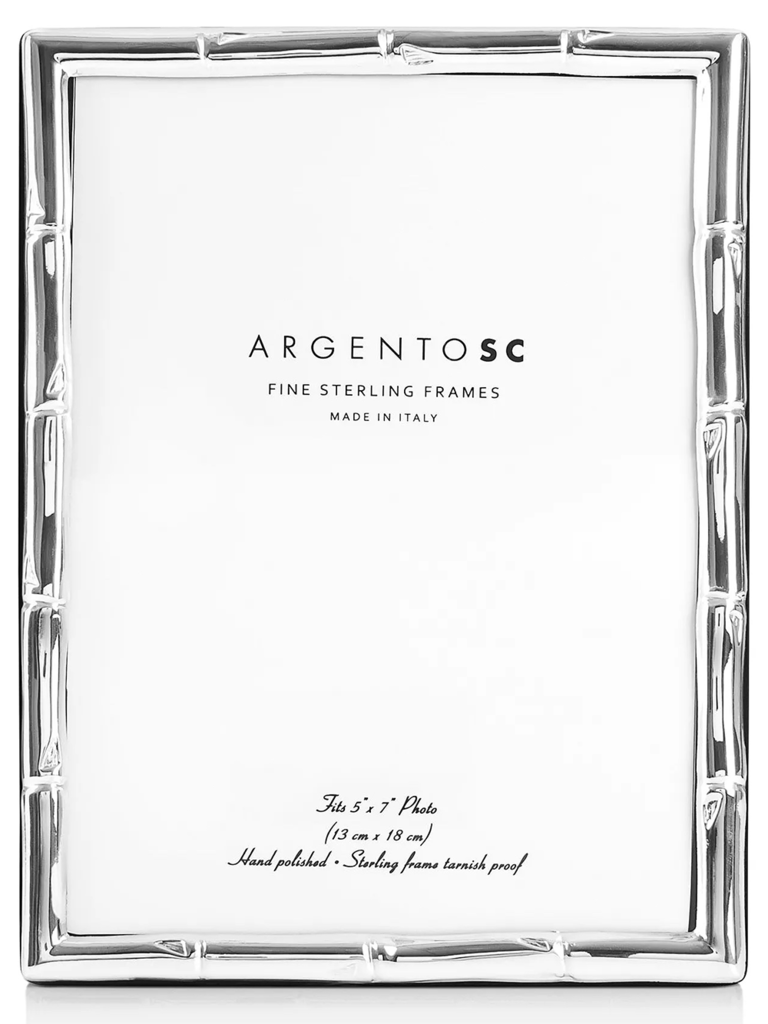 Remember, a silver plate isn't your only option when it comes to a thematic 23rd anniversary gift. You can choose anything made from silver, like this shiny frame. Handmade in Italy, the bamboo motif border is made from sterling silver. Fill it with your favorite memory from the past 365 days of marriage so you always remember your 23rd year.

Morning Glory Butterfly Puddler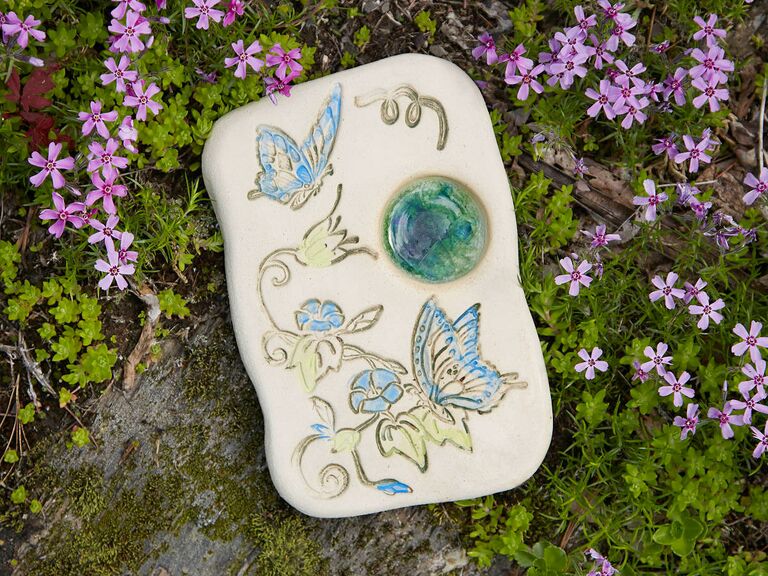 Does your spouse spend hours tending to the garden? Add this enchanting stone amongst the flowers to attract butterflies. It's etched with morning glories (the 23rd anniversary flower) and features a puddler's well of recycled glass. Simply place sand or rock salt mixed with a teaspoon of water in the hole, then as it evaporates, butterflies are attracted to the minerals left behind—and once they know where they can find minerals, they'll return regularly!
Silver Trinket Dish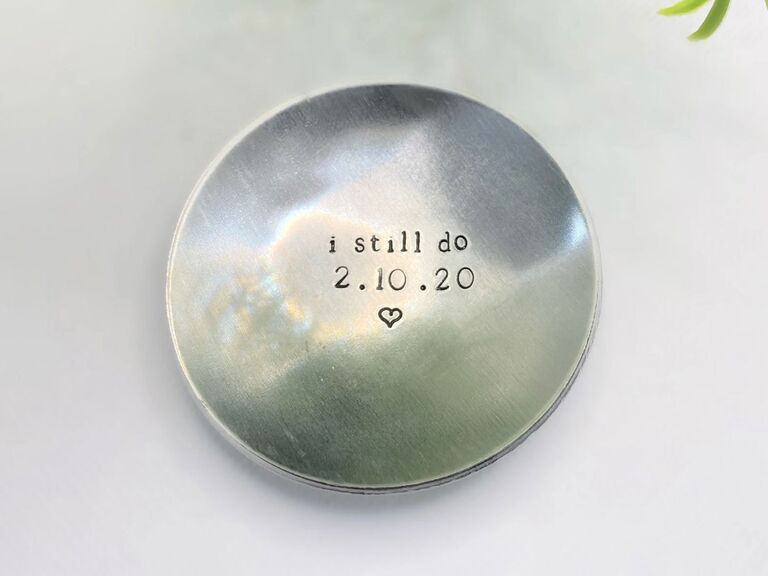 Here's a new way to say "I love you"—"I still do." Show your spouse how much it means to be married to them with this small silver trinket tray. It's stamped with a romantic phrase of your choosing, your wedding date and a heart. They can use it to store their wedding ring (and anniversary rings) so they're always in safe keeping.
Gourmet Ice Cream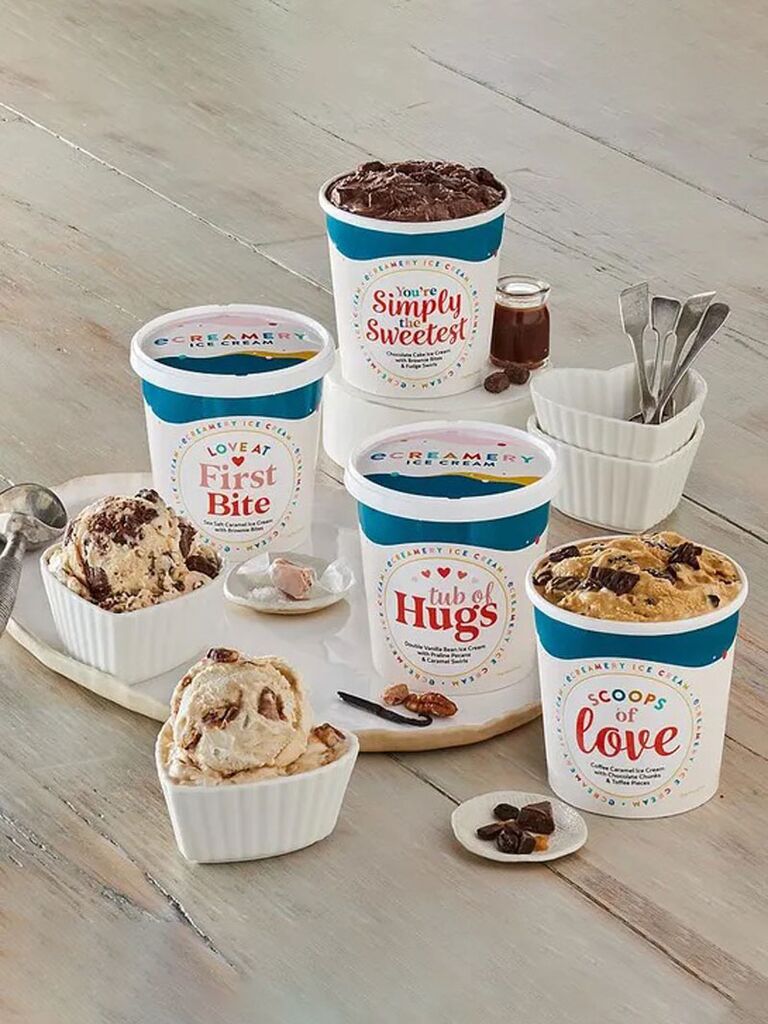 If they scream for ice cream, get ready to plug your ears when they get this perfect gift set. Fittingly titled the "Ice Cream My Love For You" collection, it comes with four pints of premium ice cream: chocolate cake with brownie bite and fudge swirls, vanilla bean with praline pecans and caramel swirls, sea salt caramel with brownie bites and coffee caramel with chocolate chunks and toffee pieces (is your mouth watering yet?). Each pint has fun, romantic names, like "Tub of Hugs" and "You're Simply the Sweetest." You'll definitely be enjoying dessert at home for weeks to come.
Sterling Silver Locket Necklace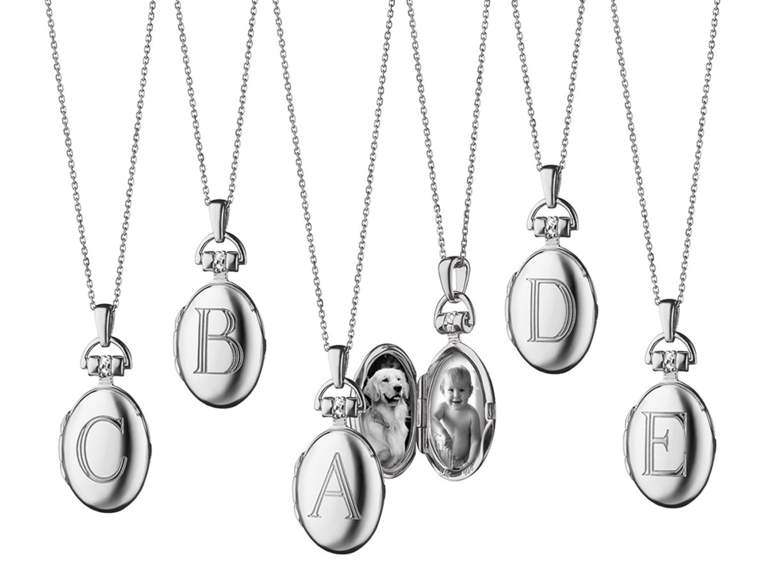 There is yet to be a wedding anniversary where jewelry doesn't make a great gift. And thanks to the 23rd anniversary's silver (plate) theme and color, jewelry is even more thematic. This lovely sterling silver locket can be engraved with their first or last initial, while the inside is designed to hold two special pictures. Perhaps a nostalgic photo from the wedding day and one of the two of you after two decades together.
Silver-Tone Watch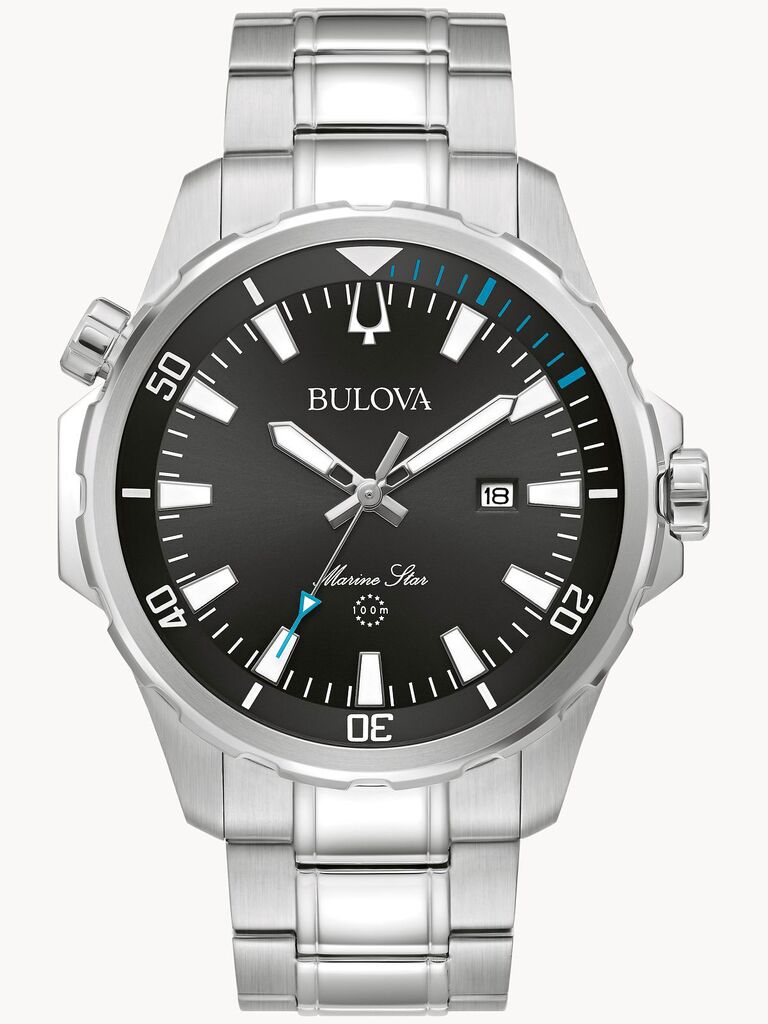 Looking for a 23rd anniversary jewelry gift for your spouse that has more of a minimalist style? Timepieces are an excellent gift to honor all the minutes, hours, days and years you've spent together. This silver-tone stainless steel option features a black sunray dial with luminous hands—it even has a calendar so they'll never forget your anniversary date.
Hard-Shell Luggage Set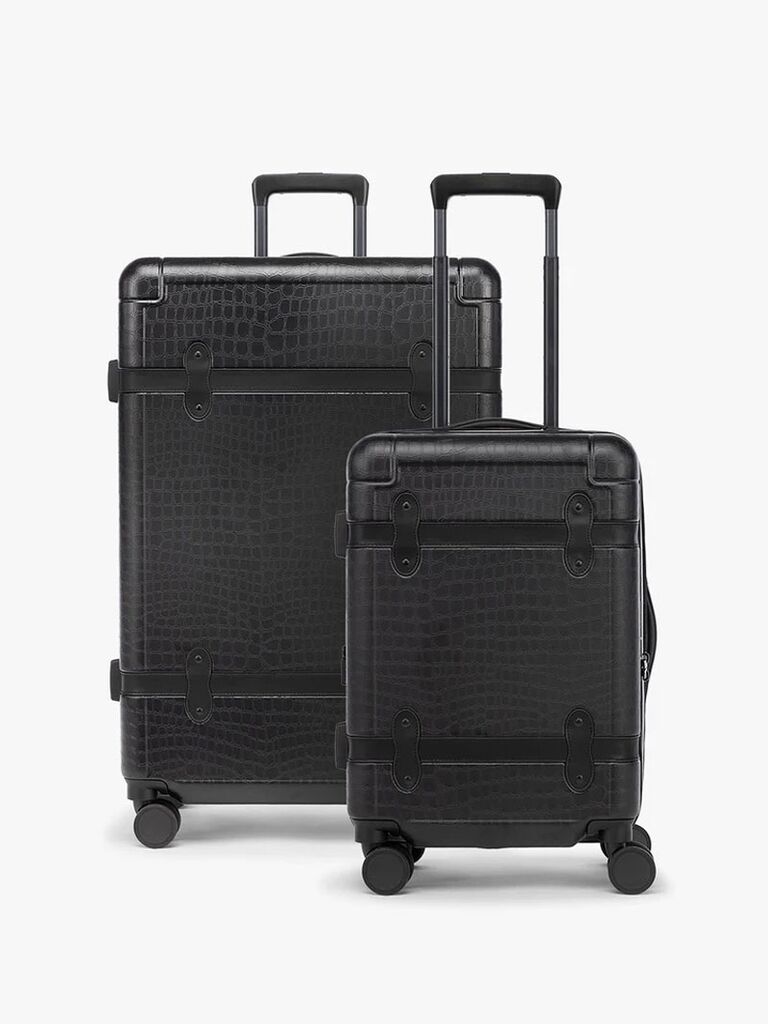 After 23 years of adventures, it's hard to imagine the luggage you first received at your wedding shower is still in pristine shape. Get your spouse ready for future travel (perhaps an anniversary trip?) with a new sturdy set of luggage. This duo comes with a hard-shell carry-on and checked bag, both with a vintage-inspired faux crocodile trunk design, spinner wheels, built-in TSA-approved lock, interior pockets and an expandable zipper.
Romantic Cabin Getaway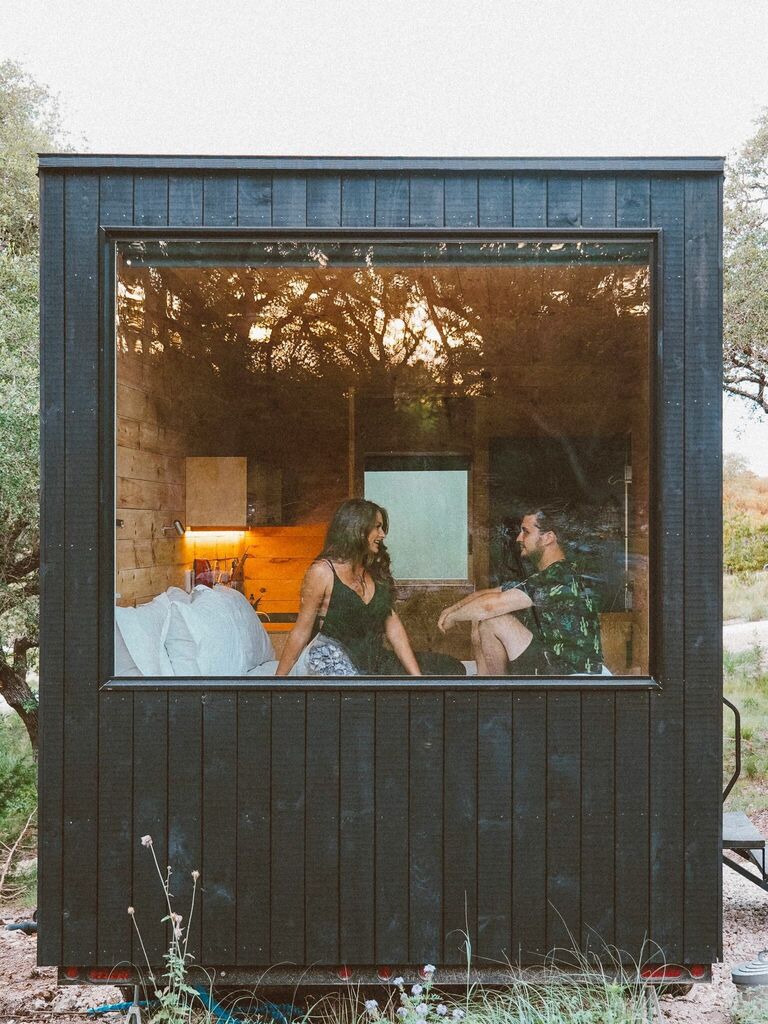 Did someone mention a 23rd anniversary trip? Getaway is a unique travel experience that encourages people to unplug, spend time in nature and enjoy the company of those who matter most. They offer tiny, cozy cabins just a few hours outside of major cities for quick escapes whenever couples want quality time alone together. Surprise your spouse with an overnight stay at a romantic cabin (secure the babysitter ahead of time) or give your friends a Getaway gift card so they can book a weekend away to celebrate their 23-year wedding anniversary (and offer to babysit).
Silver and Wicker Entertainment Gift Set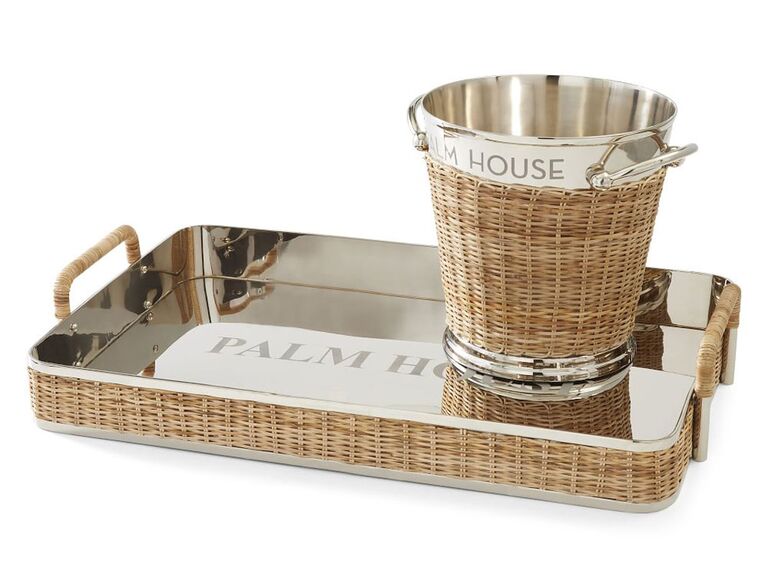 Double down on entertainment essentials with this matching tray and ice bucket set. They're each crafted from silver-plated stainless steel and wrapped with wicker for coastal-inspired serveware that can be personalized with the couple's names. Pair the duo with a bottle of champagne and charcuterie ingredients for a fun 23rd anniversary happy hour celebration.
Velvet Weighted Blanket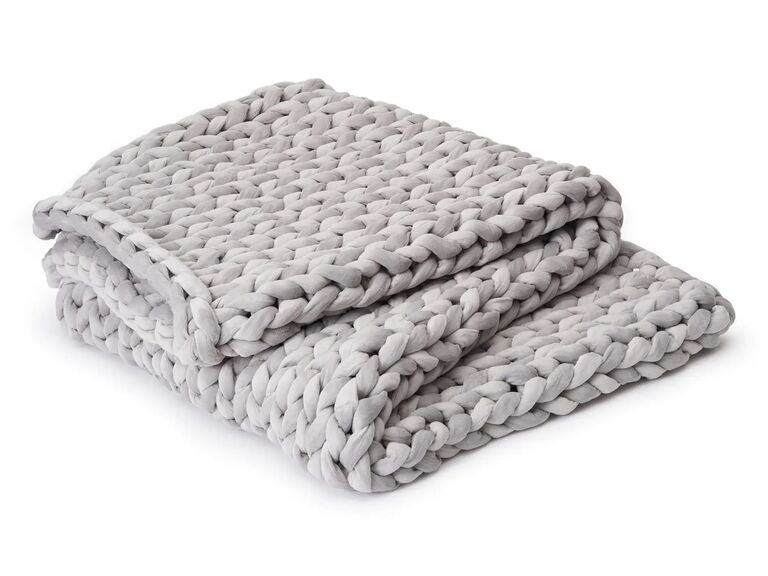 This velvet weighted blanket in a silver topaz (the 23rd anniversary color) will improve every snuggle-sesh. (Yes, it is possible to get more comfortable with your partner.) Weighted blankets—this one starts at 15 pounds—help stimulate serotonin (the happy hormone) and reduce cortisol (the stress hormone), as well as increase melatonin. What does that mean? Your spouse (and yourself) will feel more relaxed and well-rested after every couch cuddle or night's sleep.
Personalized Anniversary Candle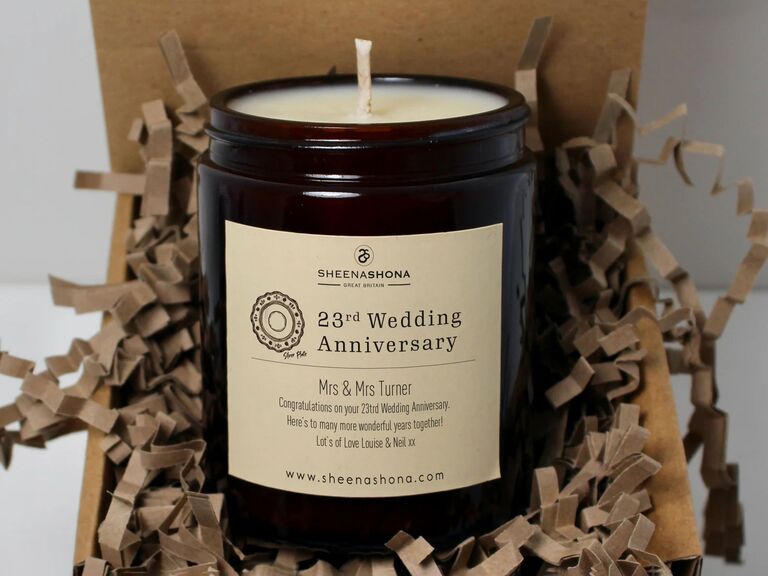 Looking for a small token of celebration for the happy couple? Light up their date night—or any night—with this personalized anniversary candle. It's handmade in Scotland with eco-friendly soy wax and cotton wicks in amber glass jars. Choose between eight delicious scents, like Black Plum and Rhubarb, Lemon Verbena or White Linen. Decisions, decisions.
Plush Cotton Slippers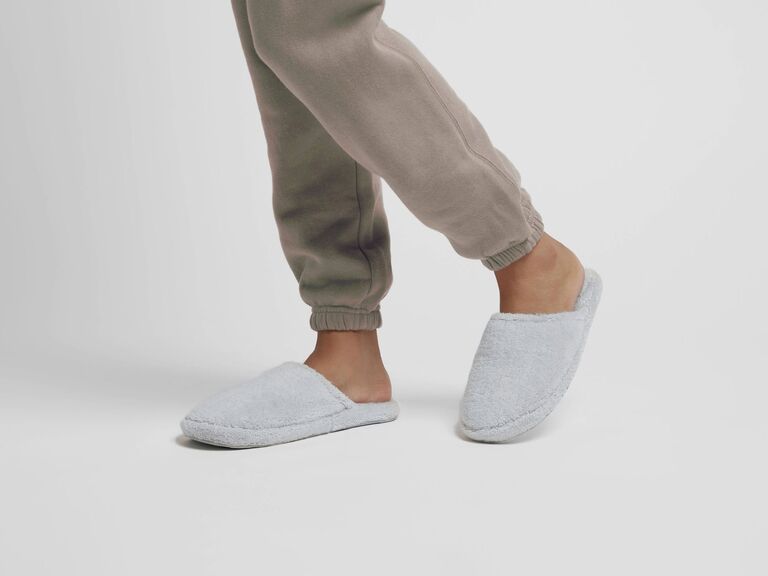 Avoid cold feet (yes, even after 23 years of marriage) with a pair of plush slippers for him or her and you (trust us, you'll want some too). Made of 100% Turkish cotton, these cushioned slides with slip-proof ribbed rubber soles will be on their feet every time they're home (and possibly even when they're out). Feeling generous? Pair them with a matching bathrobe.
Scrapbook Photo Album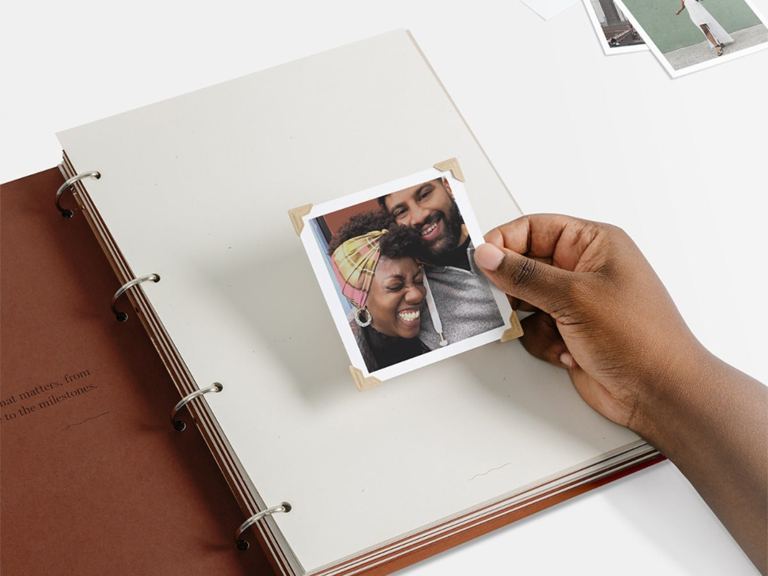 A scrapbook of your life together makes a perfect gift that you'll both treasure forever. This three-ring, leather-bound album makes it easy to capture the road you've taken together as you look to the path ahead, chapter by chapter. It provides prompts and photo placements to help you design pages without any additional supplies.
Silver Address Embosser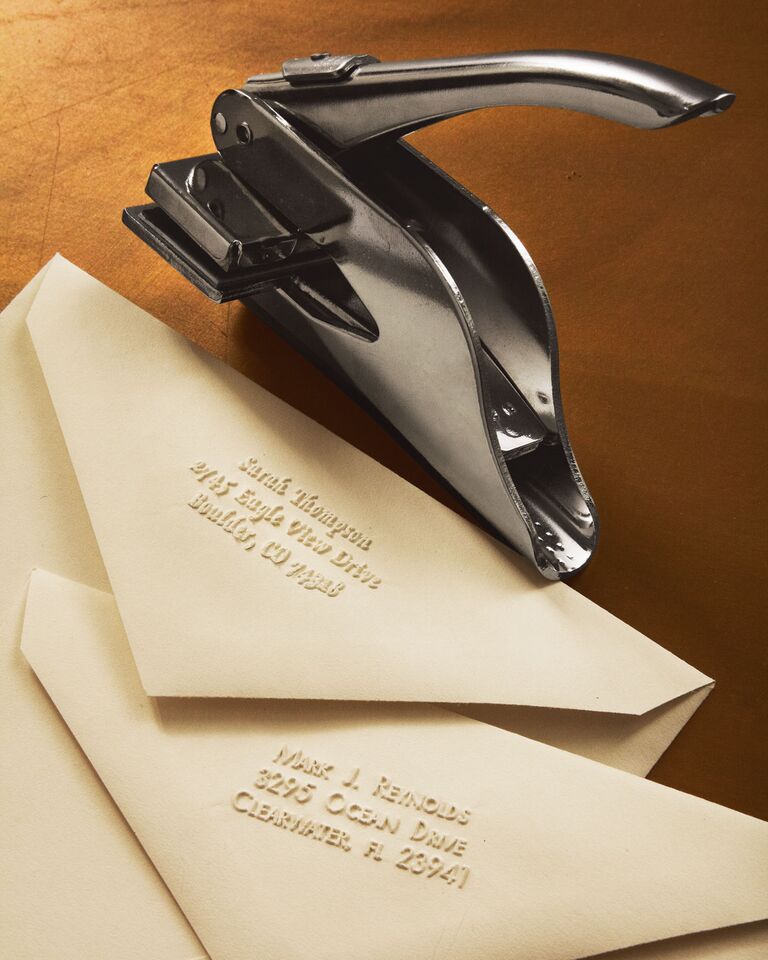 This silver address embosser is one of those gifts they probably never knew how much they wanted until they get one. It adds a distinguished touch to holiday cards and other personal correspondence—plus, will save them so much time (and hand cramps!).
Silver Type Cuff Links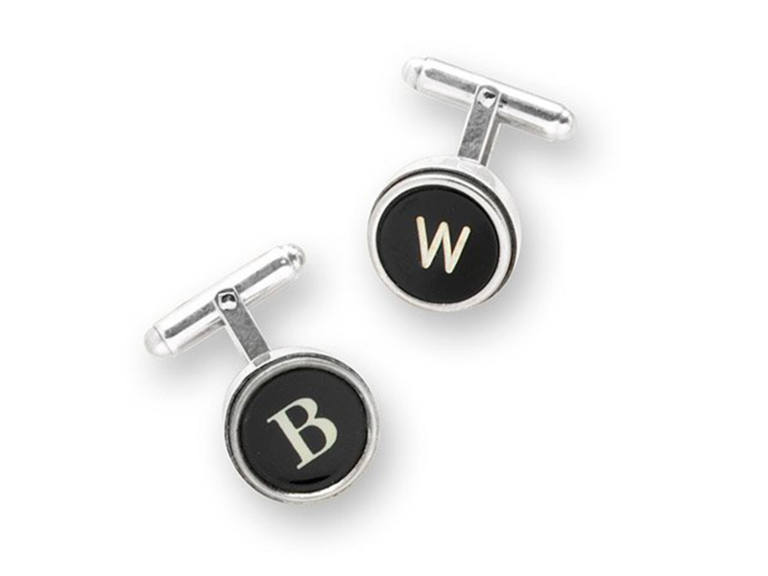 How cool are these? Made from actual vintage typewriters, these unique cuff links will add subtle personalization to your spouse's formalwear. You can go with your partner's monogram or each of your first initials for a romantic touch. Best of all, the silver setting nods to the modern 23rd anniversary gift.
Silver Serving Bowl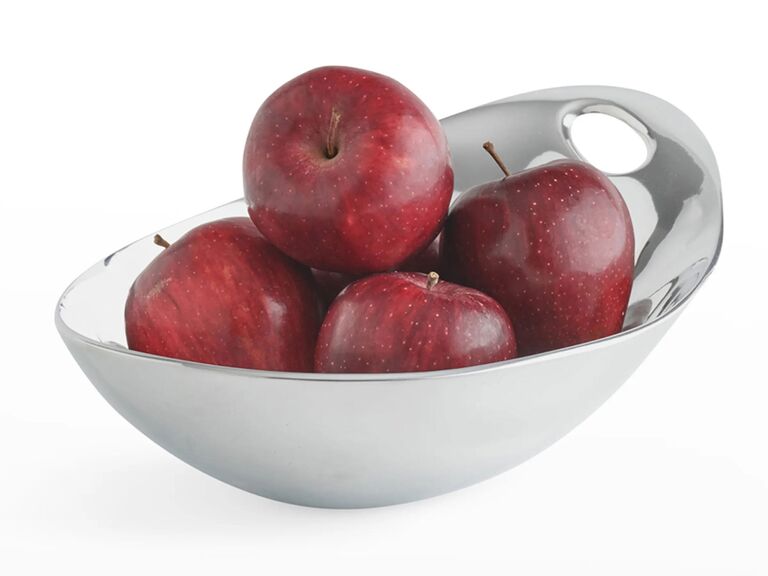 Although the 23rd anniversary's modern gift is a silver plate, we think a silver bowl is still a fitting gift. This one is made from an eight-metal alloy blend that has a silver-like luster when polished. It can retain heat or cold for long periods of time making it a luxe serveware option for any dish they're serving up. You'll definitely see it out at their next dinner party.
Cookbook for Two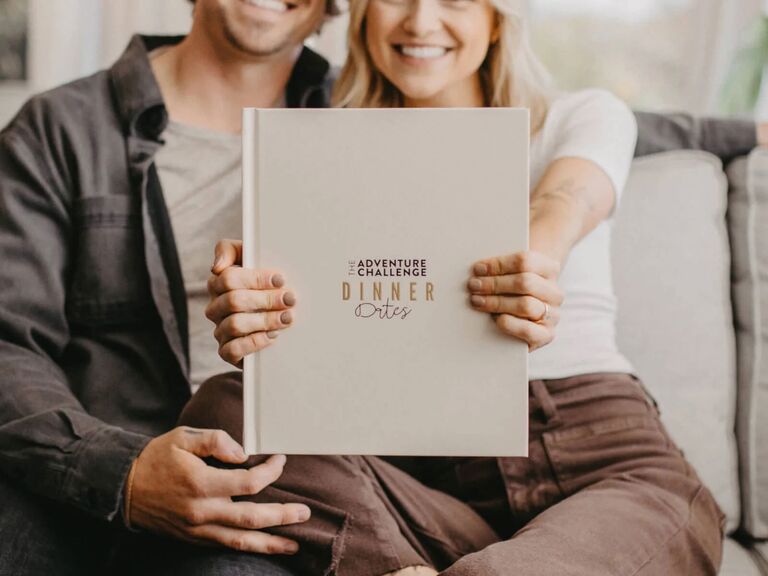 The silver plate anniversary is all about making time for the small, intimate moments of a relationship, like eating a meal together. Carry this sentiment into your 23rd anniversary gift, even if it's not made of silver. This unique cookbook is designed to make every meal feel special. The Adventure Challenge's Dinner Dates book pairs delicious recipes from Josh Altamura, Chopped Junior champion, with creative activities to fill the downtime between prepping food and eating. Use the code THEKNOT10 to get 10% off your purchase.