34 Free-Spirited Boho Engagement Photos To Inspire You
Let loose and wild in a romantic, chic way.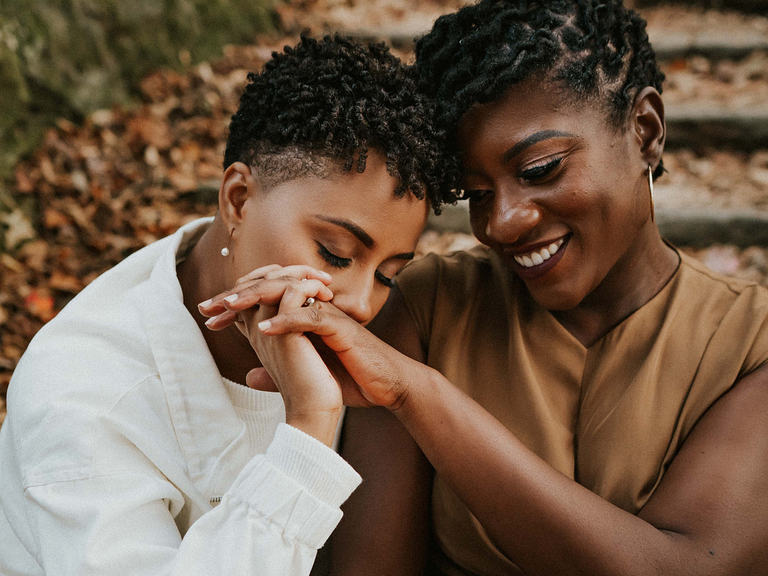 Photo: Ellie McKinney Photography
The bohemian style is widely regarded for its free-flowing, laid-back, fun-loving nature. There are no hard and fast rules, it's open to interpretation. This is why many couples opt for boho engagement photos and eventually throw a free-spirited bohemian wedding. If you're considering this style, you'll have plenty of options, from the location to the apparel and the props. Because we know you have questions about engagement photo basics, we tappen one of our favorite wedding experts to answer some of the most popular questions readers have about the photoshoots and everything that goes along with them. And as a bonus, we've included shots of real couples to help inspire your own creative engagement photo ideas.
In this story:
Where to Take Bohemian Engagement Photos
Hanna Gunnell, Massachusetts-based professional photographer and owner of Ramblefree Photo Co., founded in 2017, says, "dramatic natural scenery like an open field or forest is always a classic choice for bohemian engagement photos." However, if you're set on an indoor location, it's possible to create a "cozy bohemian session in your home or in a city." She also suggests picking a location that holds meaning for the couple and one where they'll be comfortable, because that will show in photos. For example, locations with privacy can be more relaxing for those who aren't totally comfortable with PDA.
Attire Considerations for Boho Engagement Photos
One of the things couples tend to put a lot of consideration into when it comes to their bohemian engagement photos is what to wear. Gunnell is a huge fan of "pieces with a lot of movement" because it allows her to capture the scene seamlessly. It's also a good idea to avoid matching outfits directly, but rather "search for some color palettes on Pinterest and pick individual pieces based on an overall palette you like."
Photographers' Boho Engagement Photo Tips
Finding the right photographer is just the start. (Psst: If you're looking for the best photographer for your bohemian-inspired engagement photos, check out The Knot Marketplace.) There are plenty of considerations that go into creating the best boho engagement photos. Here are just a few tips to make your engagement shoot go according to plan.
Add Drama to Your Photos
Because boho photos are all about freedom and just the right type of drama, Gunnell makes it a point to note that free-flowing fabrics are best. So is leaving long hair down so the wind creates that breezy feeling.
Do Something Fun Before the Session
Gunnell suggests doing something fun and spending time together before the session, as it will make it "way easier to feel carefree if you've made time" for each other beforehand. As for what to do, she says to "go on a fun date … or write each other little love notes," all of it will enhance the "joy and freedom" that bohemian shoots embody.
Timing Is Important
If you're opting for an outdoor shoot, Gunnell says to "consider scheduling your shoot close to sunrise or sunset to get soft, golden light." While it's easier to adjust lighting indoors, timing still matters. She suggests scheduling an indoor shoot "closer to midday depending on the space."
Boho Engagement Photo Ideas
Now that you know what to look for, the perfect shoot is right around the corner. Take a look at these 34 boho engagement photos and see what jumps out at you.
1. Fun Boho Couple Photoshoot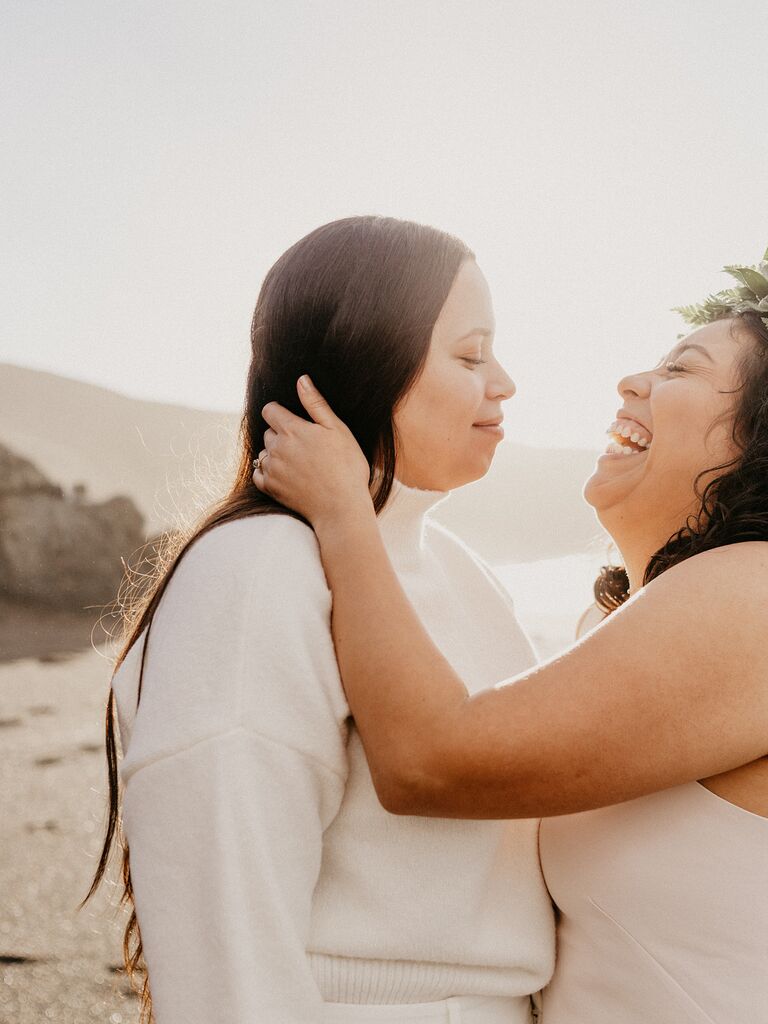 Don't be afraid to let your true emotions take over. Joke with each other, play around, and you'll end up with some truly breathtaking photos that perfectly embody you as a couple.
2. Couple Kissing in Their Bohemian Photo Shoot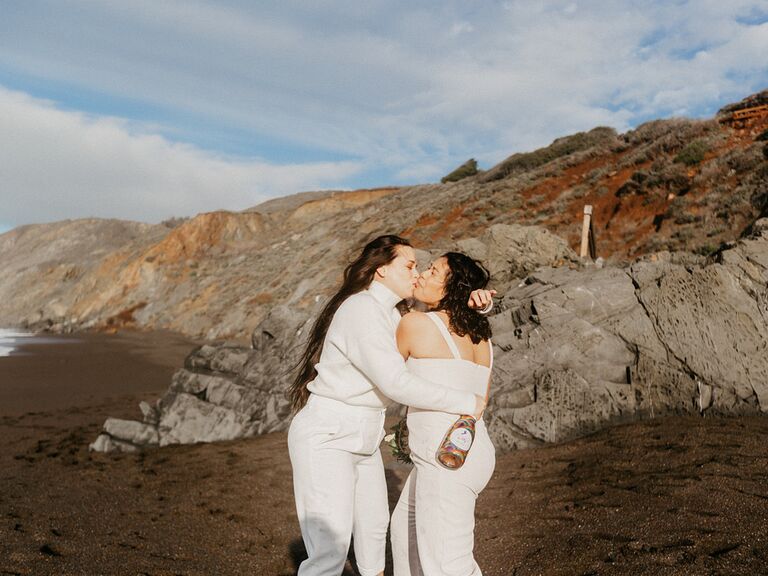 PDA is very much welcomed in your engagement photos. After all, you have a lot of love for each other, why not show it off?
3. Cute Boho-Inspired Engagement Photos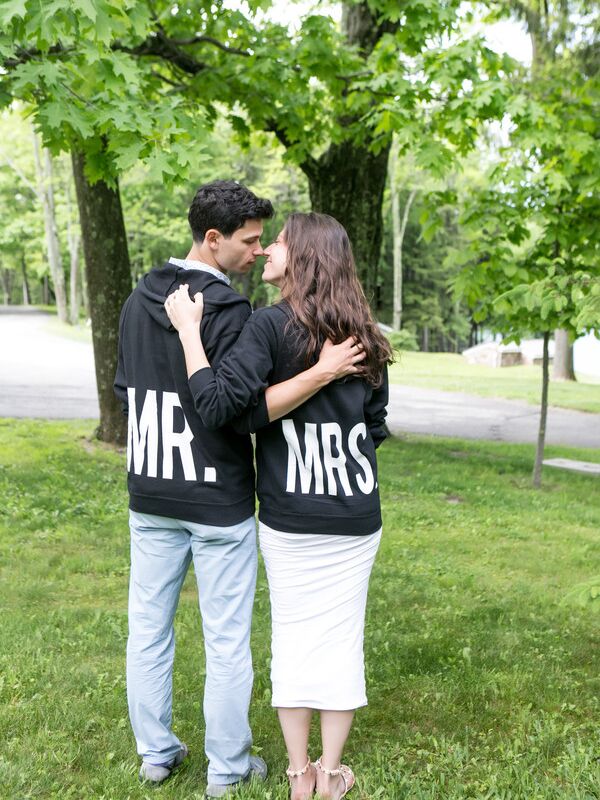 You can have fun with your pictures like this couple that is sporting the matching Mr. and Mrs. sweaters. The pose makes it clear how much they're looking forward to getting married.
4. Boho-Chic Engagement Photos With Bridge Backdrop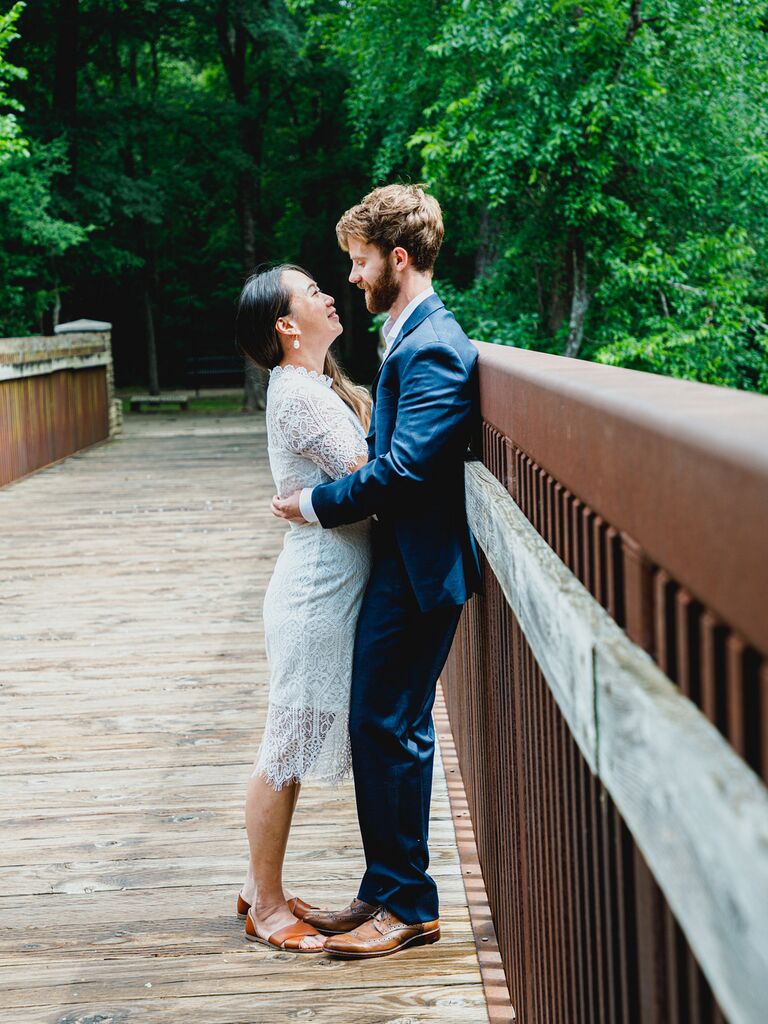 The bridge in this photo lends to the very chic nature of Bohemian themes with formal clothing in a rustic setting.
5. Rainy Boho Engagement Photos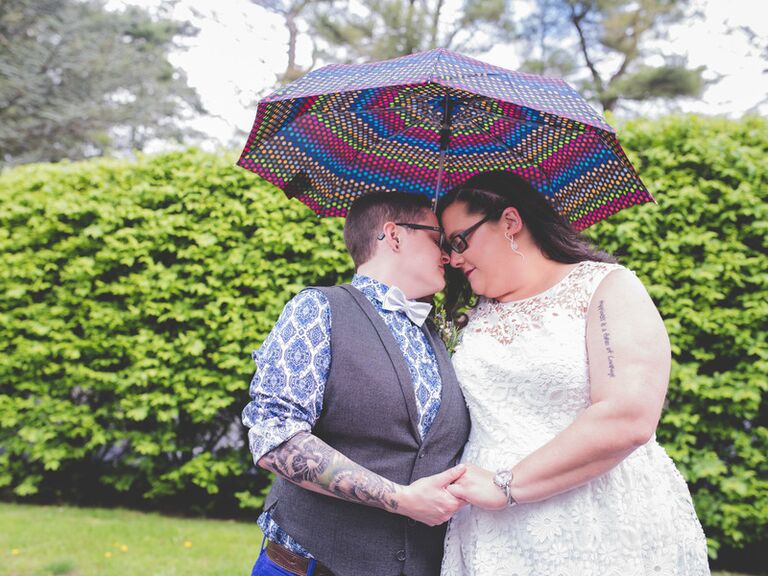 Props, like this colorful rainbow umbrella, can elevate your engagement photos. It adds to the photo rather than distracting from the couple.
6. Laid-Back Pool Engagement Photo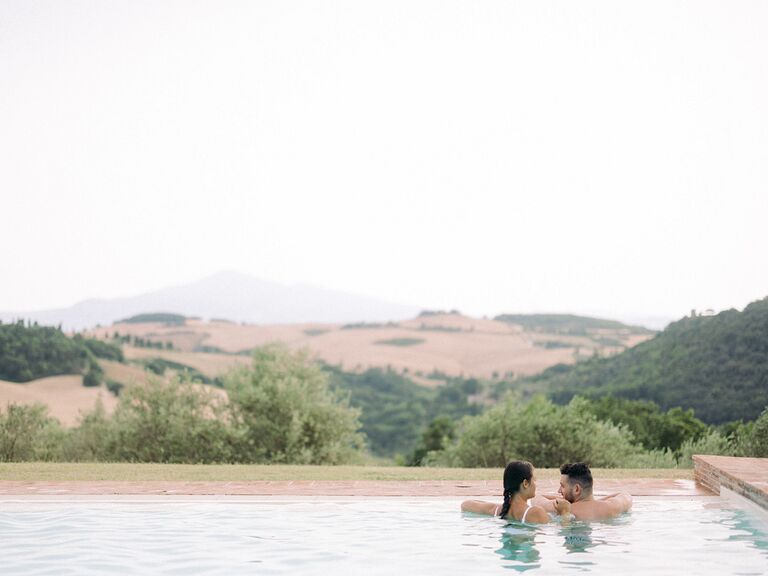 This couple is enjoying an intimate moment together in a pool surrounded by nature. Consider changing up your location to something more serene like this.
7. Relaxed Outfits for Engagement Photos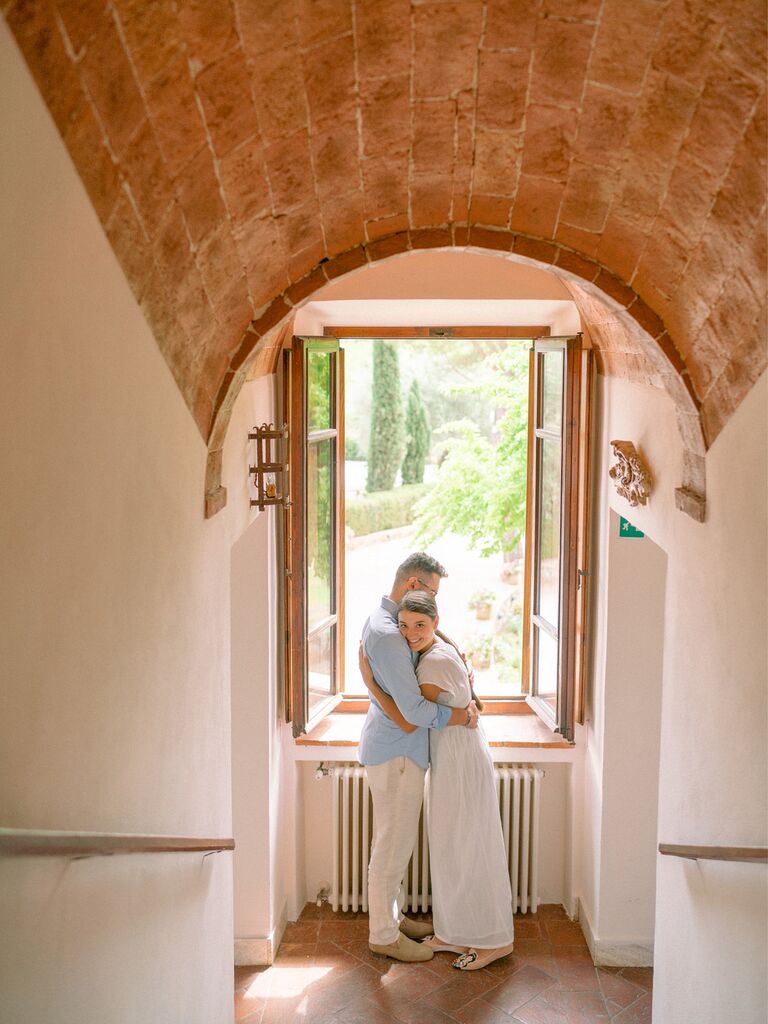 The couple here is donning similar, but not matching outfits. Both are breezy, fully embracing the boho chic style.
8. Boho Engagement Photo Amid Wildflower Bushes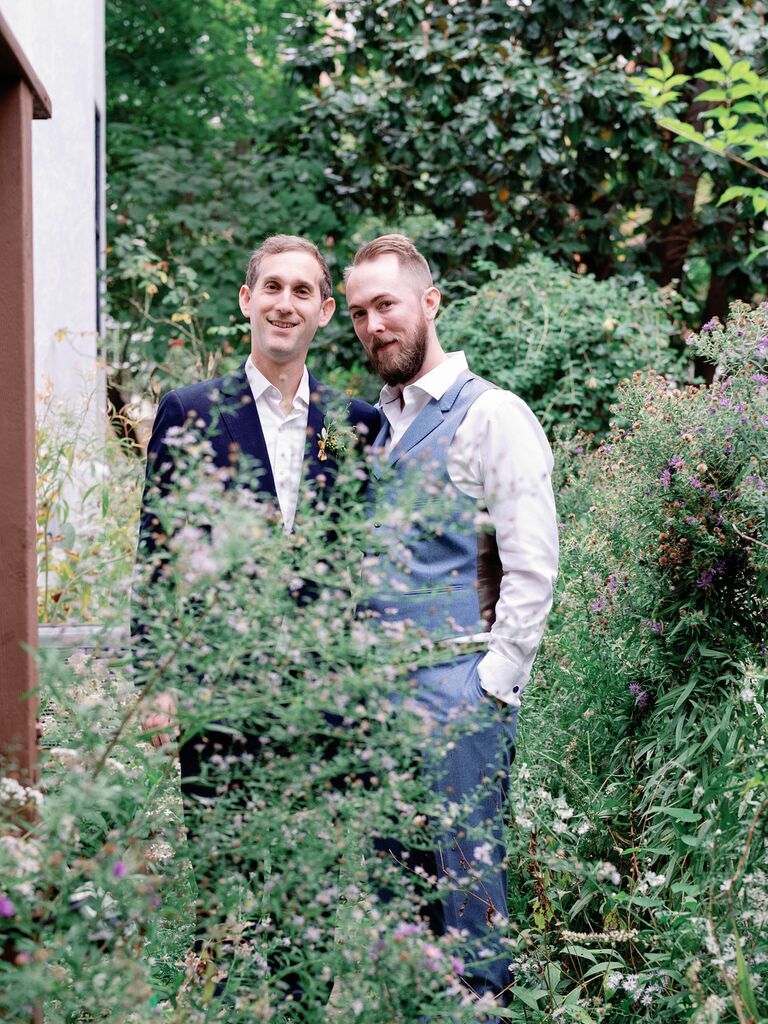 Nature only serves to enhance photos, especially when they're tastefully included, like here. This couple looks stunning surrounded by nature.
9. Laughing and Holding Hands in Bohemian Engagement Photo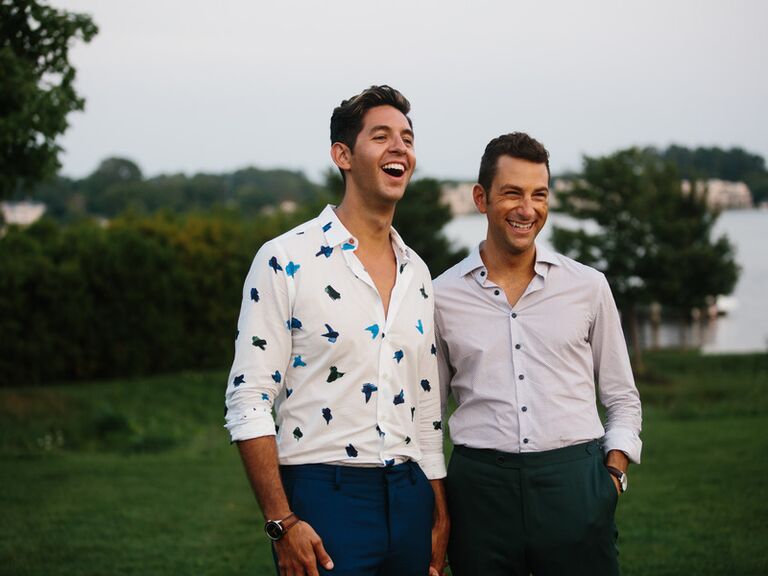 Photographers are great at capturing candid moments, so be sure to just enjoy your partner. You'll be surprised at how fantastic the photos come out.
10. To-Be-Wed Carrying Fiancée During Engagement Shoot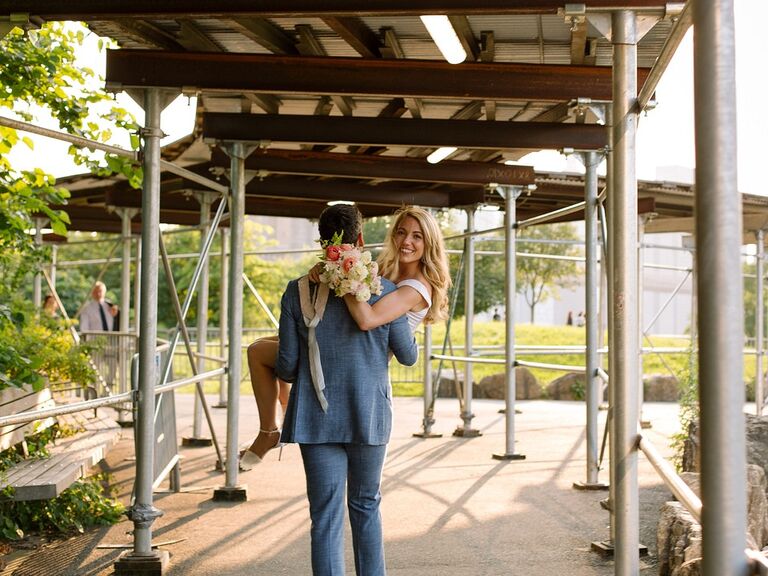 Feel free to show how in love you are! That's one of the best parts of an engagement photo shoot, you get to put your happiness on full display.
11. Nautical Boho-Inspired Engagement Photos on Boat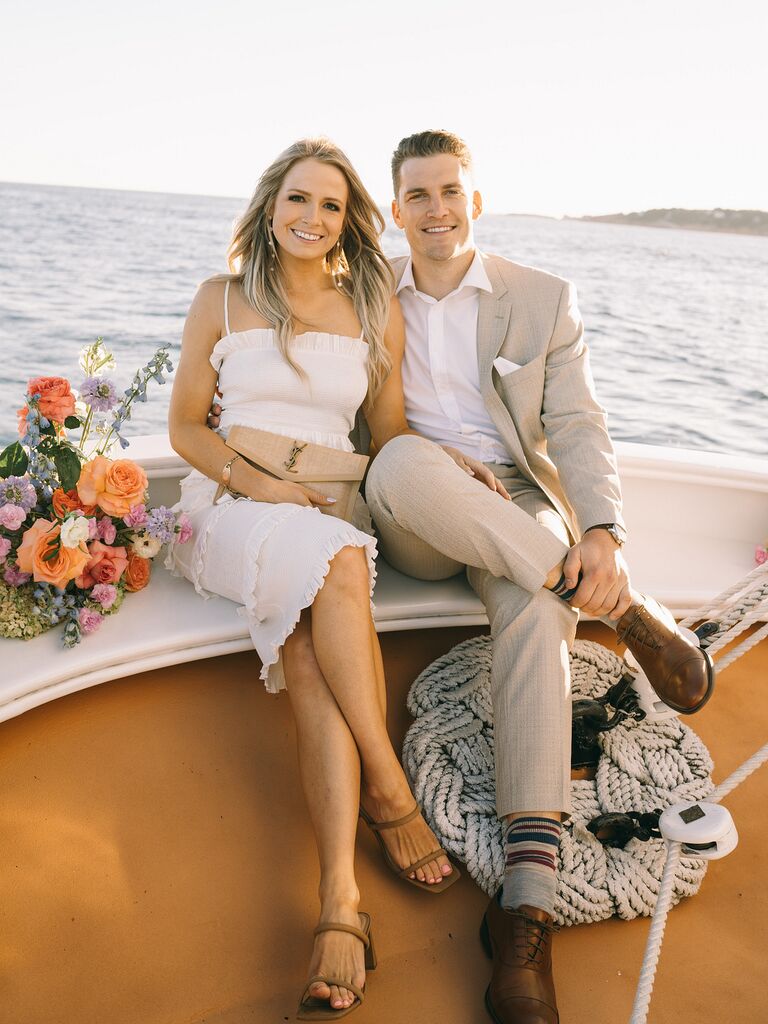 If you're in search of that breezy feeling, there's no better place to do it than out on open water. The outfits are chic and laid back at the same time—pure perfection.
12. Boho Engagement Photo Beside Mural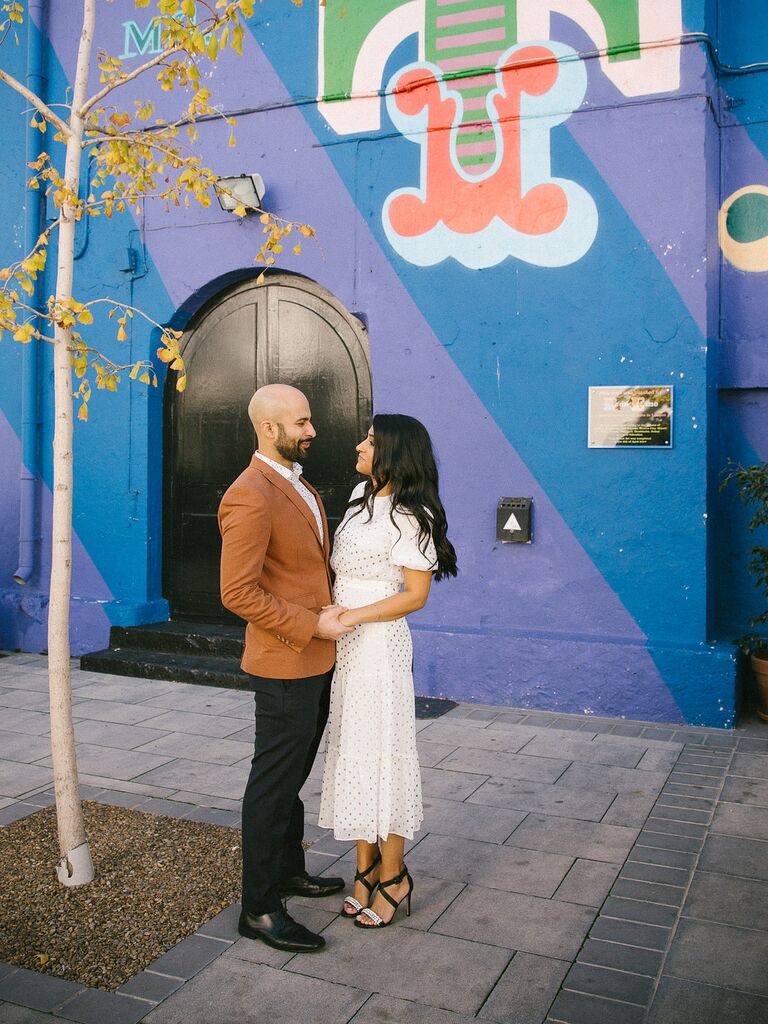 What better way to show off your relationship than by including a spot that's special to you? Take it back to where it all started or a location that's dear to your heart.
13. Couple Letting Loose During Boho Chic Engagement Photos
The location, the outfits and the happiness are all accented in this engagement photo. Your true emotions will show when you're fully comfortable.
14. At-Home Boho Engagement Photo With Props
You don't have to go outdoors to capture that gorgeous Bohemian vibe! Stay inside and cozy up on a couch just like this couple did.
15. Rainy Boho Engagement Photo Session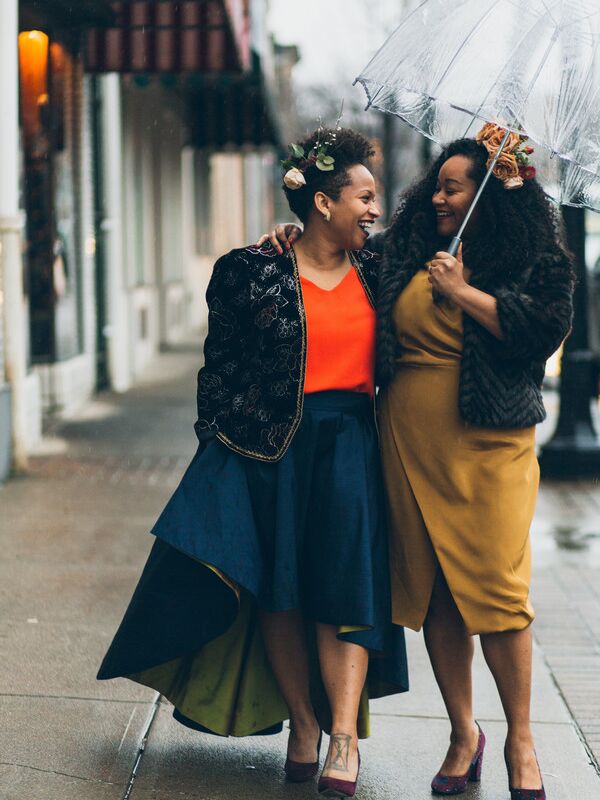 This couple isn't about to let a little mist rain on their day. If it rains on the day of your shoot and you want to proceed, just grab a prop or two and make it fun.
16. Joyful, Boho Engagement Photo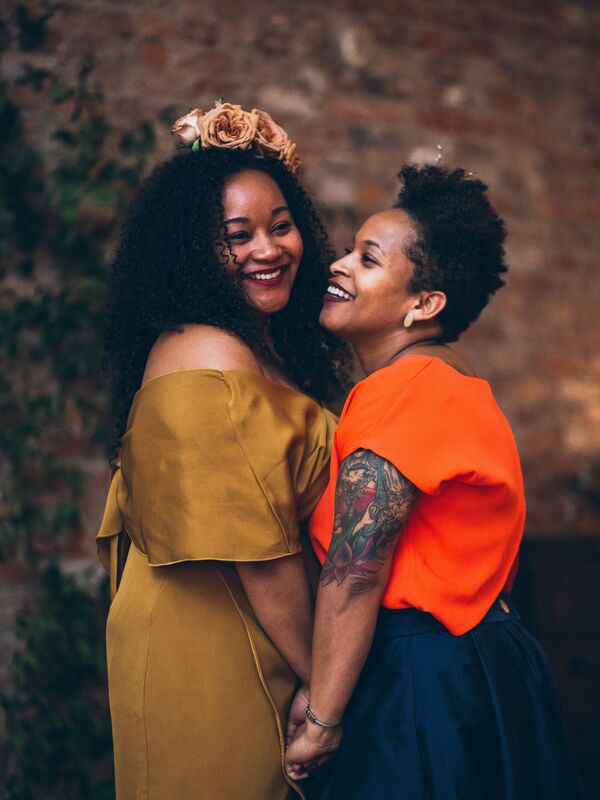 Sometimes, simple is best. There's no need for elaborate props or a showy location, the smiles say it all here.
17. Couple Jumping on the Bed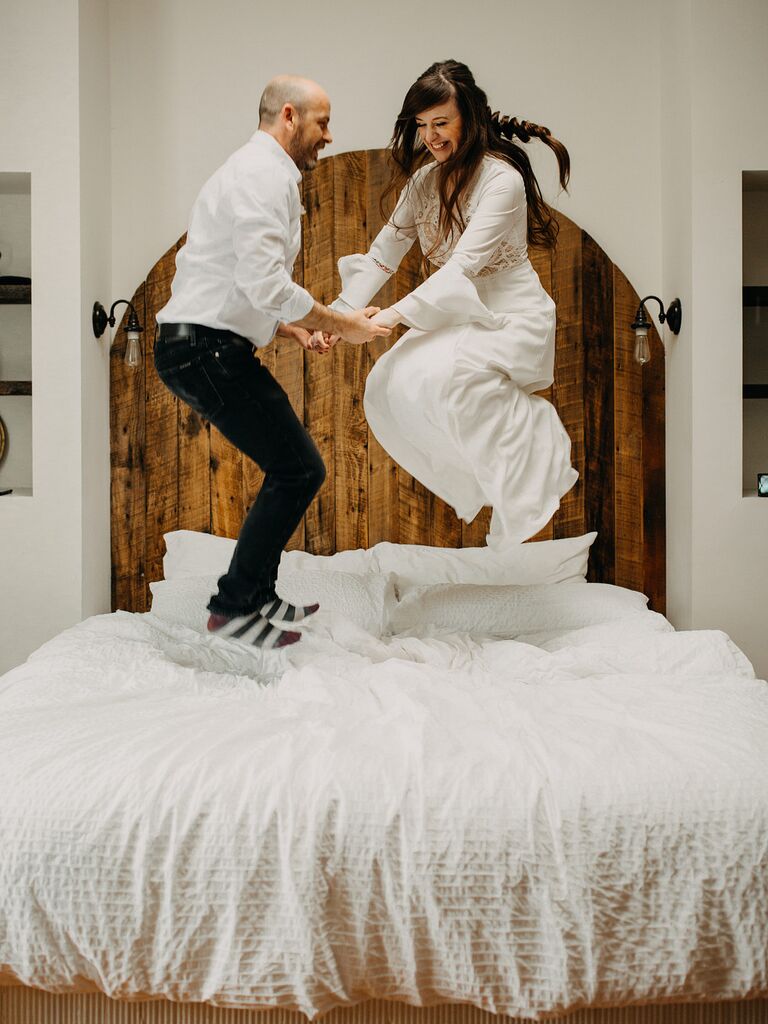 This is the perfect example of a couple just having fun with their photos. Don't get hung up on what to do or say; let your personalities dominate the photos.
18. Fun Restaurant Boho Engagement Photos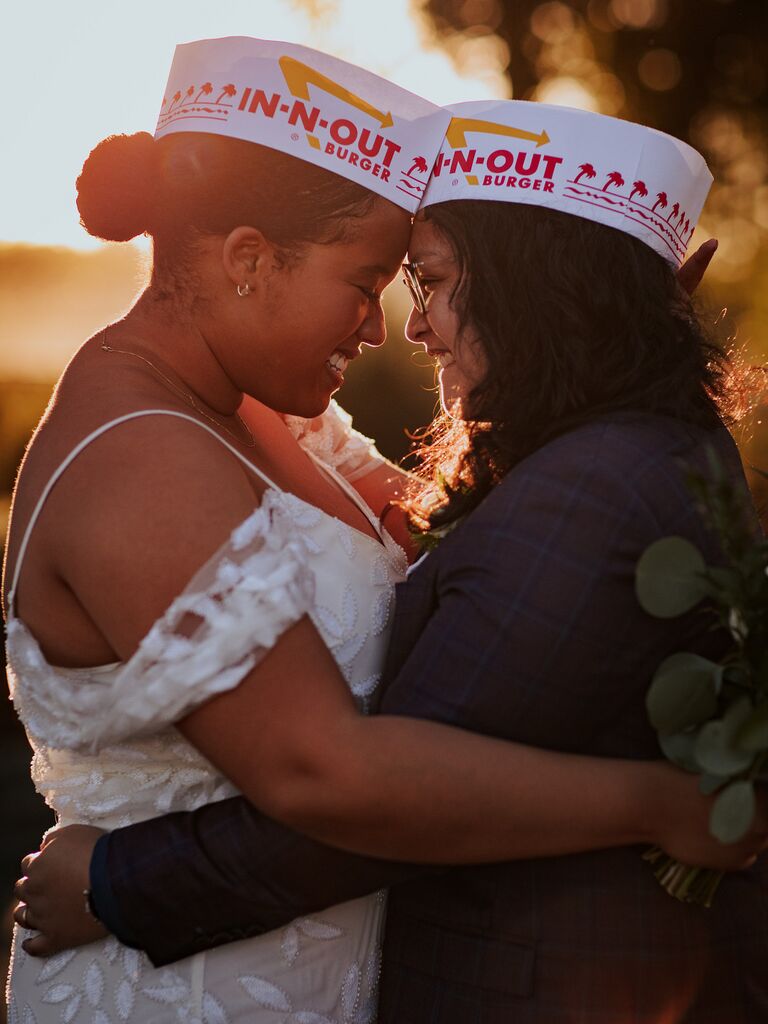 In-n-Out Burger obviously means a lot to this couple. They made it a centric theme in this photo. Feel free to bring your own props that highlight an important part of your relationship.
19. Boho-Chic Engagement Photos With Sunglasses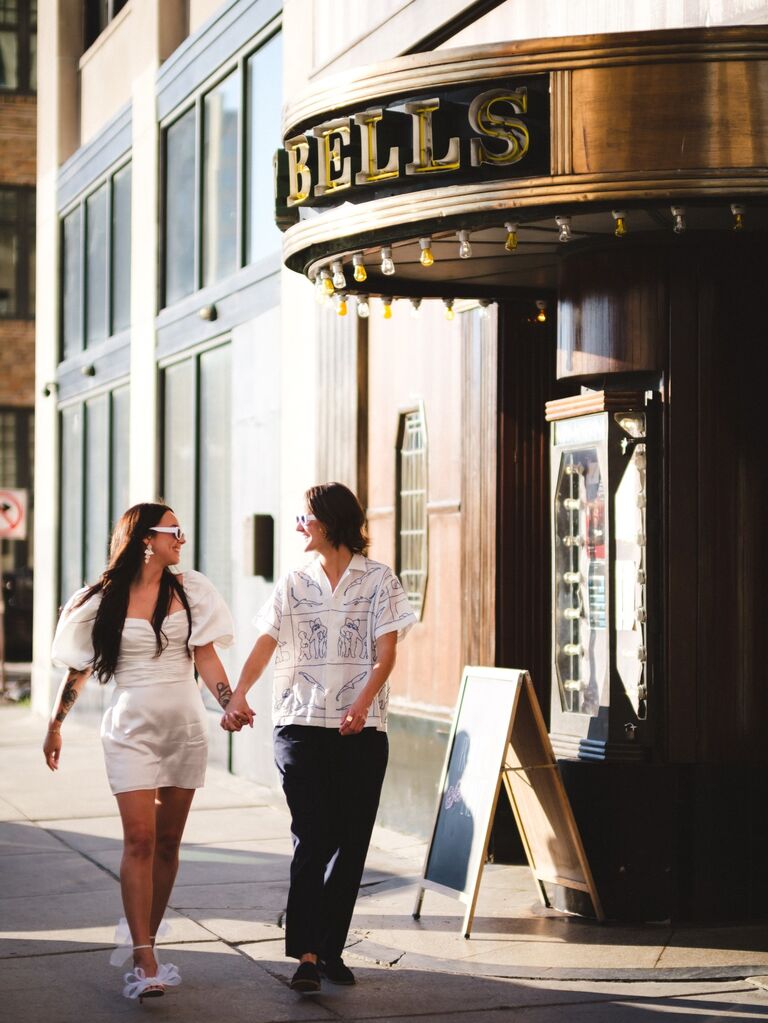 This is a perfect example of using props to showcase your personality. Both are wearing sunglasses and happily smiling at each other as they walk hand-in-hand.
20. Intimate Kiss on the Hand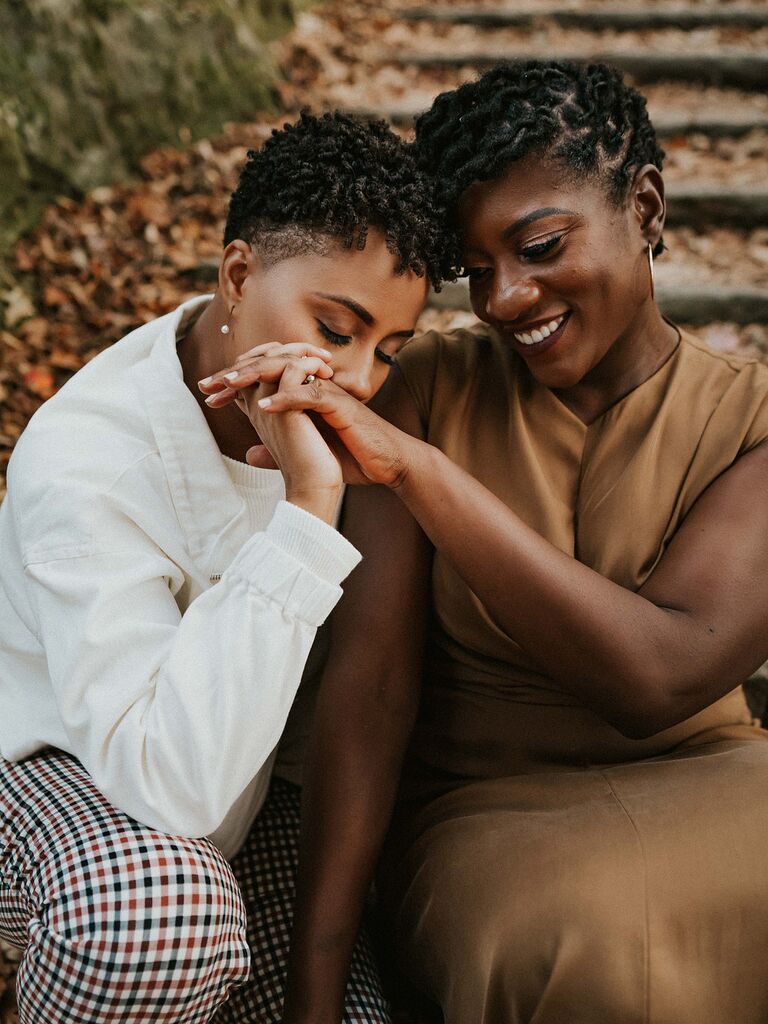 Be sure to let your emotions take over. This photo elegantly captures all of the feelings both women are experiencing.
21. Kissing on the Steps in Boho Couple Photoshoot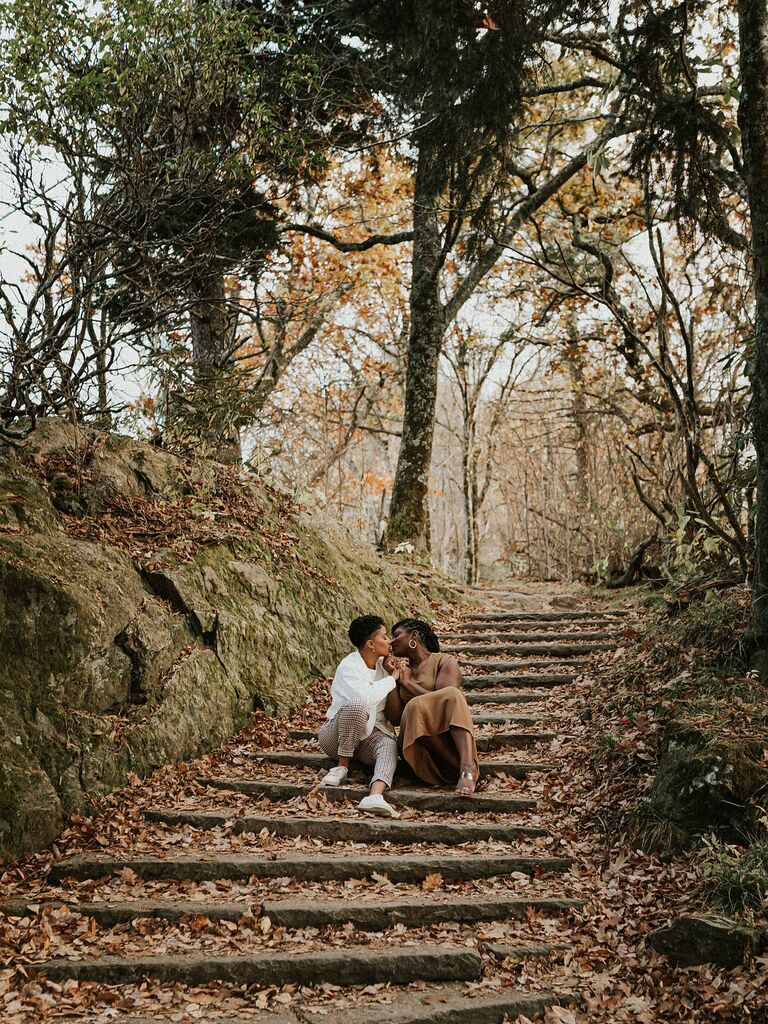 This zoomed-out shot shows the beautiful couple kissing amid a gorgeous fall setting. It's a perfect setting if you're a little shy about PDA.
22. Couple Cozying Up in a Car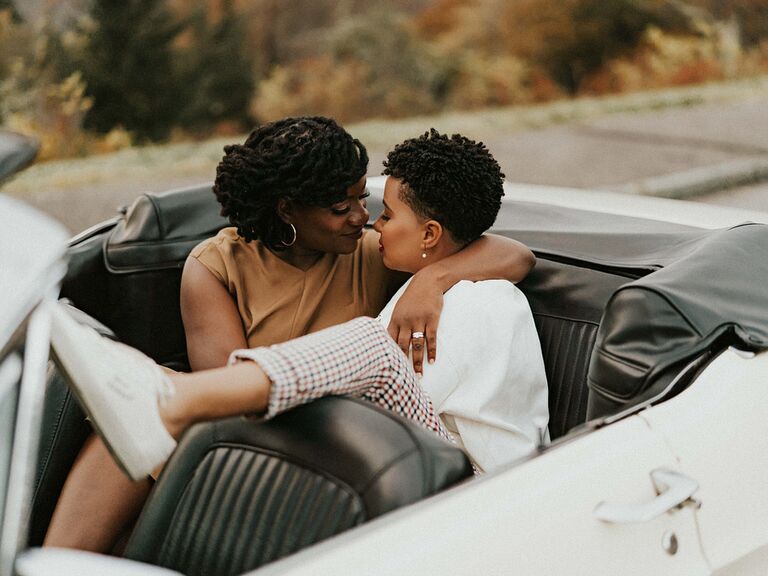 Consider taking photos in a unique location. This car shot, for example, adds a touch of personalization to the couple's shoot.
23. Casual, Boho Engagement Photos by Tree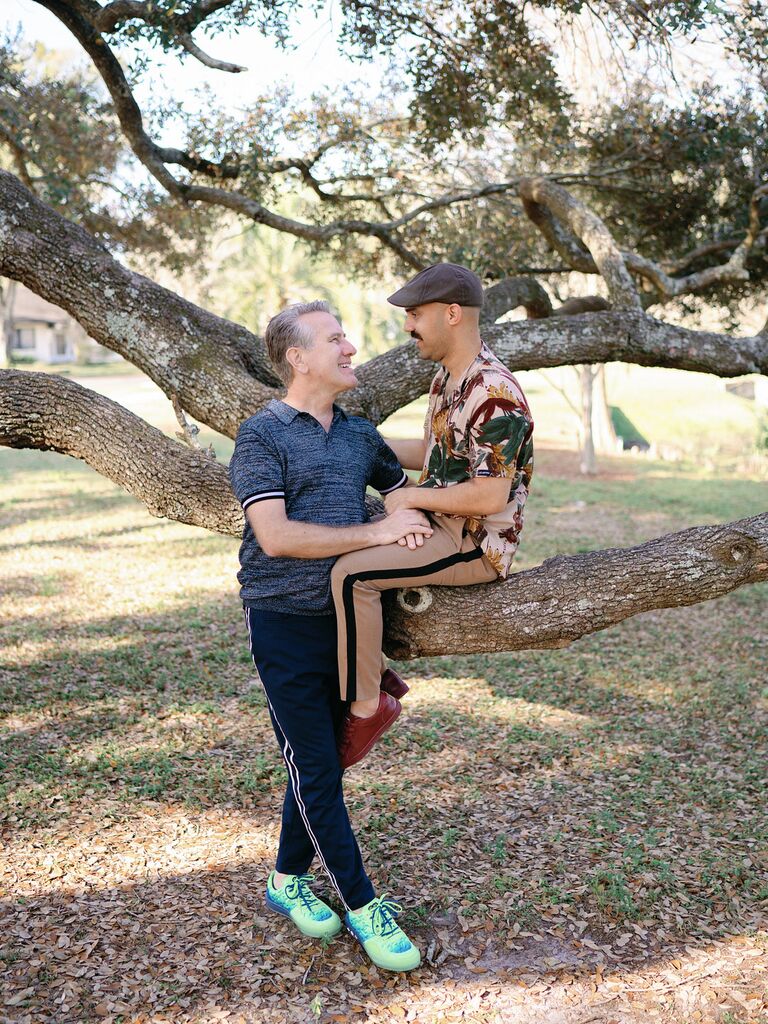 It's not necessary to dress to the nines for your engagement photos. In fact, most photographers recommend wearing something you're comfortable in for relaxed shots just like this one.
24. Affectionate Kiss During Boho Engagement Photos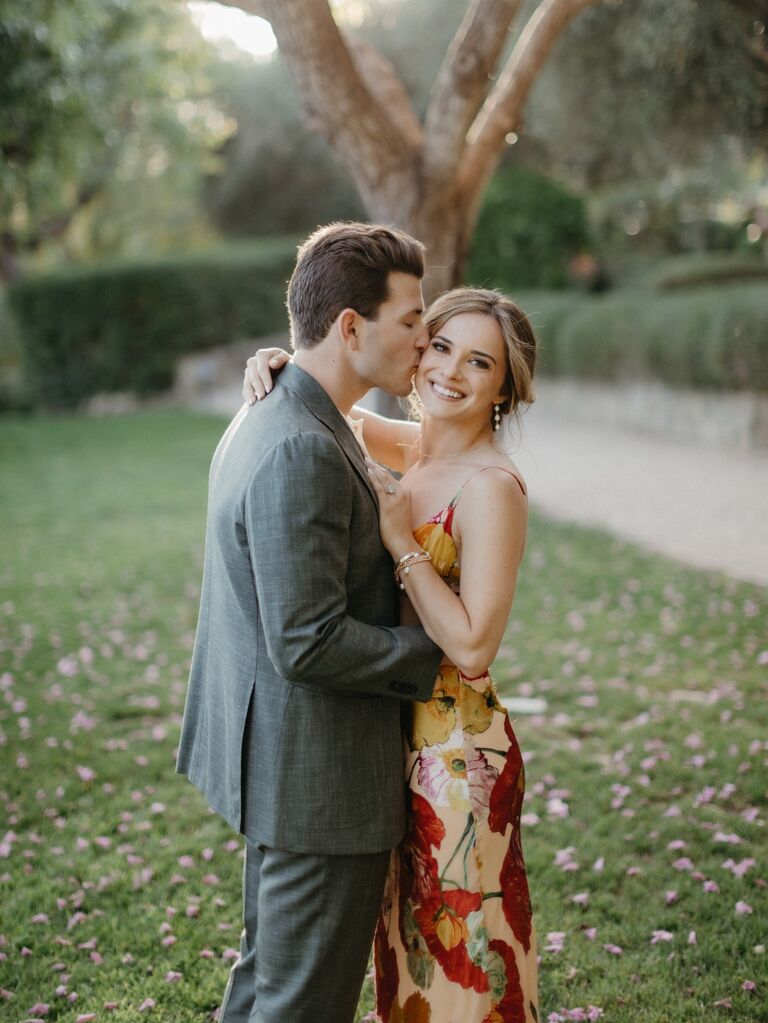 This photo perfectly reflects the intimacy between a couple. Affectionate kisses and happy smiles say so much.
25. Soft Smile During Boho Engagement Photo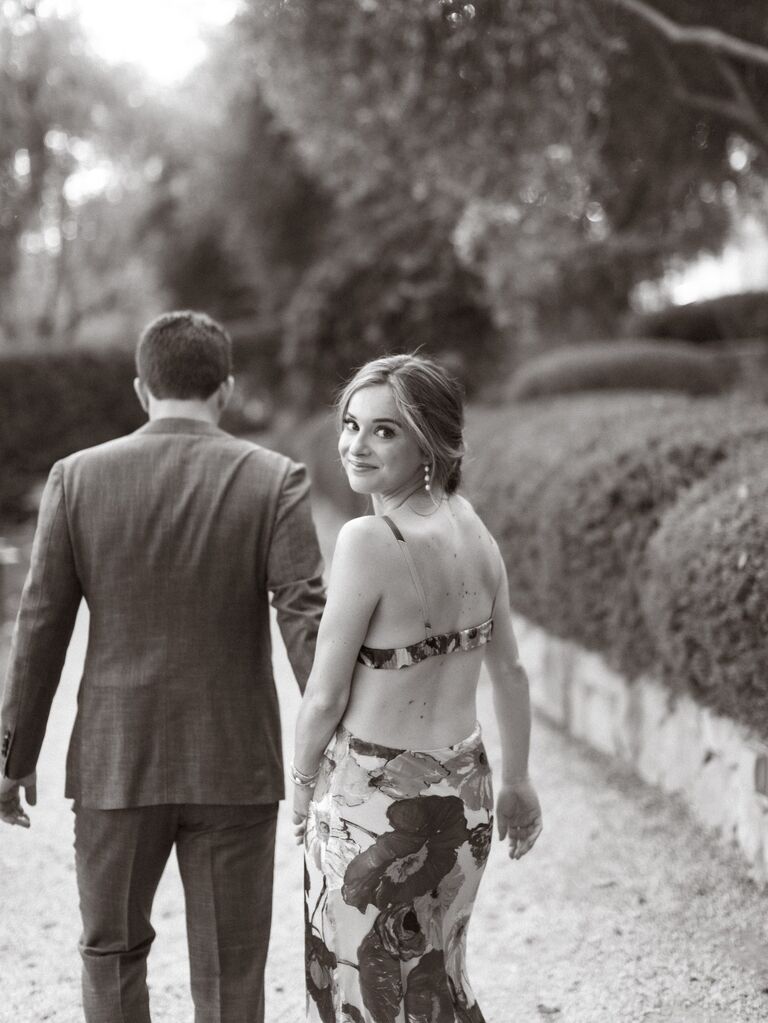 This is a classic shot of one person looking back at the camera, all smiles. You can do this kind of photoshoot anywhere, on the beach, in a field or on a dirt road, the possibilities are endless.
26. Matching Outfits and a Scenic View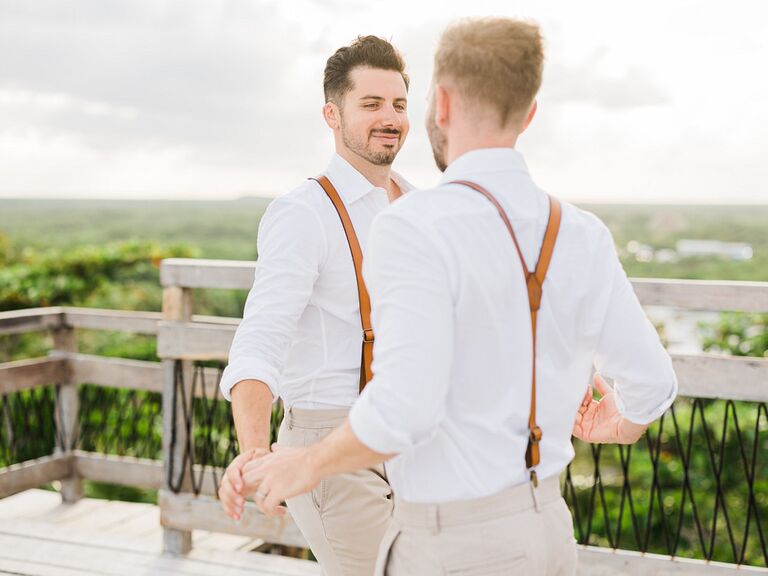 While some photographers caution against matching outfits, sometimes it just works. This bohemian engagement photo is the perfect example.
27. Overhead Shot of a Couple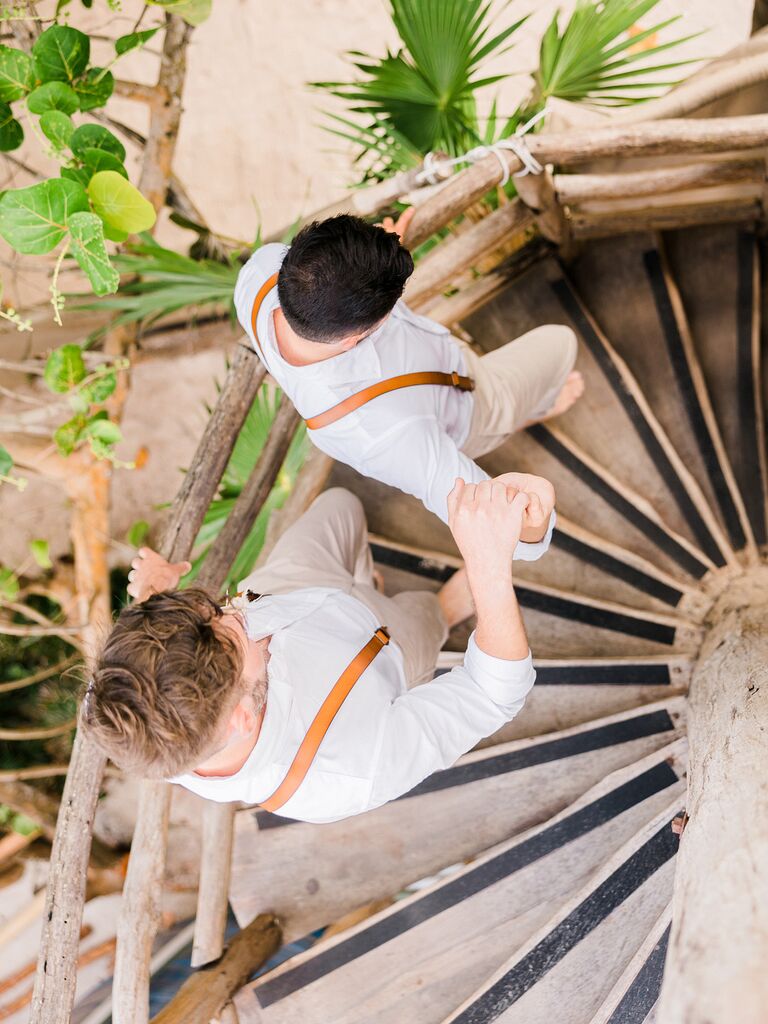 This couple is captured walking down the stairs in an overhead shot that perfectly captures the intimate act of holding hands. If you're looking for unique, try to incorporate an idea like this into your shoot.
28. Intimately Posing for a Boho Chic Engagement Photo
Light, breezy outfits and the intimate pose say everything you need to know in this photo. The stairs are the perfect backdrop showing that simple is sometimes better.
29. Couple Embracing in Bohemian Engagement Photo
Don't be afraid to step outside the box for your photos. They don't have to be up close, you can capture a beautiful moment in a relaxed setting surrounded by nature and rustic structures.
30. Boho-Inspired Engagement Photos on the Beach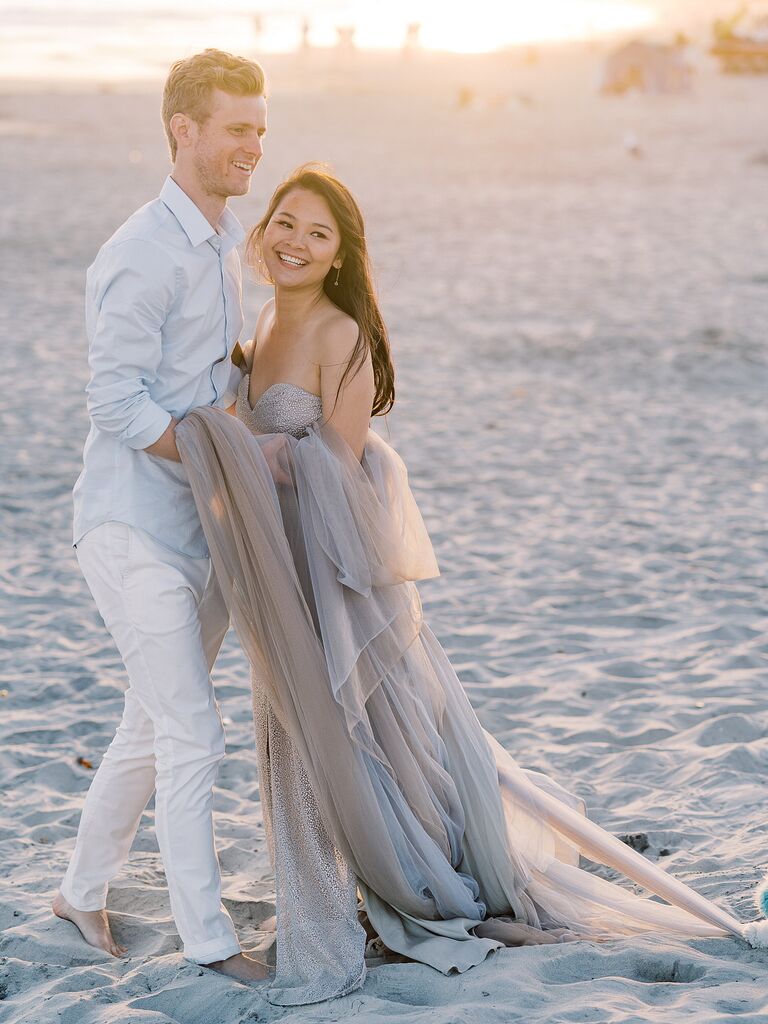 This couple decided to take advantage of the beach's natural lighting for some golden hour engagement photos in the sand. The neutral color palette only makes the scene more stunning.
31. Snazzy Outfits and Neon Backdrop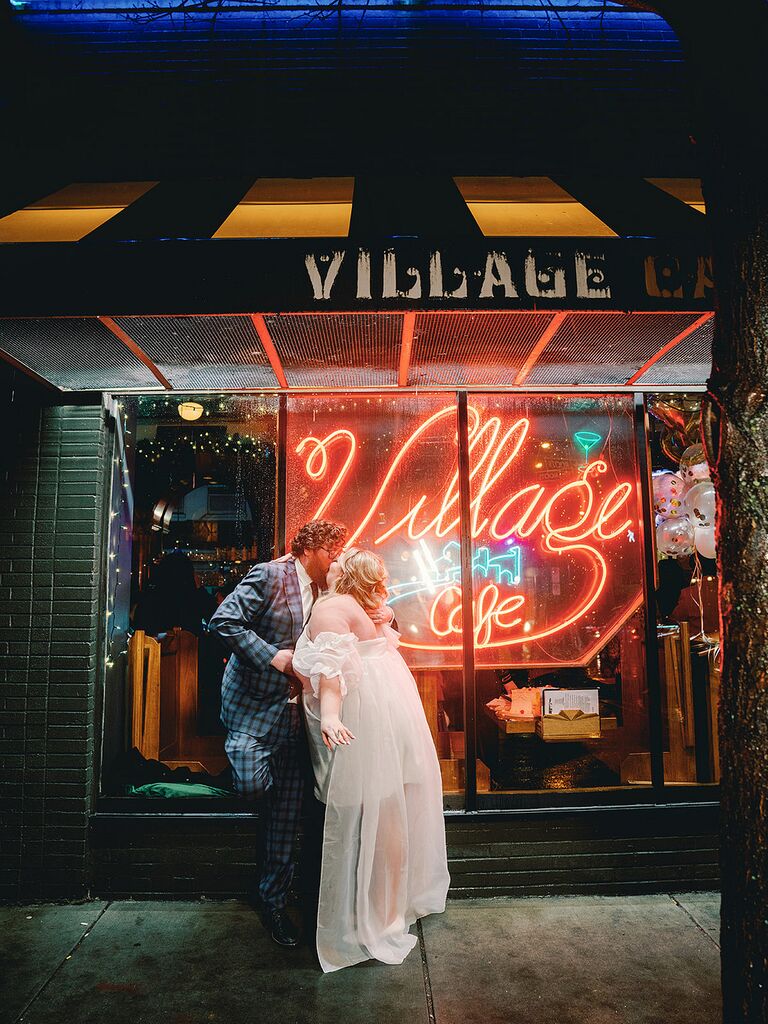 Nighttime photos with a lit-up neon sign in the backdrop are perfect for those Bohemian shots. Feel free to show some PDA and spice things up.
32. Couple Cuddling on the Beach
The beach is such a versatile scene and makes for stunning photos, especially if you incorporate the structures on and around it. Wear light, flowy clothing to complete the boho feel.
33. Couple Dancing in Nature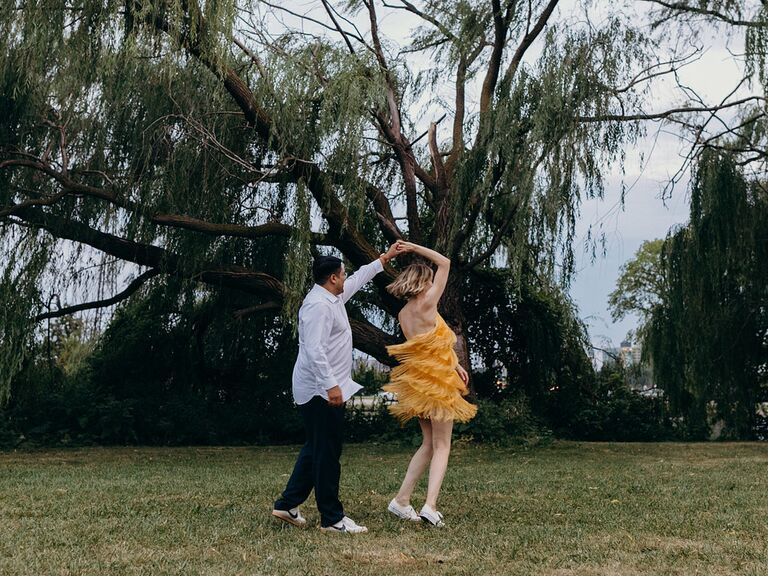 Nature plays a huge part in the boho chic style, and this couple is killing it with their playful dancing and beautiful outfits.
34. Couple Posing With Their Dog in Relaxing Boho Engagement Photo
Animals are an important part of our lives. Include them if you can—you won't be sorry.