20 Beautiful Bridesmaid Shawl Picks You Can Shop Right Now
Searching for a stylish bridesmaid wrap? We've got you covered.
We have included third party products to help you navigate and enjoy life's biggest moments. Purchases made through links on this page may earn us a commission.
Bridesmaid shawls are classic wedding accessories—and for good reason. They're not only great for keeping warm at fall and winter functions, but they can also shield bare skin from the sun at an outdoor or beachside ceremony. Plus, wedding shawls come in a variety of styles, colors and fabrics, so you're sure to find the perfect match for your event's vibe and color scheme.
Another reason to invest in a wrap for your crew? Wedding party cover-ups can even help transition a dress to a different season, especially if you're set on a certain silhouette. Below, we're sharing how to style wraps for bridesmaids, including shrugs, capelets and pashminas, then we're diving into our favorite bridesmaid shawls and wraps for every member of your crew.
In this article:
How to style a bridesmaid dress with a shawl
When it comes to styling a bridesmaid wrap, you have a few options depending on the type of garment that you choose. For a bridesmaid shawl, your wedding party can rest it over their shoulders and the back of their necks, then pull the ends together in the front. Shawls can be secured with safety pins or simply draped over the shoulders for an elegant look that can be easily removed.
Meanwhile, shrugs and capelets typically rest at the shoulders and often extend to the elbows. Another popular type of wrap for bridesmaids is a pashmina—a scarf that's typically crafted from wool and can be styled in multiple ways. The two most common ways to wear a pashmina are to drape it over your shoulders or hold it loosely in your arms. There is no right or wrong way to wear a bridesmaid shawl, so choose the style that you like the best.
The Best Shawls for Bridesmaids
From silky shawls to luxe pashminas, we've gathered the most beautiful bridesmaid wraps for every wedding vibe and season, whether you're dressing your bridesmaids for a winter wedding or a summer soiree.
1. Adrianna Papell Slim S'HUG Tunnel Sleeves in Champagne
Tunnel sleeves make this bridesmaid wrap effortlessly elegant. It's the perfect complement to any formal gown and comes in two wedding-worthy hues: Black and Champagne. Another bonus? Use the code "THEKNOT25" to receive 25% off your order.
2. Minnosko Winter Bridesmaid Shawl in Beige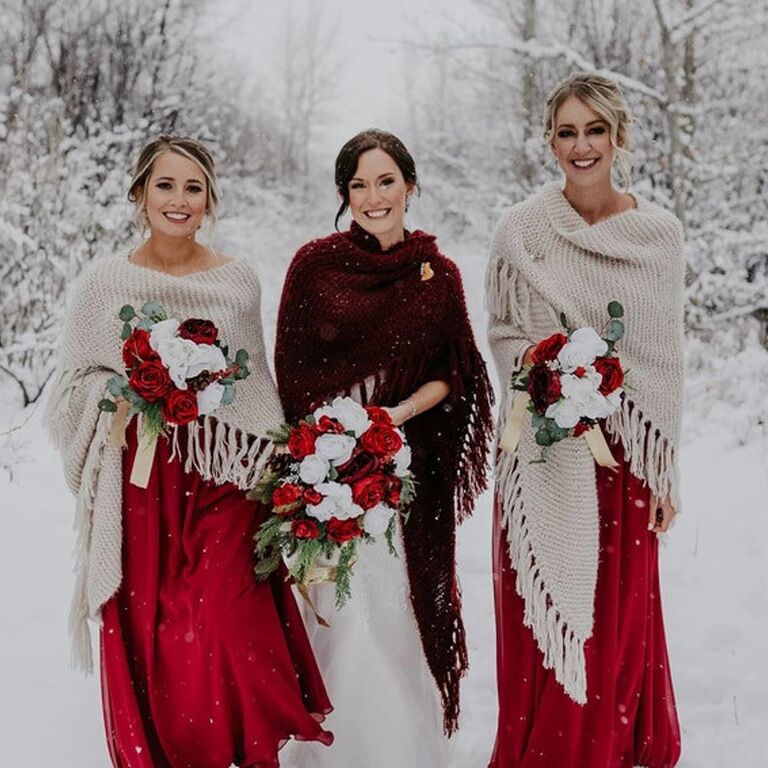 Crafted from ultra-soft mohair and wool fabric, this cozy knitted bridesmaid shawl is a foolproof choice for cold-weather functions. For winter weddings, pair it with a velvet bridesmaid dress for a romantic look that'll keep your besties warm.
3. Bridal by ELOQUII Faux Fur Stole in Off-White
ICYMI, dressing your wedding party in neutral hues is one of our top bridesmaid dress trends of 2023. So why not pair their gowns with a gorgeous off-white faux fur stole? You can even grab an extra for yourself to achieve a coordinated look for your wedding photos.
4. Lulus Always Posh Brown Faux Fur Stole
Faux fur bridesmaid shawls aren't just luxurious—they're also incredibly comfy (especially during the colder months). If you choose this warm and fluffy brown stole from Lulus, your bridesmaids will thank you for picking such a stylish wrap.
5. Birdy Grey Bridesmaid Shawl With Fringe in Light Grey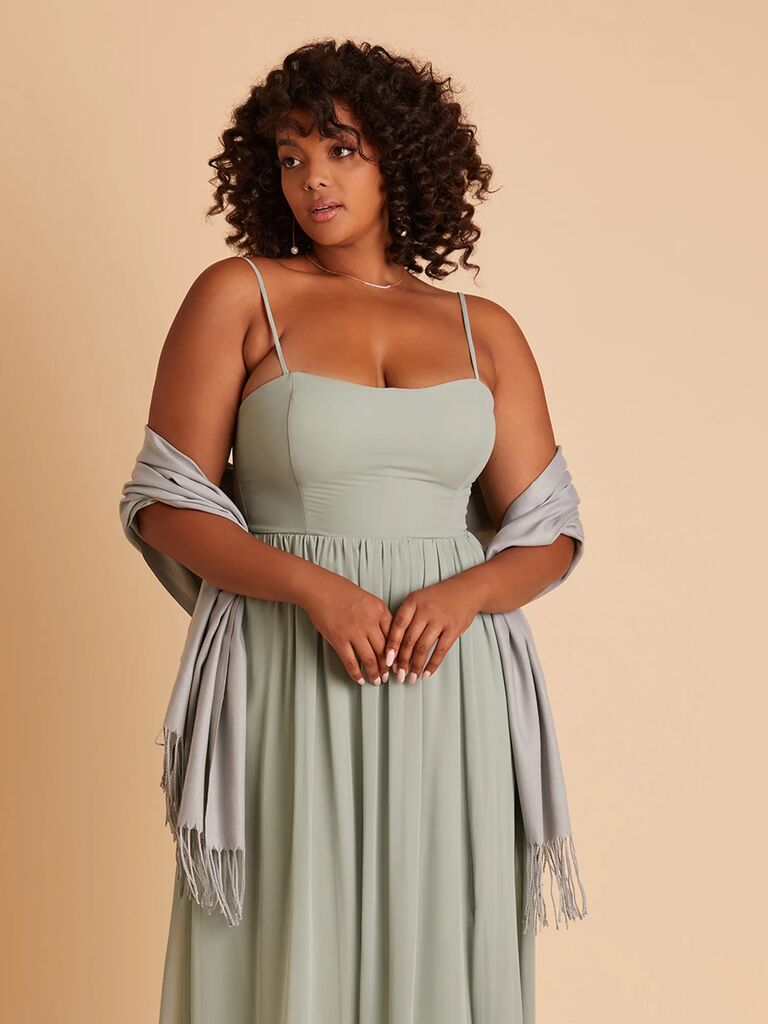 For a more affordable option that doesn't compromise on quality, try Birdy Grey's bridesmaid shawl with flirty fringe detailing. Another cool addition? For an additional $8, you can personalize the wedding party shawls for each member of your crew to make it even more sentimental.
6. BHLDN Weddings Rue Pashmina Wrap in Black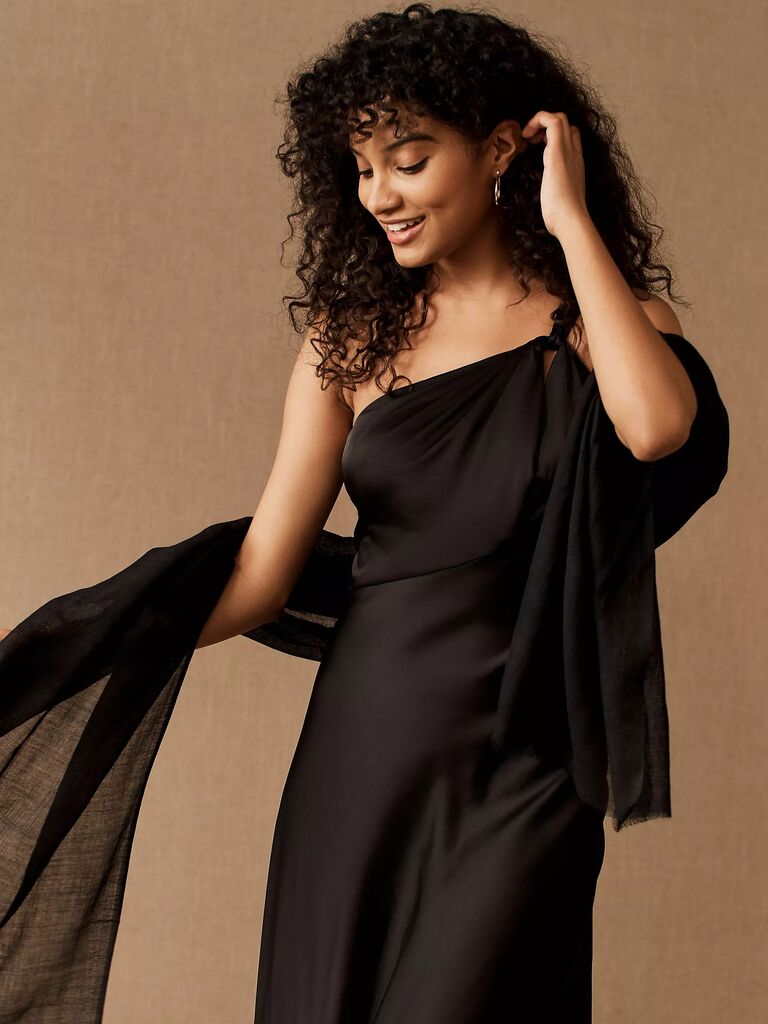 This pashmina wrap is a beautiful and practical choice that your 'maids will cherish after your wedding day. Because it's crafted from a wool and silk blend, it's lightweight enough to carry throughout the event without hassle. Choose your favorite hue from Black, Blue, Neutral and Ivory.
7. Adrianna Papell Metallic Wrap Scarf
One way to add a glittery element to your wedding party dresses? Throw in a shimmering metallic bridesmaid wrap to liven up the silhouette. Available in Rose Gold and Silver, this festive style is ideal for New Year's Eve weddings (but it can also work for events all year round).
8. Faux Fur Wrap with Stone Broach in Champagne
Covered in faux fur, this super-soft bridesmaid wrap is the definition of decadent. We're particularly digging the eye-catching broach and elegant champagne shade, which will look nothing but whimsical against a white snowy backdrop for dreamy winter wedding photos.
9. Torrid Super Soft Cardigan Dolman-Sleeve Open Front in Black
Another alternative to bridesmaid wraps is a cardigan, which offers a bit more coverage and security than a traditional shawl. This plus-size number is elevated with flowy dolman sleeves and is crafted from buttery soft knit fabric. What's not to love?
10. Nordstrom Tissue Weight Wool and Cashmere Scarf in Pink Ballet
Your bridesmaids will get so much use out of wool and cashmere pashmina for your wedding and beyond. Available in nine lovely shades for every season, the wool and cashmere blended piece is topped with wispy long fringe tips. Another idea? It'll also make an excellent bridesmaid gift for your squad.
11. Mine Style Bridesmaid Shrug in Gray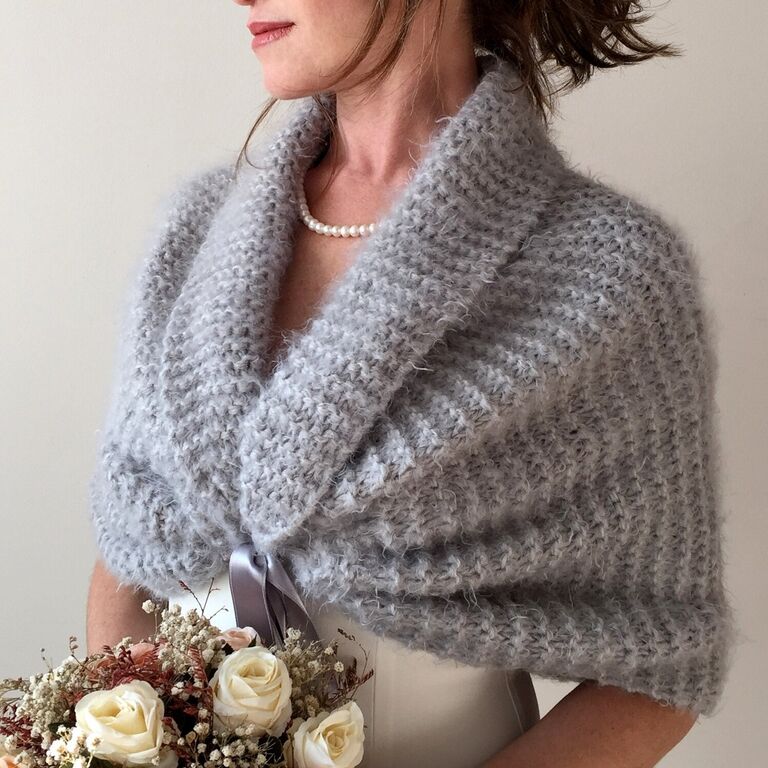 Searching for something that's sure to stay put? Consider a shrug instead of a shawl. With elbow-length sleeves, this wool cover-up is an excellent way to provide extra warmth, especially in unpredictable weather.
12. Adrianna Papell Metallic Wrap Scarf in Silver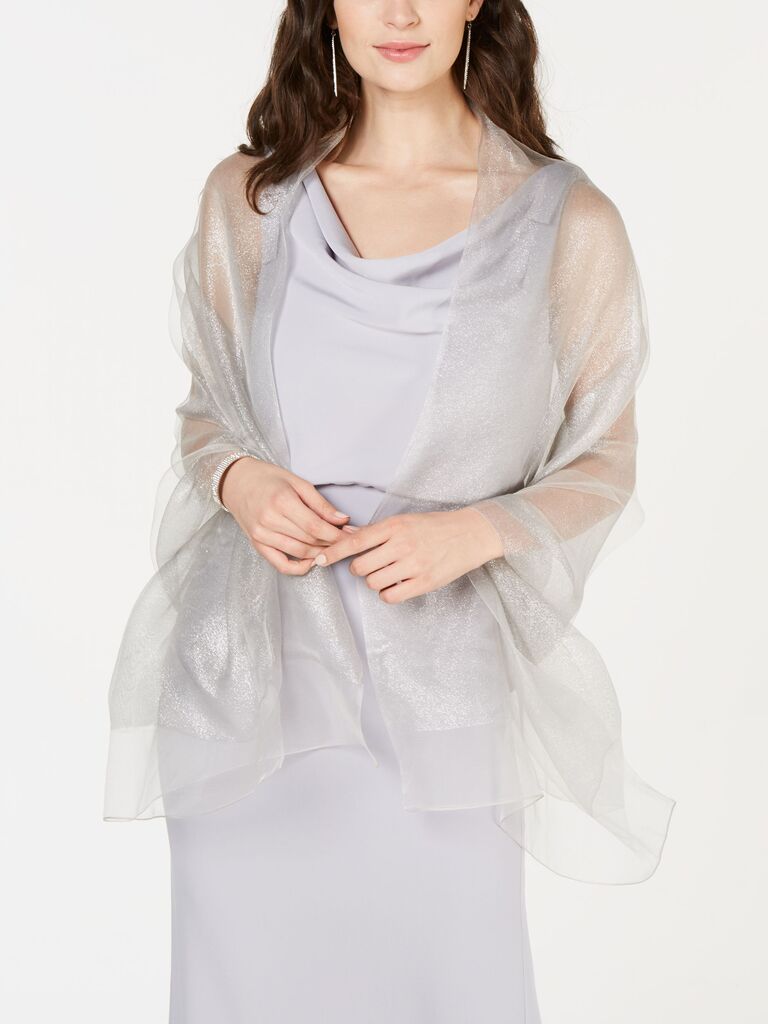 This silver bridesmaid scarf gets a sparkly upgrade from the subtle shimmer of the metallic threading. It hits elegantly at the waist and can be draped over the shoulder for a refined look for your wedding party. Silver not your color? It also comes in Rose Gold if that's more of your vibe.
13. Quince Mongolian Cashmere Wrap in Burgundy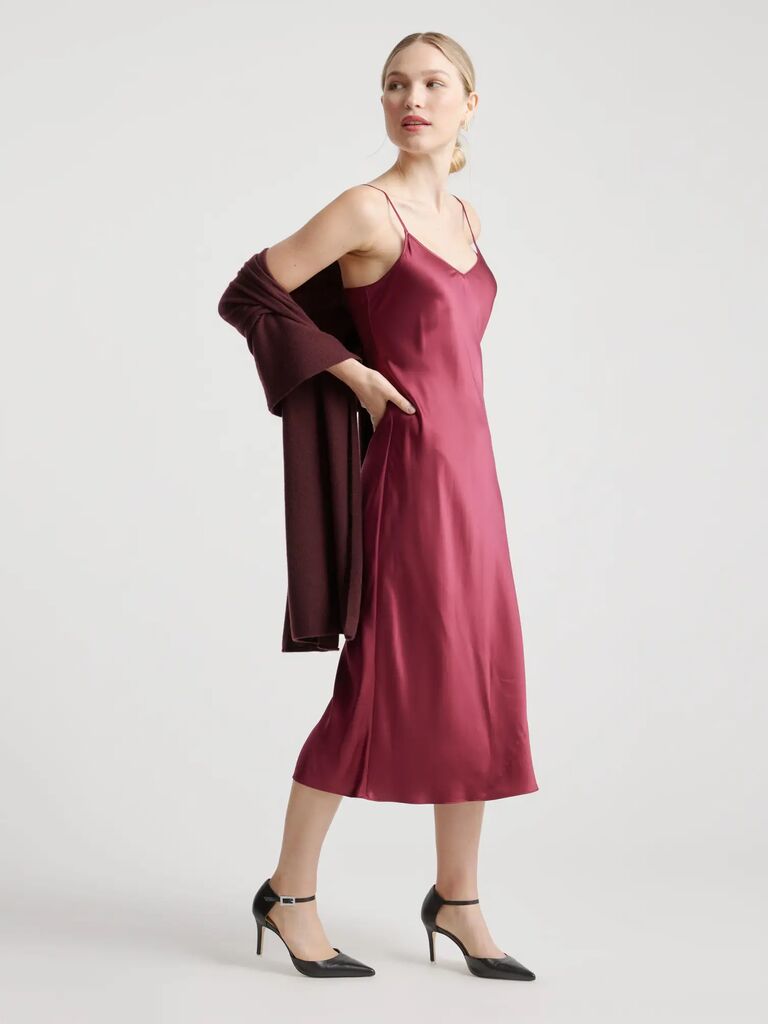 The best part about this cashmere wrap for bridesmaids? Your wedding party can style this graceful shawl however they want—whether that's on the shoulders or draped over their arms. Bonus: The cover-up is sold in six beautiful shades for weddings, from Burgundy to Navy.
14. Mia Krafts Shop Pashminas for Bridesmaids in Pale Pink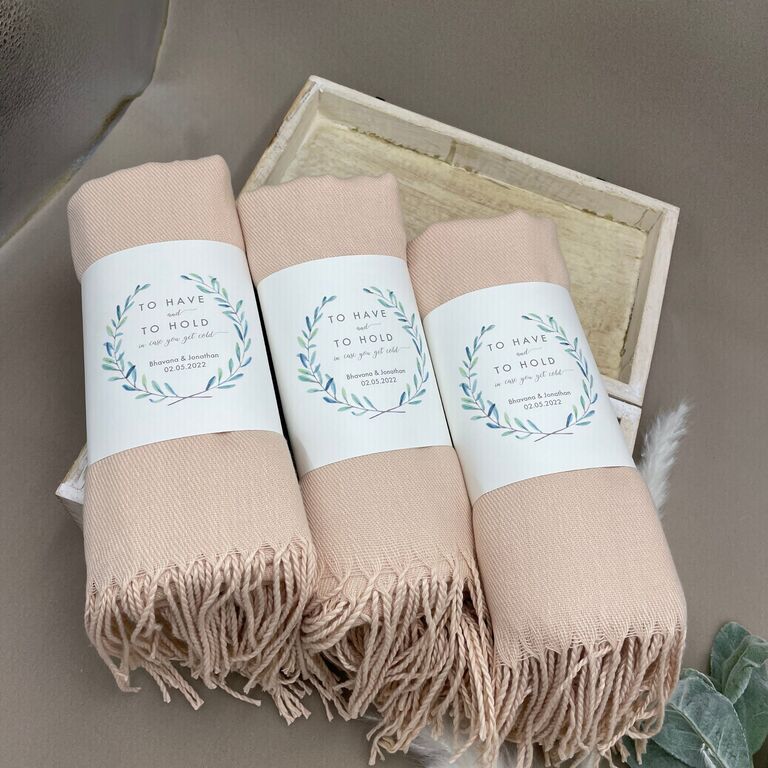 The gift of bridesmaid pashminas is something that your crew will definitely appreciate for a chilly wedding. You can have each one wrapped with a tag that reads, "To have and to hold in case you get cold," or a different cute saying of your choice.
15. Nine West Lightweight Satin Pashmina
These satin pashminas for bridesmaid dresses will be a hit for holiday weddings, thanks to the rich red hue. If you're looking for an array of colors, take a closer look at their other elegant shades, like Evening Blue, Lilac, and Ivory.
16. Ayshemin Crochet Bridesmaid Shawl in Taupe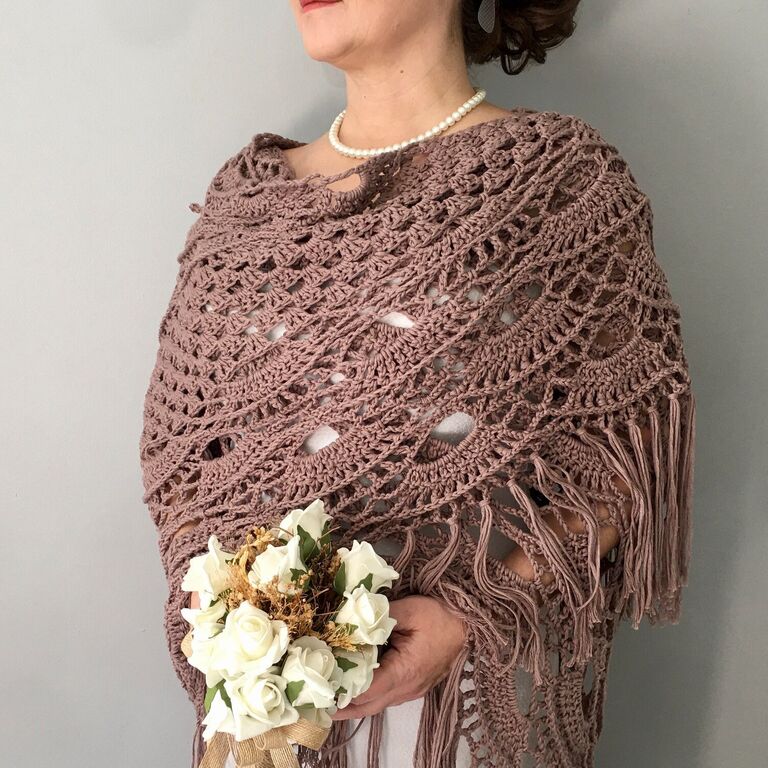 These crochet wedding party shawls are actually handmade for your bridesmaids (how special is that?). Not only do they have fringe accents for the ultimate boho vibe, but they're also available in a rainbow of hues, including Taupe, Terracotta and Burnt Orange.
17. Birdy Grey Chiffon Shawl in Gray
Keep things simple with a minimalist shawl at a great price. Light and airy, this chiffon wedding shawl for bridesmaids offers extra coverage without the added weight—so your BFFs can easily take them on or off throughout the evening.
18. Shawlee Shrugs Wedding Party Shrug in Purple Eggplant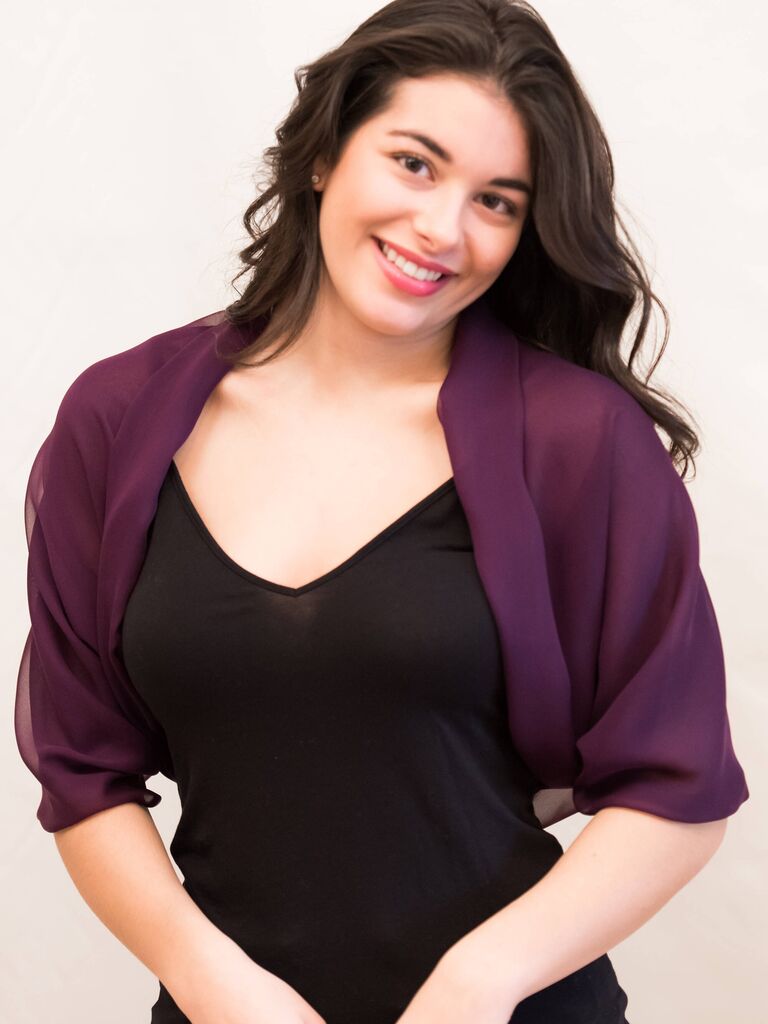 Part shawl, part shrug, this 100% silk bridesmaid wrap is an easy (and sumptuous) way to add shoulder coverage to your bridesmaid dresses. The size-inclusive piece comes in sizes 0-32 and 16 different colors options. We're impressed.
19. J.Crew Cashmere Pashmina in Ivory
Wrap your bridesmaids in luxury by gifting them this cashmere pashmina as their bridesmaid gift. Choose your favorite from four fabulous shades: Ivory, Sandy Beach, Evening Blue and Black.
20. TFNC Bridesmaids Chiffon Cape in Lavender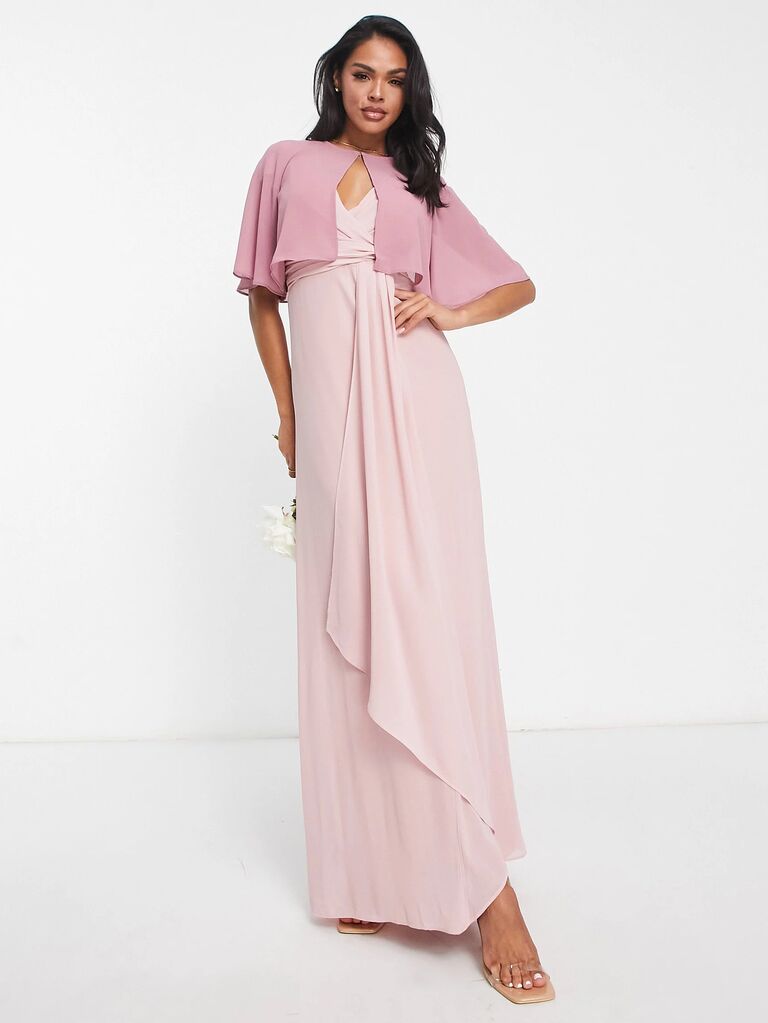 Looking for a shorter wrap for your bridesmaids? Check out this cropped chiffon capelet complete with flutter sleeves and a round neckline. If you love the style, it also comes in Gray, Light Blue, Khaki, Mauve and Navy, so choose one or a few different shades for a mismatched bridesmaids ensemble.