Every Sentimental Detail From Disability Advocate Chelsie Hill's Wedding
"I felt like giving up halfway because it was so hard," she said of her ceremony gesture. "But Jay and I were locked in on each other."
Chelsie Hill was on the job when she locked eyes with a stranger from across the room. Neither Hill nor that man spoke then until six months later, they locked eyes again. This time, Hill and Jason Bloomfield (Jay) were again working the same event in a different location. Bloomfield, thankfully, had the good sense and courage to approach her this time. "The rest is history," Hill tells The Knot.
A national competitive dancer since age 5, Hill faced one of the greatest challenges in her life when she was paralyzed in a car crash at age 17. ("I was paralyzed in a drunk driving accident when I was 17 and right away I wanted to Skype my school while I was still in the hospital," Hill previously told Yahoo. "I want my school, I want my classmates to know that the girl that was once running around made a mistake of getting in the car with a drunk driver. And now I'm paralyzed.") In the decade that passed, Hill used her platform to emerge as a disability advocate, even founding and leading the Rollettes, a wheelchair dance team.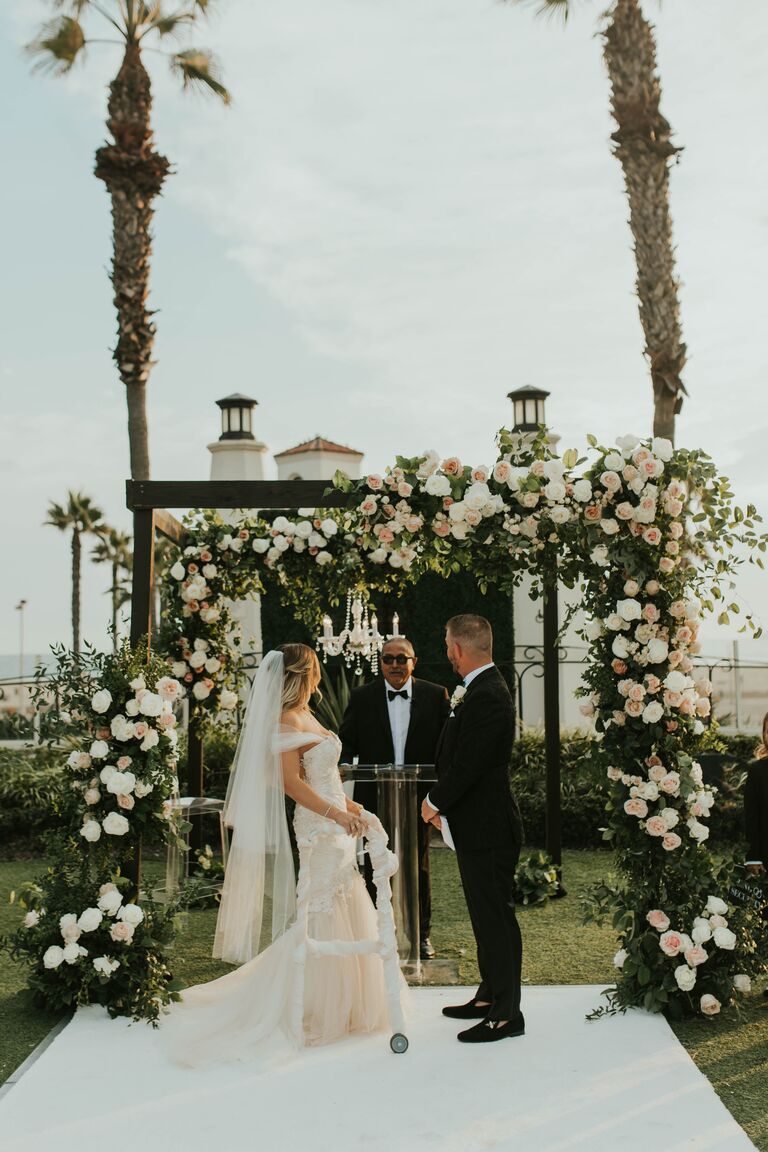 On the 10-year-anniversary of her accident, Hill threw a party to celebrate life. With all of her closest loved ones there, Bloomfield believed it was the opportune time to propose. "At the end of the night, they showed a special video with loved ones sharing notes. Jay was last," recalls Hill. "He told me to turn around in the clip and he popped the question right there."

Hill and Bloomfield joined millions of other couples when facing the realities of planning a wedding during a pandemic. "COVID was definitely something on our mind a lot," she reflects. "We wanted to make sure everyone was safe and felt comfortable. In fact, we asked people to get tested before the wedding to be extra safe."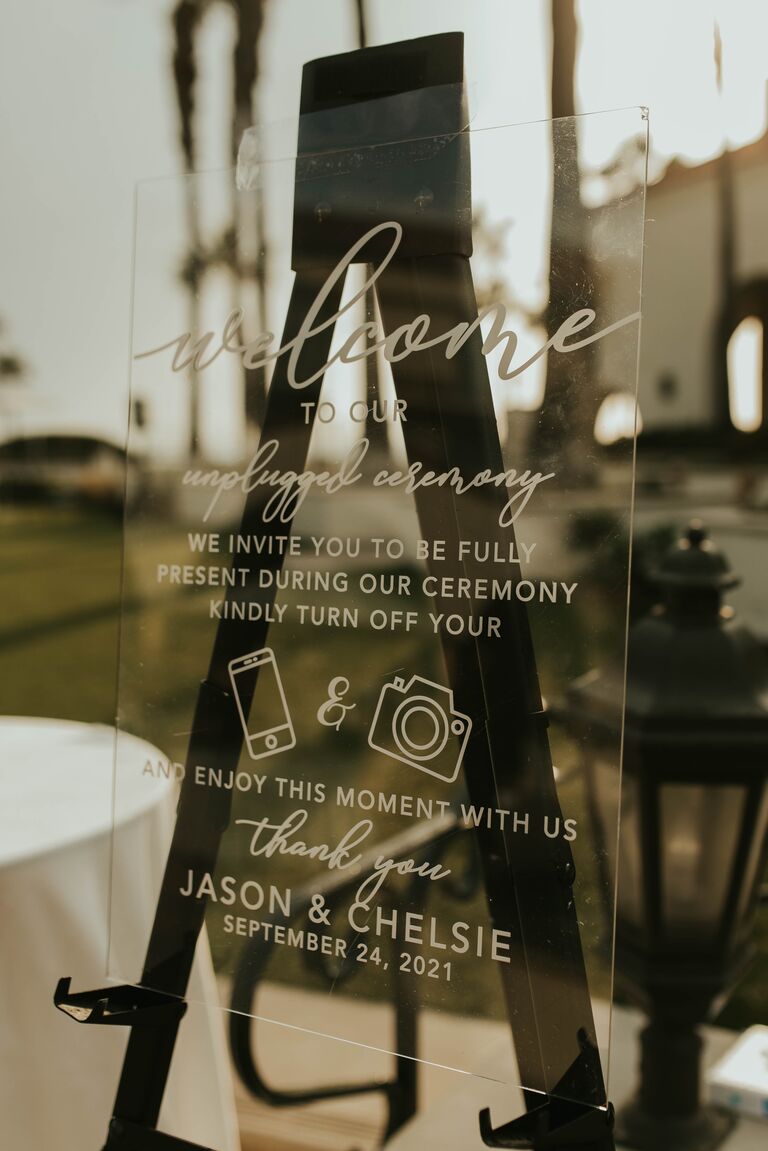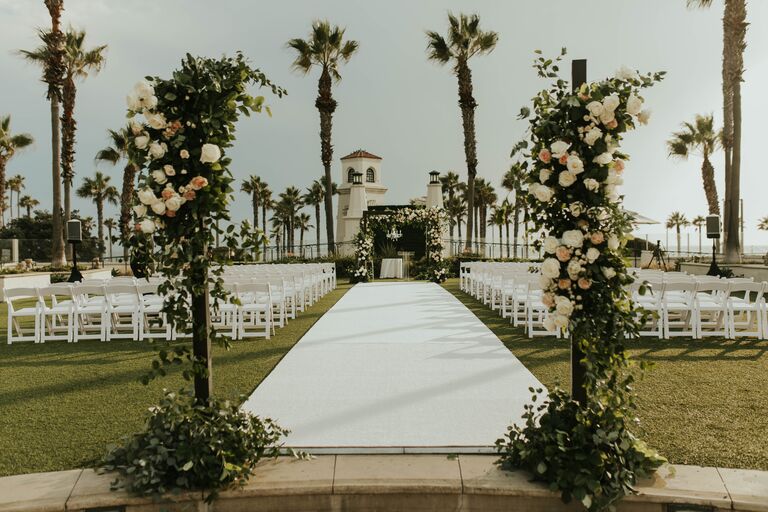 Chelsie Hill's Wedding Dress Details
While wedding planning, Hill wanted to find a dress that would help her move comfortably and shine undoubtedly. Working closely with Galia Lahav's team, the bride fell in love with the idea of a custom gown that featured a detachable skirt. "The dress had a sweetheart neckline with a tulle skirt. The best part about the dress was its detachable skirt," she says. "So when I stood, it was short in the front and long in the back. But when I sat in the wheelchair, we rotated the skirt to grow long in the front and short in the back. That way, it wouldn't get caught in the wheelchair."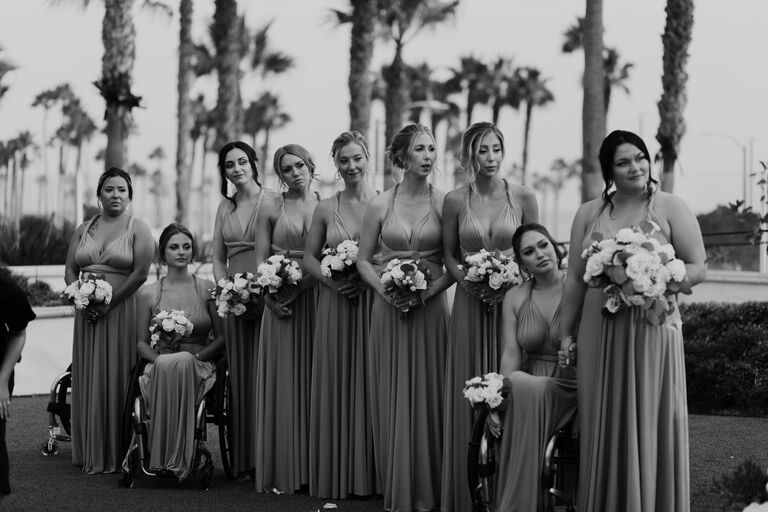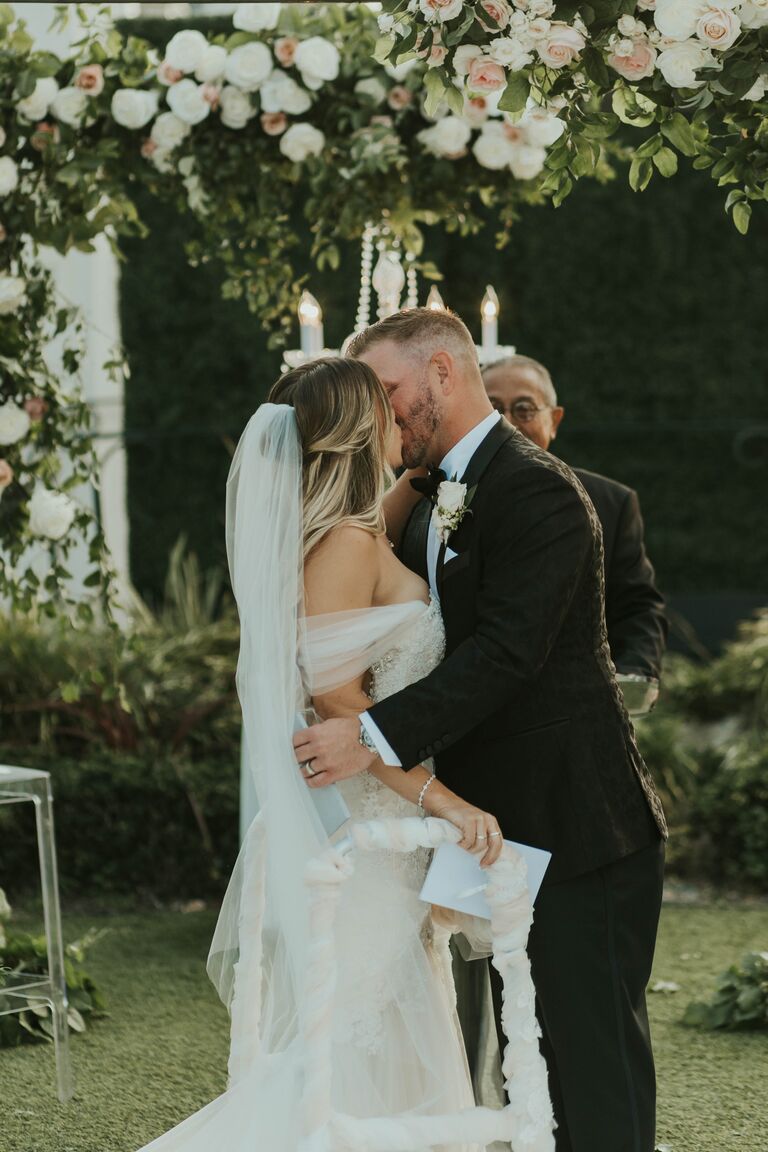 "Chelsie encapsulates everything we stand for at Galia Lahav: empowered, strong and of course, stylish," says Sharon Sever, Head Designer at Galia Lahav. "Chelsie mentioned when she first tried on the dress, that it brought her to tears. We immediately wanted to help all of her dreams come to life. It was super important for the dress to be adaptable. Since she had a few special moments planned, including a dance both in and out of the wheelchair so of course, comfort and accessibility were our main focus when creating Chelsie's dress (all without having to compromise with the wow-factor of a Galia Lahav gown)."

For that very reason, the design team went the route of a custom piece. "We really wanted Chelsie to feel unrestricted in her dress," explains Sever. "A fitted gown with a detachable skirt worked perfectly for all the different moments throughout the day. The dress was also supported and made to fit specifically to Chelsie's body. We didn't want the bride to have to worry about anything."
Chelsie Hill's Walk Down the Aisle
One of the biggest moments from the wedding day was the couple's ceremony. For months, Hill prepared arduously for the magnanimous moment when she would enter the ceremony for her bridal march—her purpose, after all, was to walk down the aisle. "It was my favorite moment of the wedding day," she muses. "I felt like giving up halfway because it was so hard. But Jay and I were locked in on each other, and he gave me so much confidence with every step I took. It was such a magical feeling."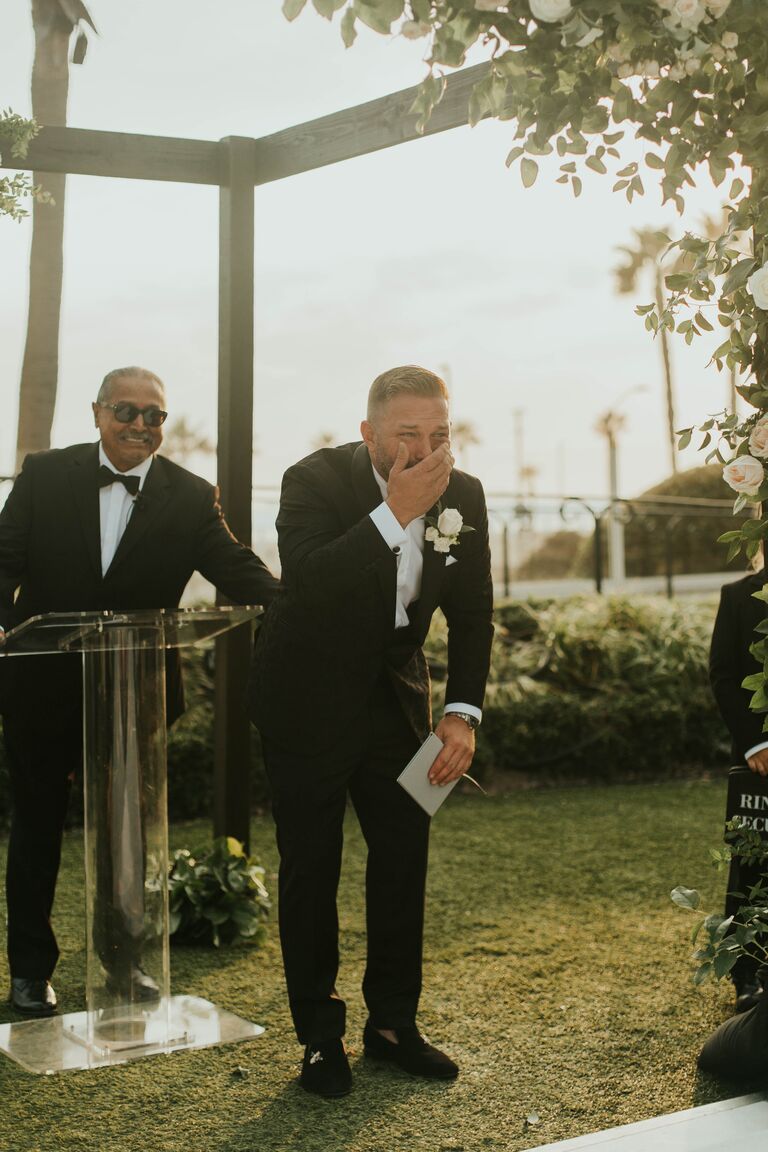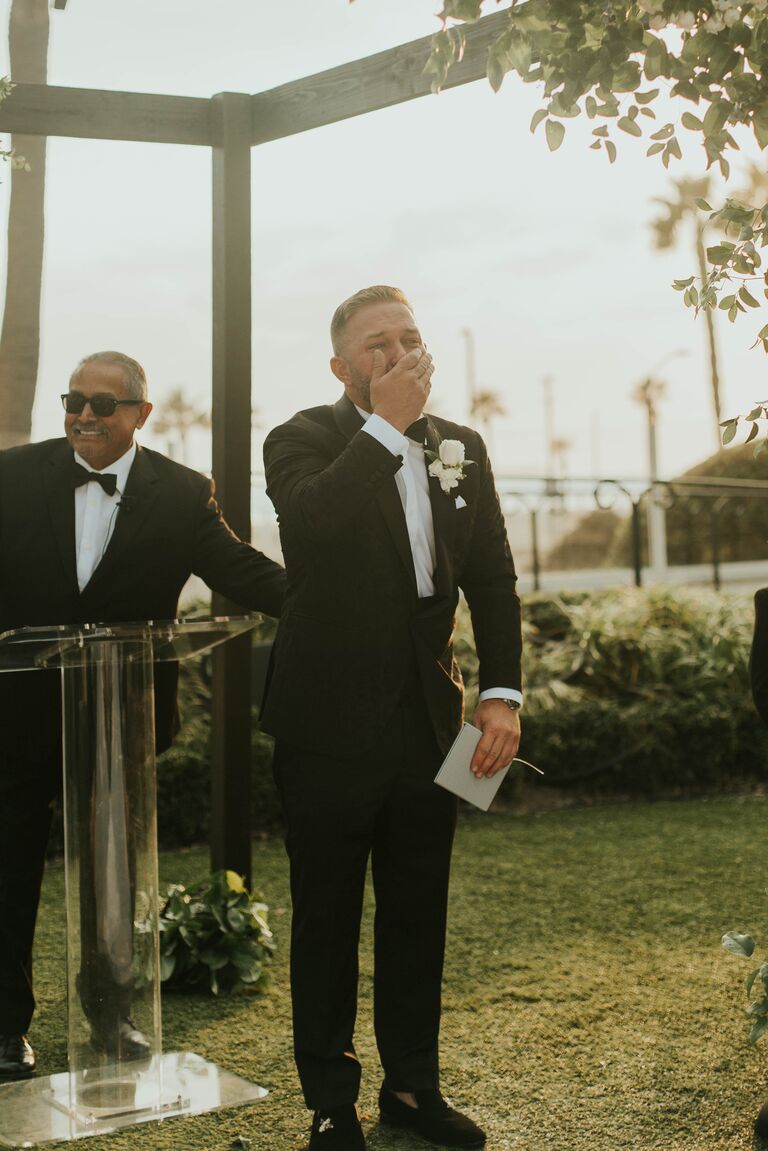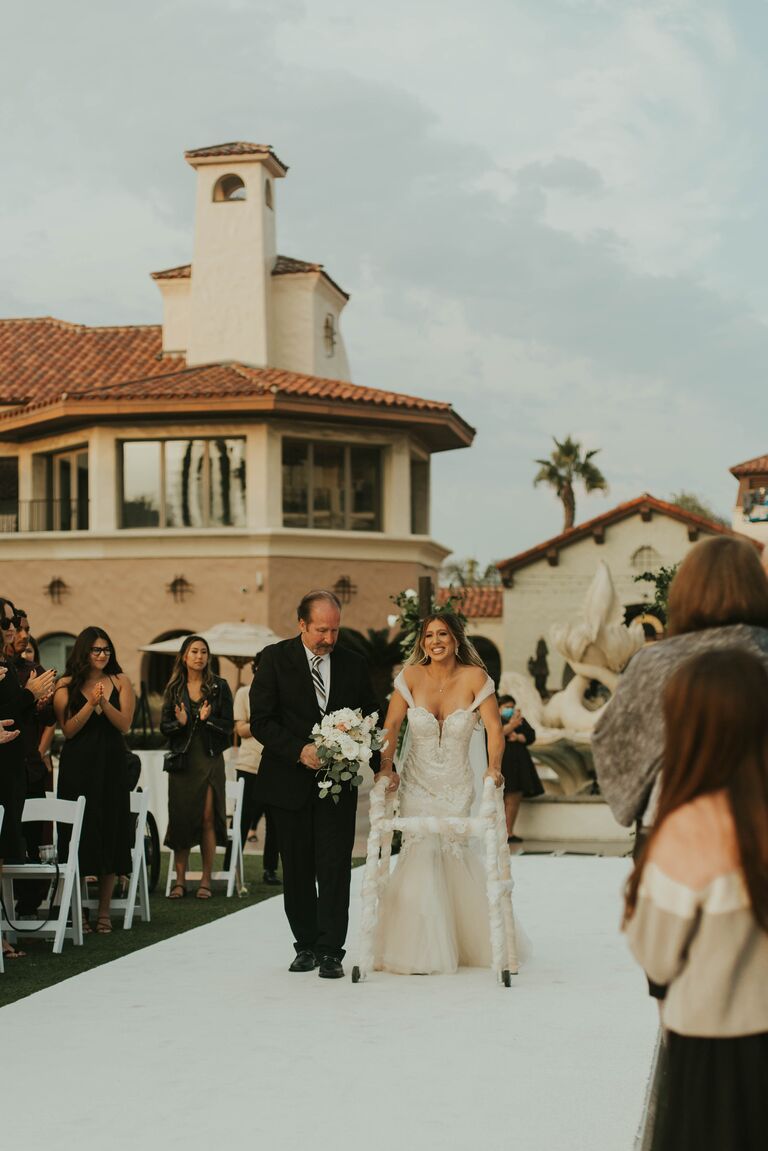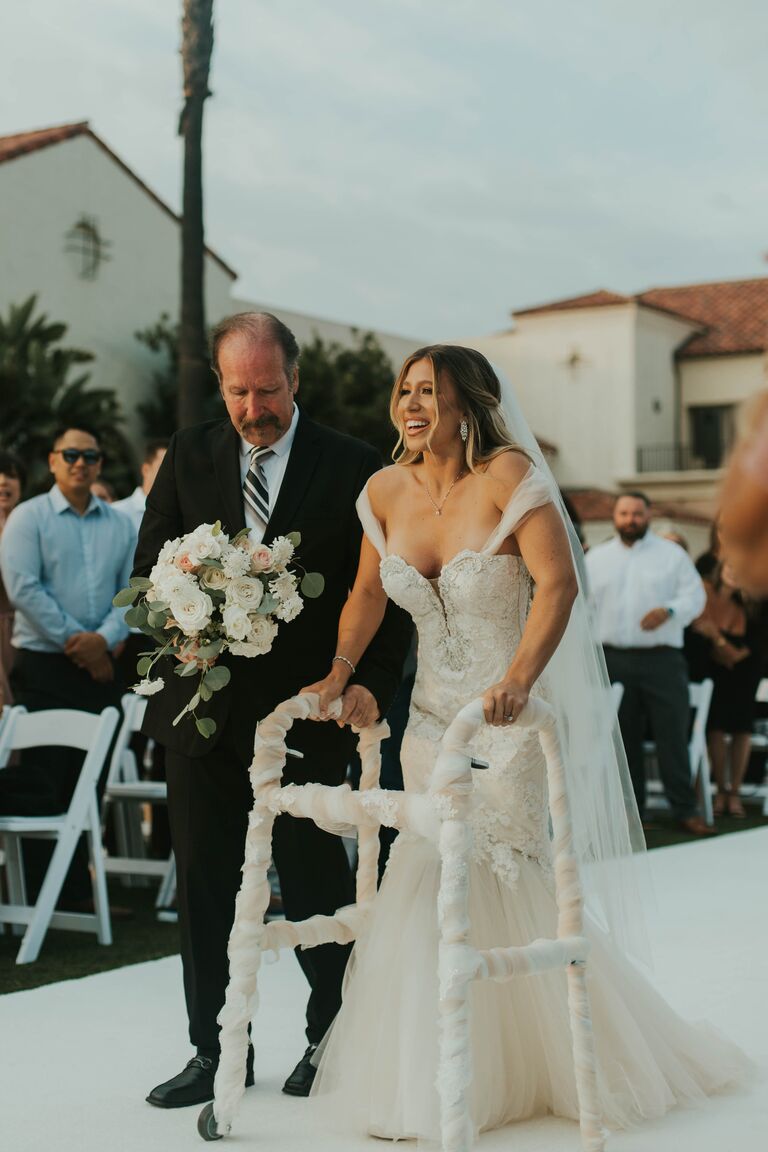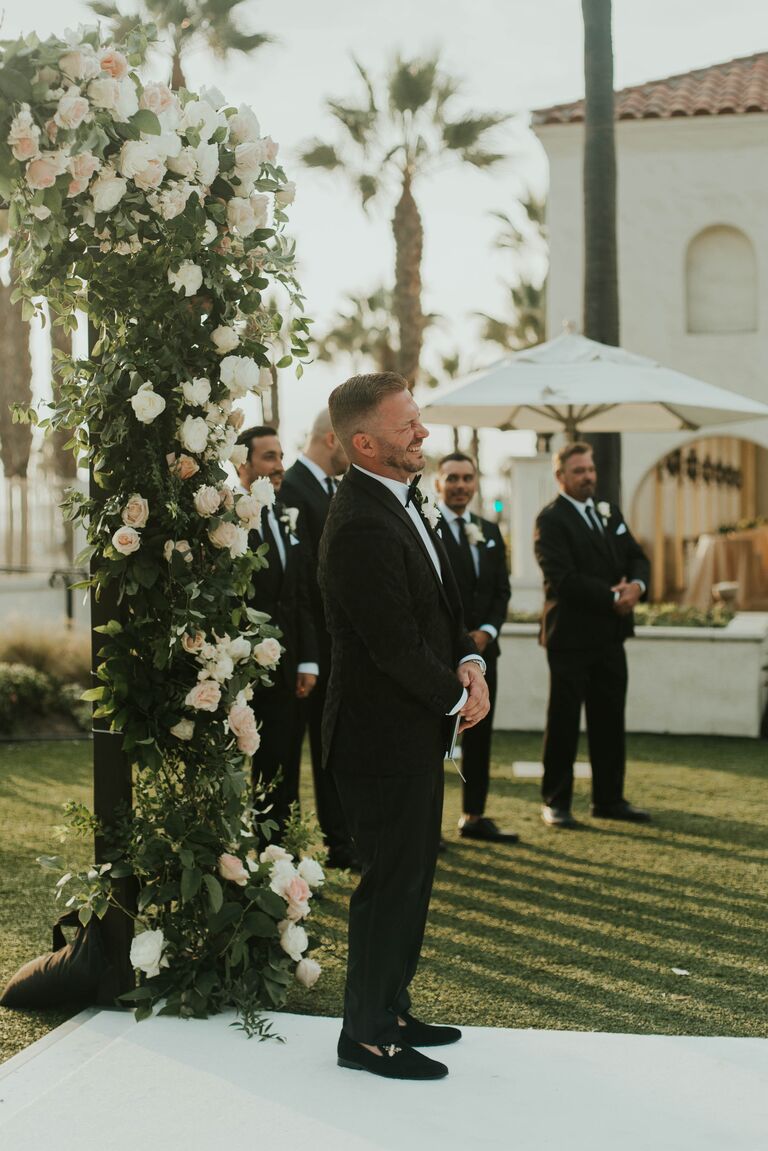 In her vows, Hill alluded to her walk down the aisle. "My whole life, I had imagined standing eye to eye with my husband on my wedding day. After my accident, I wasn't sure if I would ever find someone who truly loved all of me," she recited to her husband. "You have accepted me fully, honored me, and adored all the parts of me. For this moment today, I wanted to do something I had always dreamed of. Stand eye to eye with you as we promise our lives to each other."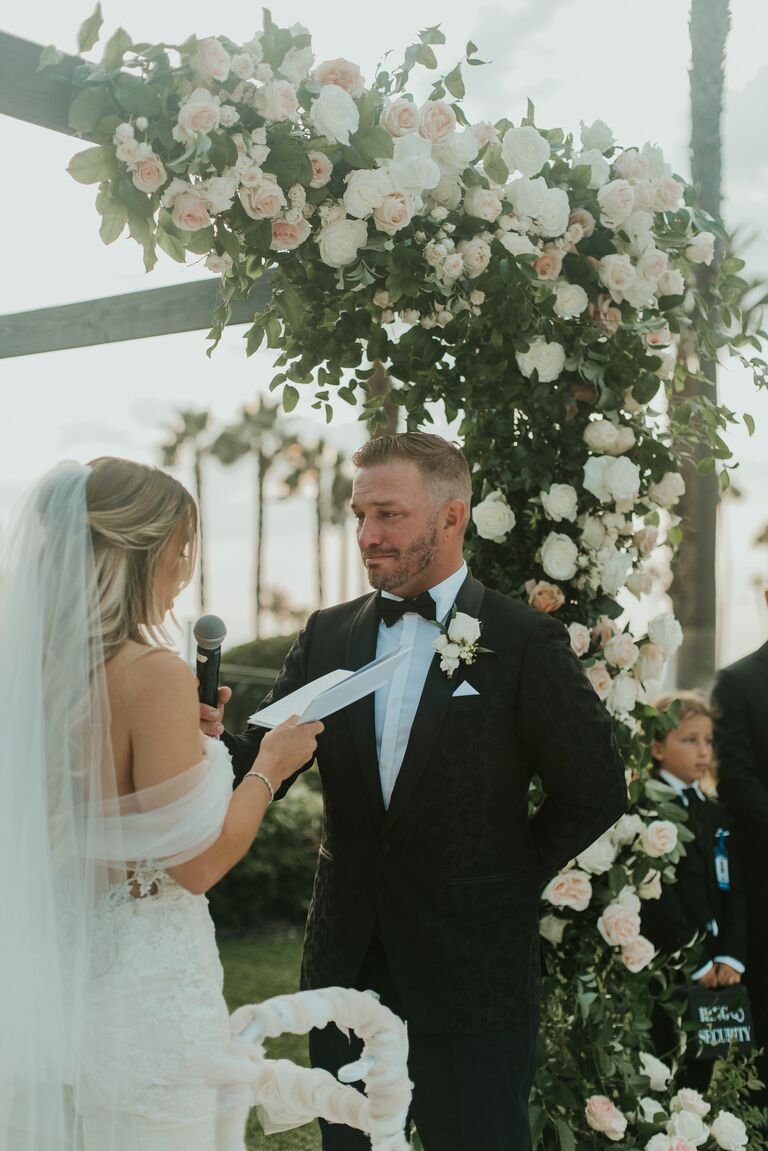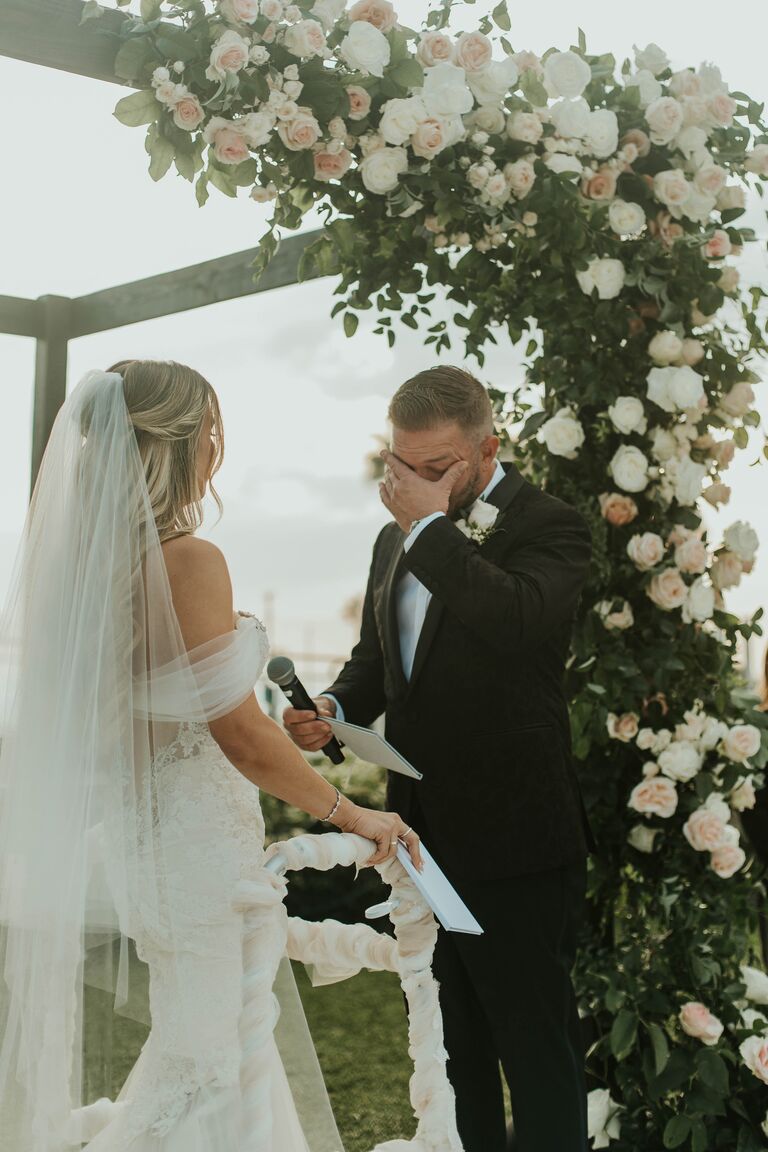 "I remember thinking this is exactly why I fell in love with bridal," says Sever, who designed Hill's gown. "It's to make women feel their absolute best on the day they have been dreaming of since they were little. Make them feel beautiful, happy in their own skin and ready to strut down the aisle with full confidence. It was a very special opportunity to work with Chelsie."

With the ceremony, the couple also thought about inclusivity. "We love the beach, so having the beach right across the street was everything for us. We wanted it to feel whimsical and bring in the touches of wood to the ceremony. The white carpet for the aisle was strategically for the wheelchair users so they could roll easier but also for myself to walk down the aisle in my leg braces."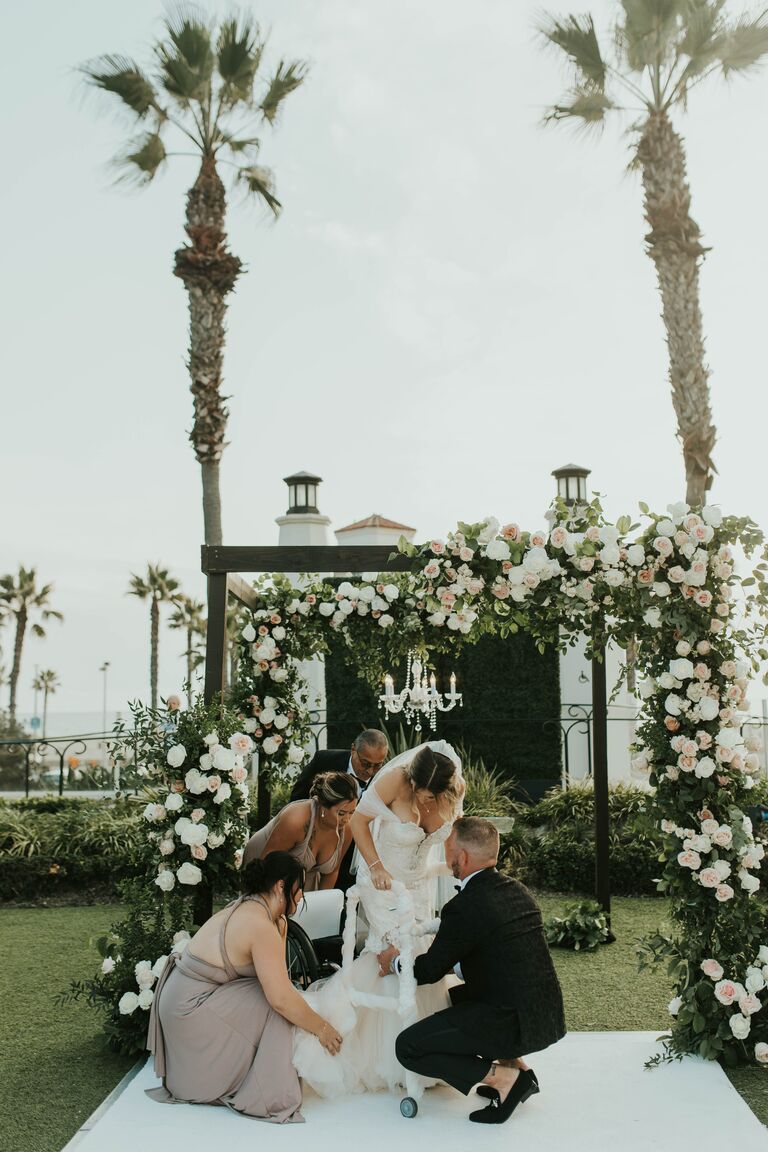 How the Couple Honored Late Loved Ones
The couple wanted their wedding to also honor late friends and family members. "I had two close friends pass away, so we saved a seat for them during the ceremony with their photos on each chair."