10 Unique Chicago Loft Venues
From restored reception spaces to historic finds, we found 10 ultra-chic city lofts you'll love.
by Rachel Sylvester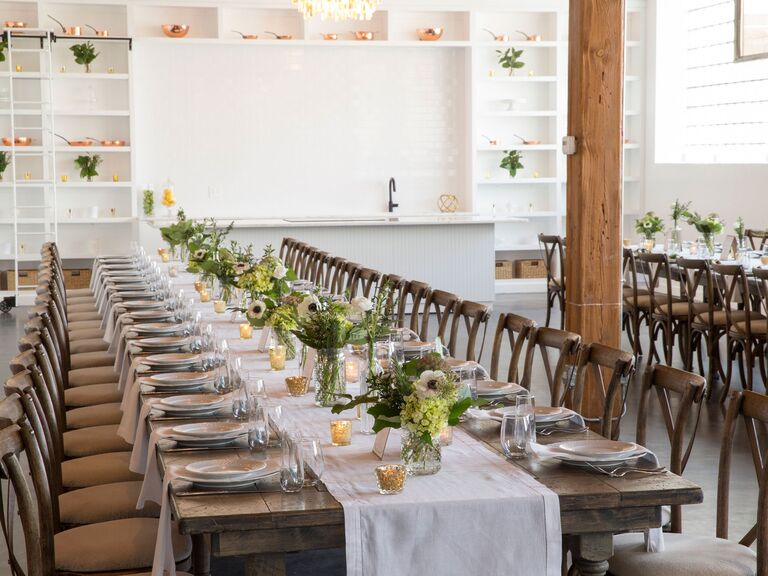 Collin Pierson Photography
Salvage One
1840 West Hubbard St., Chicago;
(312) 733-0098; SalvageOne.com
There's plenty of attention-grabbing details in this quirky workshop that specializes in antiques, vintage furniture and one-of-a-kind finds. Exposed bricks, mirrors and stained glass provide an endless amount of photo ops, plus the collection of unique décor makes for one unconventional reception space that can accommodate up to 300 seated guests (250 with a dance floor). Inside, you'll have a view of the courtyard, which can be used as a quaint ceremony locale during the warmer months for up to 200.
Contemporary Art Center of Peoria
305 SW Water St., Peoria;
(309) 674-6822; PeoriaCAC.org
Looking for a more industrial feel for an intimate celebration? Host a reception for up to 184 guests among abstract paintings in this 3,000-square-foot space, housed in an old warehouse building with all the quintessential rustic trappings (read: original exposed red brick and wood floors). Bonus: If you're planning to have live music, this venue has a stage with professional lighting and sound, so you don't have to worry about bringing any additional equipment.
Gallery 1028
1028 N. Hooker St., Chicago;
(312) 945-6209; Gallery-1028.com
Its location in the historic, off-the-beaten-path neighborhood of Goose Island gives this loft-like venue an edgy, chic vibe. With a 4,000-square-foot main room, 2,000-square-foot cocktail space and two main foyers, the space can be easily dressed up or down and fits more than 400 guests. Plus, 16-foot vaulted ceilings, skylights and wood beams provide the perfect opportunity to get creative with lighting and hanging décor.
Greenhouse Loft
2545 W. Diversey Ave., Chicago;
(312) 733-5762; GreenhouseLoft.com
Just 10 minutes from downtown Chicago, this LEED-certified track building, which offers locally-sourced catering options and comprehensive recycling and composting, is a haven for those looking for a sustainable venue. Take photos on the roof garden among its winding paths and benches, and then host a sit-down meal for up to 200 guests (or a 250-person cocktail reception) in the minimal industrial loft space, which offers plenty of character and natural light. With two experienced wedding photographers who already work on-site, you can check one more item off your to-do list.
Loft on Lake
1366 W. Lake St., Chicago;
(312) 738-2437; LoftonLake.com
Your photos will come out beautifully thanks to this loft venue's 65-foot-long skylight that bathes the space in natural light during the day. Located in the heart of the West Loop, the space accommodates up to 200 guests and provides an in-house photographer, plus a professional event staff to ensure every last detail will be handled from start to finish. And if your friends are the photo-happy type, you can rent out the Lofty Photo Booth to make instant prints, complete with mustaches and a funny hat collection.
Room 1520
1520 W. Fulton St., Chicago;
(312) 952-1520; Room1520.com
Make a grand entrance in this restored gear factory's spacious foyer thanks to a wide staircase and Italian crystal chandeliers. Not only does this 4,000 square-foot space hold up to 250 guests, but the elegant foyer leads into an airy, white space with high ceilings, portrait windows and more chandeliers. If you and your bridesmaids crave some getting-ready privacy, there's even a separate bridal suite with a private restroom and mini-bar (time to bust out the bubbly!).
BRIQUE
224 N. Ada St., Chicago
(773) 313-3211; BriqueChicago.com
There's a chic new loft in the neighborhood, all thanks to the creative catering team that brought you Boutique Bites. Located in the city's West Loop, this sleek space features exposed brick walls and beams along with gray concrete floors and capiz chandeliers for an aesthetic that's equal parts rustic and modern. The airy venue even boasts an all-white show kitchen complete with a moveable bar, subway tiles and built-ins to boot. Host a seated dinner here for 100 or a standing cocktail hour that'll fit up to 150 guests.
Morgan Manufacturing
401 N. Morgan St., Chicago
(312) 763 3317; 401morganmfg.com
Made from an eclectic mix of reclaimed concrete, steel and timber, this expansive West Loop venue is the epitome of industrial elegance. Not only is the 30,000-square-foot space located in the heart of the Fulton Market area, but Morgan Manufacturing got its start in 1855 when it served as an electric company—a little known fact history-obsessed guests will love. Choose from four spacious locales while planning your celebration—including an 8,000 square-foot roof deck that fits up to 300 standing guests or a mezzanine that comfortably seats up to 100. In need of a little more space? The venue's plant can accommodate up to 100 seated guests (300 standing), while the production space features enough room for parties of up to 700.
Creativo Loft
1105 W. Chicago Ave., Chicago
(773) 563 0116; CreativoLoft.com
Between Creativo's arched windows, impressive downtown views and an original tin ceiling that dates back to 1887; it's hard to choose just one detail within this studio loft that we like best. Host an intimate celebration by first exchanging vows in the 77-seat performance theater on the first floor. Post-ceremony, head upstairs to the 3,000-square-foot loft space for a reception that can comfortably seat up to 80; or rent out the adjacent 2,000-square-foot loft to accommodate an additional 70 guests. If the square footage isn't enough to impress, the loft even includes in-house photography and planning services along with a unique collection of antique décor finds (perfect for vintage-loving to-be-weds!).
Firehouse Chicago
1545 W. Rosemont Ave., Chicago
(773) 850-1545; FirehouseChicago.com
What's not to love about a former firehouse turned ultra-chic wedding venue? Restored with the building's 105-year history in mind, Firehouse Chicago features subway tiles, tin ceilings and antique doors and fixtures for a space that's truly one-of-a-kind. Say "I do" in an intimate ceremony in the venue's private yard before moving the party indoors for a celebration that comfortably holds up to 75 seated dinner guests. Want to party sans a seated dinner? The unique space has enough room to accommodate up to 100 guests for a cocktail party, too.
Looking to elevate your wedding? Find more chic lofts here!