20 Breathtaking Wedding Venues in the Chicago Suburbs
Celebrate your big day in Chicagoland.
Chicago is known for its rich history and vibrant culture, but the city isn't the only part of the region teeming with beautiful locations for your special day. The suburbs of Chicago includes many gorgeous, affordable and unique wedding venues. Aside from the varied wedding venue options available, suburban Chicago weddings have many perks, including ample free parking, less traffic and more space to celebrate with your loved ones. From breweries to ballrooms, read on to see some of the best wedding venues in the Chicago suburbs. And for to browse even more Chicagoland wedding venues, check out The Knot Vendor Marketplace.
The Morton Arboretum in Lisle, Illinois
If you dream of an outdoor, nature-forward wedding venue in the Chicago suburbs, The Morton Arboretum is for you. You'll be surrounded by lush natural greenery when you say "I do" in the outdoor ceremony area, and during cocktail area, there are numerous picturesque options for wedding photos. The outdoor tent feels like a dream when you enter thanks to the romantic draping. They also have two indoor room options. The Ginkgo Room features a floor-to-ceiling, wall-to-wall window overlooking the pond, while the Thornhill Education Center has a a beautiful library for ceremonies. While this venue is perfect for a warm weather event, they also offer discounts for off-peak weddings.
Hotel Baker in Saint Charles, Illinois
The Hotel Baker is a historic, riverfront hotel and wedding venue in the Chicago suburbs. Any 1920's or Gatsby themed wedding would shine here. The circular Rainbow Room feels both grand and romantic. The dance floor lights up, and the room offers beautiful views of the Fox River. They also offer a riverfront outdoor ceremony space. Bonus: You can tell your guests that you got married where some of America's biggest historical figures stayed, including John F. Kennedy, Louis Armstrong and Lawrence Welk.
The Haley Mansion in Joliet, Illinois
Mansion weddings can make your big day feel both luxurious and intimate at the same time. The Haley Mansion provides couples full and exclusive access to the mansion for their wedding celebration, so you can have privacy and enjoy exploring the historic building. The ballroom can fit a large wedding and offers high ceilings, white drapery and magnificent chandeliers. The Haley Mansion is also known for their excellent food, and all weddings include a 4-course meal along with options for late night snacks, from Chicago hot dogs to a taco bar.
Wild Onion Brewery and Banquets in Lake Barrington, Illinois
As the name suggests, this is a one-of-a-kind wedding venue. The Wild Onion is a brewery and banquet hall all in one. They have a large and open space, but also offer affordable pricing options. Warm timber ceilings and beer barrel-lined walls add a cozy, lodge-like feel. The brewery is also known for their outstanding staff who make the wedding planning process easy for couples. And of course, they brew their own beer, so no guests will go thirsty.
Siegel's Cottonwood Farm in Lockport, Illinois
While the Chicago suburbs don't exactly scream "farm wedding," those seeking a rustic or barn theme will love Siegel's Cottonwood Farm. Weddings take place in their barn, but this barn isn't just a blank space. The exposed beams add character, and a crystal chandelier adds a touch of elegance. They include a wedding coordinator in reception packages, along with tables, chairs, centerpiece options, decorative whiskey barrels, and windows for your seating chart. This venue is perfect for those who want a barn wedding without sacrificing the ease of an all-inclusive venue. Add the pie bar reception upgrade, and this is the perfect rustic farm wedding in the convenience of the suburbs.
Méson Sabika in Naperville, Illinois
Méson Sabika is a two-story mansion not far from downtown Naperville. By day, this venue is a tapas restaurant; by night, they offer unique and glamorous weddings. Weddings take place in their Pavilion, a separate building from the restaurant enclosed in large glass windows. They have two outdoor ceremony options, and all couples are guaranteed an indoor ceremony space in case of rain, so you won't need to worry about weather or tents. Because this venue is also a world-class restaurant, you can feel confident your guests will be served amazing food. You can choose between Spanish tapas, traditional wedding food or a mix of both. With unique food choices and a gorgeous landscape, this venue feels like a European experience close to home.
The Haight in Elgin, Illinois
Once a warehouse, The Haight is now a warm, hip wedding venue in the northwest suburbs. The venue's exposed bricks and industrial beams create a hipster-chic atmosphere. The wooden bar and string lights also add a cozy feel to the dining room. Ceremonies can take place on the intimate rooftop, and cocktail hour can be held on the covered rooftop terrace. You may also choose to have your ceremony inside, where the space features a large chandelier for a touch of elegance. Unique and inviting, The Haight is perfect for weddings of all sizes.
Chicago Botanic Garden in Glencoe, Illinois
Garden and fairytale-chic weddings come to life at the Chicago Botanic Gardens. A canopied pavilion, rose garden and glass-enclosed courtyard are just some of the location options here. Lush florals and greenery fit in perfectly at this venue, creating a garden oasis like no other. The event staff here is known for accommodating any requests and removing stress from the planning process, so you can rest-assured your event will go on without a hitch, even if it rains. An indoor space is always reserved as a backup.
Two Brothers Roundhouse in Aurora, Illinois
We'd be remiss not to mention Two Brothers Roundhouse, as their beer is famous in Chicagoland. The Two Brothers do more than just brew. They also offer amazing weddings at their Aurora brewery. While this venue was once an industrial train facility, it's now a brewpub restaurant with banquet rooms able to fit 320 people. Those planning a microwedding can rent a small space for an intimate event, while large events can book the Ballroom, which includes an illuminated terrace. This venue can be dressed up or down. It works well for both formal and quirky weddings. One thing is for sure: The beer will be a hit.
Armour House at Lake Forest Academy in Lake Forest, Illinois
There is no shortage of "wow" photo spots at the Armour House. From a grand staircase to a reflection pool to castle-like windows, this Italian villa feels like a palace. Listed on the National Register of Historic Places, this venue has a rich history told through the many unique spaces here. The venue includes many indoor and outdoor event spaces, so any couple will find a location to fit their taste. You and your spouse-to-be will also dine like royalty here thanks to Armour House's creative, customizable menu.
Acquaviva Winery in Maple Park, Illinois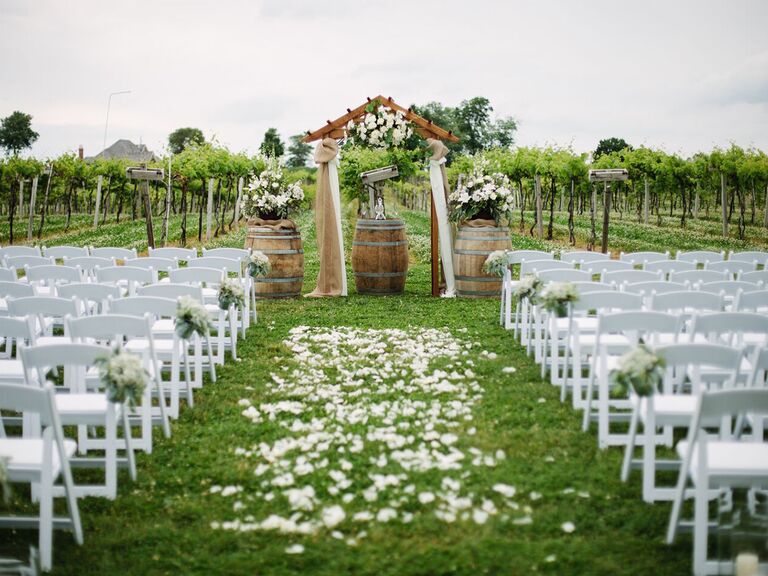 For vino-loving couples, Acquaviva Winery is one of the most unique wedding venues in the Chicago suburbs. Outdoor ceremonies in the vineyard include grapes as a backdrop and wine barrels as decor. Inside, the event space features a tall, rounded ceiling with beautiful frescos that evoke an Italian winery. You'll truly feel like you travelled to Europe at Acquaviva Winery. And of course, the wine will be flowing all night.
Chez Hotel in Arlington Heights, Illinois
In the northwest suburbs, the Chez Hotel provides a classic and sophisticated ballroom. The painted clouds on the ceiling provide a dream-like atmosphere for the first dance, and the drapery on the walls provide an elegant backdrop for photos. Guests will be wowed as soon as they enter the hotel thanks to the glamorous black, white and gold lobby, and they'll enjoy their stay thanks to the modern rooms, courtesy Tesla shuttle and innovative hotel bar. A Chez Hotel wedding is both timeless and modern.
The Woman's Club of Evanston in Evanston, Illinois
Open since 1889, The Woman's Club of Evanston is one of Chicagoland's most historic venues. The house-like venue is close to several churches, but they also offer ceremonies for one-location weddings. The sophisticated ambiance will wow guests, from the grand piano in the music room to the ballroom's large stage. Evanston is one of the closest suburbs to the city, and guests traveling in will be able to hop on the Purple Line train to the city to explore, or they can spend time walking through Northwestern University's historic campus. And the best part? Since the Woman's Club is also a philanthropic organization, you can feel confident the money you spend on the venue will go back to the community.
Cantigny Park in Wheaton, Illinois
A park is the perfect place for an outdoor wedding, and Cantigny Park does not disappoint. A large park, Cantigny Park can hold up to 230 guests for a reception in the Le Jardin, a romantic building with a working fireplace, large windows and decorative ceilings. Or you may choose to celebrate in the Red Oak Room by their golf course, which can hold 140 guests, or the tented Pavilion, which holds 250 guests. For the wedding ceremony, Cantigny Park has several different park spots to choose from. While many park weddings are DIY-heavy, Cantigny provides chairs, food, drinks and a sound system for an easy event.
Brookfield Zoo in Brookfield, Illinois
Animal lovers don't have to look far in Chicago for the perfect venue. The Brookfield Zoo isn't just a wedding venue, it's an experience. For cocktail hour, couples can choose different themes and enjoy beverages at the animal exhibits, including polar bears, dolphins, sea creatures, giraffes, monkeys and birds. The Zoo offers many year-round banquet rooms, but also has seasonal reception rooms. You can dance next to the dolphins or hear your toasts surrounded by butterflies. A wedding at the Brookfield Zoo is truly one to remember.
The Drake Oak Brook Hotel in Oak Brook, Illinois
An extension of The Drake Hotel in Chicago, The Drake Oak Brook offers the same timeless experience. The catering team at The Drake will customize a gourmet wedding tailored to your liking, and the event planning team will guide you through every step of the wedding planning process. Guests can stay in the art-deco inspired rooms before coming down to your wedding in one of their 14 event rooms, each with unique charm and a historical ambiance. You can your future spouse can turn the wedding into a weekend getaway. Enjoy cocktails in the hotel lounge the night before the wedding, and melt away any wedding planning stress at the hotel spa the next day. The Drake emphasizes hospitality excellence, and you'll feel like royalty hosting your wedding at the hotel.
Silver Lake Country Club in Orland Park, Illinois
If you want to impress your guests with a country club wedding, the Silver Lake Country Club offers a bright and airy banquet room perfect for traditional weddings. Couples can say "I do" in the lush gardens before moving inside for the reception, where there are numerous options for picturesque photo backdrops, including a waterfall, an archway, and ponds. This golf club provides everything a couple might need for the perfect wedding day, from great food to picture perfect moments.
The Standard in Rockford, Illinois
A rooftop wedding with urban vibes is possible in the suburbs at The Standard. The private rooftop makes for the perfect summer venue for those who want an outdoor but modern wedding. Brick walls and iron gates on the roof create an industrial loft aesthetic, while the string lights overhead add a romantic touch. They also provide an enclosed glass area on the rooftop, or you can choose to celebrate in their indoor dining room, which includes statement lighting fixtures, wall mirrors, and concrete pillars. The welcoming but modern aesthetic at The Standard is truly unrivaled.
The Grove Redfield Estate in Glenview, Illinois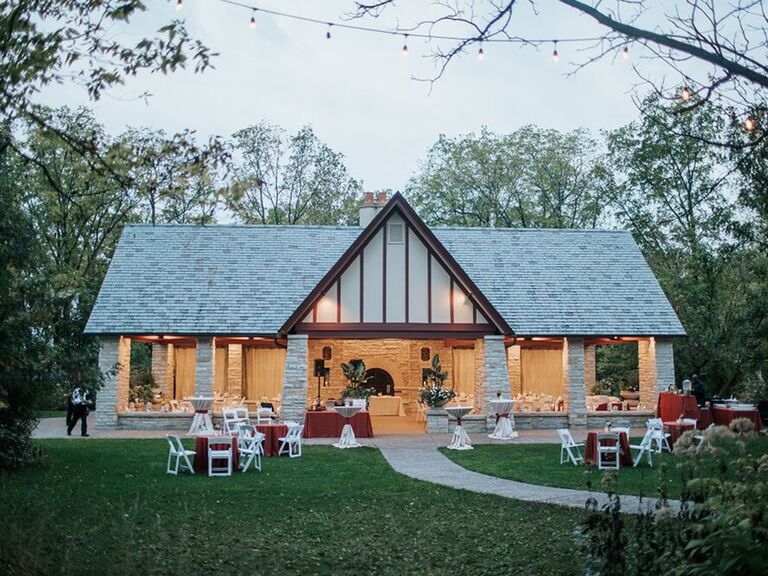 This venue feels like a fairytale. The cottage-like Grove Redfield Estate combines historic charm and nature. Couples renting the venue gain full access to both the grounds and the home. The grounds include a large pavilion, a romantic gazebo, ponds and woodlands, and numerous tucked-away spots for romantic and unique photos. Inside the house, murals on the walls, wood-beam ceilings and cozy rooms make the house feel like a different world. There are endless opportunities to explore throughout the Estate. For those planning a microwedding, they do offer ceremony-only packages as well.
The Estate Chicago in Rosemont, Illinois
If you have a big wedding and many guests coming in from out of town, look into the The Estate Chicago. Close to the O'Hare Airport and and a 5,000 square foot space, this venue gives off a very glamorous feel. The large walls offer the perfect blank space for up lighting, and the venue provides an assortment of linen options for you to customize the tables to your wedding colors. The ceiling light fixtures are a mix of art deco and modern, adding the perfect touch to this classic but fun venue. The Estate is attached to Gene & Georgetti, an award-winning steakhouse, which provides all the food for your event. Many celebrities have dined at Gene & Georgetti, from Frank Sinatra to Well Ferrell, so you know the food at your wedding will be Chicagoland's best.