How To Pair a Unique Engagement Ring with a Wedding Band
Pairing a unique engagement ring with a wedding band may be hard, but it's not impossible.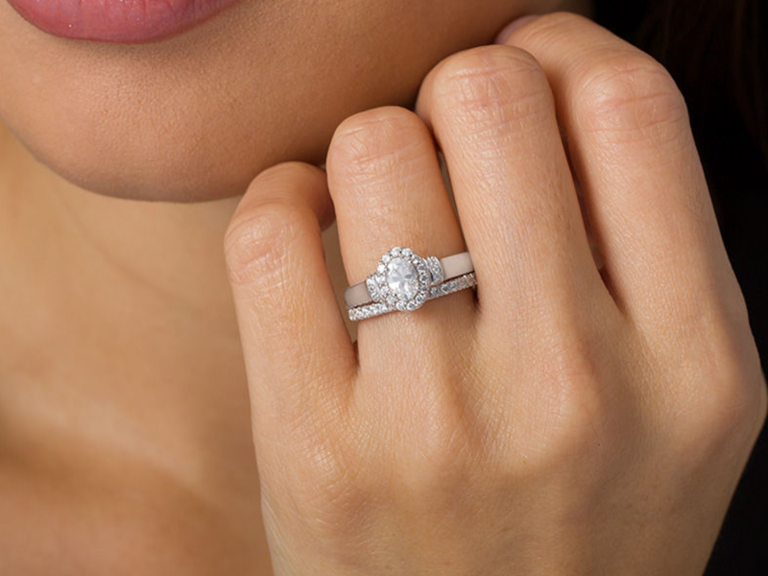 We have included third party products to help you navigate and enjoy life's biggest moments. Purchases made through links on this page may earn us a commission.
While your engagement ring is usually the star of the show, your wedding band plays a big supporting role; it has to complement your engagement ring but also stand alone on occasion. If you've opted for an engagement ring with a unique design, finding a complementary wedding band can become a complicated process. A solitaire setting with a round-cut center stone isn't difficult to match, but when you get into less expected stone shapes (emerald and marquise) and ring settings (halos and three-stone rings) things can get a bit tricky.
Ahead, we take a look at some unique engagement ring styles and offer a few ideas for the perfect wedding band pairing. From contoured wedding bands to chevron bands, there is no shortage of alternative wedding band options out there. And, keep in mind that if your engagement ring doesn't come with a matching band (also called a bridal set), your jeweler can always make a great suggestion.
In this article:
Solitaire Engagement Ring With Wedding Band
Solitaires are one of the most versatile ring styles to pair with a band because of their simplicity. You can stick with a classic round band because solitaires tend to sit higher on their own bands, leaving ample room for a wedding ring. Looking to add more bling? Consider pairing a solitaire engagement ring with a pavé diamond-encrusted band or larger diamond eternity band. A curved wedding band is also great for a solitaire engagement ring, as the slight dip in the wedding ring creates a frame-like effect around the center stone.
Brilliant Earth Hazel Solitaire Wedding Ring Set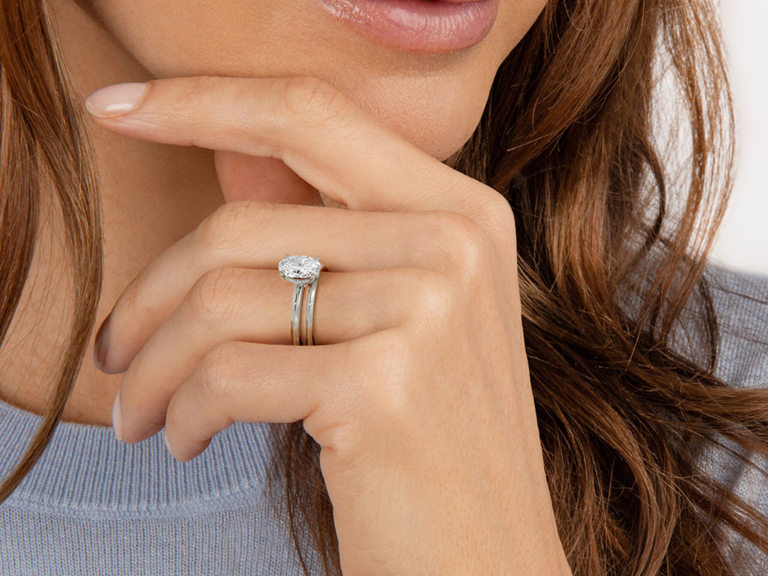 While this wedding ring set from Brilliant Earth keeps it simple, it's still pretty spectacular. This solitaire engagement ring is set atop a knife-edge band and secured by a sleek claw-prong that gives it the right amount of height. Cast in platinum, the coordinating wedding band completes the look for the perfect match.
Zales Princess-Cut Diamond Solitaire Bridal Set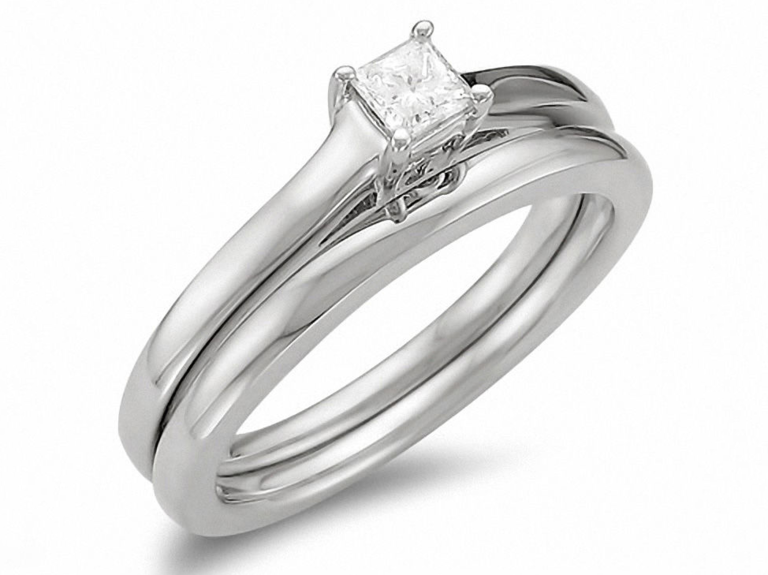 Crafted in white gold, this bridal set features a princess-cut diamond solitaire secured with a traditional four-prong setting. The solitaire has just enough height so that the matching band sits flush next to it. This set is a part of Zales' line of custom engagement rings, so you have the option of choosing the diamond shape you like best (like the stunning Asscher cut option).
Amcor Design Round Bezel Engagement Ring Set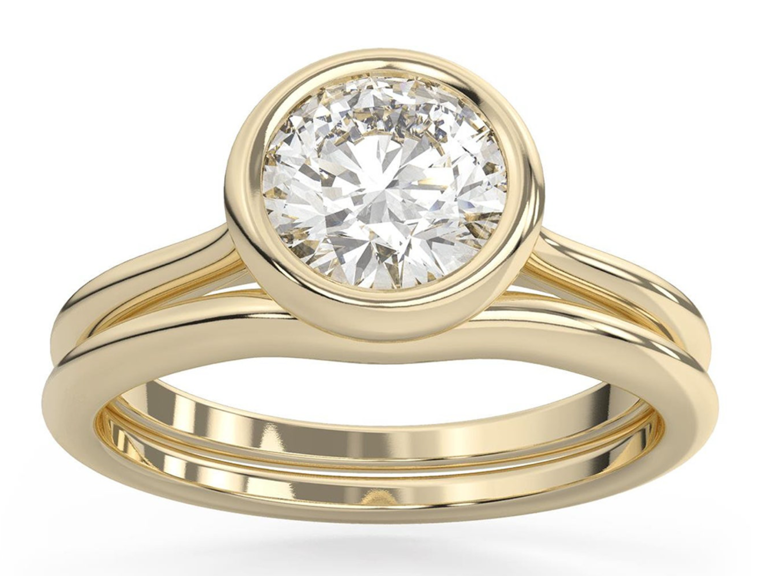 Fashioned in 14k gold, this bridal set features a bezel set round-cut moissanite paired with a classic gold band. The diamond sits high enough that the wedding band fits flush against it. The end result? A bridal set that's a sleek and modern take on the classic round solitaire.
Halo Engagement Ring With Wedding Band
When pairing a wedding band with a halo engagement ring, it's important to remember that your center stone already has a sparkly frame. Look for a band that complements your blinged out setting, but doesn't compete with it. One way to pull this off is to opt for a band that uses the same stone shapes as your halo setting (so, if your halo is made up of baguette diamonds, opt for a baguette diamond band). If you're going to a more understated look, you can't go wrong with a simple pavé diamond band that mimics the sparkle of a halo, but isn't overwhelming. Another thought: Curved or notched bands mirror the shape of a halo setting and will sit flush.
Macy's Diamond Halo Bridal Set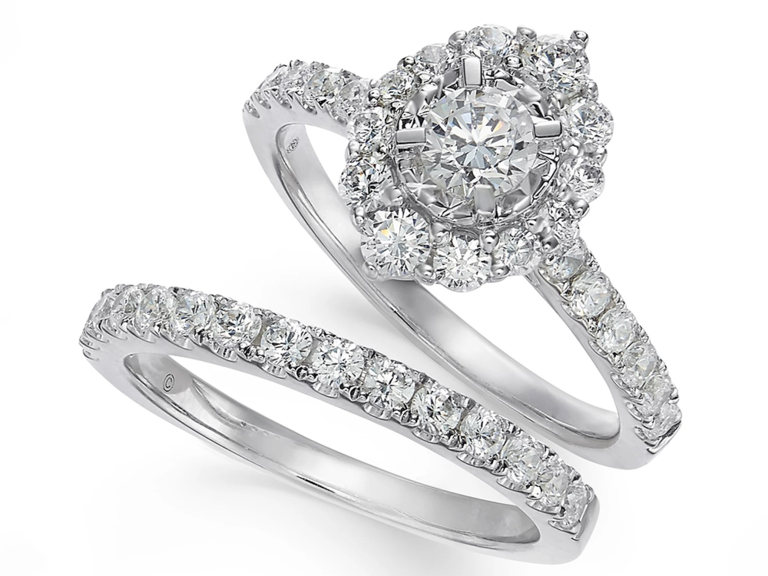 With enough sparkle to reach the back rows at your wedding ceremony, this diamond halo bridal set features a stunning halo engagement ring and matching diamond-encrusted band.
Brilliant Earth Marseille Halo Diamond Bridal Set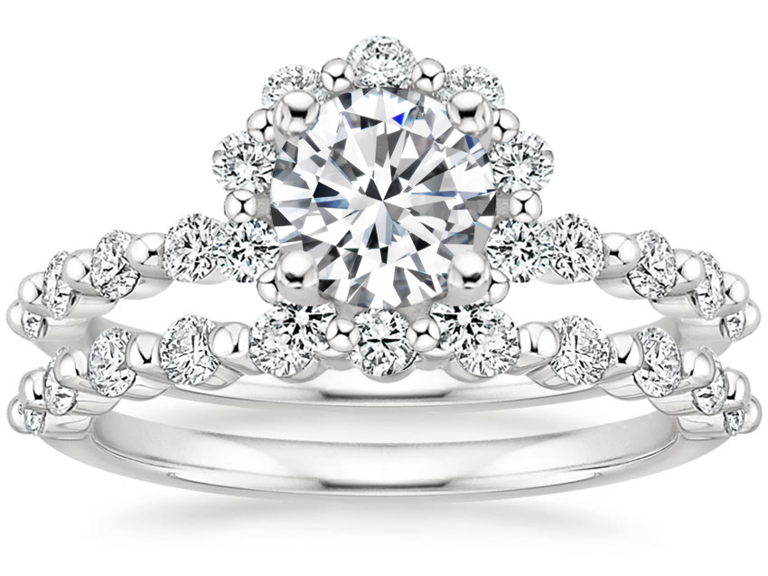 In this halo bridal set, a floating prong setting elevates a center stone framed by a floral-inspired diamond halo. The wedding band mimics the round diamond details of the engagement ring's shank for an intricate effect.
Brilliant Earth Black Rhodium Cadenza Halo Bridal Set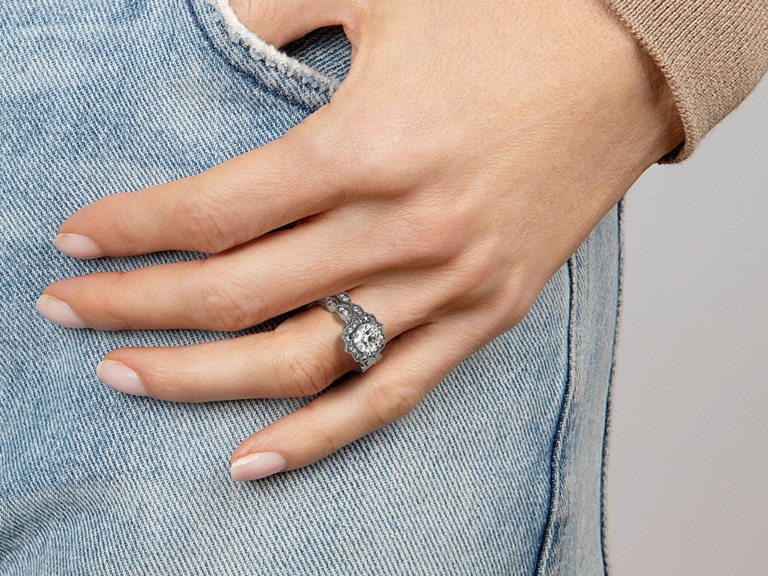 This vintage-inspired bridal set features an ornate diamond halo with milgrain details. Pavé diamonds nestled in marquise-shaped frames adorn both bands in the set, creating a beautiful contrast with the black rhodium color of the rings.
Three-Stone Engagement Ring With Wedding Band
Three-stone settings are a popular engagement ring option because they symbolize your past, present and future. The one drawback of these sentimental styles? Their irregular shapes can be difficult to pair with wedding bands. But here's the good news: We've done the work for you. Contoured and chevron-style wedding rings work well with three-stone engagement rings because the dip or point of these band styles perfectly frames the center stone, while complementing the smaller accent stones. If your aesthetic is more classic, look for a three-stone ring where the center stones form a straight line across your finger. That way, you can opt for a more traditional wedding band that will sit flush.
Anna Sheffield Bea Suit No. 5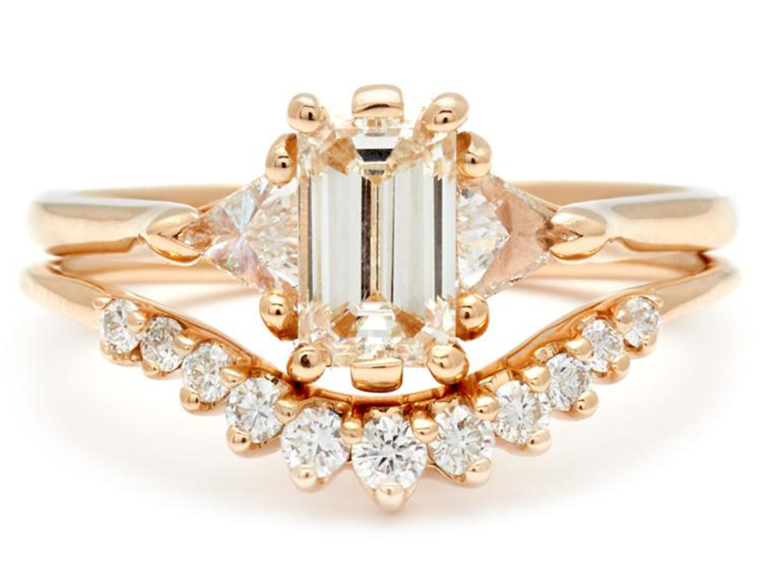 This wedding band doesn't sit flush—and that's the whole point. A curved, diamond-encrusted band aptly named the "tiara" band sits atop this three-stone ring. A huge plus of a band that doesn't have to sit flush? It can work with pretty much any engagement ring design.
Brilliant Earth Antique Scroll Three Stone Trellis Diamond Bridal Set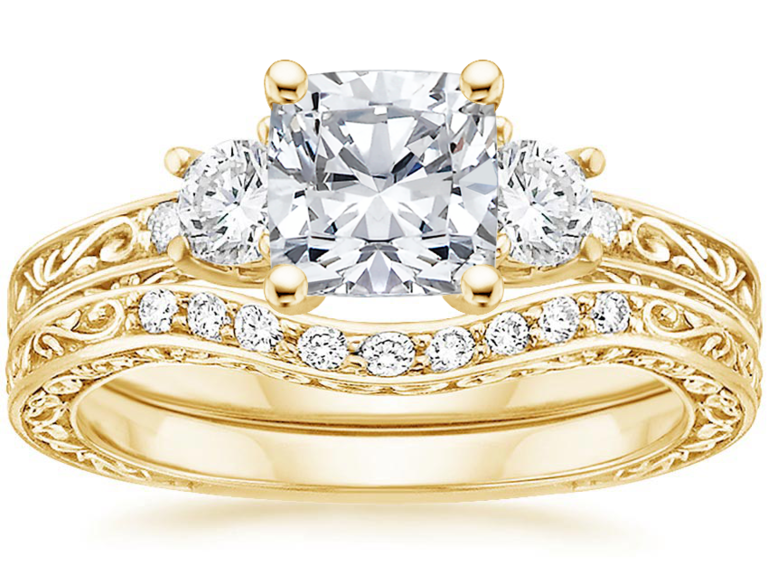 You don't have to forgo intricate details to have a cohesive-looking bridal set. This antique-inspired, three-stone stunner is engraved with delicate scrolls and features a three-stone trellis setting flanked by two brilliant round diamond side stones. The contoured wedding band frames the center stone and sits flush against the engagement ring.
Princess-Cut Lab-Created White Sapphire Three Stone Bridal Set in Sterling Silver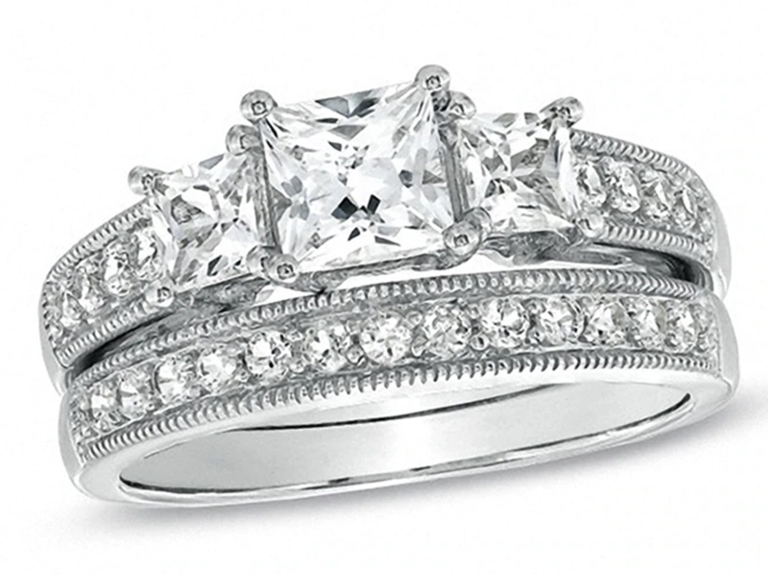 Shopping on a budget? This three-stone bridal set featuring a trio of princess-cut, lab-created white sapphires set in sterling silver won't break the bank but is totally timeless.
Twisted Engagement Ring With Wedding Band
While pairing an engagement ring with a twisted shank with a wedding band might seem tricky, it's actually one of the easiest types of sparklers to match. Here's the secret: Opt for a wedding band that mimics the twisted design of your engagement ring. If that's too much detail for you, you could also go for a thin wedding ring to keep the focus on your engagement ring.
Pear-Shaped Diamond Frame Twist Split Shank Bridal Set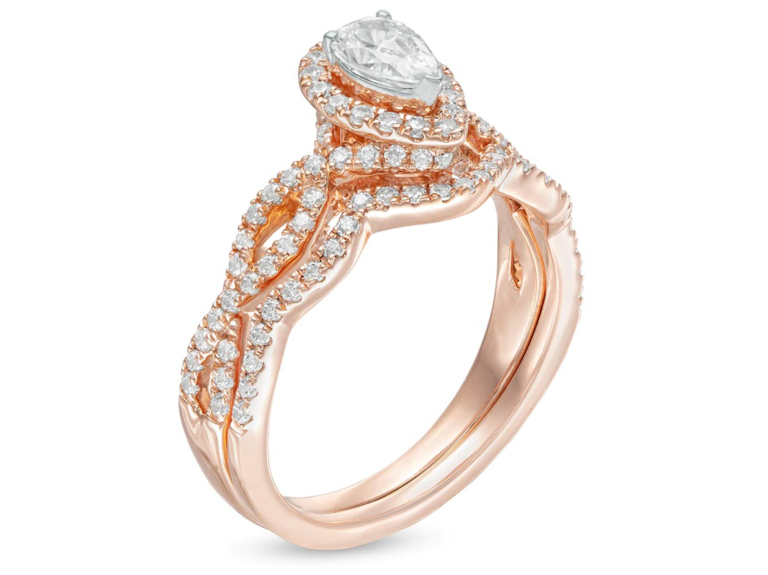 This stunning set features a pear-shaped in a halo setting with a diamond-encrusted twisted shank. A contoured diamond pavé band finishes the set. The final look? Sparkle on sparkle.
Keyzar Dainty Twig Engagement Set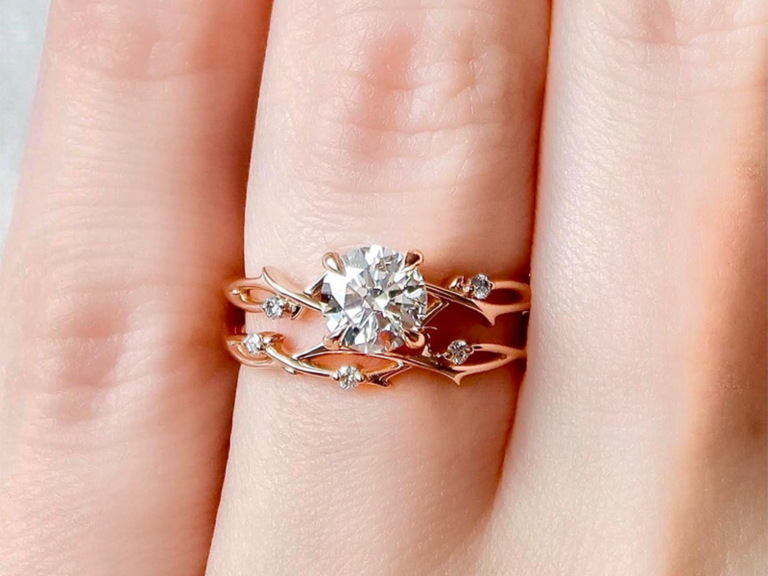 Calling all boho brides. This moissanite engagement ring is all about whimsy. Both the engagement ring and wedding band have identical twig-inspired motifs, embellished with round-cut moissanite.
Macy's Certified Diamond Cushion Halo Twist Bridal Set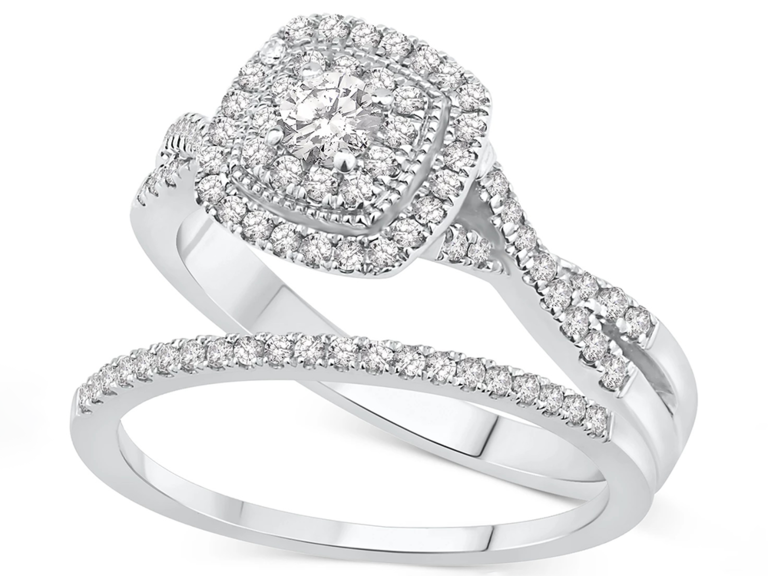 If twisted wedding bands aren't for you, consider a classic pavé diamond band. Thanks to the high setting of this twisted engagement ring, the diamond-encrusted wedding band nests perfectly.
Oval Engagement Ring With a Wedding Band
If you choose an oval engagement ring, you have plenty of options for your wedding band. Oval engagement rings pair best with contoured or chevron-style wedding bands that frame the elongated stone, allowing for a flush fit between the ring and band. Twisted wedding bands also work well with oval-shaped diamonds. If you want to keep the focus on the engagement ring, you can also opt for a thin wedding band that sits comfortably under the center stone. A standard round band will work as well, provided the center stone in your engagement ring has a prong setting and sits higher on its band.
FYM Jewelry Design Oval-Cut Moissanite And Rose Gold Marquise Cluster Wedding Ring Set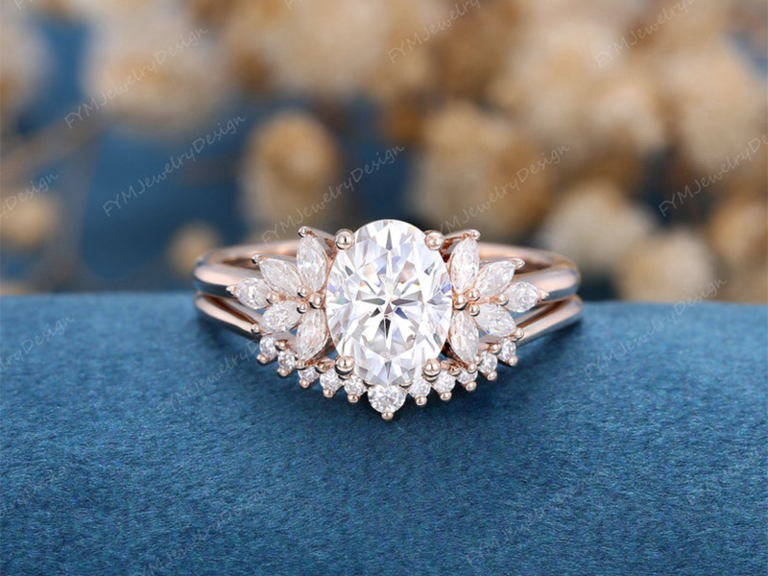 This two-piece wedding ring set pairs an oval-cut moissanite engagement ring with a contoured wedding band. Crafted in rose gold, the center stone is flanked by marquise-cut diamond accent stones, and the band is elegantly embellished with your choice of round-cut diamonds or moissanite gemstones.
Zales Oval Diamond Bridal Set in Platinum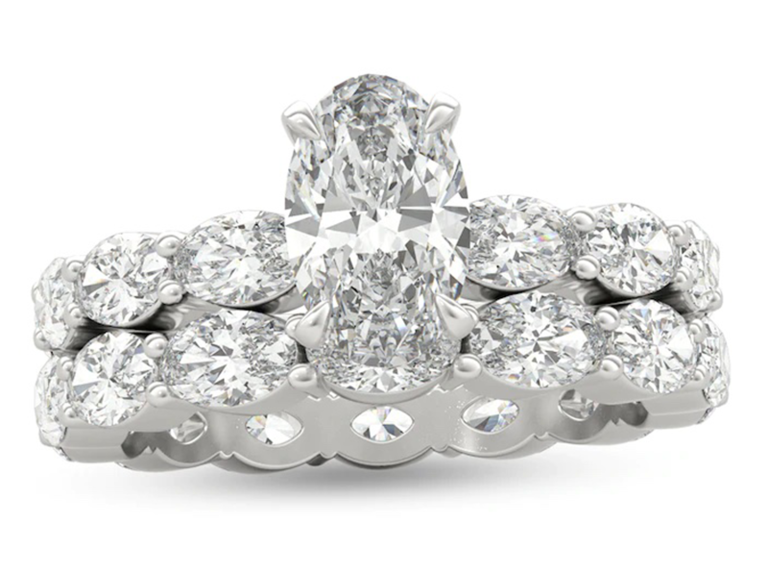 Fashioned in platinum, this ring showcases a dazzling oval-cut diamond with smaller oval-shaped diamonds that line the shank. The wedding band is a standard round band, but it works well with this engagement ring's high prong setting.
Zales Oval Diamond Frame Collar Bridal Set in 14K White Gold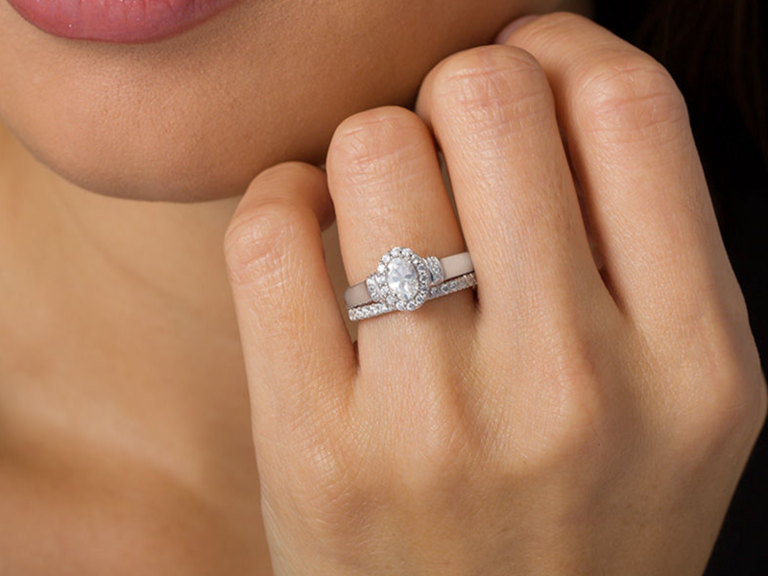 Sometimes more is more. This bridal set features an ornate halo setting plus a pavé diamond band that nests perfectly under the engagement ring for megawatt shine.
Marquise Engagement Ring With Wedding Band
Contoured bands or chevron-style wedding bands are also the perfect partners for marquise-cut diamonds. The pointed V-shape of the band perfectly complements the point of the marquise, and the results are stunning. Even better, you can switch up how you wear the two from day to day. Wear them nested or turn the band around facing the V in the opposite direction. Similar to engagement rings with oval center stones, you can also opt for a pavé or plain band if you have a higher prong setting.
Jared Marquise Diamond Bridal Set Round in 14K White Gold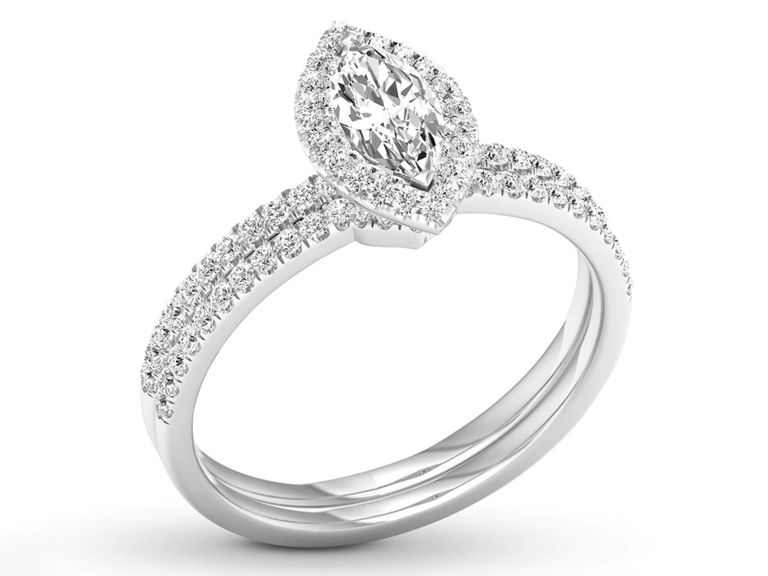 Not all contoured wedding bands have a dramatic look. This pavé one is only slightly contoured to fit snugly against this elaborate halo setting.
Neil Lane Marquise Diamond Engagement Ring Set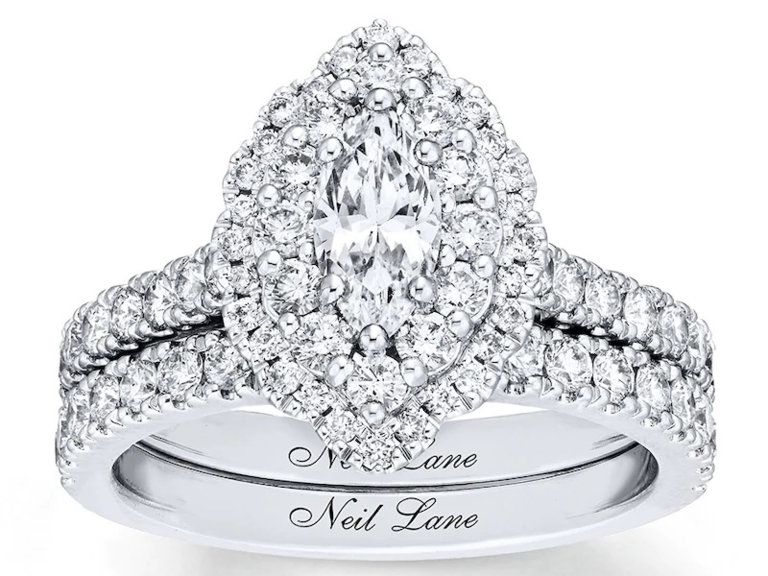 Dainty stacks aren't for everyone. The diamond-encrusted band in this glitzy bridal set sits so flush it gives the illusion of a ring with a double halo plus double bands for maximum sparkle.
Zales Marquise Diamond Frame Bridal Set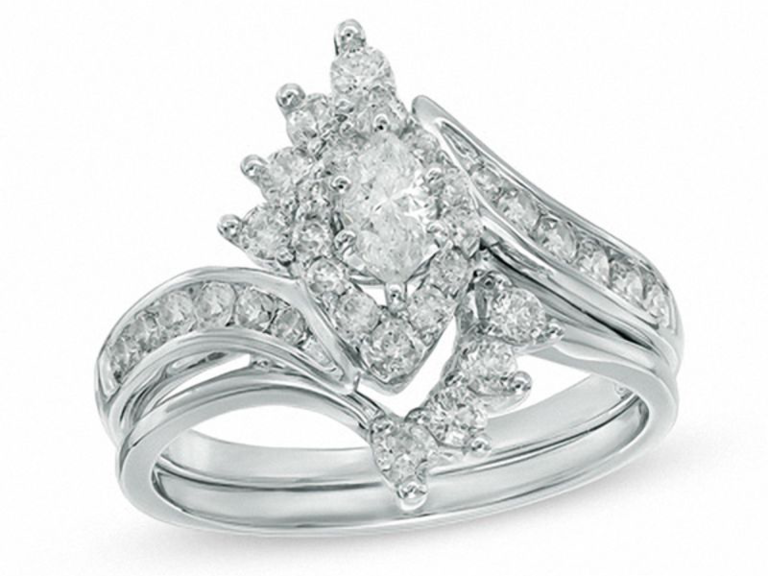 This showstopper features a marquise-cut diamond surrounded by bypassing ribbons of 14K white gold. The contoured diamond-accented wedding band matches perfectly and sits comfortably under the engagement ring.
Emerald-Cut Engagement Ring With Wedding Band
Emerald-cut stones are traditionally step cut, meaning their sparkle is more understated than round brilliant-cut diamonds. If you opted for an emerald-cut center stone but want to add more bling to your ring, consider a diamond eternity band with baguettes or pavé diamonds. This more opulent style will play up the sparkle of your center stone—but won't overpower it.
Zales Emerald-Cut Diamond Frame Bridal Set in 14K White Gold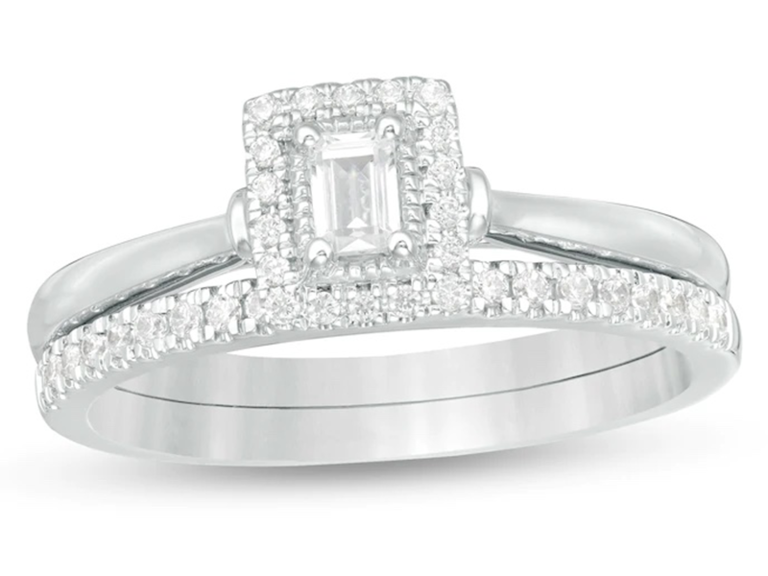 This stunning set features an emerald-cut diamond sitting atop a white gold band. The coordinating wedding ring is diamond encrusted, but lets the elaborate halo setting really shine.
Jared Emerald And Round Cut Diamond Bridal Set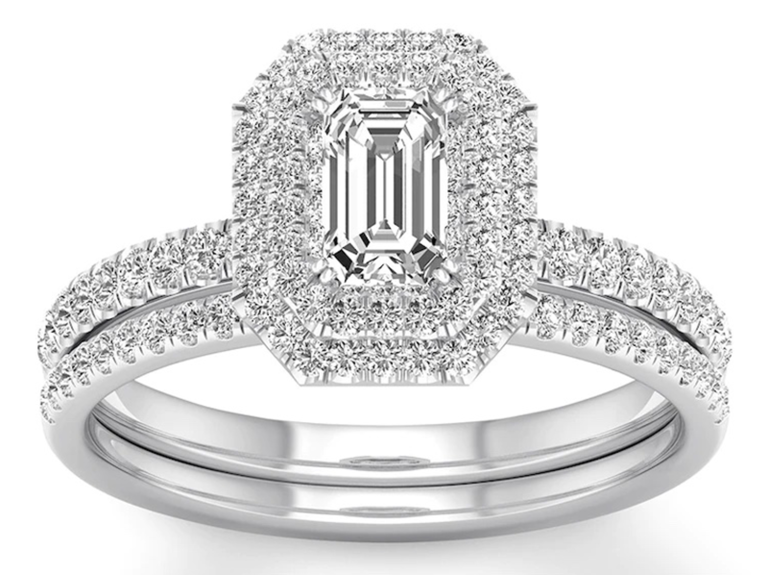 This gorgeous ring features an emerald-cut diamond framed by a double halo of sparkling round diamonds. More diamonds line the 14K white gold wedding band, which is slightly contoured for a perfect fit.
Zales Emerald-Cut Diamond Frame Scallop Shank Bridal Set in 14K Two-Tone Gold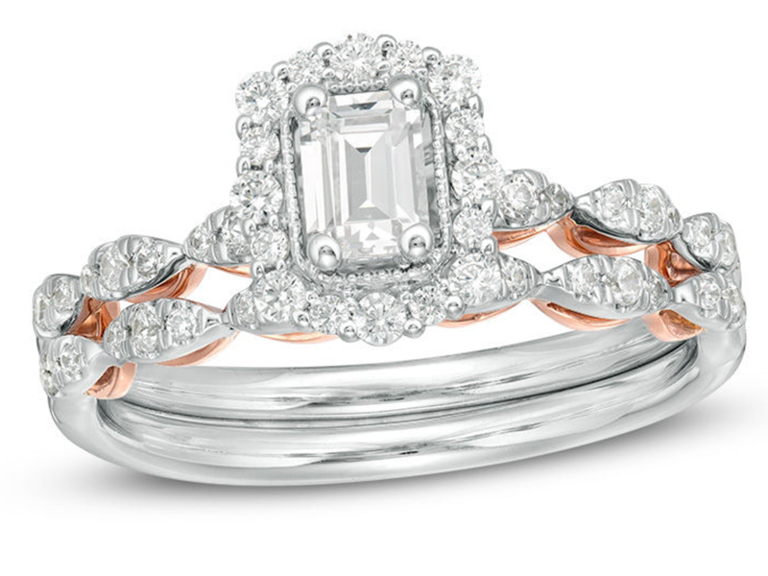 Crafted in 14K two-toned gold, this vintage-inspired engagement ring set features an emerald-cut diamond surrounded by a milgrain border plus a diamond halo. The matching engagement ring shank and wedding band feature the same scalloped details for a perfect pair.