20 Asscher-Cut Engagement Rings for the Art Deco Bride
These sparklers are all about Roaring Twenties flair.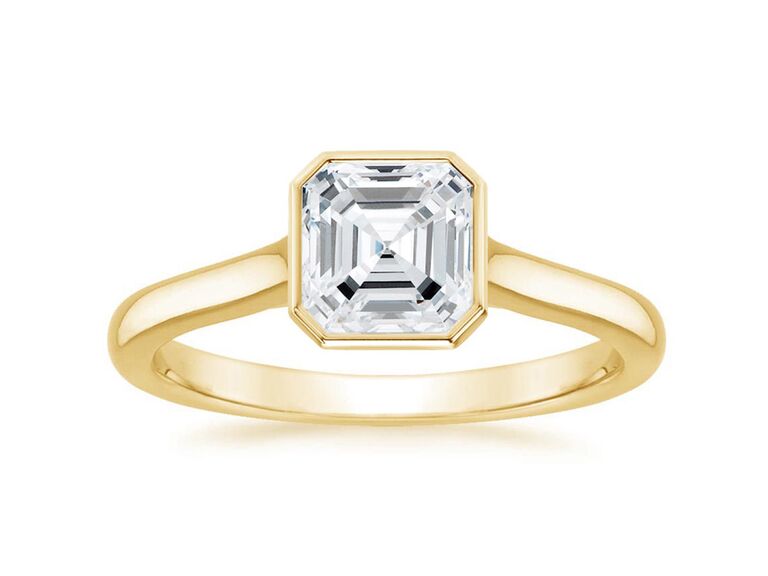 We have included third party products to help you navigate and enjoy life's biggest moments. Purchases made through links on this page may earn us a commission.
More than a century ago, legendary Dutch jeweler Joseph Asscher gave the world the first patented diamond cut, the aptly named Asscher cut. Since then, Asscher-cut engagement rings have become popular with couples looking for wedding rings with an heirloom quality.
More square than a classic emerald-cut diamond, an Asscher-cut stone has a distinct X-shape created by converging facets at its center. Naturally, its rarity (Asscher-cut diamonds make up only 2% of all cut diamonds) and sophisticated look has made it a favorite of celebrities like Pippa Middleton, Queen Letizia of Spain, Kate Hudson and Jessica Alba. And who can forget Elizabeth Taylor's Krupp diamond ring that Richard Burton gifted her with a 33-carat Asscher-cut stone?
If you're looking for a very special and rare diamond ring, we've got you covered. Read on for a deep dive on Asscher-cut engagement rings, plus editor-approved picks you can add to your cart right now.
What Is an Asscher-Cut Engagement Ring?
While they are similar in appearance to princess-cut, emerald-cut and cushion-cut diamonds, Asscher-cut stones are more square. They can have as many as 74 facets compared to the standard 58. This is what makes Asscher-cut diamonds so rare—they are challenging to cut, labor-intensive and require a lot of skill. But the end result is absolutely stunning.
Asscher-cut diamonds have a higher crown and a one-of-a-kind facet arrangement that produces an effect known as the "hall of mirrors." It combines the best of both worlds for a standout look—it has the brilliance of a round brilliant-cut diamond and the unique facet arrangement of emerald-cut gems.
One of the latest iterations of Asscher-cut diamonds is the Royal Asscher Oval-Cut Diamond, patented in 2018. A great option for to-be-weds in the market for a more rounded diamond shape, it has 74 facets that form a distinct oval shape.
What to Look For in an Asscher-Cut Engagement Ring
Asscher-cut diamonds are rare but recognizable. When you look at an Asscher-cut stone directly from above, it will have the distinct X-shape formed by facets that "kiss" in the middle. Pro tip: A well-cut Asscher will have facets that touch at exactly the same point.

The 4Cs are incredibly important in Asscher-cut stones. Inclusions (read: internal flaws) are much more visible due to this cut's large table, so you'll want to choose a stone with a higher clarity grade. The deep shape of Asscher cuts also means a lot more light can pass through them, making their color grade very important. If you're interested in a white gold or platinum setting, opt for a G-grade stone or above that won't appear yellowish against a white metal. Finally, keep in mind that an Asscher-cut stone may look smaller compared to another diamond of the same carat weight, due to its deeper shape.
Why Choose an Asscher-Cut Engagement Ring?
The popularity of Asscher-cut diamonds exploded during the Roaring Twenties because the stone's cut was in sync with the period's penchant for geometric motifs. This type of diamond cut is a beautiful choice for Art Deco-loving brides or those who appreciate vintage style in general. Asschers are commonly designed with baguette or trapezoid side stones in keeping with the Art Deco aesthetic. The geometric symmetry of the stone also pairs very well with split shank settings.

Asschers also bring plenty of symbolism to the table. Their octagonal shape represents rebirth and infinity, giving them a natural connection to weddings.
Asscher-Cut Engagement Rings You Can Buy Now
Feeling an Asscher-cut engagement ring right now? Shop some of our fave rings below.
Vrai The Halo Engagament Ring
Brilliant Earth Joelle Diamond Engagement Ring
marquise diamond
-encrusted setting creates a gorgeous contrast with an Asscher-cut center stone. Bonus: This engagement ring style is available in four types of precious metal.
Berlinger Asscher-Cut Emerald Signet Ring
rose gold
setting of this reimagined signet ring plays up the gorgeous green hue of an Asscher-cut emerald. Psst: This ring style is also available in white, yellow gold, and platinum and a wide range of ring sizes.
Ashley Zhang Asscher-Cut Rolling Ring
The Kwiat Setting Engagement Ring With an Asscher Diamond and Bezel-Set Halo
DY Capri Engagement Ring in Platinum
Brilliant Earth Luna Engagement Ring
Royal Asscher Diana Five Stone Diamond Ring
Brilliant Earth Petite Twisted Vine Diamond Engagement Ring
Vintage Style Engagement Ring With an Asscher Yellow Diamond and Side Stones
yellow Asscher-cut diamond
on this vintage-inspired two-tone engagement ring is mesmerizing. The unique stone is set in hand-engraved 18K yellow gold prongs and flanked by a duo of trapezoid side stones.
Zales Asscher-Cut Diamond Double Frame Engagement Ring in 14K White Gold
James Allen 1.21 Carat G-VVS1 Asscher-Cut Diamond Art Deco Geometric Diamond Engagement Ring
ZAC Zac Posen Knife-Edge Solitaire Engagement Ring
solitaire setting
. The pared down platinum band of this sparkler puts all the focus on the stunner Asscher-cut center stone.
Brilliant Earth Arabesque Diamond Engagement Ring
Vrai The Signature V Engagement Ring
Brilliant Earth Cadenza Halo Diamond Engagement Ring
Erstwhile Asscher Prism Shifter Ring
Victor Barbone Art Deco Two Asscher-Cut Diamond Engagement Ring
Toi et Moi engagement ring
with two GIA-certified Asscher-cut diamonds. Thirty more gems line the gallery and shoulders of the band for a dazzling look.
Ashley Zhang Antonia Asscher-Cut Engagement Ring
three-stone engagement ring
trend with a vintage-inspired sparkler featuring a trio of asymmetrically set Asscher-cut diamonds. The classic yellow gold band makes the diamonds really sparkle.
Blue Nile Asscher-Cut Diamond Eternity Ring