How to Honeymoon In 2021, According to Experts
Here are 13 tips to help you navigate COVID travel.
We have included third party products to help you navigate and enjoy life's biggest moments. Purchases made through links on this page may earn us a commission.
While the world is very much still in a pandemic, there appears to be an uptick in interest for travel as couples are planning and some, departing for their honeymoons during COVID. Getaways during this time are feasible as a delayed honeymoon or romantic getaway can be enjoyed responsibly.
First and foremost: a honeymoon during COVID comes with added research, in addition to an understanding of your destination's local guidelines, plus requirements for a safe re-entry into your home country. It's also best for couples seeking honeymoons during COVID to start sooner with planning. Travel experts are currently seeing an uptick in demand from the US as vaccination rollouts continue. "It's important to note that many top resorts are already selling out for this summer and beyond," says Virtuoso Advisor Beth Washington of Getaway Guild. "Many people are ready to travel, and with restrictions still in place for many international destinations, the demand is out-pacing supply for domestic destinations and destinations open to US travelers. This year more than ever, it pays to plan ahead."
As with weddings, honeymoons during COVID are also fueled by a surge in demand. According to our internal data, over 80% of couples who got engaged in 2020 started planning their weddings, including possible honeymoon planning, immediately after the proposal. For couples looking to book their dream overwater bungalow or a secluded, luxury suite in the jungle, some properties take reservations a year in advance and it's advised to lock in the stay as there is an overall demand and surge in weddings through 2022.
"Within the US: that push and drive to free up traveling [again] with the activation of vaccinations indicates that people are ready. They're bubbling over," adds Marsha-Ann Donaldson, Director of Romance at Sandals Resorts. "Love is ready. Couples are ready for travel and they're ready to have some fun too." With the increased volume of vaccine distribution, travel restrictions are easing and couples are setting off (ever-so-cautiously) to enjoy their long-awaited honeymoon. Some, in fact, are fully embracing COVID compliant standards to experience a socially distanced-and-safe stay. Here are 13 tips for what all couples should consider if they decide to honeymoon during COVID.
1. Plan Sooner Than Later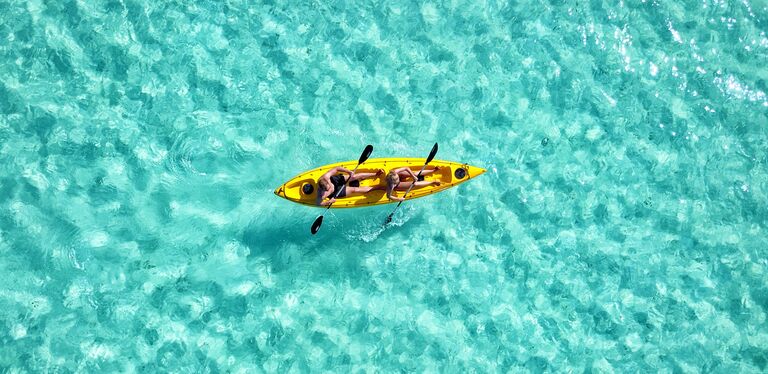 All couples who want to honeymoon during COVID are encouraged to plan now. According to multiple travel experts, there is a sudden surge in bookings throughout the year, especially in easily accessible areas welcoming all guests who test negative for COVID. Examples include the Bahamas, select islands across the Caribbean, Hawaii, among other key destinations that are ideal for honeymoon getaways.
Some brands, in fact, are seeing a return rate to pre-pandemic bookings from 2019. "We have marveled at how folks are now beating our 2019 record," Donaldson says of the 18 Sandals properties across the Caribbean. "People are hoping to travel. Travel stands for love and hope. It also stands for normalcy."
2. Research Potential Regional Restrictions
An imperative step all couples should take before venturing down the path of booking a honeymoon, especially international destinations, is researching your non-negotiables like budget, time off and activities. "Have a research party and make your own cocktails," suggests Donaldson. "When they begin to research, couples will have underlying 'must-haves' like choosing a destination and a brand that has certain standards and protocols in check… Your research needs to build excitement and hope. Choose a location and brand that can do that."
Many resorts and properties both stateside and within the northern and central hemispheres are seeing an influx of visitors, along with countries welcoming visitors with proof of vaccination. Those departing for far-remote areas of the world are advised to travel with caution as some countries require stringent quarantine measures up to two weeks in isolation. In some cases, this means you won't be able to leave your designated home or hotel room for the entirety of your honeymoon. Since most couples only have a set amount of days designated for a postwedding getaway, ensure these COVID precautions won't impede on your timeline.
3. Seek Properties With COVID-Compliant Standards
During COVID, many properties added a layer of hospitality to their experiences by introducing COVID-compliant measures and protocols. As with most stays, you'll look to trustworthy brands, as well as reviews, to ensure quality control at least when setting expectations. "We're seeing couples want to choose a brand that has taken on and has formed the advent of approved CDC guidelines: rigid, platinum protocols by allowing people wanting to travel to place where they feel safe in all aspects," explains Donaldson. "Because health is at the forefront of their experience, guests know about our protocols and we even offer complimentary COVID testing. That's a big thing … In fact, for one couple, that was their part of the decision-making factor for the honeymoon."
If you're still deciding, talk to a travel agent or concierge about properties adhering to health and safety guidelines under the CDC's presented offerings. "An experienced travel advisor can help you navigate the best destination based on your interests, as well as keep you updated on entry requirements, which remain fluid," says Washington. "Not to mention the exclusive perks and personal touches that a well-connected advisor can add to your trip." (Questions to ask include: Are staff members and guests masked? Is social distancing available on the property grounds? Is there an on-site medical expert? What does cleaning and room turnover look like? What are the country's rules of entry? Do you offer complimentary testing?)
4. Book With Travel Insurance
Now, more than ever, travel insurance is encouraged for couples opting for a honeymoon during COVID. Several destinations, including multiple islands in the Caribbean, require trip insurance for entry. Some properties, especially those that are all-inclusive and offer on-site activities, already suppress the cost of insurance into their resort fees. However: if you're turning to a more bespoke honeymoon experience, one you're personalizing on your own, protect your financial investment by looking for travel insurance that includes a "CFAR (Cancel For Any Reason)" option. This policy often covers anything that could potentially go wrong during your allotted travel days.
"The pandemic has truly changed the way people travel, so couples need to be prepared for the unexpected," says Rajeev Shrivastava, Founder and CEO of VisitorsCoverage. "As with traditional travel or destination activities, unforeseen circumstances may arise at any time, anywhere. But, planning and preparing beforehand can make your honeymoon travels pleasant and memorable. If you're traveling overseas, consider buying a travel medical insurance policy that includes trip cancellation, or opt for a separate trip insurance policy."
5. Look to Nature-Driven Properties
As honeymoons are already such a private experience, couples will turn to stays that are inherently socially distanced, intimate and a comfortable distance away from large crowds. Properties that offer outdoor space, minimal common areas, and those that offer a more intimate and personal experience, are trending for obvious reasons. Some span hundreds of acres to allow for all guests to revel in social distancing (a luxury for city-dwellers). Find a destination that has these protocols ready to go to ease your mind.
Ask your property's concierge service or your travel agent about socially distanced activities too like private snuba classes or sailing. Keep in mind: If you plan to be adventurous during your honeymoon during COVID, talk to your insurer or resort about adventure sports coverage. "If you're planning on enjoying adventurous outdoor activities like jet-skiing, ziplining, skydiving, mountain climbing or scuba diving, look for a travel insurance policy that includes the specific adventure sports you're interested in," suggests Shrivastava. "Not all activities are covered by every policy."
6. Get COVID Tested, According to Regional Guidelines
Some islands in the Caribbean, as well as Hawaii, have reopened to visitors. Still, many are requiring all passengers from the US to provide a negative COVID test before even checking through TSA at the airport.
Some countries are requiring all visitors receive a negative PCR or rapid antigen test within 72 hours of departure. That means you'll need to receive a COVID test and a negative stamp of approval from a certified testing center or physician before checking into your flight. Make appointments in advance or find a designated rapid antigen testing location accordingly so you won't scramble at the last minute.
7. Fill Out Country Assessment Forms
Countries now require visitors to complete COVID risk evaluation forms. Before you depart, see what your respective destination requires for entry into its borders. Paperwork like your negative test, approved entry form, liability forms as well, as possible insurance confirmation, are all subject to collection at customs.
Some apps like VeriFly are working directly with airlines like American Airlines and British Airways to ensure a more seamless check-in process. These tools house all pertinent information for entry into your destination, which can then be submitted digitally, including your COVID negative test. However, your arrival needs might vary so be aware of those added must-haves too.
8. Be Extra Organized When Packing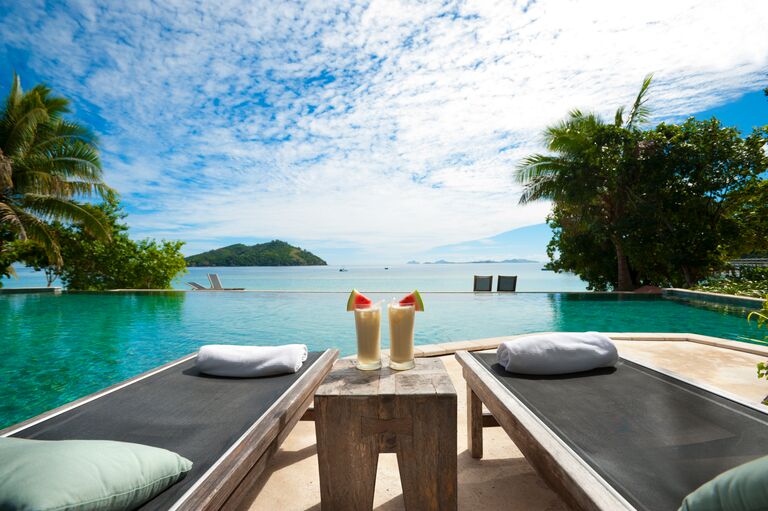 As with any trip, pack for an enjoyable stay with your spouse. Ensure you share all backup phone numbers and resort information with a designated loved one before departure. Talk to your physician pre-departure about other risks involved with travel and how to mitigate potential issues in certain countries.
Regarding carry-on luggage and customs: while asking your seatmate on a flight for a pen was fine prior to the pandemic, you'll want to be hyper-aware of what to bring for yourself and your partner. (Packing extra hand sanitizers, masks, pens and beyond doesn't hurt.) If you're going someplace warm, remember sunscreen and other essentials. Oh—and if you're venturing into international waters, well, don't forget your passport.
9. If You're Vaccinated: Keep Timing In Mind
Allow for enough time between vaccinations and inoculation to enjoy your honeymoon. As there could be side effects after doses, keep in mind about scheduling your shots and honeymoon dates. The last place you'll want to experience possible side effects is en route to paradise. (Nor do we recommend it for safety purposes.)
10. Upon Arrival: Be Aware of Local Laws
As with any travel experience to a foreign country, it's advised you follow the law—and now in 2021, any legal boundaries especially as it pertains to COVID. If a country is enacting curfews due to COVID restrictions, follow and respect those local guidelines. Again with any situation involving international travel, you are agreeing to that territory's laws.
Also when traveling: keep in mind that guests and visitors come from all over the country and world. One way to be respectful of the resort's rules and other guests' comfort levels is by remaining socially distanced and being mindful of overall safety. Talk to your partner before departure about how you might deal with scenarios together while on the property.
11. Reserve Romantic Experiences Together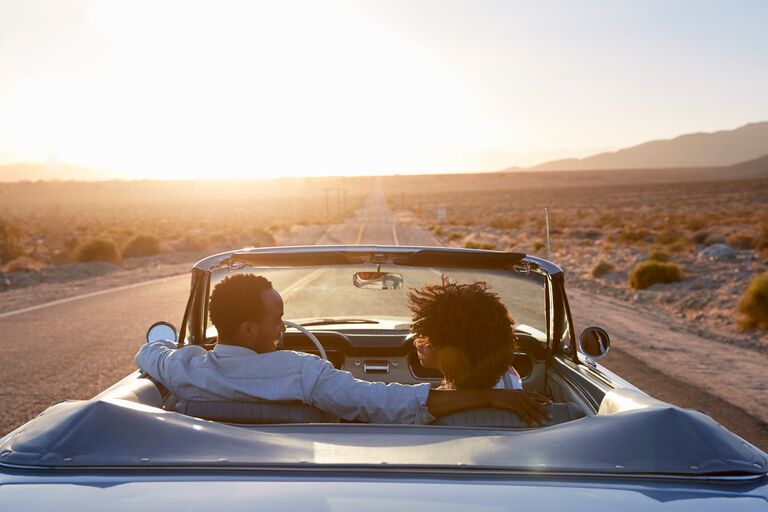 With couples now flocking to their respective honeymoon destinations—a welcome respite especially after some trips have been long-awaited—identify the experiences you will most benefit from in this phase of your marriage. Since your honeymoon is an opportunity to build your marriage and your goals, Donaldson says to ensure every step of the way equals romance. "Watch the sunset or twilight, have a candlelight dinner with tiki torches around you, sit on the beach early in the morning, and journal together about this life ahead. Begin to dream," she advises. "Maybe you'll want to learn something or build a hobby together. Why not get a scuba diving certification or have a shared activity to keep the romance alive?"
If you decide to honeymoon in a scenic destination right after, say, an elopement or a minimony, consider extending your stay on site for a brief "weddingmoon." Or maybe you'll want to be creative with your wedding announcement, even, by booking a professional photographer to take your loved-up photos before returning home. Talk to your concierge for more activity options that you can take home with you.
12. Remember: A Negative Test Is Required to Return
In the US, it's now required every passenger from foreign soil provide a negative test before boarding a flight bound for the country. Keep this in mind with where you are staying: does the property offer COVID tests on-site or will you have to travel some distance to get the OK to return home? Your itinerary should also reflect this as the last place you'd want to contract COVID is during your honeymoon. If you have such concerns, reach out to your resort's concierge or travel agent to see how else you can protect yourself from such scenarios.
13. Enjoy and Unwind!
Your honeymoon is a once-in-a-lifetime experience. After a year of having to either postpone or bear the weight of COVID planning, your paradise (snow-bound or sun-soaked) awaits. The ideal honeymoon during COVID is both safe and creates memories that last a lifetime. "The secret for romance isn't only between the sheets; It's building something together," Donaldson concludes. In the case of honeymoons during COVID, however, she says: "Love conquers all, no matter what's happening."