20 Disney Wedding Favors That Will Make the Night Even More Magical
Here's to your Happily Ever After ...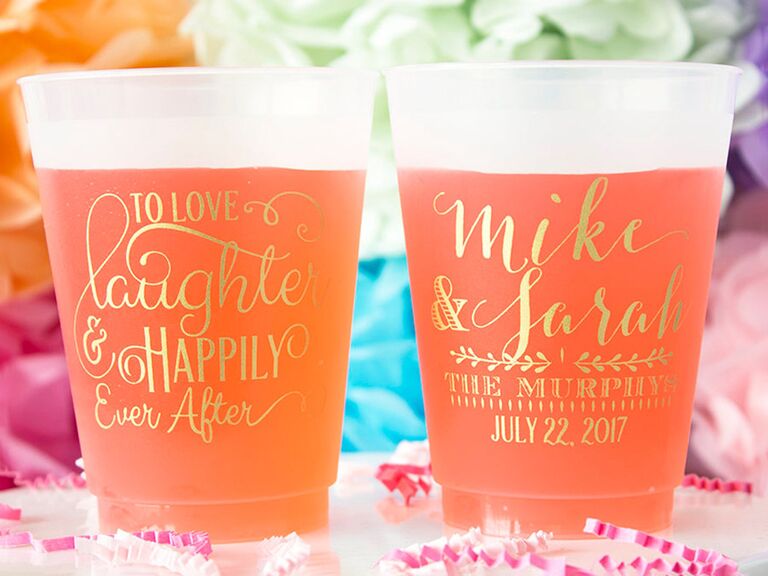 We have included third party products to help you navigate and enjoy life's biggest moments. Purchases made through links on this page may earn us a commission.
Disney sure set the bar high when it comes to fairytale weddings, so it's no wonder we all want to re-create them once our special day arrives. Throwing a Disney-themed wedding can let you channel your inner Aurora and Prince Phillip, or embrace all things Mickey and Minnie if that's more your vibe. Either way, there are lots of unique Disney wedding favors to choose from that will send your wedding guests home happy (and probably humming the tune to Beauty and the Beast).
From personalized wine glasses with Tinkerbell's silhouette to candy-filled favor boxes shaped like Cinderella's carriage, scroll on for Disney-inspired wedding favors that will make you and your guests feel like kids again—in all the best ways!
Momentous Things Disney Mickey Keyring Bottle Opener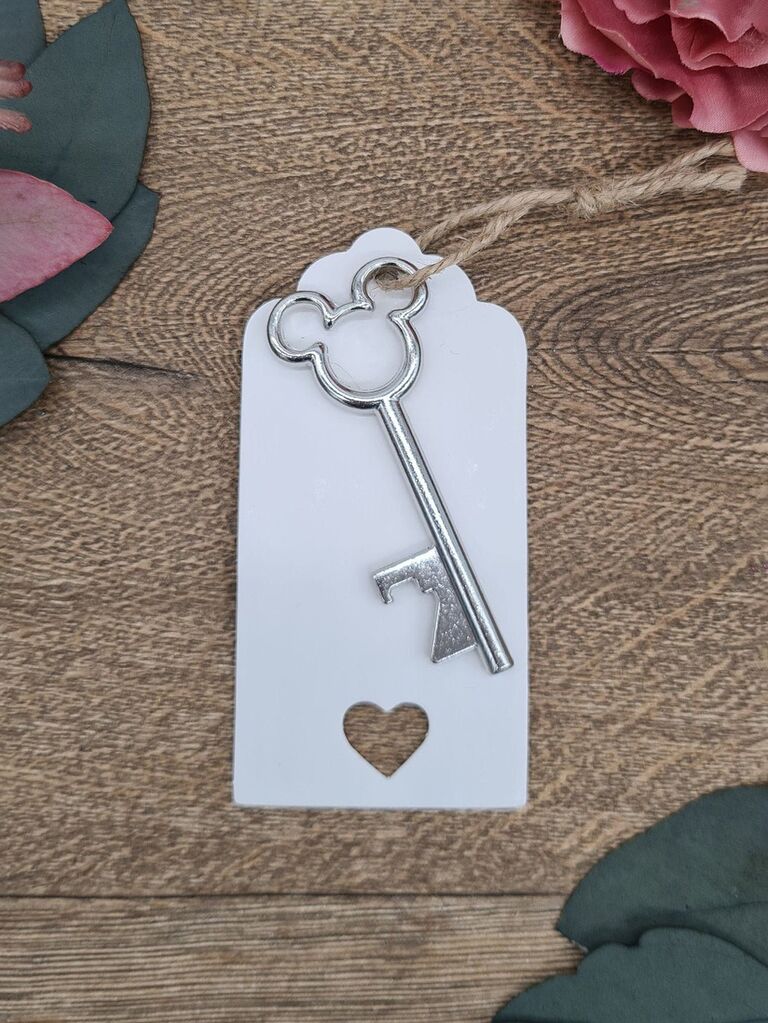 This Mickey Mouse-shaped skeleton key may look like it unlocks some secret passages inside Disneyland, but (spoiler alert) ... it only opens beer bottles. *Womp Womp* That said, you can really never go wrong with a cute wedding favor that also serves a practical purpose.
Cinderella's Wedding Carriage Candle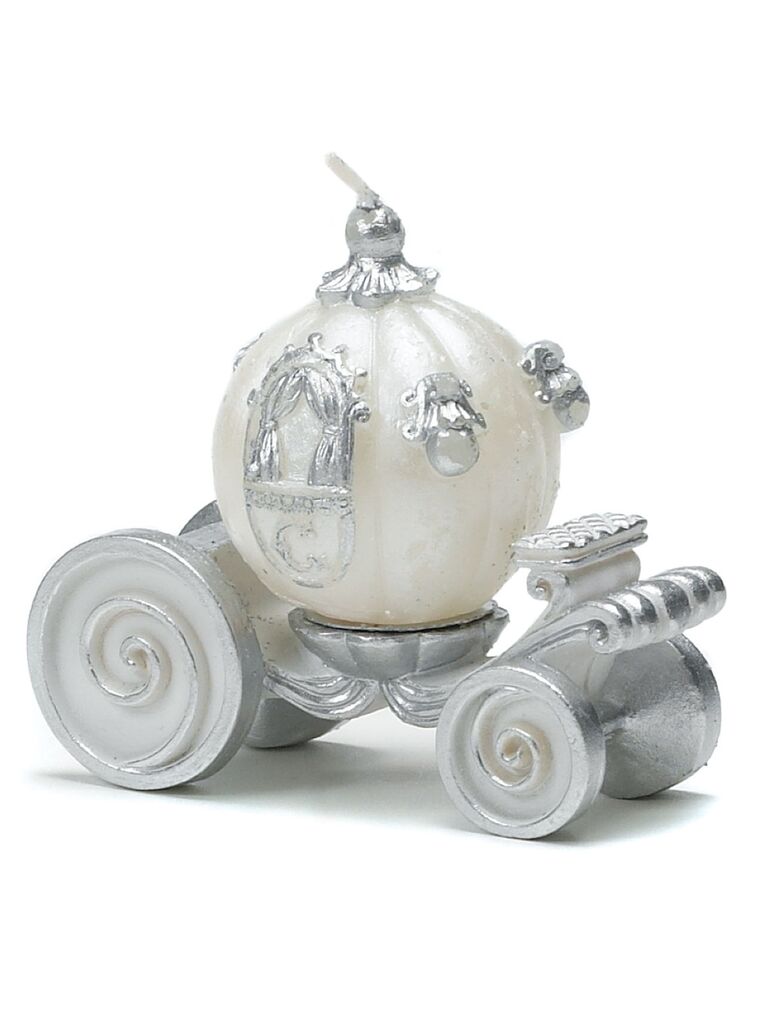 Add to the elegance of your wedding day with a gentle nod to one of the most classic love stories of all time: Cinderella! This carriage-shaped candle is just one of The Knot Shop's wide array of fairytale wedding decorations, which comes beautifully packaged in an acrylic favor box with a pretty bow on top.
The Knot Shop Beach Theme Wooden Trinket Box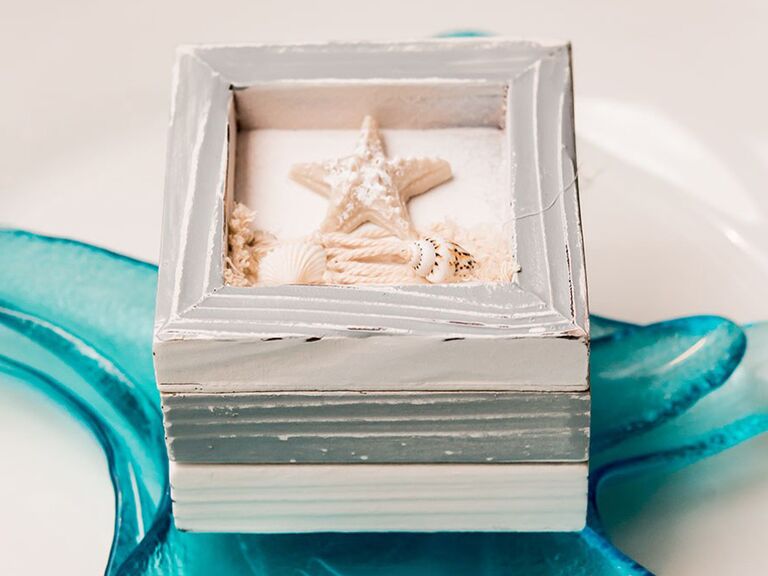 If you're planning on having a beach wedding and happen to be a huge Disney fan, then throwing a Little Mermaid-themed wedding is basically a no-brainer. Continue the "under the sea" vibe throughout the night with lots of little nautical touches — like a starfish-shaped cake topper, mermaid-themed wedding centerpieces and this beachy little favor box, which you can fill with seashells, crystals or other fun goodies.
White Room Handmade Beauty and the Beast Rose Dome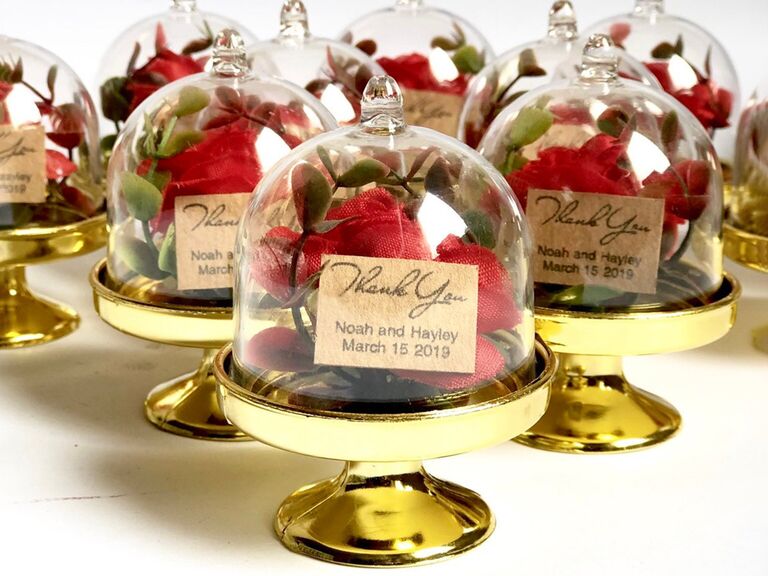 A Beauty and the Beast wedding really isn't complete without a rose dome or two. (Or make that 200.) These mini enchanted roses are beautiful, unique and just the right size for wedding favors guests can grab on the go. But most of all, they can be personalized to tell your guests what you really want to say: Thanks for coming! (PS: You can also DIY your own rose dome using one of our gold-bottomed containers from The Knot Shop!)
Rustic Harbor "And They Lived Happily Ever After … " Cookies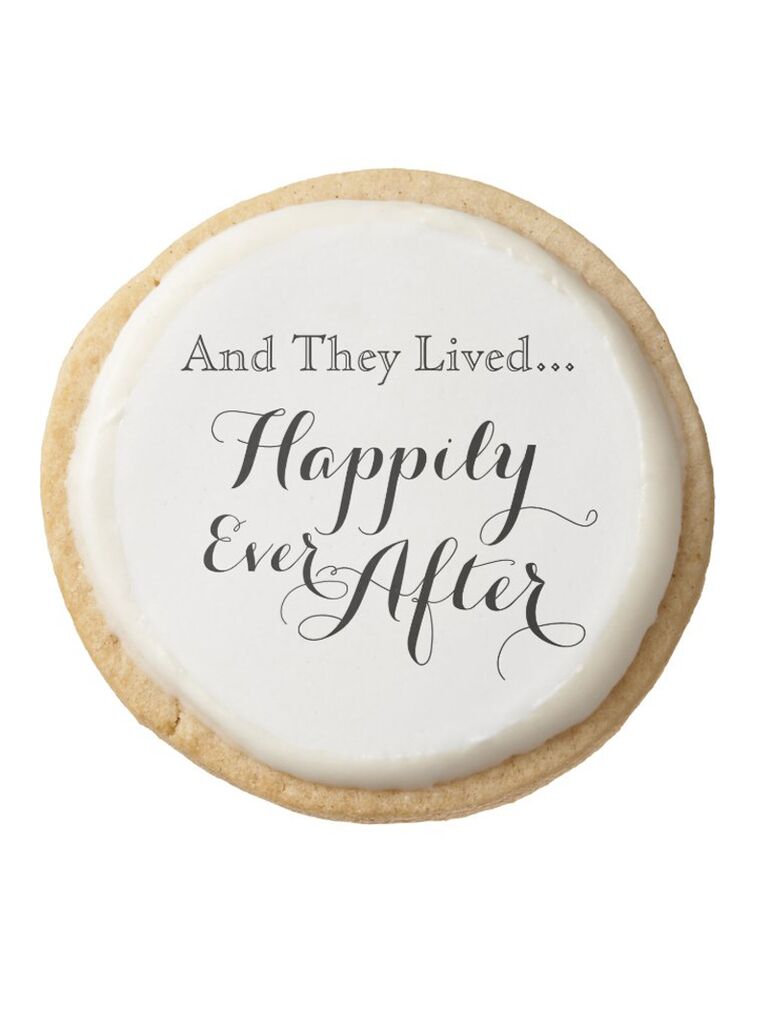 There's nothing quite like eating a delicious cookie after a night well spent, and these "Happily Ever After" cookies are bound to hit the spot. Each one can be packaged in a kraft favor box, slipped into the hotel welcome bag or even saved for your wedding shower or engagement party.
A Little Bit of Afton "Drink Me" Mini Bottle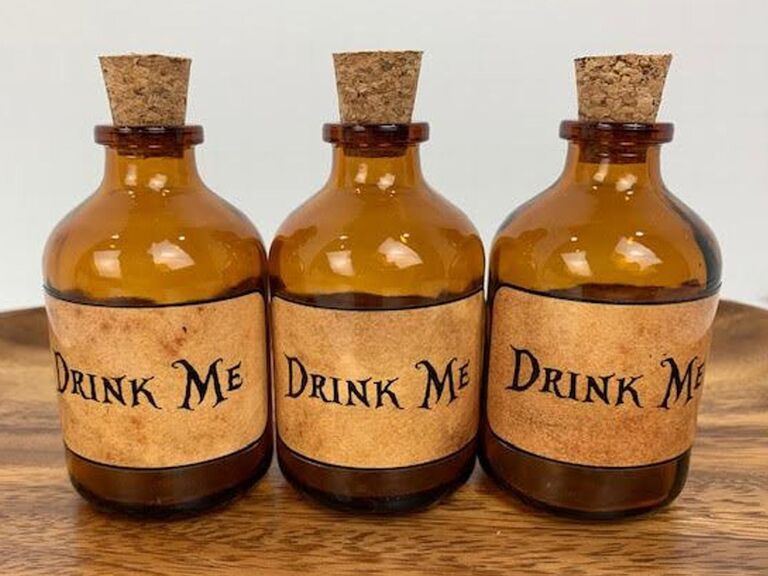 Not all Disney-themed weddings are based on romantic fairytales, you know. Some take a page from the slightly more "trippy" classics ... like Alice in Wonderland! These printable "drink me" labels can be stuck on tiny apothecary bottles, which you can then fill with your favorite dark-colored "potions" (AKA rum, bourbon or whiskey) for a truly one-of-a-kind gift idea.
The Knot Shop "Love Gives Us a Fairytale" Goodie Bags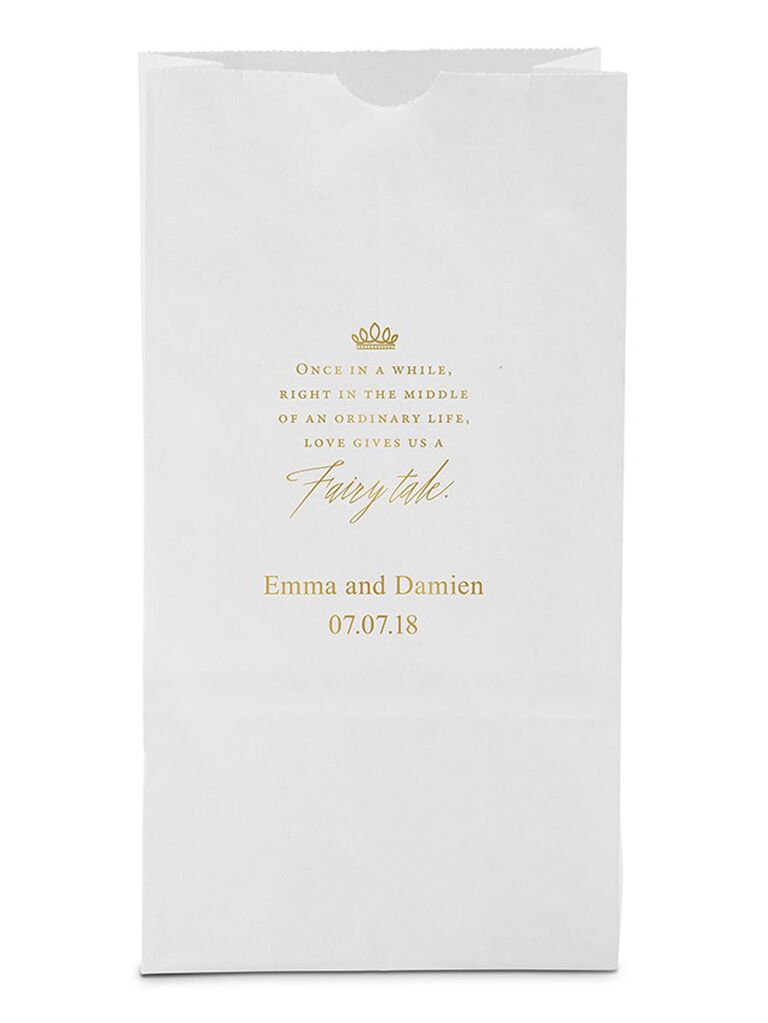 If giving out trinkets isn't really your thing, then we're willing to bet a goodie bag full of delicious treats is. (We don't blame you!) Keep things simple with a top-notch candy or dessert bar, plus some wedding favor bags guests can fill up themselves, and voilà—everyone will go home happy.
The Knot Shop Antique Book Favor Box Kit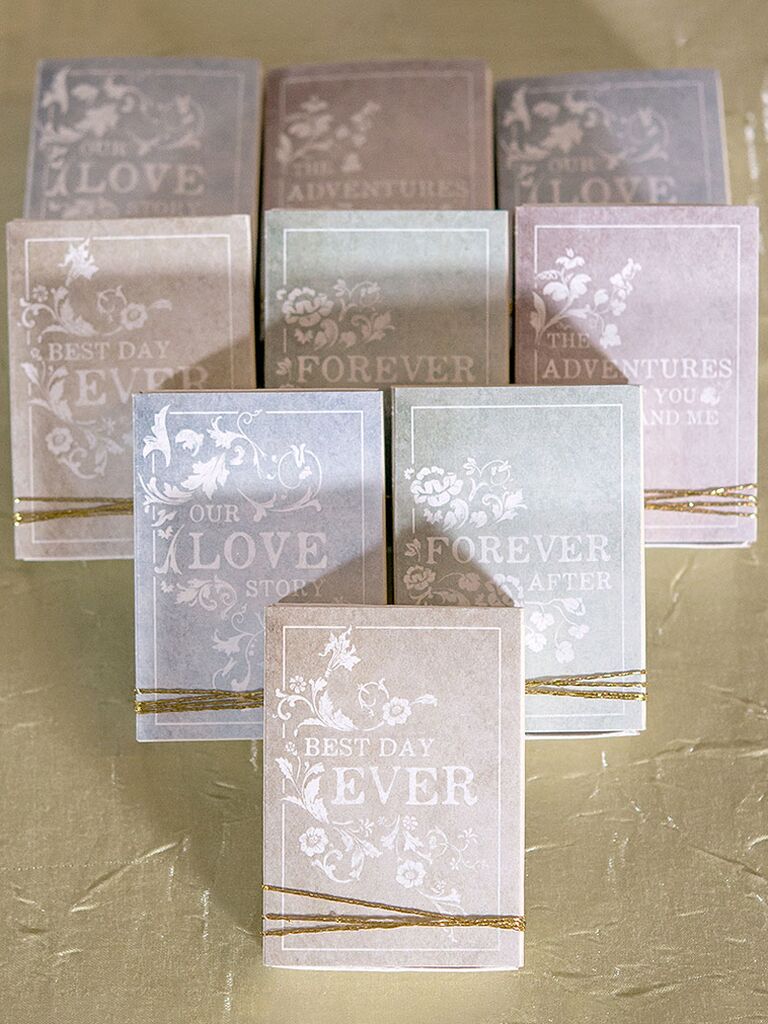 The storybook romances of The Little Mermaid and Cinderella are bound to leave you a bit starry-eyed. But the truth is, the greatest love story you'll ever know will be your own. These beautiful favor box kits are made to look like an antique book of fairytales and can each be personalized with your names and wedding date.
Yippee Daisy Shatterproof Glasses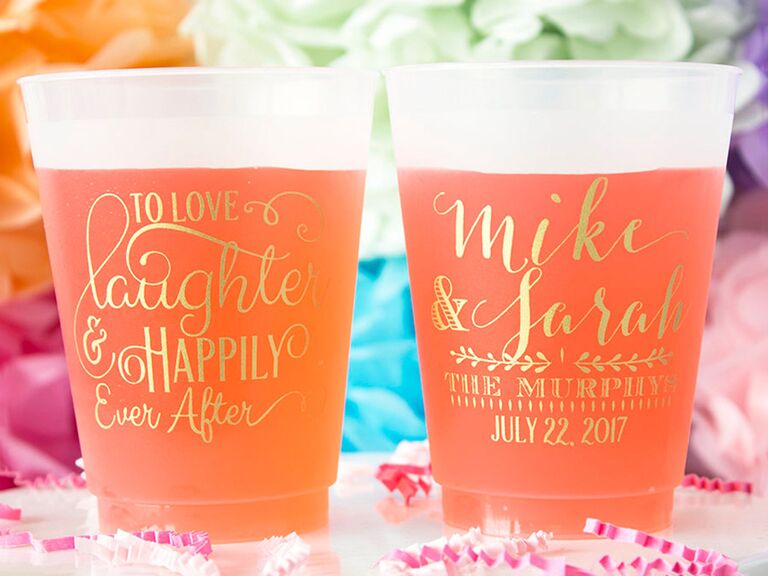 For casual weddings, backyard engagement parties and even co-ed wedding showers, these shatterproof wedding favors are both pretty to look at and super practical. Along with the happy couple's first names and wedding date, each one bears the whimsical phrase, "To Love, Laughter and Happily Ever After," in a lovely scripted font.
Memorable Party Favors Mini Lanterns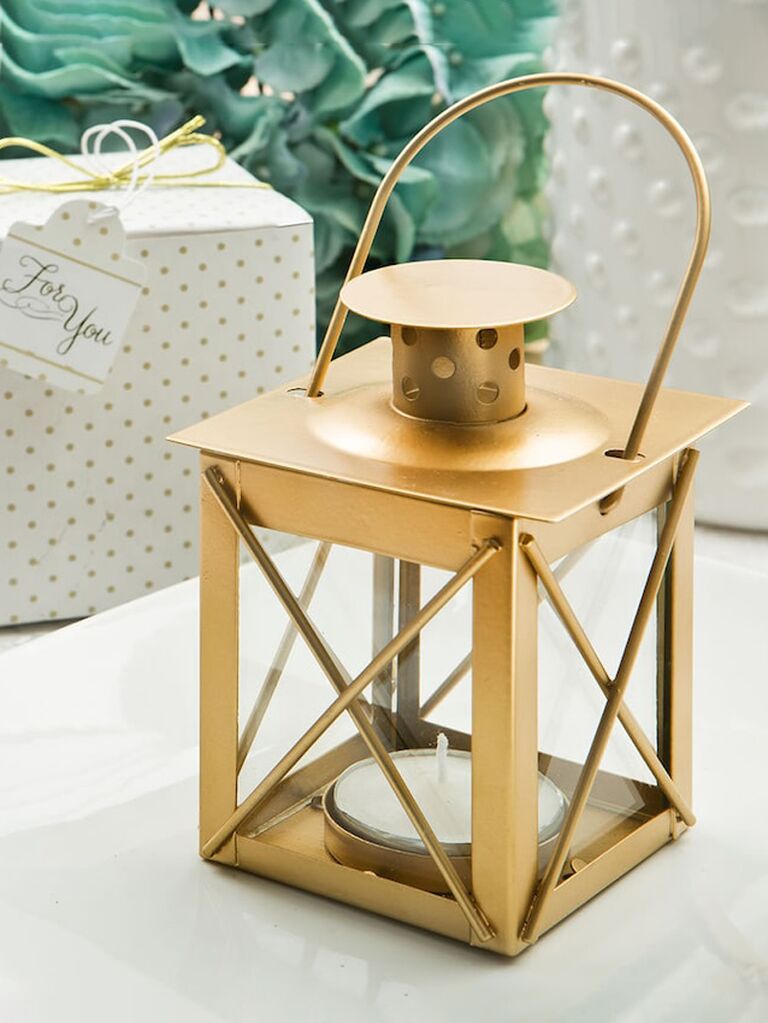 These mini lanterns will light the way for your guests ... just like Belle's did when it led her all the way to the Beast's castle. Each one can be tied with a ribbon or name tag in lieu of traditional place cards or used as centerpieces as well as a wedding favor. Either way, the flickering lights will strike a cozy and romantic vibe during any nighttime wedding reception.
Disney's Mickey & Friends Mickey & Minnie Wedding Coaster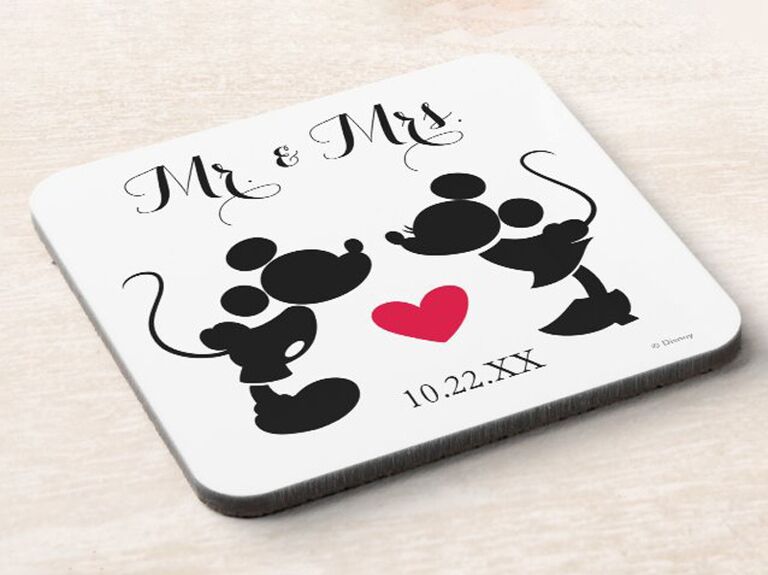 Not every kid grew up wishing they'd magically become a Disney princess one day. Some of us fell in love with old-school Mickey and Minnie Mouse cartoons, and still have a soft spot for them to this day. Going with a Mickey and Minnie-themed wedding can be quirky and unique, as well as gender-neutral. (Just don't forget to have plenty of mouse ears on hand for the photo booth!)
Magnolia Homeware Personal Printed Shot Glass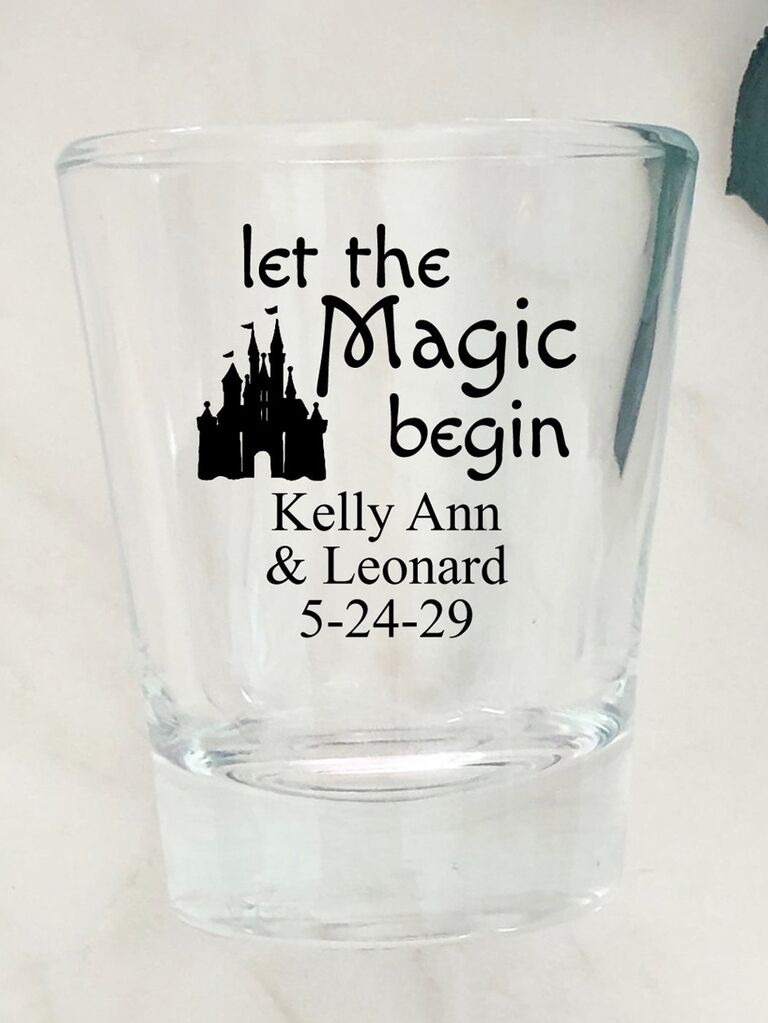 Bottom's up! These cute little shot glasses are fun and lighthearted, and can each be personalized with your wedding date to make them a timeless keepsake. Fill them with chocolates, candy mints or even confetti before packaging them in a pretty favor box to give to guests.
Factory Direct Assorted Harvest White Artificial Baby Boo Pumpkins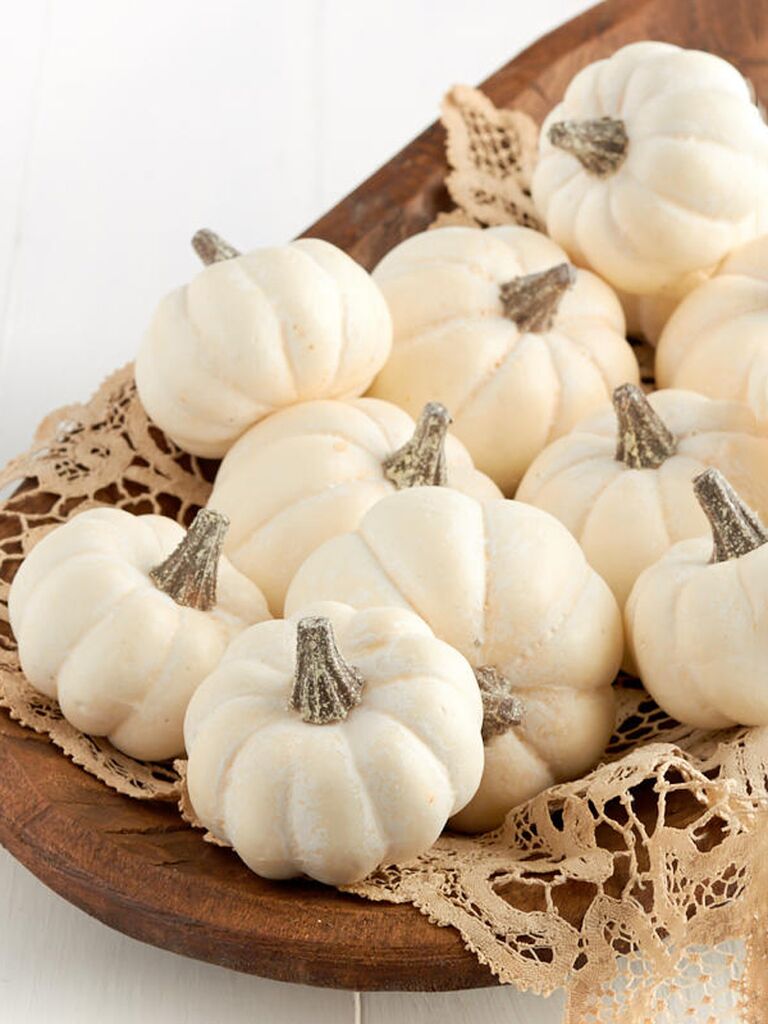 Whether your wedding day theme is Hocus Pocus or Cinderella, pumpkins have got to be in there somewhere. White pumpkins in particular are a great way to incorporate either Disney film into your big day, while also ensuring things still feel "wedding" instead of "Halloween-y." (Another idea? You can even work them into your centerpieces if you're going for a rustic, autumn theme, or wrap a "Happily Ever After" bow around each stem.)
Letter and Leather Beauty and the Beast Luggage Tags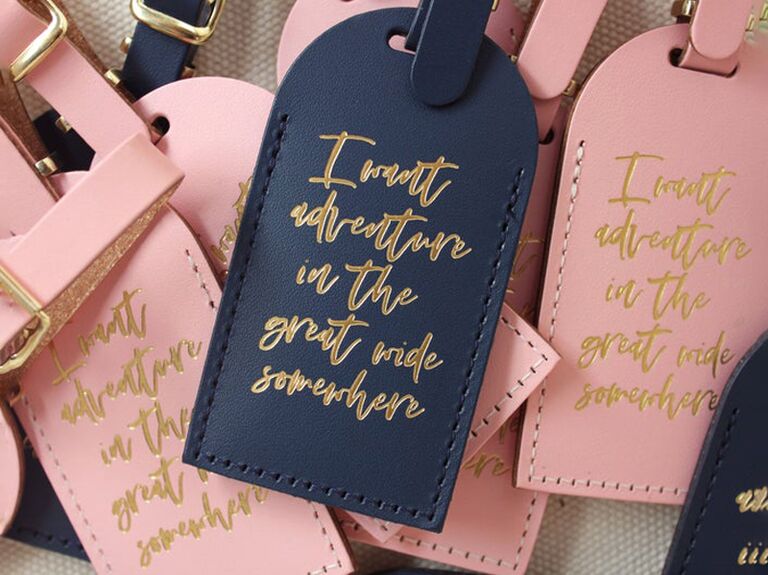 This one's for the couple who share in Belle's sense of wonder and adventure. These chic little luggage tags will weave a fun travel theme into your Beauty and the Beast wedding without being overly Disney. Plus, you can easily customize them according to your wedding colors.
Yellow Princess Design "A Dream Is a Wish Your Heart Makes" Personalized Wine Bottle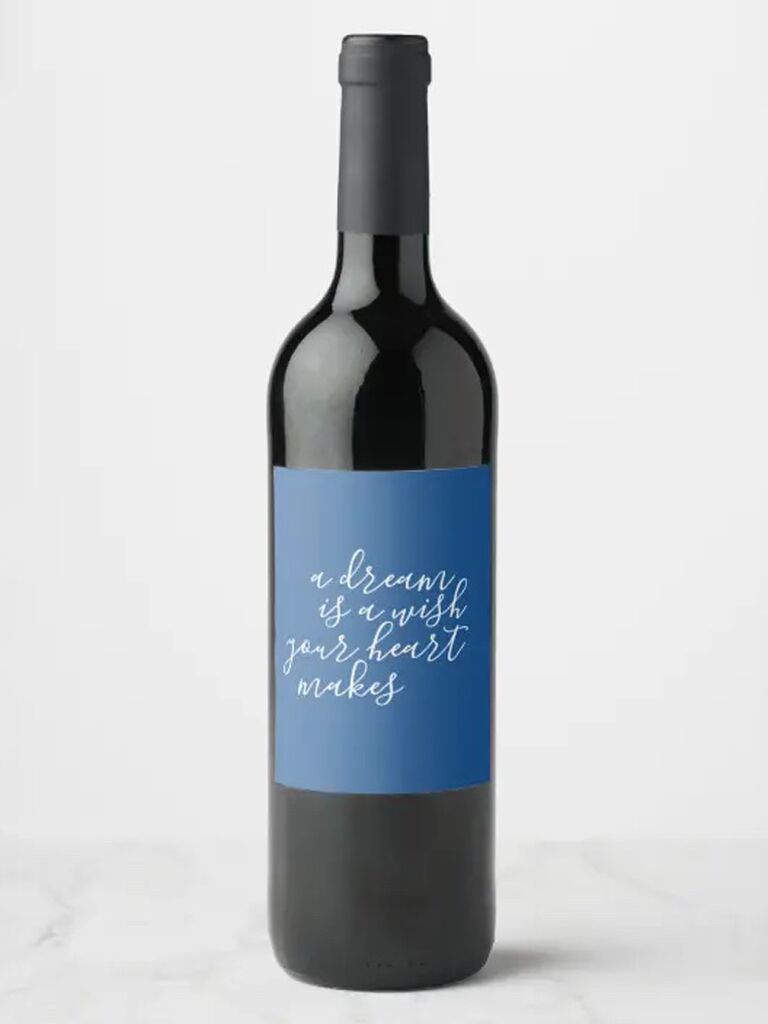 One look at this pretty bottle of red, and your guests will be humming to themselves that classic from Cinderella. (And honestly, isn't that the blissful feeling of love you want them to feel on your wedding day?)
Living The Mouse Life Disney Mickey Candle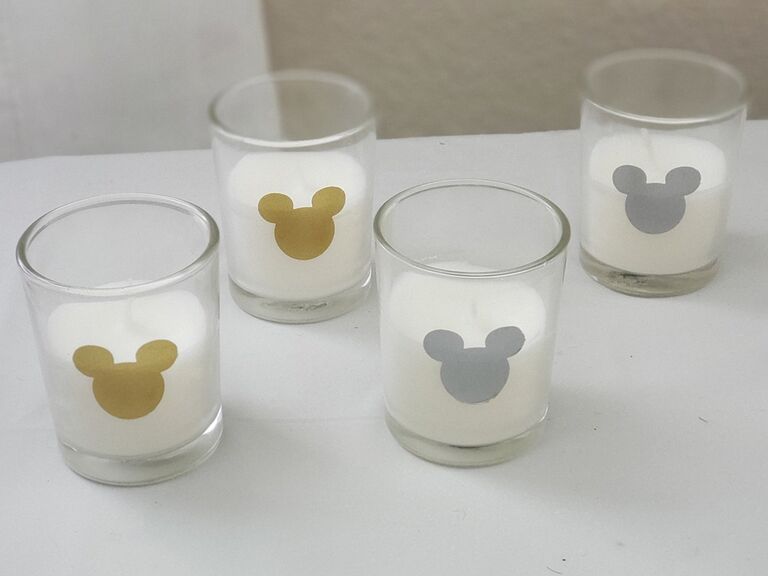 Highlight the star of Disneyland and Walt Disney World (yes, we're talking about Mickey Mouse) with this sweet candle complete with a Mickey design in gold or silver!
All Gifts Shop Personalized Stemless Wine Glass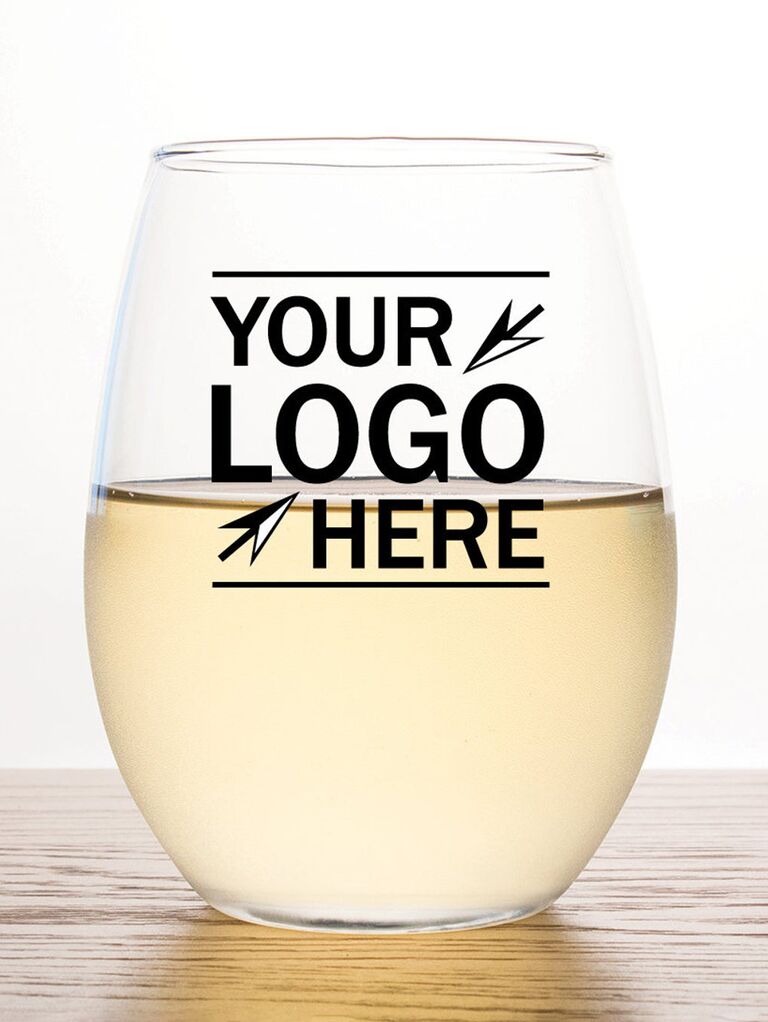 Still not finding a Disney wedding favor that knocks it out of the park? Start thinking outside the box. This set of 24 stemless wine glasses are like blank canvases, meaning you can customize them with your favorite Disney movie quotes or phrases to make them truly yours. (A few of our faves? "Love is a song that never ends," "So this is love ... " and "I look at you ... and I'm home." )
Tannaidhe's Designs "All You Need Is Trust and a Little Pixie Dust" Keychain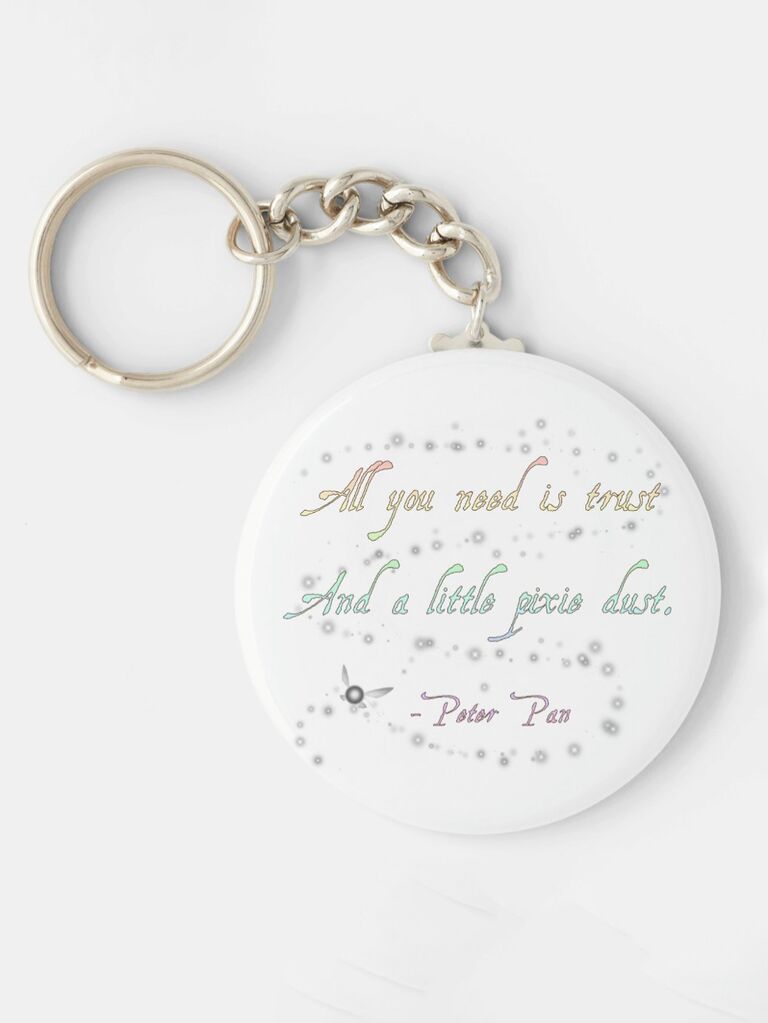 Even as kids, we knew Tinkerbell was a wise old soul. Immortalize one of her best lines forever with this sweet and whimsical keychain, which will remind your guests of Peter Pan's Neverland every time they look at it.
Linen and Pine Designs "Mint to Be" Favor Labels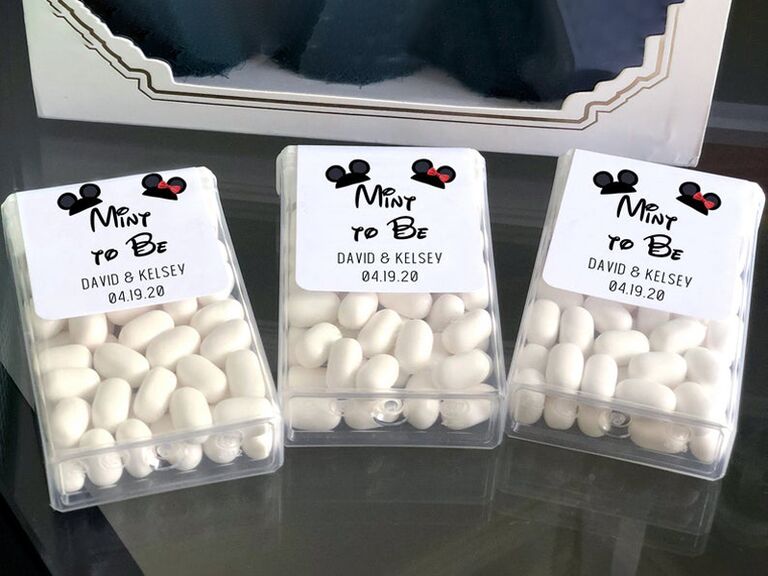 For anyone who appreciates a little play on words, this printable "Mint to Be" Mickey and Minnie Mouse sticker is a fun and cheeky way to personalize any package of candy mints. Hand them out at the wedding reception, stick them in your wedding shower goodie bags, or leave them in a wedding bathroom basket for a little extra something that guests will really appreciate.
The Knot Shop Cinderella's Wedding Carriage Gift Box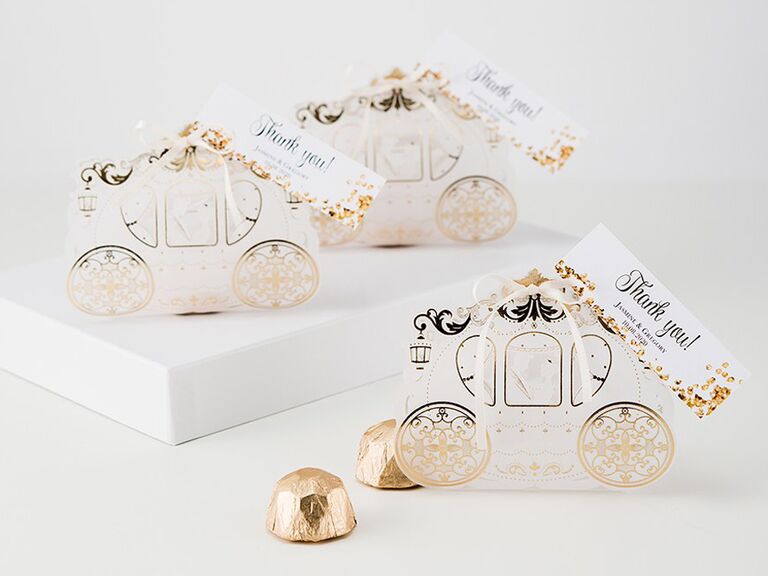 If you're getting lost in an endless stream of wedding favor ideas, it might be best to keep things simple. Buy some individually wrapped candies in bulk (think: Ferraro Rocher or Godiva chocolates), toss them into this sweet wedding carriage favor box and call it a day! (We promise your guests will find it just as magical.)