Be Our Guest With These Enchanted "Beauty and the Beast" Wedding Ideas
It's a tale as old as time.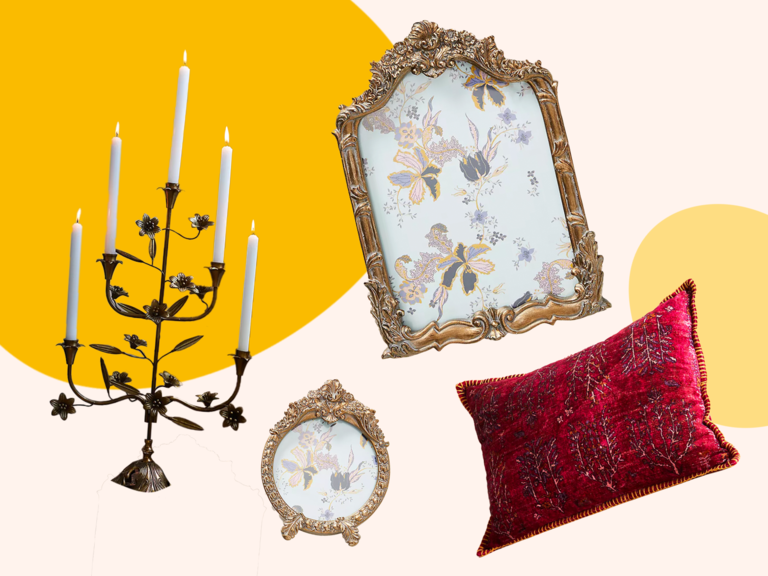 Photo: Anthropologie | Design: Tiana Crispino
We have included third party products to help you navigate and enjoy life's biggest moments. Purchases made through links on this page may earn us a commission.
Red roses, the transformative power of love, ample singing and dancing—there's lots to love about a Beauty and the Beast wedding theme. And it's your lucky day because we've gathered all the best ideas for an elegant "Beauty and the Beast"-themed wedding ranging from wedding cakes to centerpieces and even cake toppers.
It really is a tale as old as time: Beautiful village girl wanders into an enchanted castle and discovers a beast who turns out to be a misunderstood prince with a heart of gold. If you ask us, that's a fun wedding theme if you want a big day packed with "happily ever after" fairytale energy.
The fairytale began as a story written by French author Gabrielle-Suzanne de Villeneuve and published in 1749. More than two centuries later the tale was memorably adapted in 1991 by Disney and then again in 2017 with Emma Watson. In short, it's a tale that's been told and re-told, and is worth revisiting once more.
In this story:
Tips for Planning a "Beauty and the Beast" Wedding
How does one plan a "Beauty and the Beast" wedding theme successfully? We've gathered our top tips to keep in mind as you work your way through your wedding checklist.
Pick an Appropriate Venue
A Beauty and the Beast wedding is inherently romantic and regal—no ordinary wedding venue will do. A storied estate or castle would make an ideal backdrop for this fairytale wedding day. If you're struggling with your wedding venue search, keep these questions in mind while touring prospective spots.
Skip the Dated Storylines
The truth is, not everything about this fairytale is beautiful. Belle is essentially held captive early on and the Beast, while under a spell, exhibits many startling character traits. As with any story or concept that can be turned into a wedding theme, you and your partner should discuss the merits of the idea before proceeding. If you feel the lessons of love and overcoming speak strongly to your partnership, then making an educated decision to choose the fairytale as a wedding theme may be the way to go.
"Beauty and the Beast" Wedding Colors
One look at a still from the movie and it's clear what direction you need to go for "Beaty and the Beast" wedding colors. Rich, deep hues of red should anchor the palette while ivory, gold and black also come into the mix.
"Beauty and the Beast" Wedding Ideas
Now for the eye candy: our favorite "Beauty and the Beast" wedding ideas. From exceptional wedding cakes to elegant wedding bouquets, this is all the inspiration you need to pull of an amazing fairytale wedding.
"Beauty and the Beast" Wedding Cake Ideas
Beyond making your wedding cake look like it belongs in this beloved film, you can also infuse the fairytale into the flavor profile of your dessert. When it comes to "Beauty and the Beast" wedding cake flavors, talk with your baker (who you can easily source from The Knot Marketplace) about what the characters might dine on in the film. Maybe you serve up a bake with Earl Grey buttercream as a nod to Mrs. Potts. Or infuse the cake with rosewater as a nod the one of the tale's most iconic motifs. The "Beauty and the Beast" wedding cake ideas below are the perfect place to start as you dream up this sweet wedding detail.
Romantic Wedding Cake With Sugar Roses
Roses are a central theme in "The Beauty and the Beast" and we've obsessed with this romantic rose-covered wedding cake. Additionally, the dramatic wave-like decorations feel as though they could be swept into a waltz with Belle at a moment's notice.
Dramatic 10-Tier Wedding Cake With Flowers
What does this wedding cake have in common with the fairytale? Romance and drama. The 10-tier white wedding cake with gold accents and a swirl of flowers comprised of roses, orchids and hydrangeas is absolutely stunning.
Regal Black-and-White Wedding Cake With Gold Leafing
There's something so striking about black wedding cakes. The juxtaposition of this wedding cake reminds us of the themes are darkness and love woven throughout Belle and the Beast's journey.
Striking Wedding Cake With Cascade of Ombré Roses
More roses, always. We can decide which part of this wedding cake we like more: the epic gold cake stand or the cascade of roses flowing down the front of the four-tier wedding cake.
Ornate Black Wedding Cake With Gold Filigree
Can't you just imagine this towering masterpiece inside the "Beauty and the Beast" castle? While we're proud of these grooms for cutting into the beautiful work of art, we'd be too afraid to even touch such a stunning work of art.
Beautiful Ruffled With Cake on Rose Cake Stand
This bed of roses is living in our minds rent-free. While the ruffles of the cake are stunning on their own, the base of fresh roses takes the entire look from great to perfect.
Pretty White-and-Gold Wedding Cake With Red Roses
Elegant, whimsical, stunning—any and all of these words could be used to describe this cake that would be perfect for a "Beauty and the Beast"-themed wedding. Needless to say, we're in love.
"Beauty and the Beast" Wedding Centerpieces
If you're taking cues from the fairytale then there are two non-negotiables: candles (ideally in a candelabra) and a cloche. Plan your "Beauty and the Beast" wedding centerpieces as though you're getting ready to sit down with Chip and Lumière for dinner in the castle.
Red Flower Arrangement With Roses in Black Vase
While red will likely anchor your "Beauty and the Beast" wedding color scheme, that doesn't mean the palette has to feel flat or one-note. We love how this tonal flower arrangement played with different shades of pink, red and dark red.
Glass Tabletop With Rose Centerpiece
Is this not the definition of romance? Stems of roses, surrounded by rose petals, ran the length of this glass-topped wedding reception table.
Vintage Book Centerpiece With Teacup
Invite Chip to be part of your "Beauty and the Beast" wedding centerpiece design. Bonus points if you place antique tea cups atop beautiful vintage copies of the fairytale.
Romantic Gold Candelabra Wedding Centerpiece
Lumière would be proud of this candelabra-centric wedding centerpiece design. This look is also a good reminder that a "Beauty and the Beast" wedding theme can be integrated into a rustic wedding, it isn't reserved for classic and traditional style weddings alone.
Centerpiece With Red Roses and Acrylic Candelabras
Acrylic candelabras brought a modern edge to this otherwise classic and romantic tablescape. Since red roses are so visually commanding, the couple chose to temper the design with white and clear accents.
Rose Centerpiece With Glass Cloche Table Number
In addition to being appropriate for a "Beauty and the Beast" wedding theme, cloches also happen to be incredibly practical. Need proof? These cloche table numbers are as informative as they are beautiful.
Tall Centerpiece With Red Roses
Maximalist couples, this look is for you. The decorations for a "Beauty and the Beast"-themed wedding needs to balance romance and drama, something this tall centerpiece design does seamlessly.
"Beauty and the Beast" Wedding Bouquet Ideas
Red roses are nearly synonymous with this fairytale so we're in favor of the iconic bloom as an anchor to your "Beauty and the Beast" wedding bouquet. Struggling to find an expert wedding florist to bring your fairytale flower arrangements to life? The Knot Marketplace is a great place to research pros in your area.
Vibrant Pink-and-Red Bouquet With Rose, Ranunculus and Peony Blooms
While roses are canon when it comes to "Beauty and the Beast," the lush petal structure of peonies is something romantic we can't overlook. This arrangement of roses and peonies is absolute fire.
Romantic Pink Bouquet With Rose, Peony and Scabiosa Blooms
You know what flower doesn't get enough air time? Scabiosa—it's a moody, dramatic flower with a spinney appearance that reminds us of the Beast.
Elegant White Rose Bouquet With Long Stems
Don't fret if you're not a fan of red. You don't have to go with red roses in order to pay homage to the fairytale with roses. This bride carried a flower arrangement composed entirely of white roses. And she had the floral designer keep the stems long which gave it a just-pick-from-the-garden feel.
Dreamy Bouquet With Roses and Lamb's Ear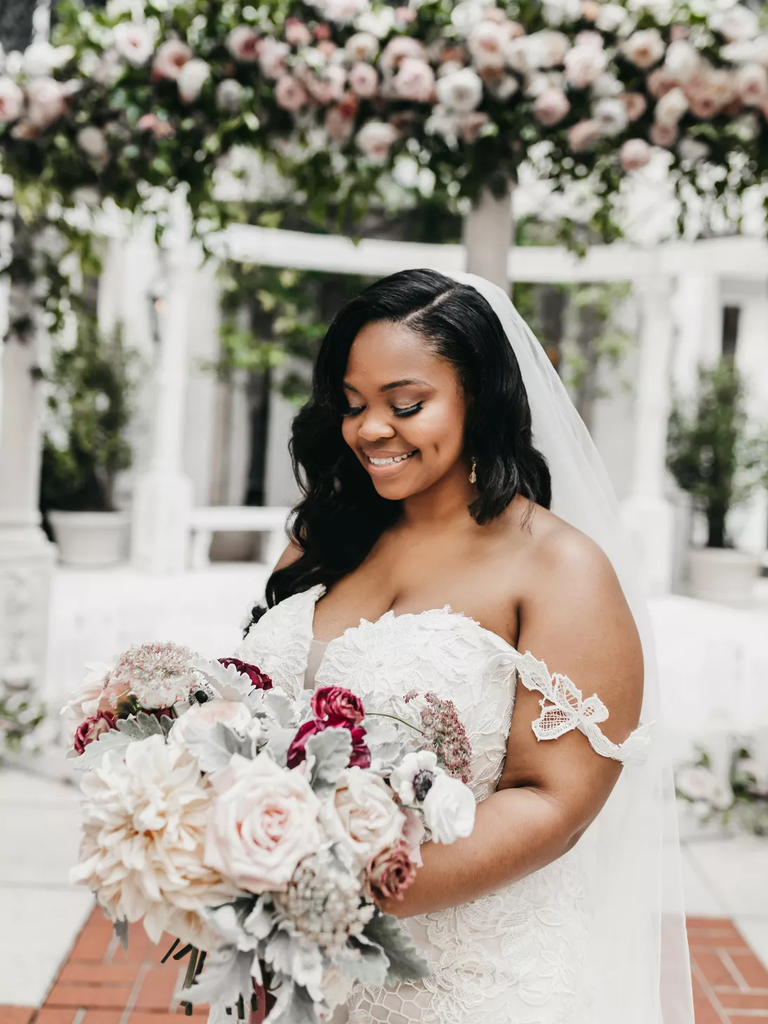 What's not to love with this look? Dahlias, anemones, ranunculus are arranged harmoniously between feathery soft lamb's ear leaves in this romantic arrangement.
Red-and-White Wedding Bouquet With Roses and Scabiosa
When you're thinking of a "Beauty and the Beast" wedding theme you mind might go directly to winter wedding. However, we're here to tell you that you can just as easily honor the fairytale during warmer months, as evidenced by this summer wedding bouquet.
Dramatic Purple-and-Pink Wedding Bouquet With Greenery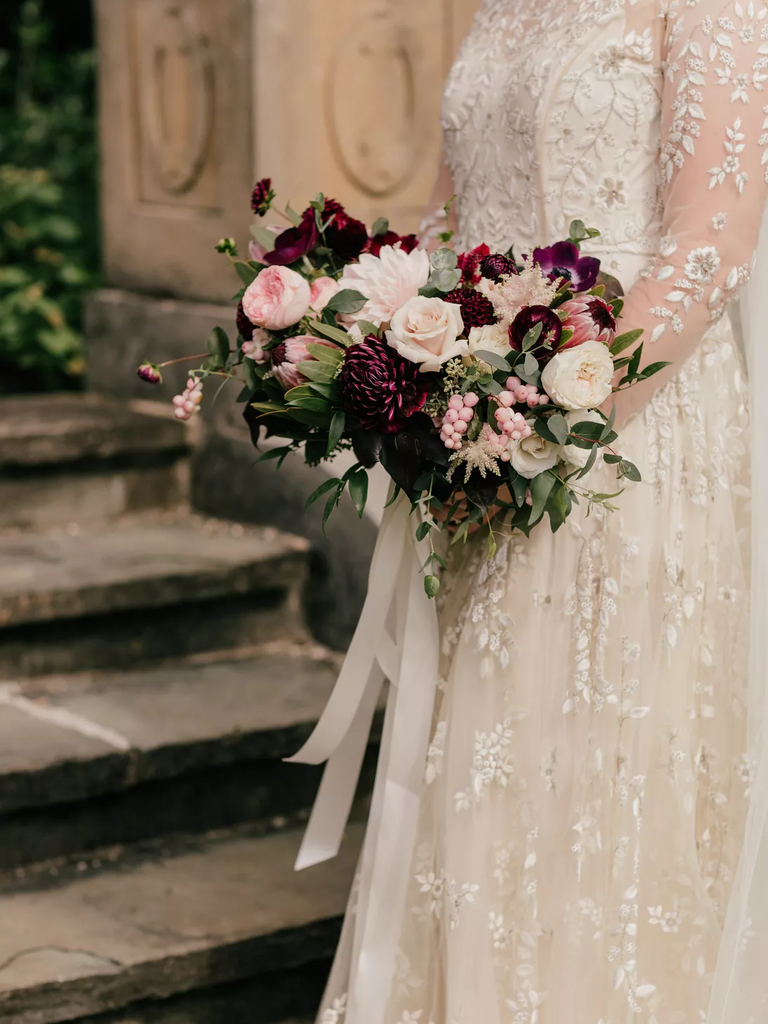 Let's call this our beauty-from-darkness design. The deeper shades of purple in this wedding bouquet remind us of some of the darker and more dramatic themes in "Beauty and the Beast" that ultimately lead to the happy ending.
Magnificent Yellow Wedding Bouquet With Daffodils
Another significant "Beauty and the Beast" wedding color? Yellow—The yellow notes in this bouquet remind us of Belle's gown from the film.
"Beauty and the Beast" Wedding: What You Need
If the inspiration has you thoroughly convinced that a "Beauty and the Beast" wedding is right for you then you'll need some supplies to bring the special day together. Here is a detailed list of exactly what you need for a Belle-inspired fairytale wedding fit for the silver screen.
"Beauty and the Beast" Wedding Cake Toppers
You know what makes a wedding cake ever sweeter? An on-theme wedding cake topper. Cake toppers are an easily overlooked wedding detail, but they're also a great spot to really have some fun with reinforcing your wedding theme.
Elegant Black Glitter Silhouette Cake Topper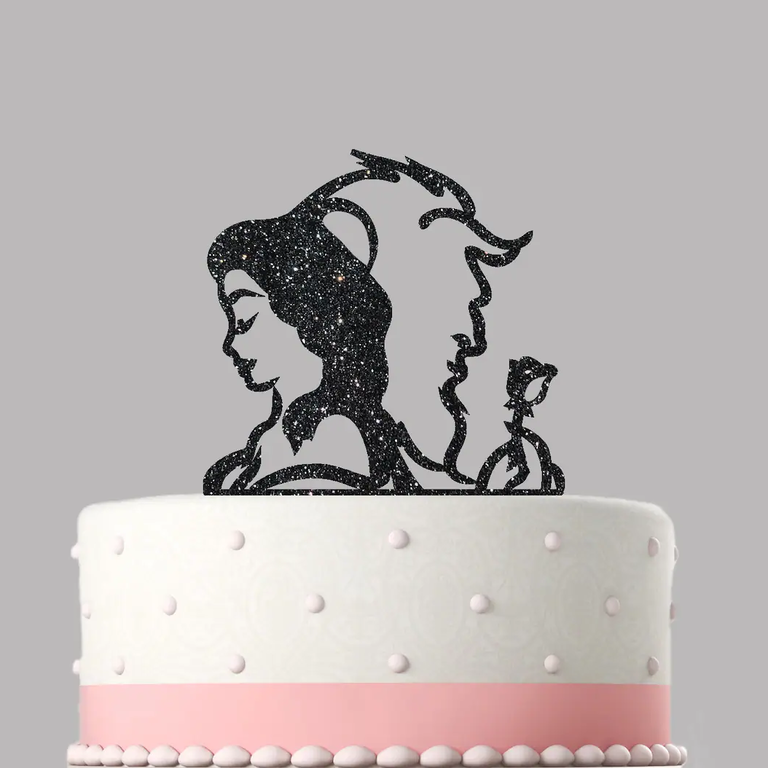 Although colors like red and yellow are prevalent in most "Beauty and the Beast" wedding decorations, don't be afraid to lean into a black-and-white color palette if that's more your speed. If you're planning a classic or glam wedding, this refined silhouette cake topper is the finishing touch your wedding cake needs.
Minimal Abstract Gold Rose Cake Topper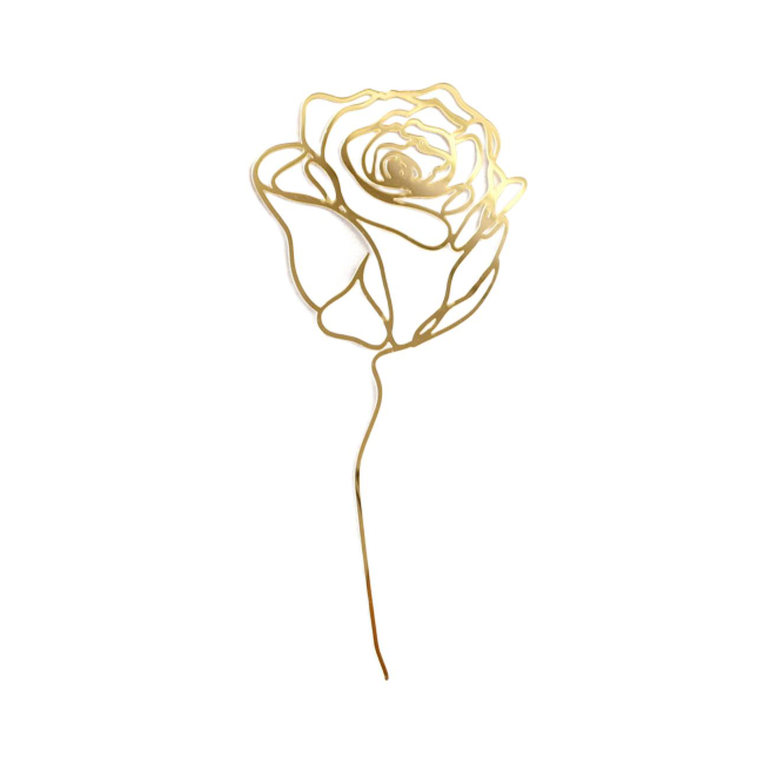 Worried that your "Beauty and the Beast" wedding theme will be too on-the nose? Consider this subtle cake topper—It pays homage to the fairytale in an understated and elegant way.
"Tale as Old as Time" Gold Glitter Cake Topper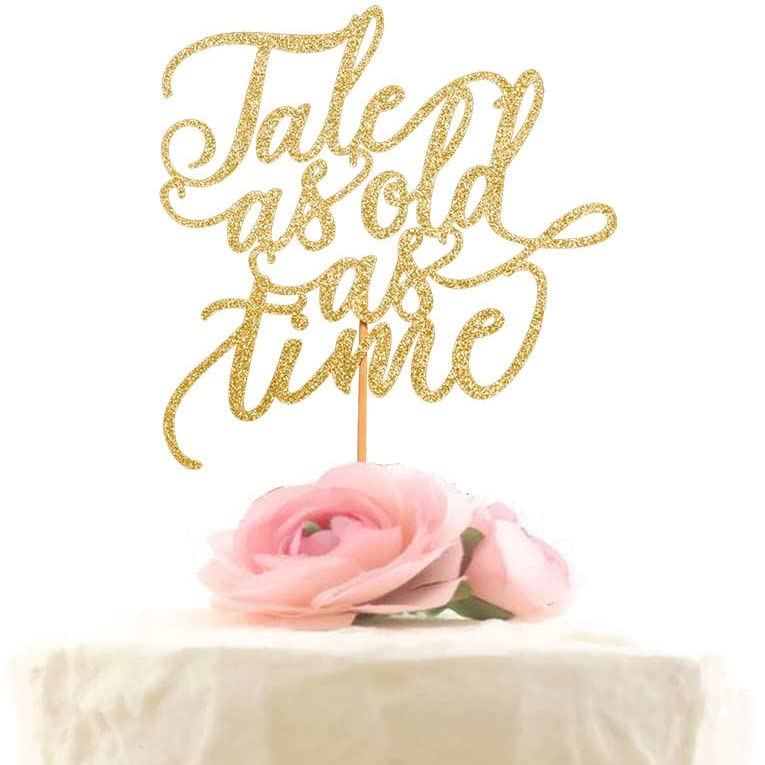 "If it's not Baroque, don't fix it," Cogsworth famously said. Well that applies to the iconic phrase "tale as old as time" as well. There's a reason those words sung by Celine Dion are so beloved and used throughout wedding cake topper and decor ideas—they're absolutely heartwarming.
Whimsical Custom Silhouette Wedding Cake Topper
Looking for a customizable wedding cake topper that still fits the theme? This personalized silhouette design is for you.
Romantic Candelabra Wedding Cake Topper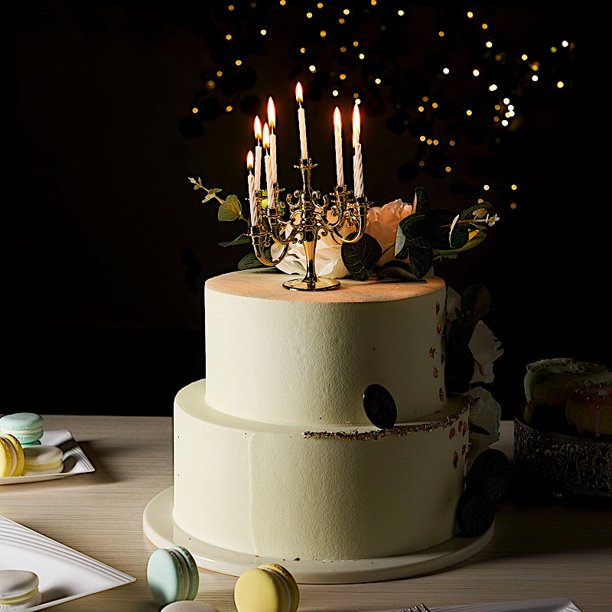 Lumière on a wedding cake? Sign us up! For bonus points, flank your wedding cake with full-size candelabras to decorate the wedding cake table.
Personalized Enchanted Rose Wedding Cake Topper
Customize the iconic enchanted rose motif for your wedding with your last name and wedding date to mark the occasion.
"Beauty and the Beast" Wedding Table Decorations
"Be our guest" is the famous lyric belted by Lumière, but you know what comes after? "Put our service to the test. Tie your napkin 'round your neck, cherie. And we'll provide the rest." But in order to successful provide the rest, there are a few things you'll need to buy, from table numbers to centerpiece supplies, to curate the perfect tablescape for a "Beauty and the Beast"-inspired wedding.
Lumière-Inspired Brass Candelabra
We can practically hear this candelabra reciting Lumière's words: "Try the gray stuff, it's delicious! Don't believe me? Ask the dishes!"
Enchanted Rose Cloche Decoration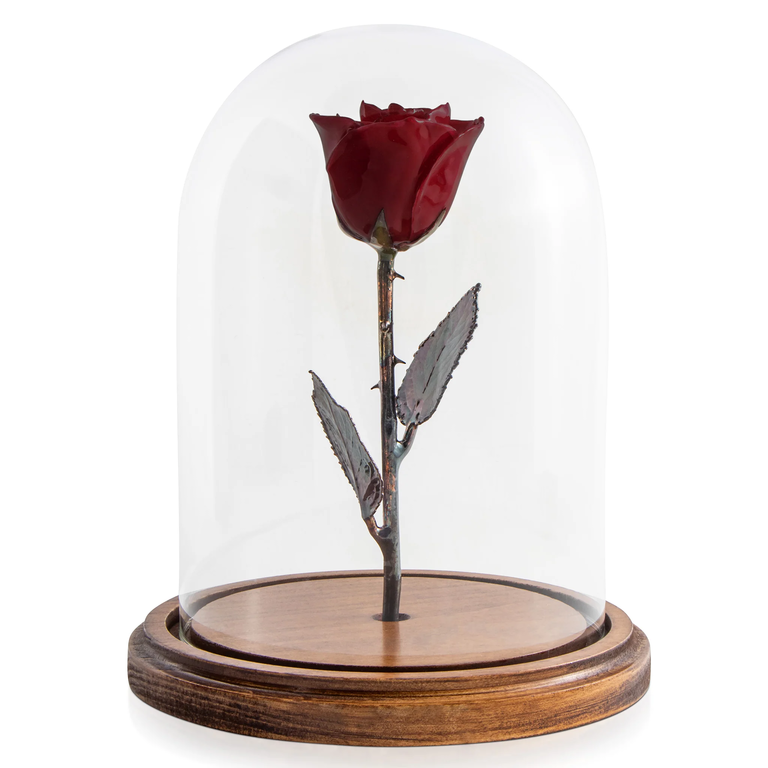 No "Beauty and the Beast" wedding would be complete without a red rose preserved under a glass cloche. This is a real rose that's been preserved in copper and lacquer—it will last long after the wedding is complete and can serve as a fun decoration in your newlywed home.
Chip-Inspired Teacup Decoration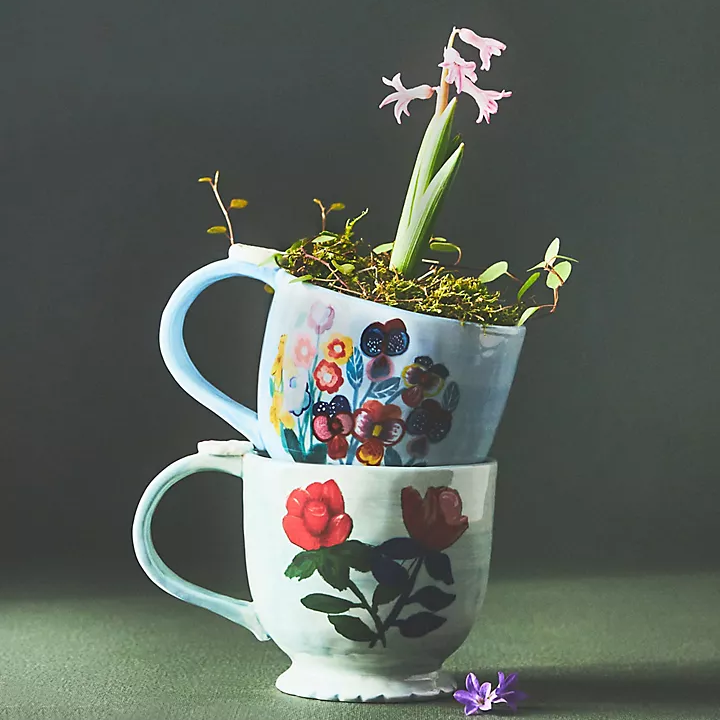 Give Chip a place on your table by using ornate tea cups as vessels for flower arrangements. We're especially partial to this idea if you're hosting a brunch wedding reception.
Dramatic Rose Acrylic Charger Plate
More roses, always, is the name of the game with a "Beauty and the Beast" wedding. How fun are these acrylic chargers for a modern wedding reception tablescape?
Colorful Twisted Taper Candles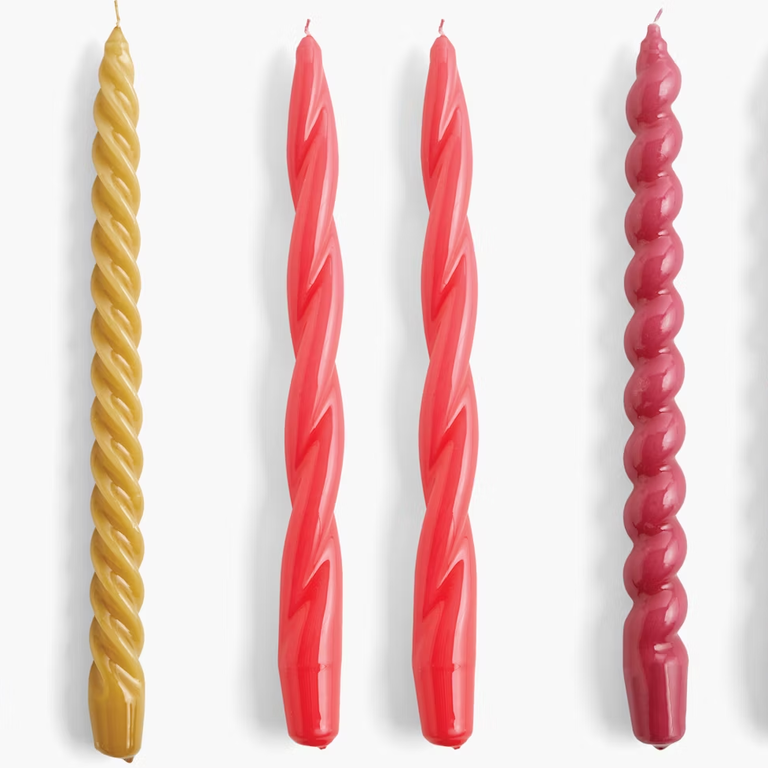 Once you've sourced epic candelabras for your fairytale wedding reception, you need just-as-amazing taper candles to complete the look. These colorful wax designs put a twist, literally, on traditional taper candles.
Additional "Beauty and the Beast" Wedding Decorations
After you've shopped for cake toppers and centerpiece accents, you're nearly all done sourcing materials to decorate your wedding reception and wedding ceremony for the "Beauty and the Beast"-inspired party. This finishing touches are the icing on the cake for your Disney fairytale wedding decorations.
Red Velvet Pillow for Reception Lounge Area
It's the little details, like cushions to accent your reception lounge seating, that will really drive home your wedding theme and show off your attention to detail. Plus, this velvet pillow can be repurposed as decor in your newlywed home after the wedding.
Moody, Dramatic Embroidered Throw Pillow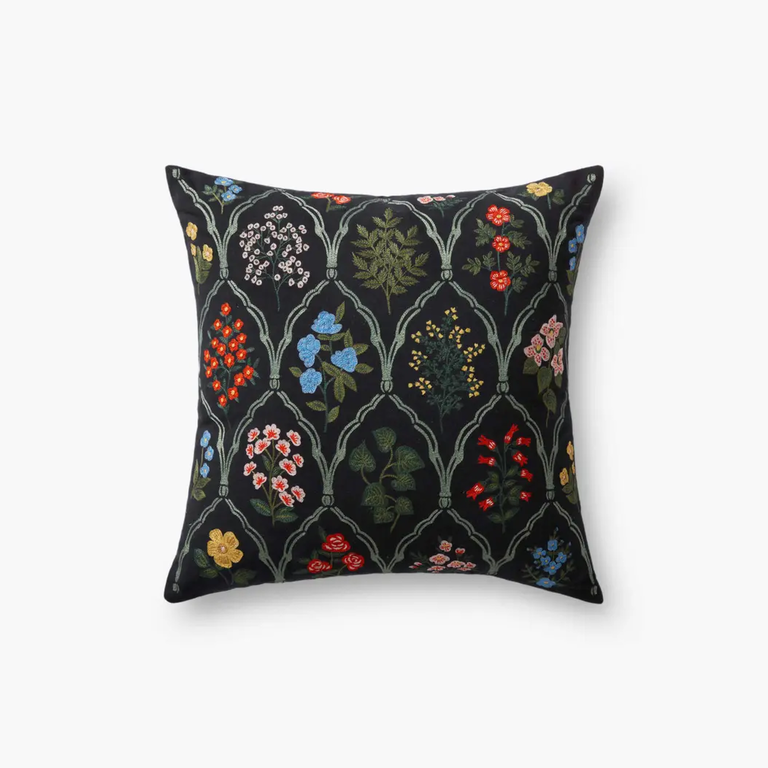 You can never have too many throw pillows, right? Keep your red velvet pillow company with this stunning embroidered pillow.
Ornate Picture Frame
So this isn't a mirror like the one Belle gives the Beast when she famously says, "Take it with you so you'll always have a way to look back and remember me," Belle told the Beast. However, we love the idea of infusing this sentiment into a photo display of deceased loved ones you aren't able to celebrate the special day.
"Be Our Guest" Wedding Sign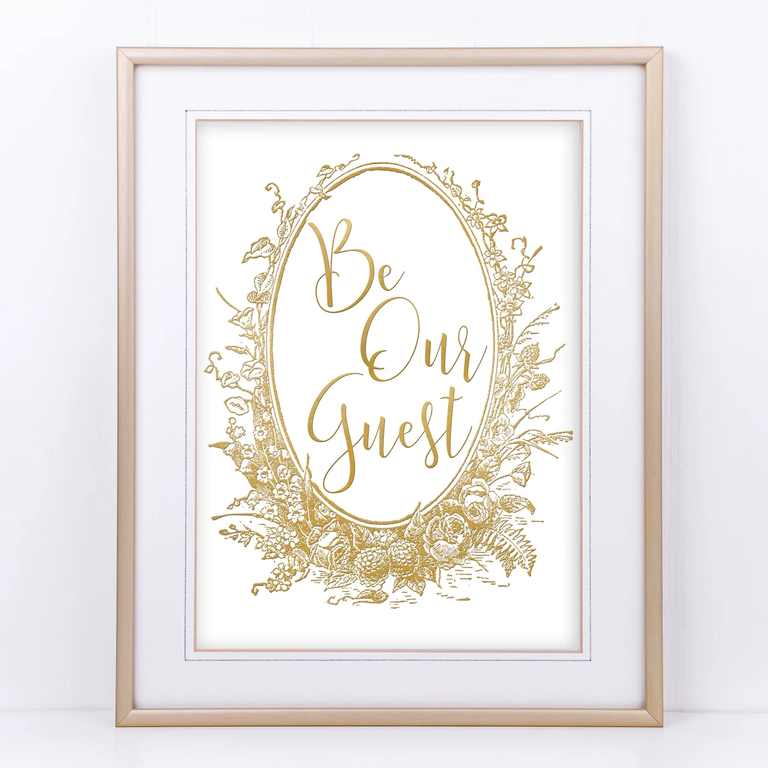 Show off your theme from the onset with a cool wedding welcome sign. Use this art piece as a wedding welcome sign to greet loved ones upon arrival at the wedding.
Ornate Enchanted Rose Card Box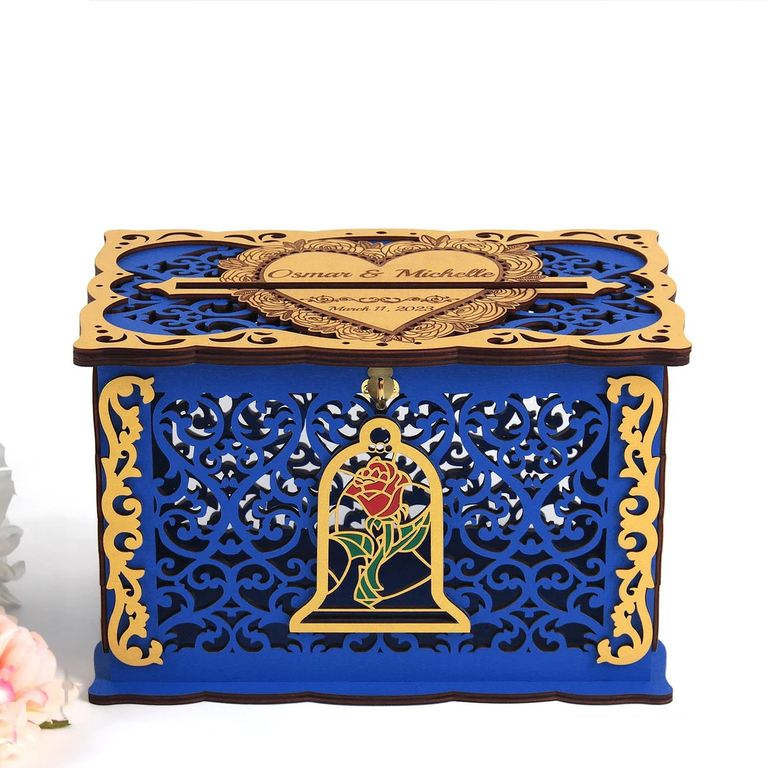 A card box is a great place to house all the cards you receive on the wedding day. After all, you don't want to misplace any of the well-wishes guests bring to share with you.
Whimsical "Be Our Guest" Guest Book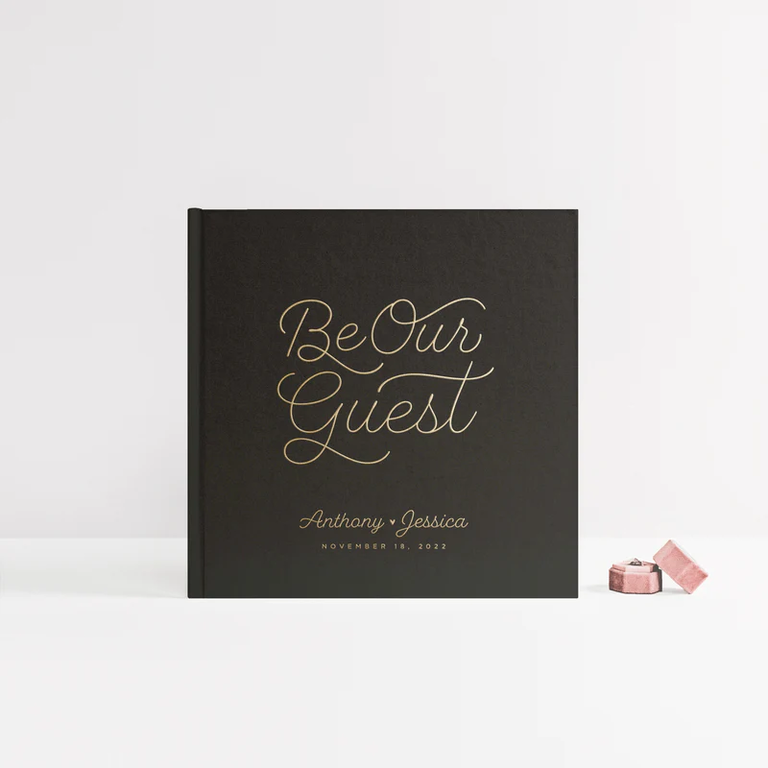 The best way to remember all the loved ones you invited to be your guest on the big day is to encourage them to leave a note in a special guest book. We love how on-theme this one is with it's "Beauty and the Beast" quote gracing the front cover in metallic lettering.
Romantic Gold Glass Cake Stand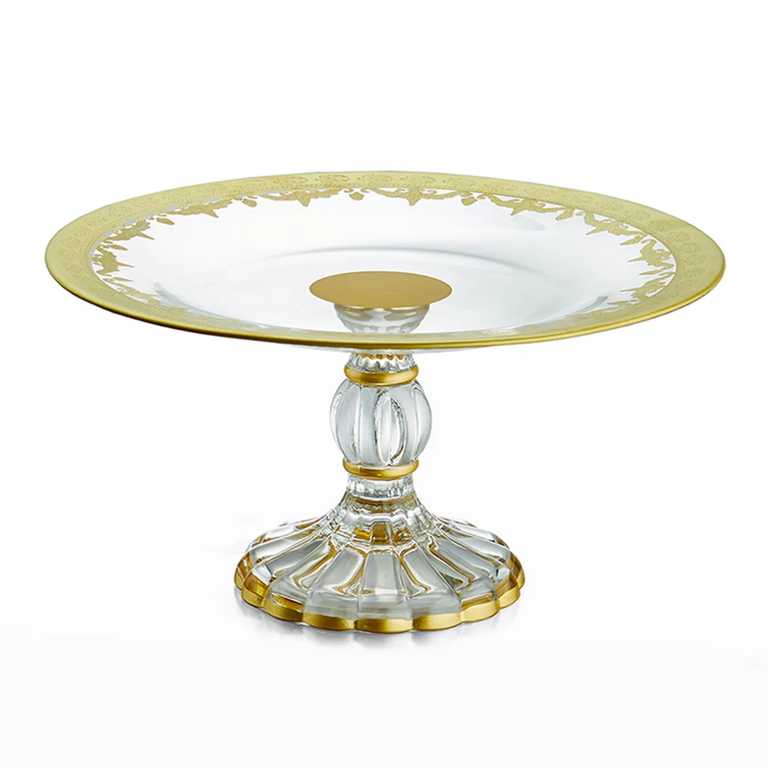 If you're going to buy a thematic cake topper, don't stop there—your wedding cake deserves all the accessories, bells and whistles out there to make it shine. This gold glass cake stand is an elegant finishing touch for your dessert.