35 Wedding Cake Toppers for Every Couple's Style
There's an accent perfect for your and your future spouse's sweet right here.
We have included third party products to help you navigate and enjoy life's biggest moments. Purchases made through links on this page may earn us a commission.
What's a major statement piece that's going to make your sweets table stand out? A wedding cake topper, of course. When it comes to these stylish dessert decorations, there's quite a lot to choose from. So we've scoured through thousands of options and found the most gorgeous ones for the wedding day, engagement parties and bridal shower.
From sophisticated and romantic to playful and fun, these are the unique wedding cake toppers that will make your reception dessert a total showstopper.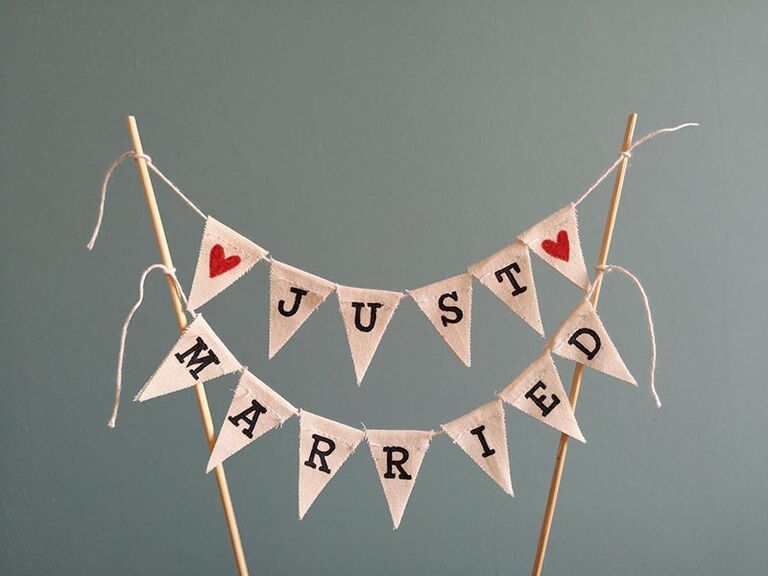 Position a charming "Just Married" bunting banner on your cake and cue the oohs and ahhs.
2 Doors Down Design Just Married bunting banner wedding cake topper, $15, Etsy.com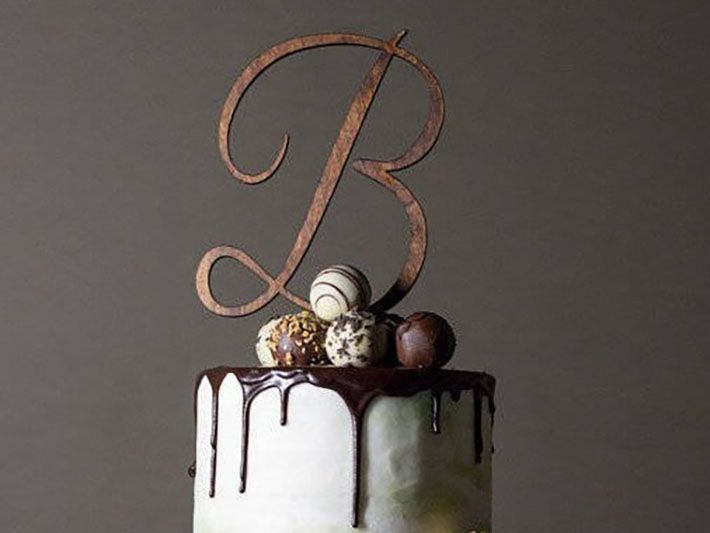 Simple and elegant, this wooden monogram cake topper is perfect if the couple will share a last name post-wedding.
Fulton Craft wooden calligraphy monogram cake topper, $25 and up, Etsy.com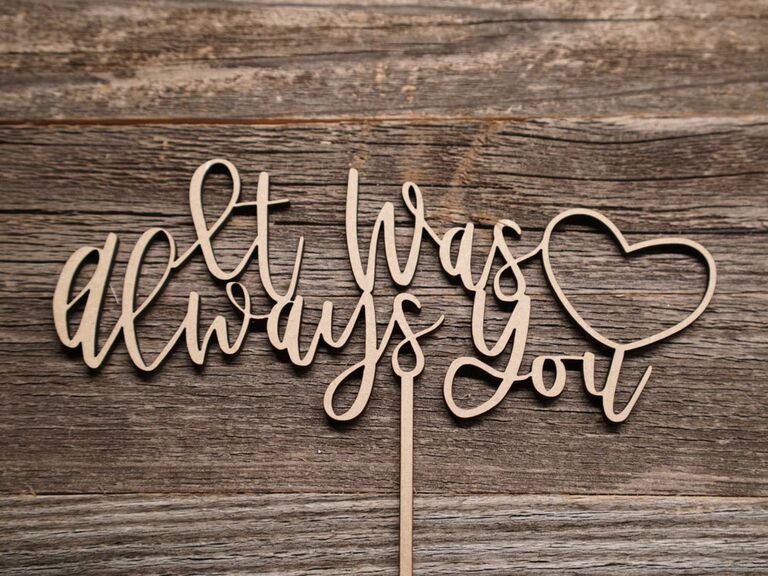 Put your love on display with a wedding cake topper that proves it was meant to be.
Blushwood Co It Was Always You wedding cake topper, from $16, Etsy.com
The wedding cake topper is an opportunity to show off your shared interests. Star Wars lovers take note!
Frog Studio Home Star Wars wedding cake topper, $40, Amazon.com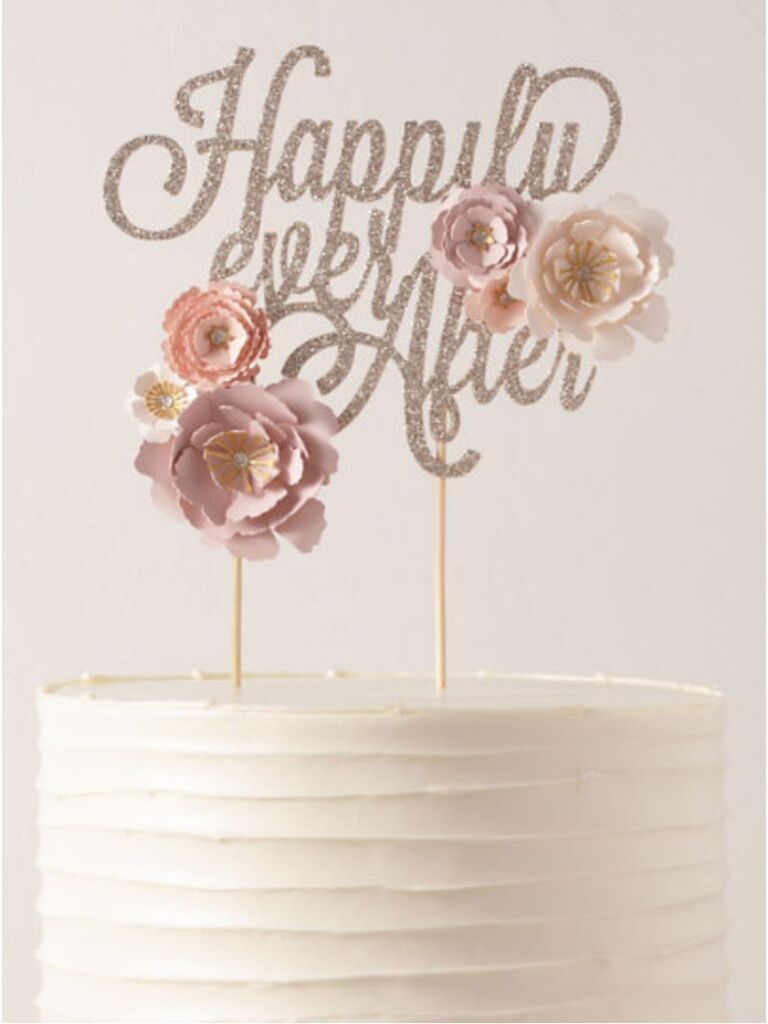 If you're looking for a touch of retro glamour, this glittery floral wedding cake topper will make you completely happy.
May Contain Glitter Happily Ever After cake topper, $84, BHLDN.com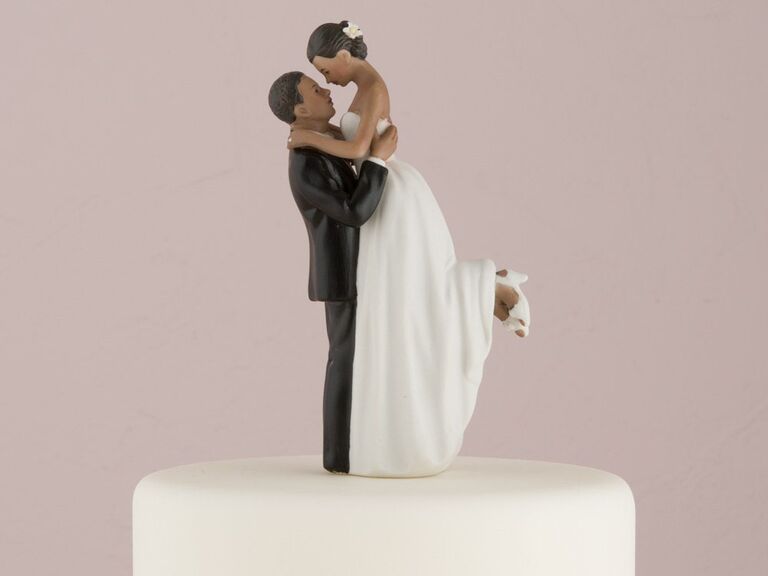 If you want to go for a true classic, choose figurines to adorn your cake. These ones are available in several different skin tone options.
The Knot Shop True Romance bride and groom cake topper figurine, $40 and up, TheKnotShop.com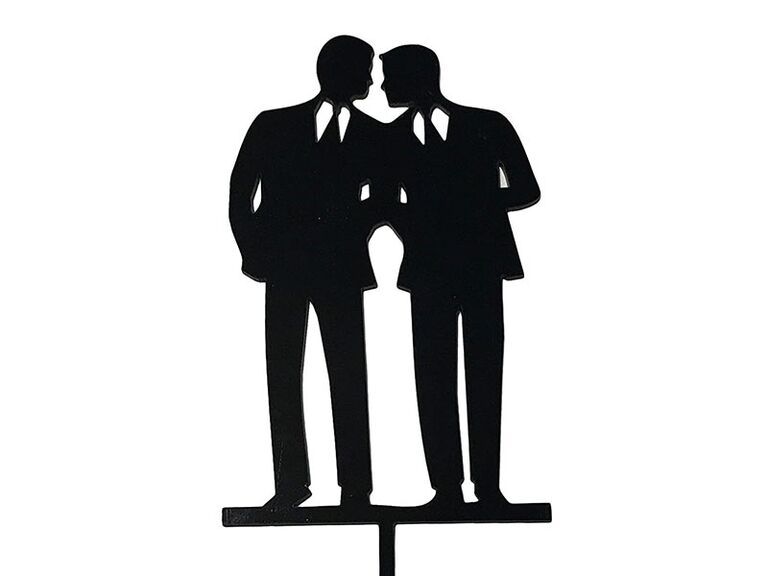 A laser-cut couple is the perfect wedding decor choice. We love the minimalist design.
JennyGems silhouette wedding cake topper, $13, Amazon.com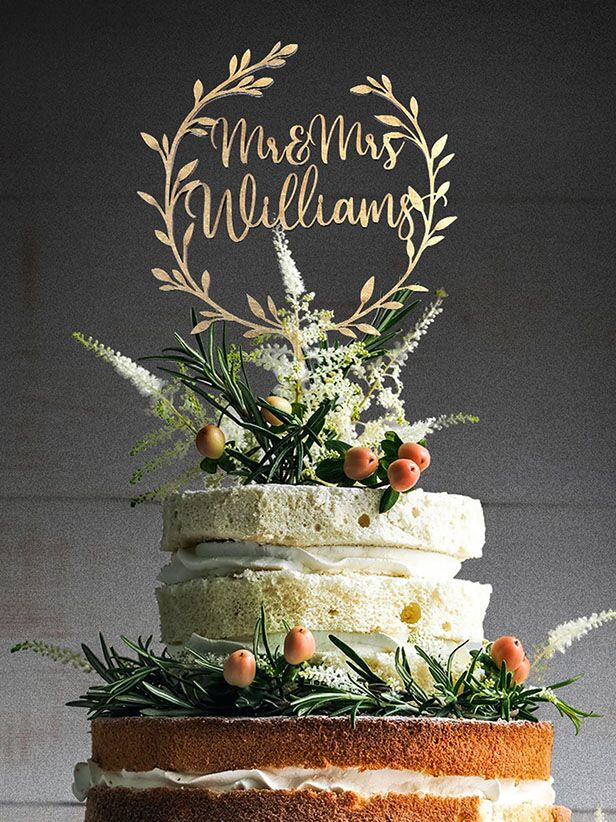 A pretty wreath not only symbolizes your new bond but spells it out for guests on this elegant yet rustic wedding cake topper.
All Cake Toppers for You personalized cake topper with rustic wreath, $12 and up, Etsy.com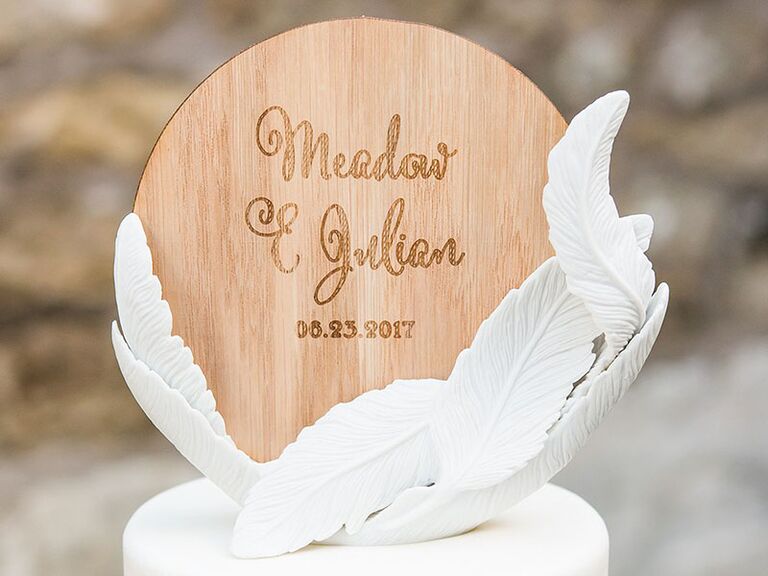 White porcelain feathers are paired with carved personalized veneer, creating quite the gorgeous visual contrast.
The Knot Shop porcelain feather cake topper with personalized wood disk, $30, TheKnotShop.com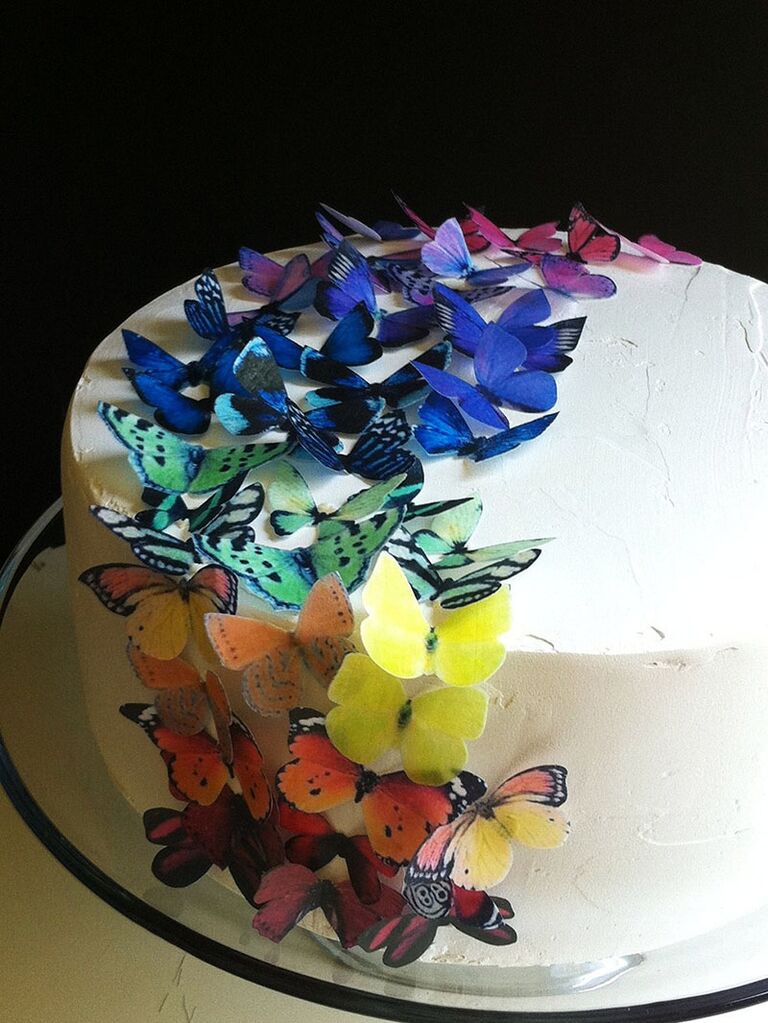 Edible butterflies are a colorful way to accent a cake or cupcakes, as well as to make a nod to nature.
Sugar Robot edible butterflies, $16, Etsy.com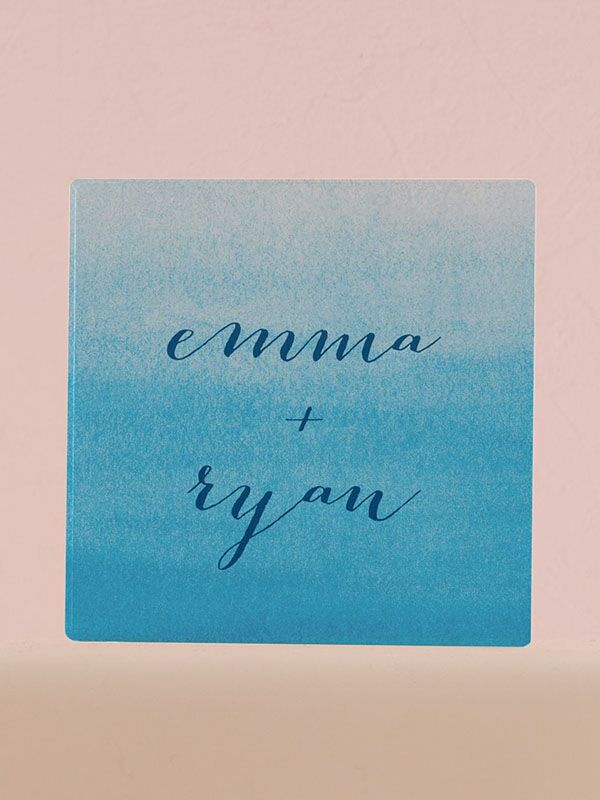 How about a cake topper for your something blue? This personalized ombre acrylic block is a truly modern take on cake decor.
The Knot Shop Aqueous personalized acrylic block cake topper, $30, TheKnotShop.com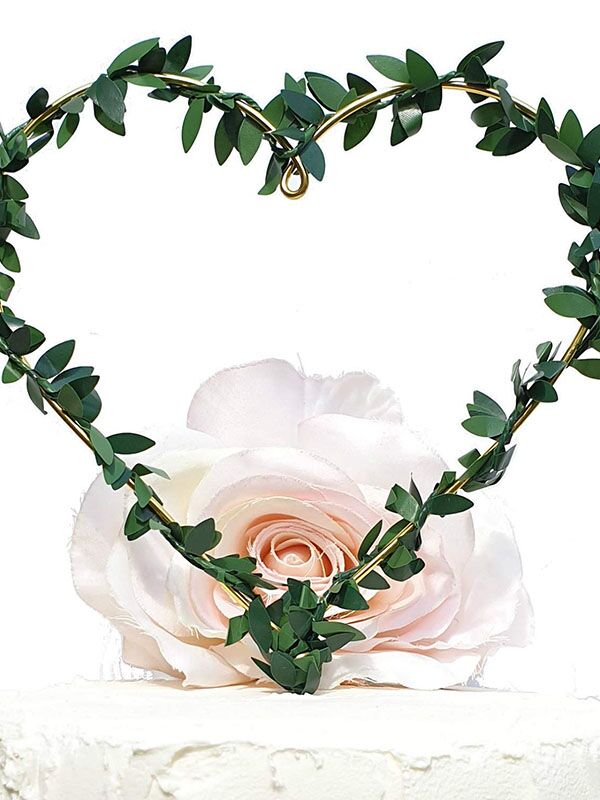 We heart this pretty silk-leaf cake topper, ideal for an outdoorsy wedding reception.
AntoArts heart wreath wedding cake topper, $25, Amazon.com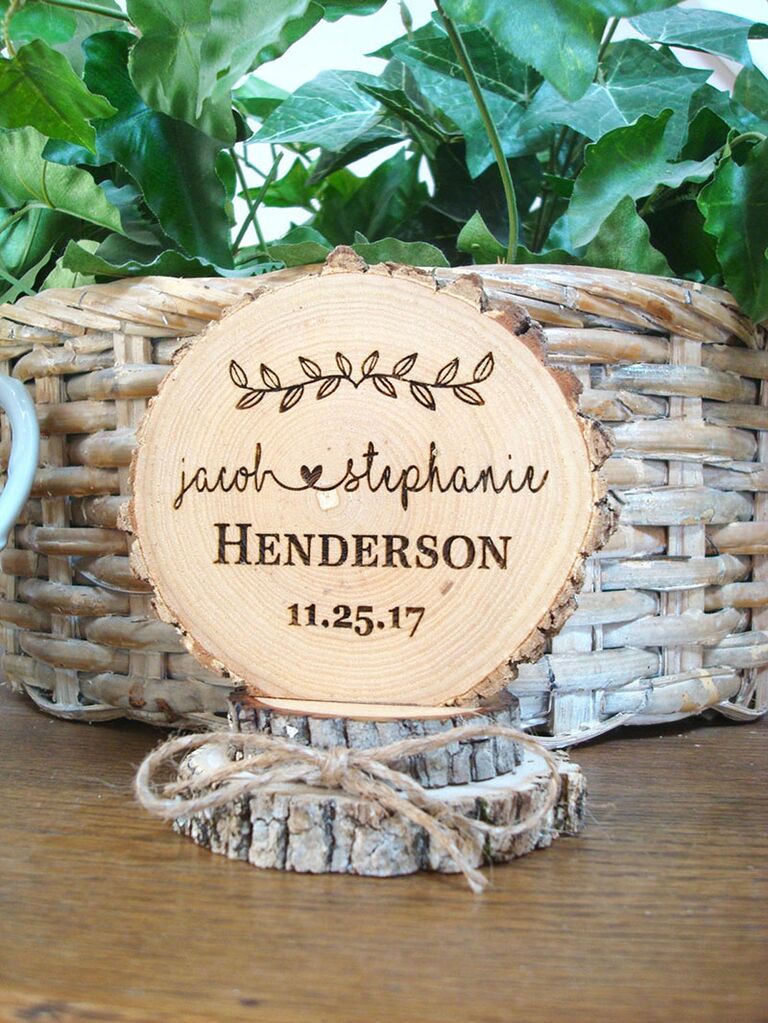 Have your names and wedding date engraved on wood to symbolize how your love will grow for years to come.
Sweet Home Woods rustic engraved wood custom wedding cake topper, $35, Etsy.com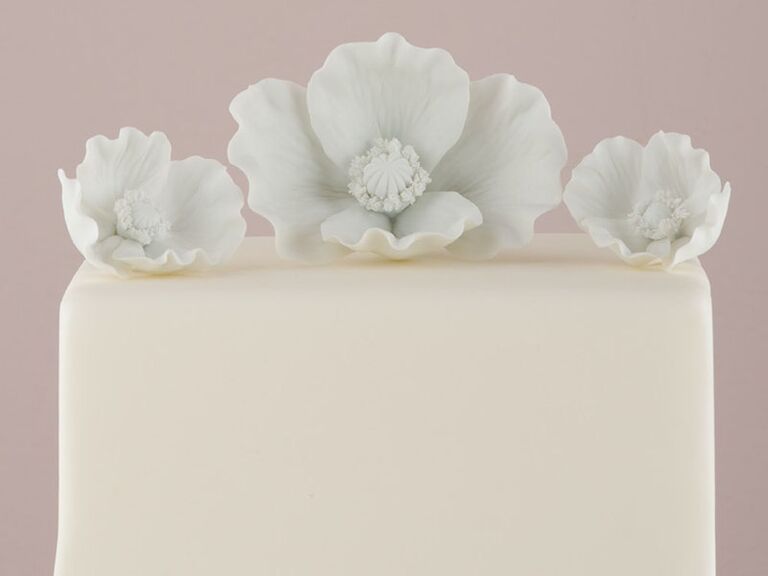 Porcelain flowers are a romantic and wilt-proof way to top a traditional wedding cake.
The Knot Shop white porcelain poppy blooms, $20, TheKnotShop.com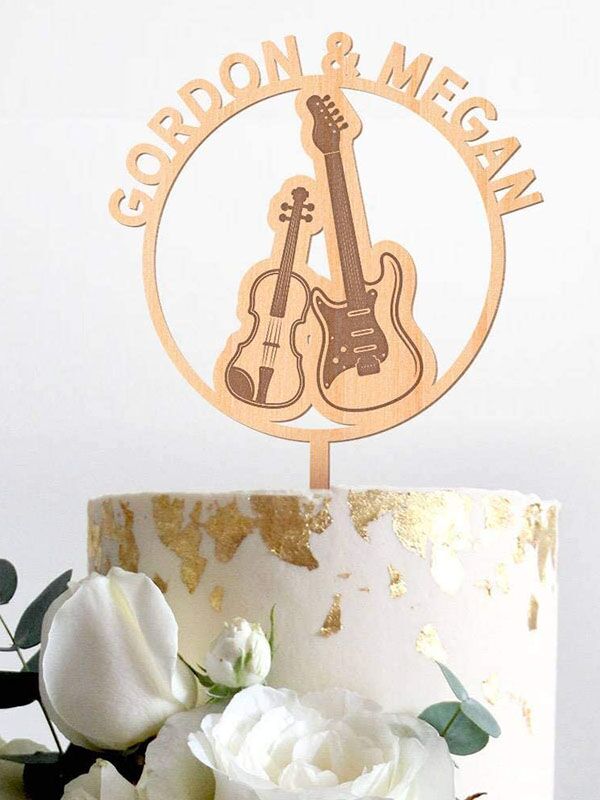 For all those music-loving couples out there, a personalized wedding topper with instruments is just the ticket.
Center Gifts carved guitar custom cake topper, $29, Amazon.com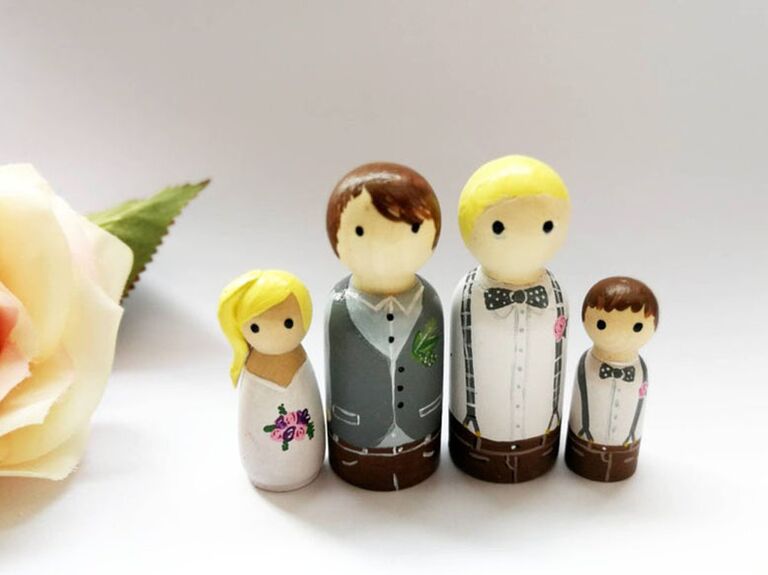 How utterly adorable are these wooden couples, custom made to look like you and your future spouse? You can even add pets and kids! They're so detailed right down to the hair colors and even the outfits!
Two Kissing Fish personalized couple cake toppers, $39 and up, Etsy.com
The epitome of a rustic wedding cake topper, this three-piece wood-slice set is just so charming.
Amazon rustic wood wedding cake topper set, $20, Amazon.com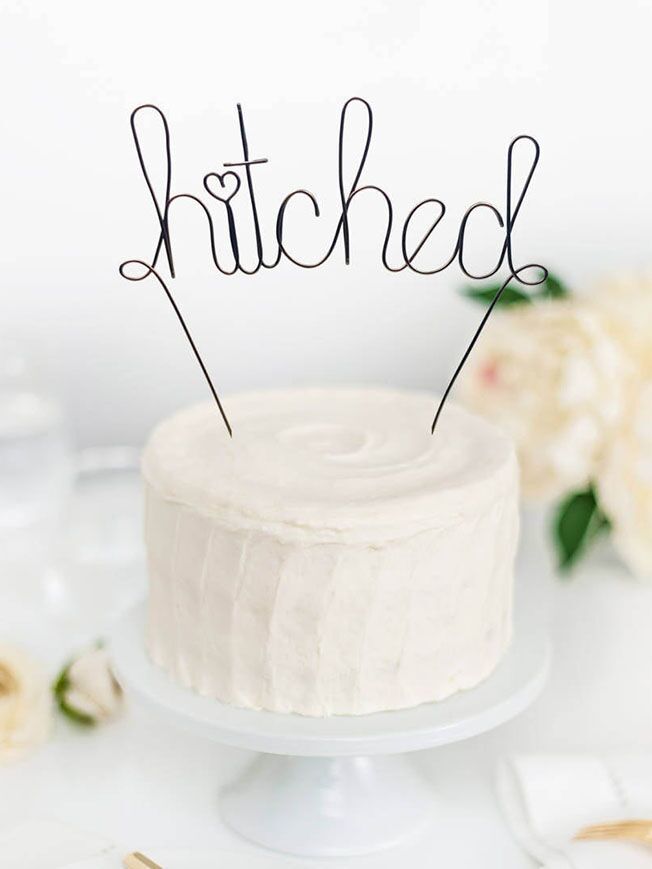 Declare to the world (or your guests, at least) that you're officially hitched with this adorable wire wedding decoration.
Blue Brides LLC hitched cake topper, $38, Etsy.com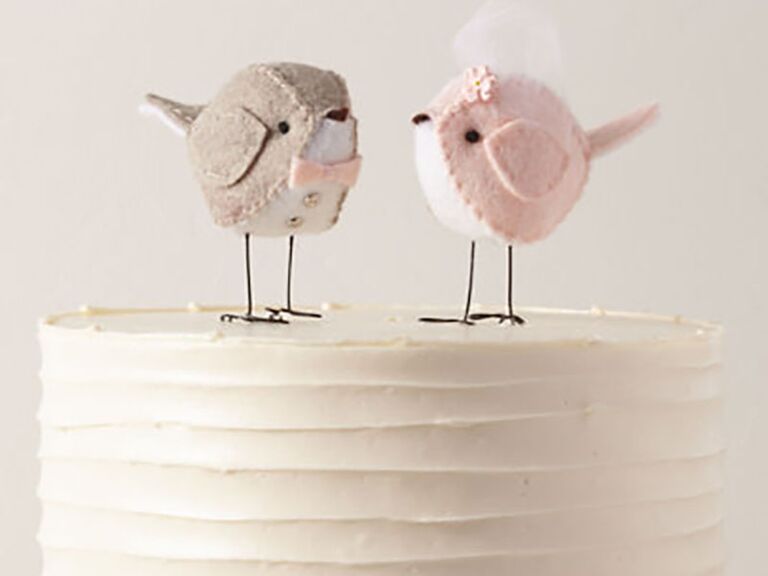 These adorable felt love birds come decked with a bow tie and veil. So sweet!
Cinnamon Birds love birds cake toppers, $128, BHLDN.com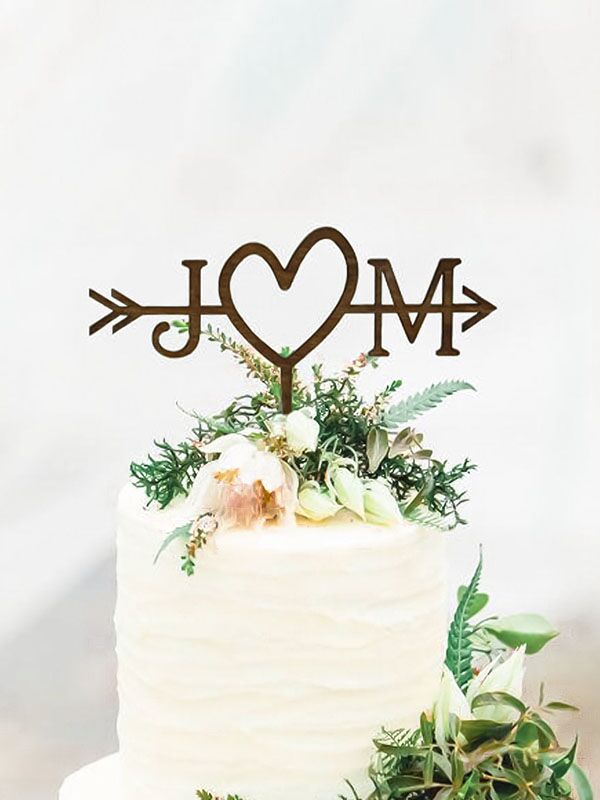 What's more romantic than a personalized cake topper that signifies that Cupid has struck?
Wedding Pros initials with arrow rustic wedding cake topper, $14 and up, Etsy.com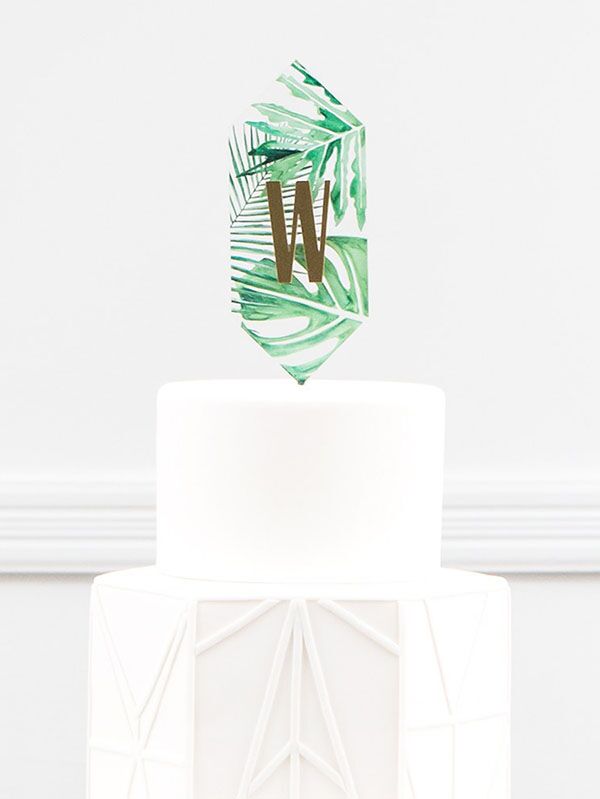 Possibly one of the most unique cake toppers on this list, this one charmed us with its tropical greenery and sleek shape. Well-suited for a chic beach wedding.
The Knot Shop greenery-motif monogrammed acrylic cake topper, $30, TheKnotShop.com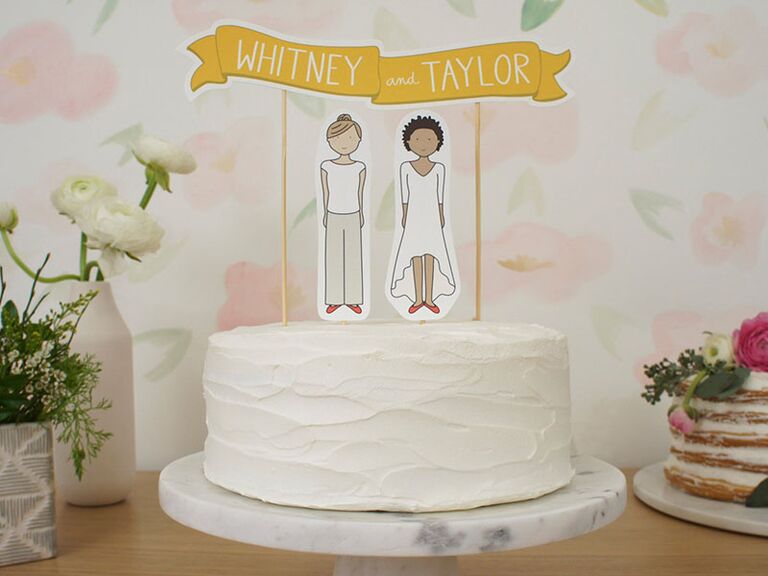 This cardstock wedding cake topper is created to look like you and your future spouse. Totally makes us nostalgic for paper dolls!
ReadyGo custom wedding cake topper cards, $35, Etsy.com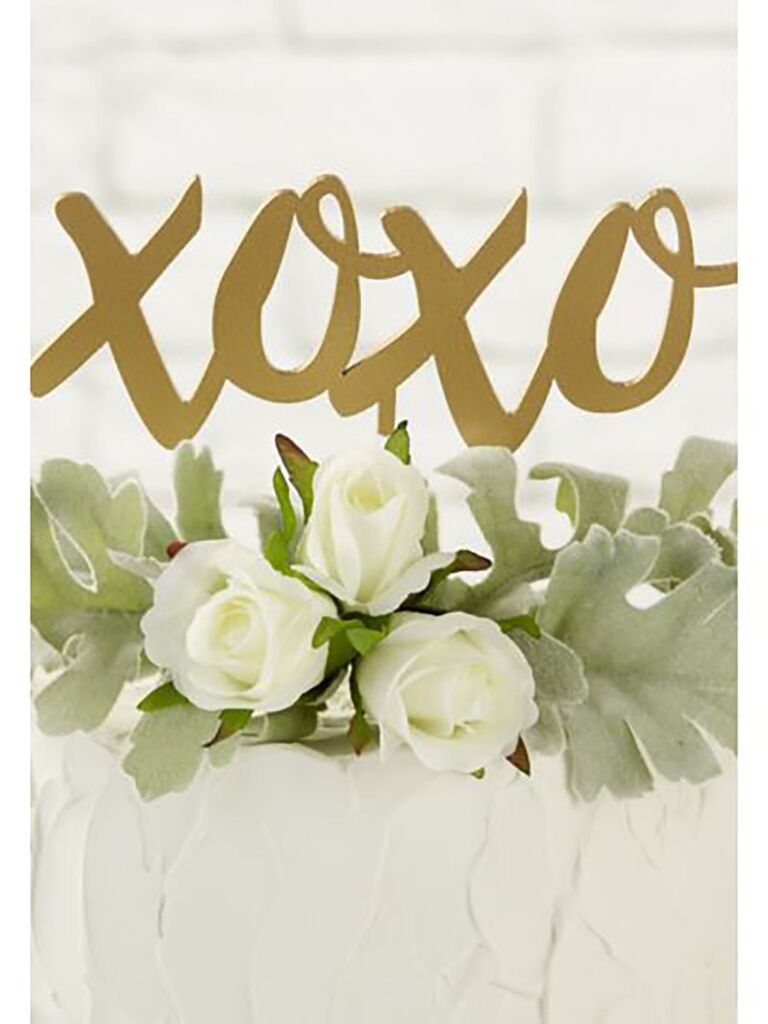 A gold cake topper adds glitz to the cake table—and with Xs and Os, it carries a sweet sentiment.
David's Bridal gold XOXO cake topper, $15, DavidsBridal.com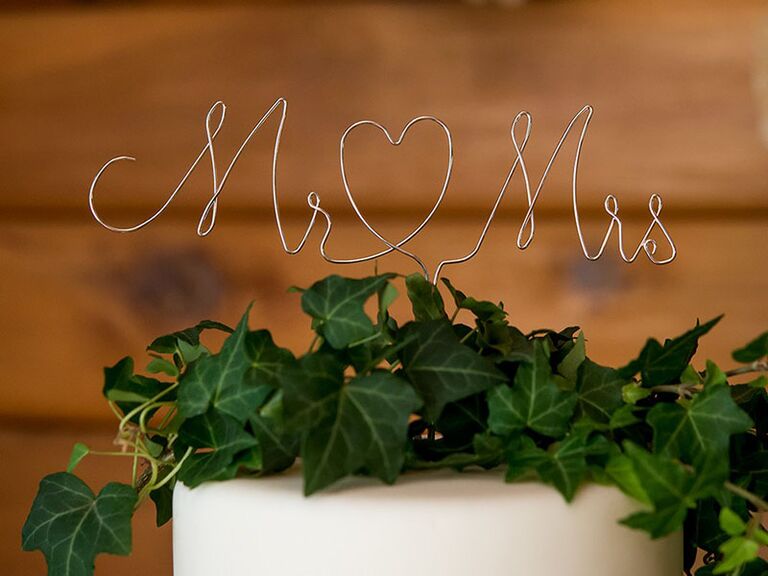 Twisted wire lends this quaint cake topper a handmade look.
The Knot Shop twisted wire Mr. & Mrs. cake topper, $16, TheKnotShop.com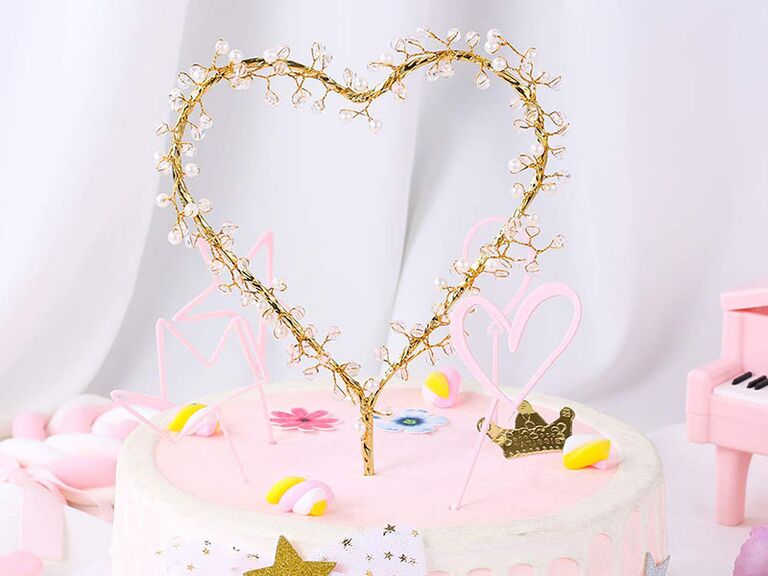 Add a little light to your cake—literally!— with this dazzling LED heart decoration.
Kipetto LED-light heart cake topper, $9, Amazon.com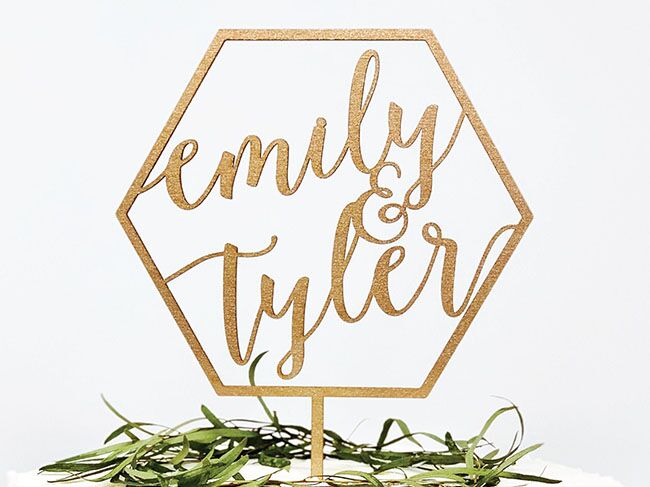 You can't go wrong with a custom wedding cake topper with your names on it! And with a bit of sparkle and a hexagon shape, this one is extra eye-catching.
OAKY Designs custom name hexagonal cake topper, $12, Etsy.com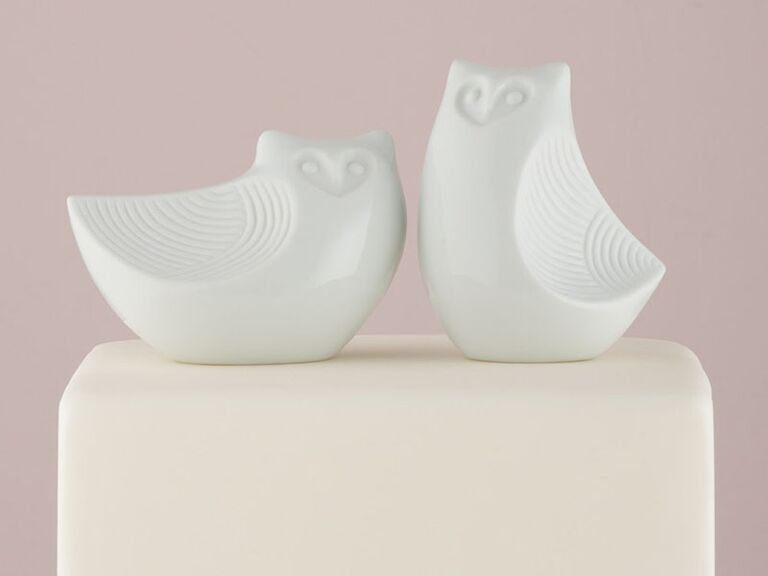 Owl figurines with a sleek modern design are a pretty DIY cake accent for a woodlands-themed wedding.
The Knot Shop porcelain owl figurines, $20, TheKnotShop.com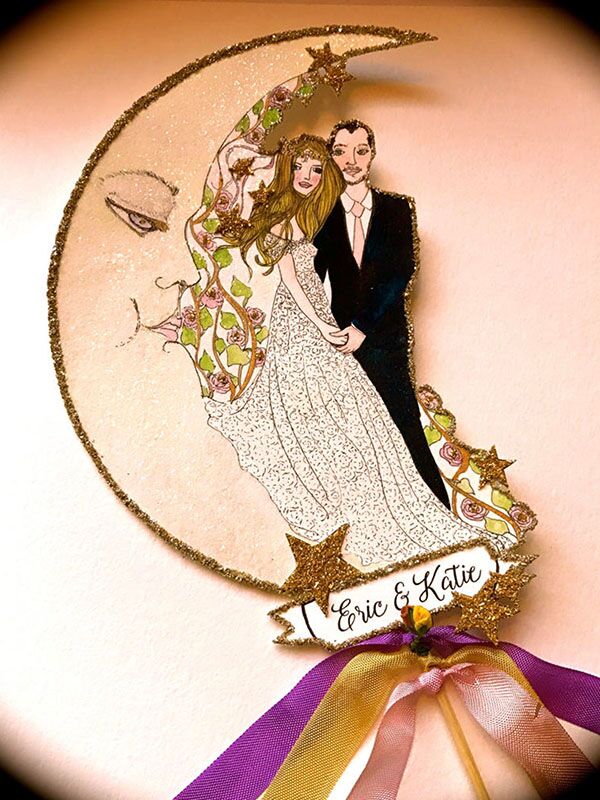 This one's a splurge—and for good reason! An artist will create a custom portrait with vintage wedding appeal to show just how over-the-moon you two are.
Jolie En Rose Vintage custom illustration wedding cake topper, $145, Etsy.com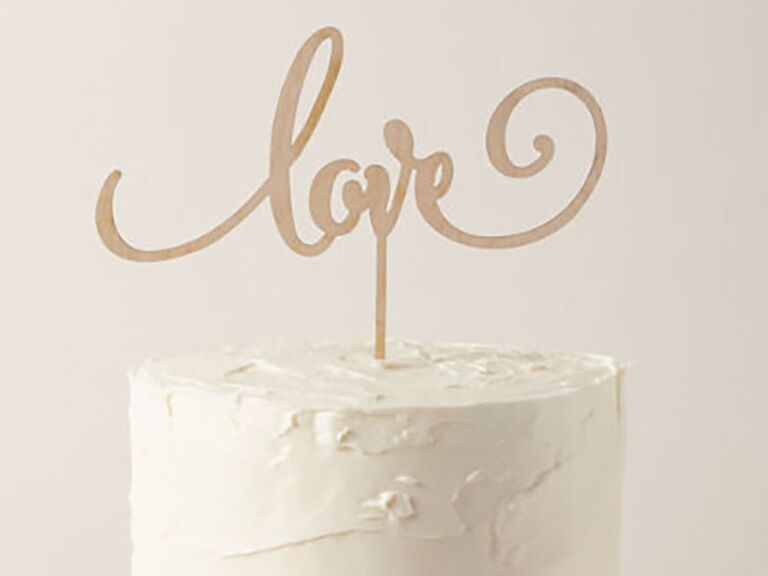 Laser-cut wood in chic script makes this love cake topper simply lovely.
The Roc Shop love wooden cake topper, $25, BHLDN.com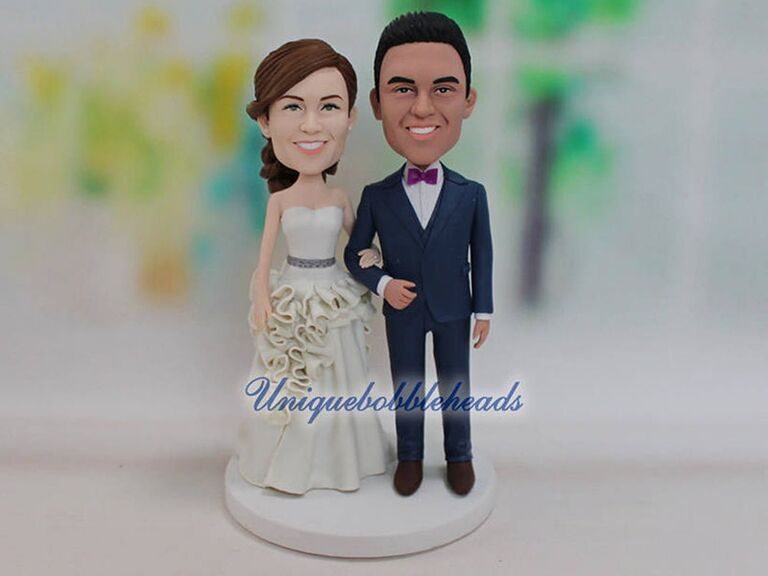 Fun-loving couples looking for something playful and unique will go crazy for a custom bobblehead-style cake topper. What a whimsical keepsake!
Unique BobbleHeads custom funny cake topper, $119 and up, Etsy.com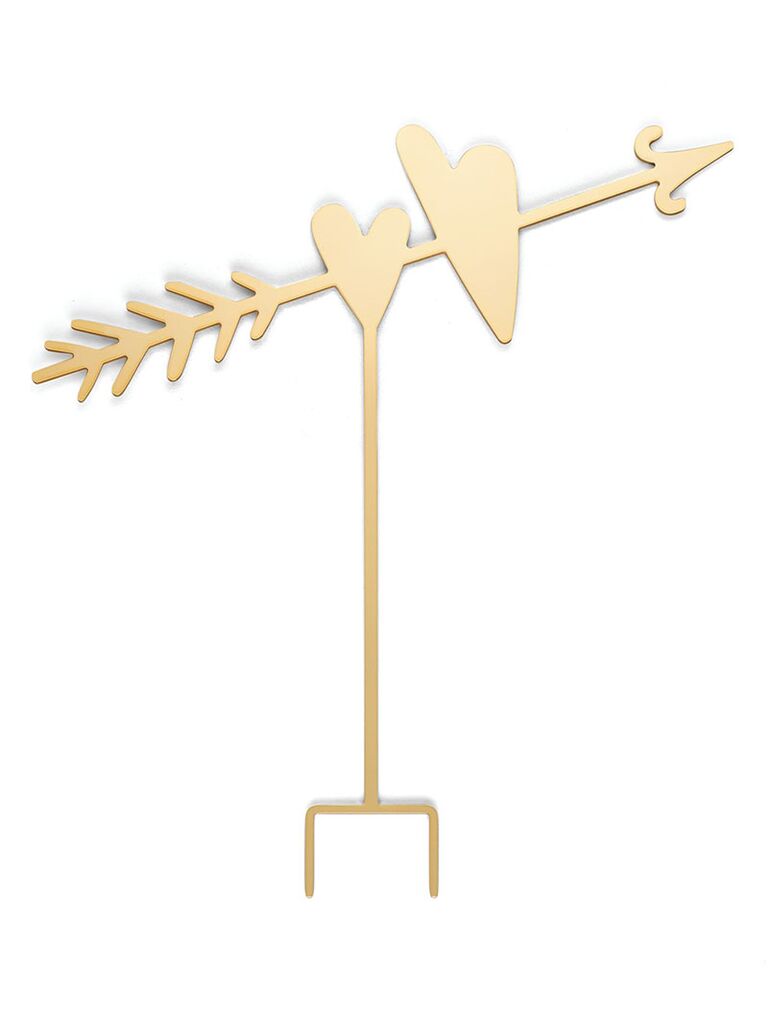 Two hearts are gorgeously united on this lovely gold-tone cake decoration.
Kate Spade two hearts cake topper, $24, Nordstrom.com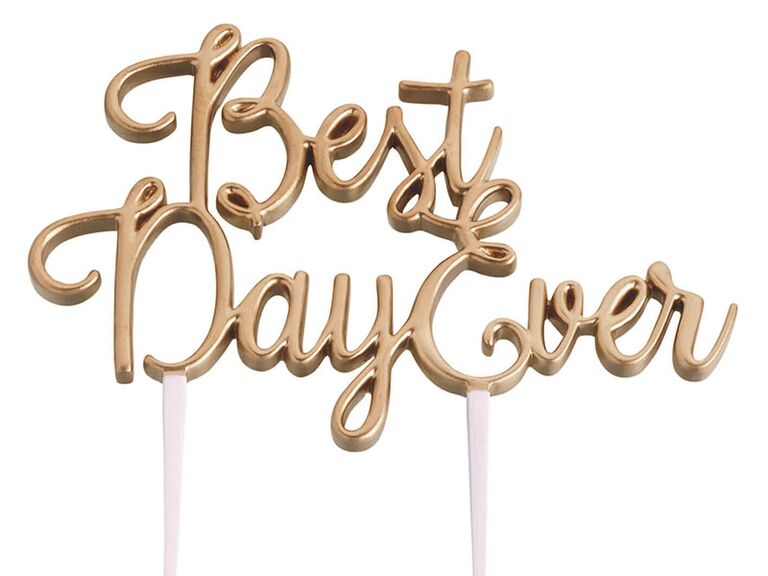 Your wedding will certainly be the best day ever. Go ahead and say it with your cake topper.
Lillian Rose gold Best Day Ever wedding cake topper, $12, LillianRose.com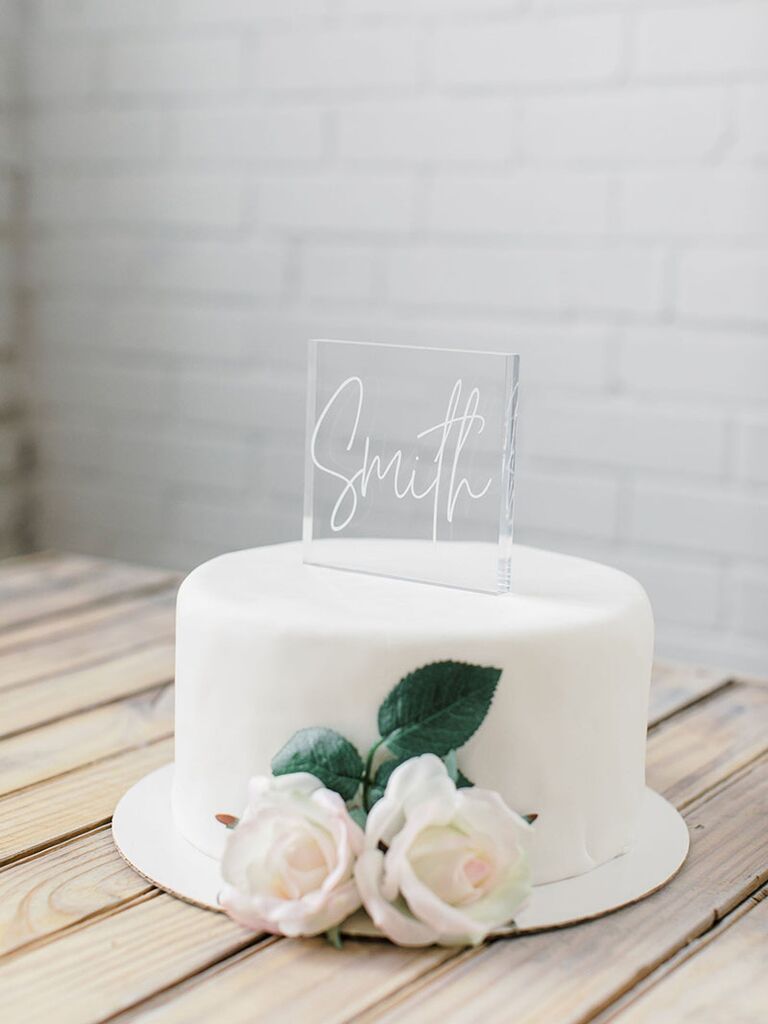 Calling all contemporary couples: This monogram wedding cake topper is made from clear, ever-trendy acrylic. Pick from a wide range of font colors to match the calligraphy to the rest of your wedding theme.
Save the Date Designs Co. personalized acrylic wedding cake topper, $19, Etsy.com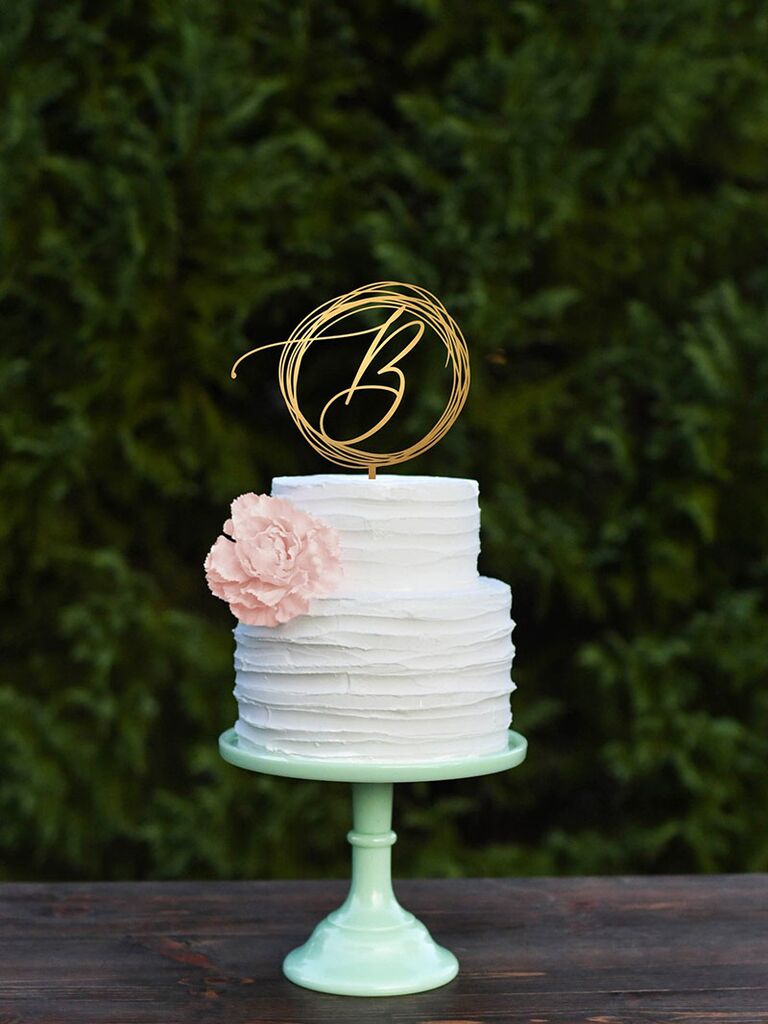 This monogram cake topper is wonderfully luxe—check out that gorgeous wrapped design. It also comes in a few different sizes and colors.
The Pink Owl Designs custom monogram wedding cake topper, from $25, Etsy.com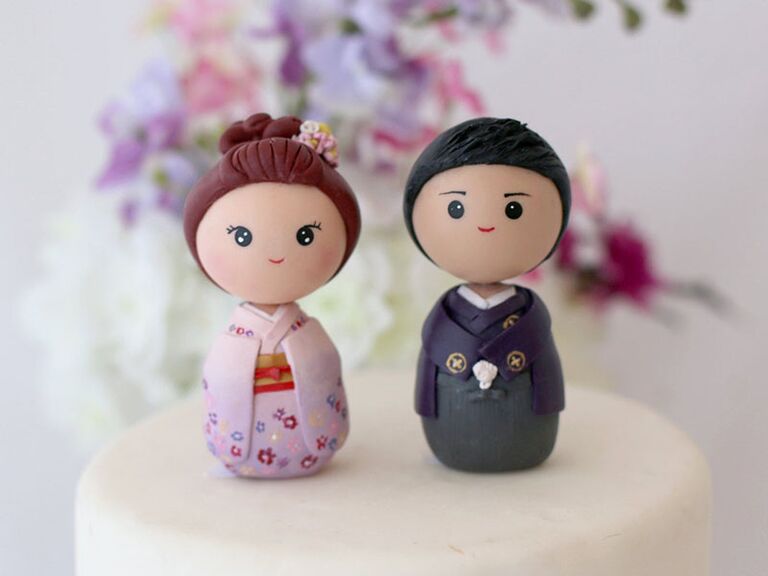 This Etsy shop specializes in personalized cake toppers inspired by Japenese kokeshi dolls. Check out the full assortment to find the figurines most like you, then request further customization once you place your order.
Chikipita Japanese personalized wedding cake topper, $110, Etsy.com