18 Modern Wedding Invitations That Feel Very 'Now'
Calling all trendy couples—you're going to want to see these picks.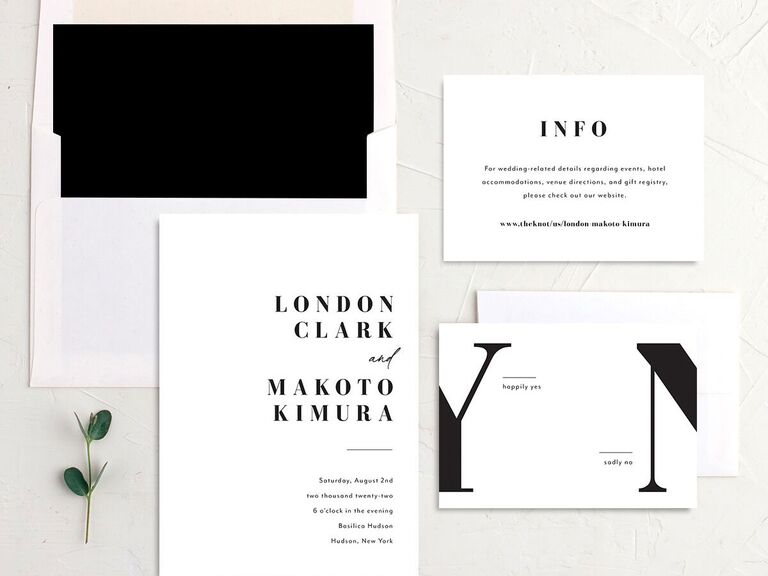 You know, it's actually funny that we even have to qualify ''modern wedding invitations.'' If your wedding is happening right now, it's a modern celebration, worthy of an equally modern invitation, right? Modern buzzwords are fun, for sure, but instead of concentrating on the minimalist clichés, you'll want to consider how authentically "you" the wedding stationery you choose is. Not feeling beholden to tired (not timeless, there's definitely a difference!) themes or motifs is the first step towards understanding modern invitation design—and what comes next is all about consistency and intentionality.
Modern wedding invites can befit everything from a boho wedding to an Art Deco celebration—the trick is finding a stationery suite that complements your color palette (terracotta tones and sunset shades epitomize a day hosted in the desert) and your unique event details (hello gilded glam gold foil). So, whether you need help finding a minimalist invitation to vibe with your museum or art gallery wedding or want to choose something with tasteful greenery to go hand-in-hand with your big day in a botanical garden, get ready to glean some guidance from us!
Ahead, check out 18 looks from our curated collection of The Knot Invitations, along with even more wedding invitation ideas. So many of our invitation designs have coordinating wedding websites and day-of stationery counterparts, so you'll have everything you need to bring your modern wedding dream to life.
The Knot Modern Brushstroke Wedding Invitations
The wedding details on this invite are presented in such a clean, crisp and modern way. But what's even more striking? How your names are sprawled out in rich gold calligraphy against a saturated, yet airy artistic brushstroke pattern. The juxtaposition is breathtaking!
The Knot Abstract Watercolor Wedding Invitation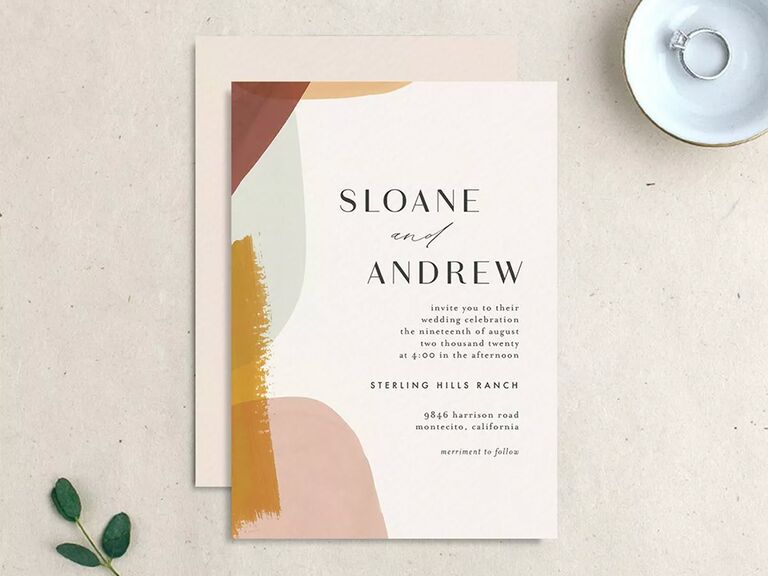 Bold shapes dance around this invite, which incorporates fresh palettes like mustard, blush and black or playful teal with rust details and white typography. The end result? An eye-catching design that's at once mature and youthful. Just add a vellum overlay and prepare for the ultimate mic drop!
The Knot Modern Vow Wedding Invitations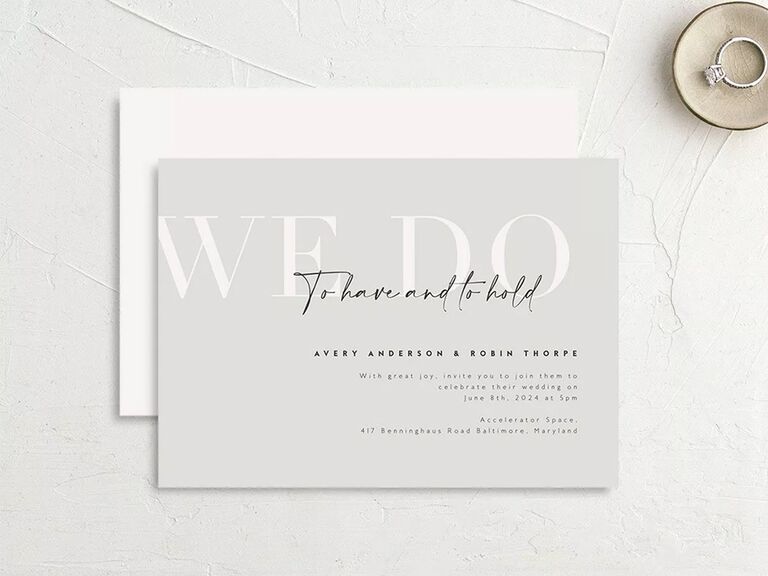 Minimal and modern aren't interchangeable, but with this simple wedding invitation, the magic builds from their collaboration. The sans serif type works well paired with a lighter touch for your details, but the intersection of ''We do'' and ''To have and to hold'' is the focal point here.
The Knot Modern Romantic Wedding Invitations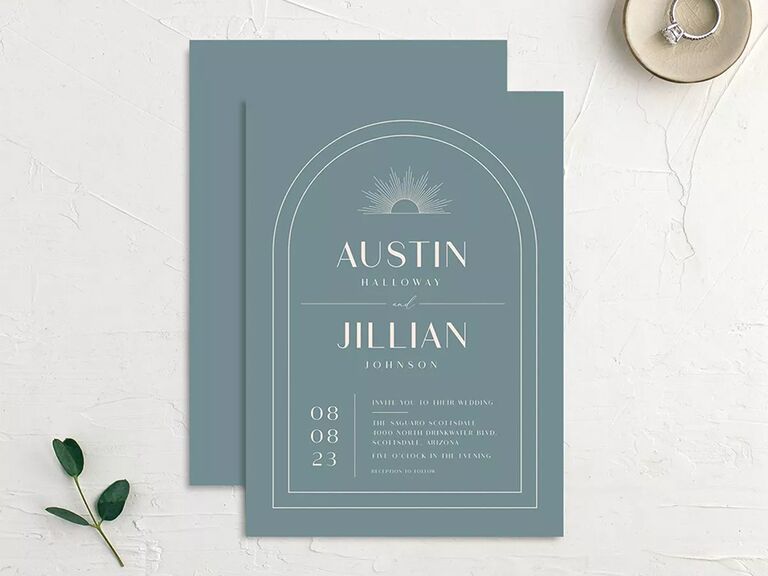 While the arched border and graphic sunburst icon bring a lot of symbolism to this wedding invitation set, there's a simplicity that takes it back down to earth. We love how your names and date are set in a larger typeface to really pop on the page—and, with the date arranged in numerals on the left rail, it's like a sundial pointing to a dreamy Sonoran soiree.
The Knot Modern Eucalyptus Wedding Invitations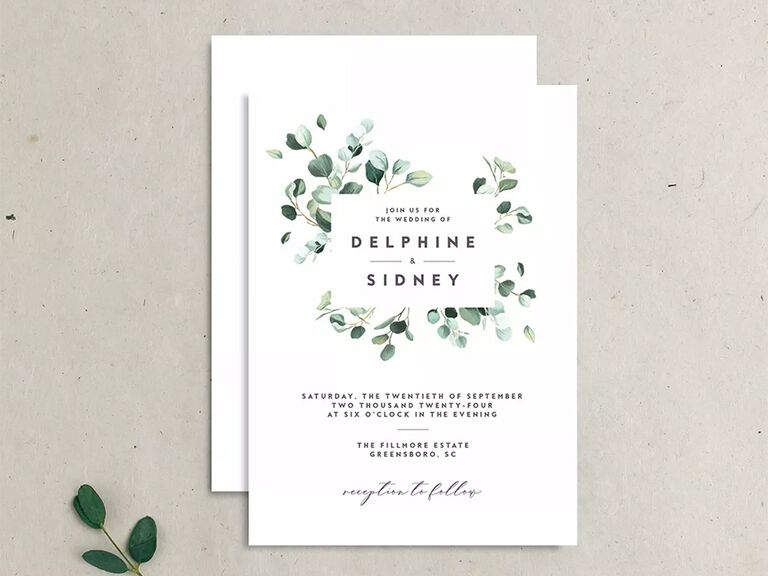 Black and white make for a timeless palette, but when you interrupt the iconic pairing with something like eucalyptus, you get a modern greenery wedding invitation. Keep the elegance going on the big day with acrylic place cards featuring your guests' names atop pressed leaves.
The Knot Formal Deco Wedding Invitations
That classic, Deco-inspired gold diamond… Talk about a statement! If Jay Gatsby was around to toast your impeccable invitation taste with a signature martini, he would. It's not just fancy on the front, either; the back is just as glamorous with a chic monogram and big day details above a gold Deco flourish. F. Scott Fitzgerald would be proud.
The Knot Awash Wedding Invitations
What's not to love about a modern wedding invitation? It can truly fit any wedding style, from romantic and refined to whimsical. This painted watercolor template is a total match for the latter: Featuring faux foil on the front, a textured effect across its entirety and classic, minimal wedding invitation wording, this blush pink moment has our hearts.
The Knot Minimal Accent Wedding Invitations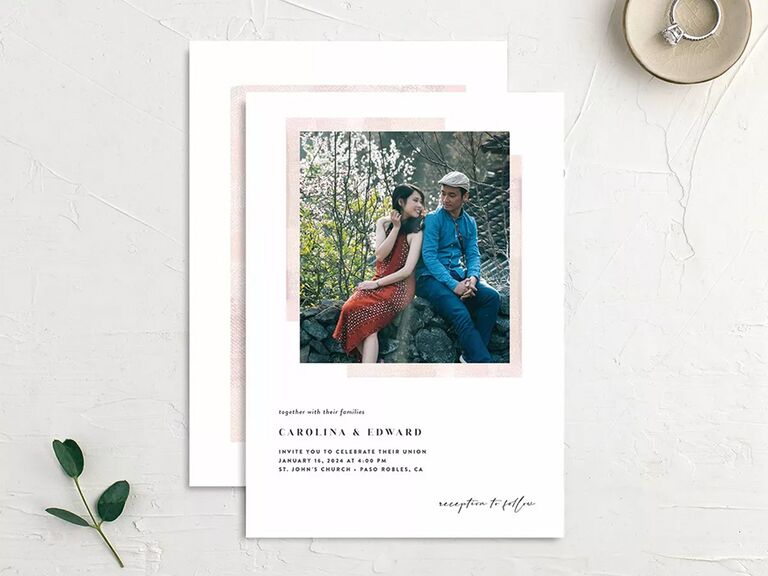 Let's be honest, you can't get any more modern than a photo wedding invitation. Choose a shot from your engagement session or one of you two in your favorite place (maybe a prelude to your wedding location?), and pair it with the minimalist design of textured color accents, sans serif text and a stunning script. Our favorite part is actually on the reverse side—the words ''Our ever after'' over a textured color block.
The Knot Modern Floral Wedding Invitations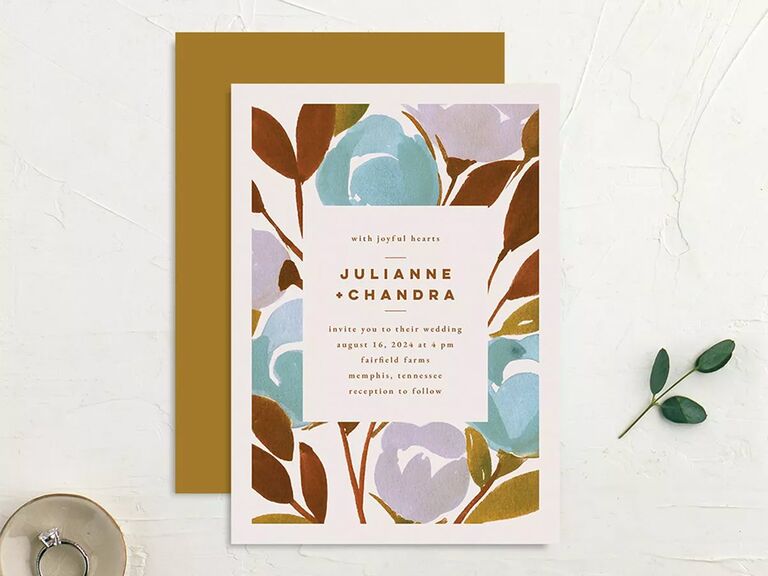 Need an impressive, strong and of-the-moment motif to make waves with your guests? Well, hold our bouquets, because this stunning original artwork (imagined by the inimitable Perla Sanchez) is the end-all-be-all of modern floral wedding invitations.
The Knot Modern Bodoni Wedding Invitations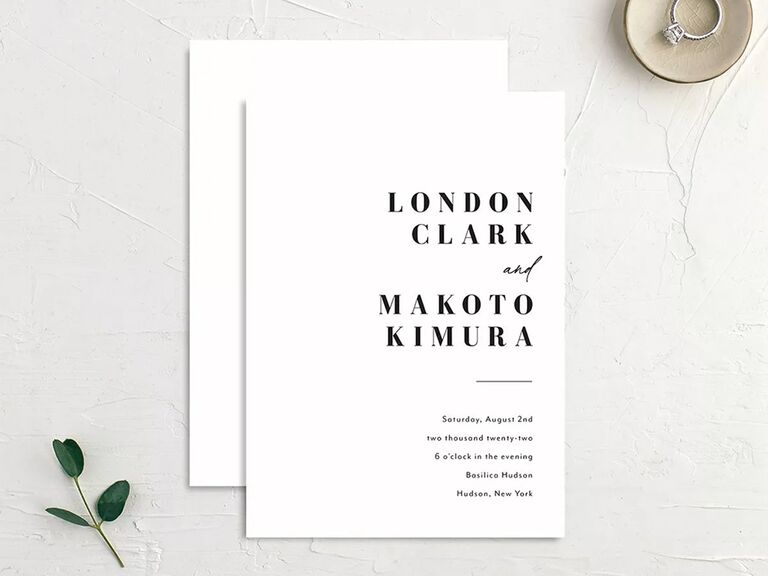 It all started with the two of you. This elegant wedding invitation keeps you (and your names) at the center of the celebration, setting them in a bold and commanding typeface. It's the perfect choice for a traditional wedding or black-tie fete stirred by simplicity. And peep that RSVP card—with such a striking wedding invitation set, we can bet ''Happily yes'' is the response of choice!
The Knot Modern Script Wedding Invitations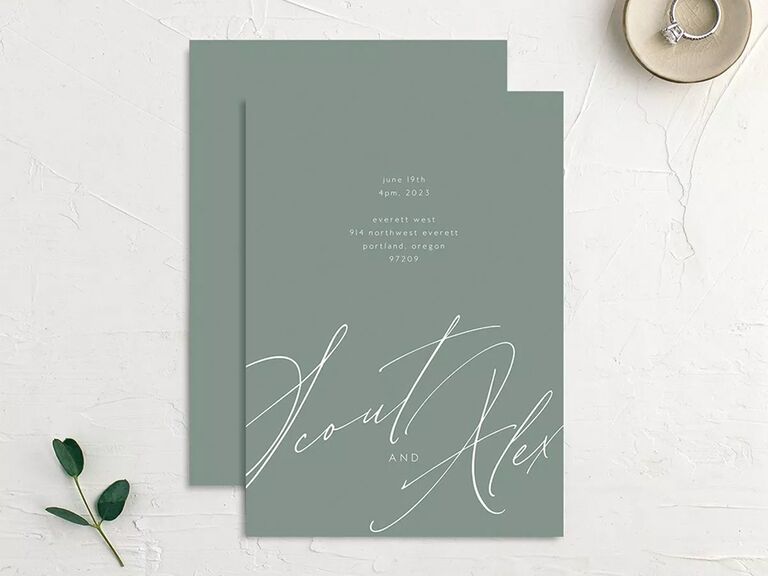 If seeing your names printed in a large, sweeping script across the bottom of the invite doesn't make your hearts flutter a little faster, we can't be friends (kidding!). But really—we love the editorial flair of this minimalist wedding invitation and its supporting suite. The watercolor envelope liner offers just the right dose of glamour, too.
The Knot Elegant Bohemian Wedding Invitations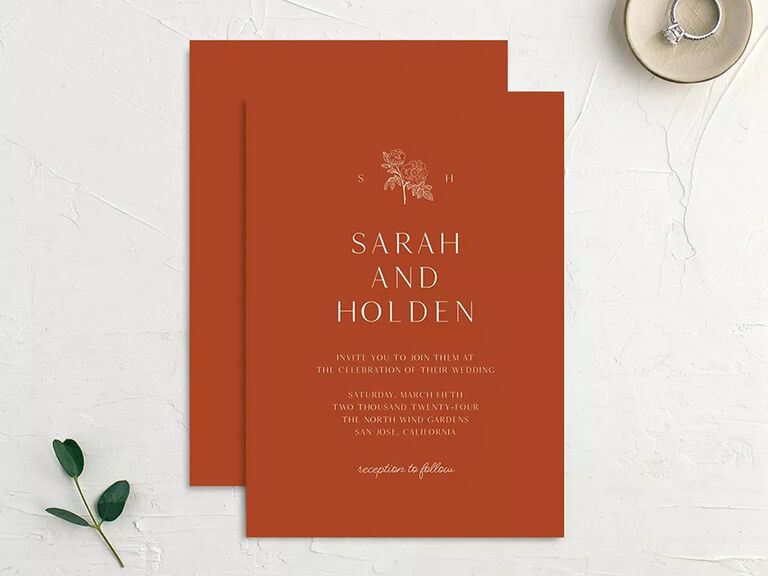 Opting for an invitation that uses light fonts against a deep-colored backdrop versus the traditional alternative (dark ink on a lighter backdrop) already flips the script (literally), but that's just the beginning with this design. Not only is the floral artwork entrancing, but it can also hint at your party setting—a boho-meets-barn rustic wedding, perhaps?
The Knot Romantic Bohemian Wedding Invitations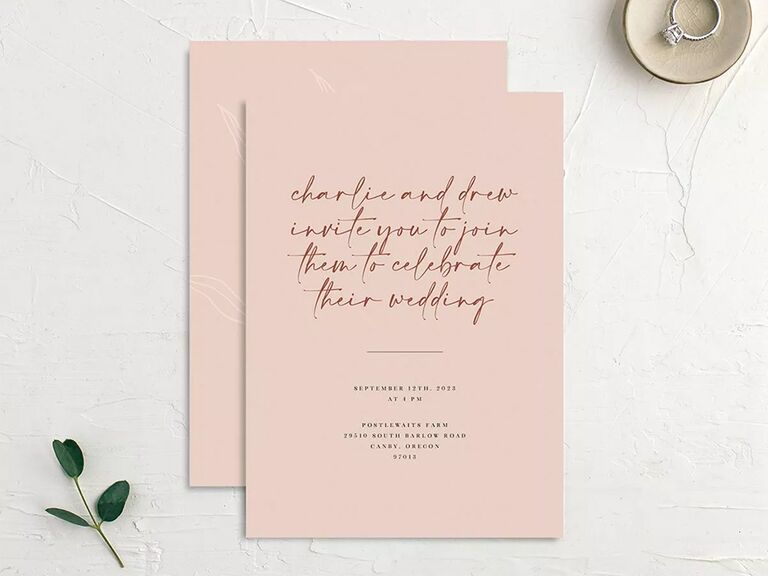 Modernity doesn't play by the "rules" sometimes, and that's exactly what this romantic, bohemian invitation illustrates. The expressive, on-trend script almost feels like a handwritten invitation for guests to join you on your best day ever, making it super personal. The leaf outline on the backside offers a polished, artistic edge—throw a wax seal on the envelope and you've got yourselves a stunner.
The Knot Romantic Minimal Wedding Invitations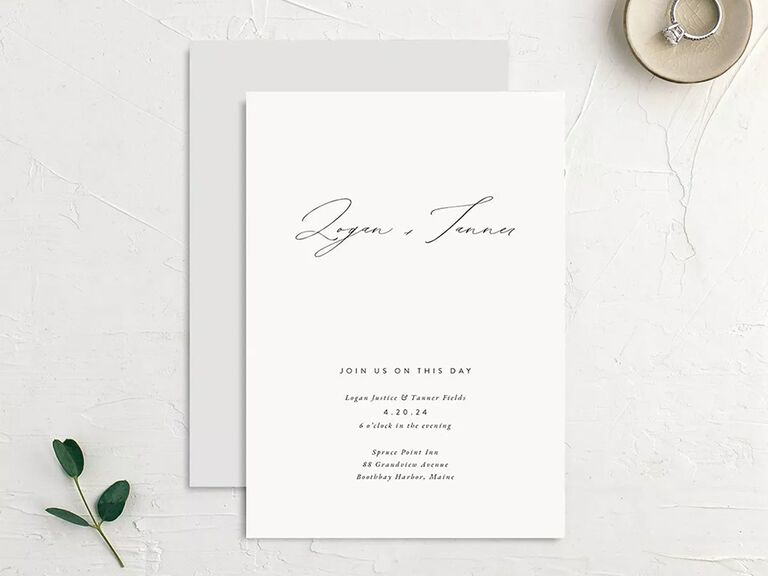 This minimal design (available in several stunning hues) makes us think back to our childhood when we'd draw hearts all over our notebooks, putting our name and the name of our crush inside (manifesting our future together, right?). This is a much more grown-up version, though—and unlike the relics of our youth, it literally leads to a wedding.
The Knot Sunlit Vows Wedding Invitations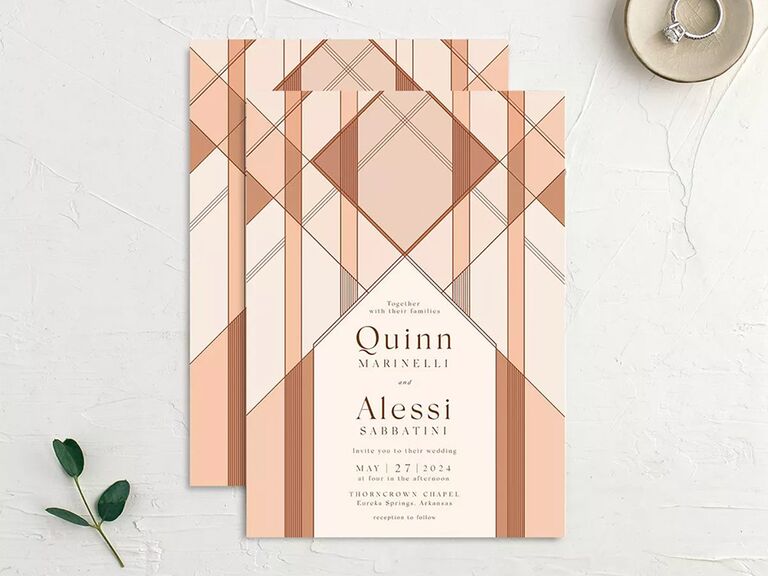 Are you in love with your ceremony site, be it a church or conservatory? This geometric design may be just the right thing for your first impression, as it's inspired by stained glass windows. The simple serif type creates your body text, while your names remain the focal point (speaking of point, don't the intersecting lines create the semblance of a steeple?).
The Knot Opposites Attract Wedding Invitations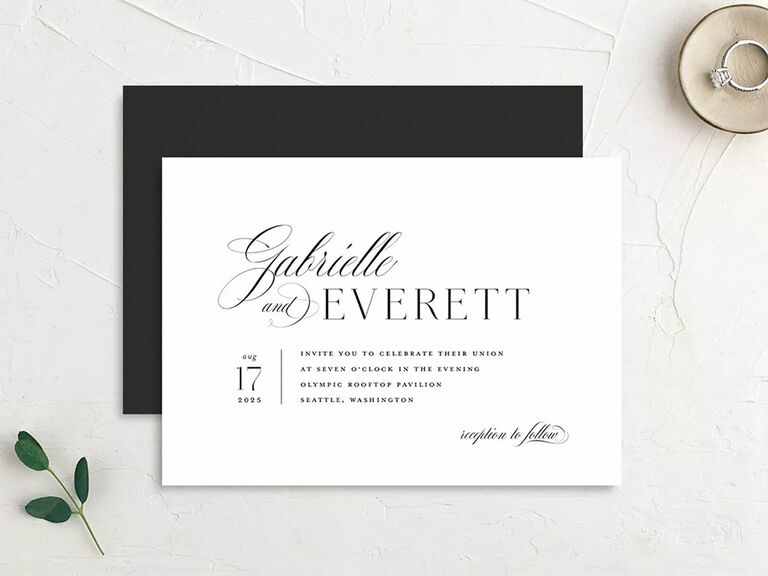 Right off the bat, this invitation is modern when you consider its horizontal orientation—but there's so much beyond just that. Even though the fonts are different—one swirly and enchanting and the other bold and refined—they come together in the most stunning way. It's not unlike two people finding each other, falling in love and creating a shared life together.
The Knot Layered Watercolor Wedding Invitations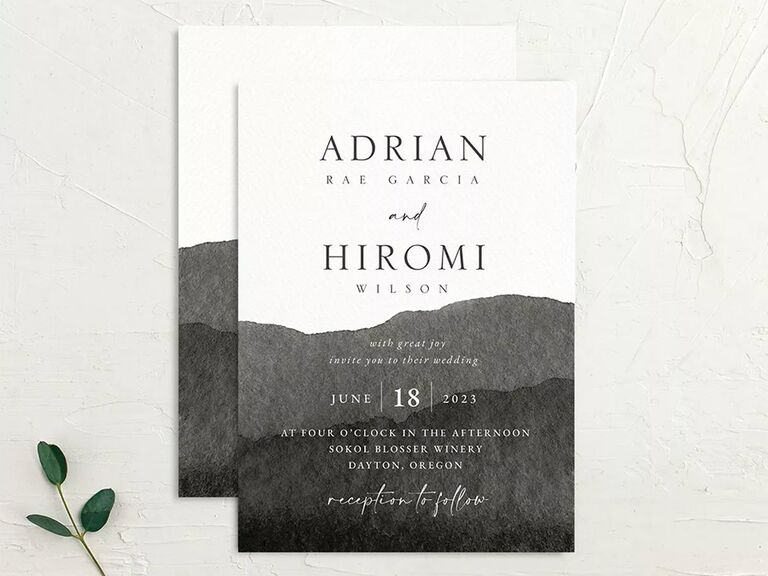 With this dip-dyed watercolor design, you can tell your guests, ''We're getting married in the mountains'' without telling them. Okay, so at the risk of everyone getting confused, you should include the actual venue, but the hilly visage will provide hints even before your chosen words do.
The Knot Elegant Industrial Wedding Invitations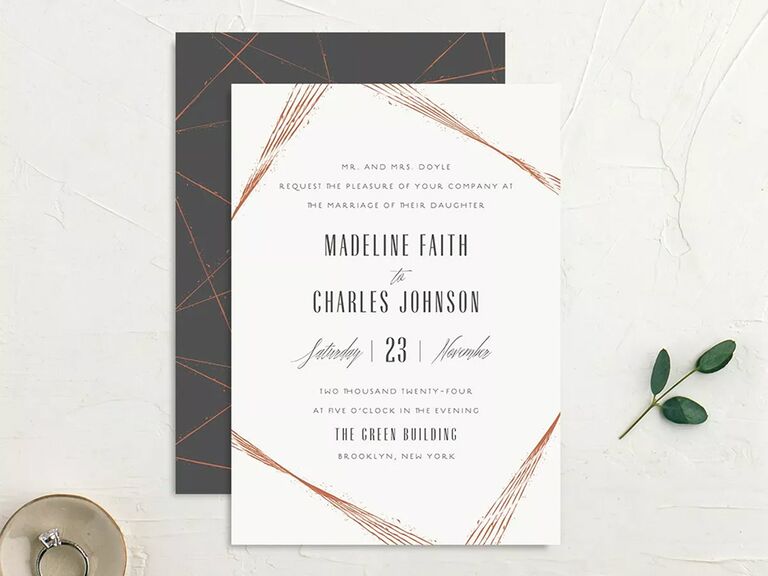 Partying somewhere with exposed brick, Edison bulbs and possibly even a plant wall? This ultra-modern wedding invitation suite needs to be a part of your celebration. It uses graphic lines in asymmetrical shapes to create a visual frame for all of your details (written, of course, in contemporary calligraphy). With its copper and neutral color palette, the shimmer translates as soft and dynamic.