20 Garden Wedding Invitations That Are Lush and Romantic
Find garden wedding day invitations to suit any outdoor wedding style.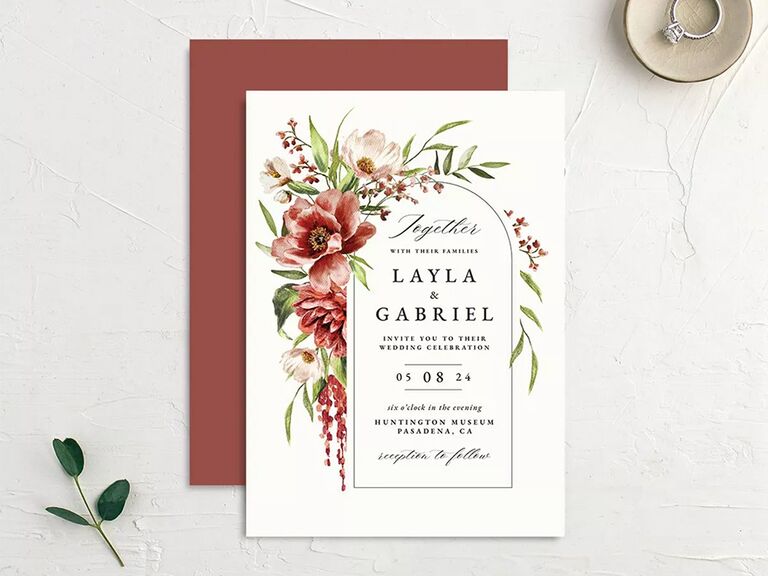 Whether you're gathering loved ones under backyard string lights, throwing a springtime bash at a storied estate or toasting at a trendy hotel rooftop, The Knot Invitations has a garden wedding invitation suite for your unique style.
You can personalize any invitation online and add matching response cards and enclosure cards. All of our custom invitations are part of wedding stationery sets that include save-the-dates, bridal shower invites, guest books, place cards and more. You can even test three free stationery samples before deciding on a design.
Ready to get started? Here are some of our standout garden wedding invitation options, from vintage-inspired and dreamily romantic to elegantly chic and stylishly modern.
The Knot Delicate Wildflower Wedding Invitations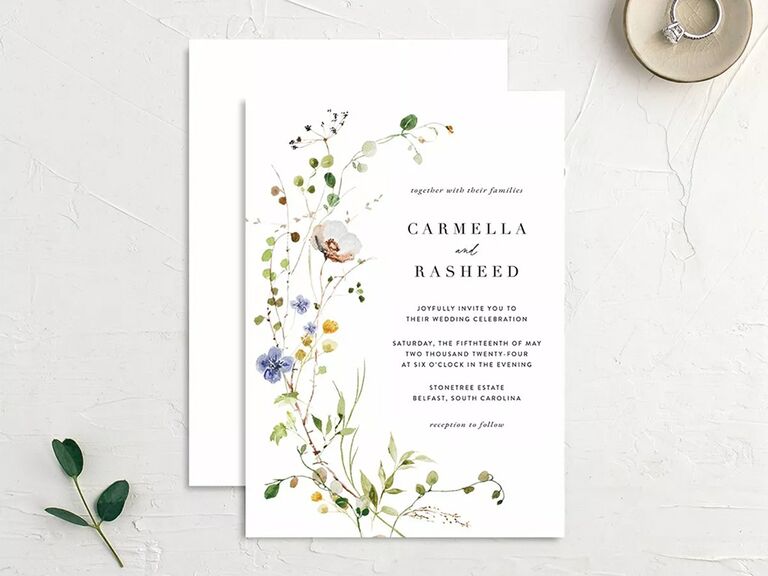 If rustic wildflowers with a refined touch are your vibe, look no further than this theme, which can be modified with colorways ranging from light and airy to bold and formal. The design is subtle enough for formal outdoor weddings yet also perfect for boho backyard parties.
The Knot Romantic Wisteria Wedding Invitations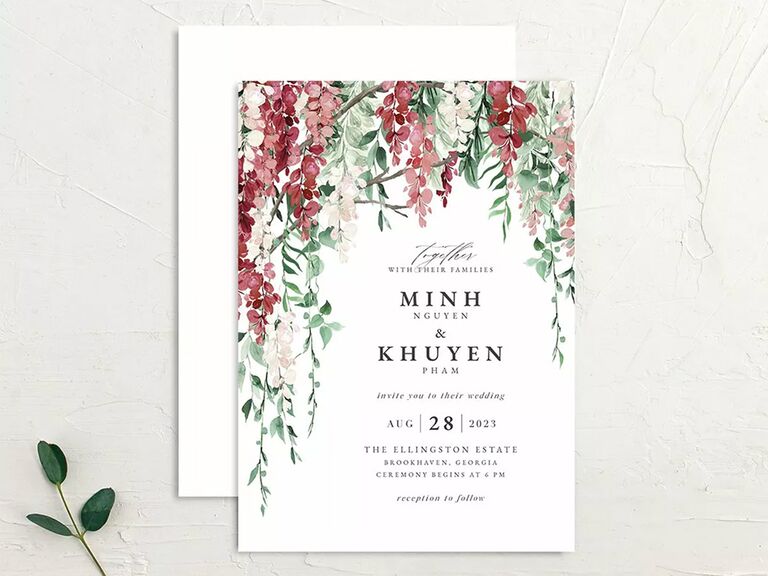 Wisteria is a wedding altar classic, and it also makes for beautiful wedding stationery. Whether you're going for uplifting yellows or warm reds, these lush, romantic florals will exude an easy elegance.
The Knot Bronze Floral Frame Wedding Invitations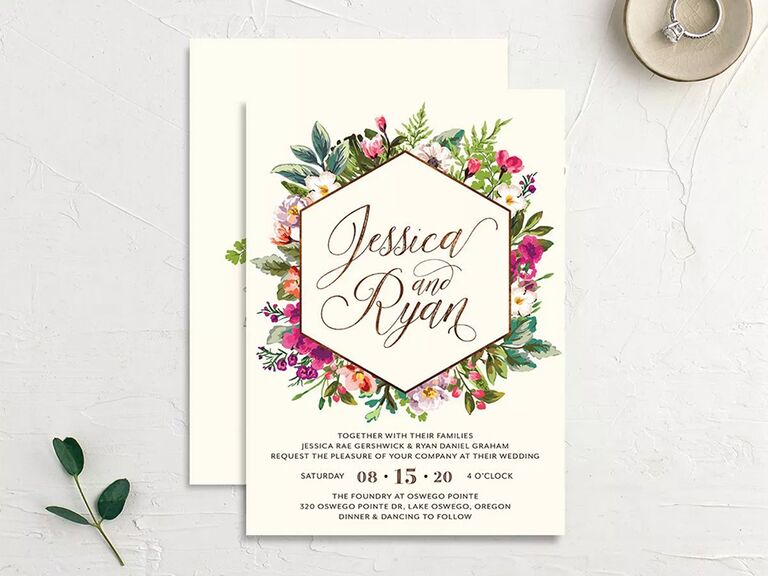 If you want a garden wedding that's all about the flowers, this bright and colorful invitation is for you. The invitation suite can include RSVP cards with beautifully drawn flowers, while the rest of the wedding stationery is just as stunning.
The Knot Floral Canopy Wedding Invitations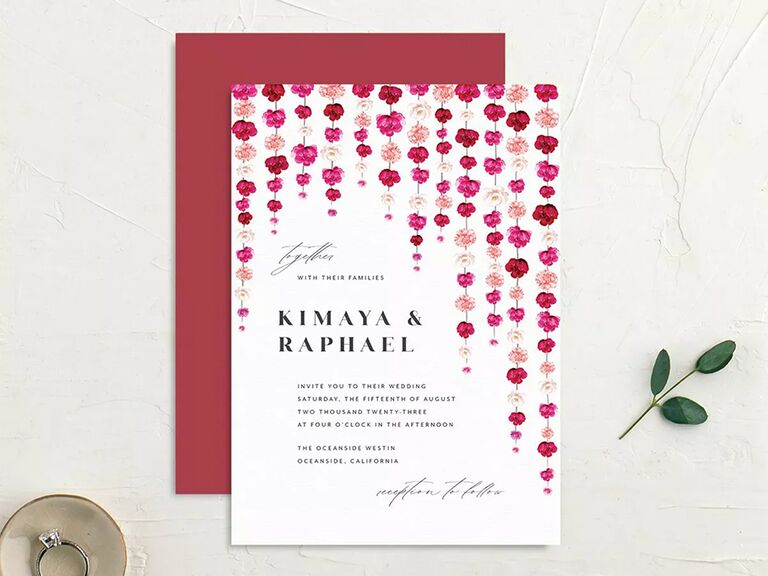 These gorgeously atmospheric cards come in a vivid rose and carnation template or a lighter lily and daisy design. They're a great choice for outdoor South Asian weddings, as well as a range of other garden parties where flowers are a star of the show.

The Knot Gilded Botanical Wedding Invitations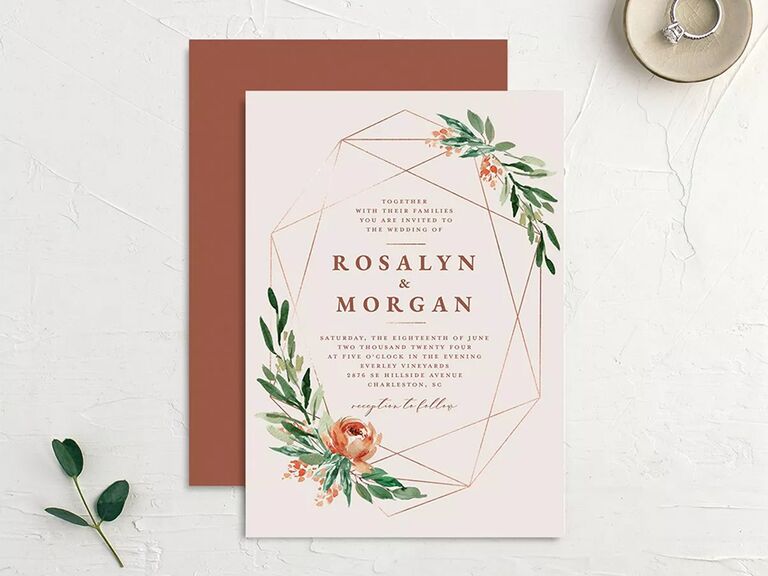 Here's a wedding invitation for a decidedly formal event. The shimmery geometric shape combines with bold watercolor flowers for an effect that's both romantic and current. The cards come in a range of flower and background colors, from deep maroon to light orange.
The Knot Sunflower Wedding Invitations
Rustic watercolor sunflowers join a modern font to create a boho-chic effect with these joyous invites. The cheery style will be a delight to receive in the mail and the perfect way to get guests excited about your nature-inspired celebration to come.
The Knot Decorative Garden Wedding Invitations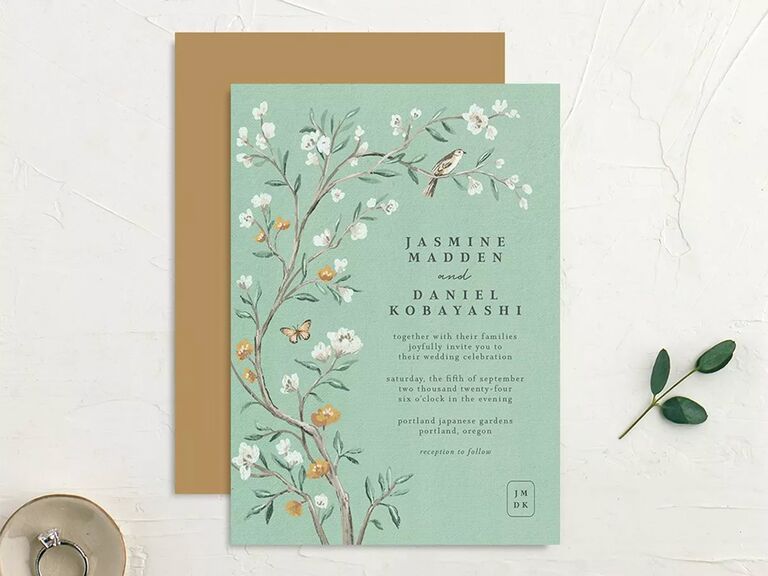 Who wouldn't be delighted with birds and butterflies on their big day? This charming garden party invitation comes in four romantic shades, with a storybook font that completes the whimsical theme.
The Knot Floral Cloud Wedding Invitations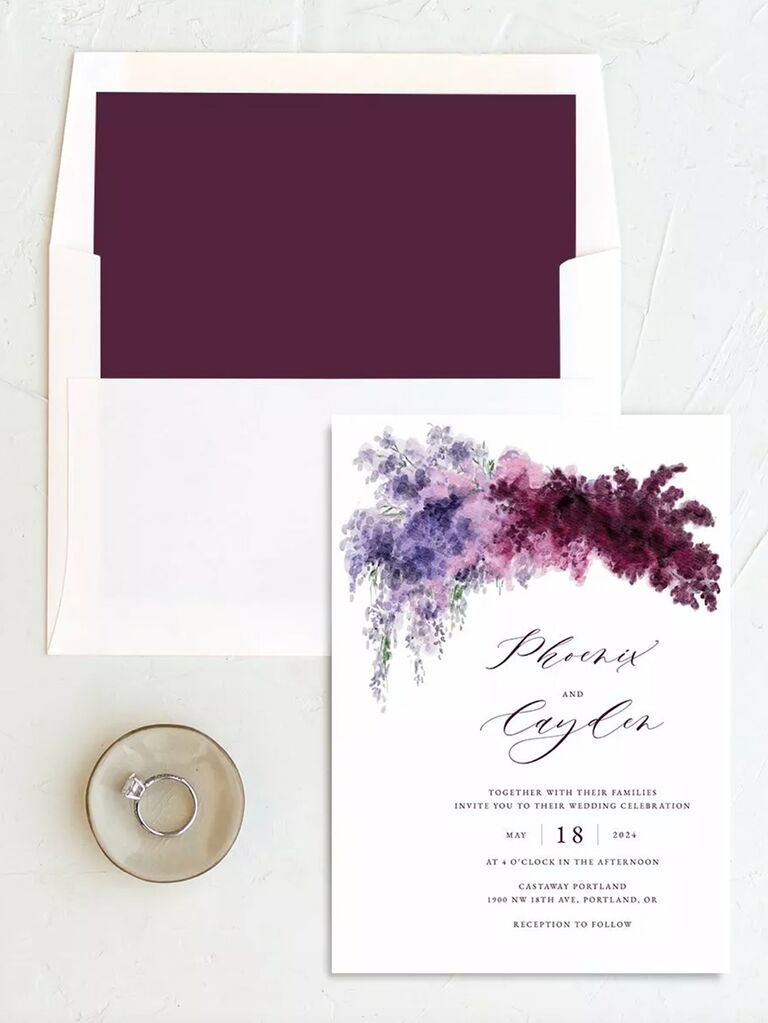 These floral cloud invites also come in dreamy blues, rustic neutrals and romantic pinks. While the calligraphy adds a delicate flair, the clean serif font creates a balanced, chic look overall. Use the blooms as inspiration for those on your altar come wedding day.
The Knot Modern Eucalyptus Wedding Invitations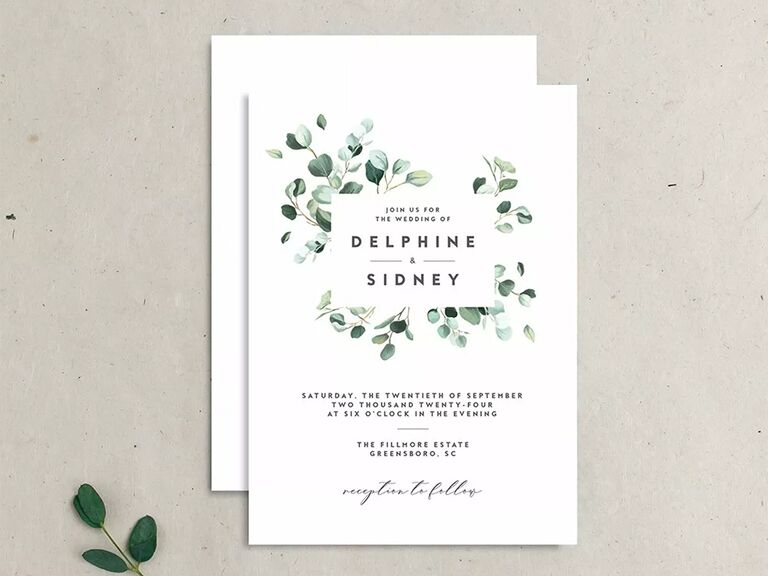 This airy eucalyptus design is beautifully simple and versatile. These invites are great for a DIY wedding, as the bold san serif and monogram on the back will easily formalize the event without much fuss.
The Knot Botanical Floral Wedding Invitations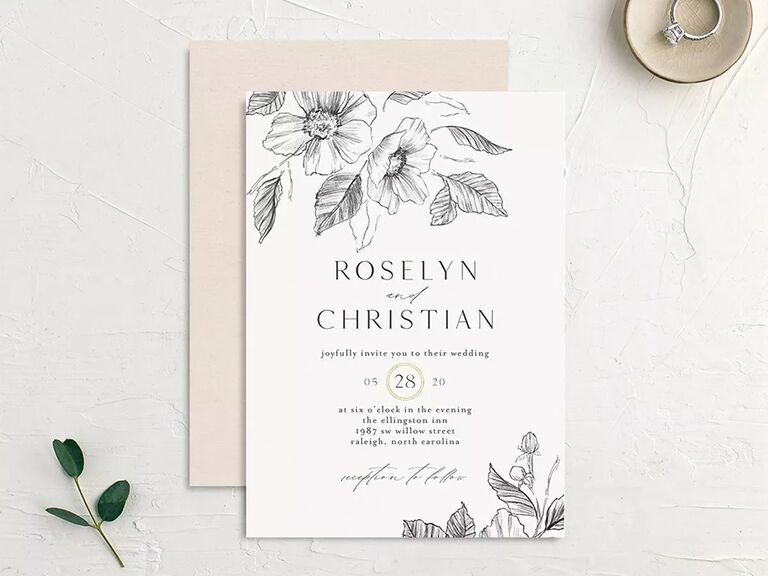 These elegant flowers work especially well for bridal shower invitations and save-the-date cards, the latter of which you can personalize with a favorite snapshot from your engagement shoot.
The Knot Romantic Succulents Wedding Invitations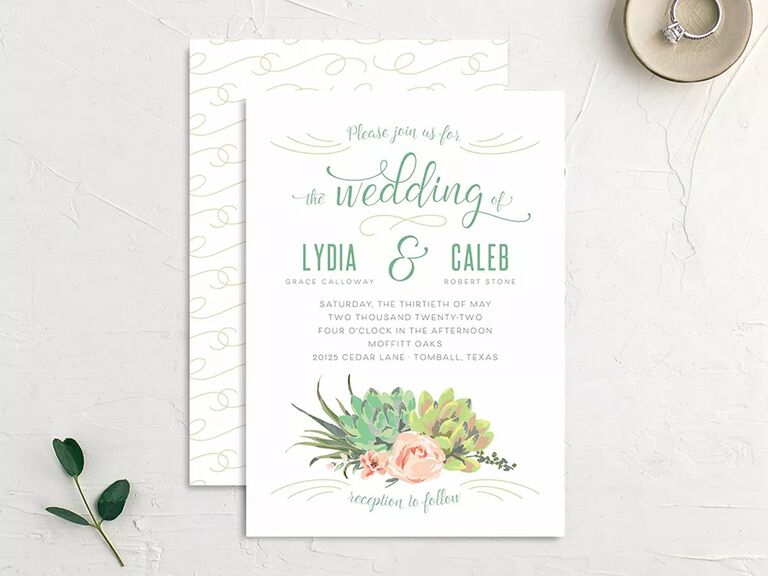 These lively invitations just exude fun, playful energy. Succulents are a great choice for the summer, especially if you want something less formal or more unique (plus, they won't wilt in hot weather!).
The Knot Cascading Altar Wedding Invitations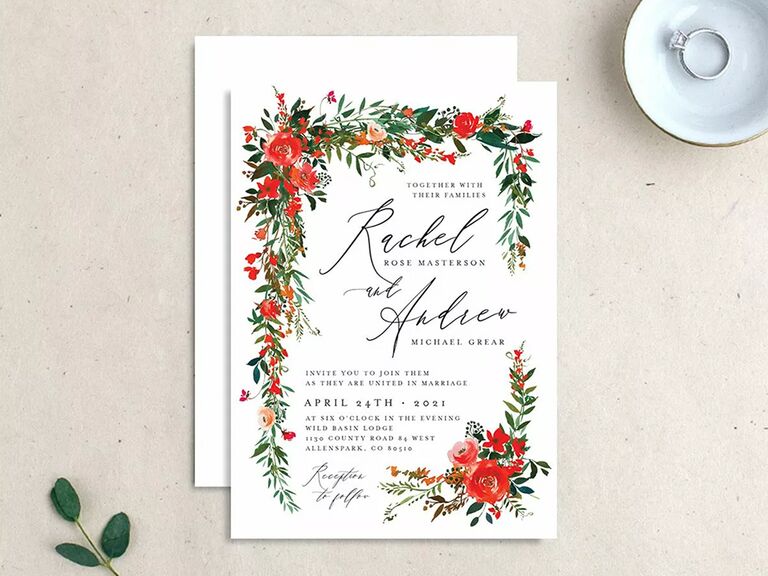 The sumptuous wildflower garlands on this invitation card are delightfully lively. The dramatic title script is balanced by wedding details printed in a formal serif font that holds it all together. It's a decidedly romantic yet bold choice.
The Knot Retro Floral Wedding Invitations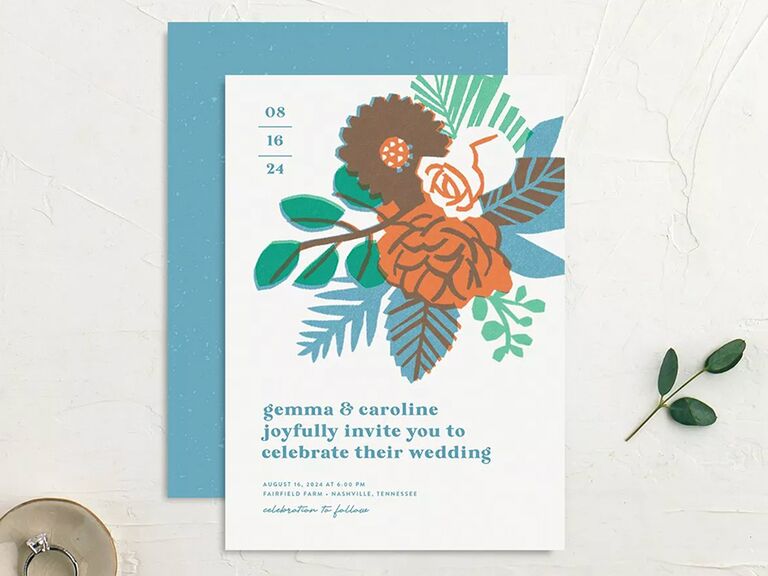 Here's a wedding invitation design perfect for a trendy backyard event or stylish rooftop bash. Color choices range from muted vintage shades for rustic-loving duos to bold pinks and blues for modern couples.
The Knot Elegant Hydrangea Wedding Invitations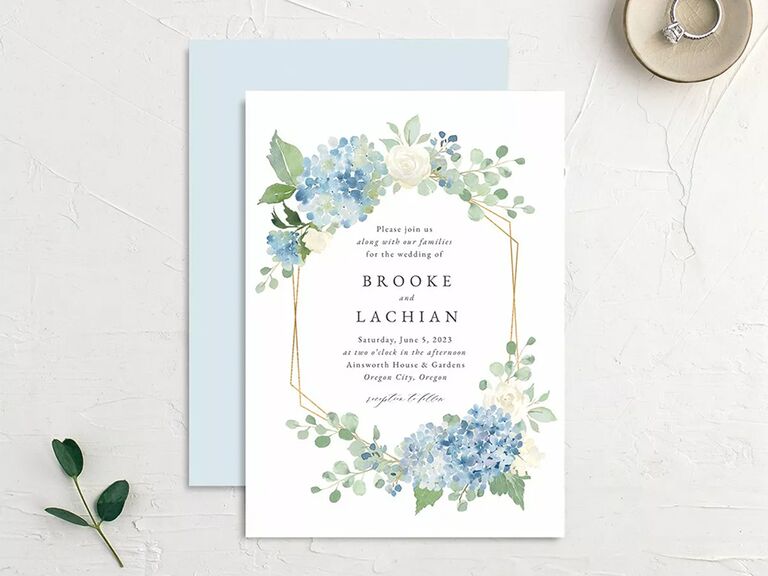 Hydrangeas are a lovely design choice, especially if you love blues and purples. The delicate watercolor illustration on this printable provides a heavenly touch, while the faux gold foil shapes and clean fonts create an elegant look.
The Knot Watercolor Greenery Wedding Invitations
If your taste in wedding botanicals is more green than flowery, this nature lover's design might suit your style. The watercolor greenery is bright and lively, allowing you to incorporate the natural beauty of the great outdoors into your big day design.
The Knot Retro Botanical Wedding Invitations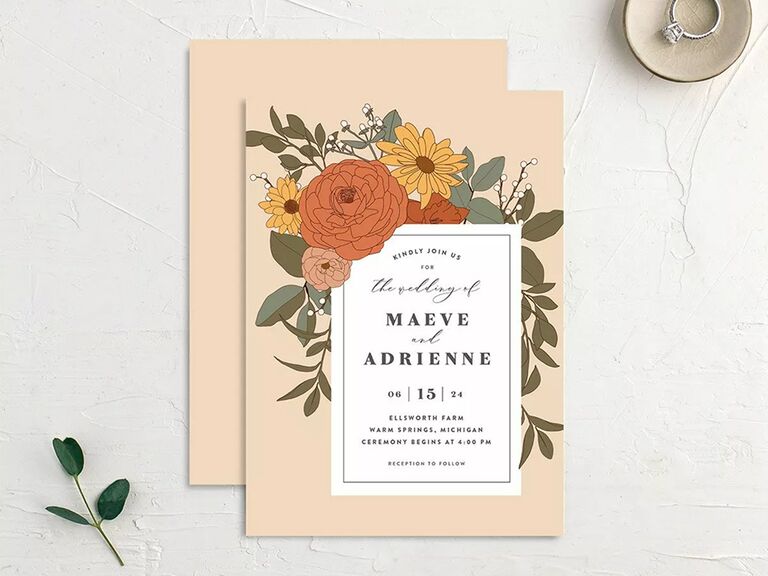 These chic, retro florals make for unique wedding stationery. The set comes in peach for daytime garden events or a bold vintage blue to complement a nighttime celebration.
The Knot Elegant Laurel Wedding Invitations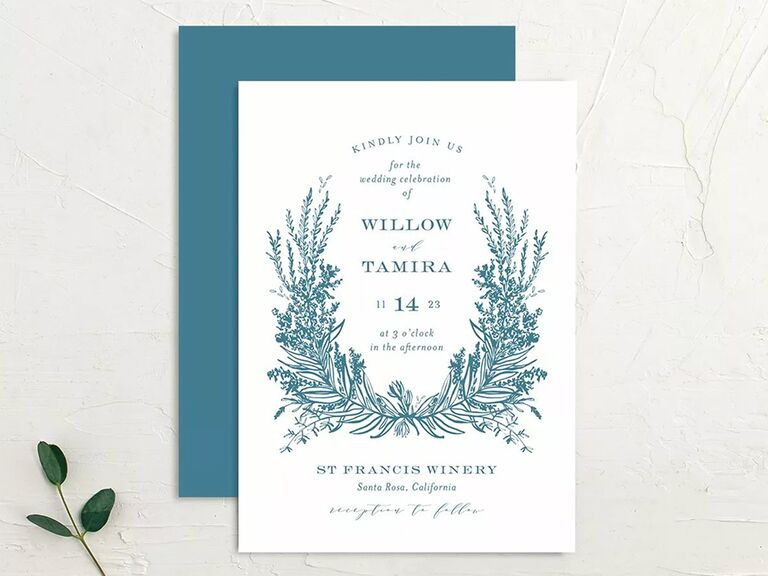 These lush laurel invites exude a secret garden feel that's complemented by storybook font styles and a vintage-inspired color palette. The envelope liners are uniquely designed with the colors stenciled in reverse, creating a wedding stationery suite that will beautifully enhance your day.
The Knot Midnight Peony Wedding Invitations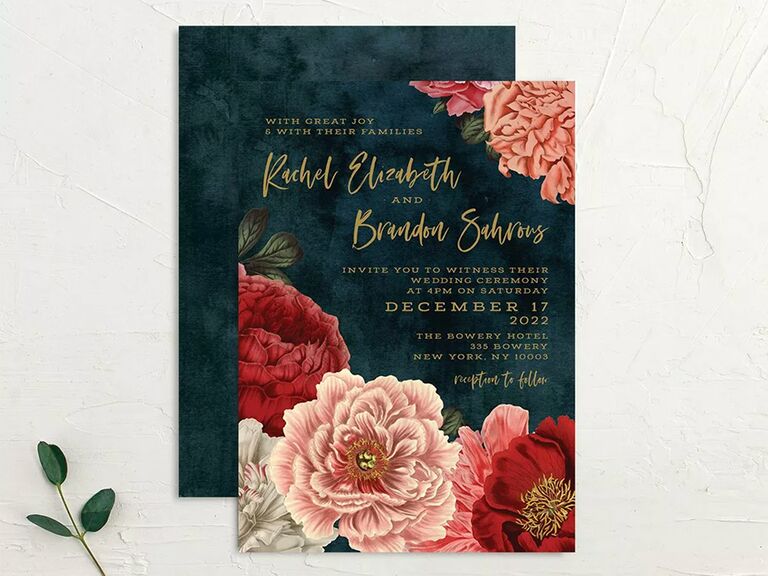 Bold florals atop a velvety blue background with luxe golden font make for an opulent wedding stationery suite that can inspire your wedding design. This standout design would look right at home at a moody, dramatic evening soirée.
The Knot Floral Arch Wedding Invitations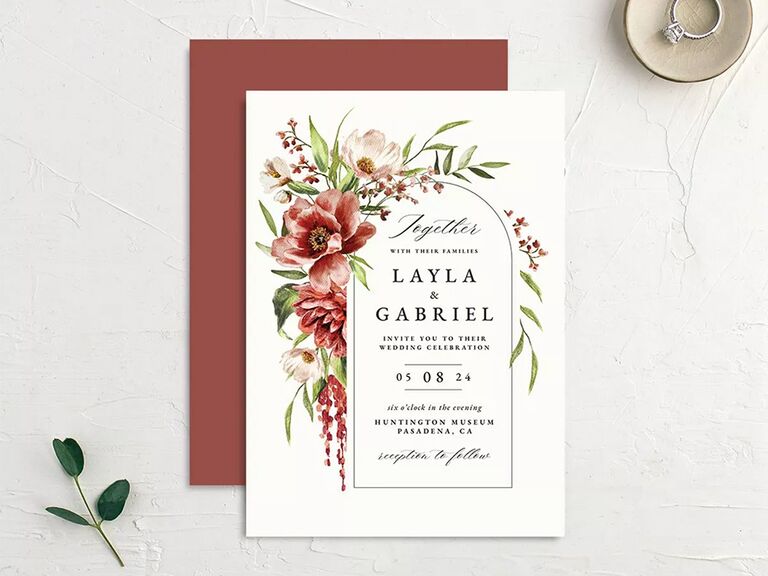 The arch shape of this blooming design is featured throughout the wedding invitation suite, including as a couple's photo frame on the save-the-date and thank-you cards. The flowers and cardstock can be modified to a range of bold or airy colors to easily match your big day.
The Knot Wild Wreath Wedding Invitations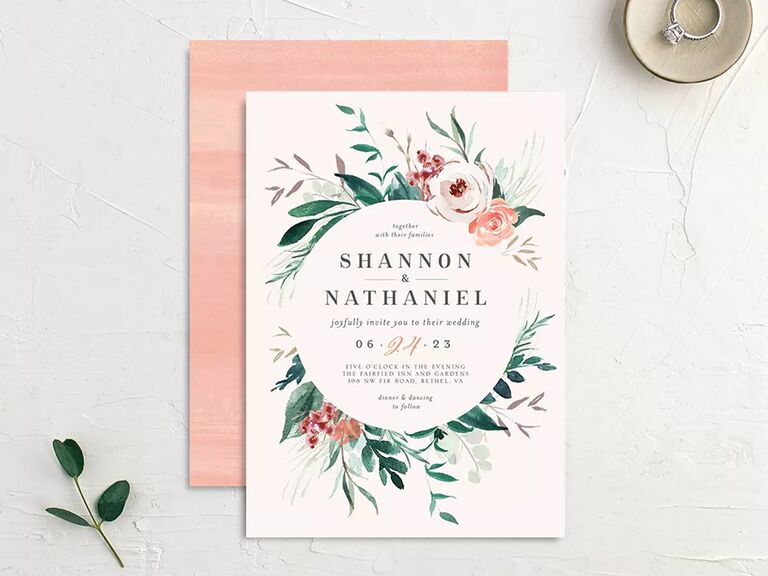 This design is another versatile choice for a garden wedding with any level of formality. Try it in vintage pale blue or classic blush pink—the darker envelope colors also match parts of the wedding stationery, adding pops of vintage color to your overall decor.