21 Elopement Announcements That Share the Good News
These cute cards and wording ideas will help you get the message out.
We have included third party products to help you navigate and enjoy life's biggest moments. Purchases made through links on this page may earn us a commission.
We know that thought goes into any wedding, and an elopement is no exception. In fact, an intimate vow exchange involves a few unique considerations, including how to tell loved ones after you've tied the knot. Planning to make a "we eloped" announcement? Consider sending out special cards with a recap of the big day, plus information about any sort of postnuptial celebration you're having. Keep reading to learn all about the modern etiquette of elopement announcements, then shop our favorite stationery for spreading the word.
In this article:
Elopement Announcement Etiquette
Couples elope for a multitude of reasons and in many different manners, which means there's more than one way to let friends and family know about your private ceremony.
Not sue how to announce your elopement? First, determine if there's anybody you still want to be present at the event. (For example, parents, siblings and besties often serve as witnesses.) If you and your partner would rather keep the celebration just to yourselves, it's still gracious to give a select few some sort of heads up in advance. Think about the important people in your lives and ask yourselves, "If they were eloping, would we want to know ahead of time?" It's important to respect your joint vision as soonlyweds, but do your best to respect your other relationships too. Set on eloping in total secret? That's your decision. But do try to tell those closest to you right away afterward. Because it's big and emotional news, this is usually best done in person.
As for everybody else? That's where elopement announcements come in! Like all wedding announcements, "we eloped" cards tend to include your names and ceremony date. Your parents can send them on your behalf, or you can send them as a couple. These typically go to close buds and kin (even if they're already aware of your elopement) as well as more distant relatives, work colleagues and anyone else you'd like to notify. But remember: You don't have to tell someone unless you're comfortable doing so.
Some couples also choose to incorporate photos and other details into their elopement announcements, which can help make loved ones feel more included. The card may also double as a reception-only wedding invitation. Use it to ask recipients to join you in celebration of your marriage (minus watching the actual "I do"s). But be selective about who these go out to—they're invites, after all.
Elopement Announcement Wording
Elopement announcement wording can be formal or casual, romantic or funny and detailed or brief. Parents might want to send more "traditional" wedding announcements, while contemporary couples could prefer creative, alternative cards.
FYI: You aren't obligated to use the space to explain your decision to elope. Yes, there are people who get offended when they can't participate in a couple's nuptials. But at the end of the day, it's your wedding. On the flipside, you may want to provide a little context! Maybe your elopement was a change of plans, and you'd like to let your recipients know.
When in doubt, write something that conveys your excitement as a couple. If you're happy, the people who love you should be happy too. Want to throw in something extra? Use a sweet sentence or two to explain that they were in your hearts, even if they weren't physically there.
Here are some examples of elopement announcement wording, but really, the sky's the limit. Use, modify or mix and match whatever strikes your fancy. Or, keep scrolling to see more (shoppable!) examples of ways to announce your elopement.
We're honored to announce the marriage of [spouse's name] to [spouse's name] on [elopement date] in [elopement location].
It's time to party!
Love made us do it.
We got a head start—now help us celebrate.
[Couple's names] exchanged vows in an intimate ceremony at [elopement location] on [elopement date].
[Elopement date]: We did.
We tied the knot with a private ceremony and all of you in our hearts.
Thank you for your love and support as we start this new and exciting chapter.
We have an important announcement to make...
Announcing the newlyweds: [couple's names].
The Best Elopement Announcement Cards
The best "we eloped" cards are celebratory, courteous and personality-infused. Here, shop some of our fave elopement announcement ideas on the market right now.
We Tied the Knot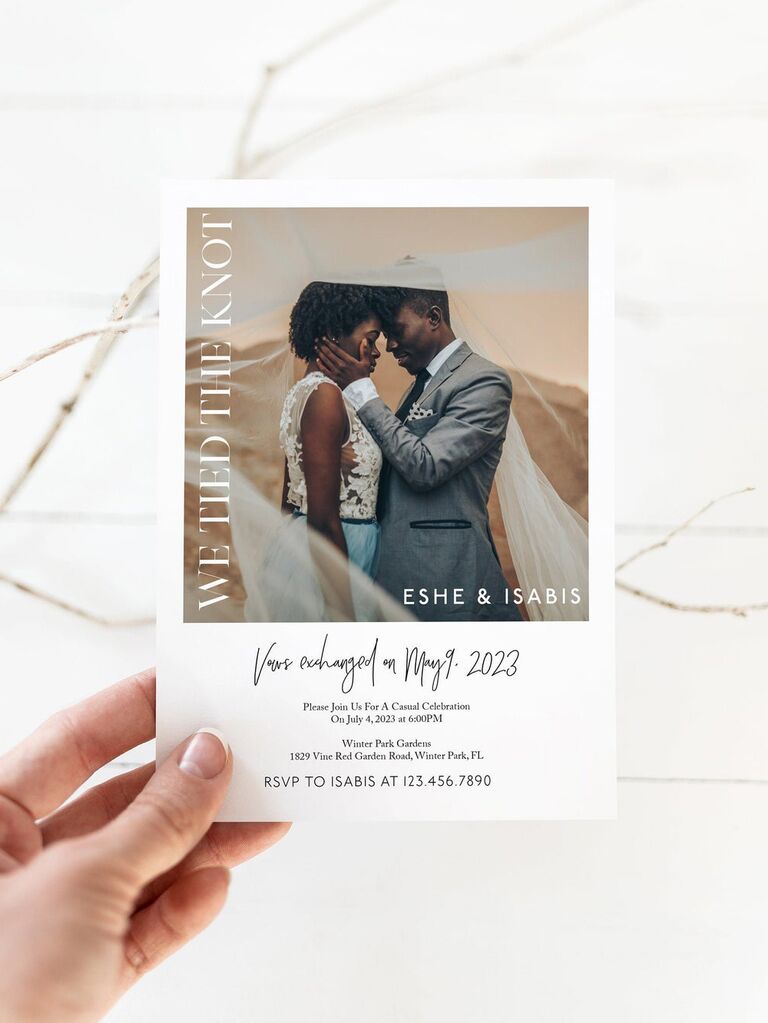 Edit this chic template for custom elopement announcements and celebration invitations. There's space for a wedding photo, plus room for your elopement party's details.
Wishful Paperie editable We Tied the Knot elopement reception invitation, $10 for a template, Etsy.com
Married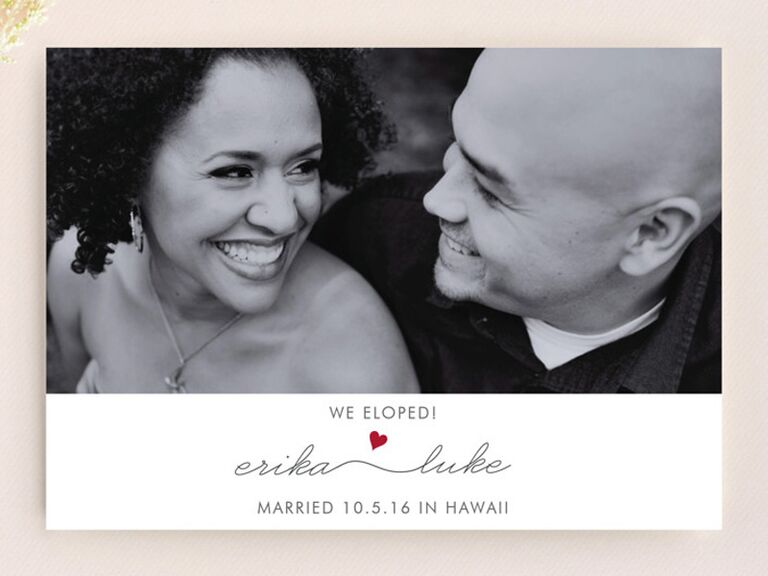 These simple announcement cards put the focus on your favorite elopement portrait. Add the basics—like your names, ceremony location and wedding date—and choose from a few color accents.
Kim Dietrich Elam Love Connection wedding announcements, from $2 each, Minted.com
We Changed the Date, But Couldn't Wait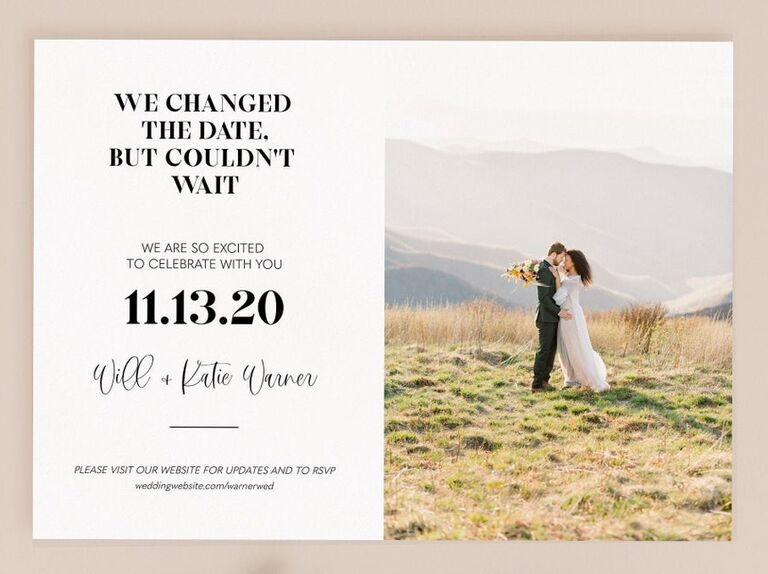 Decided to make it official before a bigger bash? This is the elopement announcement for you.
Some Day Paper Co wedding change the date elopement announcement card, $13 for a template, Etsy.com
I Do, Me Too!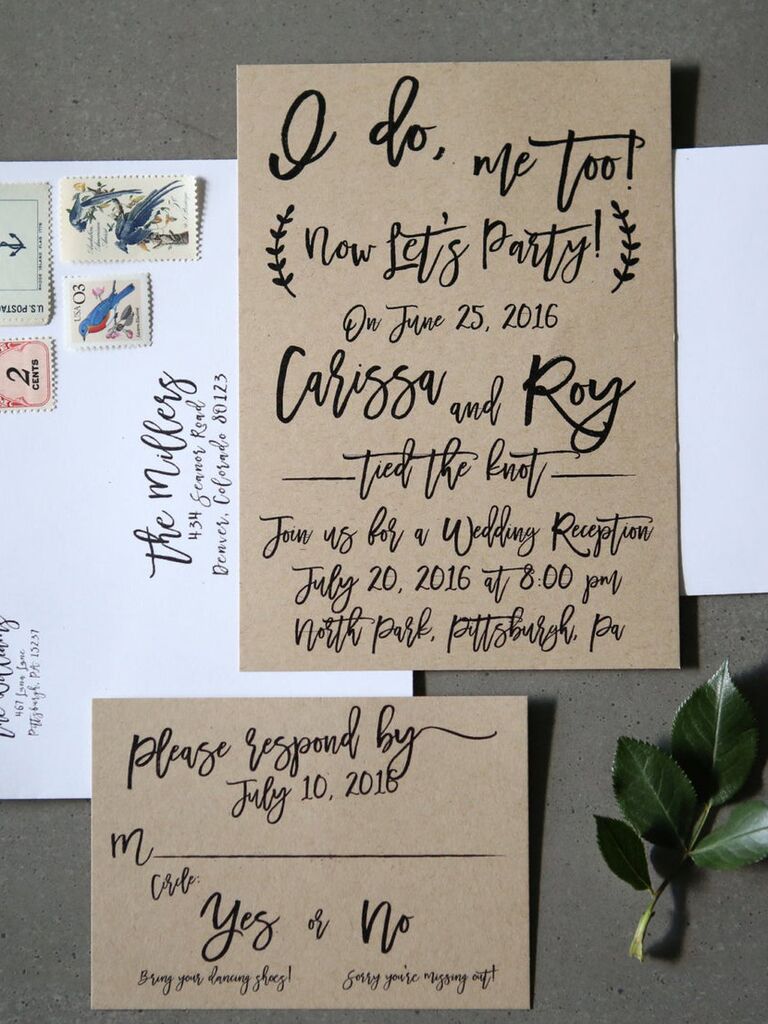 Now let's party! Choose this stationery for an elopement party invitation and announcement all in one.
Adore Paper Co I Do, Me Too, Now Let's Party elopement wedding announcements, from $2 each, Etsy.com
It's Kind of a Big Deal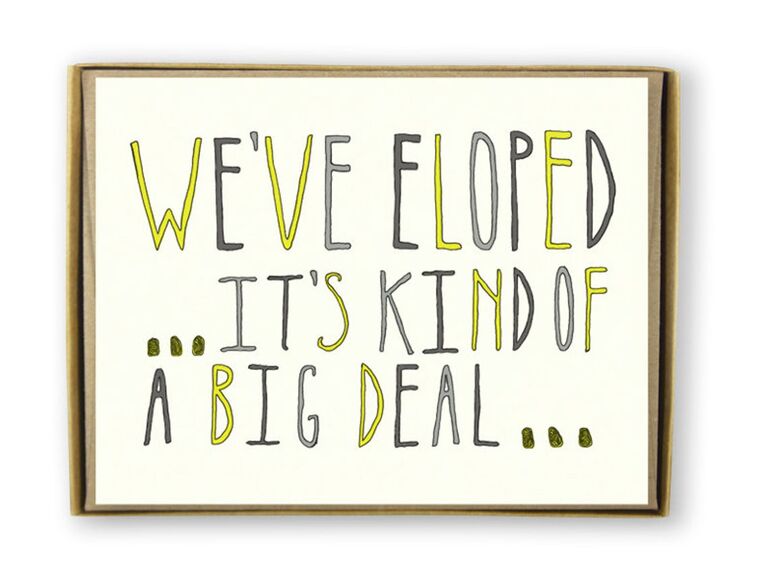 Yes, yes it is! Tell the world you've eloped with these colorful, funny elopement announcements. The insides are blank for a handwritten message, which really goes the extra mile.
Hello Small World We've Eloped fun elopement announcement cards, $20 for a set of 8, Etsy.com
We Did!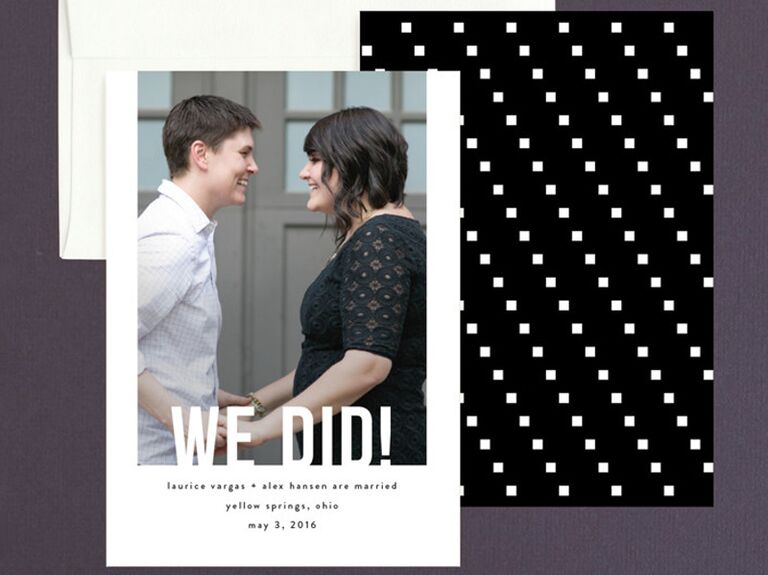 Oh yes you did! Shout out your newlywed status with these bold elopement announcement cards.
Up Up Creative Date Check wedding announcements, from $2 each, Minted.com
Surprise! We Eloped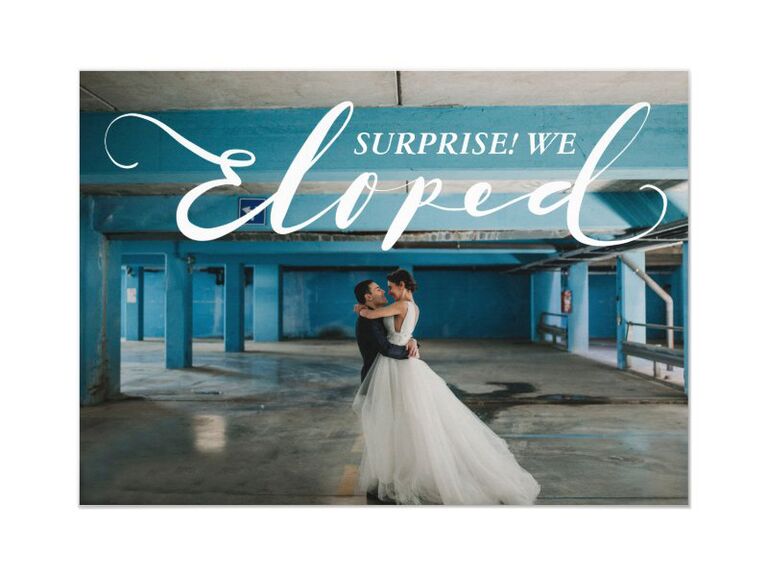 Share the happy surprise with this beautiful elopement announcement, printed on a photo of you and your spouse.
Aarietta Eloped surprise marriage elegant announcements, from $2 each, Zazzle.com
Who, When and Where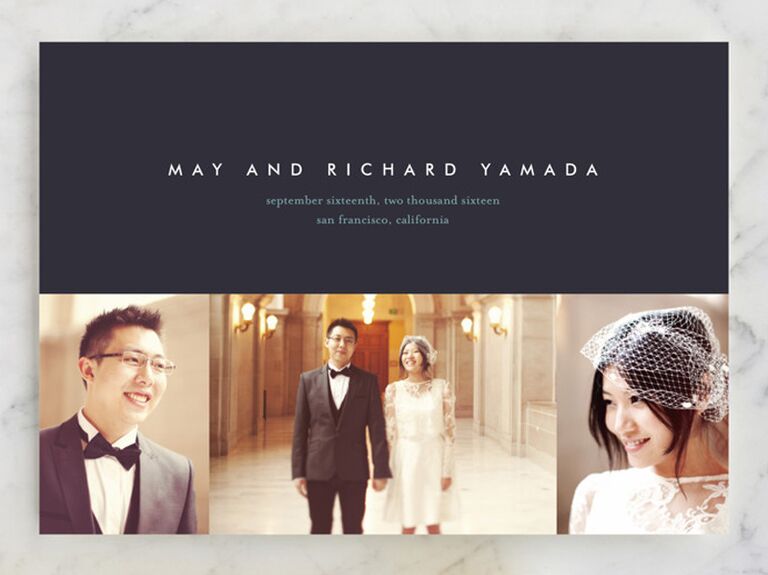 These stylish elopement announcement cards include all the essential information. Showcase photos on the front, then use the back to tell your unique love story. (Psst: We think this design would work especially well for a city hall wedding.)
Kelli Hall High Style wedding announcements, from $2 each, Minted.com
We Just Couldn't Wait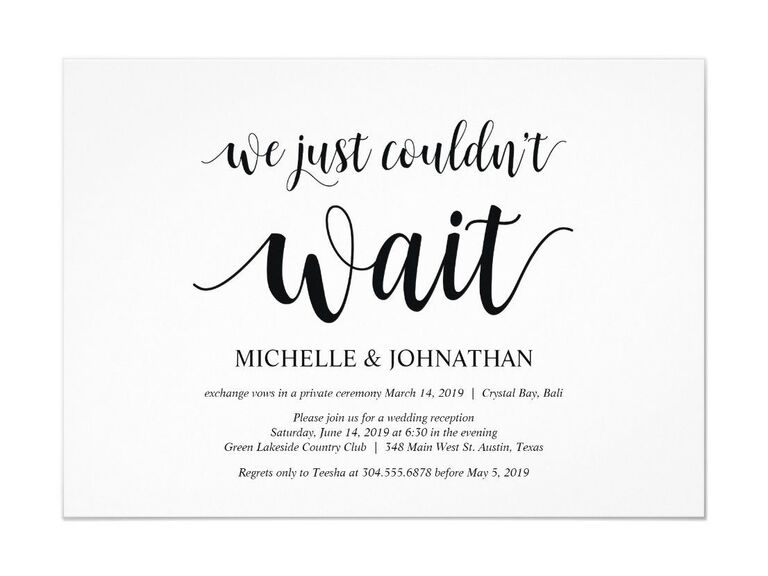 Love isn't always patient—and that's okay! If it was time and you knew it, look to these adorable elopement announcements and reception invitations.
Teesha and Derrick We Just Could Not Wait wedding elopement invites, from $3 each, Zazzle.com
Just Married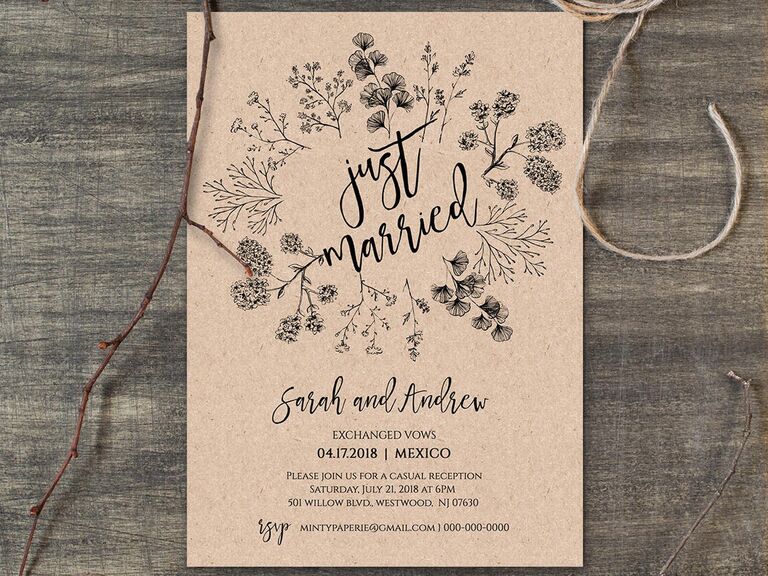 Here's another editable template for DIY lovers. Download the digital file—which says when you exchanged vows and invites recipients to a casual reception—and print out the cards yourselves.
Minty Paperie Shop Just Married elopement invitation, $9 for a template, Etsy.com
They've Tied the Knot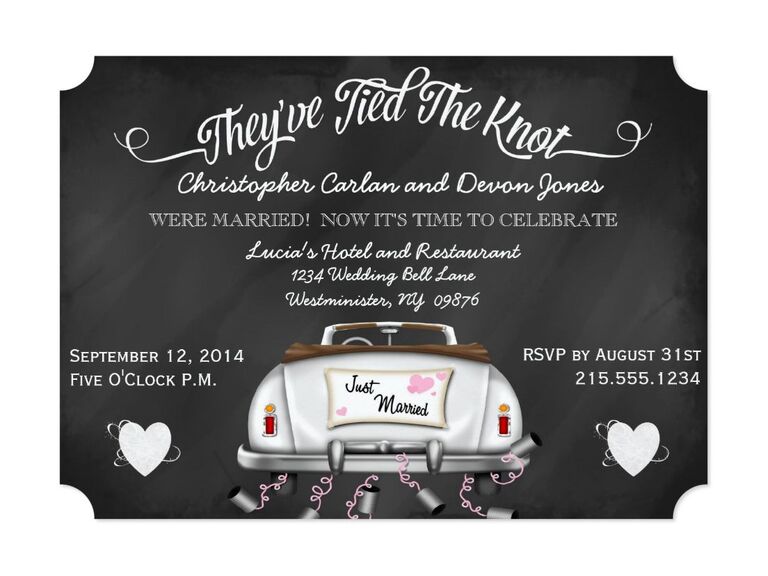 This pick is for parents hosting an elopement party. The vintage chalkboard-inspired announcement introduces the married couple, then offers a time to celebrate.
A Petite Paperie vintage convertible chalkboard post wedding invite, from $3 each, Zazzle.com
We Got Hitched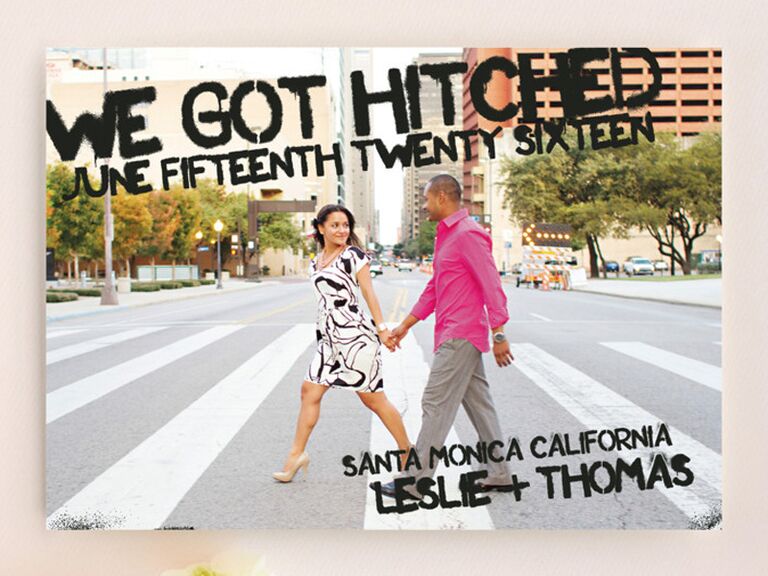 How about these casual elopement announcement cards? Spray paint-style lettering gives the stationery a unique edge.
Alex Elko Design Boardwalk Stencil wedding announcements, from $2 each, Minted.com
Established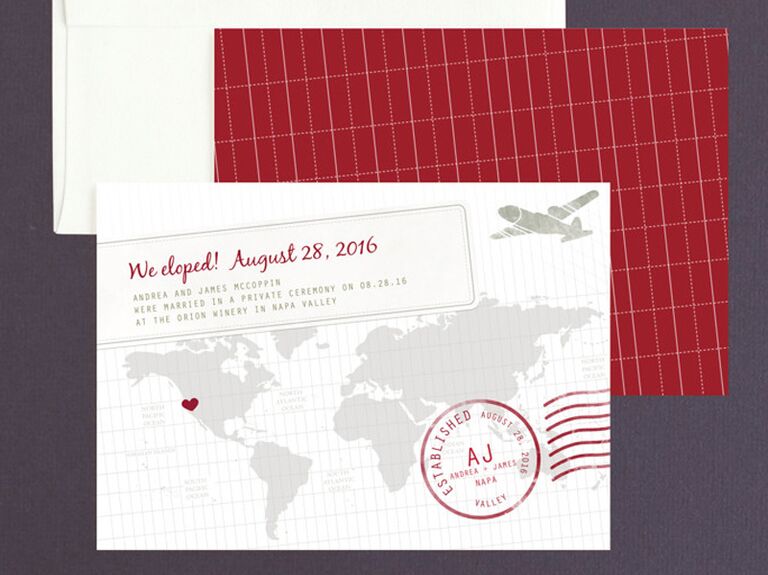 Show off your "established" date with this travel-inspired announcement card, complete with a passport-style stamp making things official.
Bumble Ink A Faraway Destination wedding announcements, from $2 each, Minted.com
Ring It In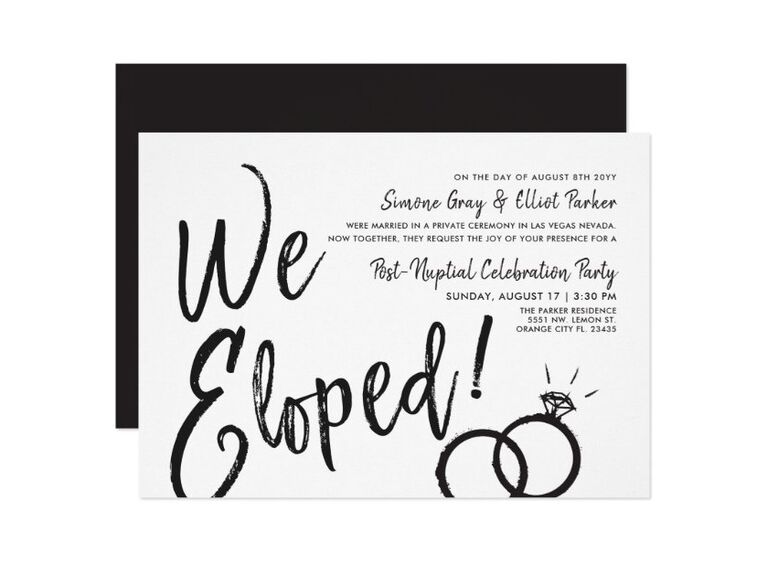 Embrace a tried-and-true wedding motif with this wedding ring elopement announcement and reception invitation.
Color Jungle Co. We Eloped post nuptial party invitations, from $2 each, Zazzle.com
We Eloped!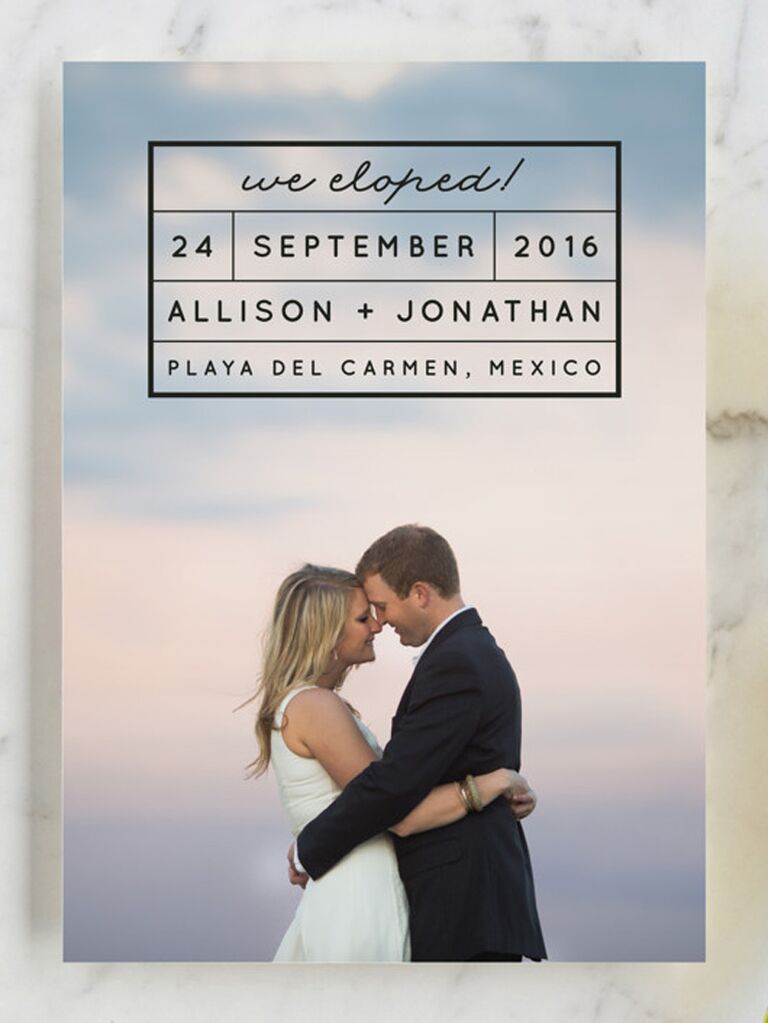 We love this "we eloped" card design's contemporary font (and customization options!).
Shirley Lin Schneider Light and Airy wedding announcements, from $2 each, Minted.com
Forever Started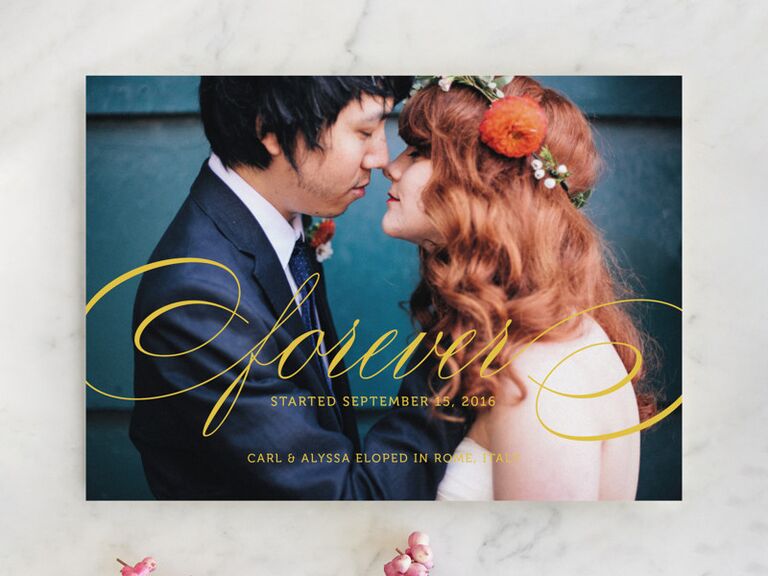 Nod to new beginnings with this creative elopement announcement card with options to include photos on the front and back.
Kimberley FitzSimons Forever wedding announcements, from $2 each, Minted.com
Nothing Fancy, Just Love
Here's some trendy floral stationery that offers a thoughtful wording idea: "Although we decided to celebrate our union intimately, please know that you are in our thoughts and forever will be in our hearts. Thank you for loving and supporting our relationship."
Love At Every Sight Nothing Fancy Just Love elopement wedding announcement cards, from $1 each, Amazon.com
Hello from the New Spouses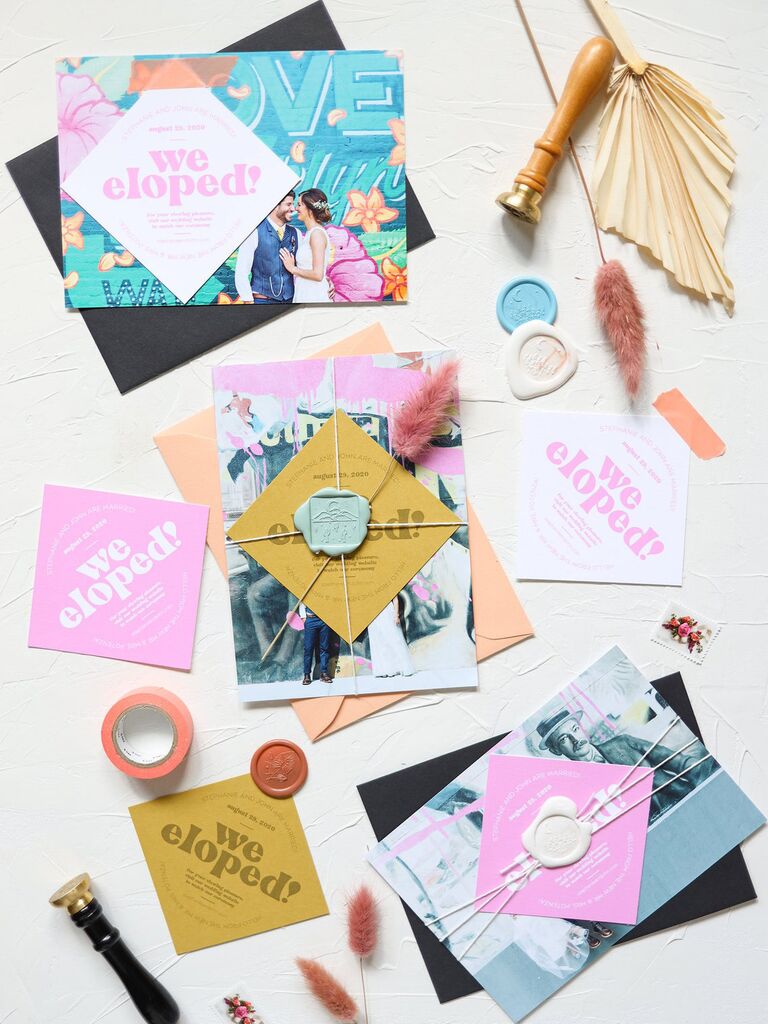 Up the cool factor with these wonderfully boho elopement announcements. You get a printed photo and a separate card revealing the news, and there's the option to add on extras like a custom wax seal to tie things together with. The seller also makes great recs for what to include in your announcement, like a link to a special wedding website where you can share additional photos and videos with loves ones.
Stephanie Tara Cooper modern elopement wedding announcement stationery, from $4 each, Etsy.com
The Mountains Were Calling…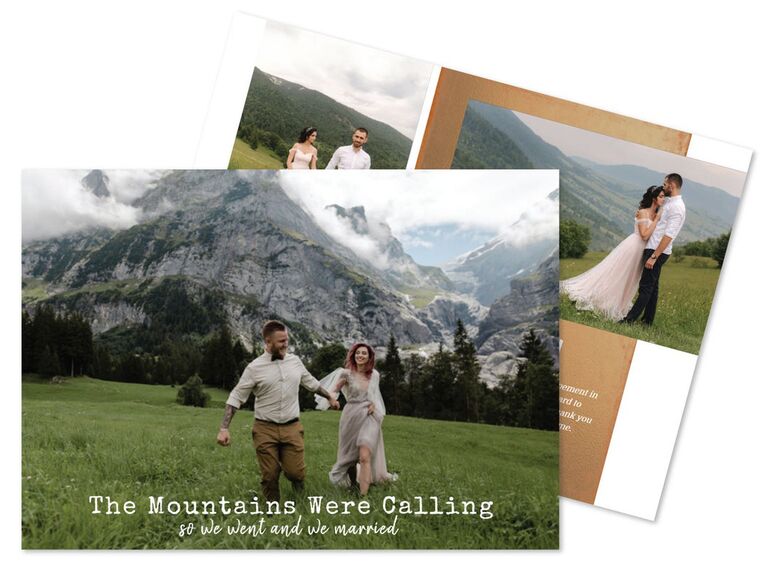 "... so we went and we married." Sometimes it's not plausible to get guests out to a remote destination, but you can still share your dreamy location with them courtesy of these unique cards.
Studio Forty Design Mountains Were Calling printable elopement download, $9 for a template, Etsy.com
The Newlyweds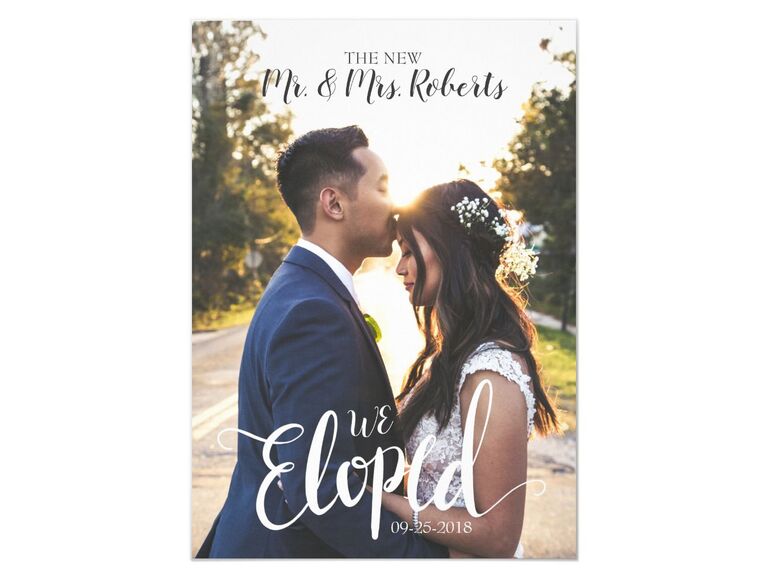 Love the look of photo-forward elopement announcements? We've found yet another adorable option.
Aarietta We Eloped simple marriage announcements with date, from $2 each, Zazzle.com
So, We Eloped!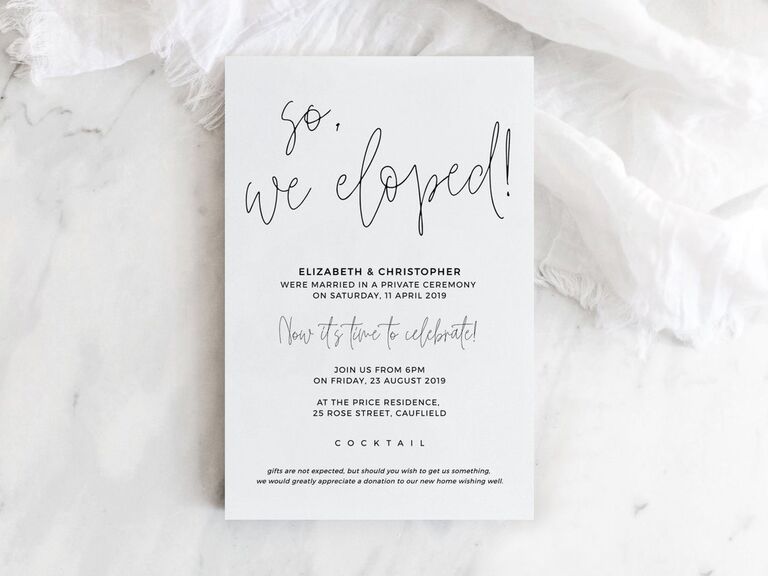 So…it happened. Spread the word with this cheeky and cheerful elopement reception invitation.
The Printable Shop DIY elopement wedding reception invitation, $10 for a template, Etsy.com