5 Father Daughter Wedding Dances We're Loving Right Now
From touching tributes to Michael Jackson impersonations, these dances are anything but boring!
by Nicole Piquant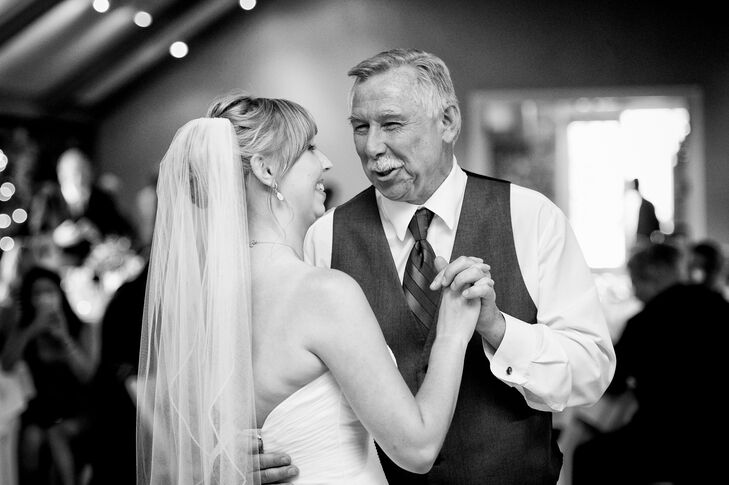 BTW Photography & Cinematography
Its official: the non-traditional father daughter dance trend is here to stay. From dance medleys to awesome games of catch, brides are choosing infuse their personalities into what has typically been one of the most conventional aspects of the wedding reception. (We love that dads are totally game to mix it up a bit, too.) Original dances keep the wedding lively and fresh, but still honor that irreplaceable daddy-daughter bond. We've rounded up our favorite father daughter dances of the moment — ones that are super fun, unique and, at times, beautifully poignant. The best part? Witnessing the bride's personality shine through. It makes for a reception that's memorable and, most importantly, one-of-a-kind.
1. The Amazing Taylor Swift Routine
Any dad who agrees to do a choreographed dance to Taylor Swift's 'Shake It Off' (and totally nails it) deserves a Father of the Year award in our book.
2. The Oldie But Goodie
It's clear why this video went viral a few years ago (and why it's still on our list of favorites) — this daddy-daughter duo could lead their own dance team if they wanted to!
3. The Hilarious Dance Sketch
This video starts with a Michael Jackson impersonation and ends with Beyonce's 'Single Ladies' ('Turn Down For What' also pops up in the mix). Larry's moves are so good, he almost (!) steals Casie's spotlight.
4. The Funky Two-Step
Shaunteva and her dad pretty much ran the gambit of our all time favorite dance songs in this fiery medley. Kudos to her guests for staying in their seats the whole time.
5. The Touching Tribute
Andrea's father passed away before her wedding, but her brother made sure she had the father-daughter dance of a lifetime. Watch the beautiful, moving twist on the traditional father-daughter dance...and make sure you have a tissue box handy.