20 Funny Wedding Cards That'll Tickle The Couple's Funny Bones
These cards are sure to earn a chuckle from your favorite newlyweds.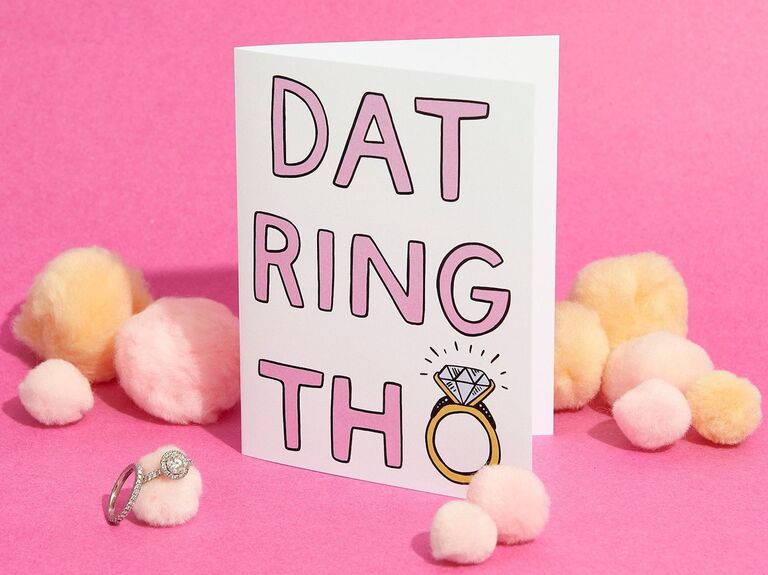 We have included third party products to help you navigate and enjoy life's biggest moments. Purchases made through links on this page may earn us a commission.
Before you compose your wedding wishes to the newlyweds in your life, you've got to find that perfect wedding card. And depending on the personality of the couple, these can range from silly, to sweet, to sentimental. If the lovebirds appreciate puns, jokes and everything in between, funny wedding cards will add some lightheartedness to their life.
We love complementing the funny phrase that comes printed on a card with a heartfelt, handwritten note written in the interior, so you'll bring on both laughs and happy tears. If you're on the hunt for memorable funny wedding congratulations cards that they'll be chuckling over even after the big day, look no further. We've done the digging for you to find the cheesiest (in a good way), most laugh-worthy hilarious wedding cards they'll treasure (and giggle at) for years to come.
1. Marriage Is Basically Funny Wedding Card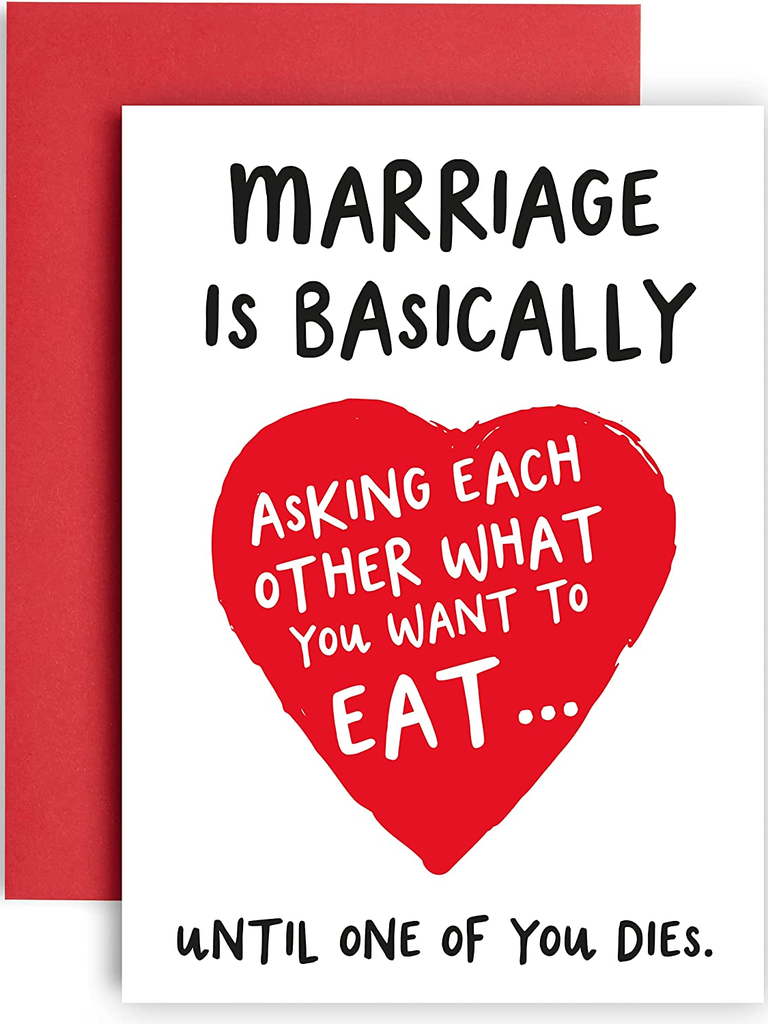 You can't help but smile when you look at this card, especially with the cute red heart and bold lettering. This joke pokes fun at the daily dinner routine that naturally develops once you're married or just have lived together for a while. If at least one member of the couple is known for being indecisive, this will definitely get a LOL.
2. Thanks for Having an Open Bar Funny Wedding Card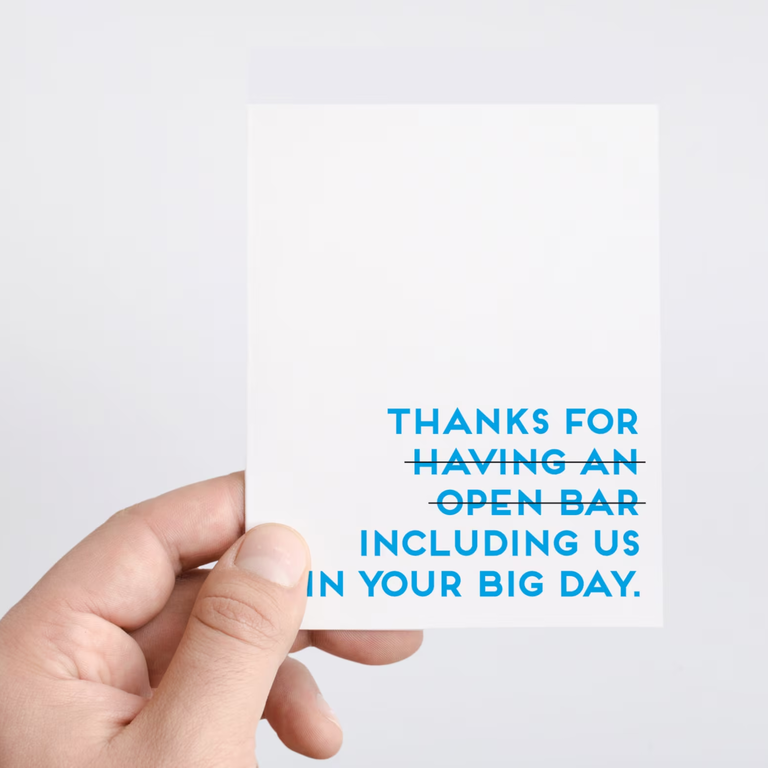 You can't beat an open bar at a wedding and, since the big day is jam-packed with guests to greet and traditions to uphold, getting extended one-on-one time with the couple is almost impossible. This card will cheekily thank them for the hard work they put into their big day, while leaving room on the inside for you to write some words of praise or advice.
3. Married Dogs Funny Wedding Card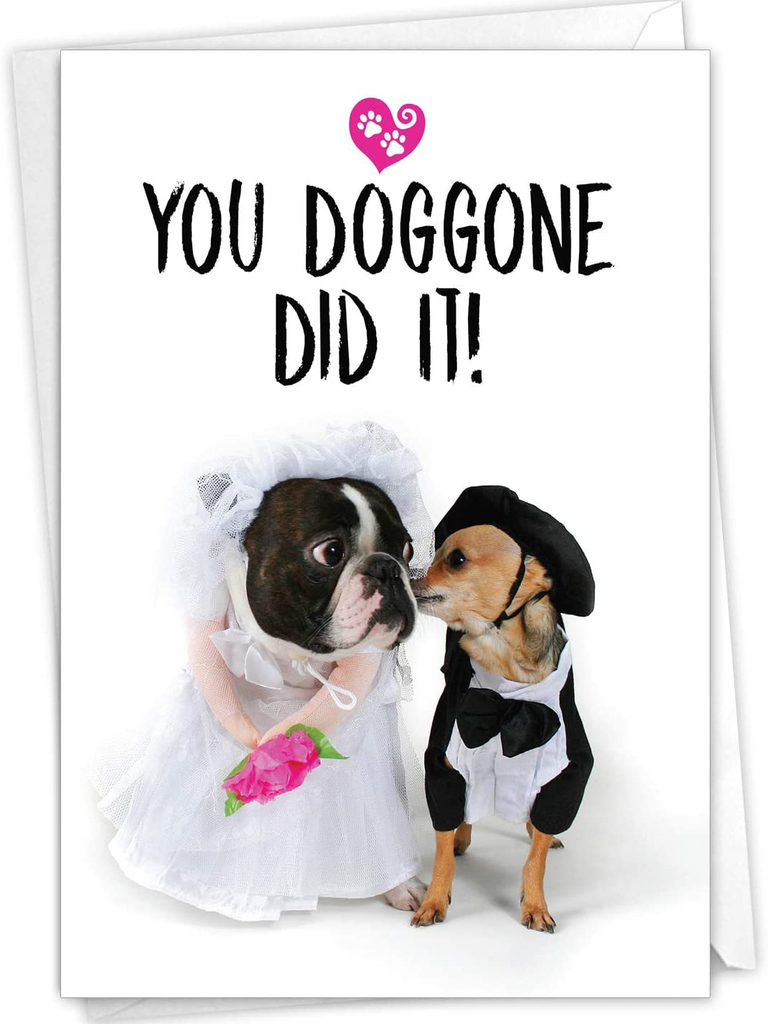 Animals are just undeniably cute and, when paired with a pun, you get an adorable and funny card. Just one look at the main photo will get the couple giggling. Plus, you can't disregard how silly and sweet the dogs look all dressed up in wedding attire.
4. Crazy Kids Funny Wedding Card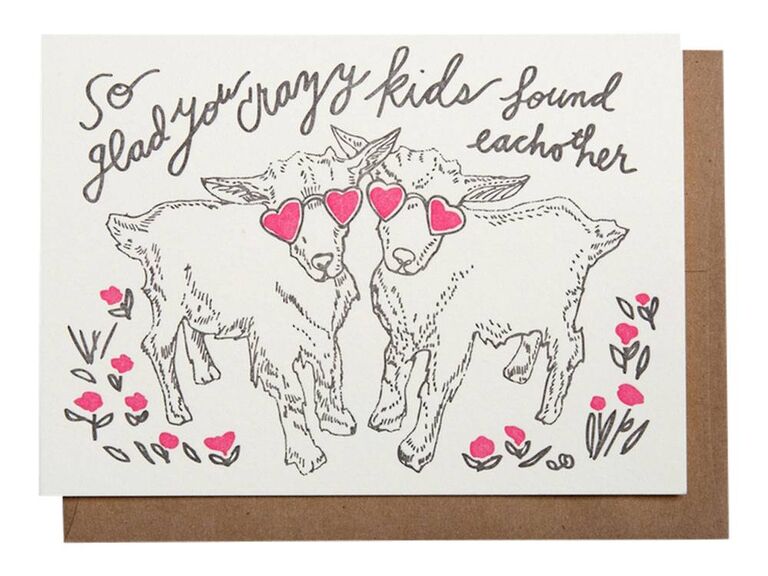 Another funny and punny animal card, these little goats will certainly earn a chuckle from the couple. We love their heart-shaped shades and the letterpress design of the card, which makes this one of our favorite funny wedding cards for friends. Personalize it even more on the blank interior before pairing it with your wedding gift.
5. "Dat Ring Tho" Funny Wedding Card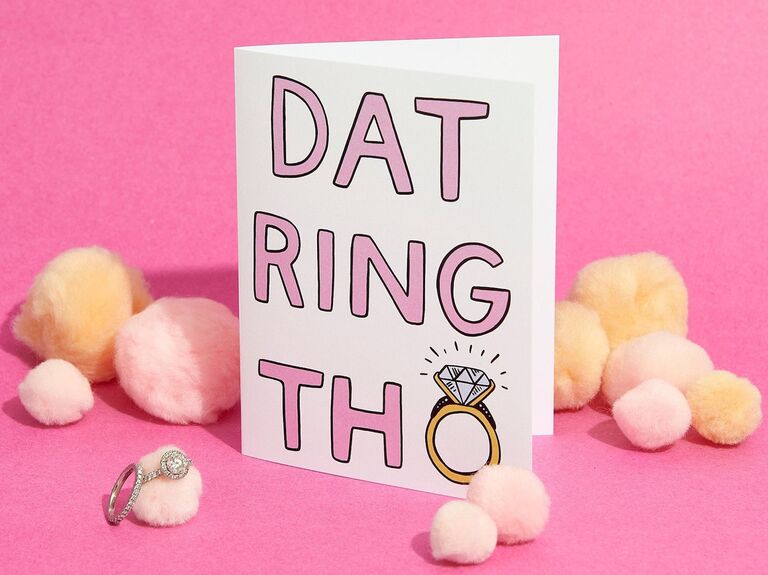 This funny wedding card only proves that everything looks better in pink. The doodle-like font adds a casualness to the card that the newlyweds are sure to appreciate after donning their fanciest attire for hours on their big day. Then, you can fill the inside with a heartfelt, tear-jerking message that'll have them laughing and crying in a matter of seconds. We love pairing this card with a funny wedding shower gift, too.
6. Holy Macaroni Funny Wedding Card
Get punny with this next card and appeal to the couple's shared love of food and humor. If mac and cheese is at least one member of the couple's favorite foods, they'll enjoy the pun humor and doodle of macaroni. From there, the blank inside will give you an opportunity to show off your own pun skills or leave an even cheesier message.
7. "A Toast to the Happy Couple" Funny Wedding Card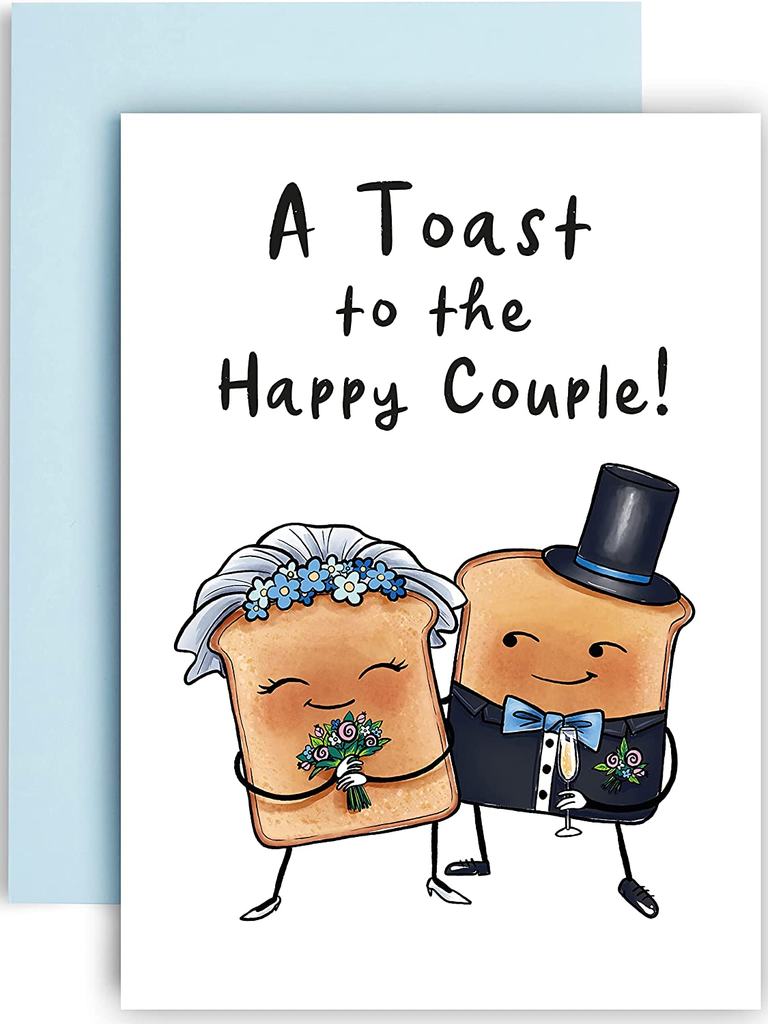 Weddings are filled with toasts giving the couple advice and well-wishes. With this card (one of the best Amazon funny wedding cards, in our opinion), you can leave your loved ones with one last toast they'll be grinning from ear to ear over. Thanks to the blank inside, you'll be able to DIY this one with your own crafted message they'll cherish forever.
8. Getting Serious Funny Wedding Card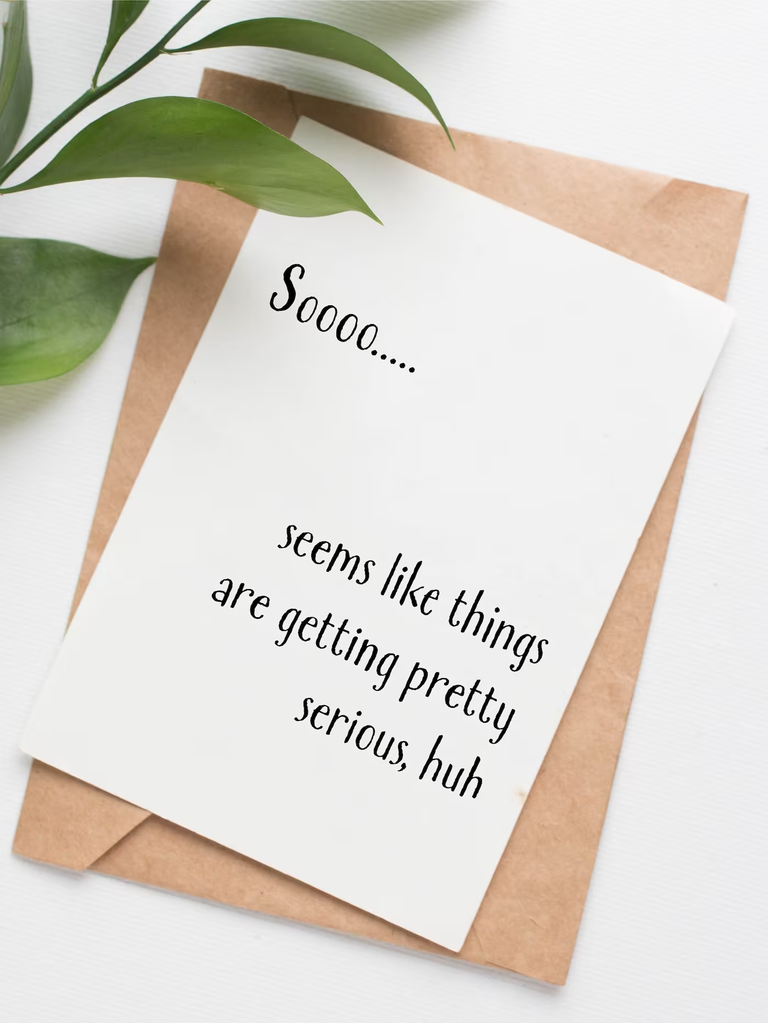 It goes without saying that a wedding means the couple is ready to commit to a life together forever. If the newlyweds have a love for humor, this simple, but classic joke will have them giggling and maybe even reminiscing about the early days of their relationship. Just don't forget to add your own little message on the blank inside of this Etsy funny wedding card.
9. "Schitt's Creek" Funny Wedding Card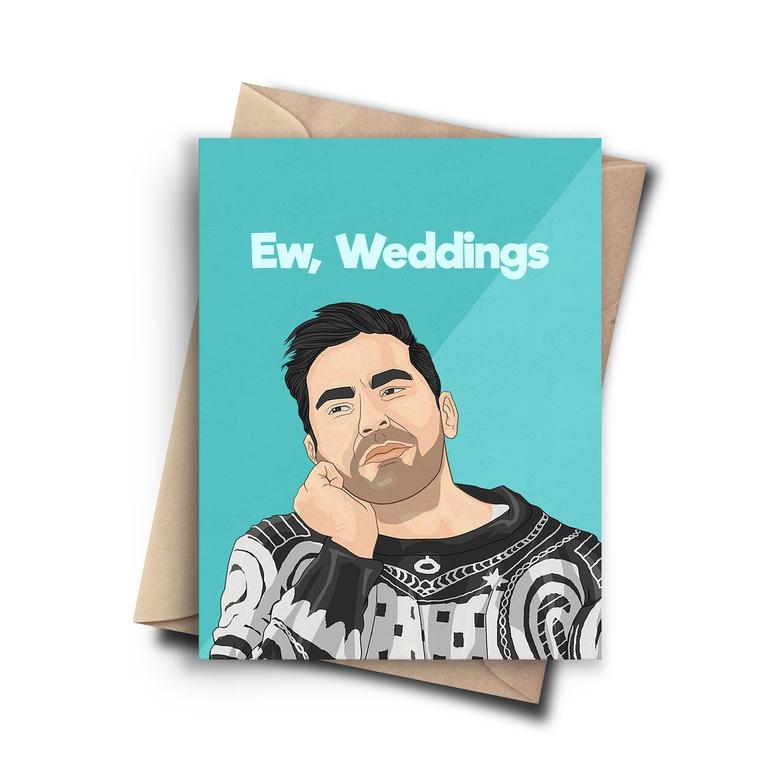 David Rose from the hit comedy show "Schitt's Creek" arguably had some of the funniest one-liners. If your couple is a fan of the show, then there's no doubt they'll love this card. You can just hear the character's voice as you read it, which will definitely earn you some brownie points from the newlyweds. We also think this card is sassy enough to pair with a funny bachelorette party gift.
10. The Best Decision You Ever Made Funny Wedding Card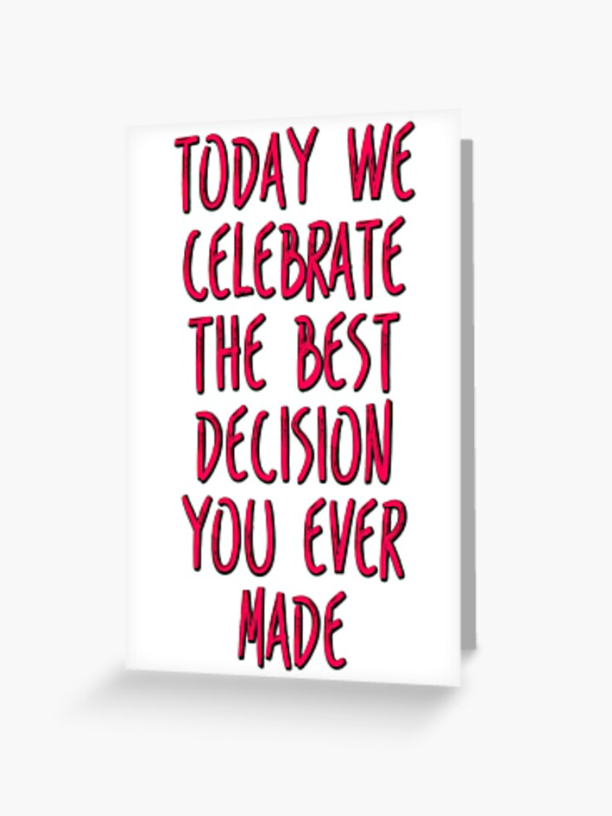 Getting married is no small decision to make, so make sure you remind them it's not only a huge decision, but the best one they've made. The cover reiterates the cheeky sentiment in bold red lettering. We especially love this card for a sibling or best friend to give to their loved one's spouse, since it's a sassy way to say they're lucky to have them.
11. Ice Cream Cone Funny Wedding Card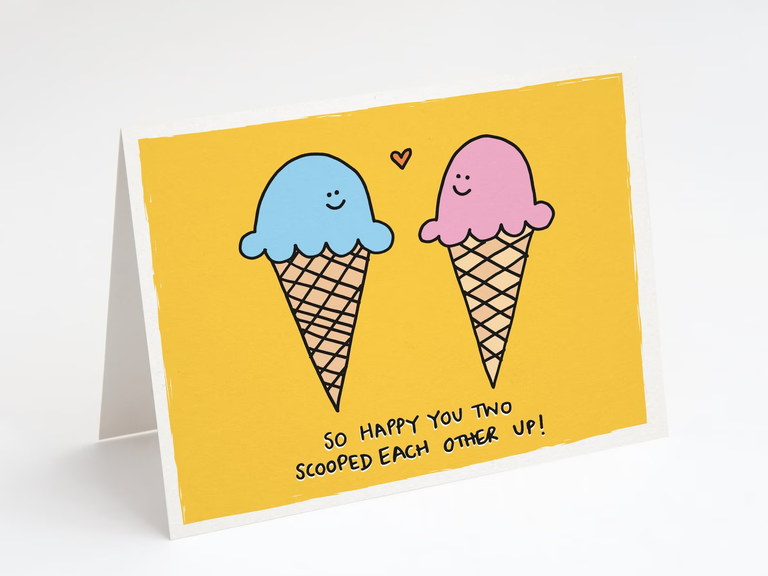 Make sure you scoop this card up if your favorite couple has a love of sweets. This colorful and fun card will be quite the treat for them to read together, especially once they take a look at the cute drawing on the front. The cherry on top will, of course, be the sweet little message you leave inside for them.
12. Two Weirdos Funny Wedding Card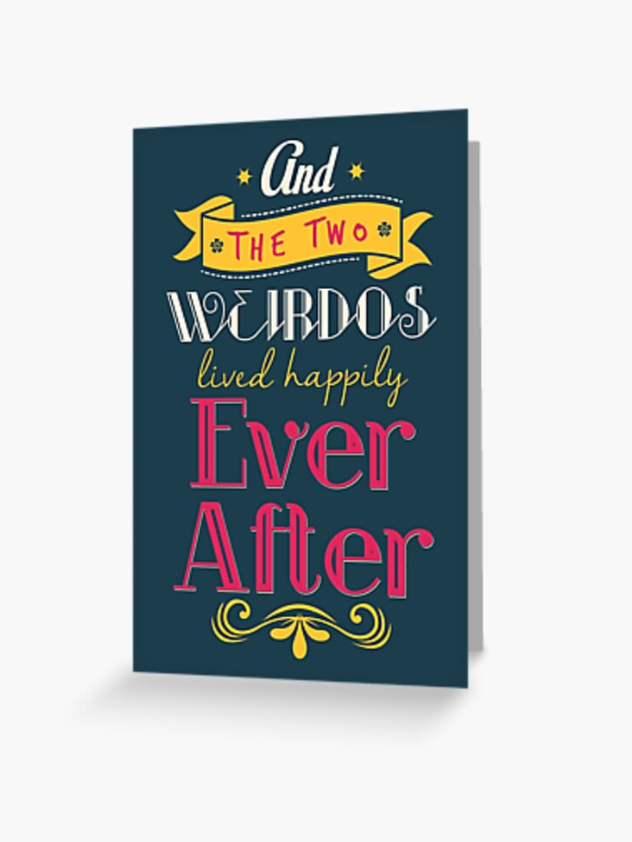 The happy pair deserve a laugh after putting on a big celebratory event. For the couple that's proud of their uniqueness and can only be described as one-of-a-kind, remind them of how amazing they are with a gorgeous card featuring this laugh-out-loud message. Then, add your own little well-wishes inside.
13. Already Married Funny Wedding Card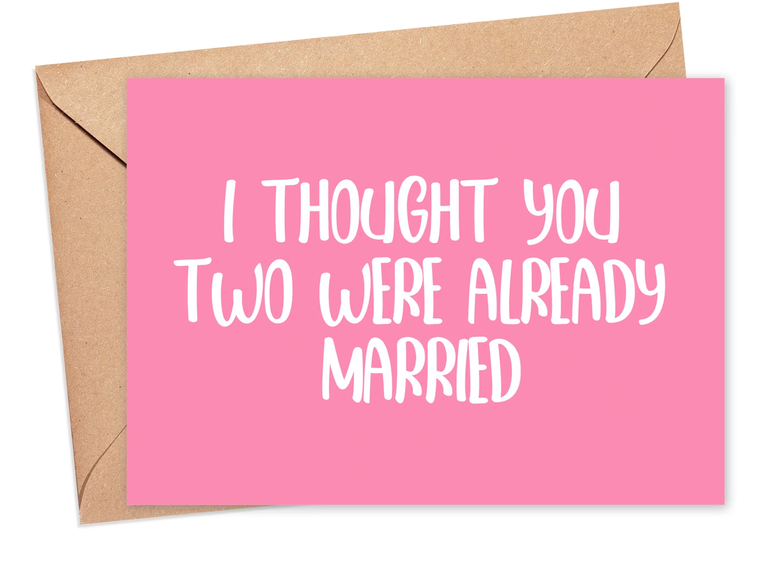 Let the pair know that they've been "couple goals" long before they tied the knot with a silly card that pokes fun at them finally getting hitched. Especially if the newlyweds had been together for a while before getting engaged, they'll appreciate the joke that they've probably heard once or twice before about finally getting married. We also think this is one of the best funny wedding greeting cards for couples who eloped and are hosting a reception party later on.
14. "Perfect Blend" Wine Funny Wedding Card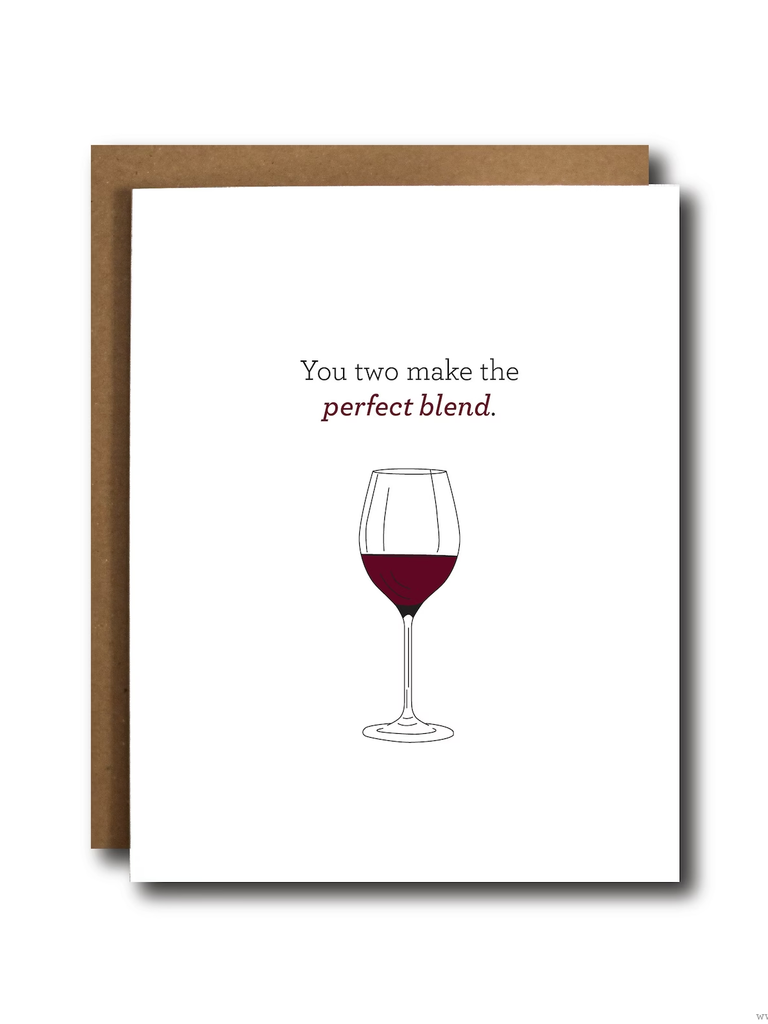 For the pair of wine connoisseurs in your life, this funny wedding card is a must, especially if they love a good joke. The simple design isn't overwhelming and quickly gets to the point. Then, you can steal their hearts when they open it by writing a silly, yet heartfelt message they'll cherish.
15. Selfie Funny Wedding Card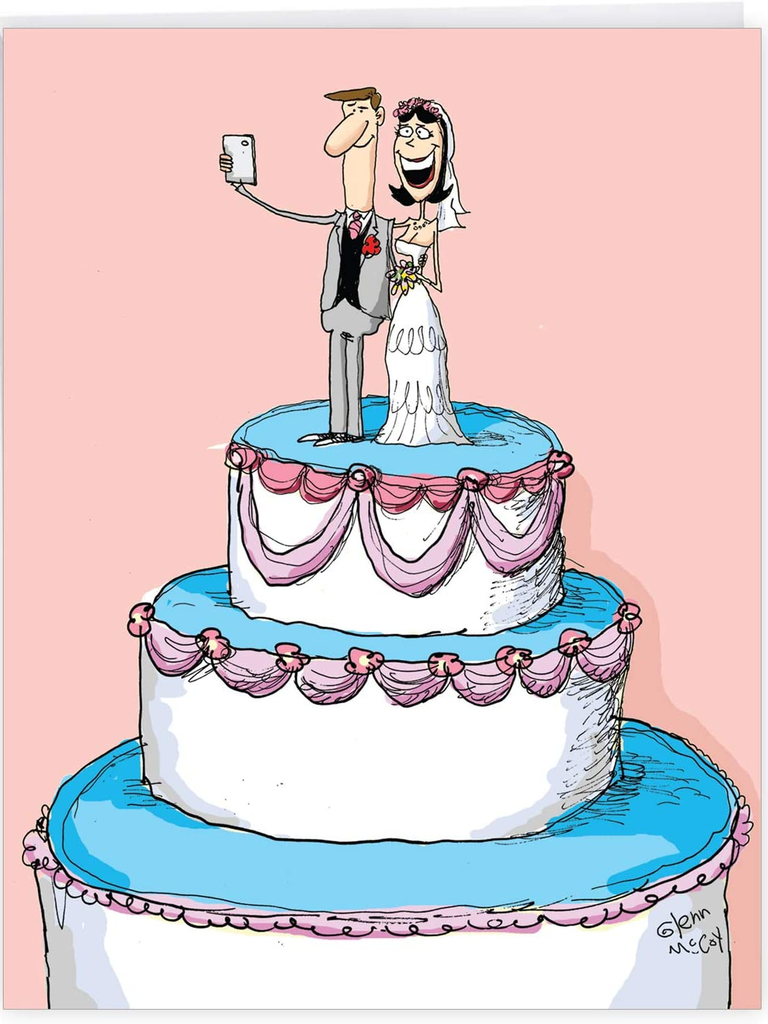 Sometimes you don't even need a pun or a joke to get the pair laughing, a picture is—as they say—worth a thousand words. This cartoon drawing definitely gets its joke across simply and wonderfully. This card is perfect for the social media photo-snapping duo.
16. "Holy Moly Matrimony" Funny Wedding Card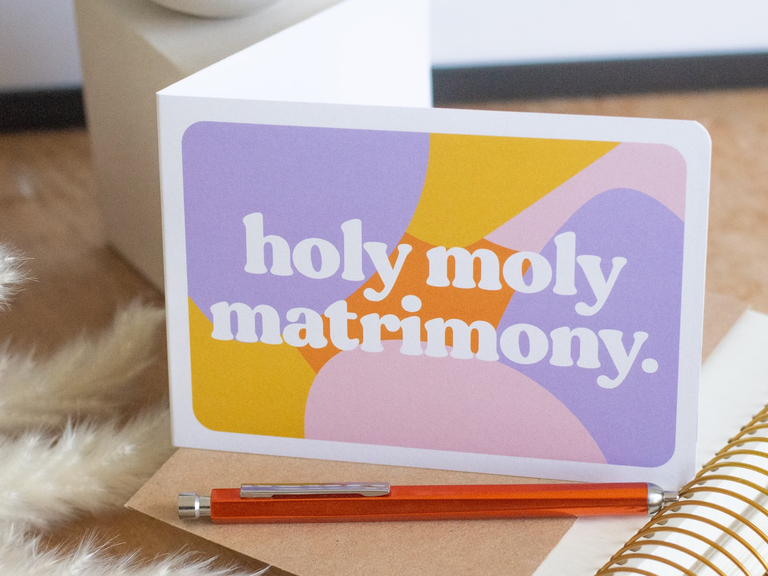 The colors of this card are just so aesthetically pleasing, so is the retro bubbly font. It's simple, easy on the eyes and comes with a little rhyme that'll have the pair smiling over the fact that the two of them finally got married. You can also add your own jokes and words of wisdom on the inside to really personalize it.
17. "Best News in Ages" Dinosaur Funny Wedding Card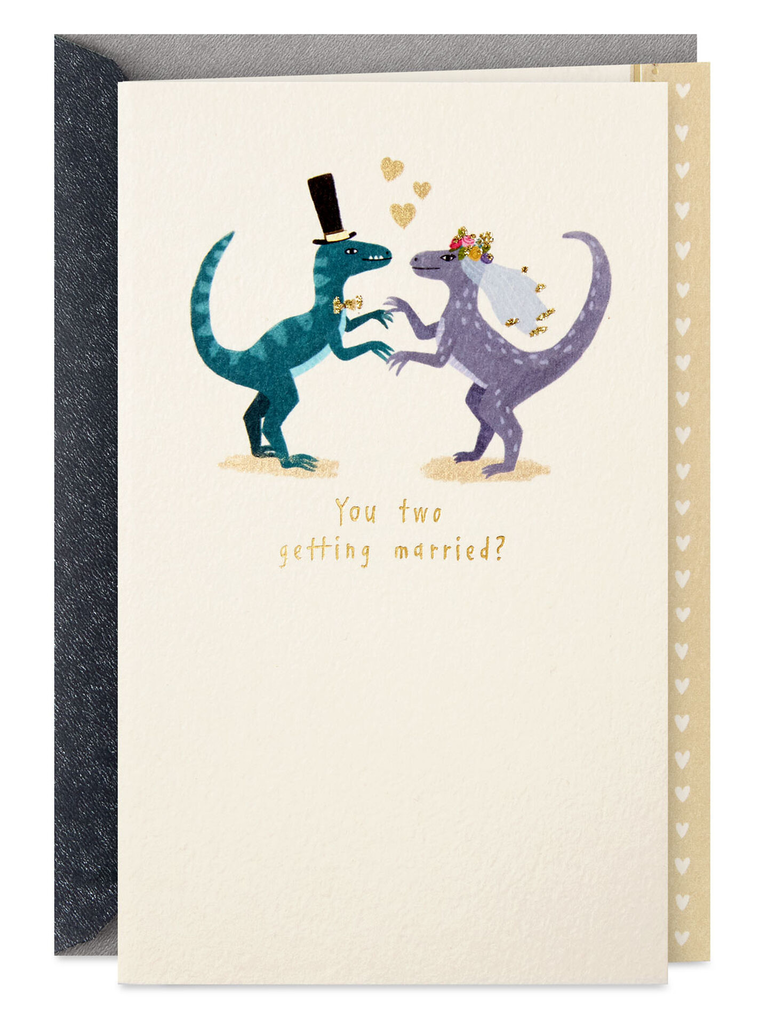 This dino-mite card will start the duo's life of wedding bliss off on the right foot with a lighthearted doodle and goofy message. If they're fans of dinosaurs or natural history, this card will totally appeal to their funny bones. The front reads: "You two getting married?" while the inside says, "Best news in ages," since dinosaurs are pretty old. Get it?
18. "Friends" Ross and Rachel Funny Wedding Card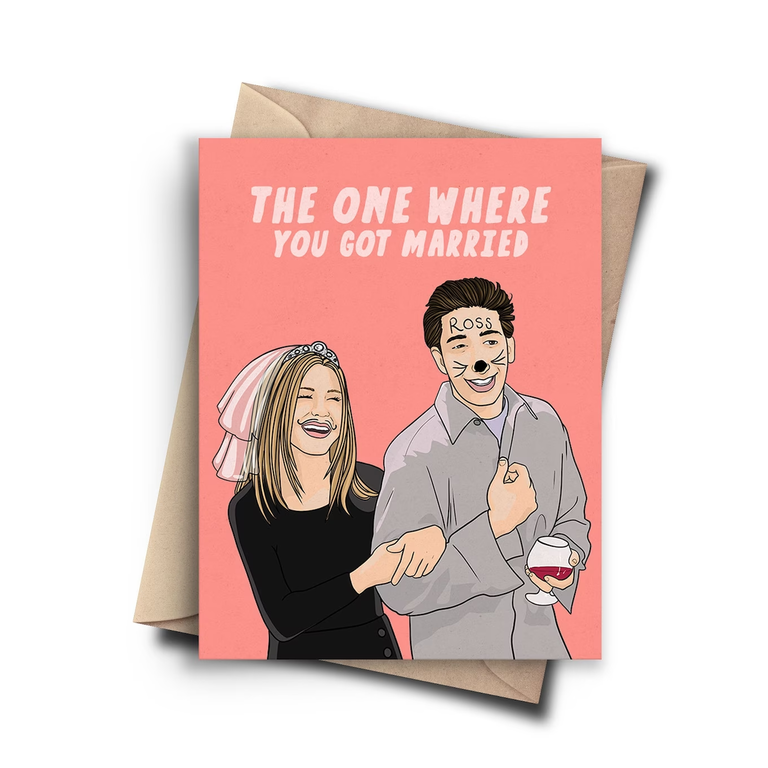 We all remember Ross and Rachel's iconic Vegas wedding scene from "Friends." Pay homage to one of the show's silliest moments with this funny wedding card for fans of the show. As Chandler might say: "Could there be anything funnier?"
19. "Aaaaaahhh! You're Getting Married!" Funny Wedding Card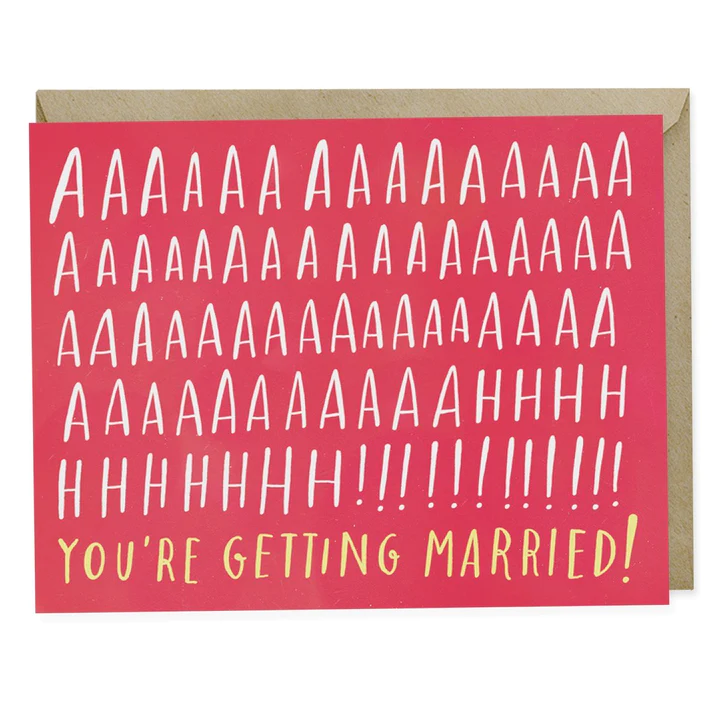 There's probably no simpler way to show your excitement for the happy couple than with this funny wedding card. We can't stop giggling over the copious "a"s and exclamation points. So wholesome.
20. "Gouda Couple" Funny Wedding Card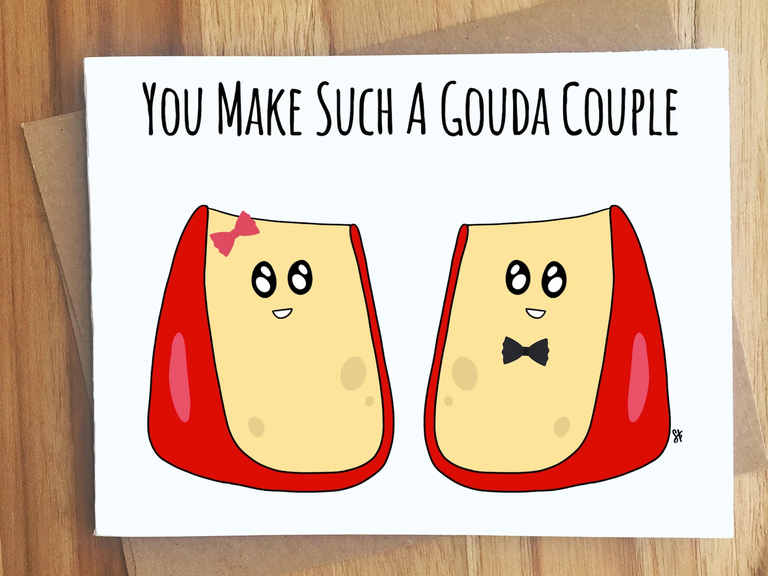 Got some cheese-loving and joke-loving newlyweds in your life? This is the perfect funny wedding card. We can't decide which element we love more—the witty pun or the cute cartoon gouda wedges.