24 Funny Wedding Cards for the Couple Who Are Always Laughing
Congratulate the newlyweds on their marriage—and their sense of humor.

We have included third party products to help you navigate and enjoy life's biggest moments. Purchases made through links on this page may earn us a commission.
The marriage of your close friends or special family members is an occasion worth celebrating. To accompany the perfect gift, you'll want to pick a memorable wedding card. Whether you're a bridesmaid watching your best friend say "I do," or sending a happy couple wedding wishes from afar, funny wedding cards are a thoughtful way to add a personal touch guaranteed to make them smile. From a congrats card with the perfect pop-culture reference to a punny wedding day card or cheeky bridal shower message ahead of the big day, these editor picks are sure to tickle your funny bone—and maybe even make you laugh out loud.
Amy Zhang Soul Mate-y Wedding Card

Congratulate the happy couple on being relationship goals (get it?) with this cheeky (and beautiful) illustrated card.

Bettie Confetti Happiest Wedding Moment Funny Wedding Card

For those that have been there, share this relatable sentiment printed on kraft paper and embellished with a glittery gold heart. You have the option to send the card to yourself and fill it out, or you can add a printed message and send it directly to the recipient if you've RSVP-ed no.

Amy Zhang Congrats On Your Bear-riage Wedding Card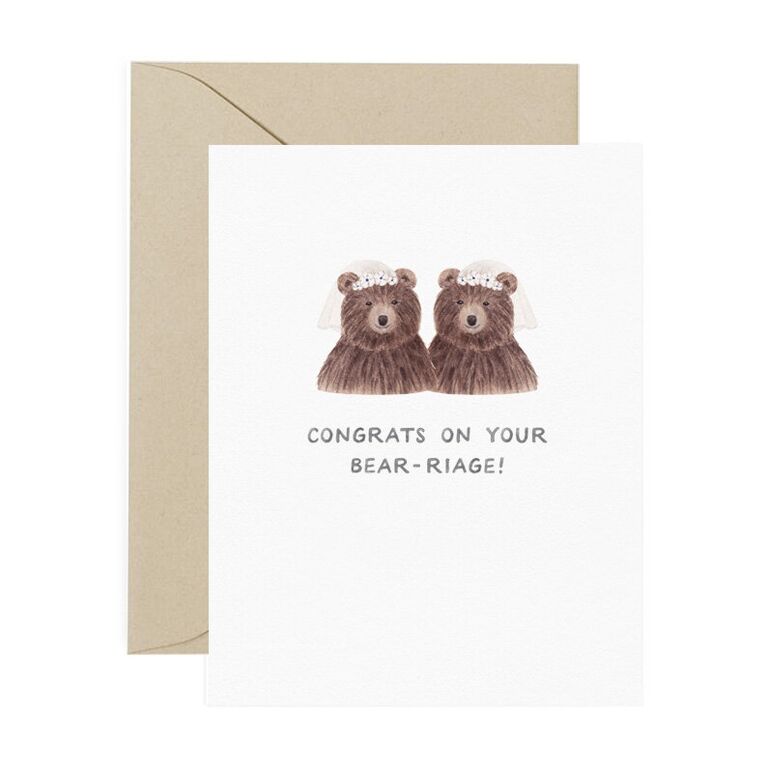 There are three versions of this adorably punny card available. Choose between illustrations of a bride and groom bear, two bride bears or two groom bears to match perfectly with your friends' fur-ever love story.

BE Paperie Thanks For Having An Open Bar Funny Wedding Card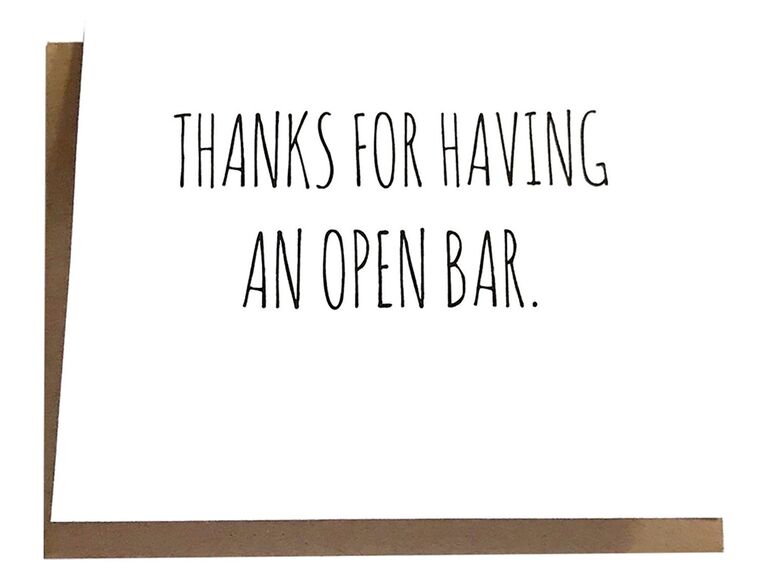 Your fun-loving friends will giggle at this one. The front reads, "Thanks for having an open bar." Open it up to reveal the message, "I mean, congrats on getting married!"

Kulgra Funny Wedding Congratulations Card

Finding your happily ever after is kind of a big dill! Say congrats with this cute pickle married couple card.

Mama Llama Studios Quarantine Wedding Greeting Card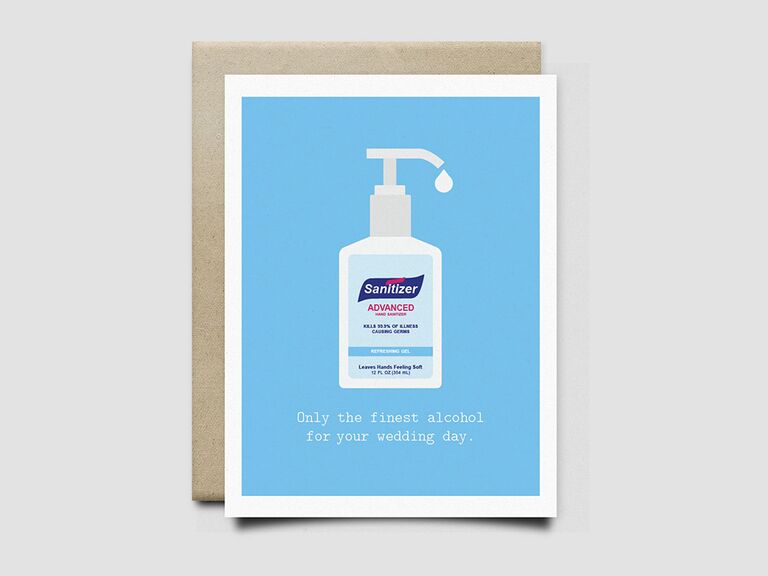 This timely card references the pandemic while still keeping it light, making it a great personalized option for a post-lockdown celebration.

Spade Stationery Getting Married Funny Wedding Card

Poke fun at the dreaded family dinner question with this all-too-accurate marriage card that says, "Congratulations! No one will ask you when you're getting married ever again" in bold lettering with a blank inside.

Catherine Do Art Shop Happy Wedding Day Funny Pun Card

Why choose one pun when you can have them all? This witty wedding card packs on the wordplay alongside the cutest drawings. And how amazing are the details on the illustrated avocado envelope?

Spaghetti & Meatballs Truly Happy For You Two Funny Wedding Card

This hard seltzer-themed card works just as well for an engagement party as it does for a wedding. With a blank inside, there's space to add a little extra flavor of your own.

Innabox Design Mario Funny Engagement Card

Can't quite find the right words to congratulate your favorite gamer on their engagement? This quirky "Marryo" card is perfect for wishing them good luck as they level up to married life.

Little Scribbles Paper Funny Office Wedding Card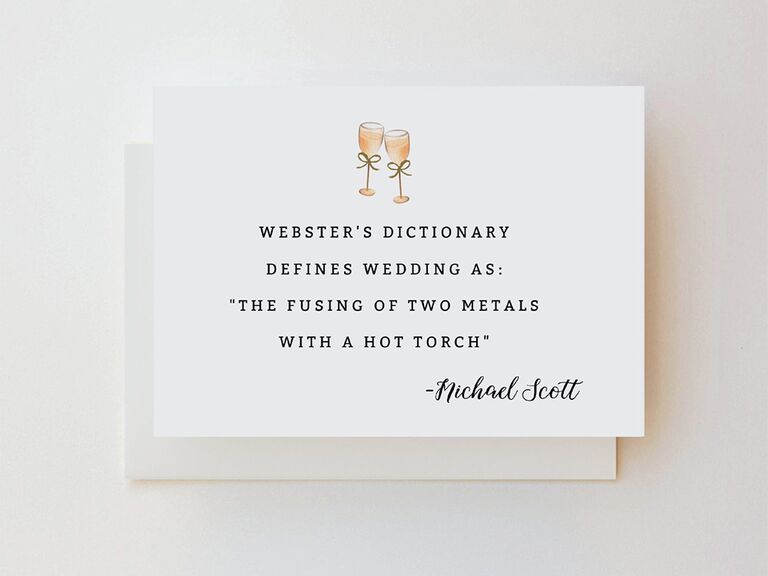 Any fan of The Office will appreciate this card featuring one of the most recognizable TV wedding quotes. The blank inside and pretty clinking glasses illustration make it versatile enough to use for a wedding shower, too.
Blossom and Bae Simpsons Wedding Congratulations Card

Name a more iconic married couple than Homer and Marge... we bet you can't. This silly wedding congratulations card features Homer in a wedding dress and Marge in a power suit with pastel confetti all around them—perfect for Simpsons fans on their wedding day.
OXHIP Cute Squirrel Wedding Card

Send this sweet squirrel card to your nutty friends in love to wish them the best on their engagement, wedding day or even on moving into a new home together.

Top Hat and Monocle Funny Wedding Card

A best friend or sister will surely giggle at this tongue-in-cheek congrats card with an ahem, honest, statement on the front. Use the blank inside to balance out the sass with a meaningful message written from the heart.

Paper Protege Paperie I'm In Tiers Wedding Card

Don't forget the extra tissues—or this pun-derful card—when preparing for a day that's bound to be filled with lots of happy tears. And cake, always cake.

Create Pandamonium Waffley Wedded Funny Wedding Card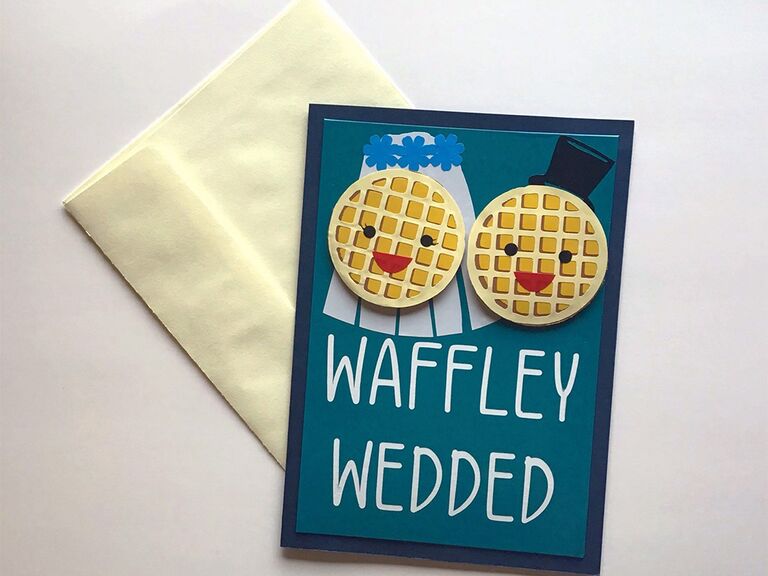 As if the 3D-raised waffles on the front of this card weren't sweet enough, the inside of this "waffley wedded" design has a matching toaster drawing with the handwritten words, "Let us toast to the happy couple!" Plus, since the cards are handmade, you can request adjustments like different colors or same-sex waffles.

The Cardtel Greeting Cards Simply The Best Schitt's Creek Wedding Card

Your favorite Schitt's Creek fans will be blown away when they receive this congratulatory card referencing what is arguably one of the most emotional moments from the hit show. Under the words, "You two are simply the best together" is a full-color graphic of David wearing a veil, complete with a white dove on either side. We have just one word: iconic.

Easel & Bear Pretzel Wedding Card
There's no need to get twisted over sending the right message when this pretzel pun wedding congratulations card exists.

Wuith Love B A Toast to the Happy Couple Card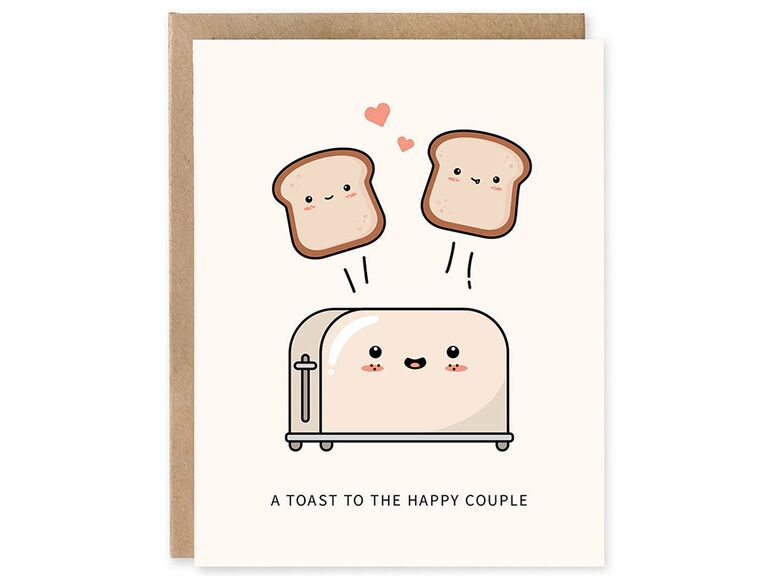 It's impossible not to smile when you see this happy toaster and pieces of toast in love. This digitally illustrated card is an ideal choice for an engagement party, wedding shower or even just a funny anniversary card.

Ping Hatta Studio Funny Cat Wedding Card

Looking for a meme in greeting card form? You found it! This funny wedding card will have newlywed cat lovers fe-line grateful to have a friend that knows them so well.

Unblushing Equal Amounts of Dishwashing Funny Wedding Card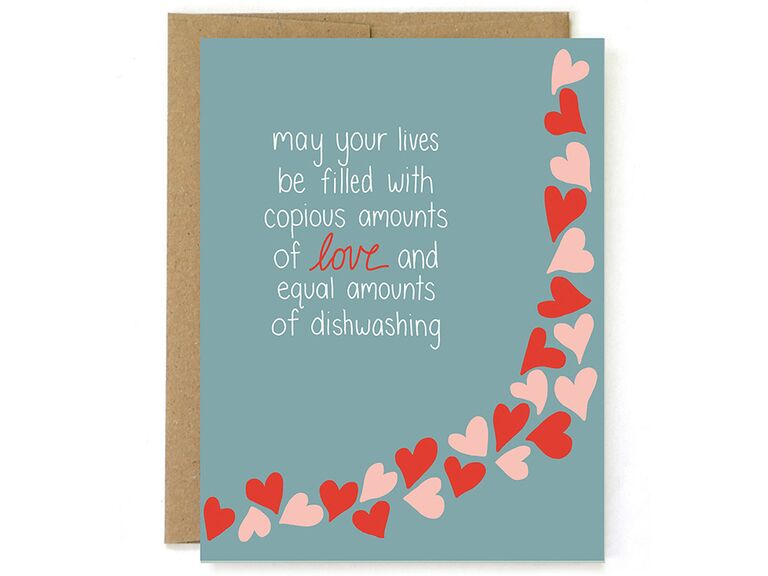 It doesn't get much sweeter—or more real—than this card, which reveals the true secret to a long and happy marriage: equal chore duty.

Rumble Cards Joined Together in Holy Macaroni Wedding Card

A great card for the whole family to sign, this one is funny and kid friendly. Plus, it's an ideal choice if the to-be-wed pair loves a good bowl of pasta (let's be honest, who doesn't?).

The Card Bureau Wine Pun Wedding Card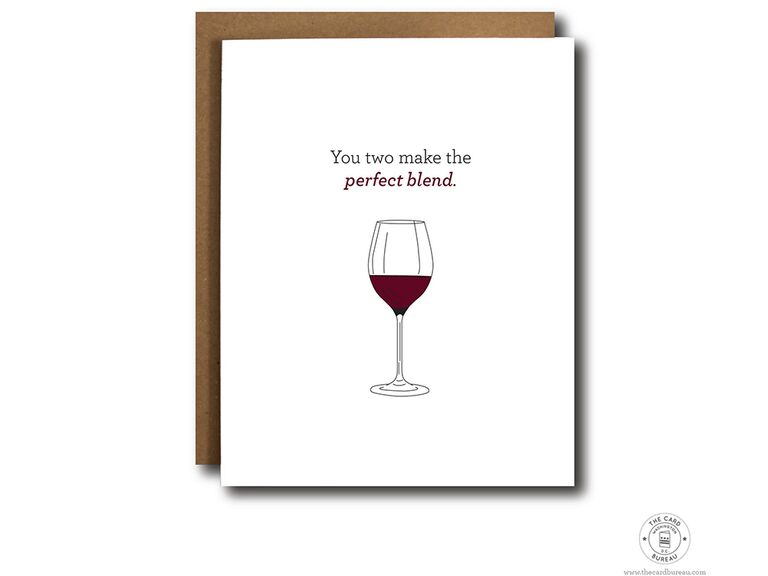 Toast your favorite newlyweds or wish a happy wedding anniversary to the pair that only gets better with age with this card. Bonus points if you accompany it with their favorite bottle of red.

Tagooey Schitt's Creek Funny Wedding Card
This amazing card features the main characters from the beloved show Schitt's Creek (dressed in their wedding best, of course), along with the funny message, "Oh Schitt! You're getting married!"