5 Things You Need to Know About NFL Player Golden Tate's Supersweet Proposal
Adorable alert: Detroit Lions player Golden Tate proposed to his girlfriend, Elise Pollard, and the photos couldn't be any sweeter.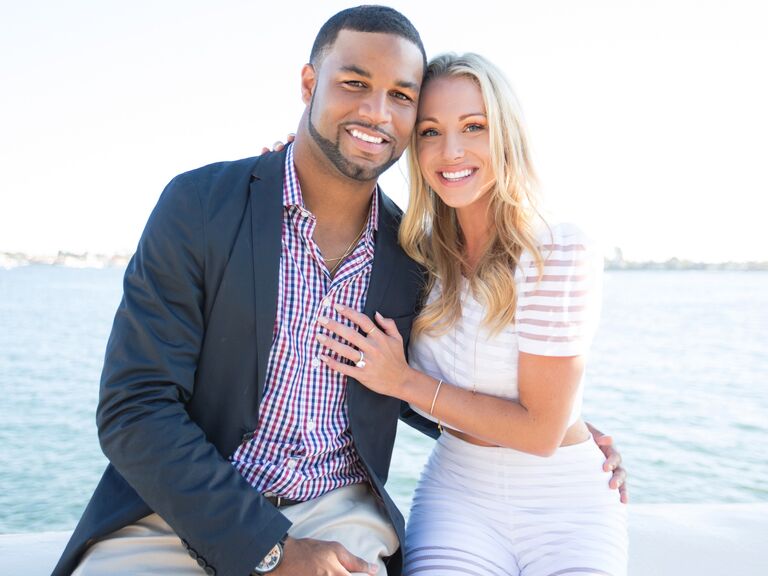 Gavin Smith Productions
NFL player for the Detroit Lions Golden Tate had other things besides football on the brain last fall! The wide receiver decided to propose to his girlfriend, account executive Elise Pollard, on September 12, 2015, in San Diego. Pollard's family lives there (while the couple lives in Hermosa Beach, California, during the NFL's off-season), so he had to involve them, of course! Tate and Pollard exclusively told us all about their engagement—but you can't miss the sweet photos at the end.
Golden really wanted all of Elise's family to be there because he knew how important they are to her.
"Lucky for me, our season opener was in San Diego (where they all live)," Tate says. "It was definitely a gift from God to align that opportunity, so that weekend was the one I waited for. It was really hard having the ring for several months before I proposed, and there were so many times I wanted to pop the question in the meantime, but I knew it would be worth it to wait until San Diego. I wanted everyone to be there afterward to give her the engagement party of her dreams, and it was worth it! I really tried to set up every detail so she wouldn't be suspicious the day of. Weeks before we went to San Diego, I planted the seed for the waterfront proposal location. I told her I missed the ocean and asked her if we could take a walk by the water when we got to California. She was so excited and happily agreed, and also said she couldn't wait to go swimming (even though I knew there wouldn't be any swimming with that ring in my pocket!)."
Golden designed the engagement ring himself.
"You betcha I did!" Tate says. "It had to be stunning to match her, so I worked with Chase Gregory who does amazing custom jewelry out of Los Angeles to create her dream ring. He was a huge help and told me to start with the perfect center stone. It was hard to create this without her knowing, so one week while I was in training camp in Michigan, I flew Chase out (literally with a case of loose diamonds) to examine each one myself and pick the perfect rock. From there, we designed the setting and band. I like to think I've got some style, so I just created what I thought would be amazing on her. It worked out. She's obsessed with it and literally everywhere we go, from the grocery store, to the airport, to last night at dinner, people tell her, 'I've seen a lot of rings, but that's the most gorgeous ring I've ever seen.' I mean, it's really over-the-top how many people comment on her ring. I get embarrassed and don't know what to say, but I'm just glad she loves it."
Elise was completely stunned by the proposal...
"The whole thing was surreal," Pollard says. "You always envision the day you get engaged and then when it really happens it's the most crazy, indescribable feeling. Basically my hands flew to my mouth, I dropped my purse and just stared at him for what seemed like a long, long time while he was down on one knee. Everything he said was so perfect—it's a pretty amazing feeling to have your best friend kneeling before you professing his love and basically saying his vows! I was blown away. When I came out of tunnel vision, I noticed a photographer was there and a crowd started to form with cheers. I didn't even put the ring on for a while because I was too busy hugging and kissing him! He had to ask me, 'Baby, do you want to put your ring on?' Then shock number two came through when I actually stared at my ring! The whole experience was beyond special and I cannot believe how much detail he put into the day. Afterward, I even realized he had picked out my white outfit for a reason! I was in constant shock of his endless attention to detail he had planned. After stopping by the team's hotel and getting covered in hugs and congratulations by his teammates, he whisked me away to our surprise engagement party at Rustic Root where he'd rented out the rooftop!"
...and even more shocked by the after-party.
"Our faces were in perma-smile mode," Pollard says. "It was just the most perfect party filled with joy and surprises left and right," Golden literally thought of it all, again. Of course, he had the professional photographer [Gavin Smith] continue onto the party with us, and it really all unfolds like a movie when scrolling through the snaps. When we were in the car headed to a 'family party' at Rustic Root's rooftop he had helped organize, I excitedly asked him if everyone there knew, and to my surprise he had even thought about this part and what I would want! He of course asked my father months prior, so my immediate family knew and so did his, but for the party, he said, 'Baby, on Sundays the spotlight is always on me, and today I want the spotlight to be completely on you. I want you to be able to tell each person the news, and see their faces, and show them your ring all together.' (And Gavin perfectly captured all of this). The photos are so special—each person walking into the party realizing it's not just a family get-together, but a surprise engagement party, with each jaw dropped, shocked hand gestures, tears, people grabbing my hand, hugs to parents, siblings, cousins, grandparents, friends and so on.
They even had a second engagement party!
"Within minutes of getting to the party, I called my best friend Brittney to tell her the news," Pollard says. "There's a photo of me crying with the phone up to my ear talking to her and my other hand being pulled by my cousins, admiring my ring, everyone with huge smiles and tears. What's even better is that five minutes later, to my surprise, Brittney walked through that door and was right in front of me—that photo is worth a thousand words. Yes, Golden boy strikes again and had even arranged for my best friend to get off work early to get to San Diego in time for this! Then, moments later, a bottle of champagne with a note was delivered from another dear friend who was out of town but wanted to be there in spirit. Friends, family, siblings, grandparents, cousins and parents all surrounded us with so much love. It was SUCH a fun celebration. My dad, Golden and Golden's brother Kendrick all gave special toasts. It was a whirlwind and the next morning the fun continued with a 50-plus person tailgate and a second engagement party equipped with mimosas and white tutus! I couldn't have planned any detail of it better myself."
See their gorgeous engagement photos below: