22 Unique Halo Engagement Rings You Can Shop Right Now
Warning: These unique halo engagement rings will take your breath away.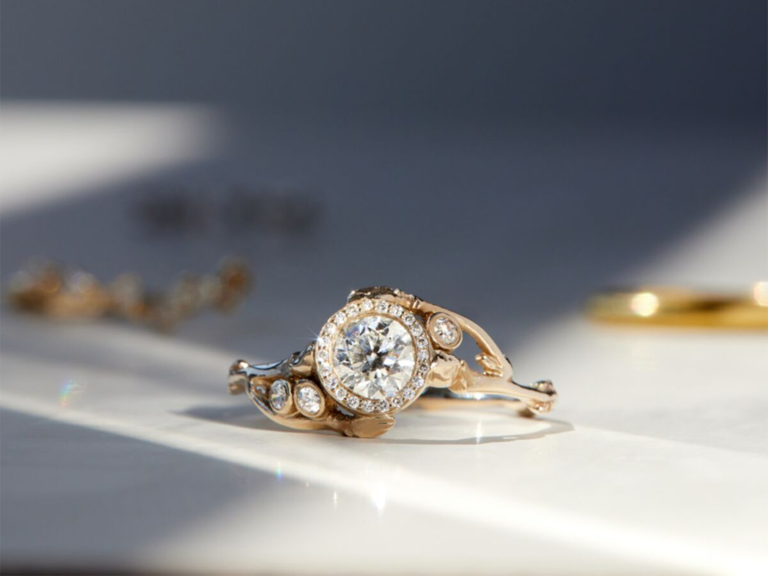 We have included third party products to help you navigate and enjoy life's biggest moments. Purchases made through links on this page may earn us a commission.
Whether you opt for a cushion-cut diamond or a statement oval sapphire, the center stone you pick doesn't matter when it comes to halo engagement rings: There's a halo-style setting for every aesthetic. That's because this beloved engagement ring style isn't just trendy on Instagram, it's also incredibly versatile.
Any gemstone or diamond shape can be set in a halo (or two) of sparkling stones for maximum impact. And the halo design itself can be just as unique as the center stone you pick. From double halos of pavé diamonds to more discreet hidden halos, jewelers are creating standout halo styles that are setting new trends.
While halo engagement rings can evoke a vintage feel (especially if it's a rose gold halo or has intricate details like milgrain or Art Deco-inspired baguette diamonds), there are more modern takes on this wedding ring style that are just as glamorous, like hexagonal and kite-shaped halos.
Since halo engagement ring settings bring the drama with extra bling, it's no surprise this style is also popular with celebrities. Cardi B's engagement ring from rapper Offset, for example, features a more modern take with a massive pear-shaped center stone with a double halo (one of white diamonds and one of pink diamonds). Then there's Kate Middleton's iconic gemstone halo engagement ring (formerly Princess Diana's) with an oval sapphire surrounded by 14 sparkly solitaire diamonds.
What Is a Halo on an Engagement Ring?
A halo is a cluster of smaller diamonds or gemstones that encircle the typically larger center stone (or cluster of stones). This creates a dazzling frame around whichever cut diamond you pick—from Asscher and pear to princess cut or cushion cut, they can all be set within a sparkling halo design. The stones that make up the halo itself can also vary in shape from baguette and marquise to round, with the option of different setting styles including prong, floating, channel and pavé halo.
Does a Halo Make a Diamond Look Bigger?
No matter the style of halo or the size of its stones, there's one thing that all halo settings have in common: They frame the center stone, giving it a sparkly boost. The addition of the stones around the center diamond adds to the overall centerpiece's dimensions, taking up more room on the finger and creating the illusion of a larger overall engagement ring. However, although all halo designs do add dimension around the center stone, some halo styles make the main diamond look bigger than others. For example, a delicate micro pavé or hidden halo does not add the same thickness as a prong-set halo with an extra 2 carats of diamonds.
How Much Does a Halo Engagement Ring Cost?
One of the reasons why the halo diamond engagement ring is so beloved is because it offers a high-impact design with some serious sparkle—without the splurge. That's because since a halo gives the illusion that a diamond is larger, you can achieve the look of a larger stone without having to invest in a more expensive stone of a larger carat weight.
However, just like any engagement ring setting, the cost of a halo engagement ring varies and depends on multiple factors. These include the setting's style, the metal type, the setting's total carat weight as well as the quality of those stones and, of course, the quality of the center diamond or gemstone (including the 4Cs: cut, color weight, carat weight and clarity).
Unique Halo Engagement Rings You Can Buy Now
Natori Halo 14K Yellow Gold Emerald Diamond Bamboo Ring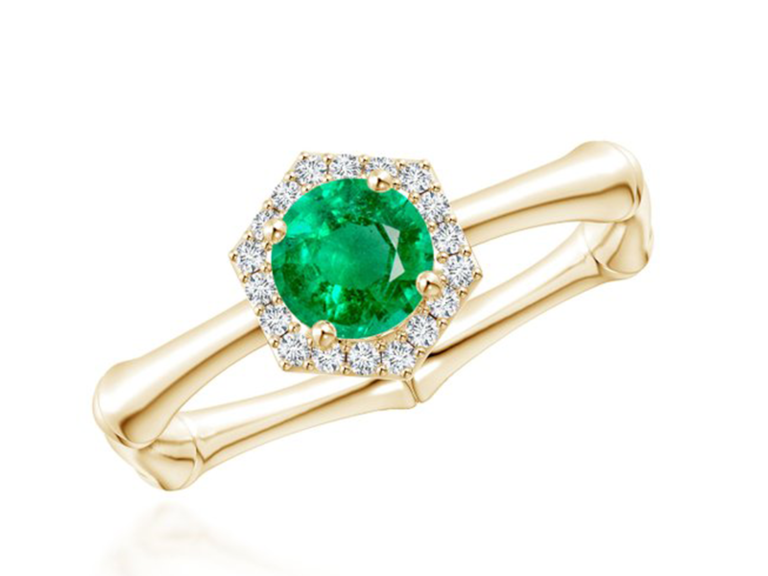 Smaller diamonds create a hexagonal halo design around a vibrant round-cut emerald gemstone. A bamboo-inspired band cast from 14k yellow gold completes the unique ring style.
Collector's Edition Enchanted Disney Beauty and the Beast 30th Anniversary Diamond Engagement Ring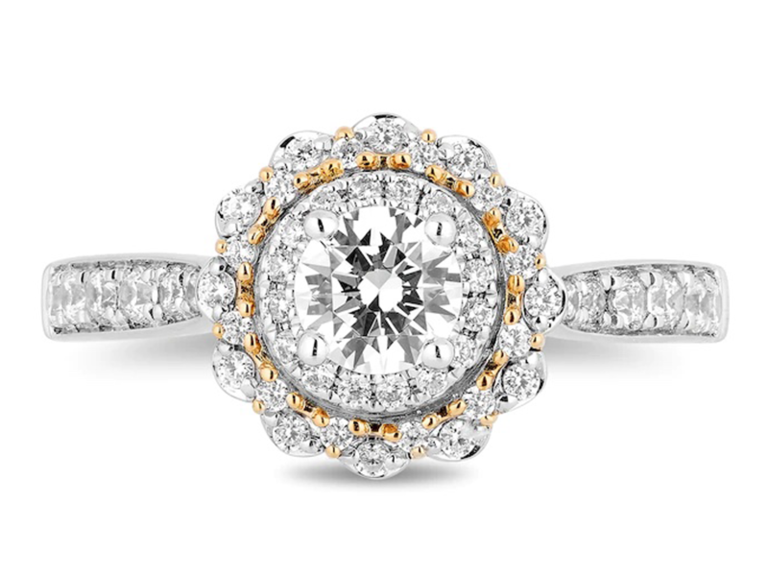 Disney lovers will swoon over this two-tone halo diamond engagement ring. This enchanting 14k yellow and white gold setting features a 1/2 carat round diamond center stone surrounded by multiple halos of diamonds forming a flower effect.
Armante Design Sunflower Black Diamond Engagement Ring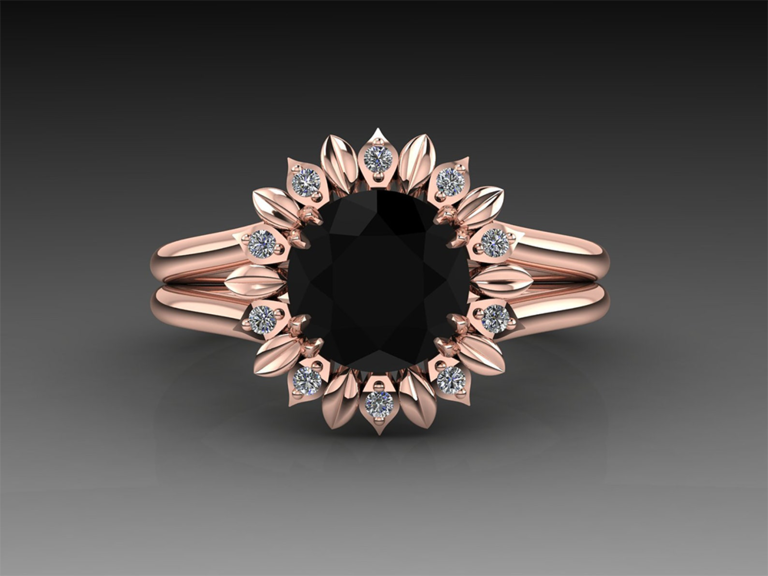 Designed in 14k rose gold, this handmade engagement ring features a unique twist on the traditional halo with diamonds and gold forming petals around a black diamond center stone. This creates a show-stopping modern sunflower with an edgy feel.
Blue Nile Double Shield Diamond Halo Engagement Ring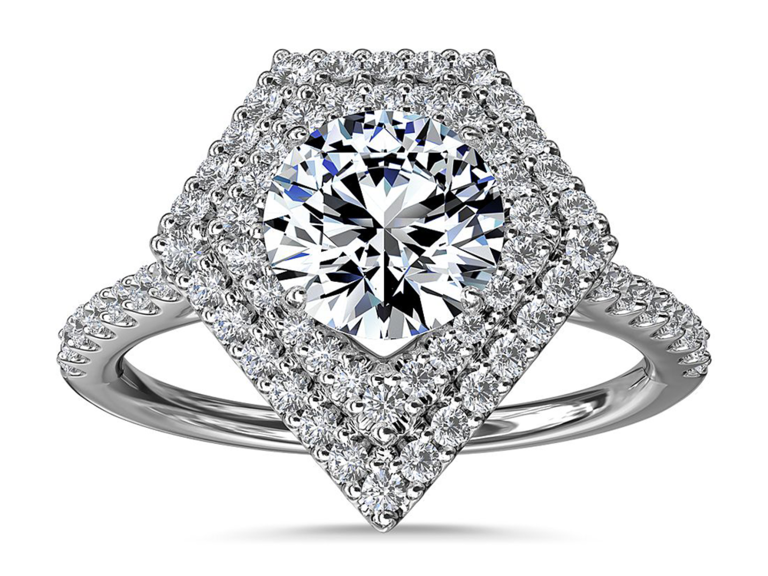 A double round diamond halo creates a "shield" around a round-cut diamond center stone (or the heart if you want to up the sentimental factor). In addition to platinum, the setting is also available in white, yellow and rose gold.
Kataoka Winter Pearl Ring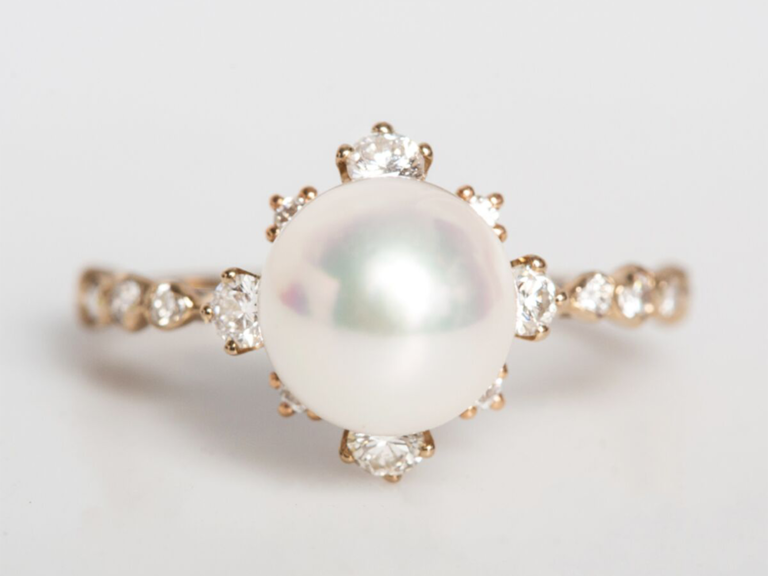 There's nothing traditional about this engagement ring—from the delicately spaced round diamonds creating a snowflake halo feel to the robust pearl center stone. More round diamonds are scattered along the 14k yellow gold band, adding to the whimsical vibe.
Brilliant Earth Moissanite Marseille Halo Lab Diamond Ring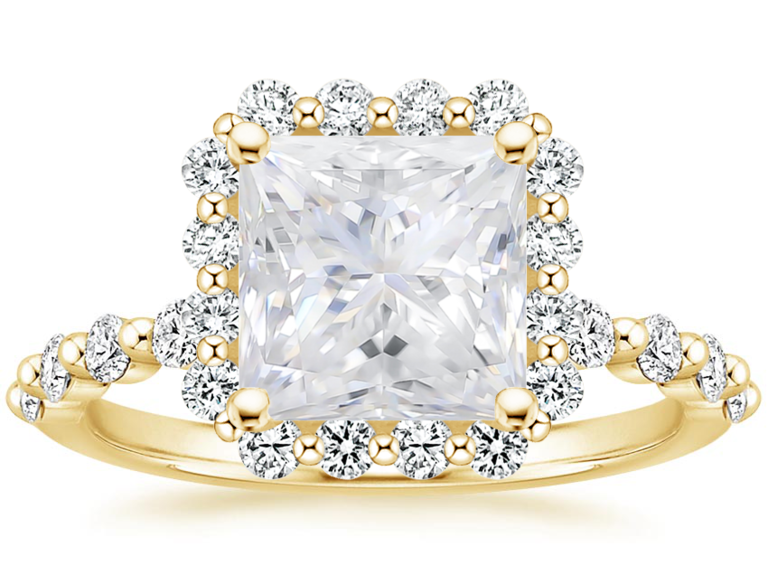 A halo of prong-set floating round diamonds gives this princess-cut moissanite engagement ring a romantic feel. The 14k yellow gold setting has round diamond side stones sparkling halfway down the thin band for a 1/2 total carat weight.
Bittersweets NY The Twig Deluxe Ring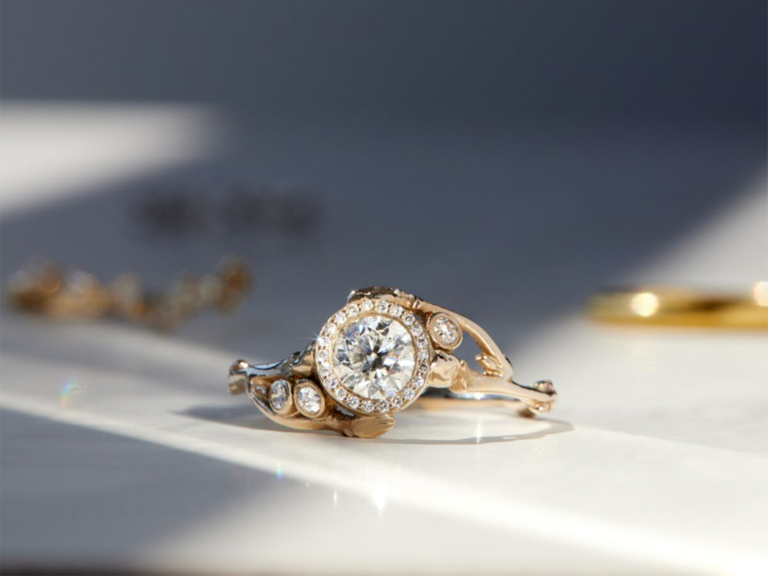 This 14k gold pavé halo engagement ring has a one-of-a-kind look with an organic feeling band and 0.6-carat low-set round diamond center stone. Unlike more traditional engagement ring styles, this delicate ring features an asymmetrical design with two side stones on one side and only one on the other with the band forming twig-inspired pieces.
Zales Pear-Shaped Diamond Double Frame Engagement Ring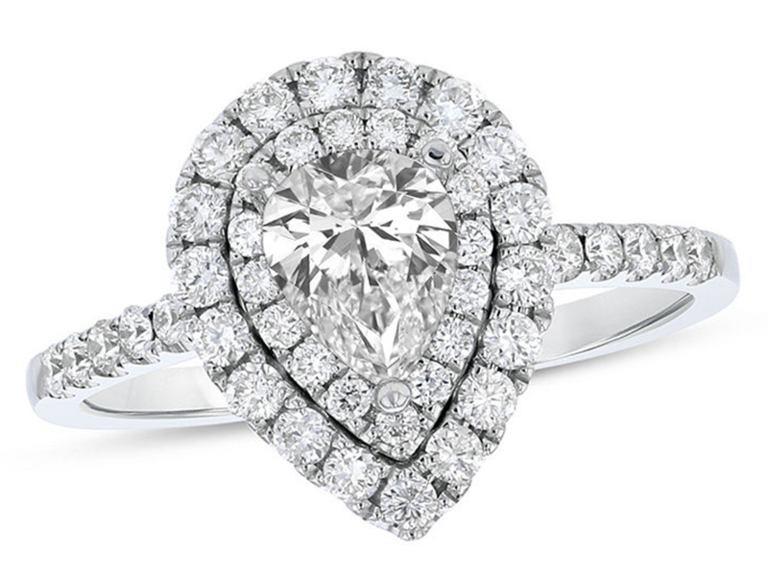 In addition to a 1/2-carat pear-shape center stone, this 18k white gold engagement ring setting features an additional 1/2 carat of round diamonds creating a double halo setting around the center diamond as well as along the band. The combination of the two stone shapes gives this pear-cut engagement ring a substantial feel.
Brilliant Earth Black Rhodium Demi Diamond Engagement Ring
Made from 18k white gold and black rhodium that creates a darker look, this edgy setting features a micro-pavé band and hidden diamond halo that creates a solitaire look at first glance. An oval-cut diamond set in four claw prongs completes the chic design.
Vintage Halo Engagement Rings You Can Buy Now
Brilliant Earth Octavia Diamond Ring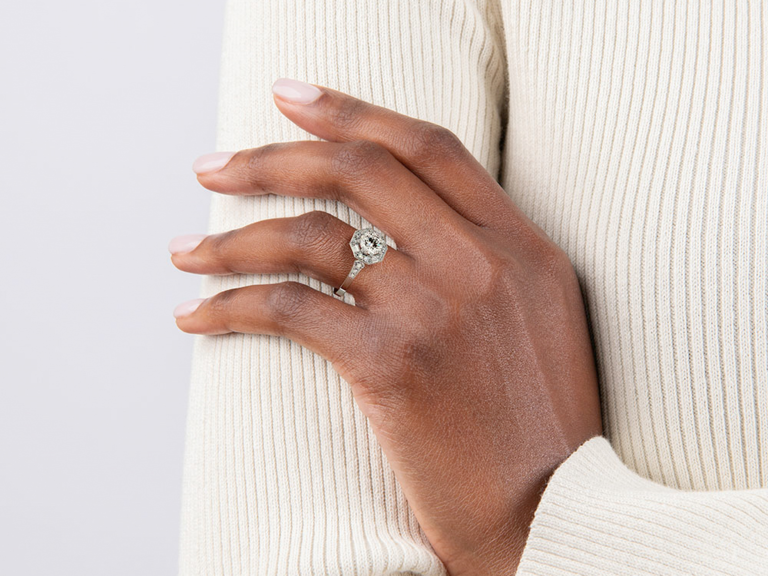 Made for those looking for an engagement ring setting that evokes an Art Deco vibe, this Asscher diamond engagement ring will have you swooning. The octagonal halo features two different diamond shapes—baguette and round cut—while three smaller round diamonds spill down each of the platinum setting's shoulders.
Marilyn Monroe Collection Composite Rectangle Diamond Ornate Frame Engagement Ring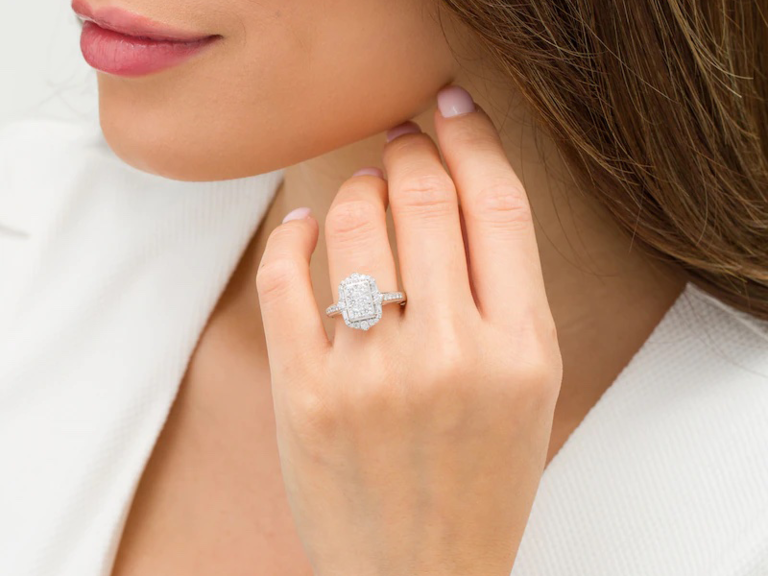 This Art Deco-inspired engagement ring features a halo of baguette and round diamonds surrounding a rectangular center with an additional eight round-cut diamonds. The ornate setting has additional diamonds lining the shank as well as a surprise bezel-set black diamond in honor of Marilyn Monroe's beauty mark.
Brilliant Earth Alvadora Diamond Bridal Set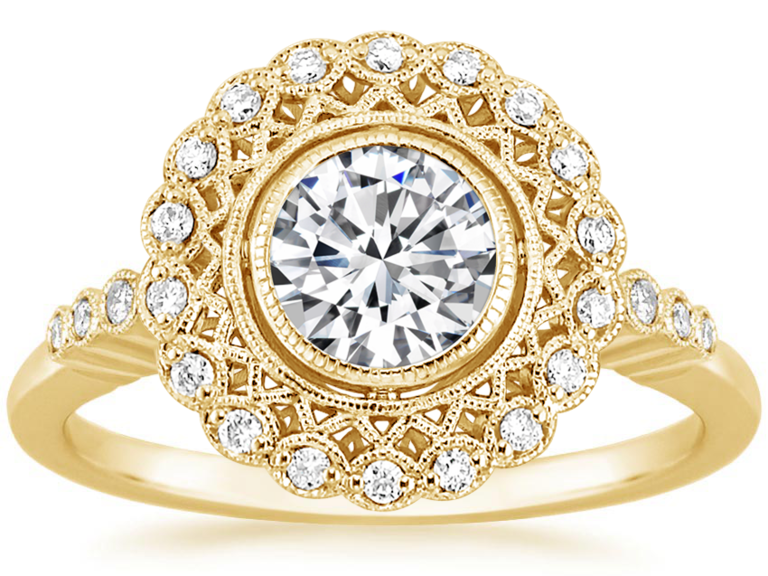 An oval halo is the star of this vintage-inspired 18k yellow gold bridal set with milgrain details. The bezel-set oval diamond is framed in an intricate halo of gold latticework and round diamonds while the matching wedding band contours the oval halo to sit flush when worn together.
ZAC Zac Posen Oval Vintage Baguette Halo Diamond Engagement Ring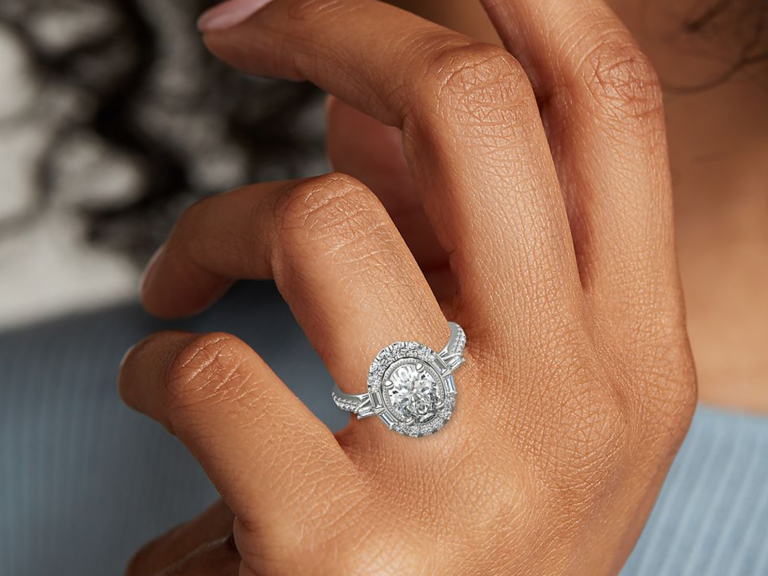 An opulent oval halo made from baguette and round diamonds surrounds this 14k white gold's oval-cut diamond center stone. Additional baguettes flank the halo while round diamonds partially line the pavé band.
Brilliant Earth Arabesque Diamond Ring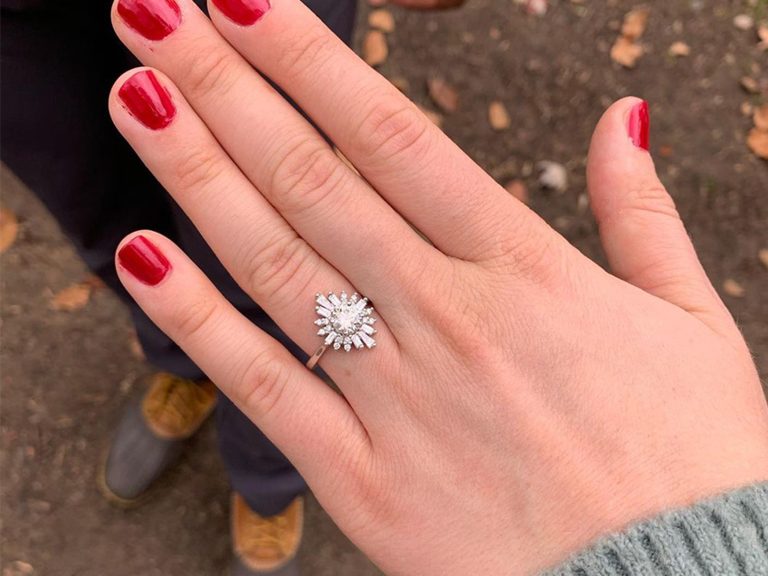 From the radiant center diamond to the Art Deco halo style, this 18k white gold wedding ring is simply stunning. A fan of baguette and round diamonds create the distinct halo setting that catches the eye from every angle.
Neil Lane Diamond Engagement Ring Oval/Round
A round diamond rose gold halo with milgrain details frames the 1 and 1/2-carat oval-cut diamond. Although the band features 14k rose gold, the center stone is set with four white gold prongs that blend. Round diamonds shine down the band completing the sparkly setting with a total carat weight of 2 1/8 carats.
Simple Halo Engagement Rings You Can Buy Now
Tacori Petite Crescent Bloom Diamond Engagement Ring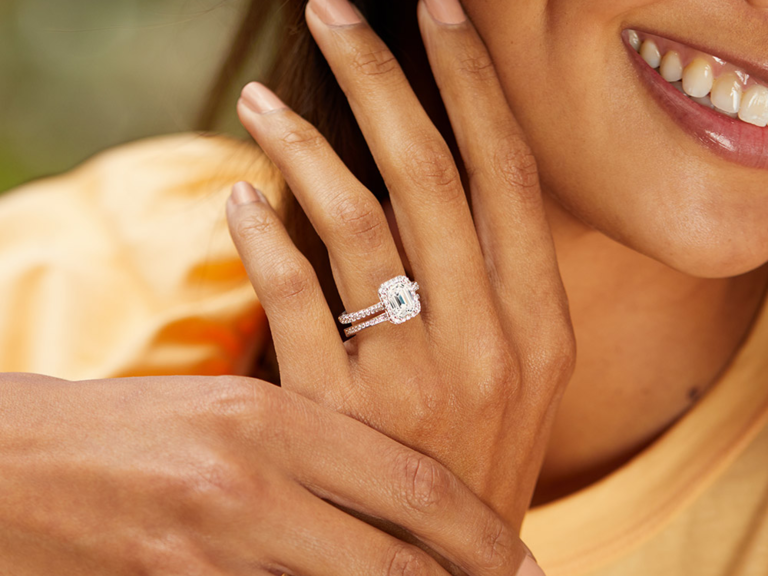 This Tacori engagement ring setting is the perfect ring for someone looking for a timeless oval center stone surrounded by intricate pavé details. In addition to diamonds accenting the ring's cathedral shoulders, there's also petite crescents along the side of the band for an extra touch.
Blanca Monrós Gómez Black Diamond Aura Ring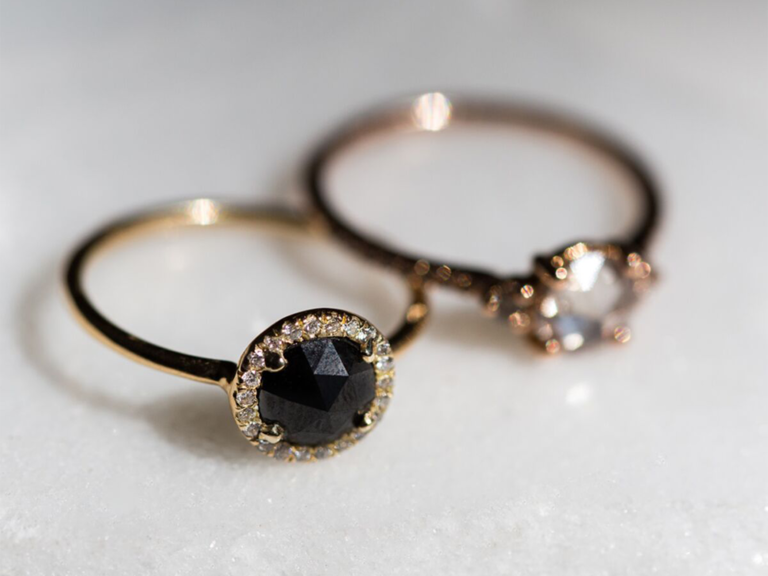 A round rose-cut black diamond set on a simple 18k yellow gold band has the refined feel of solitaire engagement ring style. However, a contrasting pavé halo of 22 small white diamonds kicks this engagement ring setting's style up a notch.
Brilliant Earth Linnia Halo Diamond Ring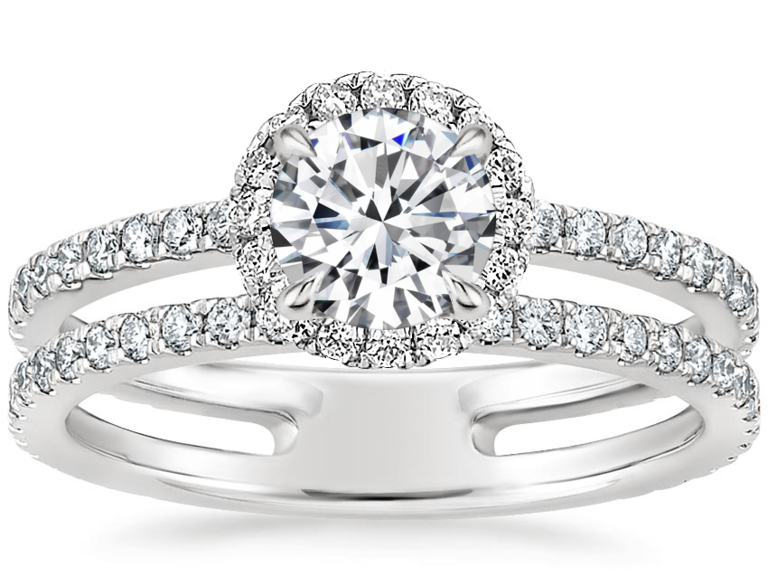 Instead of a split shank, this cushion halo engagement ring has two pavé-set 3/4 diamond bands. A cushion-cut diamond center stone joins the two, while a cushion halo and hidden halo around the gallery add extra sparkle.
Zales Enhanced Black and White Diamond Frame Engagement Ring
This edgy cushion-cut halo setting features unique oversized prongs in 10k white gold that contrasts the cushion-cut enhanced black diamond center stone. Pavé-set diamonds add sparkle halfway down the band for a total carat weight of 2 carats.
Blue Nile Petite Micropavé Hidden Halo Engagement Ring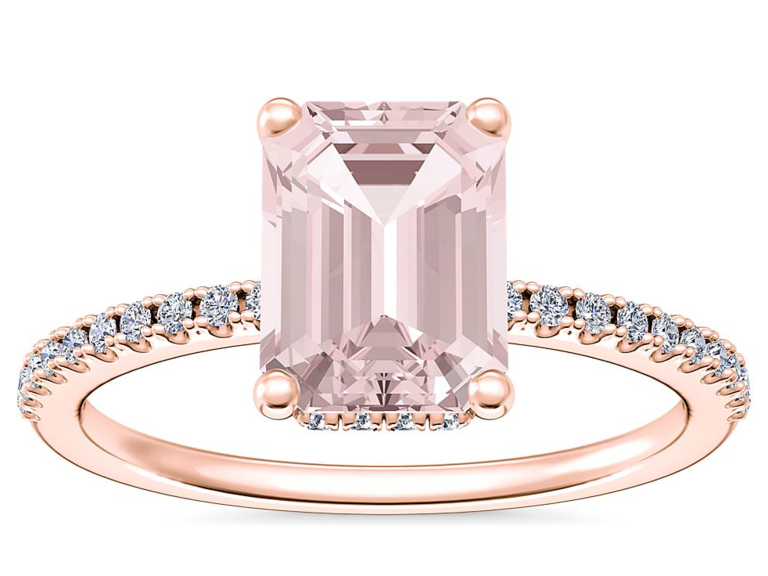 With micro-pavé diamonds along half of the thin band, this timeless emerald-cut morganite engagement ring setting is simple yet impactful and is available in rose, white and yellow gold as well as platinum. After selecting this delicate setting with four prongs, shoppers then have the option to select their center stone—from different gemstones and carat weight to even different shapes depending on the shopper's wishlist.
Brilliant Earth Lab Created Sapphire Valencia Halo Lab Diamond Ring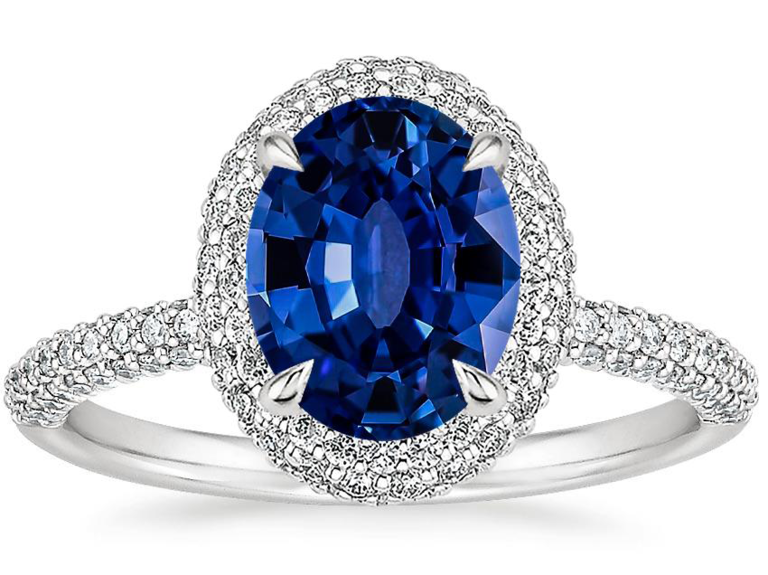 Instead of an oval diamond, an impressive oval-cut sapphire is set in a delicate micro-pavé double halo style with four claw prongs. The domed platinum band also features three rows of micro-pave set diamonds. Plus, you can change up the materials for a peach center gemstone with rose gold halo or yellow gold with a cushion-cut sapphire depending on your favorite ring style.
Marquise-Cut Halo Diamond Engagement Ring
A halo of pavé diamonds surrounds a stunning marquise-cut center diamond. Made from 14k white gold, the band brings the same sparkle with round-cut diamonds set 3/4 down the band.