Your Groom Definitely Needs a Day-of Emergency Kit—Here's What to Include
Don't let any mishaps take you by surprise.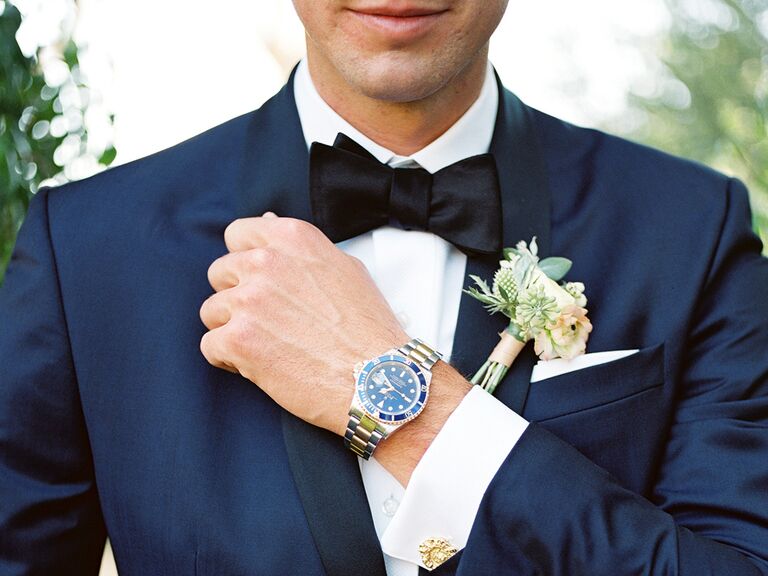 Jillian Rose Photography
If brides get day-of emergency kits, why shouldn't grooms? Sure, the contents will differ a little, but the idea is the same: a kit to help you be prepared for any snafu on the wedding day. From a spilled cocktail to stubborn stray hairs, having a little helper that's ready to tap into the wedding game at any moment will be a big help.
DIY
If you're planning on making your own emergency kit, here's a list of essential (and some optional) items to pack:
Breath mints: Get ready for that first kiss as a married couple with mini mints.

Blotting papers: Keep shine away with oil-absorbing sheets during the postceremony photography session. (If you really want to keep shine away, add some translucent powder too.)

Chapstick: Nothing is worse than dry lips on a night when your guests will be clinking their champagne glasses all reception long, demanding newlywed kisses.

Tissues: Save your pocket square from having to dab away the happy tears if it's there for fashion more than function.

Stain remover: Pack a portable stain removing pen for any sudden spills.

Spray deodorant: You might get hot under that suit jacket, and spray application makes for easier access.

Comb: To keep stray hairs in line.

Needle and thread: Yes, sometimes pants split even before it's time to dance.
Optional DIY Items
Aspirin

Band-Aids

Toothpicks

Granola bars or other easy-to-carry snacks

Sunblock (if you'll be outdoors)
Buy
If you'd rather give yourself a bit of a DIY break and prefer to purchase, you can definitely do that. Pinch Provisions offers a few different kits for guys that want to look groomed all night long. Opt for a mini emergency kit or the honeymoon kit that can pull double-duty for the wedding day and honeymoon.
Still looking for a suave wedding day look? Right here.
Groom outfit ideas for every type of wedding venue, here.