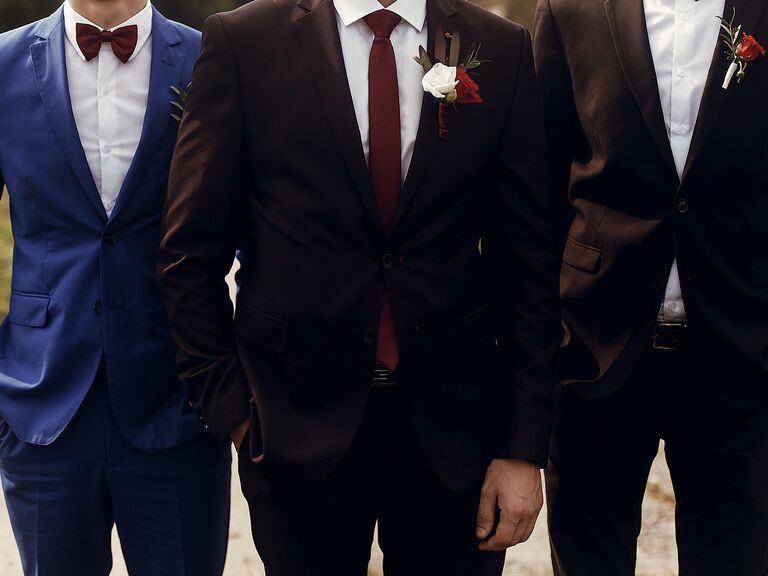 You hear a lot of talk around finding the perfect dress—but it's equally as important for a groom to get his wedding day look just right (not to mention how he'll coordinate with his groomsmen). Whether it's deciding how formal to go or choosing on-trend details, it can be a challenge for guys to find a balance between looking their best and still feeling confident and comfortable for a long day of photos and dancing (and, oh yeah, standing tall during the ceremony). Luckily, with a breadth of options from sport-coat casual to full-on formal, Men's Wearhouse makes it easy to get your wedding look on point, whatever your style. Need some advice? Here are 10 tips from real grooms on the smartest style choices they made (or wish they had!) on their wedding day.

Personalize the details
"My wife and I met in college and got married at the church on campus. So for a subtle nod to this special place, I changed out the brass buttons on my blue blazer for ones with our university crest on them. It wasn't obvious, but it made the outfit feel personal." —Brad L., Seattle, WA
Coordinate with your partner
"My now husband and I started out thinking we didn't want to match or look too wedding-y, but as planning progressed, we decided to both wear classic navy suits because that's what felt the most comfortable and 'us.' The beachfront setting was so vivid, the suits stood out and made us look like a unified pair." —Garrett B., Portland, OR
Add flair wisely
"I wanted to inject some of my personality into my look, but not at the expense of not looking put-together. So I (and the men in the wedding party) wore a pair of colorful socks. It jazzed up the standard blue suit/white shirt getup, but since the socks were mostly hidden, it felt like an inside joke among the men."  —Josh K., Raleigh, NC
Time your grooming
"I got my hair cut two weeks before my wedding—my hair doesn't look good right after it's cut, and I think most men are in the same boat. But I regret not shaving right before the ceremony instead of earlier in the day. I'm a hairy guy, so in the photos it looked like I had a five o'clock shadow." —Dan S., Washington, DC 
Spend on special details
"I bought a reasonably priced tux but had it tailored perfectly and put the savings into the details: a custom shirt with old-school pleats for glam and gravitas; mother-of-pearl studs; a midnight-blue shawl collar instead of a traditional navy; and a white silk pocket square. My bride spoiled me with designer patent Venetian loafers, which were totally over-the-top but gave me confidence." —Jesse E., Los Angeles, CA
Go classic
"I used Daniel Craig in Casino Royale as a reference point. There's no more perfect tuxedo than black, bow tie, no cummerbund, plain shirt, extremely well-fitted. You want to look as clean, classic and timeless as possible in your wedding pictures." —Ryan R., Princeton, NJ
Unite the group with accessories
"My groomsmen and I wore gray suits, white shirts, black ties—I didn't want everyone to have a weird one-and-done outfit. The one accessory that made the look: a sterling silver tie bar to match our cuff links. Otherwise we would have looked like a bunch of accountants up there. Plus, it kept everything in place as we marched in a second line and danced like crazy, even late into the night." —Jonathan W., New Orleans, LA
Consider comfort
"In retrospect, I would have worn wider shoes and roomier pants to feel more comfortable after hours of standing and dancing!" —Michael K., Brooklyn, NY
Stand out from the crowd
"We had a formal wedding, but instead of wearing bow ties, my groomsmen and I wore skinny tuxedo ties (these are shinier material). It differentiated us from the wedding guests, but still worked with the look." —Bruno A., Brooklyn, NY
Bring a backup
"I'd challenged myself to lose some weight before the wedding, so I ordered pants in two sizes, just in case. I felt I looked better in the smaller size for pictures, but was worried they'd split during the dancing. So I had the wedding coordinator hold on to the larger size (along with my wife's more comfortable shoes) just in case. Fortunately, I didn't need them!" —Brad L., Seattle, WA
The Knot and Men's Wearhouse Present Groom Style—a sponsored series full of inspiration and advice for putting together the perfect look for your wedding events. To check out more of the latest styles, visit MensWearhouse.com.