The 71 Best Halloween Songs For Your Spooky October Playlist
From upbeat dance beats to scary songs from horror movies, we've got your Halloween music playlist covered.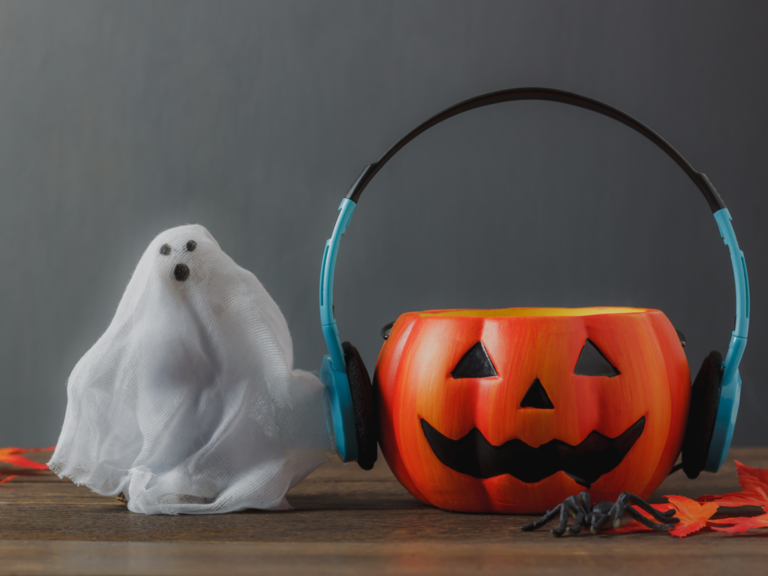 Photo: Chattrawutt / Getty
Halloween, the spookiest day of the year, is a time for casting spells, carving pumpkins and having fun—but the holiday wouldn't be complete without a hauntingly delightful soundtrack. From scary songs with eerie tunes to playful melodies that set the stage for a Halloween dance party, Halloween songs have become an indispensable part of the holiday's vibe.
Whether you're summoning spirits or getting decked out in a Halloween couples costume, our editors have chosen tracks that will provide the perfect Halloween ambiance, no matter the activity. With classics like Michael Jackson's "Thriller" mixed with scary songs from movies and hits like Billie Eilish's "Bury a Friend," we have a feeling you'll want to add these 71 Halloween songs to your Halloween music playlist. So, what are you waiting for? Grab your broomstick, don your vampire fangs, and press play on these Halloween songs to complete your spooky season experience.
Halloween Songs in this Article:
The Knot's Top 10 Halloween Songs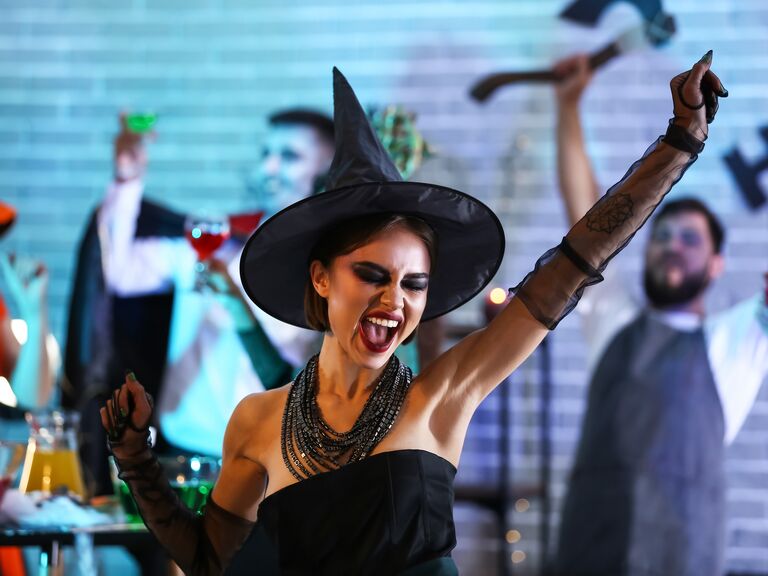 The Knot Editors have compiled our absolute favorite Halloween songs to play during the spooky season.
"Superstition," Stevie Wonder
Stevie Wonder's "Superstition" is not only a timeless funk classic, but also a fantastic addition to any Halloween playlist. Thanks to its hauntingly irresistible groove and lyrics that delve into the mysteries of, well, superstitions, it's the perfect Halloween song to play at your Halloween party.
"Freaks Come Out at Night," Whodini
This song's eerie synth-driven beat and catchy lyrics create a slightly spooky vibe, making it a perfect track to play on Halloween. The song's title also captures the essence of Halloween, when the night transforms into a playground for all sorts of ghoulish characters.
"Bury A Friend," Billie Eilish
With its mysterious and unsettling vibes, "Bury A Friend" by Billie Eilish sets a chilling tone that makes it perfect for those looking to add a touch of spookiness to their Halloween celebrations. If the song itself isn't enough, her music video is super creepy, too.
"Red Right Hand," Nick Cave and the Bad Seeds
Boasting creepy lyrics and a dark, brooding melody, it only makes sense to add this song to your Halloween music playlist. It's also used throughout the popular Peaky Blinders series, which will make it even more enjoyable if you're a fan of the show.
"Boogie Monster," Gnarls Barkley
This catchy Halloween song effortlessly combines soulful melodies with eerie undertones, making it an excellent track for setting the mood for your spooky festivities.
"Haunted," Beyoncé
"Haunted" is a haunting song by Beyoncé, known for its atmospheric production and sultry vocals. It explores themes of desire and passion amidst an eerie backdrop that'll fit into any Halloween music playlist.
"Psycho Killer," Talking Heads
This classic song by the American rock band, Talking Heads, is known for its infectious rhythm and distinctive vocals. Its title alone makes it fit for a Halloween playlist!
"Dracula," Gorillaz
"Dracula" by Gorillaz is a hauntingly melodic track that weaves together elements of electronic music and dark, ethereal lyrics — the perfect components that make a killer Halloween song.
"Vampire," Olivia Rodrigo
While the subject of Olivia's new song is still up for debate, it's a great one to listen to on Halloween — especially if you plan on wearing a vampire costume this year.
"Halloween," Phoebe Bridgers
For a chill, indie Halloween song to listen to while you sip your pumpkin spiced latte or make jack-o'-lanterns, Phoebe Bridgers' "Halloween" will not disappoint.
Popular Halloween Songs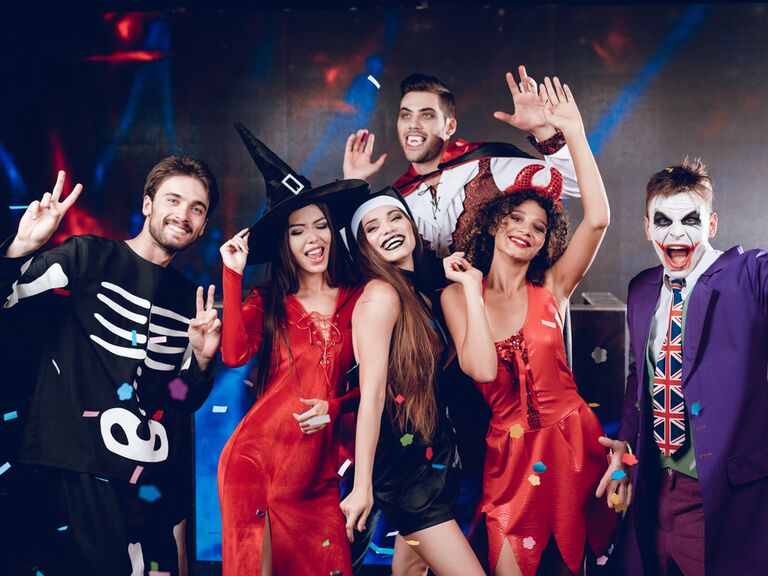 If you're looking for crowd-pleasers, here are some popular Halloween songs to add to your Halloween music playlist.
"Bad Guy," Billie Eilish
This chart-topping hit by Billie Eilish showcases her dark and edgy style, making it a no-brainer when it comes to popular Halloween songs to listen to this October.
"Haunted," Taylor Swift
Swifties won't care what tracks you put on your Halloween playlist, as long as there are a few Taylor Swift songs they can jam out to. This one should make everyone happy this Halloween.
"Heads Will Roll," Yeah Yeah Yeahs
"Heads Will Roll" by Yeah Yeah Yeahs is an electrifying track known for its infectious beat and killer vocals. It'd be a fab addition to a Halloween dance party playlist.
"Creep," Radiohead
This iconic alt-rock song by Radiohead isn't necessarily popular because of Halloween, but its creep-laden lyrics certainly makes it a fitting track to play during spooky season.
"Zombie," The Cranberries
The Cranberries' famous 1990s rock song blends haunting melodies with powerful lyrics, addressing the complexities of political conflict. While it's not about Halloween, the song's repetitive use of the word "zombie" still makes it a good one for the season.
"Witches," Alice Phoebe Lou
If you're looking for indie Halloween songs to add to your witchy playlist, you'll love "Witches" by Alice Phoebe Lou. With lyrics like "I'm one of those witches, babe" and "Me, I've got my own little magic," you could definitely quote it to use as a caption for your next Halloween IG post.
"Surfin' Dead," The Cramps
You'll love the contrast between this song's fun, surf-rock vibe and its awesome lyrics about "the dead." If you're throwing a Halloween party this October, this popular Halloween song is a must-play.
"Monster," Lady Gaga
"Monster," like many of Lady Gaga's songs, is an electrifying and empowering pop anthem known for its infectious beat and bold lyrics. If it isn't already on there, you'll want to add it to your Halloween party playlist ASAP.
"Pet Sematary," The Ramones
This song by The Ramones captures the macabre essence of the Stephen King novel of the same name, evoking a sense of dread and fascination that perfectly fits the spooky spirit of the holiday.
Classic Halloween Songs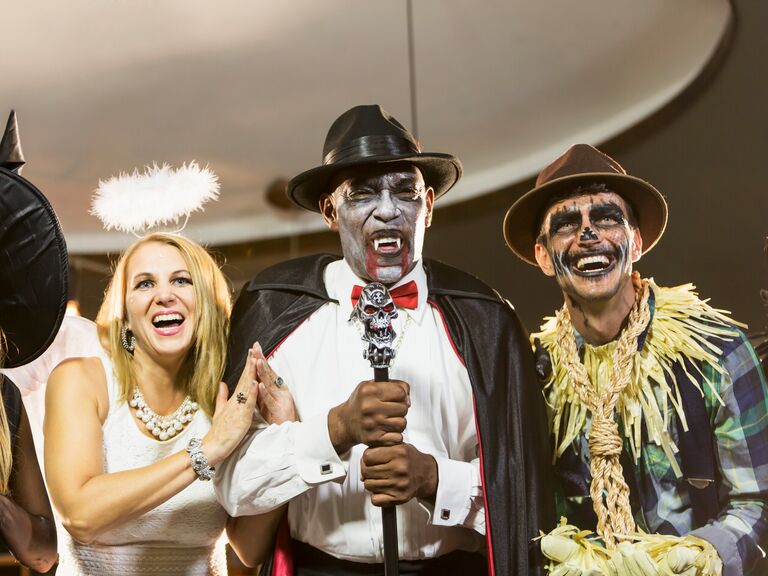 Yes, you've probably heard these classic Halloween songs 100 times before, but that doesn't mean they don't belong on your Halloween playlist.
"I Put a Spell on You," Screamin' Jay Hawkins
Featured in Halloween movies like Hocus Pocus, this classic Halloween song is too iconic to be skipped this October.
"Monster Mash," Bobby "Boris" Pickett & The Crypt Kickers
"Monster Mash" has graced Halloween playlists since its release in 1962. Campy? Yes. Timeless and one of the best Halloween songs out there? Also yes.
"Season of the Witch," Donovan
This song's enchanting, otherworldly vibe evokes the mystical and supernatural essence of All Hallows' Eve, creating an atmospheric backdrop for spooky celebrations.
"Scary Monsters (and Super Freaks)," David Bowie
What better time is there than Halloween to groove along to the anthem dedicated to scary monsters and super freaks?
"Somebody's Watching Me," Rockwell ft. Michael Jackson
This classic 80s hit by Rockwell has become a staple on Halloween playlists thanks to its paranoid-ridden lyrics — and the catchy chorus sung by Michael Jackson, of course.
"Spooky, Scary Skeletons," Andrew Gold
Perhaps more playful than spooky, this catchy Halloween-themed song has become a popular choice for Halloween parties and events.
"Don't Fear the Reaper," Blue Oyster Cult
Who doesn't love this classic Halloween song's iconic cowbell? If you "don't fear the reaper," then definitely add this track to your Halloween playlist.
"Werewolves of London," Warren Zevon
"Werewolves of London" by Warren Zevon is a rock classic known for its catchy piano riff and funny lyrics, painting a vivid picture of werewolves prowling the streets of London.
"Evil Woman," Electric Light Orchestra
With a groovy, funky vibe featuring Electric Light Orchestra's signature blend of rock and orchestral elements, this Halloween song tells the story of an evil woman.
"Skeleton in the Closet," Louis Armstrong
This oldie from 1936 showcases Armstrong's unique vocal and trumpet talents. While the lyrics delve into a metaphorical exploration of hidden secrets and personal baggage, taken literally, it makes for a great Halloween song.
"Black Cat," Janet Jackson
"Black Cat" by Janet Jackson is known for its sultry lyrics and infectious beat. It's subject matter is perfect for evoking those witchy Halloween vibes.
"Voodoo Child," Jimi Hendrix
This legendary rock song by Jimi Hendrix will certainly spice up your Halloween vibe this October. With his electrifying guitar riffs and lyrics like, "Lord knows I'm a Voodoo Child baby," it's a fool-proof addition to your Halloween playlist.
Halloween Movie Songs
Here are some of the best Halloween movie songs to listen to this October.
"This Is Halloween," Danny Elfman — The Nightmare Before Christmas
Whether you're a fan of this Tim Burton classic or not, the famous This is Halloween song is a masterpiece that belongs on every Halloween music playlist.
"The Addams Family Theme," Vic Mizzy — The Addams Family
When it comes to iconic Halloween songs from movies, the theme from The Addams Family is one of the greatest.
"Time Warp," Richard O'Brien — The Rocky Horror Picture Show
With its infectious beat and iconic choreography, this dancefloor classic will bring a splash of campy fun to any Halloween celebration.
"Halloween 1978 Main Theme," John Carpenter — Halloween
When it comes to scary songs to play, John Carpenter's theme from Halloween takes the cake. Play it on your porch for an ultra-spooky night of handing out candy.
"I'm in Love with a Monster," Fifth Harmony — Hotel Transylvania
This upbeat Halloween song from the animated film Hotel Transylvania is a modern pop beat perfect for celebrating Halloween with kids.
"Obituaries," Danny Elfman — Beetlejuice
This quirky tune captures the film's darkly comedic spirit, making it a great choice for anyone who loves a bit of macabre humor in their Halloween music.
"Crystal," Stevie Nicks — Practical Magic
If Practical Magic is your comfort Halloween movie, you'll instantly recognize this song. It's perfect for quiet autumn moments, like taking a walk through nature or making crafts.
"Ghostbusters," Ray Parker Jr. — Ghostbusters
The Ghostbusters theme song is an irresistibly fun Halloween song that everybody knows — making it a fantastic addition to any Halloween music playlist.
Halloween Dance Songs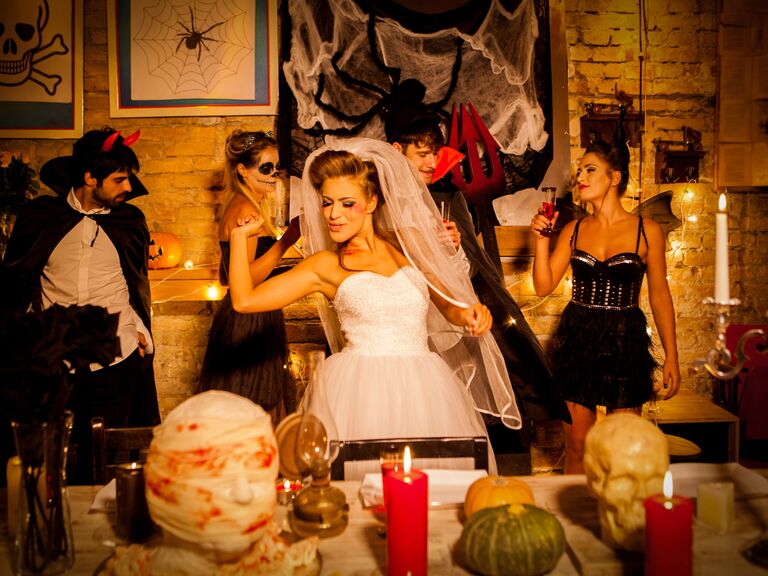 If you're planning on dancing up a storm this Halloween, make sure to add these Halloween songs to your party playlist.
"Bloody Mary," Lady Gaga
This dark pop song explores themes of fear, temptation and the supernatural — making it perfect for a Halloween dance party.
"Dracula's Wedding," Outkast
When it comes to Halloween songs that are truly on theme with the spooky season, Outkast's "Dracula's Wedding" is a great one. It combines elements of funk, jazz and hip hop while using an imaginative narrative to tell the story of a vampire wedding.
"My Girlfriend is a Witch," October Country
This whimsical and psychedelic song uses playful lyrics and a groovy melody to tell the story of a romantic relationship with a supernatural twist.
"Unholy," Sam Smith ft. Kim Petras
While "Unholy" is a haunting and emotive pop ballad about forbidden love, the use of the word "unholy" makes it work as a Halloween song, too.
"Black Magic," Magic Wands
This hypnotic indie pop song conjures an enchanting atmosphere with its ethereal melodies and lyrics, evoking a sense of mysticism that goes hand in hand with Halloween.
"She Wolf," Shakira
If you like the sound of an upbeat dance song about spooky werewolf goddesses, look no further than Shakira's "She Wolf."
"Debaser," Pixies
This Pixies song never disappoints a crowd who likes to dance. While it doesn't explicitly discuss Halloween, the whole "slicing up eyeballs" moment in the lyrics makes it work with the spooky season vibe.
"There Will Be Blood," Kim Petras
This high-energy pop track channels dark and rebellious vibes, with Petras' powerful vocals and edgy lyrics making it a standout song at any Halloween dance party.
"Howlin' for You," The Black Keys
"Howlin' for You" by The Black Keys is a bluesy rock song with a gritty edge, featuring catchy guitar riffs that'll get people moving 'n' grooving this Halloween.
"Calling All the Monsters," China Anne McClain
This catchy pop song features a Halloween theme, with lyrics that invites everyone to join in the spooky fun. It's a great song to play if there will be kids at your Halloween dance party.
"Thriller," Michael Jackson
What would a Halloween playlist be without Michael Jackson's "Thriller"? Written in 1982, this legendary pop song still gets people on their feet at dance parties.
"Monster High Fright Song," Monster High
This upbeat pop song serves as the theme for the Monster High franchise, celebrating the unique and colorful personalities of its monster characters. It's another great one for hosting a Halloween celebration with kiddos.
"Burn the Witch," Queens of the Stone Age
This hard-hitting rock song with dark and cryptic lyrics features heavy guitar riffs and a sense of foreboding that makes it perfect for a Halloween music playlist.
Scary Halloween Songs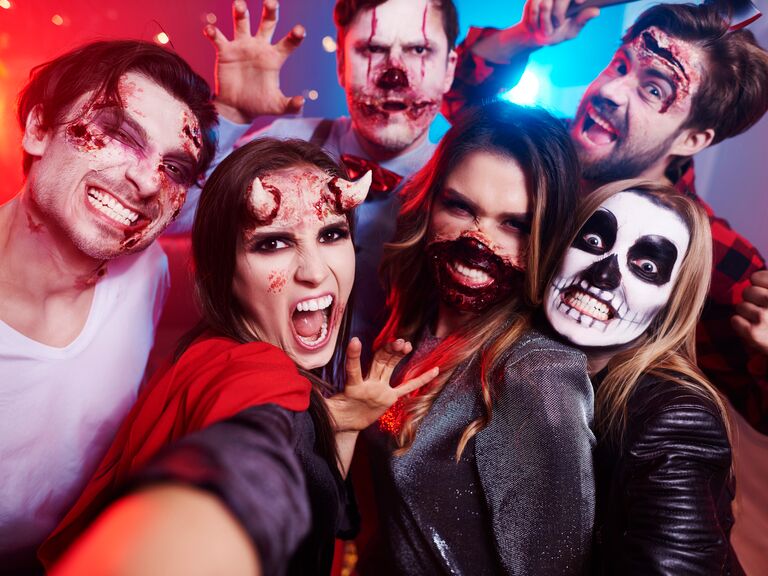 Whether you're setting the scene for a Halloween murder mystery or a terrifying haunted house, here are some scary songs that belong on your spooky playlist.
"The Phantom of the Opera Overture," Andrew Lloyd Webber
This sweeping orchestral composition will set the stage for your eerie Halloween celebration, just as did for the dramatic and haunting The Phantom of the Opera.
"Suspiria," Goblin
"Suspiria" by Goblin is the main theme from the cult horror film Suspiria. The song is known for its uber-creepy hypnotic melody, making it perfect for setting the vibe at your haunted house.
"Anthem," Michael Abels
This haunting and atmospheric piece from the film Us reflects the scary movie's tension. If you plan on decking out your home in ultra-spooky Halloween decorations, this song would be a great addition to the ambiance.
"Run," Michael Abels
"Run" is another composition from the film Us and is known for its suspenseful and thrilling orchestration — making it the perfect track to add to your scary Halloween songs playlist.
"Stranger Things Theme," Kyle Dixon & Michael Stein
This iconic synth-driven piece captures the nostalgic and mysterious vibe of the hit TV series Stranger Things. It'll transport you to "The Upside Down" this Halloween in no time at all.
"Chilling Adventures of Sabrina Opening Credits," Netflix
This enchanting theme sets the tone for the dark and magical world of the show, blending elements of witchcraft and the supernatural — which also makes it a great Halloween song to play this October.
"Wednesday Addams Title Sequence," Netflix
This instrumental track features a whimsically eerie melody that captures the quirky and macabre essence of Wednesday Addams. If you loved the Netflix series, you'll definitely want to add this to your Halloween music playlist.
"I Love the Dead," Alice Cooper
"I Love the Dead" by Alice Cooper is a freaky macabre rock song that explores themes of necrophilia and obsession, characteristic of Alice Cooper's theatrical and shock-rock style. Definitely scary.
"X Files," Génération TV
This song will take you back to the days of the hit series, The X-Files. If you're looking for music that'll set a mysterious vibe this Halloween, this creepy tune should do the trick.
"Werewolf, Baby!," Rob Zombie
This scary, high-energy rock song features the gritty guitar riffs and edgy lyrics that embody Rob Zombie's signature blend of horror, heavy metal and shock-rock.
Halloween Karaoke Songs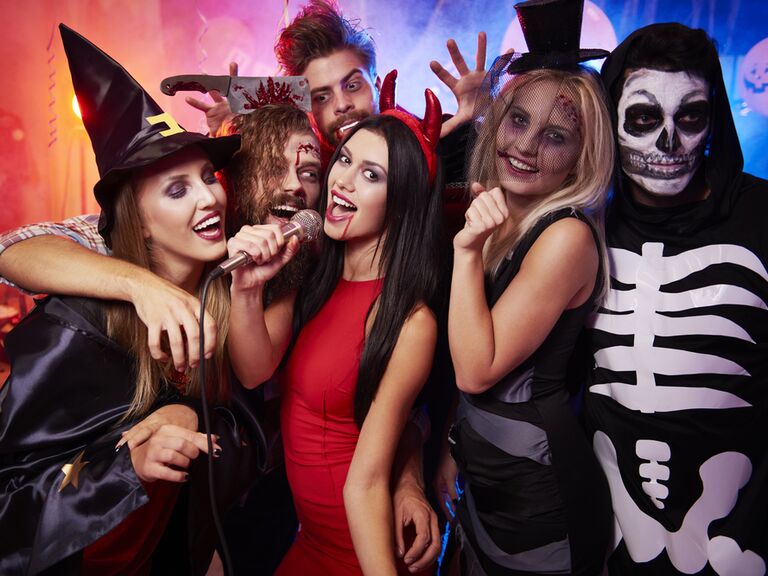 Getting ready to belt your heart out at a karaoke Halloween party? Here are some songs to consider singing for your on-stage debut.
"Disturbia," Rihanna
This electro-pop song has a dark and edgy vibe that's perfect for singing on Halloween. It features catchy hooks that'll pretty much guarantee a good time.
"Little Drop of Poison," Tom Waits
Tom Waits' distinctive vocal style and the song's haunting melody make this song a unique choice, adding a touch of mystery and intrigue to your karaoke performance.
"I Want Candy," Bow Wow Wow
This song's upbeat and playful nature, along with its candy-themed lyrics, will add a fun and lighthearted element to your Halloween karaoke repertoire.
"Purple People Eater," Sheb Wooley
With its humorous lyrics and catchy melody, this novelty song can inject a dose of humor and nostalgia into your Halloween karaoke playlist.
"Witchy Woman," Eagles
The song's mystical and sultry vibe, combined with its well-known chorus, can help you put on a bewitching performance for your Halloween karaoke debut.
"Rhiannon," Fleetwood Mac
The mystical themes of Fleetwood Mac's "Rhiannon" make it a timeless classic that can add some serious allure to your Halloween karaoke performance — even more so if you can mimic Stevie Nicks' iconic vocals.
"Cemetery Drive," My Chemical Romance
This song's emotional and raw intensity can suit the darker and more introspective side of Halloween, making it a compelling choice for those who want to explore deeper emotions in their karaoke performance.
"Paint It Black," The Rolling Stones
"Paint It Black" by The Rolling Stones features a killer sitar riff and brooding lyrics that can bring a sense of darkness and drama to your Halloween karaoke setlist.
"Spellbound," Siouxsie and the Banshees
The song's hypnotic quality can add an eerie and mesmerizing touch to your Halloween karaoke experience, perfect for those who appreciate more alternative-sounding music.