These 6 Heirloom Engagement Rings Have Such Unique Backstories
See the stunning new settings that honor the past, present and future.
You'll likely never own a piece of jewelry with more sentimental value than your engagement ring. And for many couples lucky enough to wear an heirloom, the ring is not only an expression of their love and commitment, but of a lifetime of history too. Here, we asked to-be-weds to share the stories behind the diamonds that have been passed down to them, and how they reset them in their own engagement or wedding rings. Get inspired by the sweet stories behind the rings below.

Pro tip: Any time you're redesigning a piece of fine jewelry, make sure to get it reappraised to reflect its new value. You should also insure it with a company like Jewelers Mutual Group, that has spent the last 108 years dedicated to insuring jewelry and only jewelry.
Name: Erin Keleher
Location: Rye, New York
The story behind the stone: "My fiancé Teddy's grandmother lost her original engagement ring, so his grandfather replaced it for their 40th anniversary. The ring was eventually passed down to his daughter (Teddy's aunt), and she reset the round diamond in a new band. Since she doesn't have kids, she and Teddy's mom agreed the stone should be passed down to him, the oldest grandchild. Although his mom passed away before seeing the new setting, knowing she was excited for us to use the stone made it feel like she was part of the process of designing my ring."

How they made it their own: "After we talked about getting engaged with that diamond, I went to Ring Concierge to try on different styles. Teddy then had the diamond appraised, and met with them to work on the design (without me knowing any timing). He made sure to get my feedback here and there before anything was set in stone, and we ended up adding two tapered baguettes to the sides for a little extra bling."
Name: Morgan Finton
Location: Reston, Virginia
The story behind the stone: "The diamond is from my great-grandfather's wedding band—it's nearly 100 years old! When I got engaged to Diva, I thought about incorporating his diamond into my wedding band as a way to remember the past but welcome the future."

How they made it their own: "My family has been going to R.E. Saxon Jeweler for three generations. The owner, Richard, worked with me in person and over the phone to understand my style and make proposals before I selected the final design. Diva's rings are also family heirlooms (from 1903 and 1941), so between us, we're carrying centuries of history. It makes us feel uniquely united, grateful and special."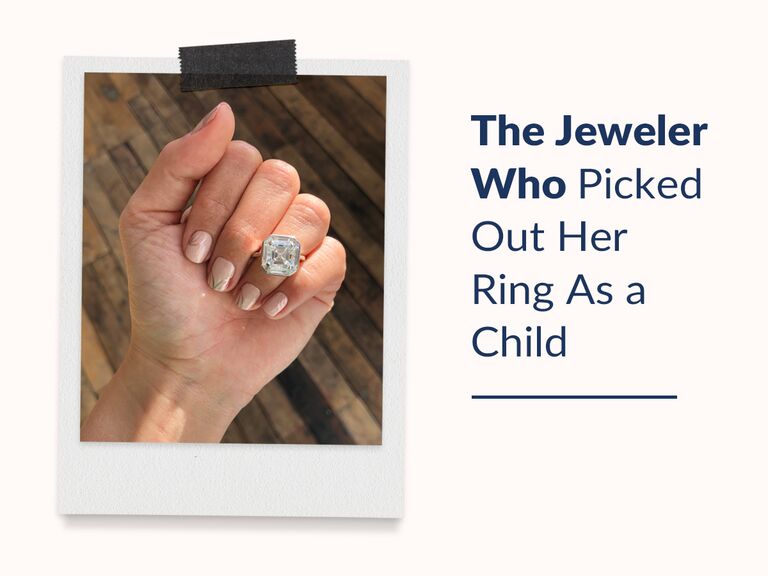 Name: Olivia Landau
Location: New York, New York
The story behind the stone: "My parents had an antique jewelry business and I loved playing with all the amazing one-of-a-kind pieces. When I was 8 years old, I saw this incredible art-deco Asscher-cut diamond ring in my mother's inventory. I begged her to save it for me as my engagement ring, but she laughed it off and said that my future husband had to pick out my ring. When Kyle proposed, I was so surprised and excited, mainly because I always thought [as a fourth-generation jeweler] I would be designing my own ring. Then when he opened the box and I saw the ring I started hysterically crying. I knew my mom was part of the proposal and that she had been saving this ring for me all these years!"
How they made it their own: "Kyle and I founded The Clear Cut [while we were dating] and make thousands of engagement rings each year, so of course I took charge in the redesign to make the ring more suited to my hand and my style. I kept the top part of the ring—the center stone surrounded by a bezel-set frame of custom-cut baguette diamonds—but swapped the band for a plain one. The original featured tapered baguette side stones, but I have very small fingers so it overwhelmed my hand a bit. I love how unique and sentimental the ring is!"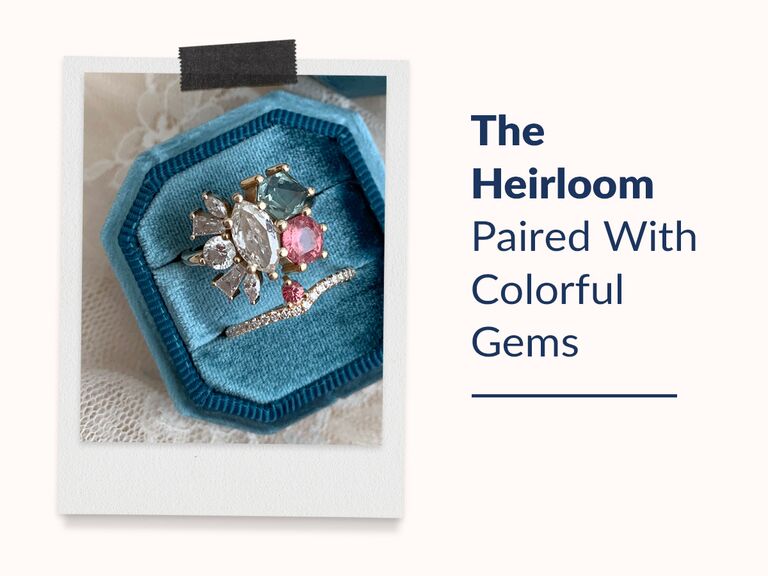 Name: Marly Kluge
Location: Pasadena, California

The story behind the stone: "Andrew's mom offered to let us pick a stone from a few different pieces of jewelry, and we were drawn to a beautiful marquise diamond that was part of a gold bracelet. The fact that it has family history and belonged to his mom, who we are both really close to, made it so much more significant than purchasing a random new stone."

How they made it their own: "We really liked the idea of incorporating multiple colors, and loved that pink sapphires symbolize trust, loyalty and sincerity, and are believed to carry good fortune and great love! I also wanted to add an emerald for Andrew's birthstone, but the Marrow Fine team suggested a green sapphire instead, since emeralds are fragile and not the best choice for an everyday ring. Even though I knew what the ring would look like, it was still so fun to be surprised with the final product when Andrew proposed. It was really special to work on the ring design together and create a symbol of our love and relationship."
Name: Rebecca Milzoff
Location: Brooklyn, New York
The story behind the stones: "The main Old-European-cut diamond and two side baguettes were from a ring and pin that belonged to my grandfather. My mom told me about the stones about eight months before Craig proposed, and I subtly let him know I'd find it meaningful to use them. When I had the main stone appraised, I learned it was most likely hand-cut in the 1930s or 1940s. It's not as precise as current cuts but it's extra sparkly because of the many hand-cut facets!"
How they made it their own: "Craig has bought me a couple of really beautiful pieces by Melissa Joy Manning for special occasions. I liked that we had a history there and knew that Melissa had been working more on engagement rings with heirloom stones. I also love her dedication to sustainability, and I'm happy to be part of it by using these stones and band made from recycled rose gold. It felt incredibly personal and so exciting when we figured out the final design."
Name: Liz Engrassia
Location: Queens, New York

The story behind the stone: "My parents got engaged very young, while my father was still in medical school, so he couldn't afford to put much money toward an engagement ring. For their 10th anniversary, he worked with a jeweler to customize a new ring with a brilliant-cut round diamond. Prior to getting engaged, my fiancé, Ivano, and I discussed using this diamond as a way to remember my father, who passed away when I was younger. I absolutely loved the idea because it would be so special to wear a part of the ring that my dad gave my mom."

How they made it their own: "Ivano worked with my mom to reset the diamond in a new band designed by London Jewelers—I wasn't involved at all. He actually knew my father and how much he meant to me, so this was a perfect opportunity to be able to gift me this ring. My father worked so hard to buy this diamond for my mom after years of marriage, and now I always have it with me everywhere I go."
Did you know personal jewelry insurance protects your ring from loss, damage and theft and during worldwide travel and mysterious disappearances? Insure it. Wear it. Learn more at JewelersMutual.com.