15 Dallas Wedding Venues for Every Couple & Style
No matter what your dream wedding looks like, Dallas has a spot for you.
It's no wonder Dallas is your top choice for a wedding spot. Nestled in the heart of Texas, Dallas is a city that combines Southern charm with cosmopolitan flair, making it a popular choice for both locals and visitors (plus, there are no shortage of awesome Dallas wedding venues to choose from). With its diverse neighborhoods, iconic skyline and a wealth of cultural attractions, Dallas offers a scenic and memorable backdrop for your special day.
From the historic charm of Deep Ellum to the upscale ambiance of Uptown, Dallas has a space to match every couple's unique style. Even though you're in a city, you can exchange vows in a lush garden, on a rooftop reception with breathtaking city views, or opt for a more traditional ballroom setting. And don't forget the cuisine unique to this area. Dallas is a food lover's paradise, and your wedding menu can reflect the city's culinary diversity.
With a favorable climate for most of the year, a range of venues and central location, Dallas is a year-round wedding destination. Summers may be tricky, so an outside wedding might be tricky that time of year. Instead, opt for an indoor space and pick outside or a rooftop in the fall or winter. With a bit of help from your wedding planner, Dallas can be the perfect place to create a wedding that fits your style no matter the time of year.
Once you narrow your choices down to a few, call and ask questions. The staff at these venues are there to help. In this guide, we'll explore some of the best wedding venues in Dallas, from outdoor settings to upscale hotels and unique spaces, ensuring that your day is as unforgettable as this Texas town. For even more choices, don't forget to visit The Knot Vendor Marketplace, where you'll not only find more locations, but also wedding photographers, planners and much more.
Hall of Lights in Carrollton, TX
Opened in 2009, this new Dallas wedding venue is aptly named—it has 16-foot floor-to-ceiling windows and stunning light fixtures for a twinkling wedding. St. Sarkis, the chapel on site, is based on a replica of a 7th-century Armenian church and boasts a striking facade. Hall of Lights in Carrollton, Texas, has 5,500 square feet of event space and can accommodate up to 300 guests. The property is exclusively catered by Blue Fire. Trust us, you don't want to overlook this space which is one of the best wedding venues in Dallas, Texas.
Dallas Arboretum and Botanical Garden in Dallas, TX
The Dallas Arboretum and Botanical Garden is an exceptional outdoor wedding in Dallas due to its breathtaking natural beauty, featuring perfectly manicured gardens, calming water features and vibrant floral displays. What truly sets it apart is its ability to offer couples a picturesque, ever-changing backdrop as the seasons unfold. Ask about the tulip display! Truly enchanting. The site can accommodate between 350 to 500 guests.
The Filter Building on White Rock Lake in Dallas, TX
Also perfect for spectacular outdoor wedding venues, Dallas offers The Filter Building on White Rock Lake, with space for up to 200 people. Built in 1922, the building overlooks the lovely White Rock Lake, offering couples a natural setting for their ceremony and reception. One thing that makes this Dallas location special is its blend of rustic charm and modern amenities, providing couples with the versatility to customize their wedding however they see fit.
Nasher Sculpture Center in Dallas, TX
If art is more your style, think about using the Nasher Sculpture Center for your indoor or outdoor wedding. The venue is an intimate and art-filled location right in the heart of the Arts District in Dallas and can host up to 300 guests. For those wanting to celebrate their special day amongst works by Picasso, Serra and Rodin, this might be your place. The location also offers water features and has a garden option.
Magnolia Hotel Dallas Downtown in Dallas, TX
There is no shortage of Dallas hotel wedding venues, and the Magnolia Hotel Dallas Downtown hits all the right notes for up to 150 guests. Located in the center of downtown, the spot is the perfect combination of sophistication and elegance. The Pegasus Room has stunning chandeliers and a hardwood floor illuminated by perfectly placed lighting fixtures. The hotel also boasts a view of the Dallas skyline.
The Beeman Hotel in Dallas, TX
The Beeman Hotel is a unique wedding destination offering 12 different places to have your Dallas wedding. The great thing about this chic and stylish location is the number of choices available and the expert staff who can help make your day perfect. Whether you want an intimate ceremony on the private patio in the hotel's garden oasis or a larger ceremony in the Beeman Ballroom, this hotel has it all and can host up to 250 guests.
Hilton Anatole in Dallas, TX
Choice is your friend when planning a wedding, and the Hilton Anatole gives you that and more. The venue has both ballrooms and outdoor spaces to accommodate various wedding styles and sizes, giving it a versatility not many locations possess. Plus, it has the space for 300 people or more. Its iconic resort-like setting also puts the hotel in a league of its own, featuring a seven-acre park, unique sculptures and a mesmerizing water feature. The pictures alone will be out of this world.
The Venue at 400 North Ervay by Boxwood in Dallas, TX
Built in 1930, The Venue at 400 North Ervay by Boxwood is an excellent option for a Dallas wedding, with its historic charm and a rooftop garden terrace, blending vintage elegance and modern sophistication. The architecture itself is unique, as the venue is between the courthouse and the historic post office. The happy couple can say their vows with the stunning Dallas skyline in the background, creating an unforgettable romantic atmosphere for themselves and up to 150 guests.
Omni Las Colinas Hotel in Irving, TX
Just outside of downtown Dallas, you'll find the Omni Las Colinas Hotel, which can fit 300 people per event or more. The wedding site overlooks Lake Carolyn, offering a serene lakeside ambiance that is unmatched. The happy couple can say I do surrounded by tranquil waters and lush greenery, providing a romantic and idyllic backdrop that is distinctively Texan. The Omni also has three ballrooms to choose from to host a lovely reception.
The Adolphus in Dallas, TX
If you're looking for a venue with a rich history, The Adolphus is it and space for 300+ guests. Adolphus Busch, the co-founder of Anheuser-Busch, conceptualized the venue that opened in 1912. The location not only has a rich history but it also has a luxurious feel and a host of stylish ballrooms with various highlights. The likes of former President Jimmy Carter and Queen Elizabeth II herself have graced the halls. Luxe, indeed.
CANVAS Hotel Dallas in Dallas, TX
Those who want the city as their backdrop might want to look at rooftop wedding venues Dallas has to offer. One such place is the CANVAS Hotel Dallas, previously known as the NYLO Dallas South Side, with over 7,000 square feet of event space. The location is a superb spot for an intimate wedding by the pool, with the Dallas skyline in the background. Combining modern style with urban sophistication, the chic rooftop terrace might be the perfect setting to make your memories.
The Joule Dallas in Dallas, TX
The Joule Dallas is a chic Dallas wedding location, seamlessly blending modern luxury with historic charm in the heart of downtown Dallas. With its neo-Gothic 1920s architecture and a host of exceptional amenities, including ballrooms, penthouses, an outdoor space, breathtaking art installations and world-class cuisine, The Joule sets the stage for an unforgettable ceremony and reception. The location can host up to 300 wedding guests.
Hickory Street Annex in Dallas, TX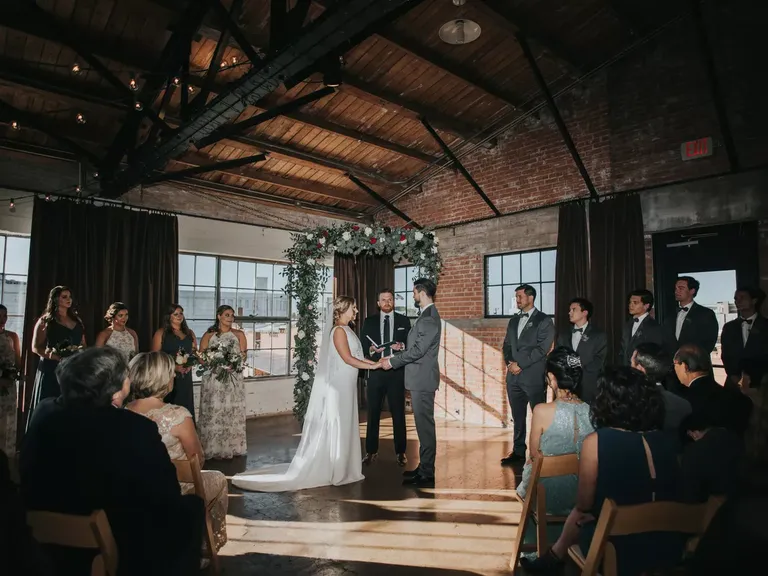 For couples looking for unique Dallas wedding venues, the Hickory Street Annex might be your spot. Situated just outside of downtown this hidden gem is known for its enchanting courtyard and loft-style event space that can accommodate up to 200 people. The one-of-a-kind location is industrial-chic, with its exposed brick walls, steel trusses, wooden ceilings and polished concrete floors. The floor-to-ceiling windows give stunning views of the city and filter in tons of beautiful natural light.
Dallas World Aquarium in Dallas, TX
Do you love the sea? Just because you're getting married in Dallas, doesn't mean you have to miss out on incorporating ocean creatures into your day. The Dallas World Aquarium offers an enchanting setting with its immersive aquatic exhibits and captivating tropical environments. The buildings comprising the aquarium date back as far as the 1800s and the venue offers both indoor and outdoor spaces with space to boot! The aquarium can fit more than 300 guests.
Perot Museum of Nature and Science in Dallas, TX
For a one-of-a-kind wedding experience for yourself and 300+ of your family and friends, consider having your wedding at the Perot Museum of Nature and Science, located next to Dallas' West End Historic District. The museum is an extraordinary location to tie the knot, with a backdrop of interactive exhibits and scientific wonders. If you want to have your ceremony in a dynamic and educational environment full of wonder and discovery, you couldn't make a better choice.