20 Bold and Beautiful Hexagon Engagement Rings
These hexagon engagement rings are equal parts unconventional and elegant.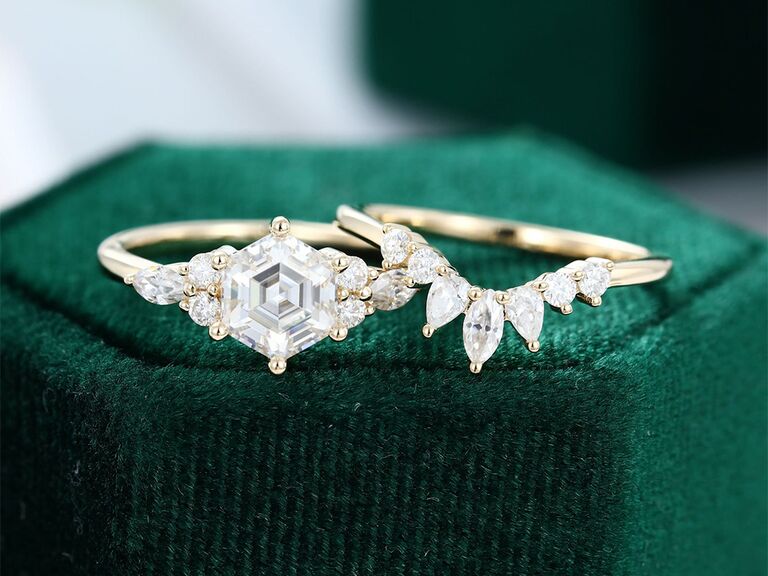 We have included third party products to help you navigate and enjoy life's biggest moments. Purchases made through links on this page may earn us a commission.
If you're looking for an unexpected sparkler with a distinct modern edge, consider a hexagon engagement ring. While engagement rings come in all shapes and sizes, the unique geometry and rarity of these rings make them instant standouts. Below, find everything you need to know about hexagon engagement rings—plus editor-approved picks you can add to your cart right now.
In this article:
What Is a Hexagon Engagement Ring?
As its name implies, a hexagon engagement ring is one where the center stone—be it a diamond or a gemstone—is a hexagonal shape. In some cases, round-cut diamonds are surrounded by a hexagonal halo or bezel setting to give the illusion of a hexagon cut center stone.
What to Look For in a Hexagon Engagement Ring
Hexagon stones are rarer than other shapes (which also makes them feel extra special), so you may have to visit a few jewelers before you find one. Hexagon cut engagement rings are often found in two types of cuts, and each one affects the brilliance of the center stone in different ways. Brilliant cut hexagon diamonds have a facet structure that's remarkably similar to round cut diamonds. The end result? A stone with megawatt sparkle. Step cut hexagon diamonds have a facet structure similar to emerald cut and Asscher cut diamonds. The open facets yield a "hall of mirrors" effect where the stone has glassy depth over traditional brilliance, and your eye is drawn to the center of the stone.
If you choose a hexagonal cut stone, keep in mind its vulnerable, sharp edges may snag easily on clothing or become dull unless properly protected with a durable setting like prong or bezel.
Why Choose a Hexagon Engagement Ring?
Hexagonal engagement rings are a modern take on the classic engagement ring we know and love. If you're looking to put your own twist on tradition but still want the look of a ring with a center stone, a hexagonal engagement ring could be for you. And, if you're opting for a colorful center stone, this unusual shape can enhance its color—what's not to love about that?
Hexagon Engagement Rings You Can Buy Now
Feeling a hexagon engagement ring right now? Shop some of our favorite styles below.
Blue Nile Hexagon Diamond Halo Engagement Ring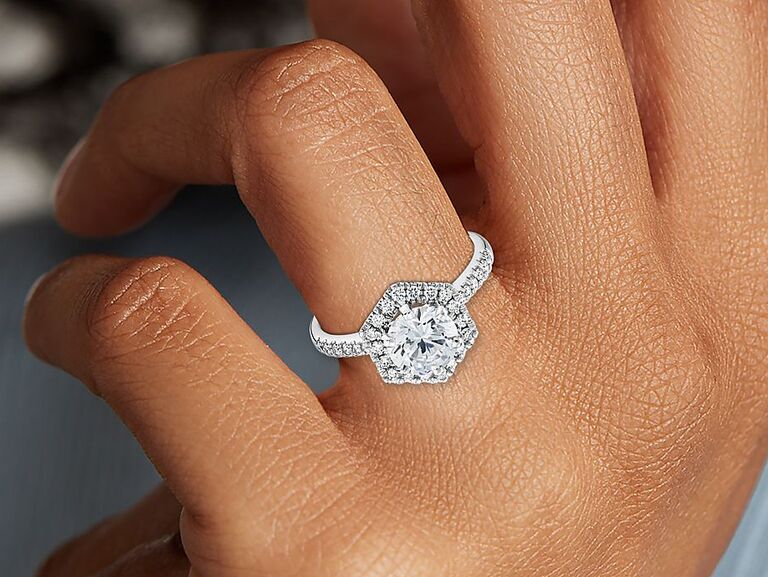 A hexagon diamond halo gives this ring has an elegant, vintage feel. Bonus: This highly customizable style means you can pick from a variety of center stones.
Satomi Kawakita White Diamond Hexagon Ring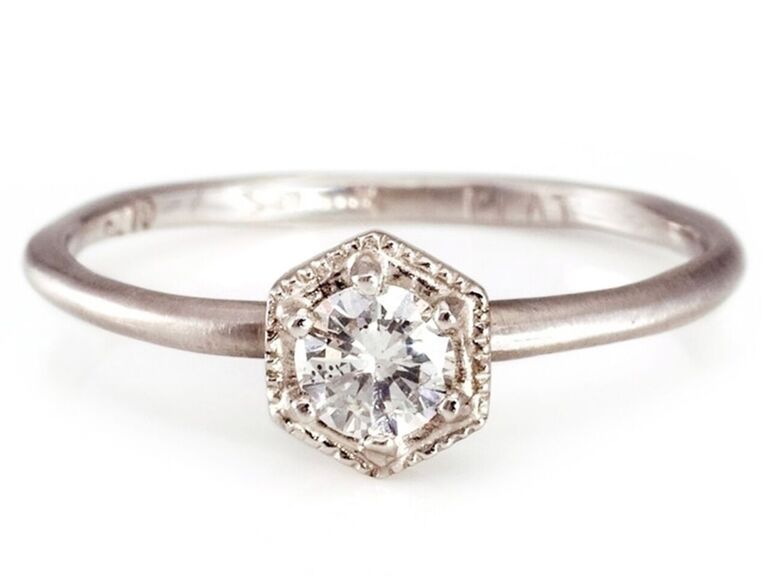 Crafted in platinum and featuring a conflict-free diamond, this hexagonal ring by Satomi Kawakita has a delicate heirloom quality. It's sleek and minimal, but it also has offers plenty of sparkle.
Ritani Vintage Hexagonal Halo Vaulted Diamond Band Engagement Ring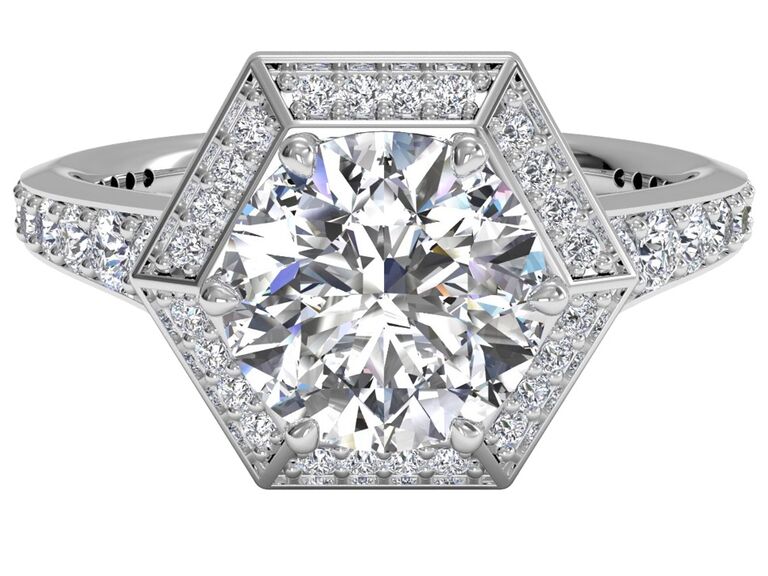 This ring is a modern design with a vintage twist. The prong-set center diamond surrounded by a hexagon-shaped pave diamond halo plus diamond-encrusted band guarantees sparkle from every angle.
Henry Rocky Salt and Pepper Diamond Engagement Ring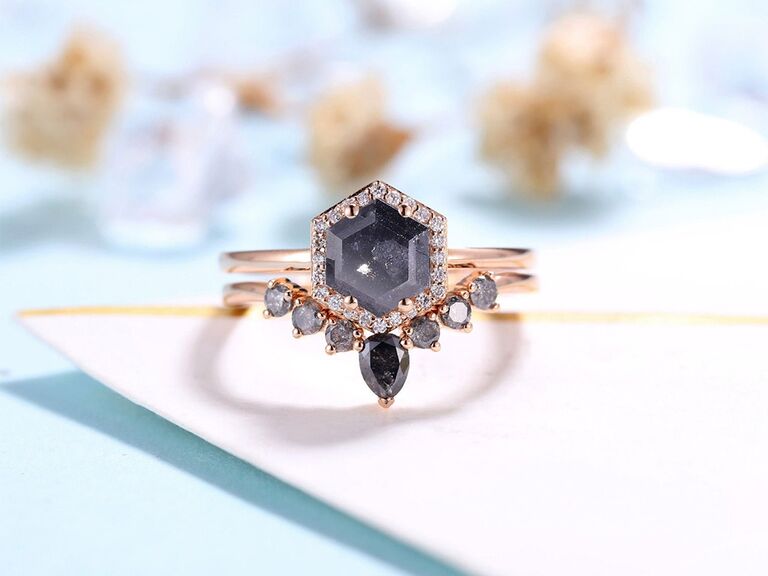 While it may look like a black diamond, This Art Deco-inspired ring is actually a stunning salt and pepper diamond. Gray inclusions give this alternative center stone lots of character.
Alysha Whitfield Camellia Ring Hexagon Diamond Engagement Ring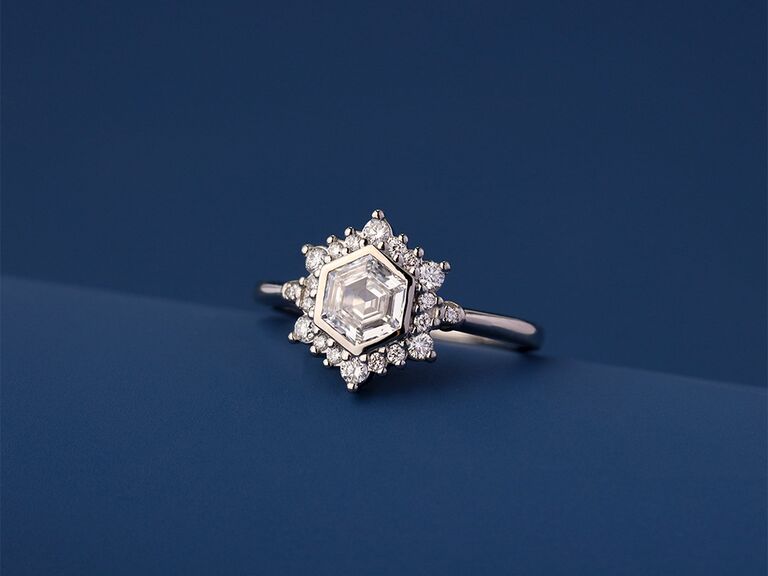 Perfect for the nearlywed with an active lifestyle, this ring features natural white hexagon diamond nestled in a low-profile bezel setting that won't snag on soft surfaces. A brilliant halo of white diamonds surrounds the center stone, and a tapered band lends an elegant finish.
Brilliant Earth Mixed Metal Hexagonal Emerald Halo Ring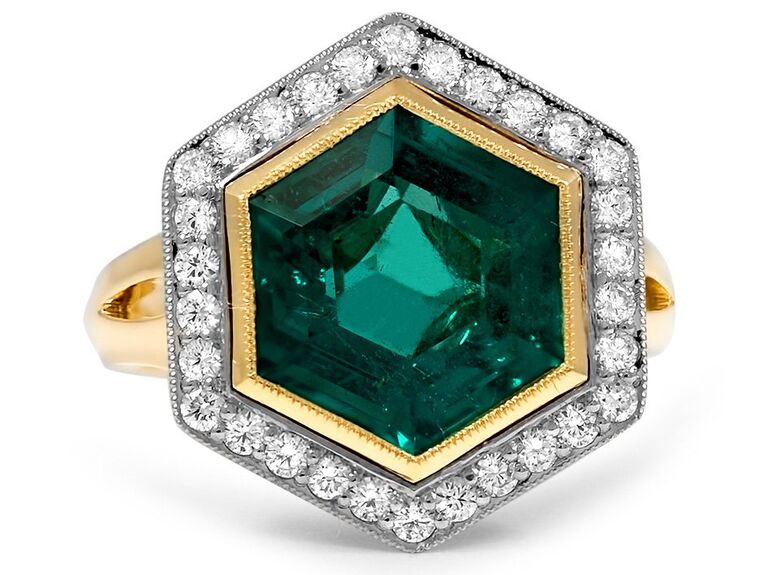 Calling all vintage lovers. This stunner features a bold hexagonal emerald nestled in a yellow gold bezel setting. A white gold halo plus milgrain details add Old World opulence.
Cathy Waterman Hexagonal Blue Sapphire Bezel Platinum Diamond Engagement Ring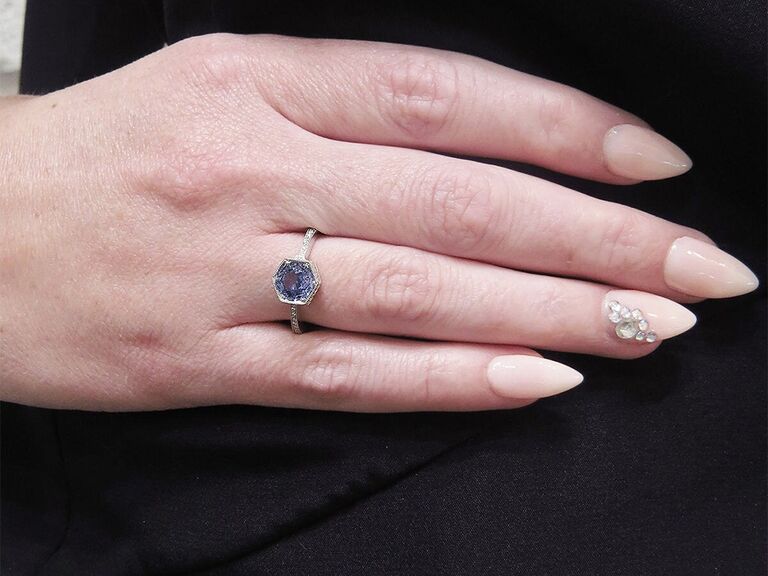 In the market for an alternative something blue? We've got you covered. This stunning hexagonal ring by Cathy Waterman features a vibrant sapphire center stone surrounded by etched milgrain details.
Capucinne Hexagon Rose Cut Diamond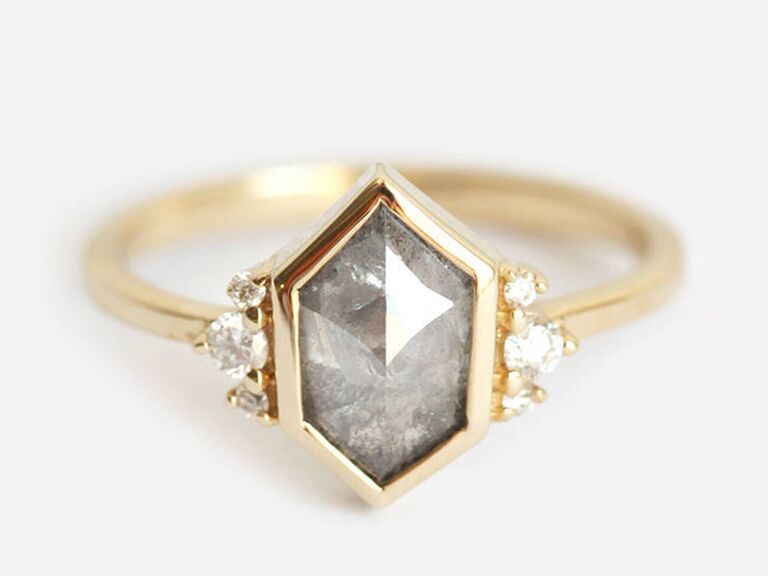 For the to-be-wed in the market for something completely different, this unique engagement ring is in a class by itself. It features a hexagonal rose-cut diamond in a distinctive shade of gray. Bonus: It's also customizable. Choose between 14 karat rose gold, 14 karat white gold or yellow gold (pictured here).
Sophia Kaman Hexagon Halo With Black Diamond Halo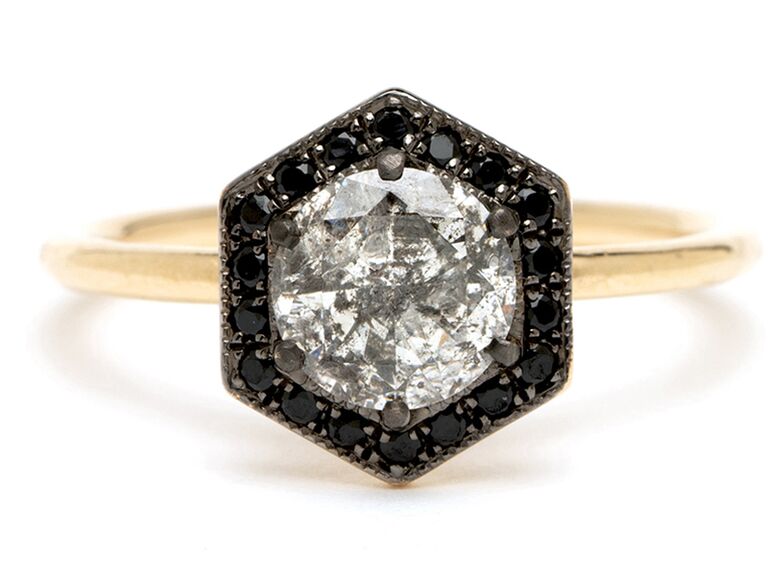 Both unique and edgy, this brilliant sparkler from Sophia Kaman features a salt and pepper diamond surrounded by a hexagonal black diamond halo. It's perfect for the nearlywed who's anything but ordinary.
Kwiat Brilliant-Cut Round Diamond and Hexagonal Halo Engagement Ring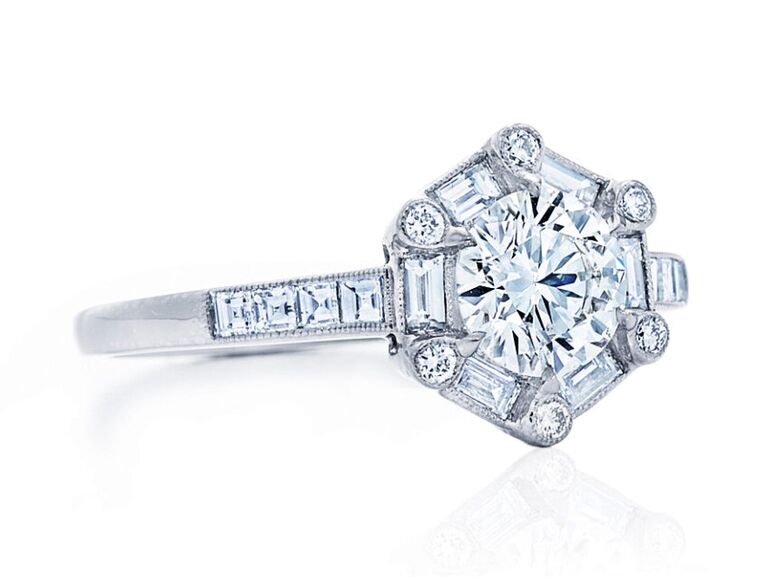 This stunning ring is a gorgeous blend of antique-inspired details and modern-day fine jewelry craftsmanship. Crafted in platinum, this ring features a round brilliant diamond surrounded by a hexagonal halo of round and baguette diamonds. More round diamonds line the shank for a ring that sparkles from every angle.
Krishna Gems And Jewels White Hexagon Rose Cut Moissanite Ring, Solitaire Engagement Ring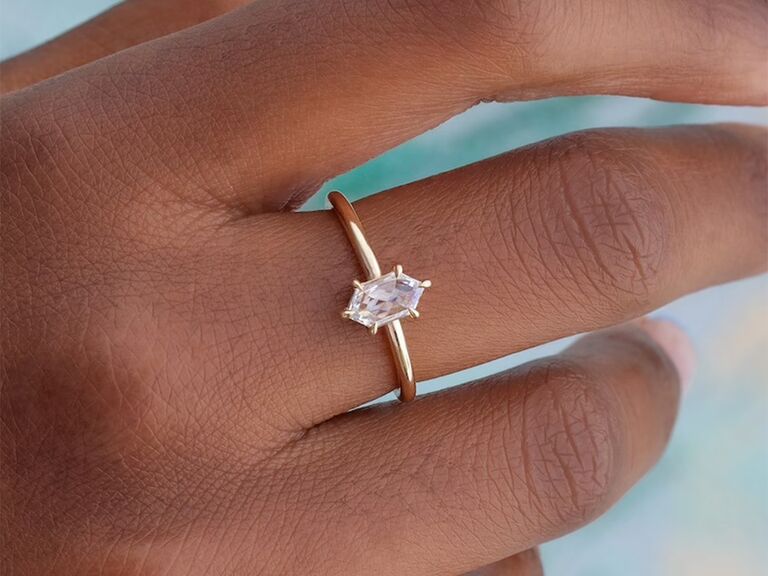 Minimalists, this one's for you. This rose-cut moissanite solitaire ring is a stunning choice for the to-be-wed who appreciates clean and simple design.
Blue Nile Pavé Hexagon Halo Diamond Engagement Ring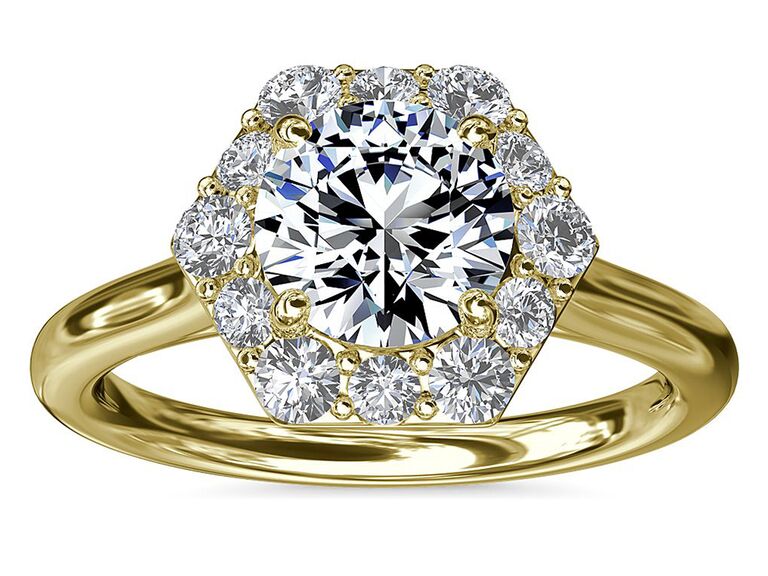 The definition of sophisticated, this diamond ring features a pavé hexagon halo framing a round cut diamond. While this one is crafted in yellow gold, you can also choose a setting in rose gold or white gold.
Shy Fine Jewelry Unique Hexagon Aquamarine And Moissanite Engagement Ring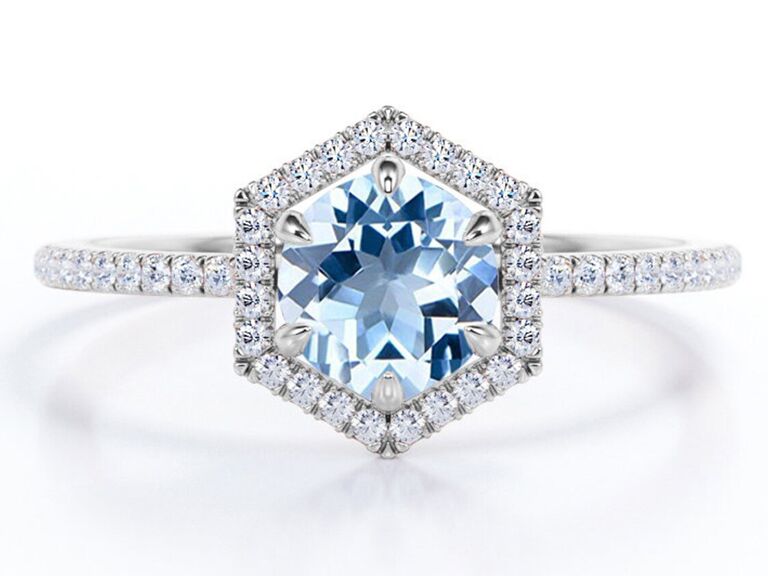 You don't have to break the bank to get gorgeous wedding bling. This stunning ring features a hexagonal aquamarine gemstone surrounded by a moissanite halo. The end result is a ring that's both breathtaking—and affordable.
Brilliant Earth Art Deco-Inspired Hexagonal Halo Pearl Matched Set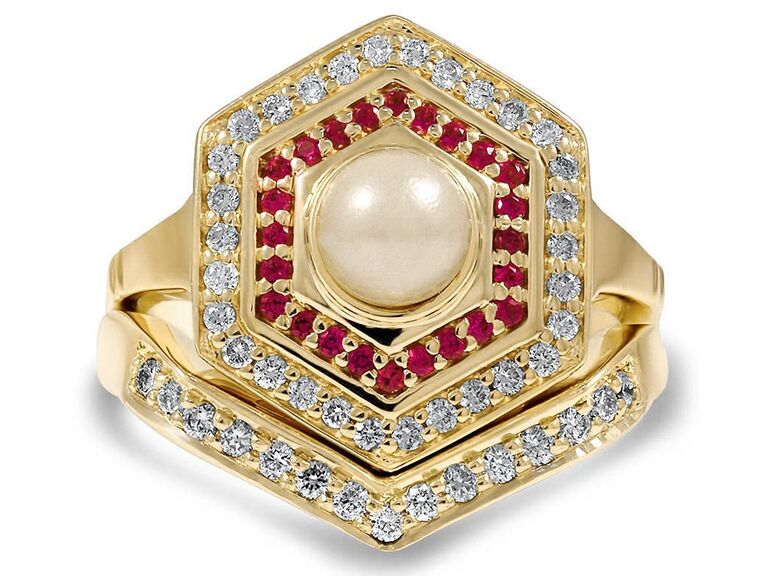 Give a nod to the great era of Gatsby with Art Deco-inspired bling. This ring features a bezel-set pearl surrounded by a hexagonal double halo. A matching contoured wedding band perfectly rounds out the look.
James Allen Platinum Hexagonal Trilliant Side Stone Diamond Engagement Ring
Get in on the three stone ring trend with this sparkler featuring a round center stone flanked by diamond trilliant side stones. A halo plus milgrain details give this time-honored setting a distinctive heirloom quality.
Molly Jewelry US Hexagon Cut Moissanite Engagement Ring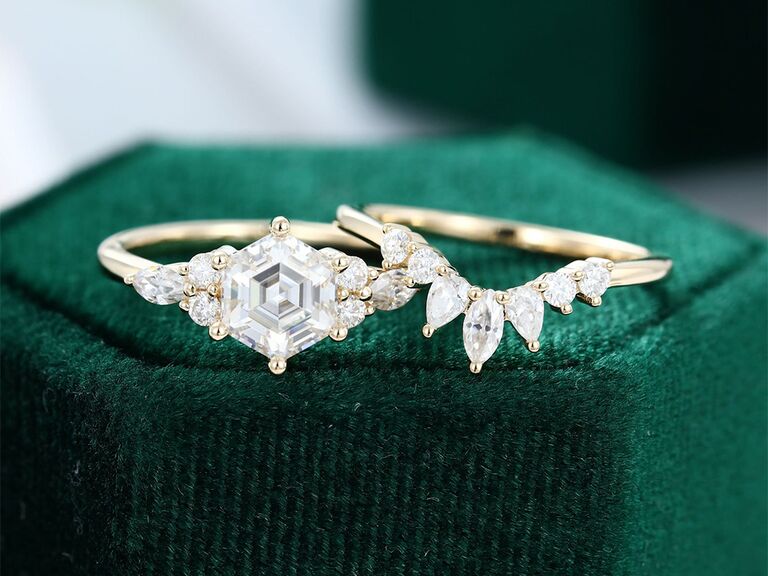 If you love vintage style, then you'll love this hexagon cut moissanite ring. Bonus: Although it's gorgeous enough to stand alone, this sparkler comes with a diamond-encrusted wedding ring.
Tiffany & Co. Hexagon Ring in 18k Gold with a Green Tourmaline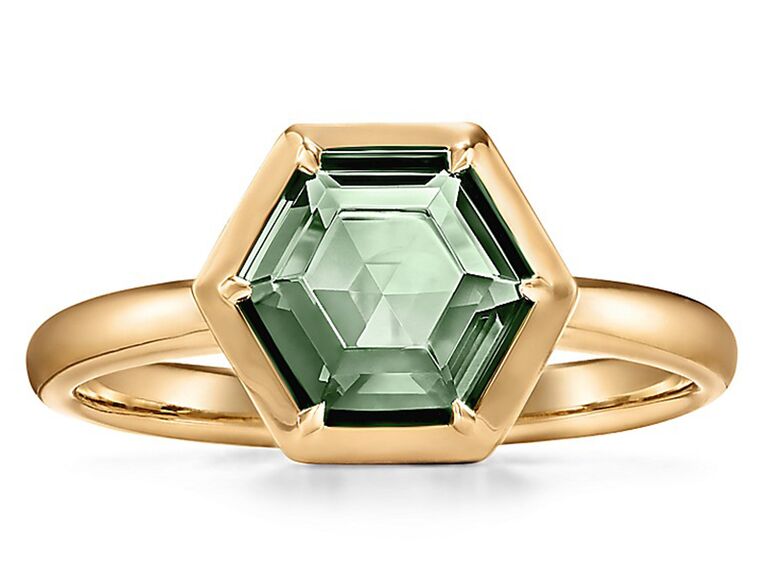 Although understated, this distinctive engagement ring is anything but boring. The colorful combo of a bezel set hexagonal green tourmaline in yellow gold will set you apart in a sea of white diamonds and white metal settings.
Blue Nile Oval Sapphire Ring With Diamond Hexagon Halo and Baguette Sidestones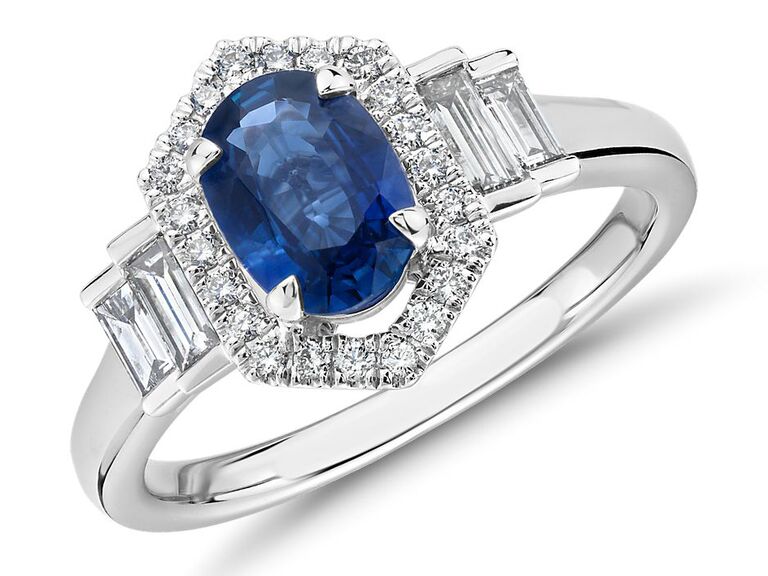 Gemstone center stones always give a unique feel to engagement rings, and this one is no exception. This showstopper features an oval-cut sapphire surrounded by a hexagonal diamond halo. Baguette-cut diamond side stones add vintage-inspired flair.
Henry Rocky Vintage Hexagon Moonstone Engagement Ring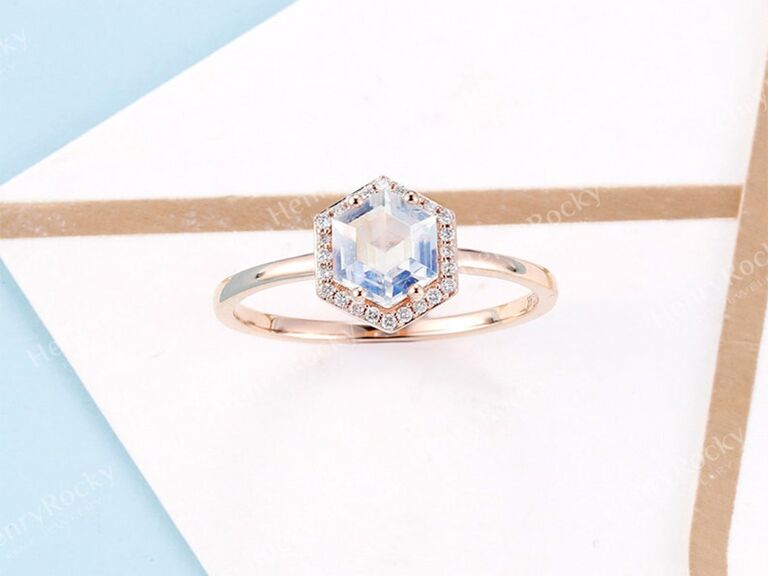 Thanks to its pretty iridescent sheen, it's no wonder moonstone is the go-to center stone of boho brides. This vintage-inspired hexagon ring features a gorgeous moonstone elegantly framed by a halo of diamonds.
Enchanted Disney TinkerBell Diamond Hexagon Frame Engagement Ring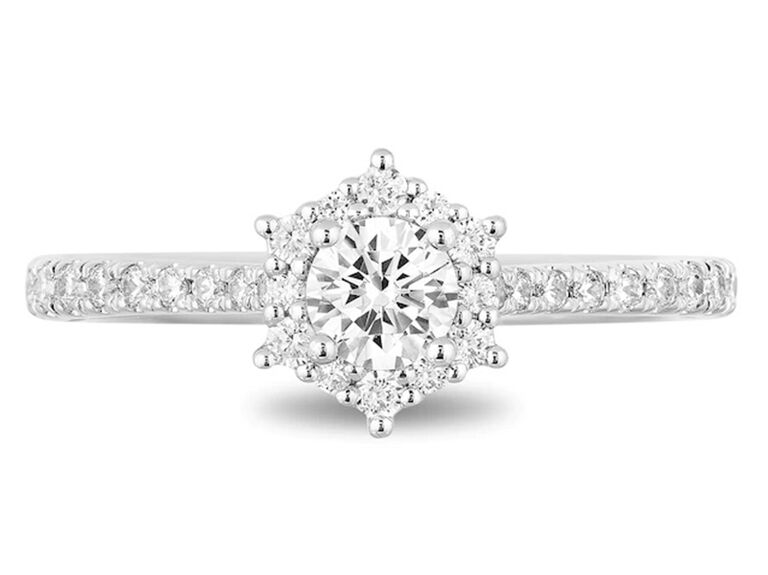 Who says bigger is better? Inspired by Tinkerbell, this dainty sparkler features a round-cut diamond framed by a delicate hexagonal halo smaller diamonds.