9 Reasons to Get Onboard With a Honeymoon Cruise
Chart a course to newlywed bliss.
by Jennifer Hirshlag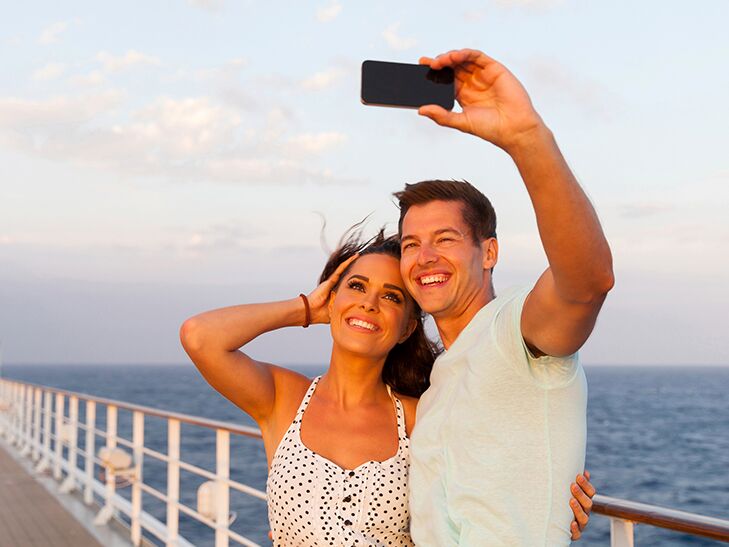 Think setting sail on an ocean liner will be a mix of all-you-can-eat buffets and shuffleboard tournaments? Think again. The latest seafaring adventures have been upgraded to offer so much more, especially for honeymooners. Here's what you can look forward to when booking a cruise for you and your new first mate.
1. Planning a cruise is a cinch.
You're in the middle of sending out save-the-dates, shopping for wedding rings and hiring a cake designer—and that's just your side job. Now you have to book your honeymoon too? Give yourself a break by going on a cruise. With this option, all you'll have to do is pick your cruise line, your dream itinerary and a cabin—and you're good to go. Because most tickets are offered as an all-in-one package, you won't have to deal with the fuss of coordinating transportation, vetting hotels, studying up on what you should do at different destinations and planning all your meals. Next up on your wedding to-do list? Take a deep breath and envision all those amazing times ahead.
2. You can reign in your budget rather than reigning in your fun.
There is nothing romantic about counting your pennies before, during and after every honeymoon adventure. Do the math and splurge up front instead. Most cruise fares cover just about every cost you need to be concerned about, from breakfast in the morning to dancing and standard dining at night. You can even purchase all-you-can-drink and specialty dining packages ahead of time rather than deal with those additional costs onboard. Just remember to put aside some cash for gratuities; tips are not covered as part of your original fare.
3. Make multiple stops, with zero hassle.
Can't decide on that one perfect honeymoon spot? On a cruise, you can visit many bucket-list destinations without having to make maddening trips back and forth to the airport. Fall asleep in one port on one day, and wake up in another one refreshed and ready to go the next. Take note of the places you absolutely loved and plan to return to them for longer excursions on anniversary celebrations to come.
4. There's always something for both of you.
You were contemplating an afternoon at the spa. Your partner? Rock climbing. With a cruise, you can both be happy—as long as you can bear being apart for a few hours. Wave machines, swimming, golfing, dance classes, yoga classes and art classes are just some of the things you might find to occupy your time on a cruise during the day—and that doesn't even include the excursions available when you reach your destinations. At night, there are dinners, entertainment, movies and dancing. Or if you really want to do nothing at all, well, that's an option too.
5. The service is on point (and available 24-7).
Being treated like royalty won't have to end with your I do's. From the moment you board your ship, the staff of most cruise lines—no matter how large—will greet you with the personalized service you can look forward to for the rest of your vacation.

6. The food is even better than you can imagine.  
Sure, there are still all-you-can-eat buffets onboard. But now cruises offer so much more—from yummy burgers for a quick lunch to afternoon tea and cake to gourmet dinners prepared by some of the world's top chefs. Too cozy to leave the cabin? Order room service. It's usually available around the clock.
7. You can travel outside of your comfort zone.
Even regular globetrotters may think twice before embarking on an excursion for two farther afield, especially if there's a language barrier. Rather than going it alone, navigate exotic waters on a cruise. The ship's helpful staff will tell you what you need to know to be safe and to get around, whether you're in Thailand or Turkey. Worried you'll feel detached from the culture around you? Enjoy local dishes onboard or learn to cook them on your own. Some cruises even offer history courses if you're visiting a legendary destination or can connect you with guides from the area for private tours far from shore.
8. Journey across oceans or down rivers.
Nothing sounds more beautiful than seeing the sunrise and sunset miles away from land. But if you're up for a different kind of adventure, look into a smaller river cruise. These have been common in Europe, where you can float along the Danube past beautiful old castles or make your way down the Rhône to gaze upon the rolling French countryside. Now river cruises are setting sail in other faraway regions, as well. Take in the wildlife from deck while traveling down Africa's Chobe River or visit rural villages and remote monasteries along Myanmar's Ayeyarwady River.
9. You can kick back in cool digs.
Say "bon voyage" to the chintzy decor of days past. The newest liners are debuting chic contemporary interiors so you can surround yourself in comfort and high design. Think Frank Gehry furniture, glass-backed infinity pools, Scandinavian-inspired spas and lounge areas decorated in muted tones and warm woods that will make you want to chill out for hours on end.