Honeymoon Trends
Here's where to travel, what to do and more!
by Jamie miles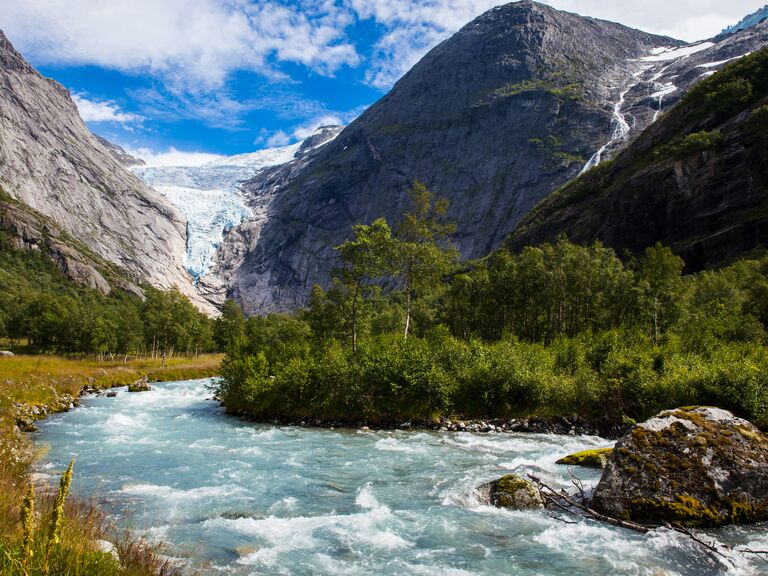 Safaris Get an Icy Upgrade
Think high temps and a jungle locale are the only ways to enjoy the great outdoors? Think again! Cold-weather safaris, complete with mammoth glaciers and the Northern Lights, are gaining major momentum. Tour groups like Magnetic North Travel, Jacada Travel and Baltic Travel Company are even creating custom packages for the more daring couples that include dogsledding, snowmobiling and glacier hikes across Norway, Sweden and Greenland.
Feel Right at Home on Your Honeymoon
Thanks to sites like Airbnb and HomeAway, you can post up like a local all over the world, from St. Barths to Bali. Search by destination or price point, read reviews, then book a cabin, houseboat or castle (yes, you read that right) instantly. And with each site offering more than a million listings in almost 200 countries, you're sure to find your ideal home away from home.
Virginia Is for (Wine) Lovers
Listen up, winos! Virginia, the fifth-largest wine-producing state with more than 250 wineries, is worth a visit. Annual wine festivals and adults-only tasting rooms, like those at Chrysalis Vineyards in Middleburg, Virginia, are perfect for couples looking to taste delicious vintages and take in views of the Blue Ridge Mountains.
Charm City
Keep your honeymoon adventures close at hand with Jet Set Candy's line. The collection offers link bracelets and necklace chains in either sterling silver or gold vermeil. Let the destination-specific charms, for more than 60 countries, tell stories of your travels, whether it's an Italian scooter, a Champs-Élysées street sign, or a Caipirinha shaker for Brazil's national cocktail.