This Is How Fast Couples Update Their Relationship Status to "Engaged" or "Married"
Is one nanosecond too soon?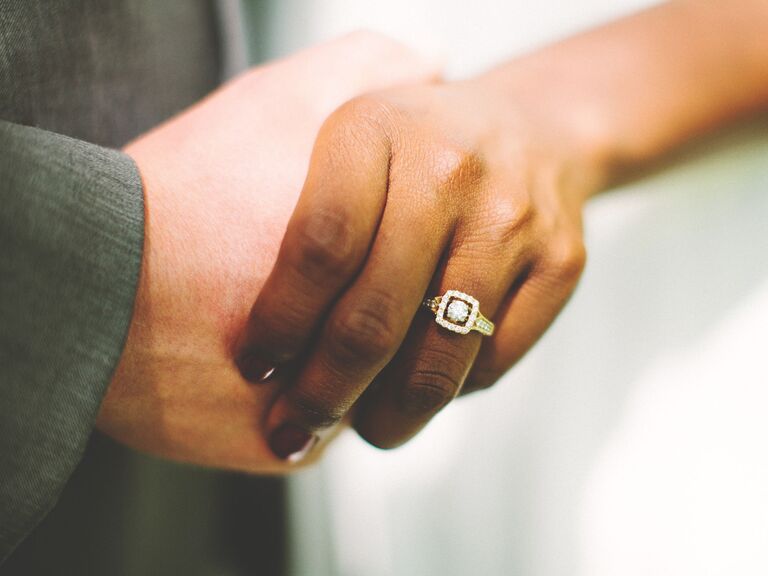 GRIFFITH IMAGING
The results are in and it's official: Changing your Facebook relationship status is high on the to-do list the week after getting engaged or married. According to the The Knot 2017 Real Weddings Study, more than half of our survey takers update their online relationship status within one week of saying "yes" (67 percent) or saying "I do" (52 percent). And who can blame them? There's nothing as exciting as seeing your social media bio go from "in a relationship with" to "engaged to" or "married to" your better half. Whenever you're ready to share the happy news with the (cyber) world, there's nothing stopping you from making this romantic update.
So how many people make the tweak within mere minutes of the proposal or the wedding? Not that many—only 2 percent update their status just minutes after the proposal and 3 percent did the same within minutes of their nuptials. We're guessing they're too busy calling friends and family, taking photos and basking in their newly engaged or married bliss. However, 17 percent of newly engaged couples and 9 percent of newlyweds changed their relationship status within hours of the big moment, which means a grand total of 20 percent and 11 percent edit their status on the very same day as their engagement or wedding, respectively.
From the looks of it, the most popular time frame for newly engaged couples to make a status update falls within the first week of either popping the question or saying "yes," with many waiting until the next day (23 percent). And the same goes for newlyweds: 37 percent are so excited to make their union Facebook official, they hop online the day after their wedding.
Here's a full breakdown of how long couples wait to update their relationship status (if at all).
How soon after getting engaged did you update your Facebook relationship status?
Within minutes: 3%
Within hours: 17%
The next day: 23%
Within a week: 24%
More than a week: 11%
Didn't update status: 22%
How soon after getting married did you update your Facebook relationship status?
Within minutes: 2%
Within hours: 9%
The next day: 37%
Within a week: 4%
More than a week: 13%
Didn't update status: 16%