How TheKnot.com Editor Gets Married!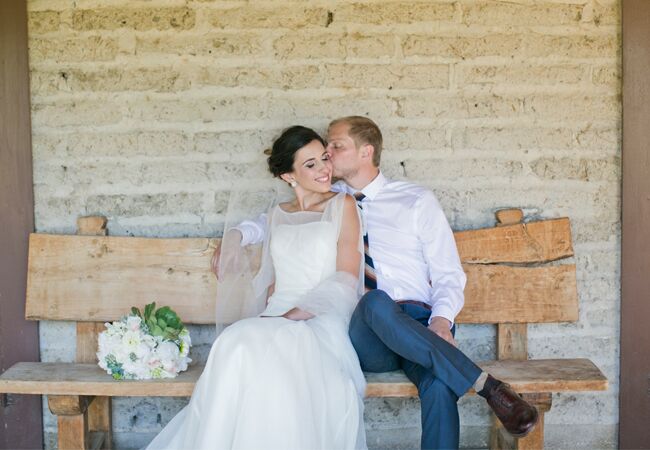 Photo: Mel Barlow
Oh boy. Here it goes. Planning a wedding as the editor of TheKnot.com came with its perks, and honestly, its downsides. On the one hand, I knew exactly who I wanted to have design my invitations, photograph my engagement photos and wedding, and decorate my cake. But I was also asked a million times whether I felt pressure to make my wedding perfect. (Kind of.) So what happened? Well, it sounds trite but my wedding was really great — no, it was perfect. And I'm not talking about perfect in that oh-my-gosh-never-seen-that-before kind of perfect. Or the wow-that-looks-like-it-cost-a-ton-of-money perfect. It was perfect because it felt perfect and we did it our way. We got married in the dirt, our vinyl DJ played Otis Redding at the reception and TechN9ne at the after-party (many of us hail from Kansas City so enough said there), our wedding cake was ridiculously gorgeous, the flowers were fresh and local, the food was spicy, and we got to spend quality time with every one of our guests. Below and here are a few of my favorite photos from the wedding day. All of the details were perfectly executed and planned by Laura Wright, and were photographed by one of the most talented wedding photographers around (I should know, right?), Mel Barlow. Our wedding video trailer is also at the bottom. It was filmed and edited by Josh Rask for Clark + Walker Studio. Enjoy!
From the album: A Romantic Dessert Wedding In Tucson, AZ
Anja+Ben's Tucson Wedding Trailer from Clark+Walker Studio on Vimeo.