13 Small Wedding Venues in Florida to Celebrate Big
Black tie or beach: Take your pick.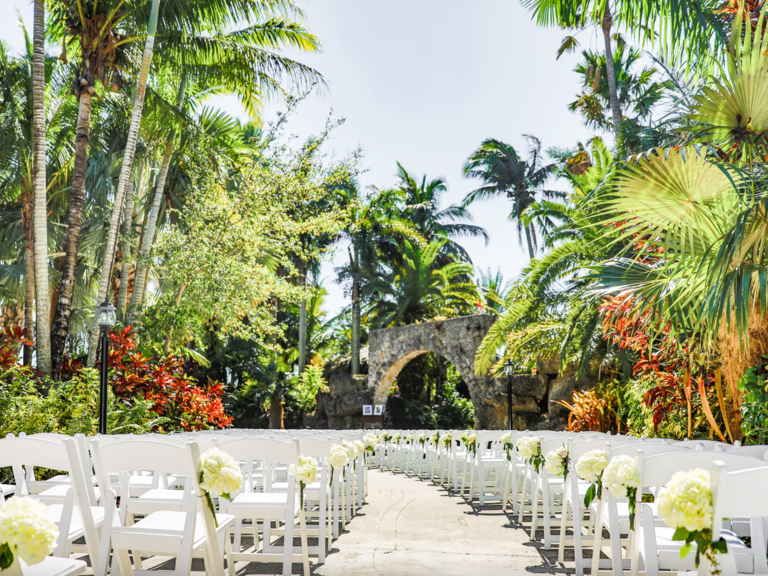 Photo: Secret Gardens Miami
The Sunshine State has so much to offer couples looking for somewhere to plan a small wedding with their closest family and friends. With iconic cities like Miami and Palm Beach, tropical islands like Key West, historic towns including St. Augustine, and, of course, Disney World, planning a wedding in Florida gives you an incredible range of experiences and intimate venues. Plus, from outdoor activities to relaxing on the beach to strolling through vibrant city streets, there's never a shortage of things to do when your guests have down time.
Whether you decide to get married on a sunny beach or walk down the aisle of one of Florida's glamorous boutique hotels, here are 13 of Florida's best small wedding venues where you can celebrate big without a crowd.
Southernmost Beach Resort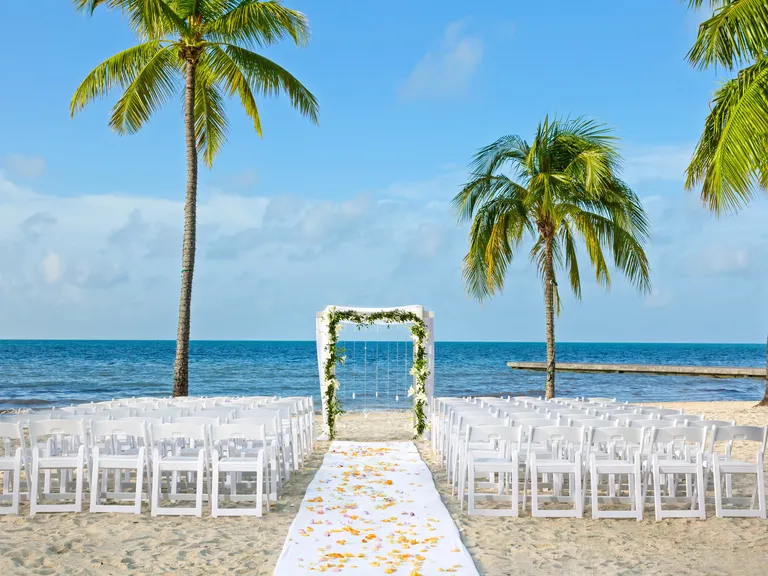 There's something intriguing about saying your vows at the actual southernmost point of the United States. You're on the sand, looking out at the ocean, feeling like you're a world away from everyday life while surrounded by the people you love most. That's exactly what you can do at the Southernmost Beach Resort in Key West, Florida. You can hold your ceremony right on the beach at sunset, then celebrate among the resort's tranquil gardens while dining on delicious Caribbean and Asian-fusion cuisine. Want the entire wedding to stay on site? With 261 rooms, there's more than enough space for your small wedding to stay and celebrate.
9 Aviles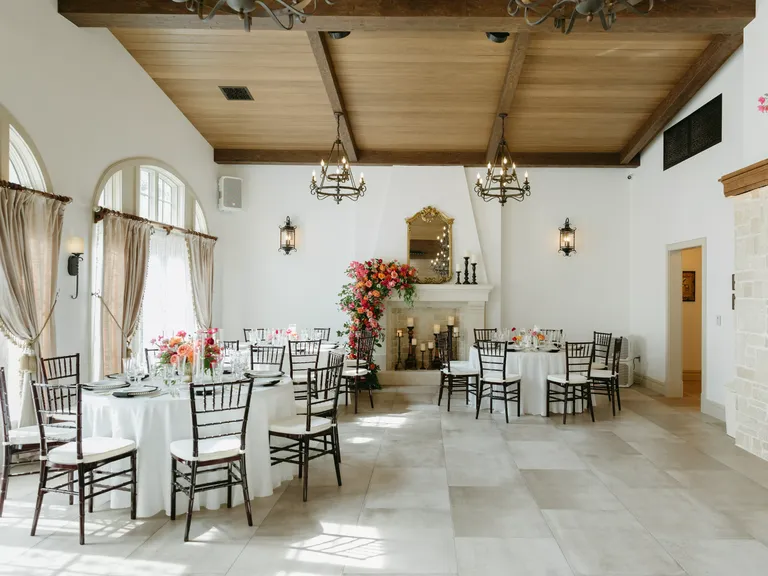 Boasting incredible Spanish architecture, the 9 Aviles building has seen many iterations throughout its 110-year history, including as an electric company and motor company. But, now, it's a stunning wedding and event venue that specializes in intimate experiences for small Florida weddings. 9 Aviles can host up to 64 guests for dinner, and its light, historic aesthetic feels a world away from its prior commercial life. Located in the heart of the Arts District in downtown St. Augustine, it's in just the right spot both for taking photos before and after your celebration, as well as giving guests the opportunity to explore.
Historic Walton House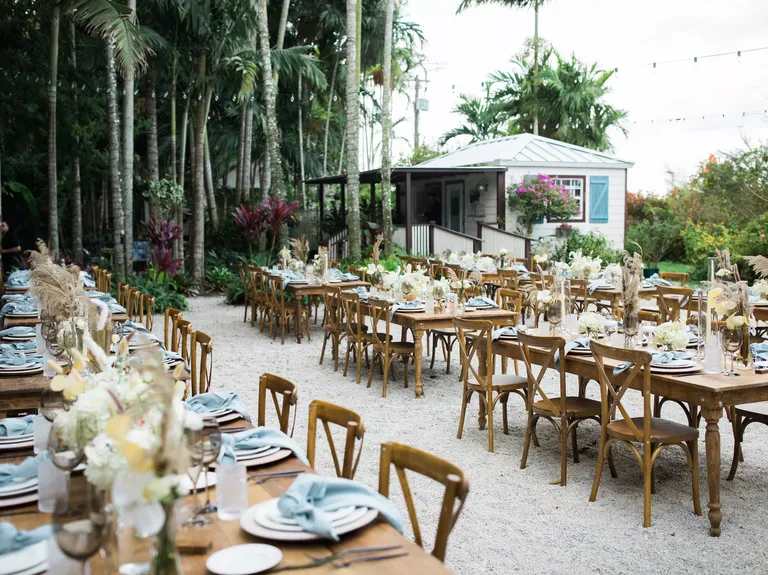 The Historic Walton House in Homestead, Florida is a romantic, English-inspired garden venue that is nestled between the tranquility of two national parks. It's a quiet, serene place to celebrate with your nearest and dearest or to elope with only your beloved. Across its five acres of gardens, there is wildlife including flamingos, parrots, macaws, and giant tortoises. And, of course, there are also photo-worthy lagoons, waterfalls, and incredible plantlife. Located just 30 minutes from the Miami airport, this wonderfully hidden garden and historic home is a treasure right near the city.
The Capen House at the Polasek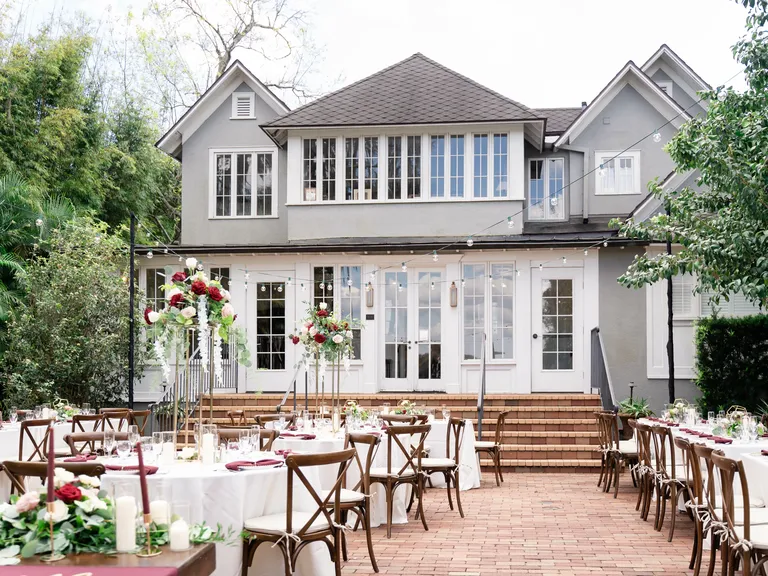 With lush, tropical gardens overlooking Lake Osceola, The Capen House at the Polasek in Winter Park is a beautiful small venue for intimate Florida weddings. Located on the grounds of the Albin Polasek Museum & Sculpture Gardens, the Capen House includes access to over three acres of gardens and impeccably manicured grounds. The patio of this 1885 home is the perfect spot for a romantic, magical dinner with your nearest and dearest. Plus, there's a luxurious hospitality suite within the restored Capen House. Think of this as your sophisticated wedding option with just enough proximity to Disney World for guests who want to make the most of the Orlando-Winter Park area while they're in town.
Ernest Hemingway Home and Museum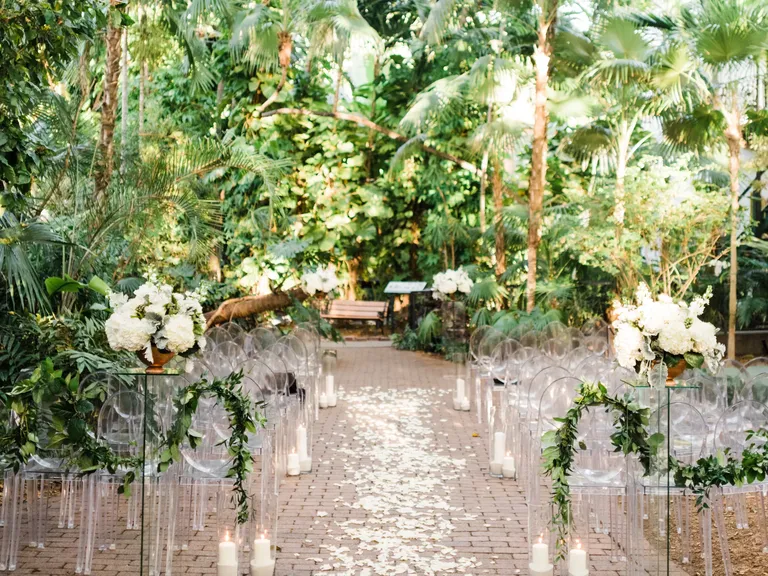 Ernest Hemingway is one of Key West's most famous residents of all time, and his home continues to be one of the most iconic places on the island. The double front porches on the 1851 Spanish Colonial home that Hemingway restored are instantly recognizable, and the lush grounds make for one of the most romantic places on the island to get married. The Ernest Hemingway Home and Museum can host weddings of up to 100 people in the tropical gardens and surrounding the pool, as well as intimate occasions. The best part? If you're a cat person, there are upwards of 60 of the famous polydactyl (five-toed) Hemingway cats roaming the property at all times.
Mounts Botanical Garden
If you are looking for an affordable and stunning space to host your ceremony only, Mounts Botanical Garden in Palm Beach could be the perfect spot for your small Florida wedding. Say, "I do," surrounded by the greenery and color of fruit plants, citrus trees, palms, and native Florida plants. These public gardens allow weddings before 3:00 PM, and the garden can be reserved for wedding ceremonies for only $600-$900. While the space can accommodate up to 100, it's a lovely option for smaller weddings or elopements. You could plan a luncheon or dinner party at a nearby restaurant immediately following the ceremony for a wonderfully intimate celebration with your family and closest friends.
The World Equestrian Center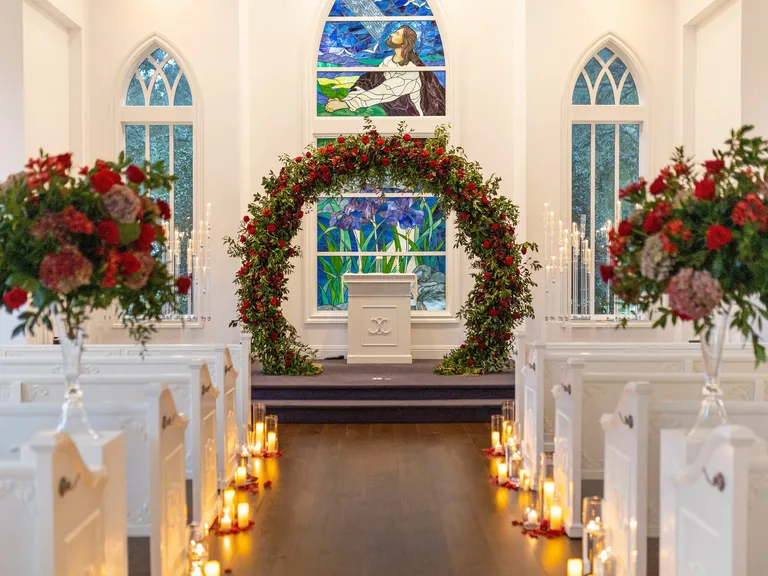 Florida is filled with horses and equestrian enthusiasts, and for the horsey couple, the World Equestrian Center is a breathtaking venue that combines glamor with their passion. This 378 acre property in Ocala, Florida has rolling hills, a luxury hotel, and a chapel where you can walk down the aisle surrounded by an intimate gathering of your family and friends. There are multiple places to celebrate, from the Oak-Canopy Garden to the Rose Garden to the intimate Paris Room, which seats just 40 guests. The couple and their loved ones can all stay on site, enjoying the amenities of the Equestrian Hotel, including a full-service spa.
The Pointe on 30A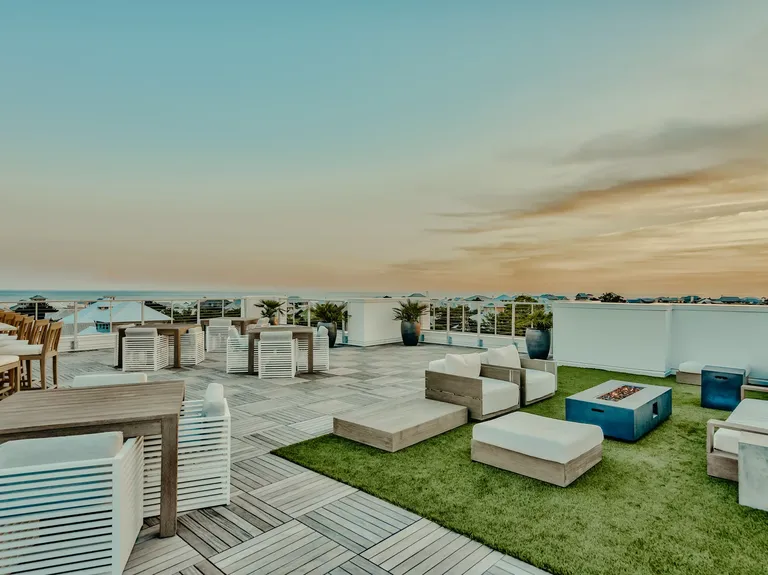 30A is one of Florida's most magical destinations, with its gorgeous white sand beaches, turquoise waters, and ombre sunsets. And that's exactly why it's also one of the most romantic places in Florida to host a small wedding. The Pointe on 30A is the luxurious spot to host an intimate ceremony and reception, with an aesthetic that feels both modern and magical. It has a luxury boutique resort feel and plenty of room for your guests to stay on site. There are multiple wedding spaces throughout the resort, including The Green Space and The Rooftop Lounge. You can toast to forever while watching the watercolor skies over the Gulf.
Rococo Steak
Swanky Rococo Steak in St. Petersburg combines old Florida elegance with an exquisite wedding planning experience. This 1926 building can accommodate multiple smaller wedding sizes, including dinner parties as small as 12 in their Napa Room to 40 in the Wine Room to 60 in the Grand Ballroom. Living up to its name, Rococo Steak is known for its food, as well as its award-winning wine collection. This is where you host your wedding when you know you want to give a small group of guests the most sophisticated experience, with an evening full of vintage appeal, amazing dishes, and incredible drinks.
The Cooper Estate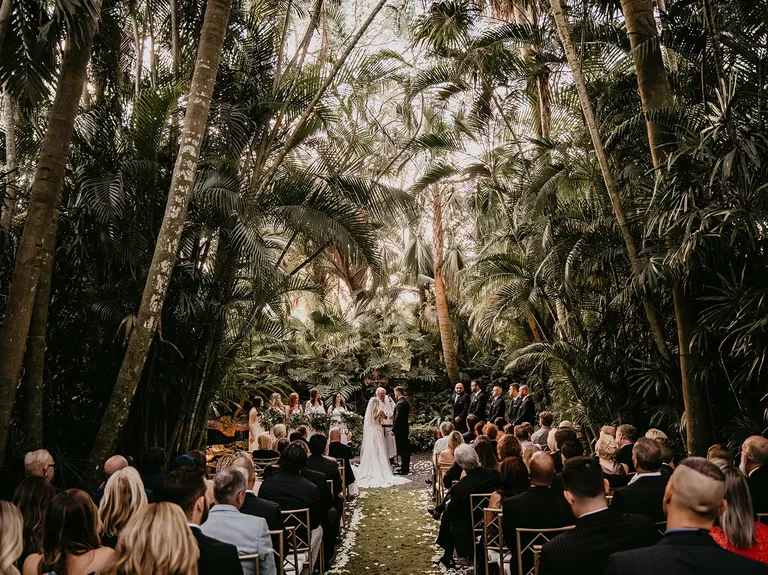 A private estate located in Miami, The Cooper Estate feels a world away from Miami's buzzy beaches. This working native plant nursery feels like a hidden gem, transporting you into an enchanted world full of lush, abundant greenery, native Florida plants, shady live oaks, waterfalls, fish ponds, and more. The home itself is made of oolite limestone in a signature Old Florida architectural style. The Cooper Estate can host everything from large weddings to small gatherings to elopements, giving couples the opportunity to create the wedding day of their dreams. Plus, their in-house planning team is available to help craft the perfect celebration from start to finish.
The Social House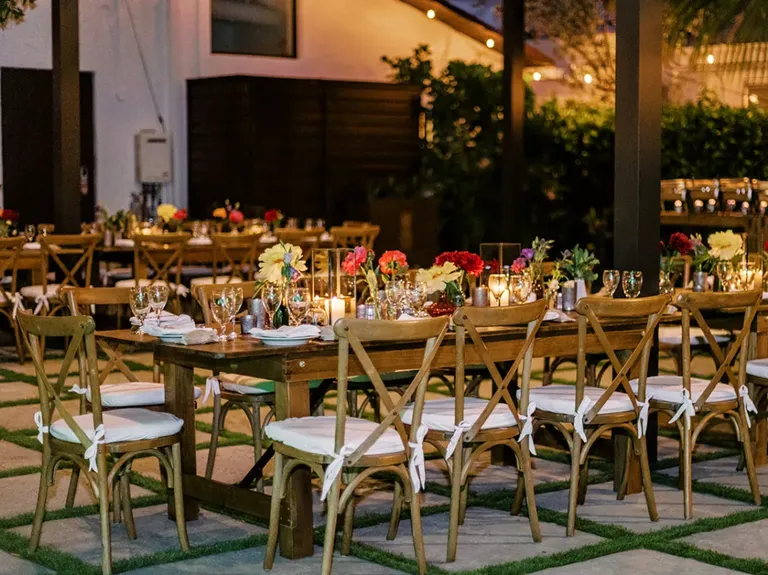 With a crisp, modern look, including whitewashed exposed brick walls and light wood floors, The Social House LW, LLC in Lake Worth, Florida, can host small celebrations up to weddings of 100 guests. It feels somewhere between an elegant hall and a backyard wedding with its light, bright, airy aesthetic and its charming backyard. There are signature Florida elements like architectural arches on the veranda and palms throughout. You can have your ceremony and reception inside or out and, because it is Florida, there's always a rain plan in case of a surprise afternoon rainstorm.
The Hotel Zamora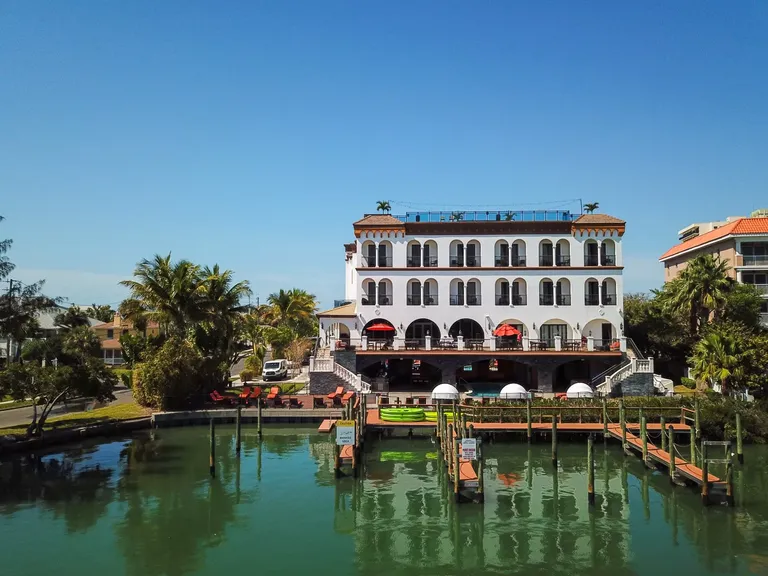 The Hotel Zamora, located in St. Pete Beach, has stunning views of the Gulf of Mexico, as well as vintage-inspired Spanish and Mediterranean architecture. The hotel is the perfect spot for smaller weddings, and guests can watch their favorite couple say their vows with the white sand beaches and turquoise waters just beyond them. There are spaces that are designed for hosting small celebrations, up to 50 guests, and that even includes your pets. The hotel is pet-friendly, meaning your beloved pooch can be your ring bearer and no one will bat an eyelash.
Secret Gardens Miami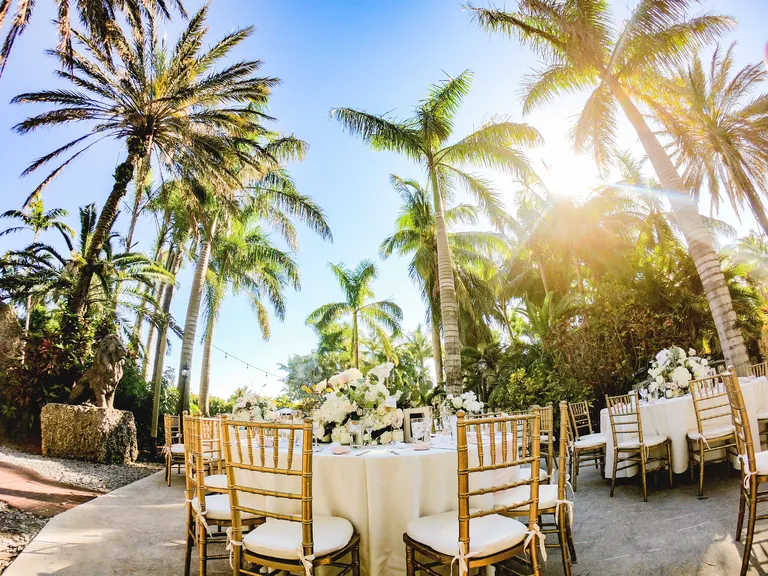 Secret Gardens Miami is a slice of paradise in Homestead, Florida. This sprawling 6-acre property includes the Villa Laguna, and it is a tucked away retreat in the heart of South Florida. From waterfalls to mesmerizing lagoons, this tropical enclave combines nature with sophistication. This is the ideal venue for a couple who wants to celebrate under the stars, and there's even an outdoor ballroom with chandeliers to dance the night away. While they can accommodate larger weddings up to 150 guests, there's also a package for smaller weddings under 50 people. That includes multiple locations to choose from, as well as spaces to get ready on-site before the wedding.