23 Things to Put on Your Registry When You Already Have *Everything*
Don't think you even need a wedding registry? Think again.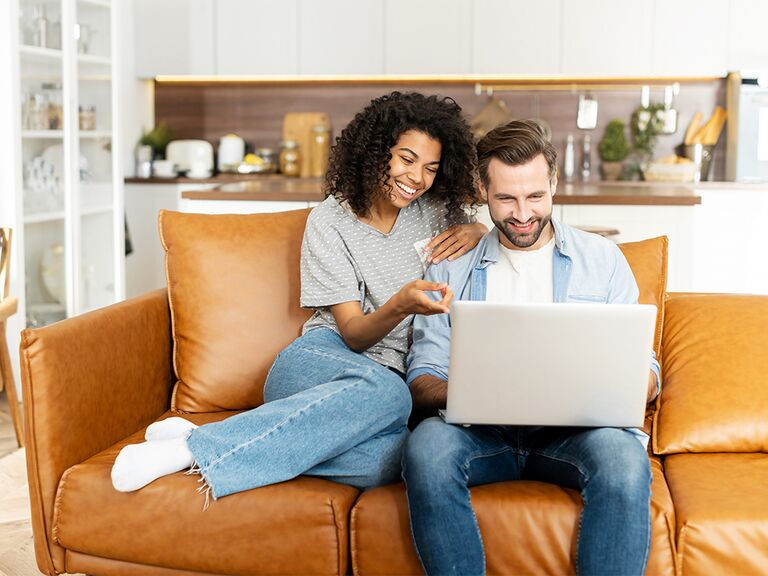 Vadym Pastukh / Shutterstock

We have included third party products to help you navigate and enjoy life's biggest moments. Purchases made through links on this page may earn us a commission.
It's no secret that couples are waiting longer to get married these days. According to The Knot 2020 Real Wedding Survey, the average American walks down the aisle at age 32—well after they've likely lived on their own and have stocked up on *all the things.* (Sound familiar?) If you're stumped about what to put on your wedding registry when you already have everything, you're not alone. But while some couples might take that as a sign to skip a wedding registry altogether—creating a wishlist for your big day can still come in handy, not just for you, but also for your guests.
Remember: A wedding registry doesn't have to be about outfitting your new home with all the essentials, like new plates and silverware. If your kitchen's already well-equipped with all the cookware and kitchen gadgets you can handle, then you don't have to register for new ones just because you feel pressured to. That said, it's smart to take a good look around at what you and your partner do need, because you might be surprised.
Sure, you might have some nice dinnerware in your cabinets, but do you have enough place settings to host a family gathering or holiday dinner? Your pots and pans collection may be getting the job done now, but if you've been using them since college—long before you knew to look for healthy, non-toxic cookware—they've probably seen better days.
The truth is, you may think you have everything you need for your home, but it may be time for a refresh or upgrade (and maybe even a Marie Kondo-style purge of your closets). There could also be some big-ticket items you've held off on buying for years, simply because you felt too guilty to splurge at the time (like that Le Creuset Dutch oven you've been lusting after for years). Now's your chance to take inventory of what you have—pay attention to what you don't, and outfit your new home with things that reflect the life you lead now. It's also a good opportunity to look for decor and other home goods that may not fit a "traditional" registry but would sure make your life easier.
Scroll on for some tried-and-true wedding registry items you may not have thought about yet, but definitely should consider before the big day. Then, simply click "add to registry" to make sure your favorite items below get added to your curated list!
Umbra Hammock Large Supplies Organizer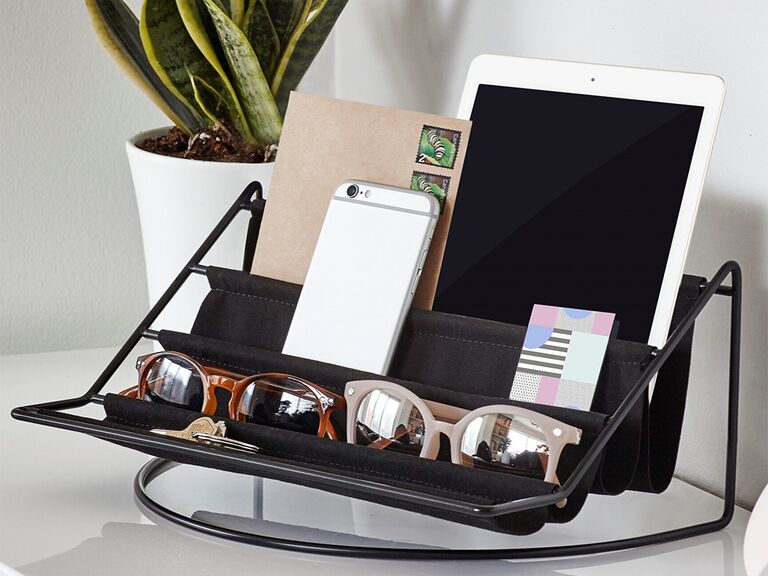 Always losing your keys/wallet/phone/[insert other important items here]? Create an organized drop zone right by your front door so you'll never have to go searching again. This convenient hammock-style organizer can hold all your must haves right in one place and has a sleek, minimalist design you'll love.
Presto EverSharp Electric Knife Sharpener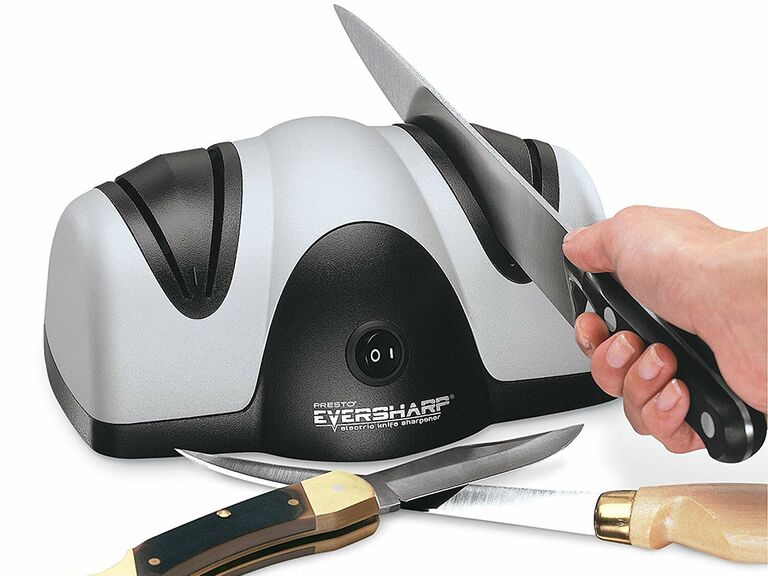 Unless you've been GrubHubbing all your meals since college, you probably own a set of knives by now. But we're willing to bet you haven't sharpened them in... forever? Keep your blades from going dull with an electric sharpener like this one, which will have them in tip-top shape with the press of a button.
Hamilton Beach Stainless Steel Artisan Bread and Dough Maker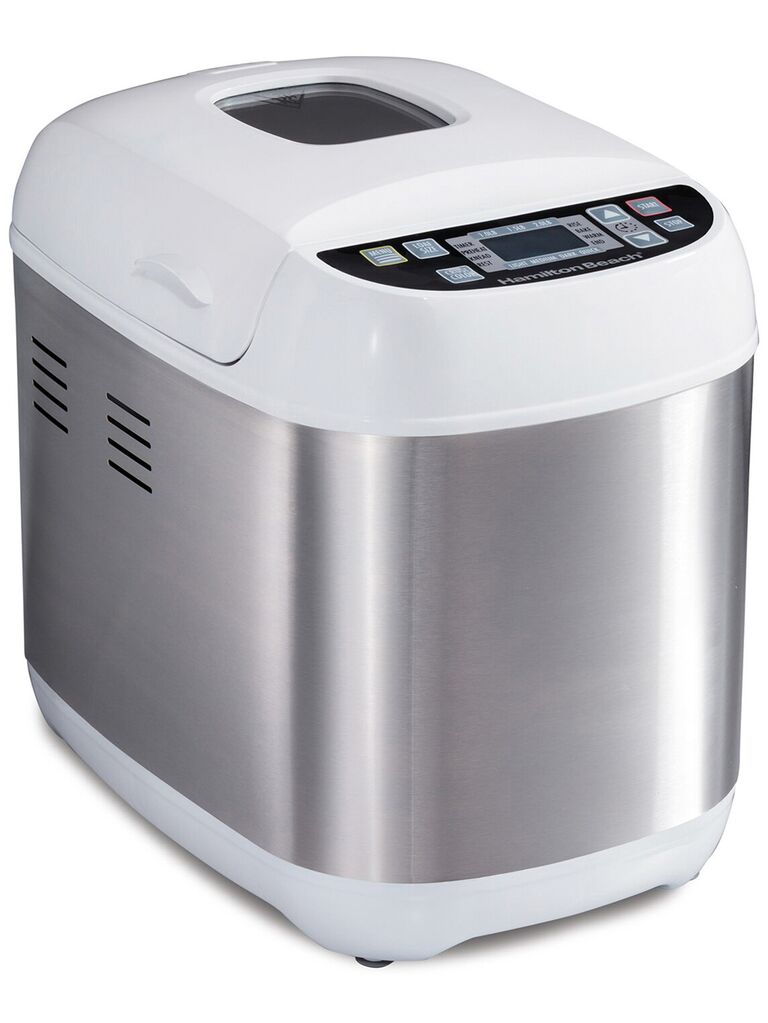 This programmable bread maker will help you whip up delicious loaves of homemade dough without even breaking a sweat. (Seriously, you get to skip right over all of that tedious kneading and let the machine do it for you.) Want some bread with your pasta? Toss in the ingredients for tasty focaccia. In the mood for some pizza? This bad boy will take pizza night to a whole new level. Plus, if either you or your partner have any food allergies, this could become your new favorite kitchen gadget.
Rowenta IXEO All-in-One Solution Steamer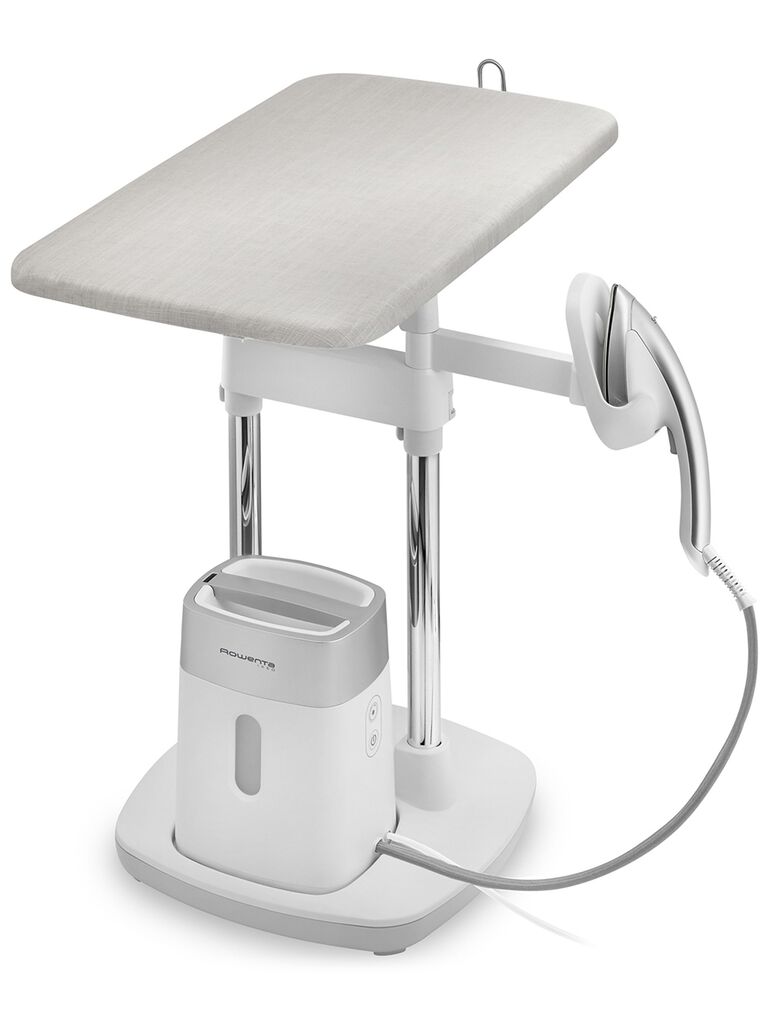 If your version of "ironing" is tossing your wrinkly clothes in the dryer five minutes before you need to leave, allow us to introduce you to your new best friend. This heavy-duty steamer will have all your suits, dresses and table linens looking fresh within minutes, thanks to its 3-position smart board, high-pressure pump and quick-acting technology that will have it warm and ready to go in 45 seconds flat.
All-Clad 4-Slice Non-Stick Belgian Square Waffle Maker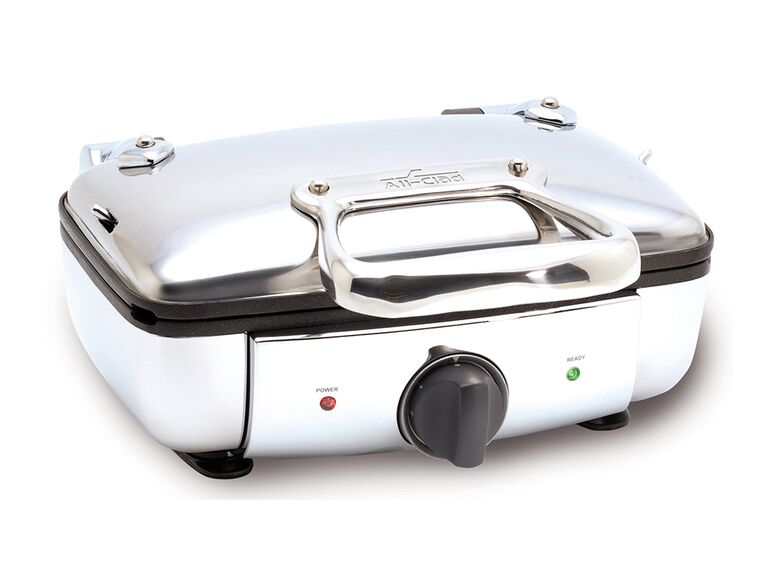 Weekend brunch lovers will get a kick out of this 4-slice waffle maker, which will help them whip up delicious breakfast treats in no time. Just pour the batter in, wait for the audible indicator and flip! It's even designed to create extra-deep waffle pockets, so you can smother your waffles in lots of syrup, butter, fruits or creams.
Cuisinart Classic Toaster Oven & Broiler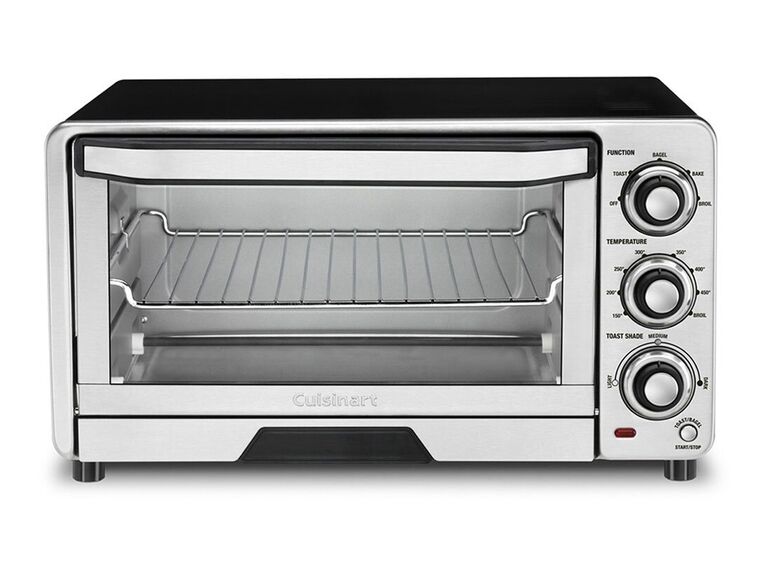 Once you start cooking with a toaster oven, you might never go back to a regular old toaster again. (Heck, you might even start favoring it over your actual oven!) That's because you can broil, bake and toast just about anything inside this little device—and each time, it'll come out looking crispy and tasting delicious. This stainless steel model from Cuisinart is considered a registry must, thanks to its cool-touch handle, easy-grip rubber dials and roomy non-stick interior, which will save you from having to clean it out all the time.
KitchenAid Stand Mixer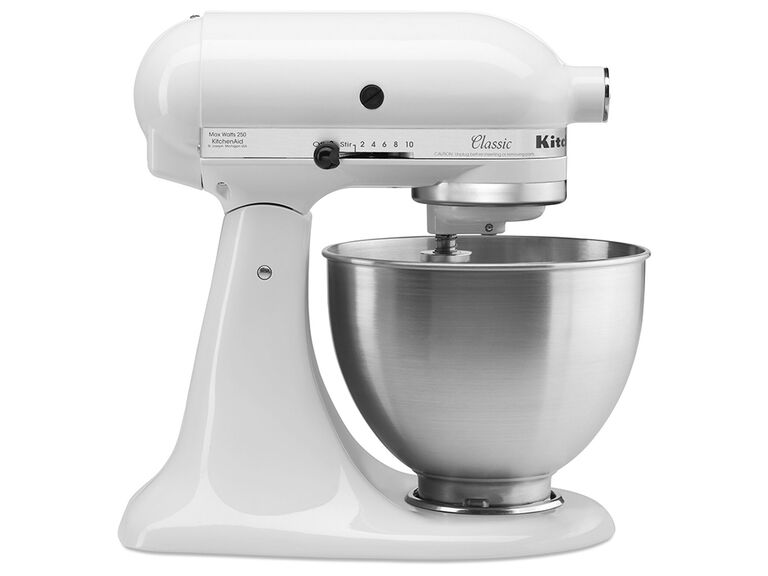 When it comes to must-have kitchen appliances, this iconic mixer gets two thumbs up. There's no end to what a KitchenAid stand mixer can do, since it comes with several handy attachments—including a flat beater and dough hook—that make baking a breeze. Most couples will tell you that the KitchenAid is basically a kitchen staple, but if it's one item you've always been afraid to splurge on because of its hefty price tag, now's the time to take that leap.
Breville Nespresso Vertuo Next Espresso Machine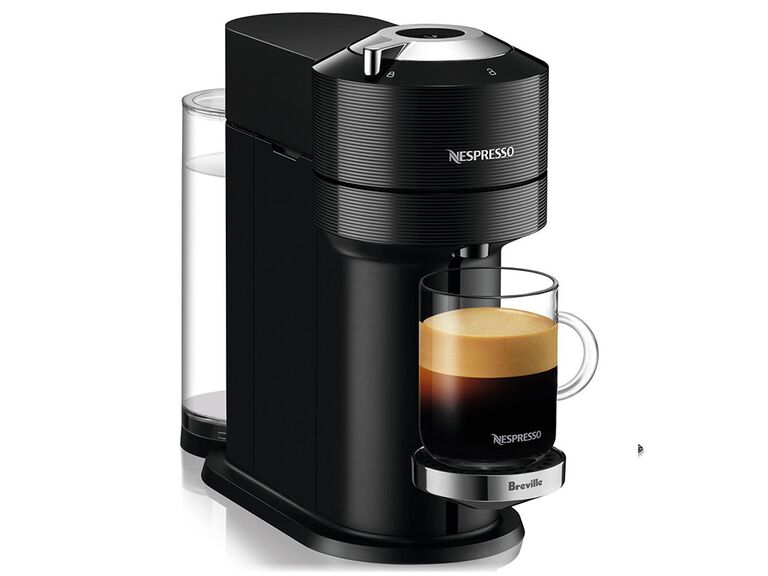 If you fancy yourself a coffee aficionado, this premium espresso maker belongs on your registry checklist. It comes with five programmable settings (espresso, double espresso, gran lungo, mug and alto) to ensure you get your caffeine just the way you like it and smart-brewing technology that will take your morning cup of joe to the next level without having to hit up Starbucks.
GoSports Wooden Corn Hole Set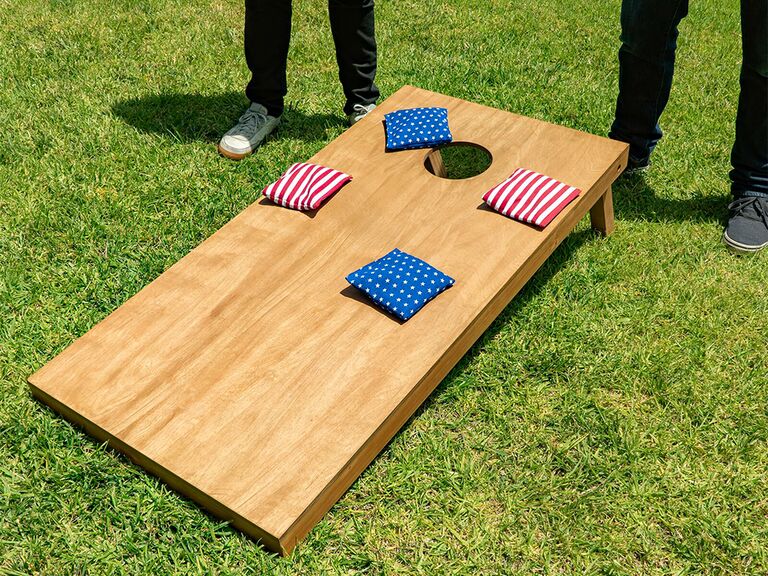 One of the perks of starting your new life together is the fact that you can now host holiday gatherings, backyard parties and other get-togethers as newlyweds. While apps, food and drinks are an important part of hosting, every good party needs some quality entertainment, too. Think about wedding gift ideas that create fun for everyone, like this wooden corn hole set, which is easy for all ages to play and a guaranteed hit.
PhoneSoap UV 3 Sanitizer & Charger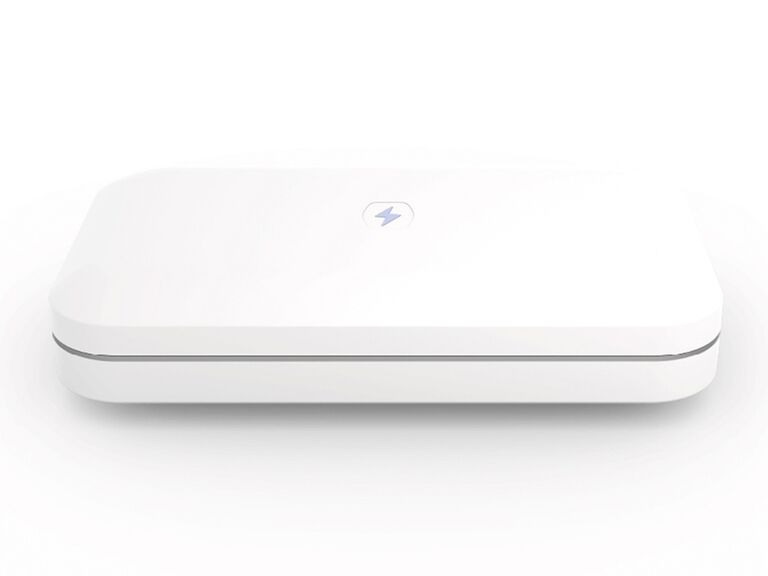 News flash: Phone sanitizers aren't just for germaphobes anymore! Now that we're all well aware of the bacteria that can spread throughout the day—both through the air and on the surfaces we touch—having a sanitizer station for your phone can be just as helpful as that mini bottle of Purell that's hanging from your keychain. Our favorite part about this particular unit? It scrubs your phone free of germs while also charging it at the same time.
PUR Horizontal Faucet-Mount Filtration System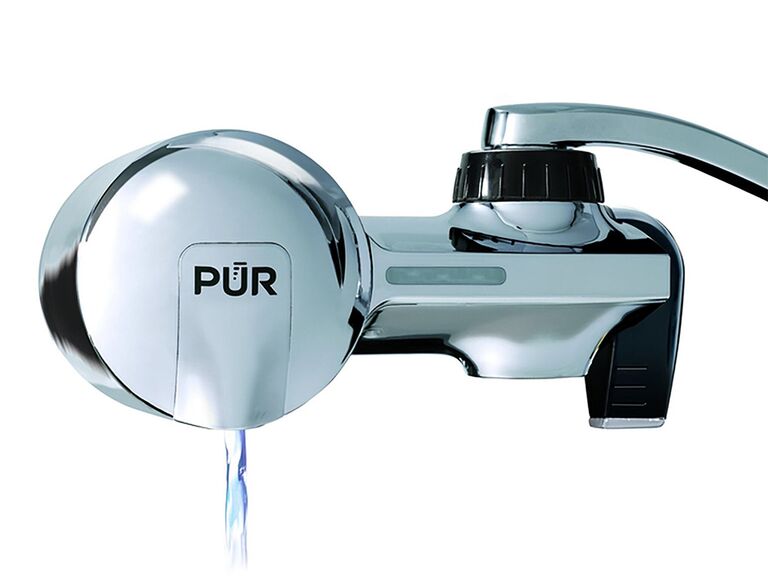 Most people have some kind of filtered water pitcher in their fridge to rid their drinking water of toxic metals and chemicals. But those can only make so much "clean" water at one time. This convenient little unit from PUR will step up your daily water intake big time since it easily attaches right to the kitchen faucet so you never have to deal with tap water again.
Black + Decker 14-Bottle Freestanding Wine Refrigerator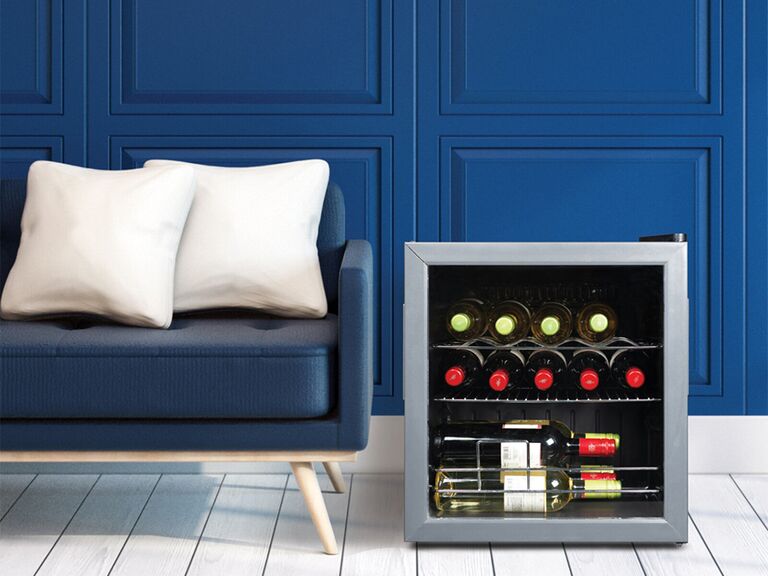 There's just something about having a wine fridge in your home that feels super fancy. And get this—they don't have to cost a fortune. This affordable, free-standing wine fridge has two shelves, height-adjustable legs and a 14-bottle capacity so you can chill your favorite bottles until it's time to pop the cork and celebrate. (We can already see this one being a HUGE hit at the bridal shower.)
Ninja Foodi 10" Non-Stick 4-in-1 Air Fryer Grill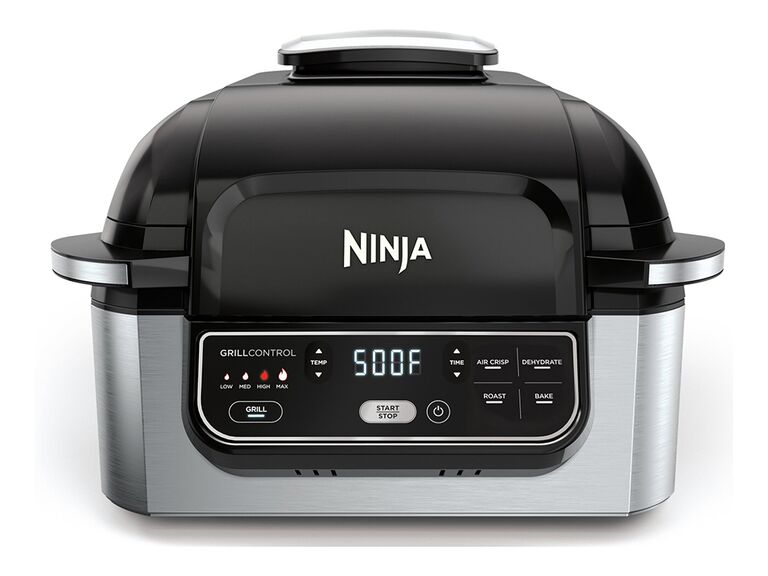 You may think you have every cooking gadget known to man, but we're willing to bet you don't have this one. From searing and crisping to frying, the Ninja Foodi can perform some serious wizardry in the kitchen, all while making healthier versions of your favorite comfort foods.
Umbra Aquala Abstract Bath Caddy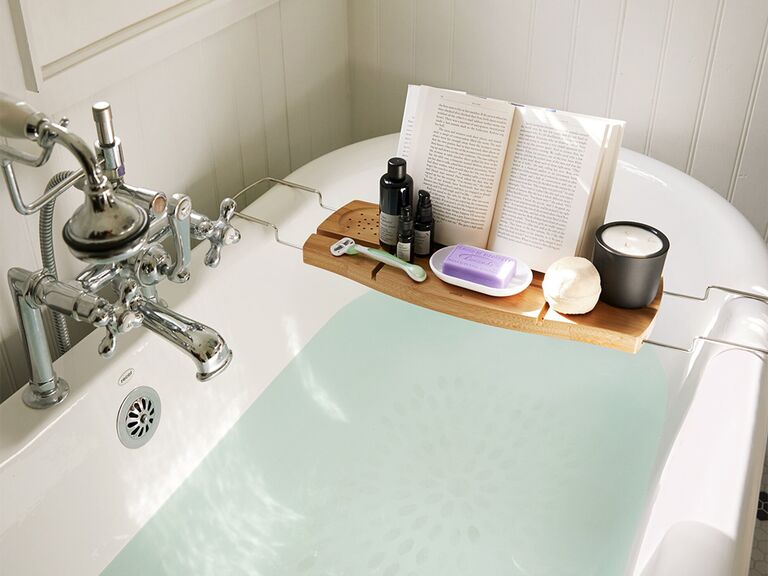 Say hello to the one bath essential you never knew you needed. This lightweight bath caddy will turn any tub into a spa-like oasis, with spots to hold everything from your tablet and your wine glass to your aromatherapy candle.
Bose SoundLink Color Bluetooth Wireless Speaker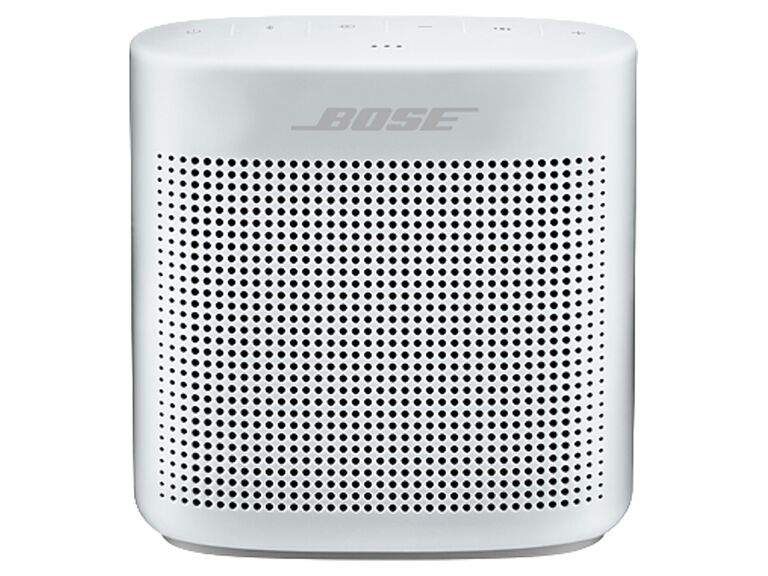 A quality set of speakers is a must, whether you're hosting friends for a backyard BBQ or about to take off on your honeymoon. This pair is ideal for taking literally anywhere, thanks to its lightweight and portable design, durable and water-resistant frame and Bluetooth compatibility that allows you to pair it with any device.
Nearly Natural 82" Faux Olive Tree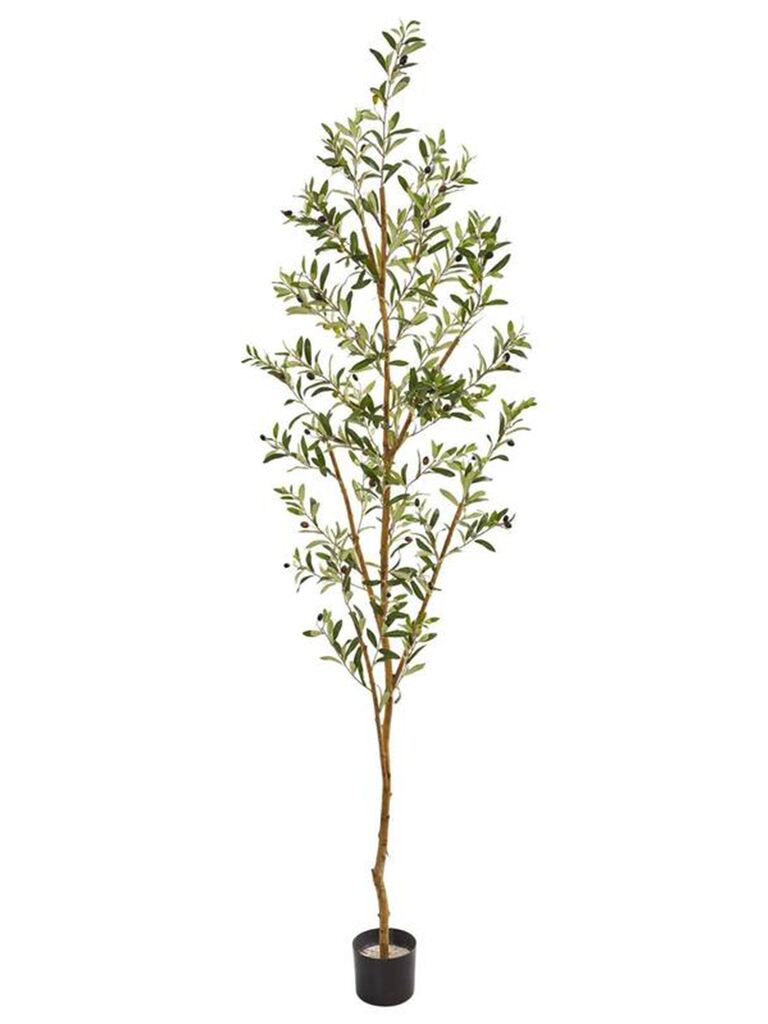 A pretty indoor plant or tree is a great way to spruce up an empty corner of your living room or make your entryway more inviting. If you love the look of greenery in your home but have a serious black thumb when it comes to keeping plants alive, this gorgeous faux olive tree might be the answer to your prayers. Trust us, visitors won't be able to tell that it's not the real thing—and honestly, neither will you!
Uncommon Goods Yours, Mine, and Ours Engraved Decanter Set
You may have all the wine glasses you think you can handle, but your bar cart isn't complete without a beautiful set of rocks glasses with a matching decanter. Not only are all three pieces personalized to bear the words, "Yours," "Mine" and "Ours," but they also have an Art Deco vibe that'll make you feel like you're Don and Betty Draper.
All the Gift Cards
Asking for gift cards to your favorite stores, services or websites may feel like a boring request, but the truth is, they're a smart and practical wedding gift that you'll truly appreciate. Not only will they come in handy now, as you both prepare for married life, but they'll also be useful later if you choose to save them for a rainy day.
Some ideas? Consider adding gift cards to places like Macy's, Home Goods, Amazon or Etsy. If you're into DIY projects and other home decor crafts, don't forget craft supply stores like Michael's and Joann Fabrics, too.
Smallwoods At Home Wooden Wall Art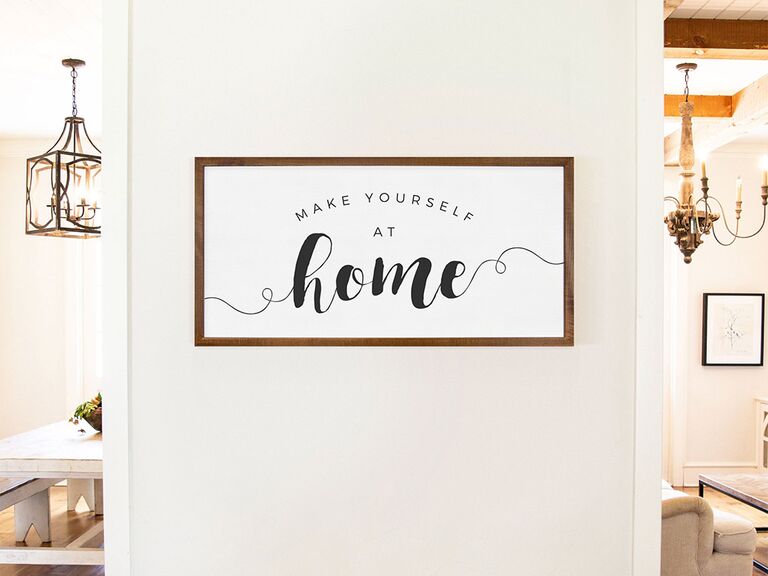 If you're still struggling over what to register for, take a look at your walls: Are they completely blank, or do they feature pretty paintings and other one-of-a-kind wall art? If not, you might want to check out framed digital prints, paintings by local artists or even wooden sign art for your entryway, mudroom or dining room that reflects the kind of home you want to keep.
Adventure Activities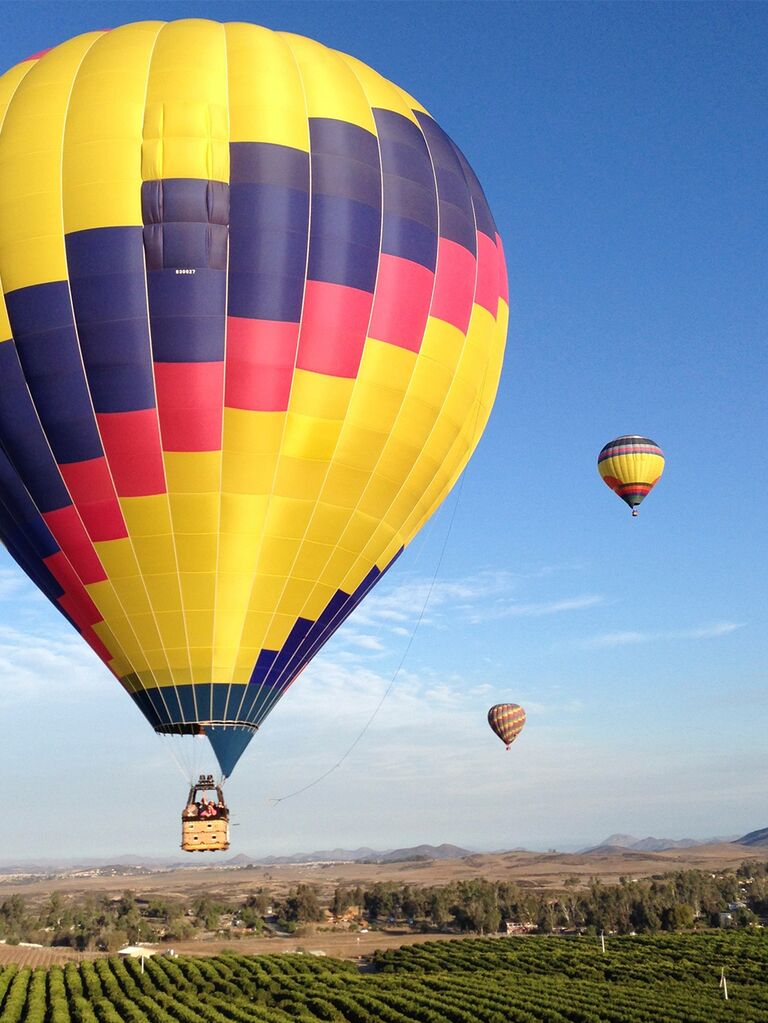 At the end of the day, the best gifts aren't something you can put a price tag on. If you're all set on home decor and have every last item in your cookware set, you might want to register for some fun couple experiences. With The Knot Registry, you can add tons of unique adventure activities to your list of must-have wedding registry items—and each one will make your honeymoon or your next date night way more memorable. (Think: Camping under the stars or zip-lining through the rainforest.)
Cash Fund
If the last thing you want to get on your wedding day is just more stuff to clutter up your home, why not start a cash fund your wedding guests can contribute to? Through The Knot Registry, you can create everything from a honeymoon fund to a house fund, the latter of which will come in handy when it comes time to make that future downpayment.
Charitable Donation
If you're not looking for anything material on your big day, consider making a charitable donation your only registry gift option by creating a GoFundMe Registry through The Knot. Doing so gives you a chance to raise awareness (and money) for some of your favorite causes and gives loved ones a little something they can feel good about, too. In other words, it's a win-win!