Top Kitchen Registry Picks
Need some inspiration for your wedding registry? Check out our top picks for your kitchen.
A Mixing Bowl Set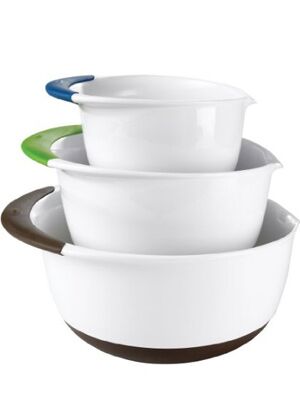 Look for a nesting set that is lightweight and dishwasher-safe, so storage and cleanup is a snap. Trust us, you'll be using these versatile bowls for everything from baking to meal prep.
Register for: 1 set
OXO Good Grips 3-piece mixing bowl set, $25, Amazon.com
A Salad Spinner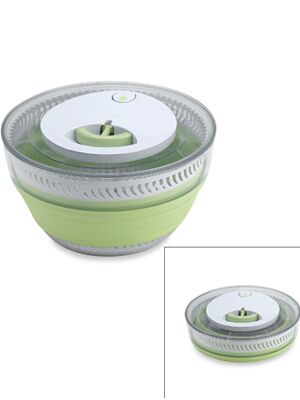 Sure, the salad greens say they're "prewashed," but you need to rinse all your veggies to remove pesticides. Clean and dry your greens in seconds with a salad spinner.
Register for: 1
Progressive International collapsible salad spinner, $25, BedBathandBeyond.com
A Set of Kitchen Canisters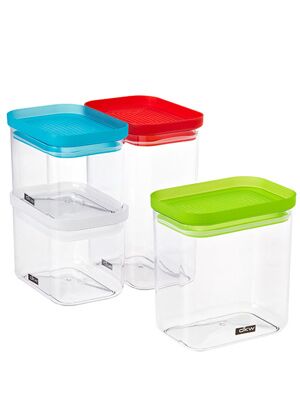 Registrants often forget kitchen storage. Colorful canisters that stack are great for small spaces, but if you have lots of countertop space (lucky you!), get a stylish set you'll want to display.
Register for: 1 set
Rectangular canisters, from $4 each, ContainerStore.com
Tongs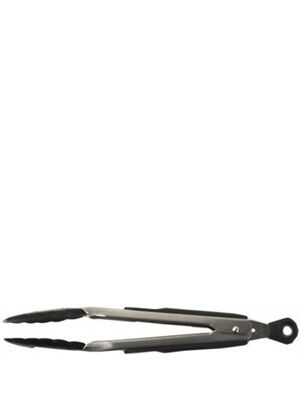 Walk into any professional kitchen and you'll find dozens of tongs. This basic tool is great for grilling, tossing and serving. A locking model is easiest to store.
Register for: 1
Oxo Good Grips 9-inch locking tongs with nylon heads, $12, Amazon.com
An Ice Cream Scoop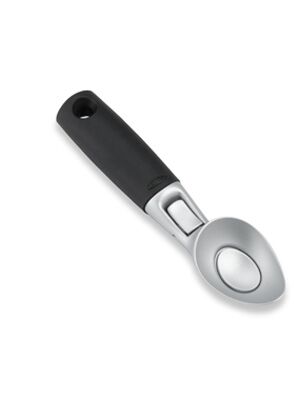 Never wrestle with a soup spoon and a pint of Ben & Jerry's again! Seek out an ice cream scoop with an easy-to-grip handle and a release mechanism.
Register for: 1
Oxo Good Grips I-Series ice cream scoop, $15, BedBathandBeyond.com
A Measuring Cup Set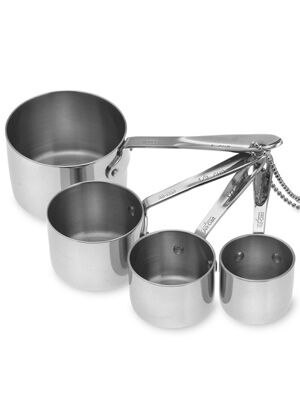 Skip the cutesy, novelty measuring sets, and register for quality cups you'll have forever, like a flat-bottomed, stainless-steel set.
Register for: 1
All-Clad stainless-steel measuring cup set, $40, Williams-Sonoma.com
A Measuring Spoon Set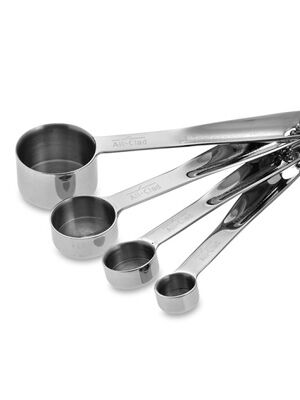 An essential kitchen item, this registry item makes a great gift topper for a shower present. If you already have a set, remember that owning two sets is often handy when preparing big meals.
Register for: 1
All-Clad stainless-steel measuring spoon set, $18, Williams-Sonoma.com
A Pepper Mill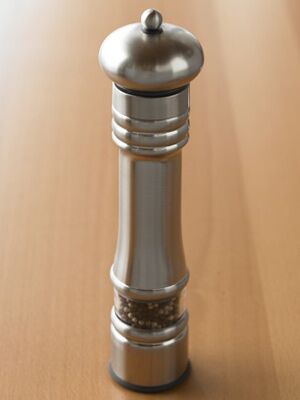 Upgrade to a refillable pepper mill and toss those cheap plastic ones in the trash.
Register for: 1
William Bounds Pro View pepper mill, $70, Williams-Sonoma.com
Oven Mitts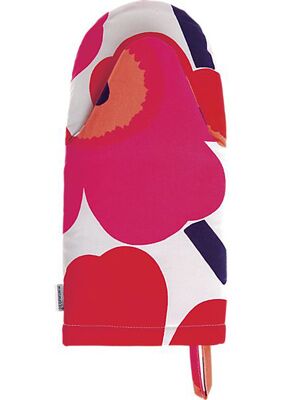 Sign up for two oven mitts -- one to protect each hand! Choose bright and graphic designs for a pop of color in your kitchen.
Register for: 2
Marimekko Pieni Unikko Red Oven Mitt, $24 each, CrateandBarrel.com
A Cookware Set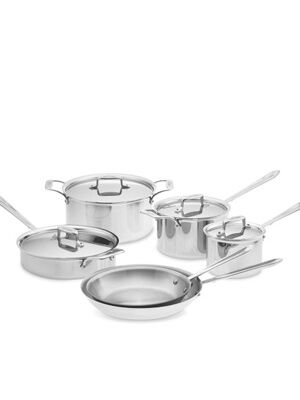 Registering for a full set of cookware might sound like a lot, but it is the most economical way to get all your cooking basics. Before you register, check out our Cookware Sets 101 for a guide to the different types of materials.
Register for: 1
All-Clad d5 stainless-steel 10-piece set, $950, Williams-Sonoma.com
A Broiler Pan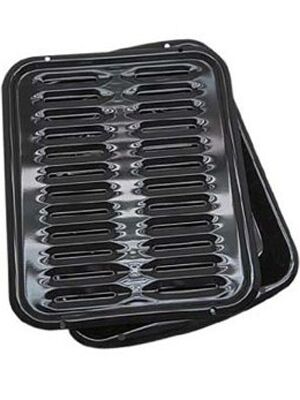 Broiling is a quick way to cook meats and vegetables, and a broiling pan lets fat and juices drip away from whatever you are broiling. Plus, a broiler pan is great for cooking meat indoors when it's too cold outside to grill.
Register for: 1
Porcelain broiler pan, $30, Amazon.com
A Cooling Rack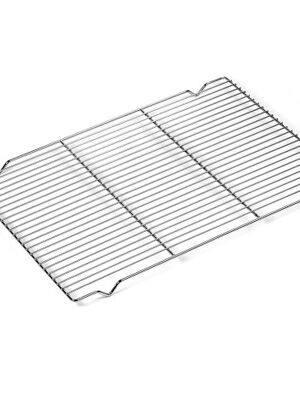 Cooling racks let baked goods cool off evenly and quickly. Register for two if you plan on baking layered cakes or large batches of cookies.
Register for: 1 to 2
Steel cooling rack, $10, Williams-Sonoma.com
Basting Brushes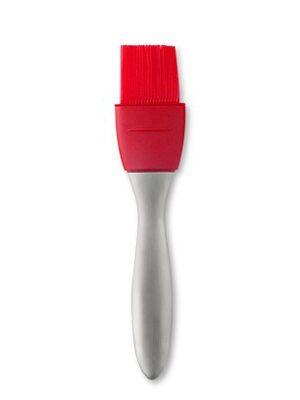 Basting leads to succulent meats and birds. Register for at least two basting brushes: a small and large size to handle all your cooking needs. Silicone models are easiest to clean.
Register for: 2
Silicone basting brush, $17, Williams-Sonoma.com
A Can Opener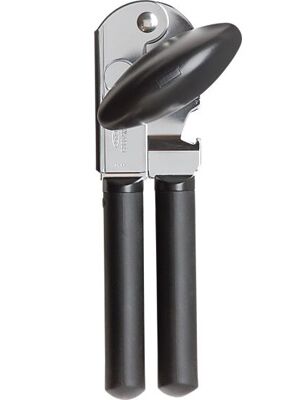 A cheap can opener can leave you with dangerously jagged edges; treat yourself to a new one that's easy to use and has a soft grip.
Register for: 1
OXO Good Grips can opener, $14, CrateandBarrel.com
A Garlic Press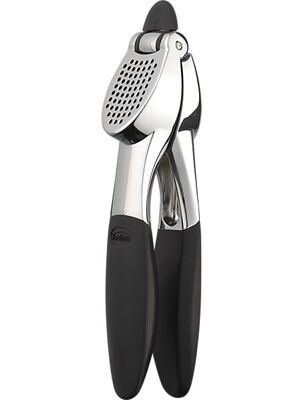 Forget time-consuming mincing; you can crush garlic cloves in a flash with a press. When testing a garlic press, make sure it'll be easy to clean, is dishwasher-safe and opens up wide.
Register for: 1
Garlic Press & Slice, $20, CrateandBarrel.com
A Cheese Grater
Choose the grater style you like the best: box grater, plane or rotary -- or opt for all three, if you're a cheese fanatic.
Register for: 1 to 3
WMF cheese grater, $14, Williams-Sonoma.com
A Veggie Peeler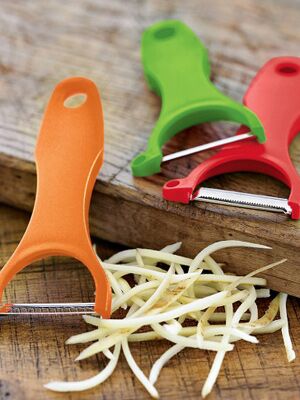 Skinning potatoes with a paring knife is a pain. Opt for a veggie peeler with a wide blade and nonslip grip for easy peeling.
Register for: 1
Swissmar peelers, $18/set of 3, Williams-Sonoma.com
A Citrus Zester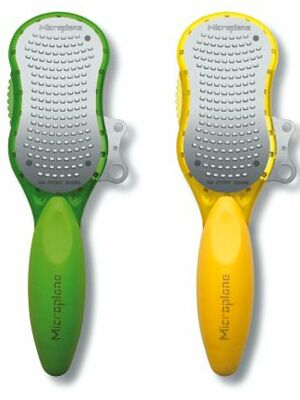 Perfect for citrus fruits, a microplane-style zesting tool is a chef's best friend.
Register for: 1
Microplane Ultimate Citrus Tool, $9, SurLaTable.com
A Blender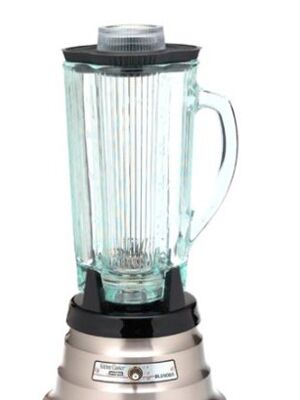 Frozen margaritas alone are a reason to own a blender. Whatever you use it for, your food will taste freshest when blended in a model with a glass pitcher, which repels odor and is easier to clean than plastic models.
Register for: 1
Waring Pro blender, $190, Amazon.com
A Food Processor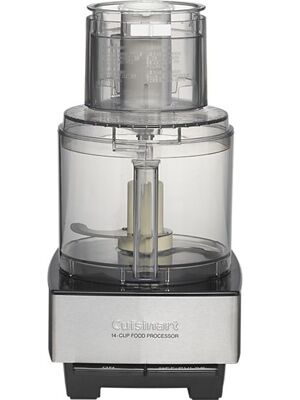 Once you've owned a food processor, you'll wonder how you ever lived without one. These powerful machines can chop a pile of vegetables in a matter of seconds.
Register for: 1
Cuisinart 14-cup food processor, $200, Wayfair.com
A Hand Mixer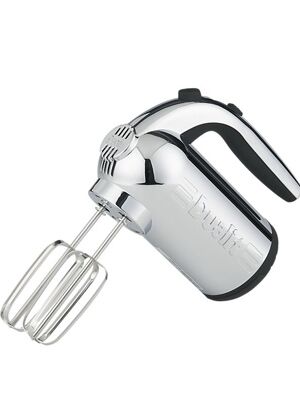 A hand mixer can be handy to have on hand (pun intended!), even if you have a stand mixer; look for a model with several speeds, a good grip and a variety of beater attachments.
Register for: 1
Dualit 5-speed chrome hand mixer, $110, Wayfair.com
A Slow Cooker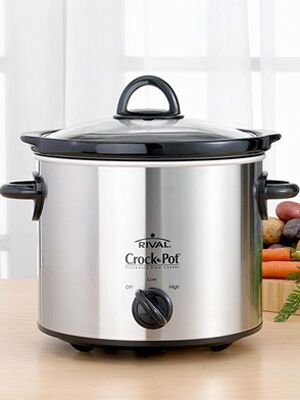 A slow cooker can be a lifesaver when you've got a packed schedule. Set it to go in the morning, and you and your husband can enjoy a slow-simmered meal when you return home after a long day of work.
Register for: 1
Crock-Pot 4-quart slow cooker, $35, Macys.com
A Coffeemaker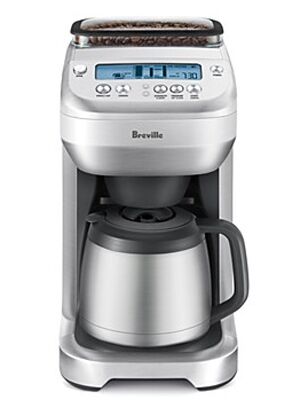 Register for a model that fits your coffee-drinking needs by looking at functions and features. One with a timer is nice if you like coffee first thing in the morning.
Register for: 1
Breville YouBrew thermal coffee system, $350, Bloomingdales.com
A Coffee Grinder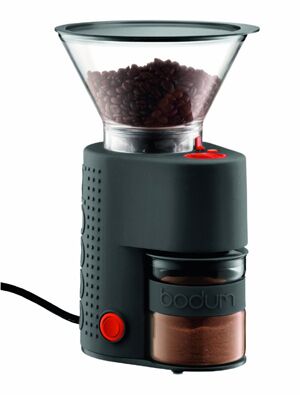 For the freshest coffee, you need to grind your beans daily; register for an electric grinder so you can enjoy the perfect cup of java.
Register for: 1
Bodum Bistro Electric Burr coffee grinder, $160, Amazon.com
A Toaster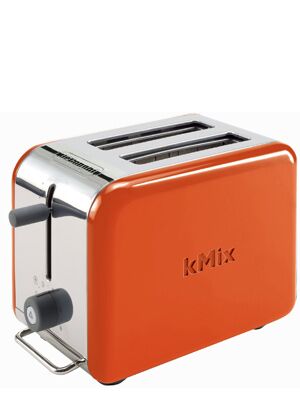 A nice toaster (or toaster oven) is essential for breakfast at home. Make sure you consider size before you register -- some can toast up to eight slices!
Register for: 1
DeLonghi kMix 2-slice toaster, $99, Amazon
A Dutch Oven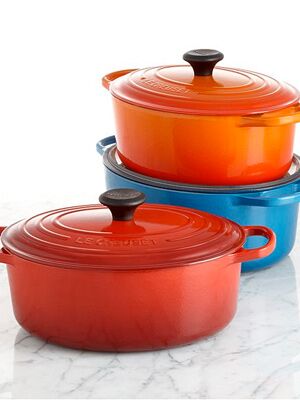 Perfect for stews and roasts, a cast-iron Dutch oven will last forever and makes a great wedding keepsake.
Register for: 1 to 2
Le Creuset Signature Oval Dutch oven, from $145, Wayfair.com
A Roasting Pan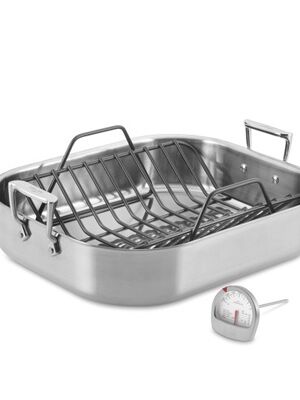 A large roasting pan will come in handy at the holidays for roasted meats or turkeys. Opt for one with handles and high sides.
Register for: 1
All-Clad stainless-steel roasters with rack, $160, Williams-Sonoma.com
A Casserole Dish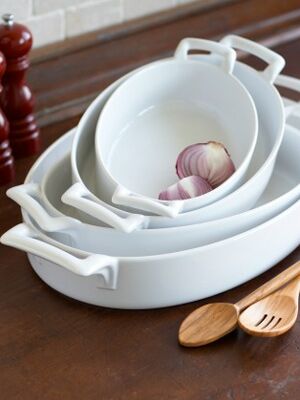 Don't sneer at the word "casserole." This versatile dish is handy for all kinds of baked dishes from scalloped potatoes to lasagnas to, yup, you guessed it, casseroles.
Register for: 1
Revol Belle Cuisine deep oval baking dishes, from $35, SurLaTable.com
A Knife Sharpener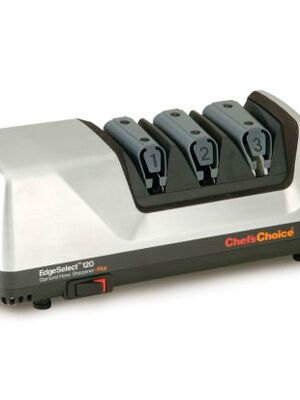 Even top-quality knives stay sharp for only so long; a sharpener will help keep them in top condition.
Register for: 1
Chef'sChoice brushed metal electric knife sharpener, $180, SurLaTable.com
A Bakeware Set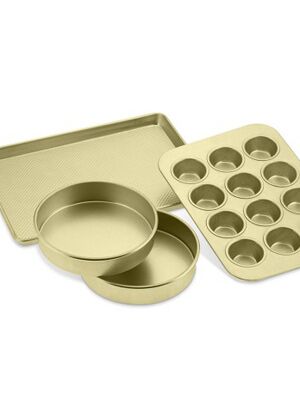 If you've been baking in disposable aluminum pans, it's high time you got a bakeware set to cover your basic baking needs. Aluminum is the best conductor; stick to lighter-colored implements to prevent burning.
Register for: 1
Williams-Sonoma Goldtouch nonstick 4-piece bakeware set, $80, Williams-Sonoma.com
A Stand Mixer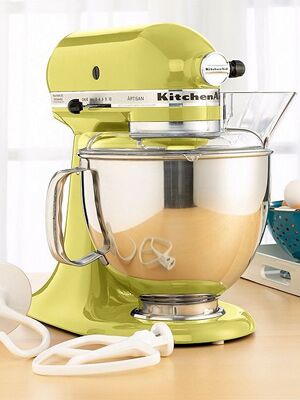 An iconic registry item, the stand mixer is a powerful appliance for serious bakers.
Register for: 1
KitchenAid Artisan KSM150PS stand mixer, $260, Wayfair.com
Cutting Boards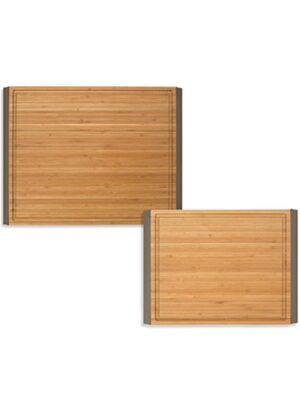 Toss out your old, nicked cutting boards -- they're breeding grounds for bacteria. Start fresh with two new ones: one for raw meat and one for everything else.
Register for: 2
Oxo Good Grips bamboo cutting board, from $17, BedBathandBeyond.com
A Panini Press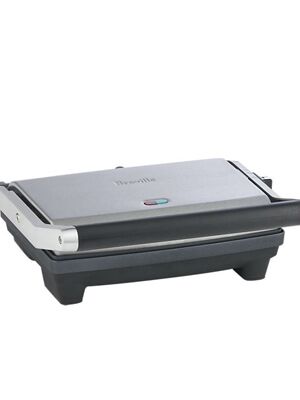 While a sandwich for dinner might elicit a yawn, a panini can be billed as an Italian specialty. Register for a griddle with several heat settings and that's large enough for a couple of sandwiches.
Register for: 1
Breville Duo panini press, $70, Wayfair.com
An Ice Cream Maker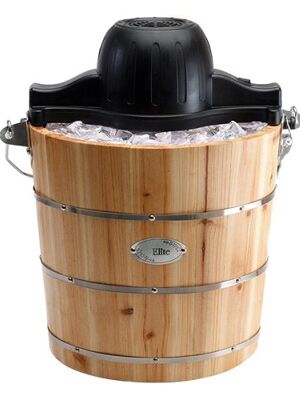 Making ice cream at home is fun and it lets you experiment with flavors -- from strawberry marshmallow to peanut butter and chocolate chip.
Register for: 1
Maximatic Maxi-Matic Elite Gourmet 4-quart old-fashioned ice cream maker, $122, Sears.com
A Waffle Maker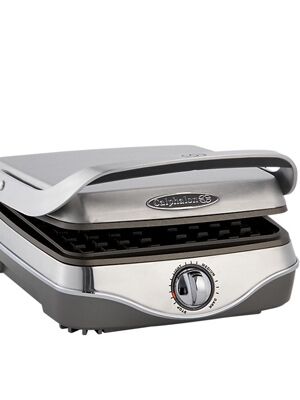 Don't try to tell us that you're watching your carb intake: Everyone loves a hot, homemade waffle from time to time. Look for indicator lights, a nonstick interior and a stay-cool handle.
Register for: 1
Calphalon waffle maker, $100, CrateandBarrel.com
A Rice Cooker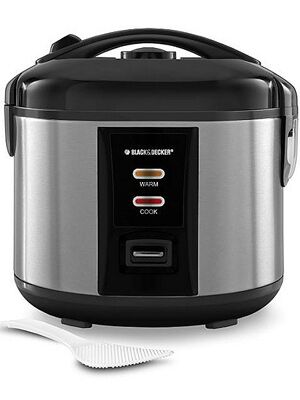 You'll be amazed at how a rice cooker can deliver perfectly cooked rice every time; some models have optional steaming baskets for veggies, too!
Register for: 1
Black & Decker 12-cup rice cooker, $40, Sears.com
A Napkin Holder
If you're a user of paper napkins, a napkin holder is a handy way to corral them. Select one to complement your kitchen's decor.
Register for: 1
Leaf napkin holder, $13, CrateandBarrel.com
A Teakettle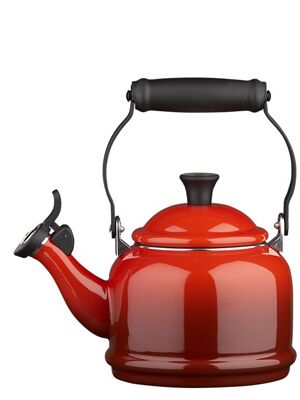 Avoid any mishaps with pouring boiling water into a mug with a teakettle. Look for a model with an ergonomic handle and spout -- whistling is optional!
Register for: 1
Sur la table teakettle, $100, SurLaTable.com
A Cake Stand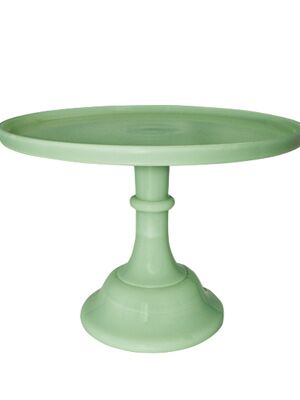 A cake stand is more than just a pretty place to display a cake; it also prevents your baked goods from getting dried out or attacked by insects; a 12-inch model will hold most cakes.
Register for: 1
Jadeite 12" cake stand, $100, FishsEddy.com