5 Sneaky Ways to Tell If a Vendor Is LGBTQ+ Friendly
Sadly, not every wedding pro is open to working with LGBTQ+ couples, but you can easily determine a vendor's equality-mindedness (even before you email them!) with these tricks.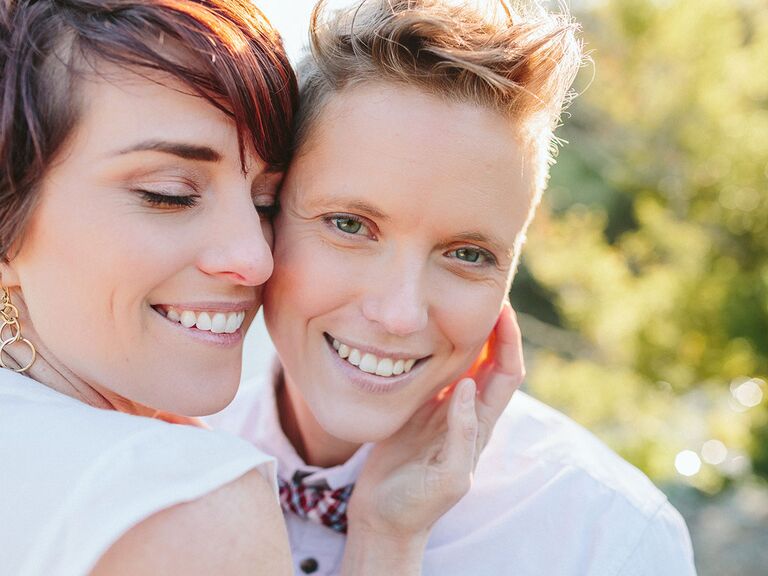 Miki Vargas Photography

For LGBTQ+ couples, finding your dream team of vendors often leads to feeling like you have to "come out" all over again, unsure of what the response will be. Casually slipping in a "by the way, I'm marrying another girl or boy" can be awkward at best, but there are ways to assess if a vendor is equality-minded before you even send that inquiring email. Find incredible vendors through our our All-In-One Wedding Planner app—and take our fun Style Quiz while you're there—then use these handy tricks to make sure they're the perfect, gay-friendly fit for your wedding.
1. Browse their photo galleries.
If a vendor is proudly showing off work from a past wedding of theirs that just so happens to be a same-sex couple, you can rest assured that they're equality minded.
2. Evaluate their language.
The voice that a wedding pro uses on their website tells you a lot about the type of couple they're trying to attract. Read their "about me section"—are they speaking directly to brides who are marrying grooms, or is their language gender neutral? If they have a form for you to fill out, does it give gender options or does one of you have to volunteer to be the bride? Keep in mind that the wedding world unfortunately tends to be very heteronormative, so if they're talking directly to brides, it's not necessarily a red flag that they're anti-LGBTQ+, but if they do make the effort to speak to couples of all orientations, you know you can comfortably move forward with them.
3. Research on LGBTQ+ friendly wedding blogs.
Find inspiration from real same-sex weddings or browse vendor guides on sites you know are equality minded, like The Knot gay wedding section or Love Inc., where every vendor featured has been personally confirmed by the blog's editors for their equality-mindedness.
4. Are they certified?
Halls of Ivy and Gay Wedding Institute are two notable workshops geared toward educating wedding professionals on making their businesses LGBTQ+ friendly. Scan the vendor's website to see if they state they have taken either of these courses.
5. Stalk their social media.
Not every wedding they work on makes it into a vendor's website portfolio, but their social media profiles can provide you with a broader glimpse into the weddings they're currently working on. Be on the lookout not only for LGBTQ+ clients, but details such as a "Mr. and Mr." cake topper or "Mrs. and Mrs." chair signage. And if you really feel like digging, visit their June 2015 posts—if they're for same-sex marriage, they likely posted a celebratory status when the Supreme Court ruled in favor of marriage equality.
Brittny Drye is the founder and editor-in-chief of Love Inc., an equality-minded wedding blog that celebrates both straight and same-sex love, equally.