Top Trends and Stats From Our 2017 LGBTQ Weddings Study
Celebrate two years since the historic Supreme Court ruling by checking out these trends and stats from The Knot and Q.Digital LGBTQ Weddings Study 2017.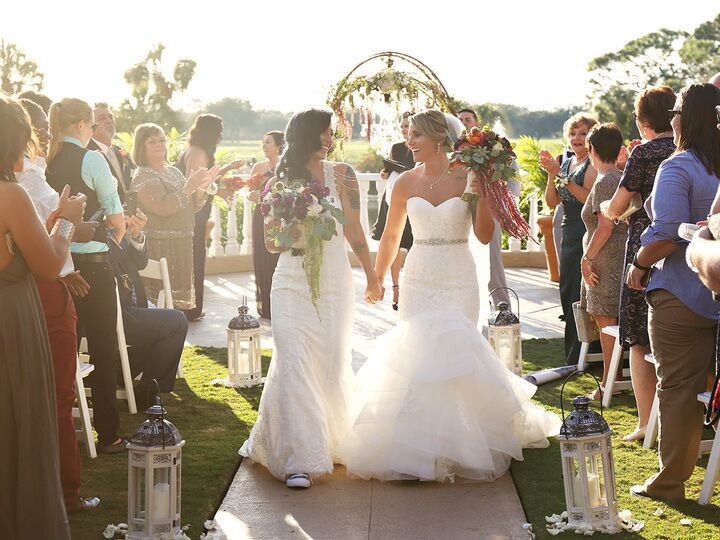 Heather Rice Photography
At The Knot, we love love—even more so since we can celebrate the second anniversary of the legalization of same-sex marriage in the US on June 26. In celebration of that and Pride Month, we're releasing our 2017 LGBTQ Weddings Study alongside Q.Digital, the trusted voice in the LGBTQ community. The study surveyed 821 LGBTQ respondents in the US who were married or are engaged to be married to reveal how LGBTQ couples are proposing, their top traditions and other key statistics related to LGBTQ weddings in America. 
"Today's couples want a personalized celebration that reflects their unique style and personalities together," said Kellie Gould, editor-in-chief of The Knot. "To-be-weds are opting for mixed-gender wedding parties, personalized processionals and unique twists to long-standing traditions. These trends are in no way exclusive to same-sex couples, but are growing in popularity with this community."

Find the top statistics from the study, plus popular same-sex wedding trends, below.
Average Wedding Cost (excludes honeymoon): Men, $18,049; Women, $17,341
Average Engagement Ring Spend: Men, $2,226; Women, $3,185
Average Marrying Age: Men, 46; Women, 36
Average Number of Guests: Men, 84; Women, 87
Average Length of Engagement: Men, 12 months; Women, 13 months
Most Popular Month to Get Married: Men, October (15 percent); Women, October (15 percent)
Percentage of Destination Weddings: Men, 35 percent; Women, 29 percent
Personalization Prevails
Today's couples—regardless of sexual orientation—want a personalized celebration that reflects them as a couple. Personalization is a top priority among all couples as they plan their wedding day: 99 percent of females and 96 percent of males report that their wedding was personalized.
Equality-Minded Pros
Same-sex couples are eager to partner with pros who are equality minded. They're seeking out wedding vendors who openly show support of same-sex marriage through language or photos on their websites or The Knot Marketplace profiles (The Knot makes it easier than ever for vendors to note they're LGBTQ friendly on their marketplace profiles, which helps couples find pros who can't wait to work with them). According to the study, female (30 percent) and male (11 percent) couples admitted they were turned away from vendors or left feeling uncomfortable due to their LGBTQ identity. An overwhelming majority of LGBTQ couples (88 percent of males and 91 percent of females) agree that vendors should clearly communicate that they're LGBTQ friendly, and 91 percent of males and 92 percent of females are more likely to book a vendor that caters to the LGBTQ community. 
Getting Ready Together
Instead of waiting for a first look or a grand ceremony reveal, many same-sex couples are forgoing tradition and getting dressed together. LGBTQ couples also showed their looks to each other before their wedding day (48 percent of men and 17 percent of women).

Creating a Unique Ceremony Set Up and Rethinking the Processional
There's no rule book for same-sex ceremonies, so couples are switching it up, opting for a ceremony in the round or staging multiple aisles, diffusing any pressure of who walks when. Other couples are skipping processionals completely, and instead having their guests walk down the aisle to greet them at the altar. And some are choosing to walk in together to symbolize the start of their journey together (42 percent of male couples and 20 percent of female couples). Another twist on tradition is the ceremony music. Only 3 percent of men and 2 percent of women walked down the aisle to the tune of the traditional Wagner's Bridal Chorus.    
Adding a Historic Reading
Beyond personalizing their wedding with a theme (41 percent of women, 32 percent of men), signature cocktail (29 percent of men, 25 percent of women), guest entertainment such as photo booths and comedians (29 percent of women, 27 percent of men) and a wedding logo or monogram (18 percent of men, 12 percent of women), same-sex couples are personalizing their ceremony by including a nod to the historic Supreme Court decision legalizing same-sex marriage. One popular reading comes from the Obergefell v. Hodges majority opinion by Justice Kennedy: "No union is more profound than marriage, for it embodies the highest ideals of love, fidelity, devotion, sacrifice and family. In forming a marital union, two people become something greater than once they were. As some of the petitioners in these cases demonstrate, marriage embodies a love that may endure even past death. It would misunderstand these men and women to say they disrespect the idea of marriage. Their plea is that they do respect it, respect it so deeply that they seek to find its fulfillment for themselves. Their hope is not to be condemned to live in loneliness, excluded from one of civilization's oldest institutions. They ask for equal dignity in the eyes of the law. The Constitution grants them that right."
A Pair of Proposals
Aside from asking, "Will you marry me?" there are no steadfast rules to creating a great proposal. But when it comes to same-sex proposals, who asks whom? Some couples decide who's going to do the asking, others wait and see who pops the question first, and many are opting to propose to each other. According to the study, 17 percent of female couples and 11 percent of males couples both proposed to one another. Women are more traditional when proposing, with 43 percent proposing on bended knee compared with 28 percent of men doing the same. Women (86 percent) are also more likely than men (60 percent) to exchange engagement rings during the proposal. Of the women and men who exchanged engagement rings, one in four created a custom-designed ring (26 percent of women; 23 percent of men). 
Accompanied by Loved Ones
Same-sex couples want their loved ones to stand up with them at the altar. Eight in 10 LGBTQ couples (82 percent) had wedding attendants. Among female couples, 74 percent had a maid of honor (58 percent) or best woman (16 percent), and 36 percent had a man of honor (14 percent) or best man (22 percent). Forty-one percent of male couples had a maid of honor (14 percent) or best woman (27 percent), and 60 percent had a man of honor (12 percent) or best man (48 percent). Only 20 percent of LBGTQ couples had exclusively men only (9 percent) or women only (11 percent) wedding parties.