55 Love Poems for Every Occasion
Love poems are a great way to express your feelings! Tell your true love how you feel with these poems about love.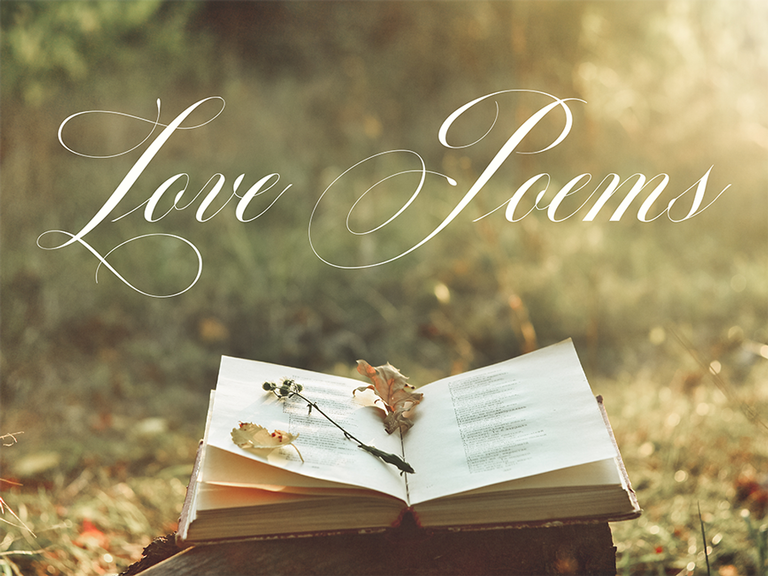 Great love poems can make you laugh, cry or swoon. Every poet, from the classic greats like William Shakespeare and Walt Whitman, to modern favorites like Maya Angelou and Mary Oliver, has written poems about love, pouring their heart onto the page for us to enjoy for years to come.
If you're looking for a love poem to read at your wedding or write in a card to your special someone, or maybe you're just in a romantic mood—read on for a list of the best love poems of all time. Whether you're looking for poems about love that are beautiful and deep or silly and sweet, we've got you covered.
Scroll to read The Knot's full list of poems about love or jump to the love poem for your specific needs below:
Love Poems for Her
Looking for poems about love to share with your girlfriend or wife? This selection of love poems for her—from the intense stylings of Charles Bukowski to the romance of Kenneth Patchen—are guaranteed to make her heart flutter.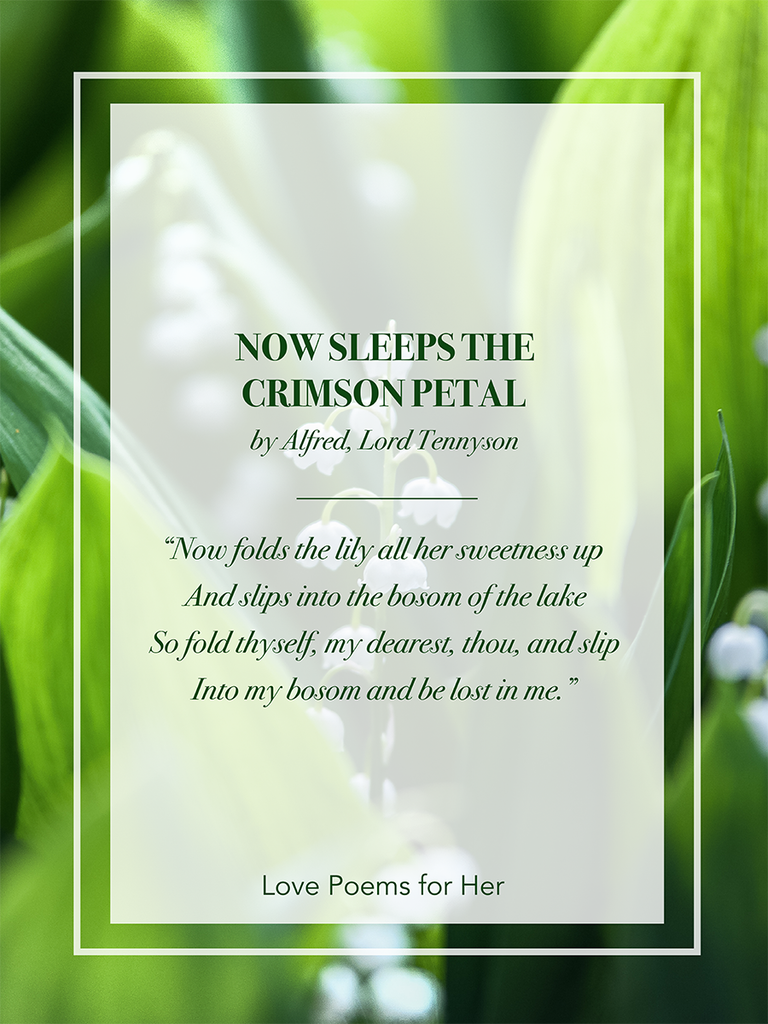 "Raw With Love" by Charles Bukowski
Lines You'll Love: "I will remember the kisses/our lips raw with love/and how you gave me/everything you had/and how I/offered you what was left of/me."

"The Quiet World" by Jeffrey McDaniel
Lines You'll Love: "I know she's used up all her words/so I slowly whisper I love you/thirty-two and a third times/After that, we just sit on the line/and listen to each other breathe."

"Now Sleeps the Crimson Petal" by Alfred, Lord Tennyson
Lines You'll Love: "Now folds the lily all her sweetness up/And slips into the bosom of the lake/So fold thyself, my dearest, thou, and slip/Into my bosom and be lost in me."

"Love's Philosophy" by Percy Bysshe Shelley
Lines You'll Love: "No sister-flower would be forgiven/If it disdained its brother/And the sunlight clasps the earth/And the moonbeams kiss the sea/What is all this sweet work worth/If thou kiss not me?"

"As We Are So Wonderfully Done with Each Other" by Kenneth Patchen
Lines You'll Love: "It is good to be weary from that brilliant work/It is being God to feel your breathing under me/A waterglass on the bureau fills with morning/Don't let anyone in to wake us."
Love Poems for Him
Love poems are not just for her—many poets have written odes to the men in their lives, too. Whether it's the chaste love Sir Philip Sidney expresses in his classic love poem, or Margaret Atwood's blunt emotion, any of these love poems for him are perfect for the man in your life.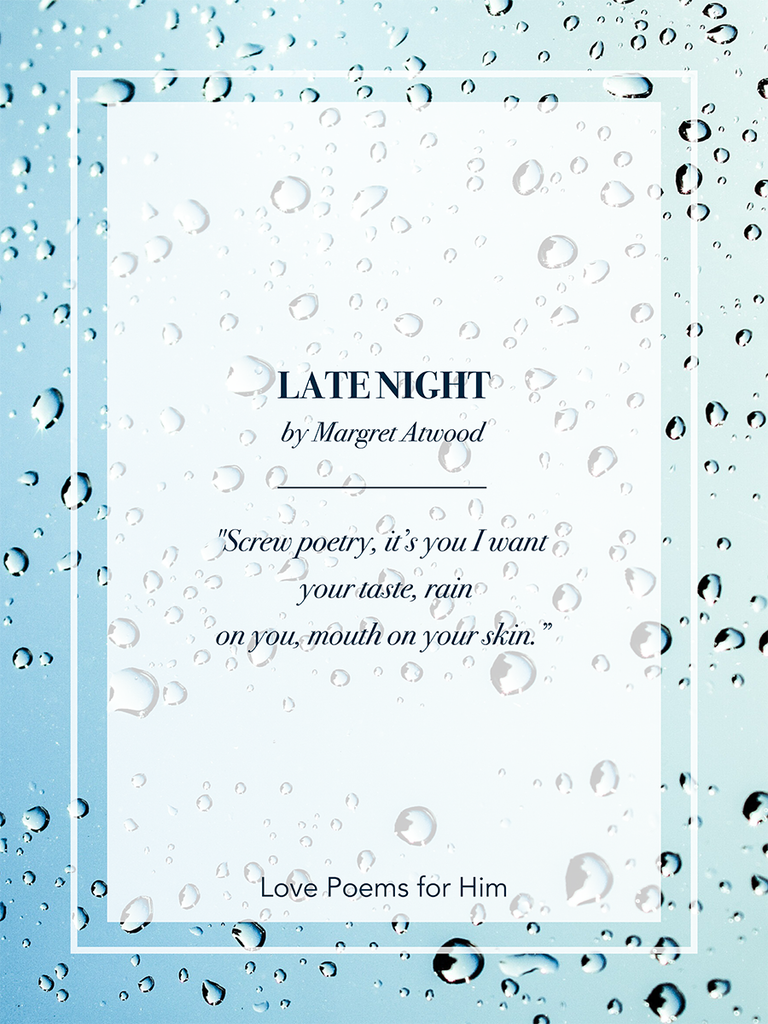 "My True Love Hath My Heart" by Sir Philip Sidney
Lines You'll Love: "His heart in me keeps me and him in one/My heart in him his thoughts and senses guides/He loves my heart, for once it was his own/I cherish his because in me it bides."

"Wild nights – Wild nights!" by Emily Dickinson
Lines You'll Love: "Rowing in Eden/Ah – the Sea!/Might I but moor – tonight/In thee!"

"Late Night" by Margaret Atwood
Lines You'll Love: "Screw poetry, it's you I want/your taste, rain/on you, mouth on your skin."

"A un Desconocido" by Lorna Dee Cervantes
Lines You'll Love: "In the neck of my secret heart/where you'll go to the warmth of me/biting into that bread where crumbs crack/and scatter and feed us our souls/if only you were a stone I could/throw, if only I could have you."

"To My Dear and Loving Husband" By Anne Bradstreet
Lines You'll Love: "Thy love is such I can no way repay/The heavens reward thee manifold, I pray/Then while we live, in love let's so persever/That when we live no more, we may live ever."
"I Love You" Poems
Sometimes the words "I love you" are not enough to express how you feel. Poems about love are a great place to start! When you want to say more to your loved one than these three little words, borrow a few lines from these classic love poems.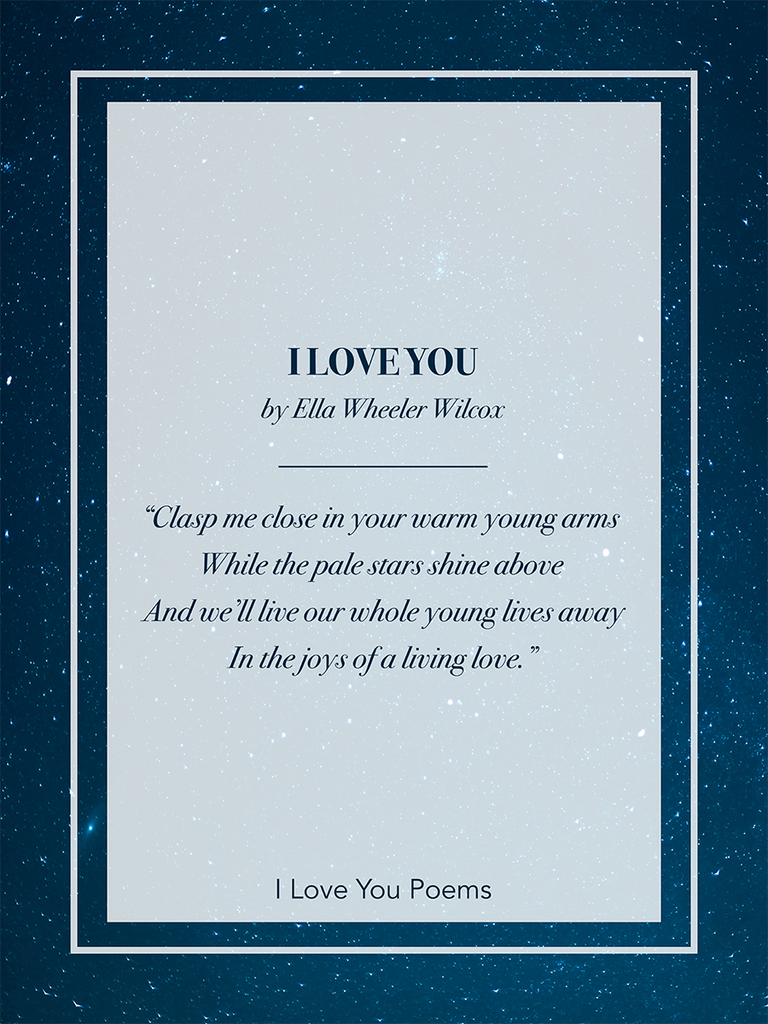 "Syntax" by Carol Ann Duffy
Lines You'll Love: "Because I so do/as we say now – I want to say/thee, I adore, I adore thee/and to know in my lips/the syntax of love resides/and to gaze in thine eyes."

"How Do I Love Thee? (Sonnet 43)" by Elizabeth Barrett Browning
Lines You'll Love: "I love thee to the depth and breadth and height/My soul can reach, when feeling out of sight/For the ends of being and ideal grace."

"Another Valentine" by Wendy Cope
Lines You'll Love: "Our love is old and sure, not new and frantic/You know I'm yours and I know you are mine/And saying that has made me feel romantic/My dearest love, my darling valentine."

"I Love You" by Ella Wheeler Wilcox
Lines You'll Love: "Clasp me close in your warm young arms/While the pale stars shine above/And we'll live our whole young lives away/In the joys of a living love."

"I Am Offering this Poem" by Jimmy Santiago Baca
Lines You'll Love: "I love you/It's all I have to give/and all anyone needs to live/and to go on living inside/when the world outside/no longer cares if you live or die/remember/I love you."
Short Love Poems
The best poets convey so many emotions with so few words. Short, succinct and to the point, these poems about love express what you're trying to say without overdoing it. If you're looking for short love poems to write in a note to your crush or share with someone close to you, you'll find it here.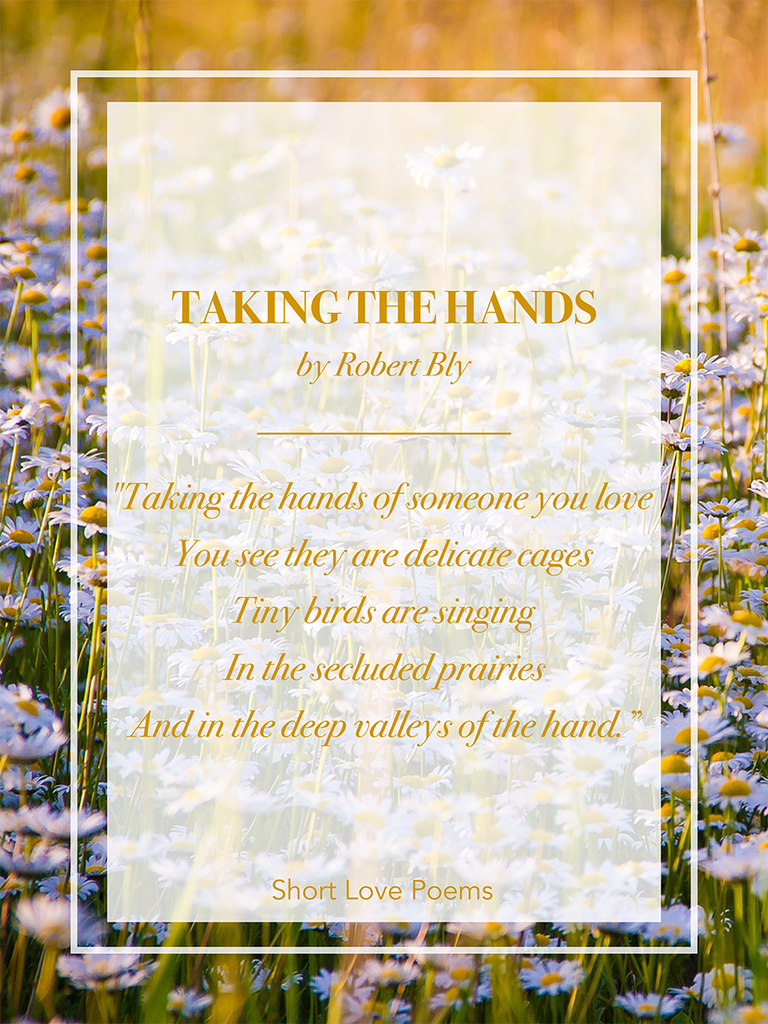 "30 Cents, Two Transfers, Love" by Richard Brautigan
Lines You'll Love: "Thinking hard about you/I got on the bus/and paid 30 cents car fare/and asked the driver for two transfers/before discovering/that I was/alone."

"6:59 AM" by Shane Koyczan
Lines You'll Love: "I've been told/that people in the army/do more by 7:00 am/than I do/in an entire day/but if I wake/at 6:59 am/and turn to you/to trace the outline of your lips/with mine/I will have done enough/and killed no one/in the process."

"A Glimpse" By Walt Whitman
Lines You'll Love: "A long while amid the noises of coming and going, of drinking and oath and smutty jest/There we two, content, happy in being together, speaking little, perhaps not a word."

"Taking the Hands" by Robert Bly
Lines You'll Love: "Taking the hands of someone you love/You see they are delicate cages/Tiny birds are singing/In the secluded prairies/And in the deep valleys of the hand."

"A Statue of Eros" By Zenodotos
Lines You'll Love: "Who carved Love/and placed him by/this fountain/thinking/he could control/such fire/with water?"
Famous Love Poems
We've gathered a list of famous love poems that have resonated with audiences for decades—and in some cases, centuries. That's probably because love is such a private yet universal emotion. You'll want to share these poems about love with someone very special!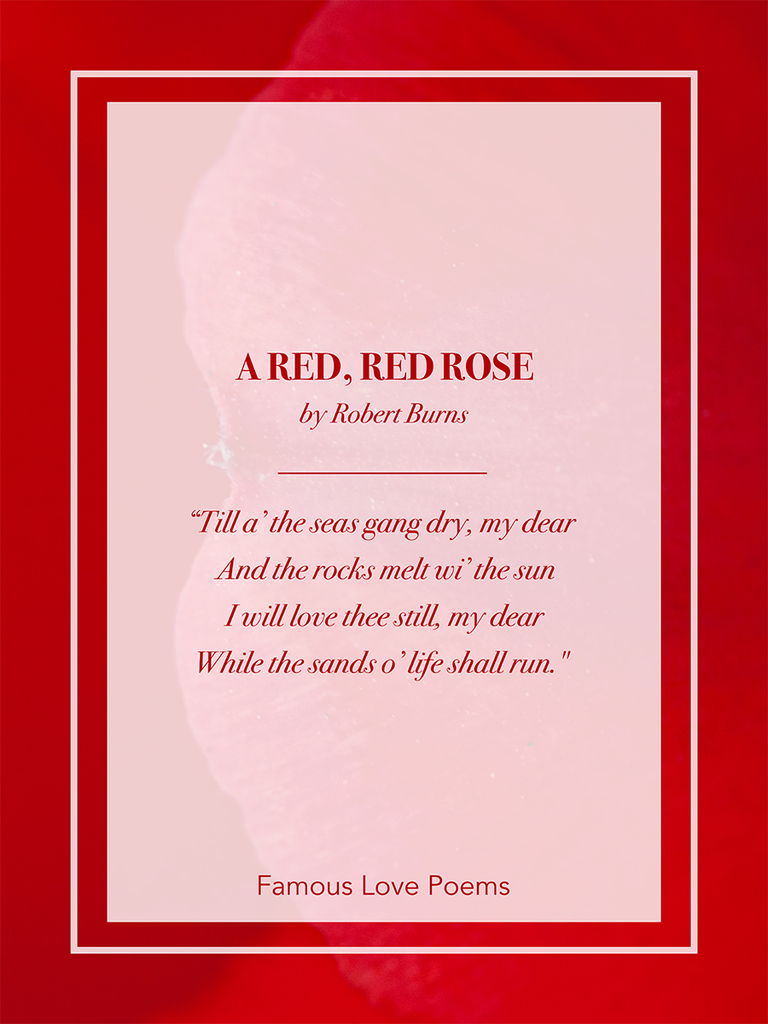 "Sonnet 116" by William Shakespeare
Lines You'll Love: "Love alters not with his brief hours and weeks/But bears it out even to the edge of doom/If this be error and upon me prov'd/I never writ, nor no man ever lov'd."

"Annabel Lee" by Edgar Allan Poe
Lines You'll Love: "I was a child and she was a child/In this kingdom by the sea/But we loved with a love that was more than love/I and my Annabel Lee/With a love that the winged seraphs of heaven/Coveted her and me."

"The Master Speed" by Robert Frost
Lines You'll Love: "Two such as you with such a master speed/Cannot be parted nor be swept away/From one another once you are agreed/That life is only life forevermore/Together wing to wing and oar to oar"

"A Red, Red Rose" by Robert Burns
Lines You'll Love: "Till a' the seas gang dry, my dear/And the rocks melt wi' the sun/I will love thee still, my dear/While the sands o' life shall run."

Bright star, would I were stedfast as thou art" by John Keats
Lines You'll Love: "Pillow'd upon my fair love's ripening breast/To feel for ever its soft fall and swell/Awake for ever in a sweet unrest/Still, still to hear her tender-taken breath/And so live ever—or else swoon to death."
Cute/Sweet Love Poems
If your relationship is as new as the first spring flowers, you may want to opt for cute love poems, or maybe even a sweet love poem to make your special someone smile. These love poems are the perfect place to start—you won't be able to resist their simple charm. Hint–the iconic "I Love You to the Moon and Back" poem is on this list!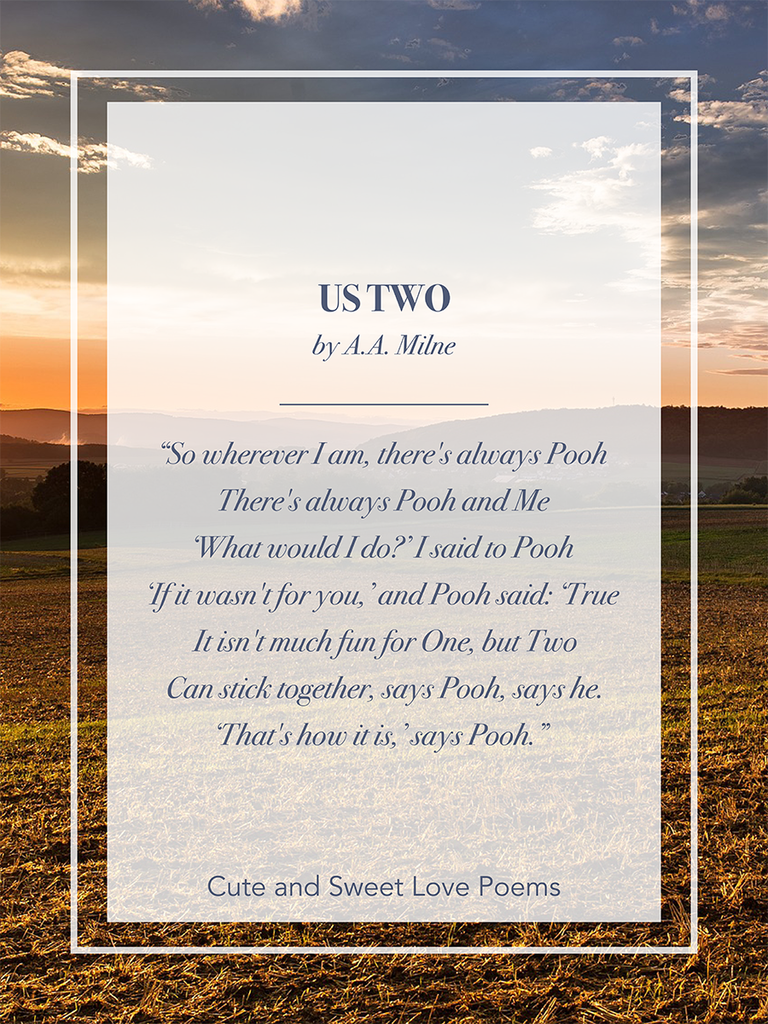 "Having a Coke with You" by Frank O'Hara
Lines you'll love: "I look/at you and I would rather look at you than all the portraits in the world/except possibly for the Polish Rider occasionally and anyway it's in the Frick/which thank heavens you haven't gone to yet so we can go together the first time."

"I Love You to the Moon and Back" by Petai Jirakongpipat
Lines You'll Love: "I love you to the edge of the sky/Either sunset or the sunshine/Oh my/I love you to the moon and back."

"Hug O'War" by Shel Silverstein
Lines You'll Love: "I will not play at tug o'war/I'd rather play at hug o'war/Where everyone hugs/Instead of tugs/Where everyone giggles/And rolls on the rug/Where everyone kisses/And everyone grins/And everyone cuddles/And everyone wins."

"How Falling in Love is like Owning a Dog" by Taylor Mali
Lines You'll Love: "Throw things away and love will bring them back/again, and again, and again/But most of all, love needs love, lots of it/And in return, love loves you and never stops."

"Us Two" by A.A. Milne
Lines You'll Love: "So wherever I am, there's always Pooh/There's always Pooh and Me/'What would I do?' I said to Pooh/'If it wasn't for you,' and Pooh said: 'True/It isn't much fun for One, but Two/Can stick together, says Pooh, says he. 'That's how it is,' says Pooh."
Best Love Poems
The best love poems are meant to be read at your wedding, recited to your loved one or prominently displayed on your wall—or even on your skin! These poems about love can't help but give us that lovin' feeling. If you're looking for the true crowd pleasers, check out our collection of E.E. Cummings love poems, Rumi love poems, and many more!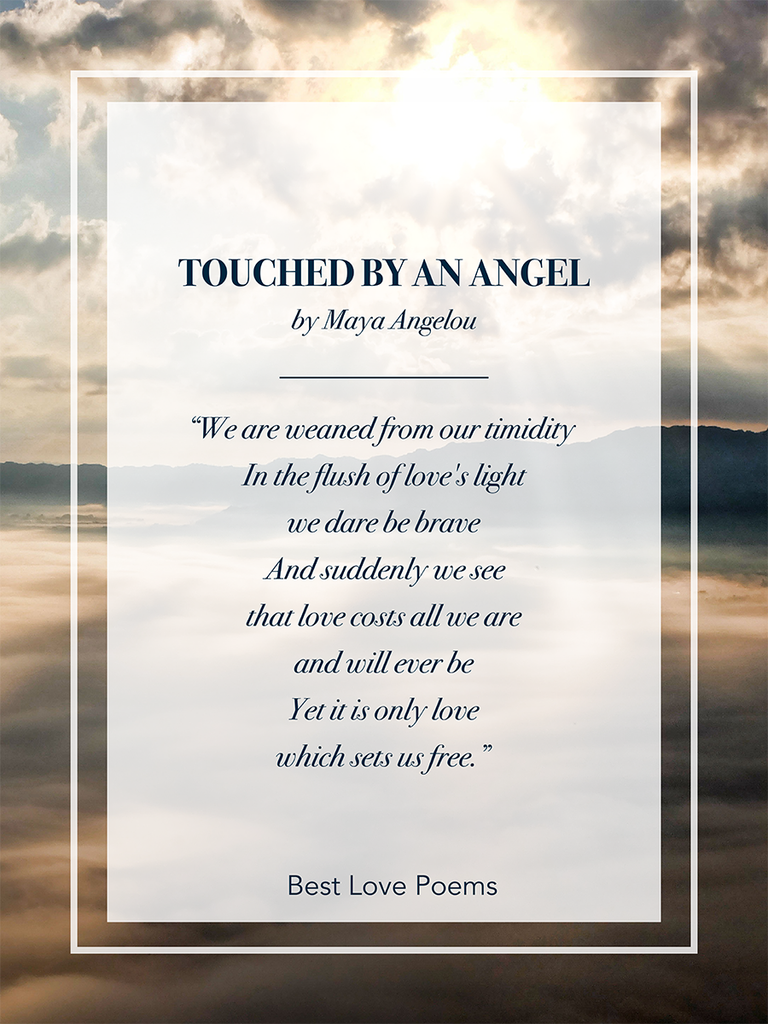 "[i carry your heart with me(i carry it in]" By E. E. Cummings
Lines You'll Love: "i fear/no fate(for you are my fate, my sweet)i want/no world(for beautiful you are my world, my true)/and it's you are whatever a moon has always meant/and whatever a sun will always sing is you."

"Looking For Your Face" by Rumi
"Today I have seen/the charm, the beauty, and/the unfathomable grace/of the face that I have been looking for."

"Love One Another" by Khalil Gibran
Lines You'll Love: "You were born together, and together you shall be forevermore/You shall be together when the white wings of death scatter your days/Ay, you shall be together even in the silent memory of God/But let there be spaces in your togetherness/And let the winds of the heavens dance between you."

"Touched By An Angel" by Maya Angelou
Lines You'll Love: "We are weaned from our timidity/In the flush of love's light/we dare be brave/And suddenly we see/that love costs all we are/and will ever be/Yet it is only love/which sets us free."

"She Walks in Beauty" by Lord Byron
Lines You'll Love: "She walks in beauty, like the night/Of cloudless climes and starry skies/And all that's best of dark and bright/Meet in her aspect and her eyes/Thus mellowed to that tender light/Which heaven to gaudy day denies."
Funny Love Poems
Love poems can inspire us to greatness, spark our imagination or tug at our heartstrings—but sometimes they can make us laugh too! If romantic poems about love are too sappy for your taste, check out these funny love poems. These funny love poems are a refreshing reminder of how hilarious and silly love can be.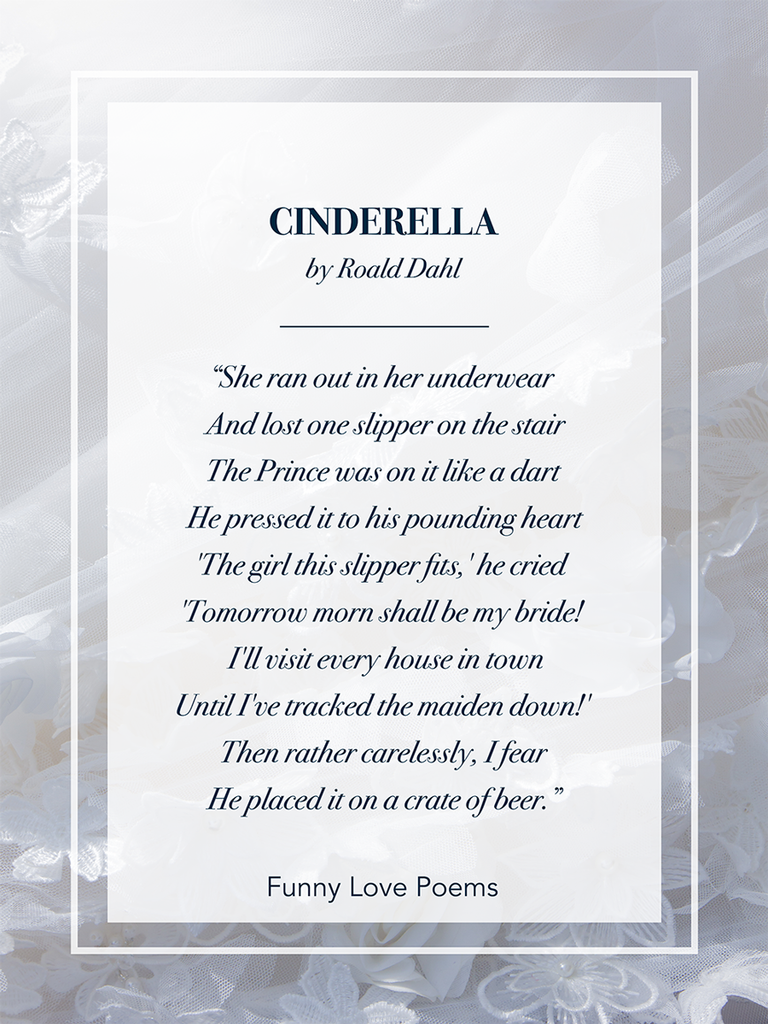 "Litany" by Billy Collins
Lines You'll Love: "You are the white apron of the baker/and the marsh birds suddenly in flight/However, you are not the wind in the orchard/the plums on the counter/or the house of cards/And you are certainly not the pine-scented air/There is just no way that you are the pine-scented air."

"The Shirt" by Jane Kenyon
Lines You'll Love: "The shirt touches his neck/and smooths over his back/It slides down his sides/It even goes down below his belt—/down into his pants/Lucky shirt."

"Celia, Celia" by Adrian Mitchell
Lines You'll Love: "When I am sad and weary/When I think all hope has gone/When I walk along High Holborn/I think of you with nothing on."

"Cinderella" by Roald Dahl
Lines You'll Love: "She ran out in her underwear/And lost one slipper on the stair/The Prince was on it like a dart/He pressed it to his pounding heart/'The girl this slipper fits,' he cried/'Tomorrow morn shall be my bride!/I'll visit every house in town/Until I've tracked the maiden down!'/Then rather carelessly, I fear/He placed it on a crate of beer."

"Yes, I'll Marry You, My Dear" by Pam Ayres
Lines You'll Love: "It's you who has to work the drill/And put up curtain track/And when I've got PMT it's you who gets the flak/I do see great advantages/But none of them for you/And so before you see the light/I DO, I DO, I DO!"
Romantic Love Poems
Need some romance in your life? These romantic love poems are beautiful, haunting and joyful, all at once. Any of these poems about love would be a perfect accompaniment to sentiments written in an anniversary or wedding card.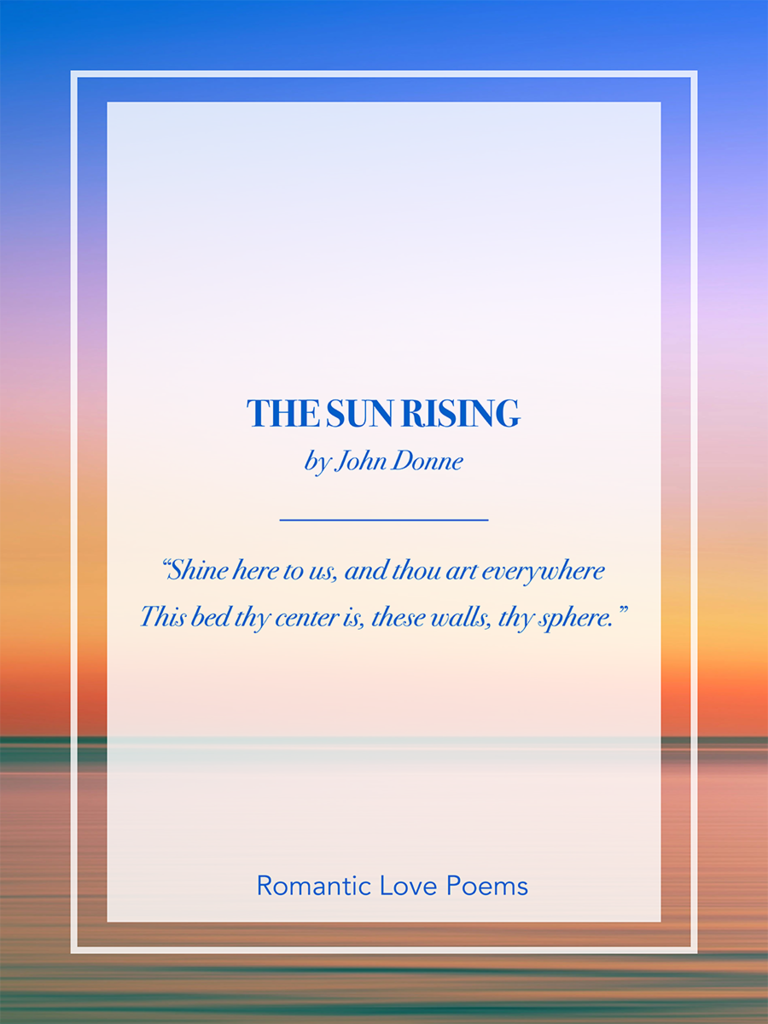 "Love Song" by Rainer Maria Rilke
Lines You'll Love: "Yet everything that touches us, me and you/takes us together like a violin's bow/which draws one voice out of two separate strings."

"The Look" by Sara Teasdale
Lines You'll Love: "Strephon's kiss was lost in jest/Robin's lost in play/But the kiss in Colin's eyes/Haunts me night and day."

"The Sun Rising" by John Donne
Lines You'll Love: "Shine here to us, and thou art everywhere/This bed thy center is, these walls, thy sphere."

"Catullus 5" by Catullus
Lines You'll Love: "Give me a thousand kisses, a hundred more/another thousand, and another hundred/and, when we've counted up the many thousands/confuse them so as not to know them all/so that no enemy may cast an evil eye/by knowing that there were so many kisses."

"In Muted Tone" by Paul Verlaine
Lines You'll Love: "Gently, let us steep our love/In the silence deep, as thus/Branches arching high above/Twine their shadows over us."
Deep Love Poems
Love can be complicated, intense and surreal. And what better way to express that than through a poem about love? These deep love poems are the most profound expression of love.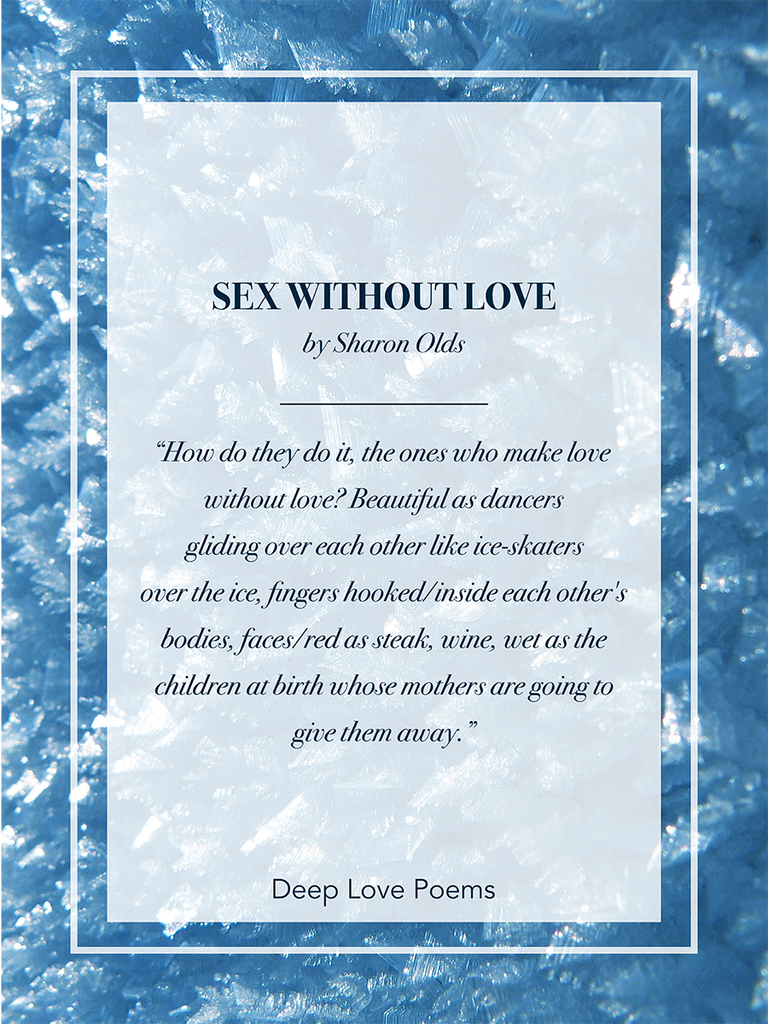 "The Great Fires" by Jack Gilbert
Lines You'll Love: "Isaiah said each man walks in his own fire/for his sins. Love allows us to walk/in the sweet music of our particular heart."

"When You Are Old" by William Butler Yeats
Lines You'll Love: "How many loved your moments of glad grace/And loved your beauty with love false or true/But one man loved the pilgrim soul in you/And loved the sorrows of your changing face."

"Wild Geese" By Mary Oliver
Lines You'll Love: "You do not have to be good/You do not have to walk on your knees/for a hundred miles through the desert, repenting/You only have to let the soft animal of your body love what it loves."

"Sex Without Love" by Sharon Olds
Lines You'll Love: "How do they do it, the ones who make love/without love? Beautiful as dancers/gliding over each other like ice-skaters/over the ice, fingers hooked/inside each other's bodies, faces/red as steak, wine, wet as the/children at birth whose mothers are going to/give them away."

"Gifts" by Juliana Horatia Ewing
Lines You'll Love: "You talk of gems from foreign lands/Of treasure, spoil, and prize/Ah love! I shall not search your hands/But look into your eyes."
Spanish Love Poems
Looking for love poems written in Spanish? You'll say te amo to these! From the lilting Pablo Neruda love poems to those by Mexican writer Amado Nervo, these love poems in Spanish are beautiful in any language.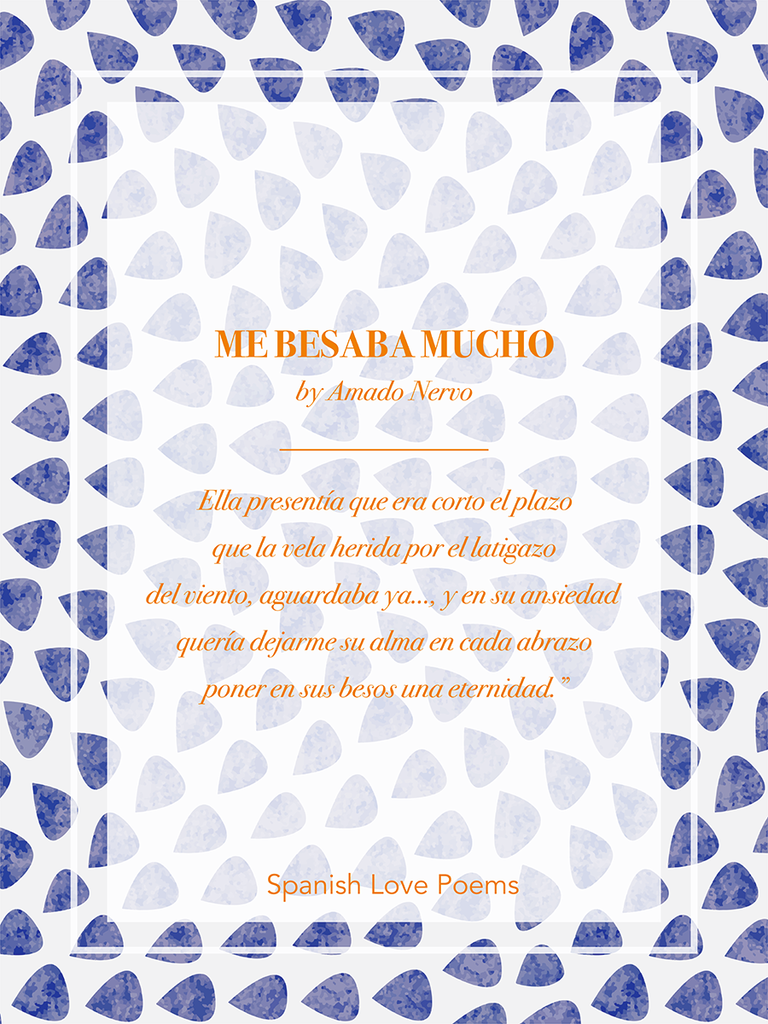 "Soneto XVII" by Pablo Neruda
Lines You'll Love: "No te amo como si fueras rosa de sal, topacio/o flecha de claveles que propagan el fuego/te amo como se aman ciertas cosas oscuras/secretamente, entre la sombra y el alma."

"Me besaba mucho" by Amado Nervo
Lines You'll Love: "Ella presentía que era corto el plazo/que la vela herida por el latigazo/del viento, aguardaba ya..., y en su ansiedad/quería dejarme su alma en cada abrazo/poner en sus besos una eternidad."

"Rima XXIV" by Gustavo Adolfo Bécquer
Lines You'll Love: "Dos ideas que al par brotan/dos besos que a un tiempo estallan/dos ecos que se confunden/eso son nuestras dos almas."

"Amor" by Juan Ramón Jiménez
Lines You'll Love: "El amor, ¿a qué huele? Parece, cuando se ama/que el mundo entero tiene rumor de primavera/Las hojas secas tornan y las ramas con nieve/y él sigue ardiente y joven, oliendo a la rosa eterna."

Llama De Amor Viva by San Juán de la Cruz
Lines You'll Love: "¡Cuán manso y amoroso/recuerdas en mi seno/donde secretamente solo moras/y en tu aspirar sabroso/de bien y gloria lleno/cuán delicadamente me enamoras"