Meghan Trainor and Spy Kids' Daryl Sabara Welcome Their First Child
Read on for more details about their wedding and love story.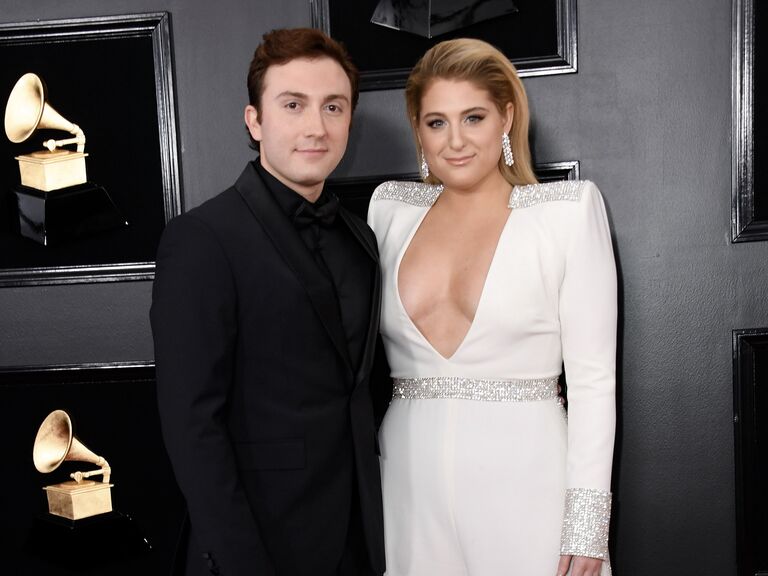 Valerie Macon / Getty Images
Meghan Trainor and her husband Daryl Sabara's love story is the stuff of modern fairytales: boy meets girl, boy plans spectacular proposal, boy and girl marry and live happily ever after. Trainor, who is perhaps best known for her catchy hits "All About That Bass" and "Dear Future Husband," was originally set to be on tour for her new album, Treat Myself, but due to the coronavirus pandemic, had spent time in lockdown with Sabara and her two brothers. Now, the house has gotten even more crowded with the arrival of their first child together.
"This sweet baby boy's due date was today on Valentine's Day," Trainor shared with her millions of followers on February 14, 2021. "We got to meet him Monday, Feb 8th! We are SO IN LOVE🥰😭 Thank you @darylsabara for the best Valentine's gift ever! Welcome to the world Riley!"
The couple announced in October that they were expecting their first child together. In early 2020, Trainor told People magazine that though they've only been married for just under a year and a half, she feels like she and the Spy Kids actor have been together forever. "It feels like we've been married for five years," she said. "I don't know how to say it and not be cheesy, but he's my other half." Here, we take a look back at how the two halves came together to make a whole.
Their First Date Was Super Sweet and Innocent
The pair initially met back in 2016 after being set up by their mutual friend, Chloe Grace Mortez. According to Trainor, she'd asked Grace Moretz to set her up with "the nicest guy ever," who turned out to be Sabara. Their romance was a whirlwind one, and by December 2017, they were engaged.
Trainor and Sabara's first date was a double-date. The pair joined Grace Moretz and her then-beau Brooklyn Decker for a few rounds of bowling, followed by karaoke. "It was kind of like a middle school date," Trainor told People magazine last year. (Sabara chimed in that he felt super intimidated to be going head-to-head with a talented singer like Trainor: "I thought, 'I'm gonna karaoke with a Grammy winner—this'll go over well!")
Sabara Proposed on Trainor's Birthday
Trainor had the most epic 24th birthday: she celebrated it with family and friends, and received an extra special present from Sabara: a diamond engagement ring. "I SAID YESSSS!!!!" the singer shared with fans shortly after Sabara's proposal. "For my 24th birthday, the love of my life @darylsabara made all of my dreams come true." Sabara, who knew what a special place the holiday seasons have in Trainor's life, orchestrated the entire proposal to be filmed by her brother, Ryan, and the pair both excitedly shared the video from the epic moment to social media.
"He proposed to me under a tunnel of beautiful Christmas lights and surprised me with my family and friends," Trainor wrote. "I'm still in shock. I've never been this happy! Thank you Daryl, my family and friends for making me feel like a real princess 👸🏼💍😭💗 and thank you @ryan.trainor for this amazing video that I'm gonna watch over and over again ❤️."
Sabara sweetly captioned his own post about the proposal: "Happy birthday to my soulmate. Thank you for changing my life forever and thank you for saying yes! You are the most beautiful fiancé in the world. I love you @meghan_trainor."
They Got Married in Their Backyard
Ever the planner, Trainor knew shortly after the proposal where and when she'd want to host their wedding. "I'm thinking Christmas," she told Entertainment Tonight shortly after getting engaged. "Nice and cold, so that when we dance and get sweaty, we can,like, cool off, you know?" Then, in June, just six months before the wedding, she told Today's Hoda Kotb, "I was thinking, my backyard's real pretty. Like, real beautiful. I just want it to be chill and with my family in my backyard, and I think I'm going to do that around Christmas time because it's my favorite."
And so it was. The pair exchanged vows in an intimate backyard wedding ceremony in December 2018, a year to the day from the fateful night that Sabara got down on one knee and proposed (also, incidentally, Trainor's 25th birthday). Trainor wore a Berta gown for the occasion, and later changed into a Rivini by Rita Vinieris jumpsuit and sneakers for the reception. She and Sabara hosted 100 guests and served up an "assortment of comfort food."
"I walked down the aisle to 'Marry Me,' which was an awesome moment to have as a songwriter," she told The Knot at the time. "It was so hard holding my tears back … but I wanted good pictures!"
Trainor's Family Joined Them on Their Honeymoon
Trainor has always been outspoken about her love for her family, and when it came time for her and Sabara to embark on their honeymoon, the whole family came with. "Best honeymoon/familymoon ever," Trainor captioned a photo of herself taking in the views during their trip. Sabara similarly referred to the trip as a honeymoon/familymoon and posted several photos from their time together. Trainor, Sabara, her brothers Ryan and Justin, and Trainor's parents Kelli and Gary all embarked on an epic joint trip to Bora Bora, where they indulged in fun activities like skydiving, biking, and slow-dancing in the rain.
"Every day feels like our first date," she gushed to People of her husband. "He treats me like a queen. My life is like a fairy tale."
They Live With Trainor's Two Brothers
Presently, Trainor and Sabara still keep their family very close. So close, in fact, that Trainor's two brothers actually live with them at their Los Angeles home. "They have their own side of the house—we call it the man cave—so I barely see them," Trainor told People, adding, "I would be very sad if they moved out. Everywhere I go my family comes with me." Since lockdown in March, Trainor has been sharing TikTok videos of the siblings having dance offs and doing funny skits.
Importantly, Trainor added, the doors "are soundproof," so she and husband Sabara won't interfere with the brothers' lifestyle, and vice versa.
They're Officially Starting a Family Together
After teasing the eventual expansion of their family, the couple officially announced they're expecting their first child together in fall 2020. While chatting with Hoda Kotb and Jenna Hager Bush on Today With Hoda and Jenna, the singer revealed she's pregnant. After the appearance, Trainor shared a picture of her sonogram of the baby via Instagram. "You all know how long I've wanted this!!!!" she wrote. @darylsabara and I are so beyond happy and excited to meet this little cutie early next year! WE'RE PREGNANTTTTT!!!"
Sabara added, "I love you @meghan_trainor and I can't wait to start a family with you."
Both Trainor and Sabara have been vocal about wanting to start a family sooner rather than later, and according to the singer, the couple "want a village." But the most important thing, they previously told People magazine, was finding the right timing. Originally, their hopes were to start trying right after Trainor's spring tour for Treat Myself, but given that it's postponed, children might be on the horizon soo.
"If we could do it how we want to, we'd be, like, totally preggo right now!" the singer told People in January 2019. In a later interview, she revealed that she's been "hounding everyone, like, 'When can I get pregnant?'"