Grooming the Groom: Men's Wedding Haircut and Styling Tips
Men need wedding hairstyling too. Here's how to go about it—and when.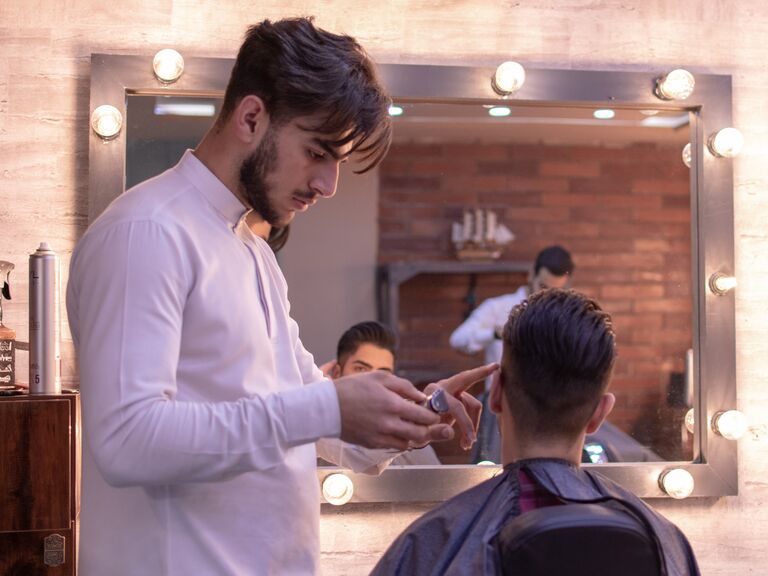 Ashkan Forouzani/Unsplash
We have included third party products to help you navigate and enjoy life's biggest moments. Purchases made through links on this page may earn us a commission.
The second a woman gets engaged, she's often encouraged by friends, stylists and the media to start booking hair trials and appointments for the wedding. But what about grooms? All too often, men who want to plan their big-day look are left without direction or support. Consequently, many rely simply on a tub of gel and a comb, leaving what's usually their most-photographed day to the mercy of the weather and last-minute barbershop appointments. But men care about appearances too, and everybody deserves to feel happy and self-assured at their wedding.
Not to worry! Thanks to a new renaissance in grooming products and a growing interest in self-care, stylish men's hairstyles are easier to achieve and more accessible than ever. Here, we've rounded up some of the best men's wedding haircut and styling tips that'll help you feel confident and handsome, as well as a handy timeline to follow.
12 months out: Determine which style best suits you.
It's important to decide how you want to wear your hair at the wedding well in advance. That way, you have the opportunity to perfect your look (and correct it if need be). Need help choosing? Consider the most flattering styles for your face shape. But don't get too bogged down by style "rules"—it's really all about your preferences and what you'll feel most confident in.
For round faces: Use your hairstyle to create an angle that contrasts your face shape. For fine hair, try a side part or a combo of short sides and a long top to add a mature aspect to your look. Or, try a low fade with an angular line up to incorporate dimension.
For square faces: Several different hairstyles complement this shape; experiment to find your favorite! Shoulder-length locks, a sharp side part, a high top or a quiff could help accentuate your jawline and round out your appearance. A top knot is also a trending option.
For heart-shaped and oval faces: Men with these face shapes tend to wear a pretty broad range of hairstyles, from high pompadours all the way to shaved heads. Ask your barber for specific advice and don't be afraid to try new cuts.
When in doubt, ask a professional—they can make additional suggestions based on your unique hair and taste.
9 months out: Set a schedule with your barber.
Once you nail down the specific style you want, bring example photos to your barber or hairstylist and set a schedule for achieving the look. If you have the time, agree to test the cut between six and nine months out from your wedding so you'll have plenty of leeway to adjust things if necessary. But know that if your desired hairstyle requires you to grow out your hair, you may want to start prepping even further in advance.
From there, ask your barber how often you should come in to maintain or tweak the style. If you don't like the look of your hair freshly cut, plan to have your last haircut appointment roughly two weeks out from the wedding, which gives your strands time to settle naturally before the big day. Of course, the specifics will really depend on the style and how fast your hair grows. You should also see your barber for a final touch-up on your neck, sideburns and any other facial hair.
6 months out: Address hair loss.
According to the American Hair Loss Association, nearly two-thirds of all men deal with hair loss by the time they're 35, and roughly 25% of men who experience male pattern baldness start seeing the signs before they're even 21. In short, it's very common and nothing to be ashamed of. But that doesn't make it any easier if it's causing insecurities. If you're struggling with thinning locks or a receding hairline and are nervous about your hairstyle, you may want to use the months before your wedding to address the issue.
If hair loss is starting to affect your self-esteem, speak with a doctor about how to best address it well ahead of your wedding date. If you're diagnosed with male pattern baldness, they can prescribe you a medication like finasteride that slows balding and encourages hair growth, which may help you achieve a thicker head of hair. However, it takes at least a few weeks to see results, so keep that in mind when you plan your timeline.
Or, if you want to embrace a bare head, you can speak with a dermatologist about how to safely shave and care for your scalp to avoid any acne, ingrown hairs or sunspots before the wedding.
1 month out: Invest in high-quality tools and products.
There's a lot more that goes into styling your hair than simply running a brush through it a few times. If you'll be styling your own hair on the day of the wedding, you'll want to invest in the best tools to help you out. But make sure you're also giving yourself enough time to practice! Here are some of the most effective tools to use based on the look you want to achieve. That said, no two strands of hair are the same, so find the products that work for you. And don't be afraid to ask your stylist for their recs as well!
Remember though: You don't have to go it alone. Many vendors offer day-of grooming services. Ask about your go-to barber's availability, or check out a dedicated wedding service like Doorbell Barbers.
The day of: Pack for the weather.
Weather, temperature and humidity conditions can have a surprising impact on your hair throughout your wedding day, no matter how much work you put in ahead of time. Your day-of preparation should be dependent on the specific season in which you're getting married. A winter wedding, for example, might require extra hairspray in case of dry winds, while a summer wedding could call for extra scalp sunscreen and rain-resistant gel. Be sure to check the forecast a few days in advance so you can prepare an emergency bag filled with last-minute fixes like a comb and travel-sized styling tools. Any on-site grooming professionals will likely have these things on hand as well.