37 Wedding Hairstyles With Flowers That Will Make Your Boho Dreams Come True
Accent your natural beauty with nature.
Dreaming of wearing flowers as a hair accessory on your wedding day? While the flower crown trend has been hot for years, it's not your only option. We rounded up 37 wedding hairstyles with flowers that will make your boho dreams come true. These ideas will look especially beautiful at summer weddings, but you can wear them any time of the year. Adding fresh florals to your day-of 'do is a simple way to personalize your look. Use fresh white orchids for a classic style or rock colorful peonies to show off your playful personality.
Whatever you decide, incorporating flowers into your bridal headpiece will create an effortlessly gorgeous look. Achieve the ultimate boho wedding by asking your bridesmaids or other wedding party members to wear florals too. Psst: We recommend working with your florist ahead of time to pick out the perfect floral design. Then, communicate your vision to your hairstylist so they can make your dreams a reality. See our favorite wedding hairstyle with flowers, below.
Wedding Updos With Flowers
There's a reason wedding updos with flowers are such a popular bridal hair selection. They look classic, modern and unique. See some of our favorite wedding updos with flowers, below.
Braid your hair up into a stylish 'do, and add in sprigs of baby's breath for a sweet finishing touch.
Take a loose braid to the next level by weaving in colorful, oversized florals. For a glamorous spin, include beaded accents or rhinestones.
Show off your wedding dress or wedding day outfit by pulling your hair into a low bun and pinning flowers on one side.
Soften a modern top knot by creating a halo of white flowers around the bun.
For a simple wedding updo with flowers, pull your natural hair into a low bun and place a headpiece made of greens on top. (We love eucalyptus, but any kind of greenery will work).
Sweeten up an edgy fishtail braid by placing ranunculus flowers at the top of the twist.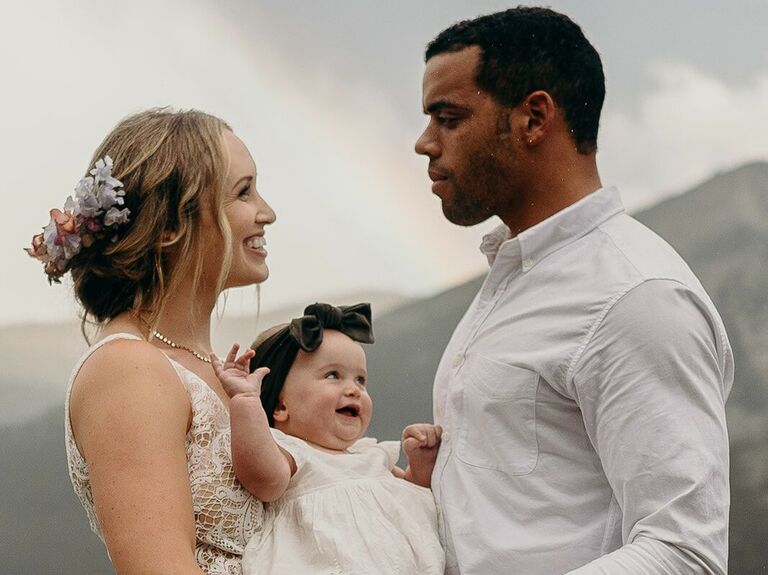 Pin a bridal hair comb filled with pastel florals on top of your loose bun for a romantic, bohemian vibe.
Place a few small (but bright) flowers into the back of your bun for a subtle pop of color.
You can still rock a wedding hairstyle with flowers underneath a veil. A low bun and oversized orchids look bold and glamorous underneath a sheer veil.
Wrap a thin flower crown around the back of your updo for an effortlessly beautiful look.
Make a classic chignon instantly more boho by placing a flower crown made of lavender and white blooms on top of your 'do.
Wedding hair flowers don't have to be white. Case in point: these bright-colored wildflowers that look fresh and modern.
A barrette full of flowers over the top of your updo creates an elegant, regal tiara-like accessory.
Pay homage to the season you're getting married with your day-of 'do. Greens and winterberries are perfect for a winter wedding, while succulents are excellent for a summer ceremony.
Weave oversized flowers into a side braid for a pretty, laid-back vibe.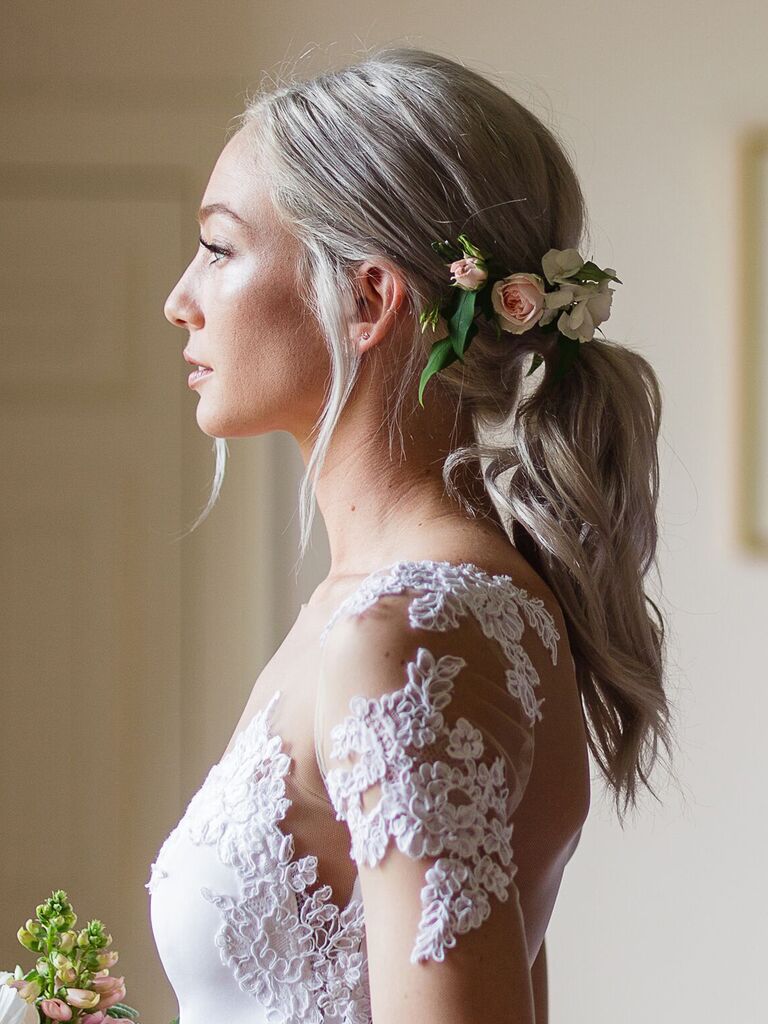 We love wedding ponytails because they're effortlessly gorgeous. Add a few flowers to the top of your updo for a boho touch.
Use rich-colored flowers in your style for a look that's equal parts moody and romantic.
Worried your wedding hair flowers will overpower your look? Consider using three small blooms in your updo for an understated, elegant look.
Add white anemones into your wedding updo for a sweet-yet-edgy day-of 'do.
Down Wedding Hairstyles With Flowers
You can wear your hair down and still incorporate flowers. We rounded up some of our favorite ideas below.
Flaunt your natural texture and place a delicate floral crown on top for a simple wedding hairstyle with flowers.
For a more polished look, ask your stylist for loose curls and top the style with a crown.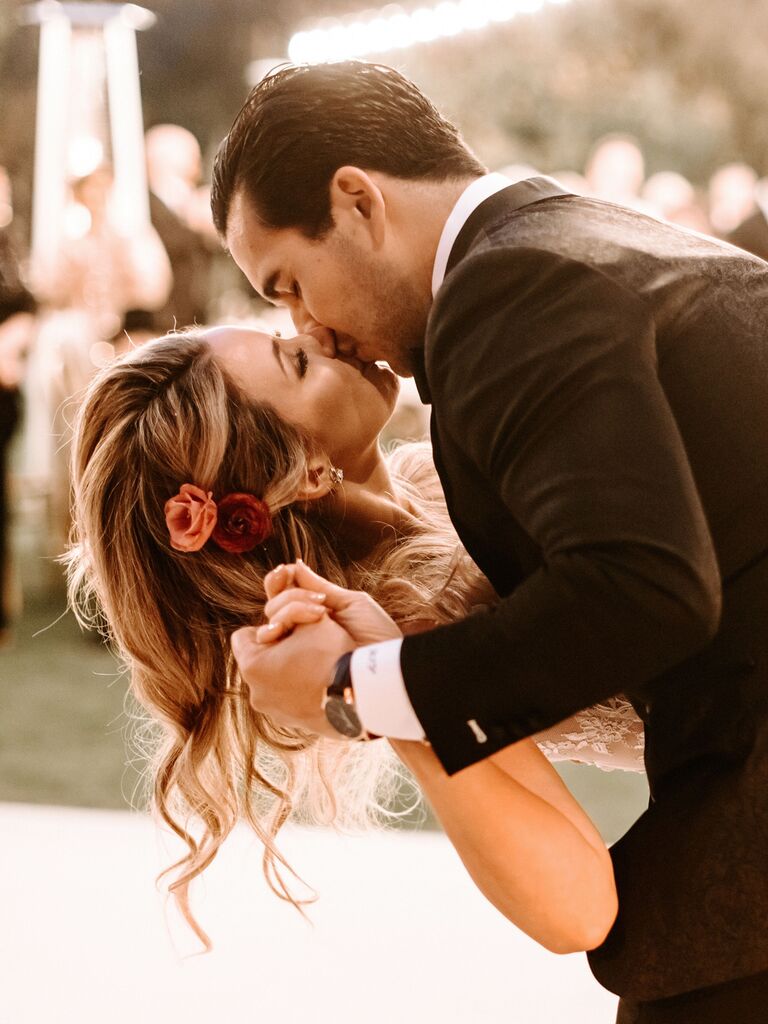 Pin one side of your hair back and add a couple of small blooms for a simple, sweet look.
Top your beachy waves with a colorful wedding hair piece made of flowers.
You can still wear flowers if you have short hair. Just place a headband made of flowers on top of your cropped 'do.
Keep your hair out of your face by gently pinning back the front pieces. Top with a crown made of greenery for a simple, laid-back vibe.
Make a statement with an oversized burgundy, blush and white flower crown.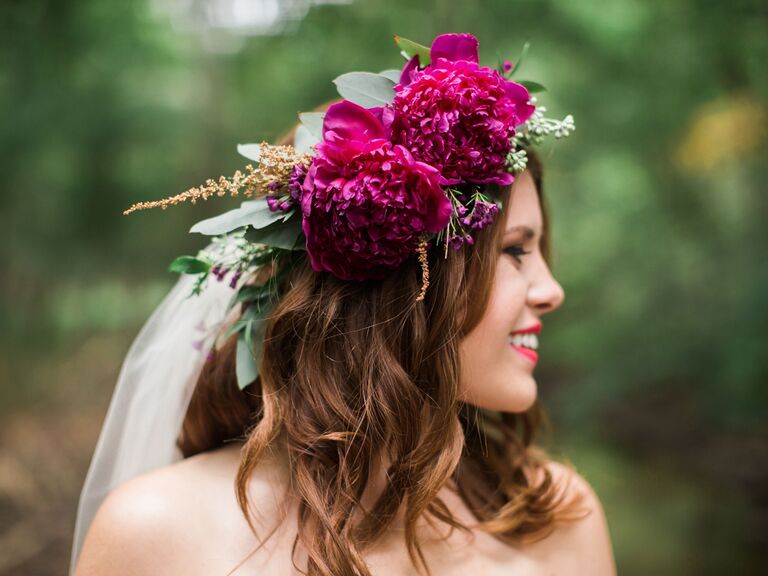 Place a large flower crown atop your short hair for a bold and playful vibe.
Half Up Wedding Hairstyles With Flowers
A half-up style is perfect for florals, as it provides a clear space to pin flowers and greens. See our favorite ideas for your big day, below.
Braid back the sides of your hair and add colorful flowers at the back for a fun, bohemian wedding day look.
You can still rock a half-up wedding hairstyle with flowers if you have short locks. Check out this photo if you don't believe us.
Twist the sides of your hair back and add a line of cascading florals down one side. The result is a stunning bohemian aesthetic.
Sprinkle orchids into your braided half-up hairstyle for an elegant spin on a modern style.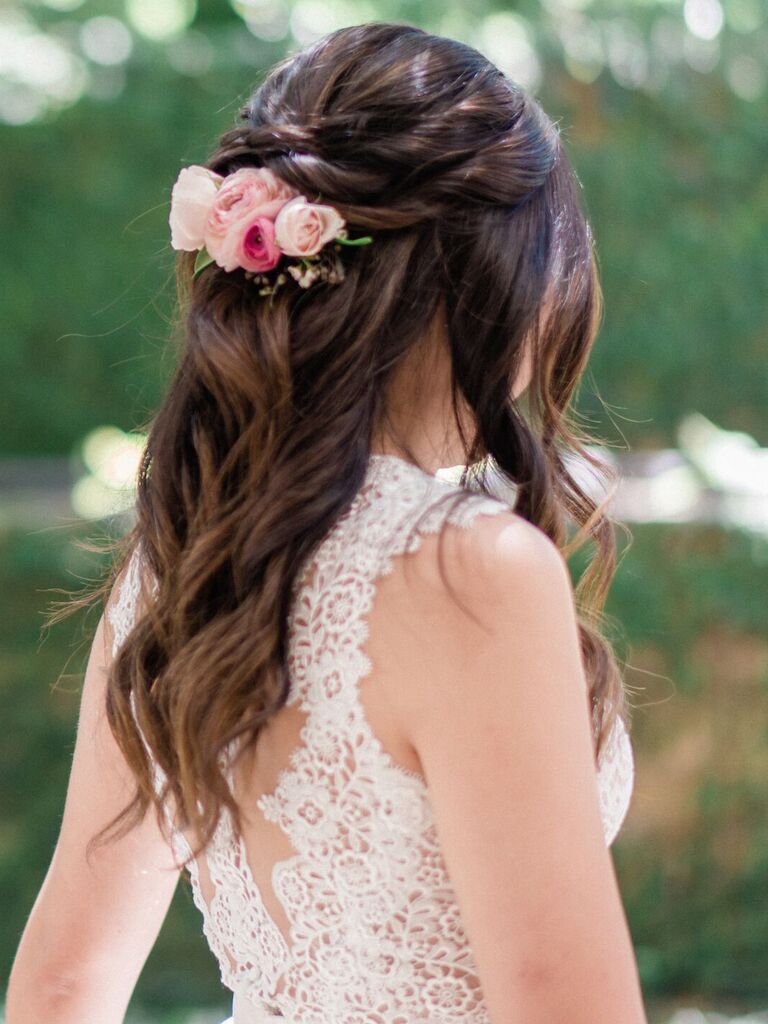 Pin flowers underneath your half-up wedding hairstyle for an unexpected surprise.
An edgy, dark flower comb perfectly balances out a sweet half-up style.
Top your half-up hairstyle with a delicate flower crown. It's a small detail that'll make a big difference.
For the ultimate boho 'do, top a braided half-up 'do with wildflowers.
Weave ivory-colored wildflowers into your half-up style for a look that's equal parts classic and bohemian.
Twist your hair back and add flowers to one side of your hair for a unique and creative wedding day look.