How to Pull Off an All-White Wedding Dress Code
The only time you can actually wear white to someone else's wedding.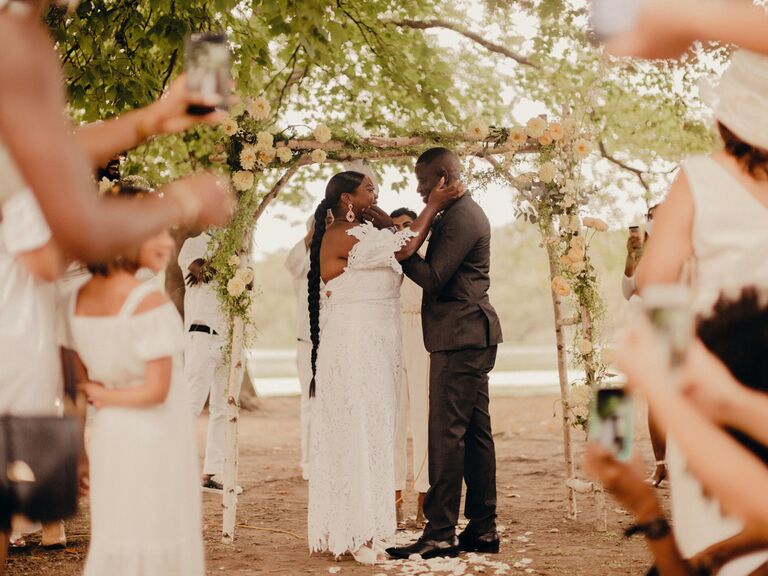 BRIDGET BADORE
There's an old-fashioned rule that says the to-be-weds are the only people who can wear white on their wedding day (and that all guests should avoid the color). But at The Knot, we believe the only rules you should follow are your own. If you've been dreaming of an all white wedding dress code, we're here to help you plan it. From how to communicate your monochromatic wedding vision to your guests to ensuring your wedding party looks amazing, we have everything you need to know. Plus, we included pictures of other couples who've pulled off an all-white wedding dress code for some major inspo. Psst: We highly reccomend working with a wedding planner, as they're experts on event design and can help bring your dream to life.
Ready to plan your dream wedding? See everything you need to know about planning an all-white wedding, below.
Can I have an all-white wedding dress code?
Your wedding is your day, which means you can choose any dress code you desire. If you love the idea of an all-white wedding dress code, then that's exactly what you should have. However, there are a few things to consider with this chic aesthetic.
Firstly, you'll need to ensure you communicate your vision clearly to your guests and wedding party. After all, you don't want someone showing up to your all-white wedding wearing a bright color. Add the note to your wedding invitations and on your wedding website just to be safe.
And while a monochromatic vibe looks totally chic and modern, there are a few things to keep in mind. Since everything will be in a similar hue, your flowers and decor might not pop as much. However, the key to overcoming this obstacle is to use different textures and slightly different shades whenever possible. This will ensure your pictures don't look flat. Additionally, you'll also want to be extra careful with food and drinks. Red wine or tomato soup might not be the best options for your clean, crisp color palette.
Finally, you and your partner will need to discuss what you're going to wear. Will you also wear white, or will you rock another color? Wearing white will keep your event looking cohesive, modern and on-trend while sporting a different hue will make you stand out from your loved ones in a dramatic way.
How to Establish an All-White Wedding Dress Code For Guests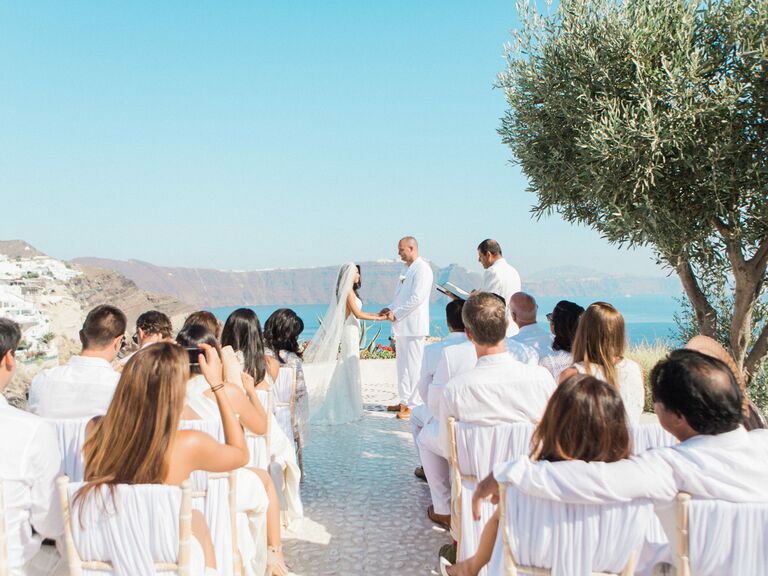 Planning an all-white wedding dress code is all about nailing down your vision 100%. For example, are you going to stick with true white or include shades like ivory and eggshell? Then, you need to communicate your desires to your guests clearly so they know what to do.
Consider Different Textures or Shades
If you opt for smooth, white fabrics, your pictures may end up looking a bit flat. Add dimension to your event with different textures or shades of white. For example, give your guest the freedom to wear any kind of white fabric, such as linen, silk, chiffon and more. Or, give them the green light to rock a different shade of white (like ivory and eggshell). The end result will look equal parts cohesive and chic.
Communicate Your Vision Early
If you're going to make a specific request for your nuptials, give your guests time to prepare. Make sure you send out your invitations early and include the dress code on them. Then, make sure you have the information readily available on your wedding website so your guests can refer to it whenever they need.
Establish The Formality Level
Spare yourself follow up questions from guests by providing as much information as possible. The number one thing they need to know aside from your chosen hue? Formality level. A white linen jumpsuit will be perfect for a casual beach celebration while a floor-length white silk dress is more appropriate for a black tie wedding. Give your guests as many details as possible.
How To Pull Off All-White Wedding Party Look
If you're trying to coordinate an all-white wedding party look, we recommend communicating your vision clearly and communicating it early. That way, your friends and family members can choose their looks ahead of time. Nail down your vision, and then tell your wedding party exactly what you're envisioning. To help with their shopping process, we recommend giving suggestions on places to shop so they're clear on expectations. Finally, ask to sign off on their chosen outfits so there's no drama on the day of your wedding. Ready to get inspired? See a few of our favorite all-white wedding parties, below.