26 Outdoor Wedding Registry Ideas for Couples Who Love Spending Time Outside
Register for your backyard and beyond.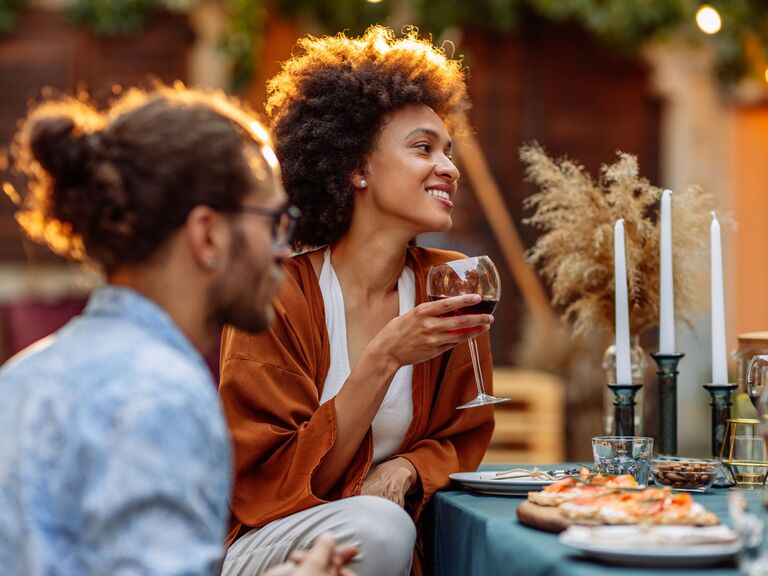 Photo: Dimensions | Getty Images
We have included third party products to help you navigate and enjoy life's biggest moments. Purchases made through links on this page may earn us a commission.
When it comes to your wedding gift wish list, we're big fans of thinking outside the box—literally! You shouldn't feel confined to the four walls of your home when creating your wedding registry. From patio furniture, to yard games, to camping gear, we recommend adding any outdoor wedding registry ideas that'll help you and your partner enjoy nature. After all, guests want to give you gifts that you'll use, so if backyard barbecues and backpacking are in your future, feel free to add a grill and tent to your registry.
Below, we've rounded up our favorite outdoor furniture, entertaining items and adventure gear from The Knot Registry Store—including this year's Registry Award winners. (And in case you didn't know, you can use our all-in-one registry tool to add outdoor items from other stores to your wish list on The Knot, too.)
In this article:
Outdoor Furniture Registry Ideas
Zhuzhing up your home's outdoor space comes with a lot of benefits. You're essentially adding an extra (alfresco!) room to your house that can serve as an entertaining space, a dining area or even a sunny reading nook. Any of these picks will be stylish and functional additions to your backyard or balcony.
Safavieh Grenton Plant Stand
This wooden plant stand is the ladder shelf of our dreams so it's no wonder it's one of The Knot's Registry Winners two years in a row. It'll add new heights to your balcony or patio, or it can be used indoors for a little biophilic interior design. We especially love this outdoor registry item if you don't have a grassy yard, since it'll still add greenery to your space. Just pick up some ferns and succulents from your neighborhood plant store—although if you're adding a plant shelf to your registry, we bet you already have tons of leafy friends to put on display.
Fatboy USA Headdemock Superb Hammock
Fatboy's luxury hammocks will transform how you relax in your backyard. This durable outdoor furniture comes with its own heavy-duty stand, so you don't need to worry about hanging it yourself—or it blowing away. It's also water-repellant, dirt-repellant, UV-resistant and can hold up to 330 pounds. The oversized design and pillow will make it an especially cozy spot to lounge the day away; it might even become your favorite place to nap.
Safavieh Dren 4-Piece Outdoor Wood Living Set
Have a big patio to fill? Instantly level up your outdoor space with this furniture set that includes two armchairs, a loveseat and a coffee table—it's basically a second living room in your backyard! The natural tone of the eucalyptus wood and neutral-colored cushions give the furniture a versatile look that can match any outdoor aesthetic. Just make sure to also ask for a cover, so it doesn't get damaged in the winter.
Black + Decker 60 Qt. Mobile Cooler Cart
This cooler is so large, we're counting it as furniture. Perfect for serving a crowd, the 20-gallon(!) container is outfitted with a bottle opener and bottle cap for convenience, and it sits on four wheels, making it easy to transport. And there's no need to struggle trying to tip the melted ice out at the end of a party, it has a plug for quick draining and cleaning.
Coleman Outdoor Inflatable Hot Tub
Remember when the coolest houses as a kid were the ones with a hot tub? Well, that can be you! This outdoor inflatable hot tub will provide you and your spouse R&R well after the honeymoon. And it's arguably better than a built-in hot tub, since it's portable—just in case you want to recreate a one-on-one from "The Bachelor" and bring it to the great outdoors. (Don't ask us how they manage to fill it.) It also features a rapid heating system, massage jets and a cushioned floor.
Safavieh Kamson Outdoor Eucalyptus Sunlounger
If your idea of getting outside is laying out to tan (with sunscreen, of course), then this lounge chair is the outdoor wedding registry idea for you. A lounge chair, specifically the Kamson Outdoor Eucalyptus Sunlounger by Safavieh, will help you bask in the sun's rays. It hinges from upright to all the way flat and sits on two back wheels, so you can easily cart it to the sunniest spot on your lawn. We recommend registering for two.
Philips Hue White and Color Ambiance Smart Outdoor LED Pathway Light Base Kit
When the sun goes down, this light comes on. Simply stake the light into the ground, then plug it in. It has millions of color variations to choose from to brighten your outdoor space. Note: This kit comes with only one light and it's recommended to space lights six to eight feet apart, so register for multiple if you want to brighten a pathway.
Safavieh Renzo 2-Tier Indoor/Outdoor Bar Cart
If your style of entertaining includes homemade cocktails, this is the outdoor item for your wedding registry. The two-tiered bar cart which can be used inside and outside, lets you serve beverages and appetizers with ease and exquisite style—thanks to its back wheels and shabby chic design. It comes in three wood stains—white, gray or natural—so choose the one that fits best with the rest of your outdoor registry items.
Lettuce Grow Farmstand With Seedlings
Both gardening enthusiasts and budding plant parents will appreciate this registry award winner. The Farmstand allows you and your S.O. to grow your own fruits and vegetables with minimum effort. It's self-watering, self-fertilizing and hydroponic, which means you could be harvesting delicious greens in as little as three weeks. The best part? The Farmstand is suitable for small outdoor spaces, producing up to 10 times more per square foot compared to traditional gardening. Plus, it adds some nice plant life to your balcony.
Outdoor Entertaining Registry Ideas
If you love to host family and friends in your backyard, adding outdoor entertaining items to your wedding registry is highly recommended. Your wish list is meant to include the things you want and need most, so if you'll get more use out of an outdoor fire pit than a new blender, you should go for it. Don't let your family or friends' expectations of your wedding registry stop you from choosing the things that bring you joy—and it'll bring them happiness, too, when they get to come over to roast marshmallows!
Blackstone 36" 4-Burner Propane Gas Griddle
Winner, winner grilled chicken, burgers and hotdogs for dinner! Entertaining loved ones outdoors calls for some top-notch cooking equipment. This gas-fueled griddle can handle lots of hungry guests, with space for a whopping 28 burgers or 72 hot dogs at a time—whew! It's made from high-quality stainless steel, features four independent heat controls and reaches a maximum temperature of 500 degrees Fahrenheit. No wonder it's a back-to-back The Knot Registry Awards winner.
Blackstone 5-Piece Grilling Tool Set with Cookbook
Don't feel overwhelmed by your new grill! Blackstone can also provide you with all the tools you need to get cooking. This set of rust-resistant, professional-quality grilling tools includes two liquid dispensers, two spatulas, one metal scraper and, most importantly, a griddle cookbook.
Solo Stove Bonfire 19.5" Fire Pit With Stand
Nothing has the power to immediately transform your backyard like this The Knot Registry Awards winner. Once this firepit is lit, you're transported to a cozy, rustic paradise where s'mores are the cuisine of choice. This particular fire pit boasts a thoughtful design that provides a full burn, utilizing every log without smoke, thanks to its 360° airflow design. Plus, it's portable and includes a removable ashtray for convenient cleanup. How's that for an excellent wedding registry idea for a couple of outdoor enthusiasts?
GoSports Giant Toppling Tower Game
You can't throw a backyard barbecue (or any other outdoor party, for that matter) without some fun and games. That's why GoSports Giant Toppling Tower Game is a winner of The Knot Registry Awards. It'll delight guests young and old. Really, there's no reason not to add this jumbo version of a childhood favorite to your wedding registry.
JBL Portable Bluetooth Speakers Series Flip 5 Wireless Speaker
It's not a party without some tunes. Don't be fooled by this portable speaker's small size, it delivers big sound for 12 hours. Plus, it has a water-resistant finish, so it can come outdoors with you.
Ooni Koda 12 Gas Powered Pizza Oven
Fresh stone-baked pizza for the win! You'll have nonstop visitors arriving at your home when word gets out about this snazzy outdoor appliance. The Ooni Koda pizza oven allows you to cook authentic homemade pizza in your backyard in a single minute. The oven is fueled by gas and can be used for more than just pizza. Adjust the heat setting to cook other staples—like seared steak, roast chicken and veggies. Better still, it's portable with foldable legs for easy transport and storage.
Libbey Modern Bar 7-Piece Boozy Brunch Entertainment Set
There's nothing like a cold glass of lemonade on a hot summer day. Make sure you're stocked for your prepared backyard bash with an elegant drinkware set. This The Knot Registry Awards winner includes one glass pitcher and six highball glasses.
Gibson Home Sunny Citrus 12-Piece Dinnerware Set, Service for 4
Don't forget outdoor serveware! This maximalist dishware set includes four dinner plates, four salad plates and four bowls decorated with bright citrus fruits. Just the right amount for you and your spouse to have a double date. And they're chip resistant, so you'll feel comfortable taking them outdoors.
GoSports Football Cornhole Board Set
Whether you call it cornhole or baggo, this yard game is just the outdoor wedding registry idea you need. And if you're the couple with the best tailgates, this set is the one to register for. Charmingly painted like a football field, it comes with two water-resistant boards, eight weather-resistant bean bags and a carrying case. It also comes with a rule book in case anyone tries to debate their points.
Outdoor Activity Registry Ideas
Camping, surfing, skiing, oh my! Whatever your preferred outdoor pursuits, there's something you can add to your registry that'll make them more convenient and fun. Amp up your outside activities with any of these recreational wedding registry items.
YETI Roadie 24 Cooler
If there's one wedding registry idea we recommend for outdoor couples, it's a YETI cooler. They seriously live up to the hype. Their Roadie 24 Cooler is nearly indestructible and the thick, insulated walls will keep your food and drinks cold. We particularly love that it's built tall enough to fit a bottle of wine—or 18 cans with a two-to-one ice-to-can ratio. Plus, it has heavy-weight handles, non-slip feet and anchor tie slots, so it can go with you anywhere.
Rumpl Original Quilted Blanket
This blanket isn't just pretty, it's also water-resistant and insulated, making it perfect for the adventurous couple. You can take it to the beach, camping or boating and—when you're not out and about—use it on your patio to enjoy fresh air at home.
The North Face Eco Trail 3-Person Tent
It's time to upgrade from a one-person tent to a two-person tent! Or in this case, a three-person tent, so you have extra room for your gear or furry friend. This tent maximizes space with a peaked roof, two doors and a vestibule for storage. Better still, it's made from durable, 100% recycled materials.
Hydro Flask 21-Ounce Bottle with Standard Flex Cap, Set of 2
PSA: Adults should have about eight ounces of water for every hour spent hiking. This means this set of two 21-ounce water bottles are just the canisters you need for your next climb. They're crafted from durable 18/8 stainless steel (so they'll last a long time) and are insulated to keep drinks hot or cold for up to 24 hours(!).
CamelBak Cloud Walker 15.5 L Hydration Backpack
Your wedding registry is a great time to upgrade some of your existing gear, like your go-t0 hiking pack. If you're looking for something that will fit your spouse's layers too, this backpack not only fits two and a half liters of water, but cargo compression for other essentials and side-stretch pockets. It's also water-repellant for rainy days.
YETI Hopper™ FLIP Cooler Bag
Remember when we said we recommend a YETI cooler on any outdoor couple's wedding registry? Well, it's so true we had two coolers win The Knot Registry Awards. If a hard cooler doesn't fit your lifestyle, a soft-sided—though still insulated and durable—cooler will. It has a convenient padded shoulder strap so you can take it up the mountain or down the boardwalk to the beach with ease.
YETI Rambler 10 oz. Wine Tumbler, Set of 4
No glass by the pool or at the outdoor concert, no problem! This set of YETI stemless wine tumblers will keep your boozy or spirit-free drink cold even in the heat. And they're resistant to breaking, so a stumble in the grass won't make a mess.
SPUR Experience Adventures
If you feel pretty set on outdoor furniture and adventure gear, then consider registering for experiences instead. Whether it's a snorkeling trip on your honeymoon or lift passes for ski season, you can ask for activity gifts that celebrate the great outdoors.