Plan the Perfect Paris Proposal to Sweep Your Love Off Their Feet
Make the City of Love the start of your love story.
Asking the love of your life to marry you is a special moment, which is why many proposers want to choose an unforgettable spot to pop the question. Planning a Paris proposal means you get romance and magic in a city known for both. And it's important to plan your proposal down to the last detail so that this moment sets the tone for your love story and marriage. And if you want to find any proposal photographers or planners, The Knot Vendor Marketplace is your one-stop shop for finding all the right vendors to help your love say yes. Let's take a look at some of our favorite spots around Ville d'Amour.
In this story:
How to Decide Where to Propose in Paris
There are many historic landmarks and scenes right from a movie in Paris. Popping the question in this romantic city leaves you with many spots that evoke magic and love. And did you know you can even hire a proposal planner to help you with the logistics? There are tons of concierge services around the City of Lights to ensure your proposal goes smoothly. Most importantly, think of what your future spouse will want out of a proposal. Is there a certain place they've always dreamed of visiting? Or maybe even somewhere just the two of you can have a private moment with a stunning view of the Eiffel Tower. Our Parisian proposal expert, Morgan Nagle of Heck Designs and Photography, has shot big moments around this city. The pro, who started her business in 2018, also offers this tip: "Having a metro pass is super important because it's a big city to get around and it makes it so easy!"
The Best Time of the Year for a Paris Proposal
If you're looking for beautiful weather and sunny days, then spring and summer may be the best times to take a trip to Paris to get down on one knee. But you also may want to consider a special date for you and your S.O. like maybe the anniversary of your first date or even their parents' marriage. However, if you want to catch them totally off guard, then any date throughout the year can work since Paris looks beautiful in both sun and Morgan Nagle also adds, "I would look at either late spring or summer because it gets chilly in Paris!" (Unless chilly is just what you're looking for, then be sure to bundle up in your French finest.)
The Most Romantic Places for a Paris Proposal
There's no shortage of stunning spots around La Ville-Lumière (AKA the City of Lights). But some of these sites are our favorites for how they give you one unforgettable, romantic proposal in Paris.
Trocadéro and Eiffel Tower
Parisians call the Eiffel Tower "La Dame de Fer" or the Iron Lady because of its majesty and wonder, and popping the question in front of this landmark will make for one magical proposal. For a truly spectacular view of the Tour Eiffel, visit the Trocadéro with your future betrothed.
The Louvre and Tuileries Gardens
The Louvre is known for its world-class artwork inside, but outside is a stunning glass pyramid that makes it one recognizable landmark. And if you're looking to propose somewhere with some greenery, then the nearby Tuileries Gardens are the perfect spot.
Pont Alexandre III
This famous bridge connects the Champs-Élysées quarter with the Invalides and Eiffel Tower quarters, making this a prime spot for views across the Seine. Just imagine your proposal photo on this ornate spot with the dome of Les Invalides or Eiffel Tower in the background.
Arc de Triomphe
Here's one of the most famous monuments in a city that seems to be spilling over with history and romance. The Arc de Triomphe puts you and your love at the center of Place Charles de Gaulle where twelve Paris streets meet in one spot.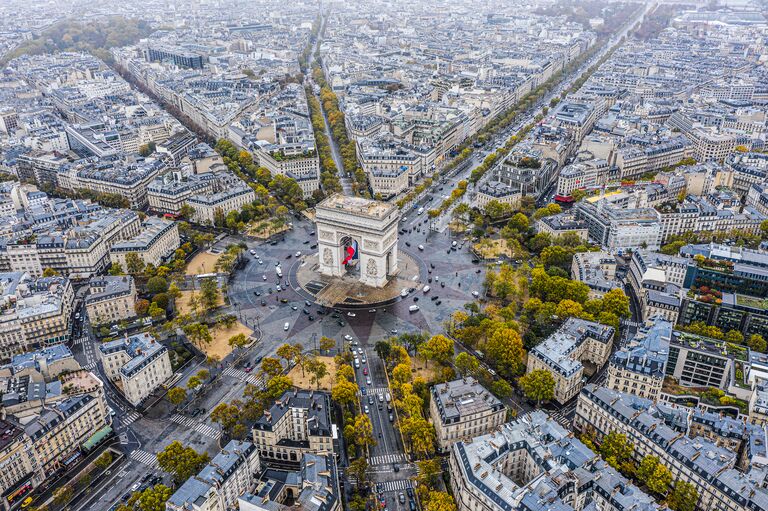 Private Places for a Paris Proposal
If big crowds and tourists being in the background of your proposal photos isn't your thing, that's okay, too. There are plenty of places around this city where you can have a more private moment while still bringing the "amour."
Ritz Paris - Bar Vendôme
Put on the ritz when you pop the question at the illustrious Ritz Paris' Bar Vendôme. This elegant brasserie has a glass dome ceiling to let all the natural light of the city spill in during your picture-perfect proposal, and this spot gives you a little more privacy than the typical tourist attractions around town.
Le Calife on the Seine
This dinner cruise down the Seine River places you right above the water and right under the beautiful nighttime sky of Paris. You get a romantic dinner and stunning views with many chances for a more private proposal that still evokes the magic of the city.
The Square du Vert-Galant
Here's a charming spot in the city that can let you propose in private. This triangular parks sits on the water and offers benches, lush trees and fewer crowds so that you can have your moment for just the two of you.
Cour des Vosges
If you really want a private proposal, why not pop the question at your hotel? The Cour des Vosges is a luxury hotel with gorgeous views of the oldest square in Paris, Place des Vosges.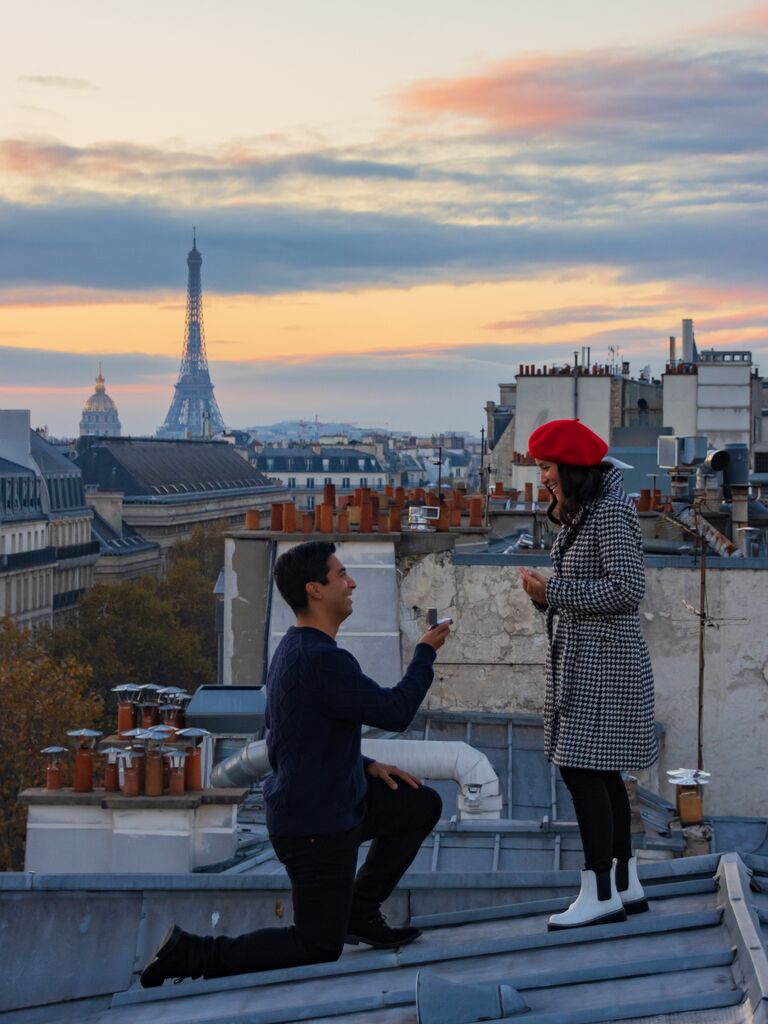 Unique Places for a Paris Proposal
Here are some ideas for couples looking for unique sites around this classic city to begin their engagement. These one-of-a-kind views and magical spots are perfect for planning your proposal around. (Plus, all this proposal prep gives you a leg up on your future wedding planning.)
Montmartre
Ask your love to marry you at the highest point in Paris, right near Sacre-Couer Basilica. You and your S.O. will feel on top of the world at this romantic site.
Palais Garnier
Here's a spot perfect for the opera-lover in your life. The Palais Garnier is arguably the most famous opera house in the world, and anywhere inside or outside this building is a wonderfully unique and romantic spot to ask the love of your life the most important question.
Disneyland Paris
When the happiest place on Earth and the most romantic place combine, you get Disneyland Paris. Bring the magic and romance when you pop the question in front of Le Château de la Belle au Bois Dormant, or Sleeping Beauty's castle.
Palace of Versailles - Orangerie
The Orangerie at the Palace of Versailles is a more unique site at this venue to get down on one knee. With its beautiful orange trees and maze-like walkways, you'll start your love story like royalty at this spot.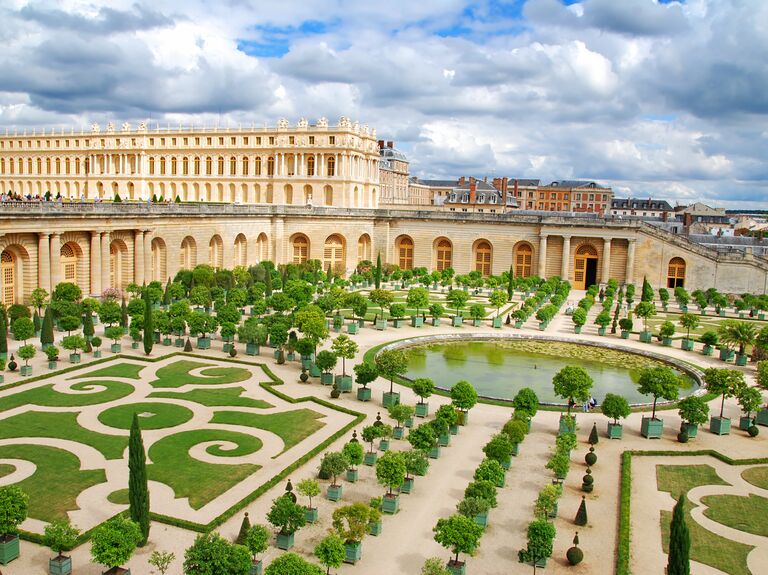 Scenic Paris Rooftops for a Proposal
Paris is one of those cities with breathtaking views from almost anywhere, which is why their rooftops make romantic spots for your engagement. Here are just a handful of the best rooftop locations around the city to give you a picture perfect proposal.
The Peninsula Paris
The Peninsula's rooftop views rival no other, with a breathtaking look at both the Eiffel Tower and all of Paris. One way to really elevate your proposal is to pop the question at night, when the Eiffel Tower is all lit up.
Shangri-La Paris
Whether you propose on the balcony or rooftop, the Shangri-La Paris is one elegant space from any vantage point. And you can see many notable landmarks from this roof, like the Eiffel Tower and the Seine.
Les Ombres
The Les Ombres is the restaurant on top of Musée du quai Branly with a panoramic view of the City of Love. This is one fine dining experience you and your future spouse won't soon forget.