Exclusive: How Internet Star Patricia Flach is Blending Tradition & Modernity at Her Wedding
Plus, she shares the three wedding vendors she *can't* live without—and the surprising addition to her registry.
Before the era of TikTok and Instagram Reels, we had Vine and YouTube—and if you were active on either wildly popular platform, you're probably familiar with Matt King. (You know, of viral "Love on Top" fame circa 2014.) Fast forward to 2018, the content creator spotted Patricia Flach at an SEC football championship game party. After a brief introduction and a missed connection, Matt was dedicated to finding her again, so he did what anyone in his position would do: he opened up Instagram and did some serious sleuthing. By a stroke of luck, they ended up at the same party again a short time later, where they were re-introduced…and the rest is almost history. (It took some time—and a personalized toiletry bag with Patricia's name embroidered on it—for the spark to ignite.)
Amid a private picnic spread on a sunny Los Angeles day, Matt popped the question in October 2022. Ahead of their upcoming nuptials, which Patricia says will blend tradition and modernity, we sat down with the bride-to-be to chat about her wedding planning experience, including the vendors she can't live without. Plus, if you've ever wanted to know what an influencer registers for, we're giving you an inside peek at her gift wish list too. (Psst: It's going to give you tons of inspiration for your own wedding!)
In this article:
The Wedding Vendors Patricia Flach Can't Live Without
Wedding vendors play a key role in bringing your vision to life—a fact Patricia quickly learned once she started planning. Here are the three pros she's found herself leaning on most throughout her wedding journey so far.
A Great Caterer
One wedding non-negotiable for Patricia is a great menu. In fact, it's something the bride-to-be knew she'd prioritize, even prior to the proposal. "Before I was even engaged, I've always said my wedding will have good food, good alcohol, and good music," she tells us. "The one complaint that I feel is pretty consistent about weddings is about the food being bad. I'll be very particular about the food to make sure it accommodates and satisfies everyone!"
To transport her guests to "food heaven," Patricia has enlisted the help of a caterer to give them a true taste of the South—a fitting choice for the influencer, who hails from Alabama. "We want our guests to leave our wedding with happy bellies, happy hearts, and memories that will last a lifetime," she continues, noting that she'll also be serving bites from her dad's restaurant, Hamburger Heaven. "We're all about creating an experience that will make the trip worth it for our out-of-town guests and showcase the best of my home state. We've put a lot of thought into the food, drinks and music, because we know that these elements can truly elevate the overall experience for everyone."
Live Entertainment
Speaking of music, that's another key element for the to-be-weds, who've hired live entertainment to keep the hits queued and the dance floor full. "You can have all the bells and whistles you want, but in my opinion, the only one you need is a good band to get your guests on their feet all night," Patricia muses. "We want our guests to indulge in delicious Southern cuisine, sip on signature cocktails that will get them on the dance floor, and groove to a killer playlist that will keep them dancing all night long."
Dynamic Photographers
As content creators, Patricia and Matt understand the value of great photos—and that's exactly why their photographer is one of the most crucial vendors they've hired so far. "Photos are important to us because they allow us to relive special moments over and over again," Patricia explains. "Our wedding photographers, Rachel and Noah Ray, have a way of capturing not just moments, but also the emotions that come with them. They have a talent for making even strangers feel a deep connection with their subjects. When we read on their website that their goal is to help us remember not just what our wedding day looked like, but what it felt like, we knew they were the perfect match for us."
Patricia Flach's Must-Have Wedding Registry Picks
Given her Southern roots, making a registry was high on Patricia's wedding to-do list. And, contrary to what some may believe, she's here to change the narrative that traditional gifts are outdated. "I see a wedding registry as an opportunity to start building our future home together as a couple," Patricia notes. "Coming from the South, I believe in the value of wedding registries, which have stood the test of time, which is why I'll definitely be registering for traditional home items." Here's a peek inside what's at the top of her wish list.
Fine China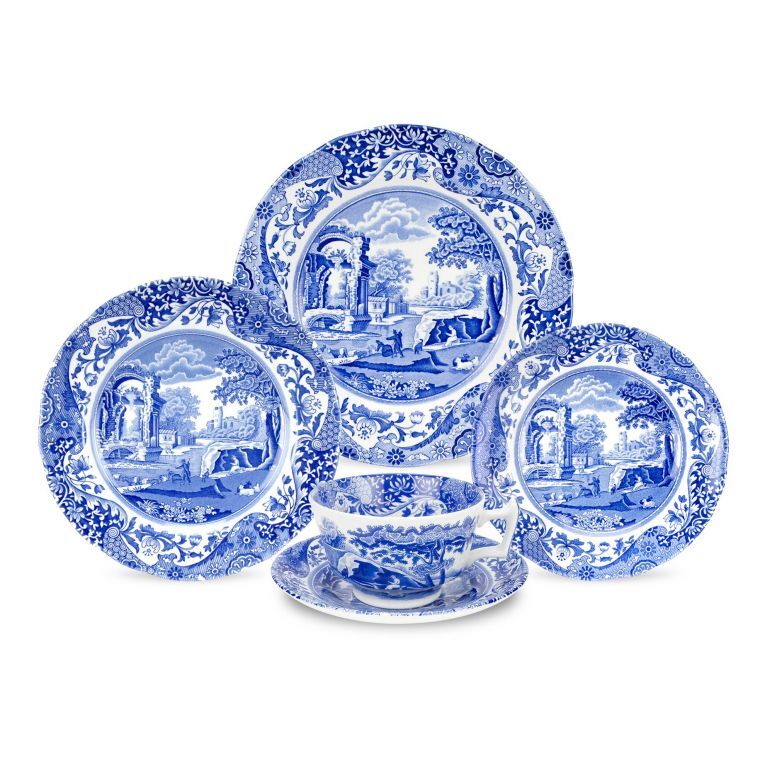 Nope, not the kind that's collecting dust in your grandmother's cabinets. While a china set might not be the first thing that comes to mind when you think of modern wedding gifts, Patricia makes the case for adding elegant glasses and serveware to your wish list. "I'm most excited to register for my own set of china that can be used for special occasions," she tells us. "This beautiful tradition adds elegance and significance to those moments, and I am committed to actually using and cherishing it. We're excited to register for items that will not only be functional and practical, but also meaningful and sentimental as we begin this new chapter in our lives as a married couple."
Entertaining Essentials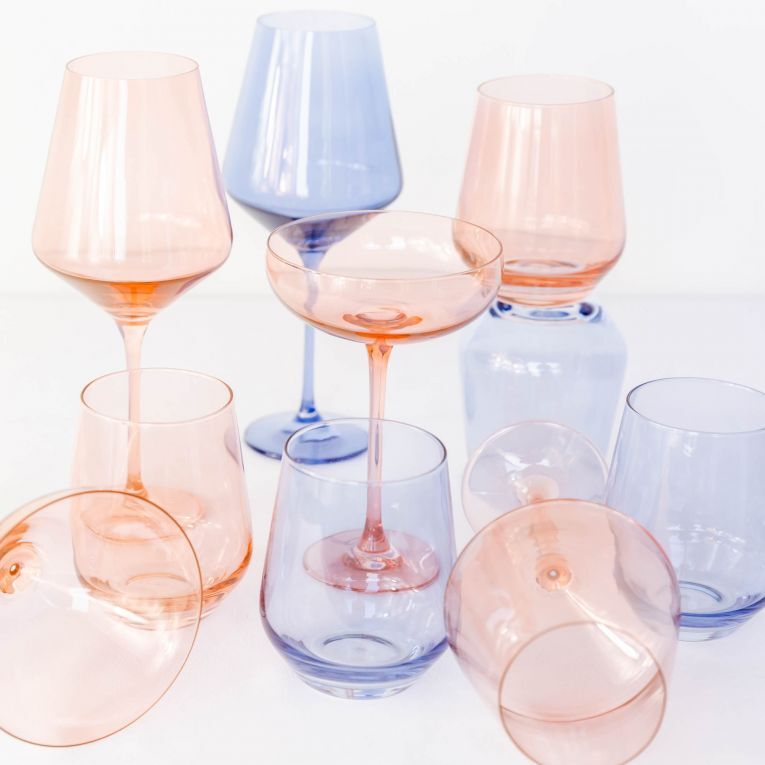 With functionality in mind, Patricia imagines her newlywed home as a place for friends and family to gather, celebrate and make memories, which is why she's also prioritizing entertaining essentials like cutting boards, food storage, and a trendy set of Estelle colored glassware. "I come from a Greek family, so hosting is practically in my blood," Patricia jokes. "My Yiayia and mom always had an open-door policy, inviting friends and family over for dinner and creating a warm, welcoming environment. We want to be fully equipped to create unforgettable moments with our friends and family, whether it's for holidays, happy hours, or just a casual get-together."
She'll also be using her registry gifts to fine-tune her culinary and mixology skills. "Let's be honest: hosting also gives us the opportunity to show off our culinary skills and experiment with fun cocktail recipes," she says. "We believe that our home should be a place where people feel welcomed, loved, and connected, and we can't wait to start hosting in our newlywed nest."
Core Kitchenware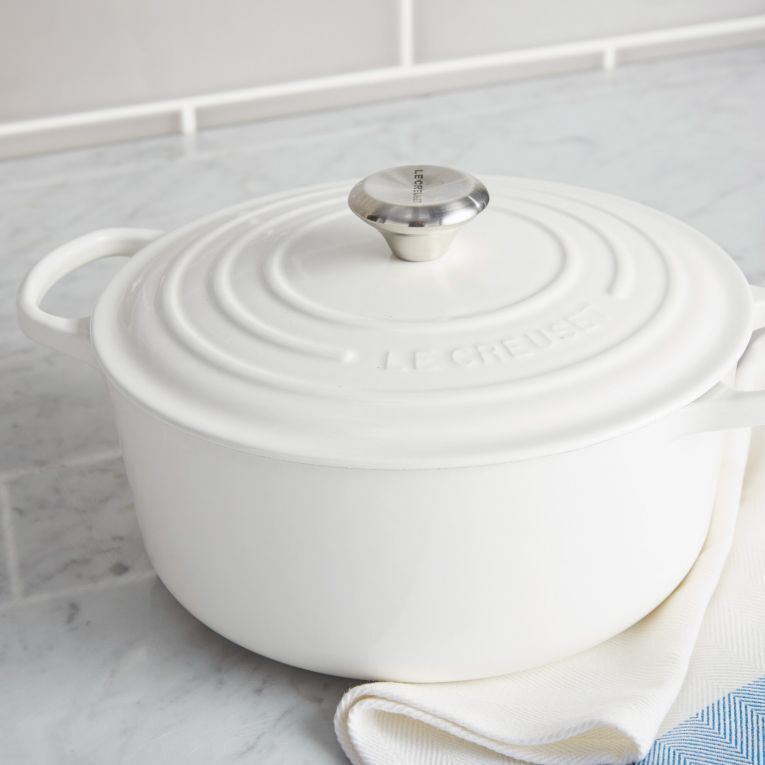 In addition to fun bar cart trinkets and statement serveware, Patricia is using her registry to complete her repertoire of kitchen tools and appliances. "We currently live separately, so registering for items like kitchen appliances and cookware is important to us," she adds. "We look forward to creating a well-stocked kitchen that will be the heart of our home where we can share meals and memories."
Travel & Experiences
Of course, what's a registry in 2023 without a cash fund? Beyond the basics, the to-be-weds used The Knot Registry to request non-tangible items, like tickets to the US Open and gift cards for Hotels.com. "Travel is important to us, so we chose experiences for our registry that we could enjoy together. We're excited about the adventures we'll have as a married couple!"
The Wedding Invitations Patricia Flach Loves
Much like her registry, Patricia tells us that her wedding vision artistically blends tradition and modernity. "I want our wedding to evoke a sense of sophistication and grace that transcends trends and feels as though it could have taken place in 2023 or 1953," she shares. "Our chosen church and venue are stunning on their own, so I want to enhance their natural beauty rather than overpower them with decor."
In order to pull off her aesthetic, she's setting the tone for her big day through intentional stationery selections. "I was immediately drawn to elegant and classic invitations," she says. "I want our wedding to be a timeless celebration of our love, and I believe that these designs will stand the test of time and never go out of style. They also convey a sense of sophistication and formality that complements the overall ambiance I want to experience on our special day. It's been so much fun putting together all the little details that will make our day truly unique and memorable." Here's a peek at four designs that stole her heart.
Timeless Floral Wedding Invitations
It's impossible to look at the Timeless Floral wedding invitation and *not* hear Bridgerton music in your head. This whimsical stationery design is incredibly apropos for a Southern soirée or a swanky garden party. We love the statement floral border circling the edge, which won't ever go out of style.
Wildflower Border Invitations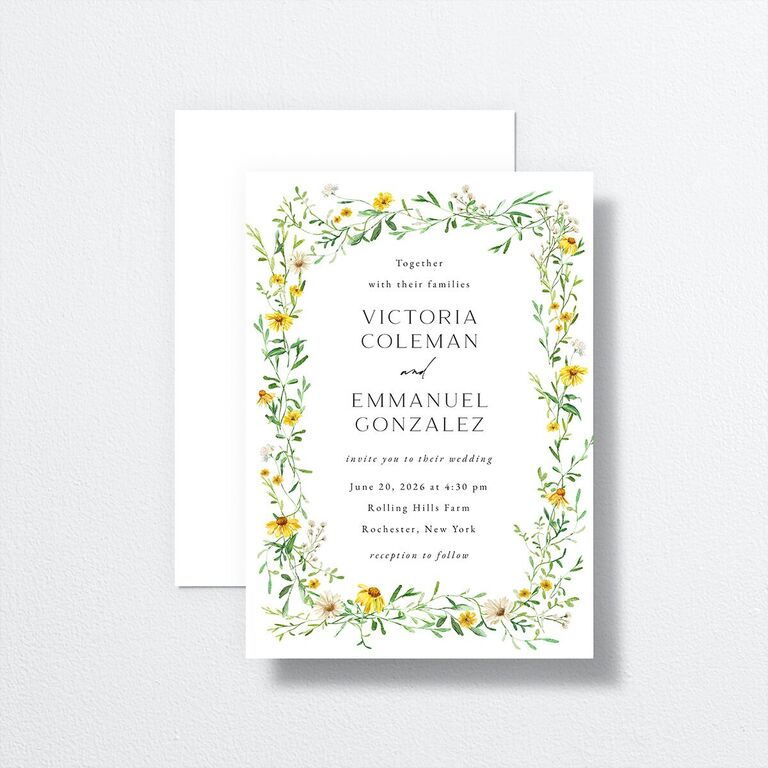 Don't these invites just scream Southern charm? We're obsessed with this colorful invitation set that's brimming with color. With a delicate border of woven wildflowers surrounding a timeless script font, this Wildflower Border stationery design is perfect for an outdoor spring or summer celebration.
Vintage Flourish Wedding Invitations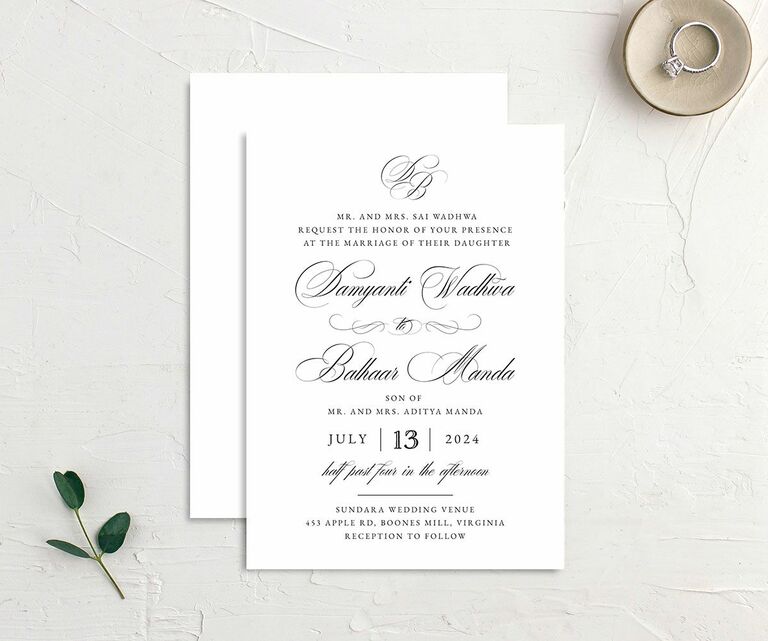 If you, like Patricia and Matt, want a wedding that'll stand the test of time, let us introduce you to the Vintage Flourish invitations. The timeless sweeping script will catch your guests' attention as soon as they open the envelope, ensuring they'll RSVP right away.
Modern Initials Wedding Invitations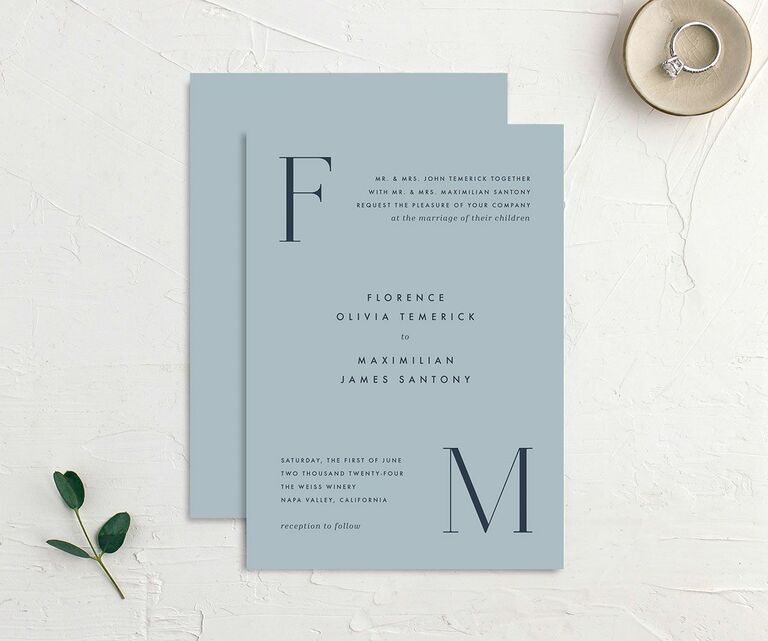 Effortlessly cool and sophisticated, you can't go wrong with these Modern Initials invitations. The sleek and simplistic font is commanding yet timeless, creating a design you'll love to look back on for years to come.