Wedding Shoe Shopping Advice from Designer Stuart Weitzman
​If anyone knows shoes, it's Stuart Weitzman. Iconic in the industry for his comfortable and fashionable footwear, Weitzman has been in the business of fabulous shoes his entire life. His father was a shoemaker and he started designing shoes when he was just 16 years-old—so needless to say, he knows his heels. We got the lucky chance to talk to Weitzman about what makes a wedding-worthy shoe.
by Amanda Elser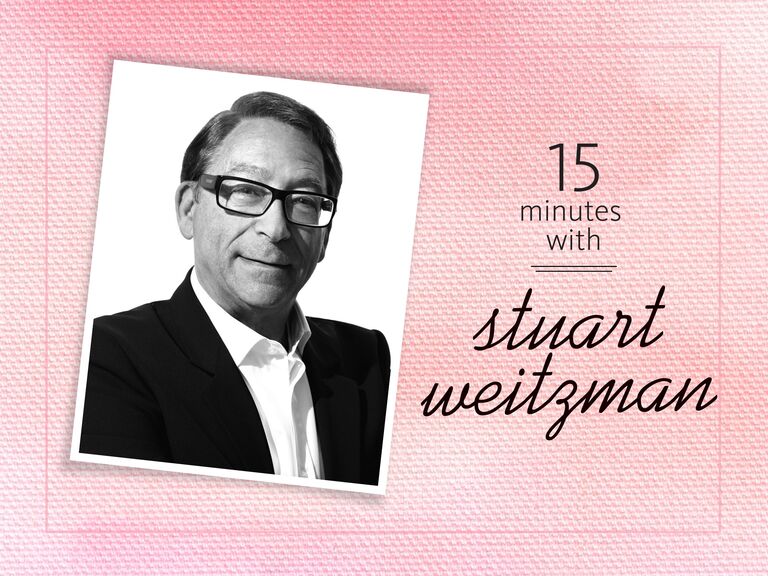 What is the most important thing brides should consider before buying her wedding day shoes?

"The element that you can't ignore and you have to pay immediate attention to is how they feel and if you can wear them all day. Because a pair of shoes that kills your feet changes everything about you—your posture, your face, you get angry—I mean nobody should be going through the most exciting day of their life wishing that they weren't wearing something that they are wearing."
"And then of course, once you know that you can wear it is does it excite you. I have to remind brides that the wedding shoe will be a memento that they keep for a lifetime. One of the reasons you ladies have more closets than we do is because we may hang onto a ticket on the opening day at Yankee's Stadium, but you're going to hang onto that pair of shoes that was worn on your wedding day, worn on your anniversary, or worn on your Sweet Sixteen. Because of that, you want it to be a fabulous pair that you will always look back on and remember how great the day was."

Is there really no such thing as breaking in a heel? Is that not something brides should consider?
"Never assume it is going to get better cause really when people say, 'oh it will stretch,' that is a misleading bit of information that is often passed along in stores. That shoe should fit and feel good the moment you put it on and there is no reason to sacrifice design and beauty to achieve that. Shoemakers generally know their trade well and with a little bit of search, maybe the first pair or the second or the third doesn't do that to you, but you can certainly find it."
What are some of your favorite bridal footwear trends?
"I love fashion shoes being worn by brides as opposed to traditional shoes. I don't think a girl should wear a bridal shoe, you want the shoe to look like who you are and your age. You're not a grandma, you're a young girl getting married having the biggest day of your life."
"We are finding that the fashion sandals of the season could be silver, could be gold—they're not white satin anymore like it used to be 40 years ago when my dad made bridal shoes. It's contemporary, and if my daughter was young enough to be getting married that's what she would be wearing."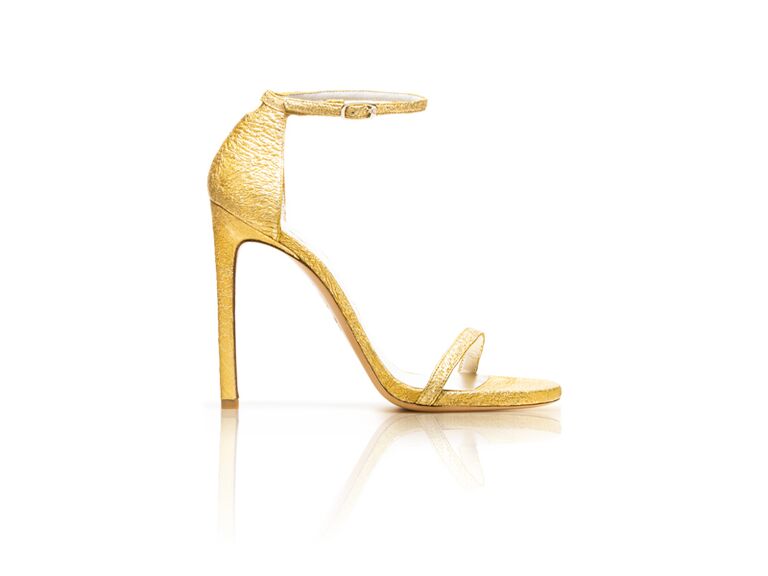 Nudist sandal, $398, StuartWeitzman.com
What should a bride consider when picking the right shoe style for her?
"I think she knows where to begin, she has been wearing cool shoes for years, maybe she doesn't know where to begin with the dress, but she does know about the shoes. She is going to have to do some searching because the store she is shopping at doesn't really carry bridal shoes; it is a small market in total, generally given to the products that you get the most out of. On the web you can find any brand's product and most of them will have wonderful looking bridal shoes that wouldn't be in a retail store that gives her a better opportunity."
"I say begin with your taste in footwear, have that in mind and then you start looking. Just assume it's another great event that you're going to, it's going to be adapted to the gown and the color that you're wearing, but it's probably going to be a shoe that you can wear throughout your whole life if you want."