Trendy Tenniscore Outfit Ideas for a Sporty Bach Party
You don't need to be swinging a racket to get in on the latest fashion trend.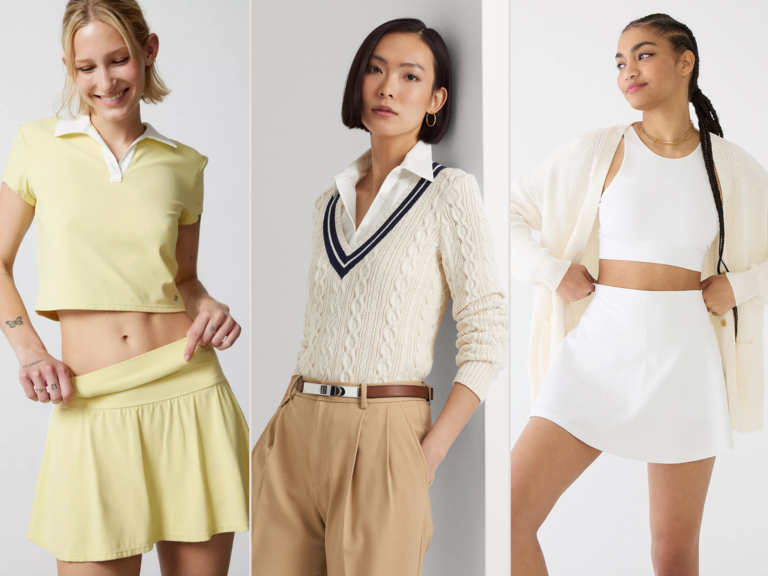 Photos, From Left to Right: Urban Outfitters, Ralph Lauren, J. Crew
We have included third party products to help you navigate and enjoy life's biggest moments. Purchases made through links on this page may earn us a commission.
Understated, elegant, but sporty, the tenniscore aesthetic is one to watch, and likely won't be going anywhere anytime soon. And thanks to a color palette that includes a lot of whites and ivories (as well as greens, yellows, and blacks), this trend is one that is perfect for a bachelorette party. You don't even have to be actually hitting the courts to pull it off. Tennis-inspired outfits, like cute tennis skirts and flirty tennis dresses, are ideal for a variety of different activities and events, and while white pieces are right for the bride, anyone can get in on this using other colors.
If you want to pull off the tenniscore trend, you'll need at least a few of the below pieces. Shop them now for a bachelorette party, pickleball date, or even honeymoon activities.
What Is the Tennis Aesthetic?
Tenniscore is exactly what it sounds like: clothes and accessories that are inspired by clothes traditionally worn when playing tennis. Think crisp white polos, flared skorts, preppy athletic dresses, and v-neck sweaters draped casually over your shoulders. The tennis aesthetic has become extremely popular on social media sites like Pinterest and TikTok, where any quick search for #tenniscore will quickly lead you to hundreds of thousands of outfit ideas and options. Inspired by the style of royal icons like Princess Diana and Kate Middleton, as well as old-school '70s and '80s tennis style, tenniscore has become even more relevant thanks to Wimbledon and country club scenes from shows like The Summer I Turned Pretty. It also plays into the quiet luxury trend that has taken hold, offering up an effortlessly sporty but chic vibe that everyone wants to embody.
Cute tennis outfits work with a wardrobe that is surprisingly simple and functional. Athletic dresses and skorts are versatile and comfortable, while options like preppy sweaters and logo sweatshirts take us into chillier weather. You can also have fun with accessories, like slouchy white socks, comfy sneakers, and some jewelry to elevate the overall look.
Tenniscore Outfits For the Bride
Whether you're having a tennis-themed bachelorette party or you just want to get in on this big trend, there are tons of options for the bride who wants an aesthetic tennis outfit. White is a huge part of tenniscore, so there's no shortage of dresses, shirts, skirts, and sweaters. Add some pops of color with navy blue stripes or green edging.
GapFit Power Polo Halter Dress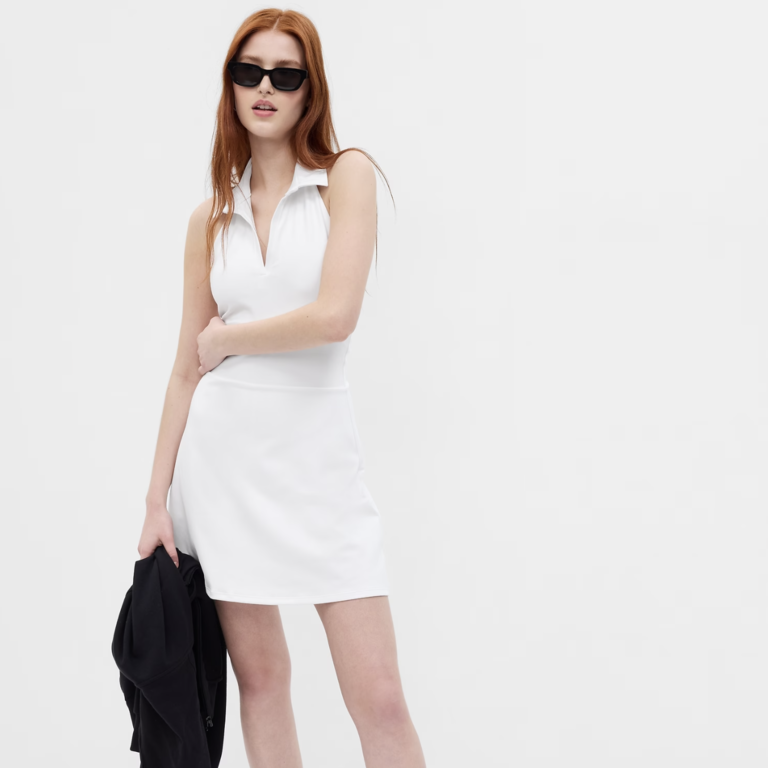 The exercise dress is one of the biggest trends out there lately, and this GapFit dress takes the look to another level with a halter neckline and polo collar. Made of stretchy, moisture-wicking jersey, this is the perfect dress for playing tennis or another sport, shopping, or taking in the sights and grabbing lunch with your friends.
Size Range: XXS-XXL
J.Crew CloudStretch Flared Sports Skirt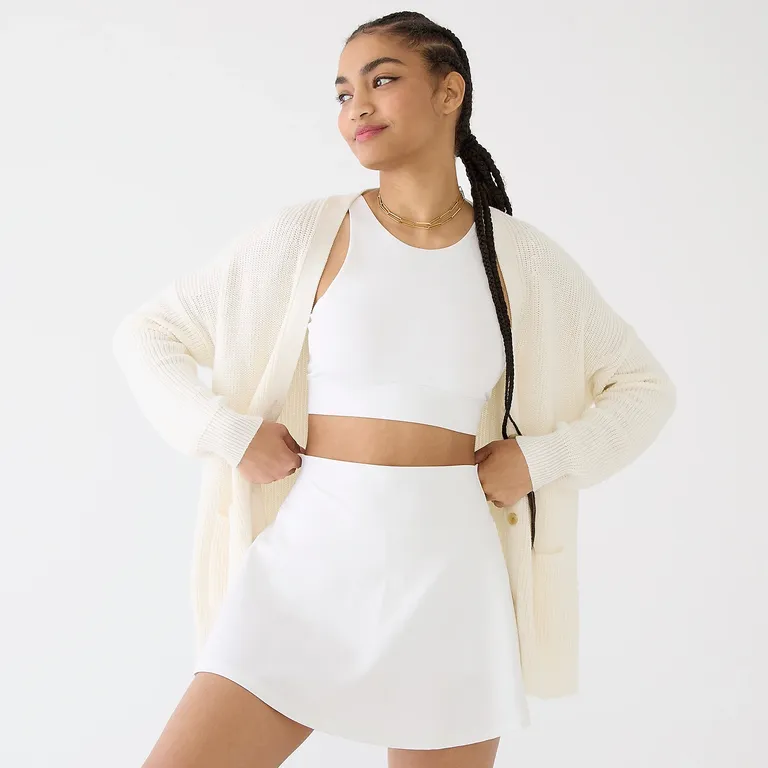 Made of a super soft and stretchy material, this active skirt is so versatile and will never feel limiting. We love the pleats and the flared fit. It would pair perfectly with a simple tank top or a striped polo shirt, and you can wear it with sneakers to stay as comfortable as possible.
Size Range: XXS-3X
Vineyard Vines Rope Intarsia Crewneck Sweater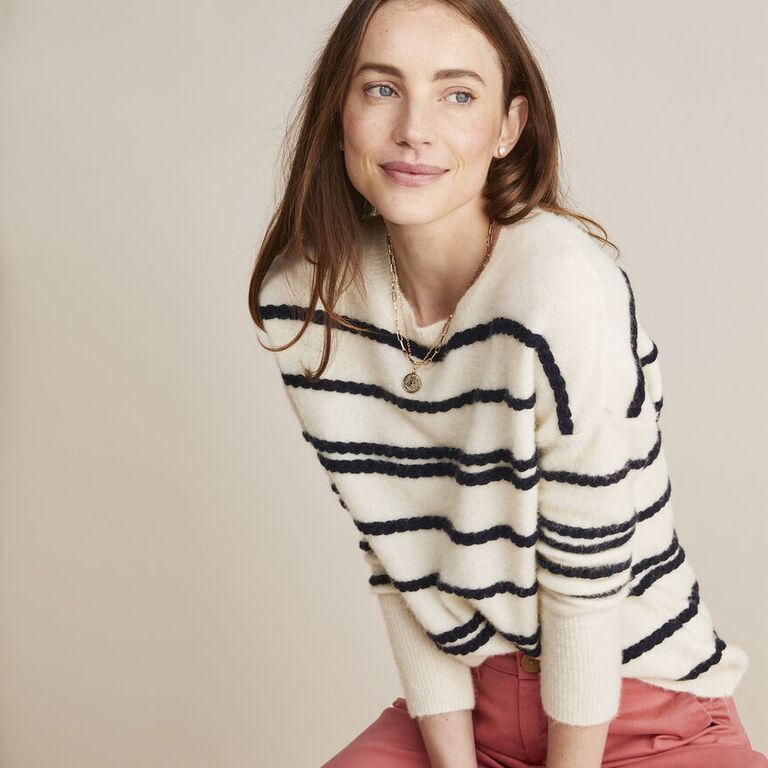 Throw this plush sweater on for a boat outing, a sunset beach dinner, or when doing some morning shopping. The navy stripes, which are meant to look like ropes, give it a very preppy vibe, and it could also play into other trends, like cottage core. We love the ribbed details at the hems and sleeves.
Size Range: XXS-XL
Recreational Habits Natasha Tennis Skirt with Piping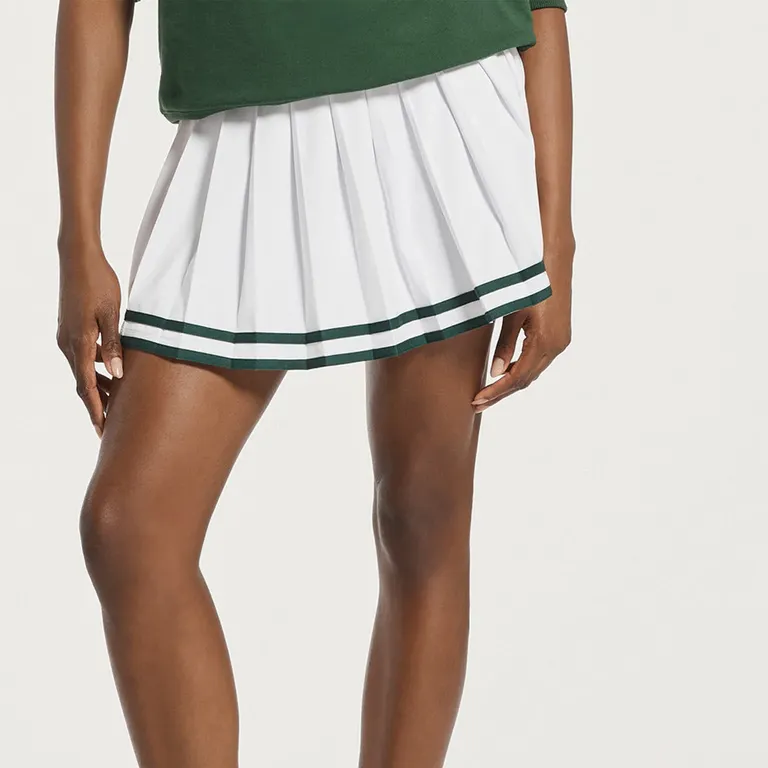 White and green together immediately evoke images of someone holding a tennis racket and heading for the courts. If you want some color with your all-white ensemble, this skirt offers pretty green piping that makes it stand out a bit. It's a true classic, with an elasticized waistband for extra comfort.
Size Range: XS-XL
Danzy x Revolve Tennis Half-Zip Crew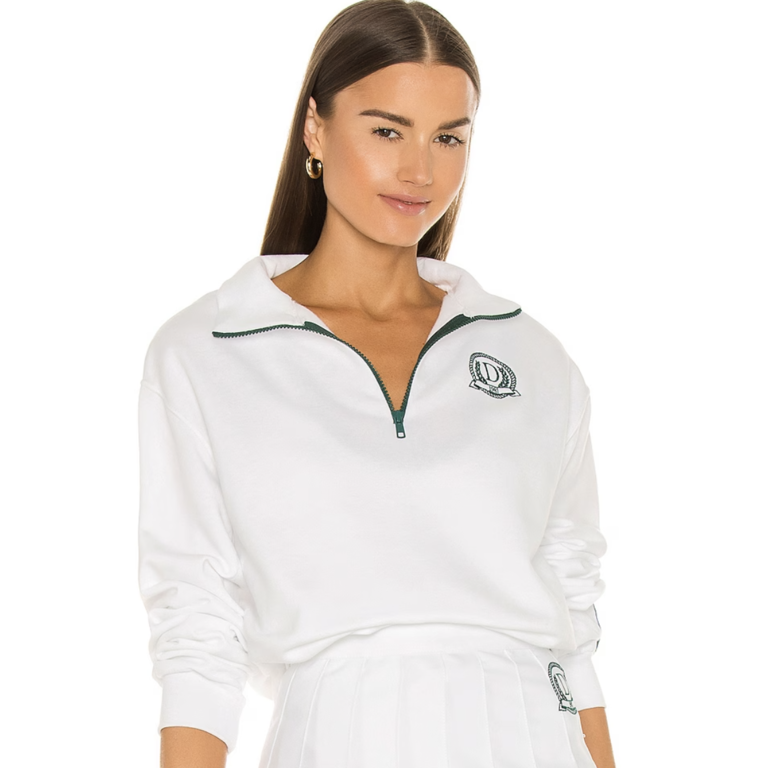 Another white and green option is this half-zip crew, which feels trendy but also classic at the same time. It's made of 100% cotton, so it's really breathable and is a great layering piece. The half-zipper is a nice touch, and it features a cute logo and sleeve detail.
Size Range: XS-XL
J.Crew Layered Mini Pearl Hoop Earrings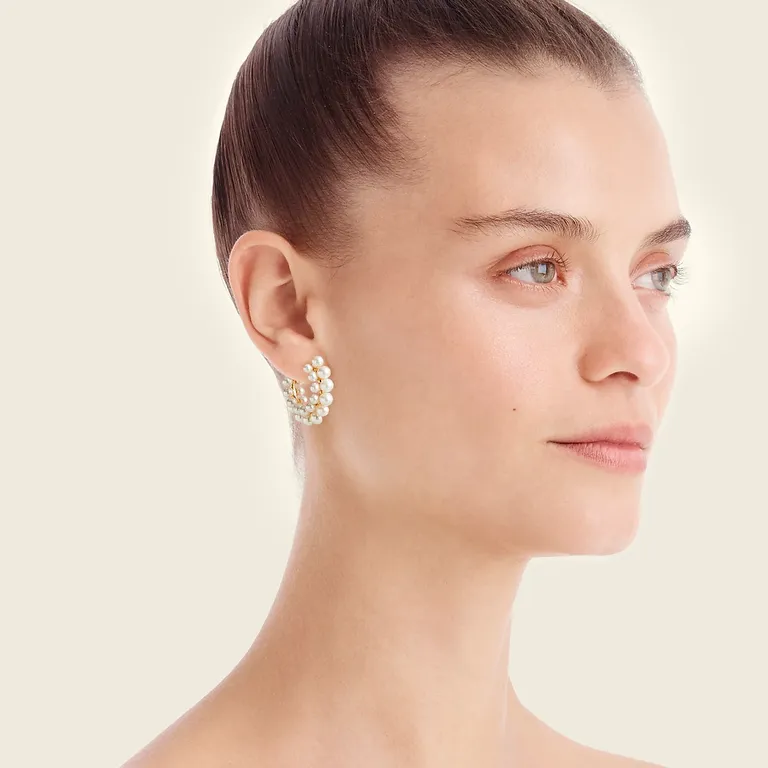 Tenniscore isn't only about the clothes: it's also about the accessories. To really pull off the tennis aesthetic, you'll want to find accessories that feel luxe and elevate your outfit. These mini pearl hoops are perfect for day or night, and the double strand makes them more unique.
Reebok Lifestyle Club C 85 Sneakers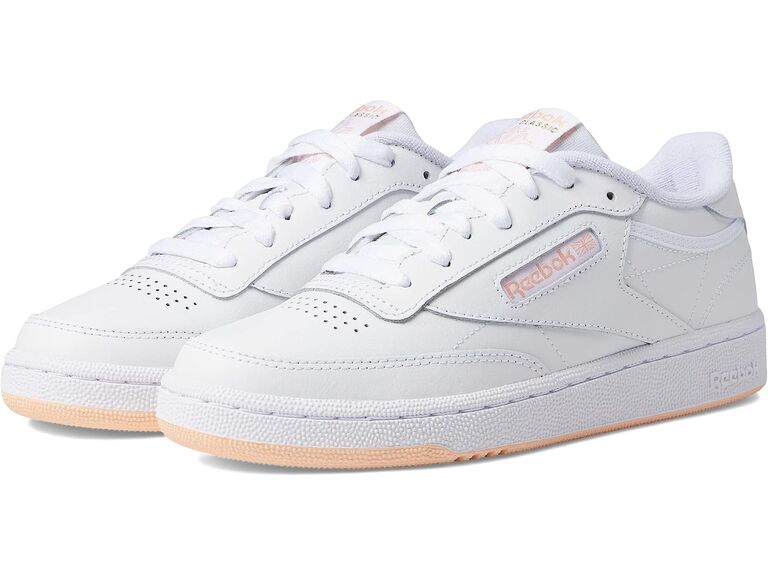 A pair of white sneakers is necessary for a cute tennis outfit. These Reebok sneakers have green touches on them that give them more of that tenniscore look. They're a comfortable choice for everyday activities, and because they're less of a gym shoe, they can work with a wide variety of outfits (even going out to a casual spot).
Size Range: 5 - 9.5
Ralph Lauren Cable-Knit Cricket Sweater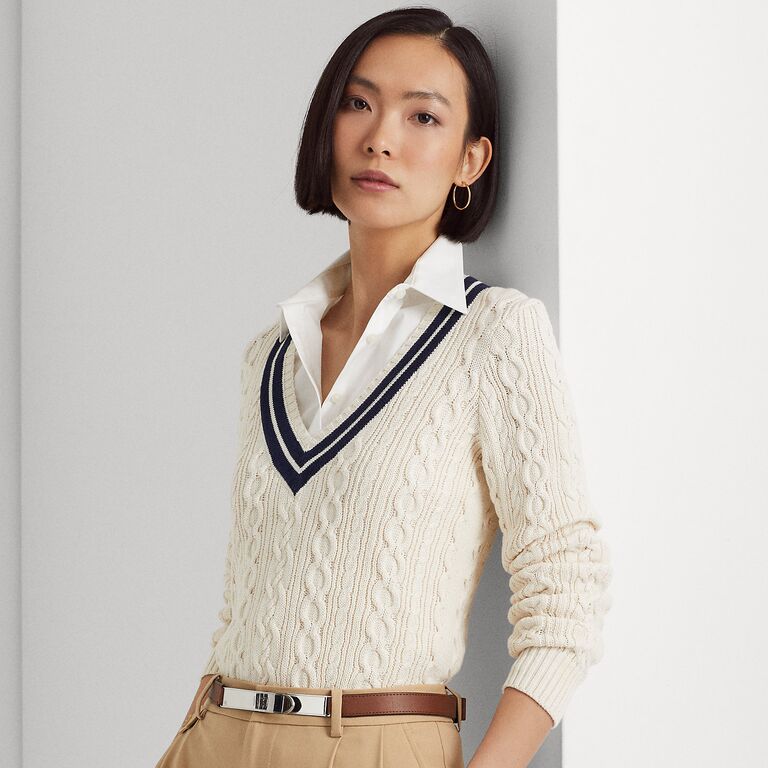 This iconic cricket sweater is inching into coastal grandma territory, but it works for tenniscore as well. This is a staple piece that has been with the brand for years, and it has and elegant look to it that works with jeans, a skirt, or shorts. Throw it over your shoulders when heading near the beach at night as a comfy layer.
Size Range: XXS-XXL
Halara Cloudful Fabric V-Neck Dress
This buttery soft fabric is ultra breathable, moves with you, and wicks away sweat, making it the perfect option for warmer climates or, you know, actually playing tennis. The v-neck and pleated skirt give it just the right amount of sporty and preppy vibes. You can layer with a sweatshirt too.
Size Range: XS-XL
Offline by Aerie Real Me Crossover Tennis Skort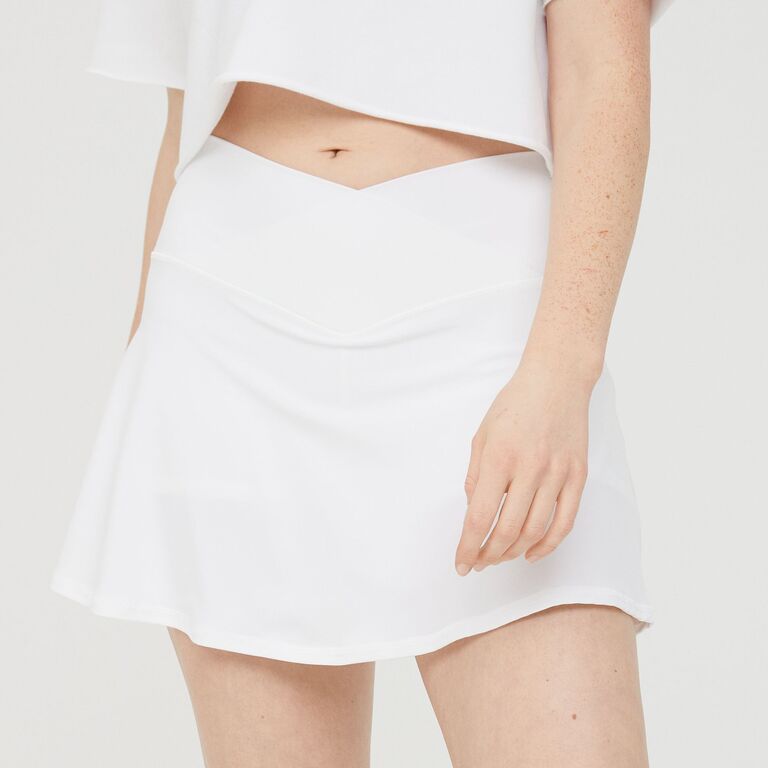 Want the look of a skirt but don't want to have to deal with wearing one? This tennis skort is perfect. The flouncy skirt hides the body-hugging shorts underneath, making this much easier to wear during a variety of different activities. The crossover waist is a comfortable feature that makes these look great on everyone.
Size Range: XXS-XXL
Alo Captivate Visor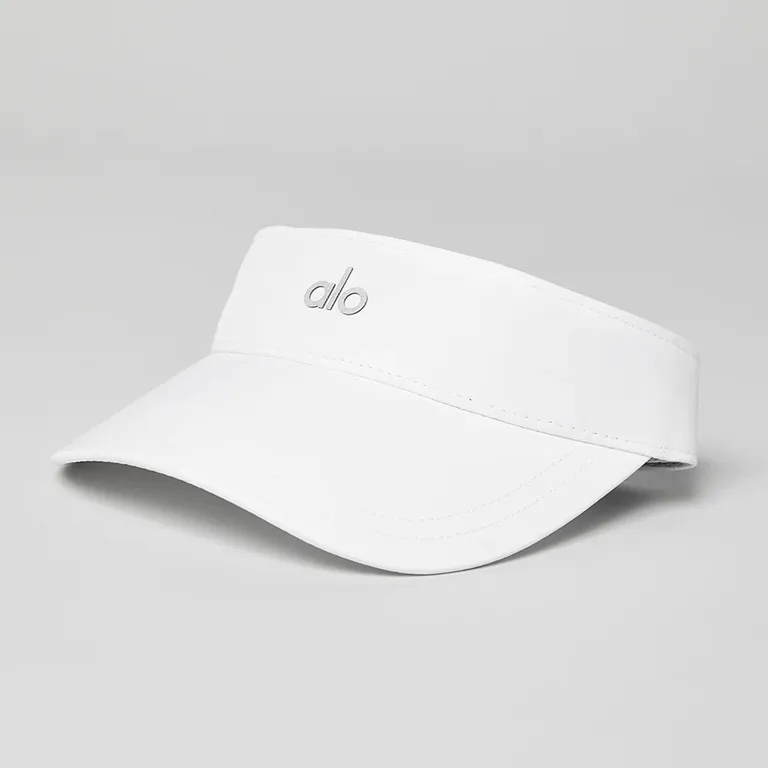 A hat or visor is necessary during a game of tennis or pickleball on a sunny day, but it's also necessary for a cute tennis outfit. Simple and straightforward, this will pair nicely with a tennis skort or exercise dress. We love the elastic in the back that gives this a more customized fitted feeling and makes it super simple to put on and take off.
Size Range: One size
Recreational Habits Interlock Cardigan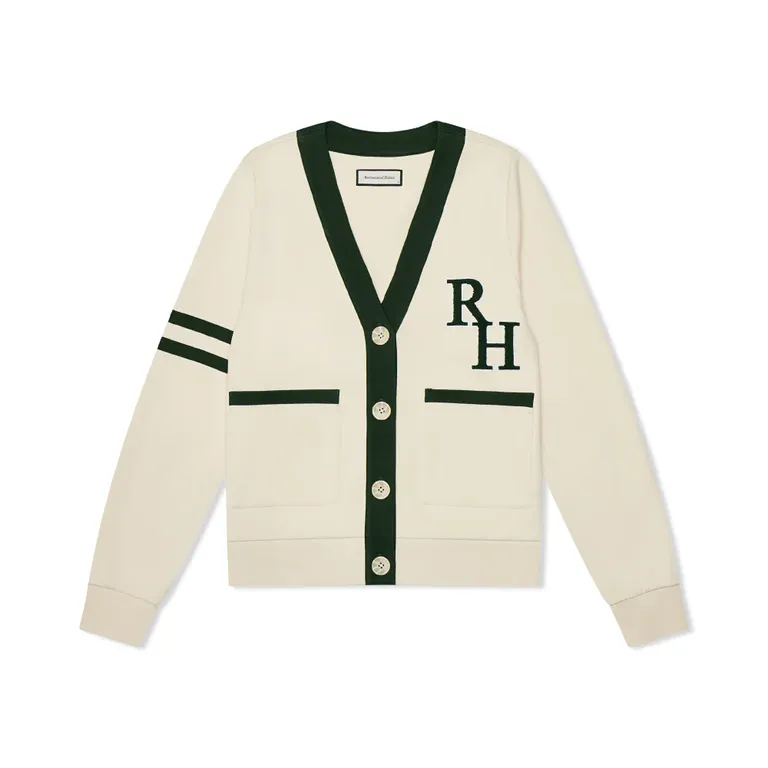 Not into pure white? This ivory and green cardigan still feels sufficiently bridal. With an overstuffed fit and soft material, this is the comfiest piece that you'll want to wear over everything. It's a great item to pack as a layer for a seaside bachelorette party or if you're going somewhere cold.
Size Range: XS-XL
Cute Tennis Outfits for Everyone
If you're attending a bachelorette party as a guest, you'll probably want to avoid wearing anything white. Although white is a pretty popular color for tennis outfits, you still have plenty of options. Look for shades like green and blue, or opt for something fun and bright. Brides who aren't into wearing all white can go for these choices as well.
Recreational Habits Cornell Crewneck with Badminton Graphic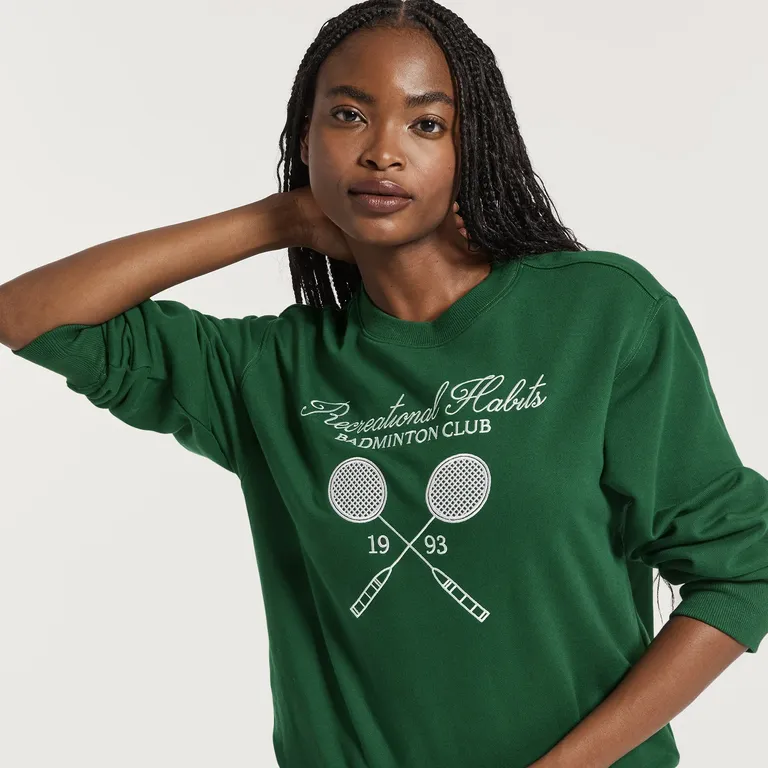 Okay, so this sweatshirt shows off badminton rackets and not tennis rackets, but it still counts. It's the perfect green tennis shade that is reminiscent of the court on a sunny day, and it's super soft, with a slight oversized fit that you want in a good sweatshirt. Wear this with a flared tennis skirt for the cutest outfit.
Size Range: XS-XL
Tuckernuck Navy 15 Inch Tennis Skirt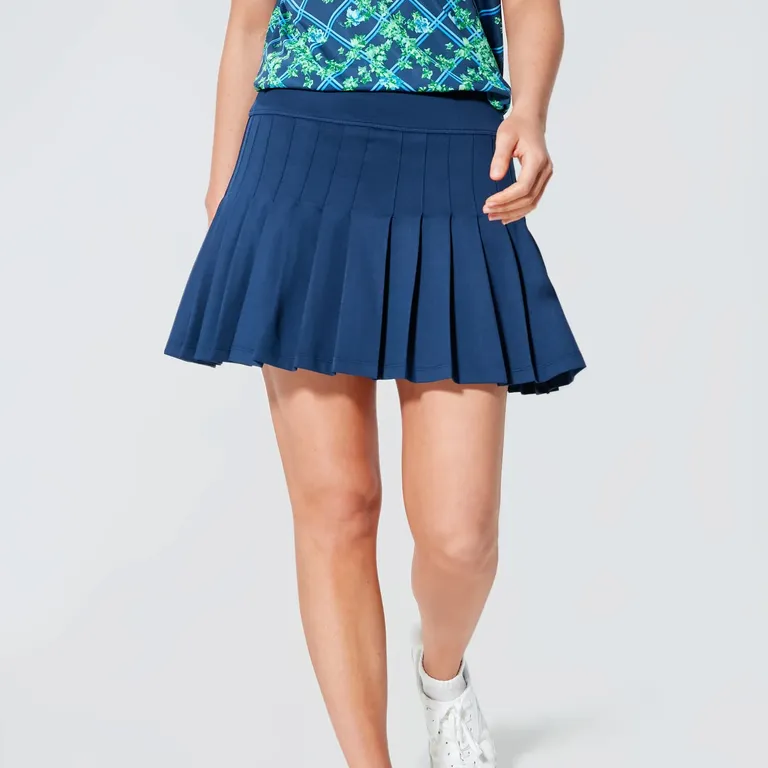 This navy tennis skirt has just the right preppy feel and is a little bit easier to wear than white (you don't have to worry about it staining as quickly). The pleats are so cute and the high-waisted fit keeps it functional. Paired with white sneakers, this can take you pretty much anywhere.
Size Range: XS-XXL
J.Crew Cashmere V-Neck Sweater Vest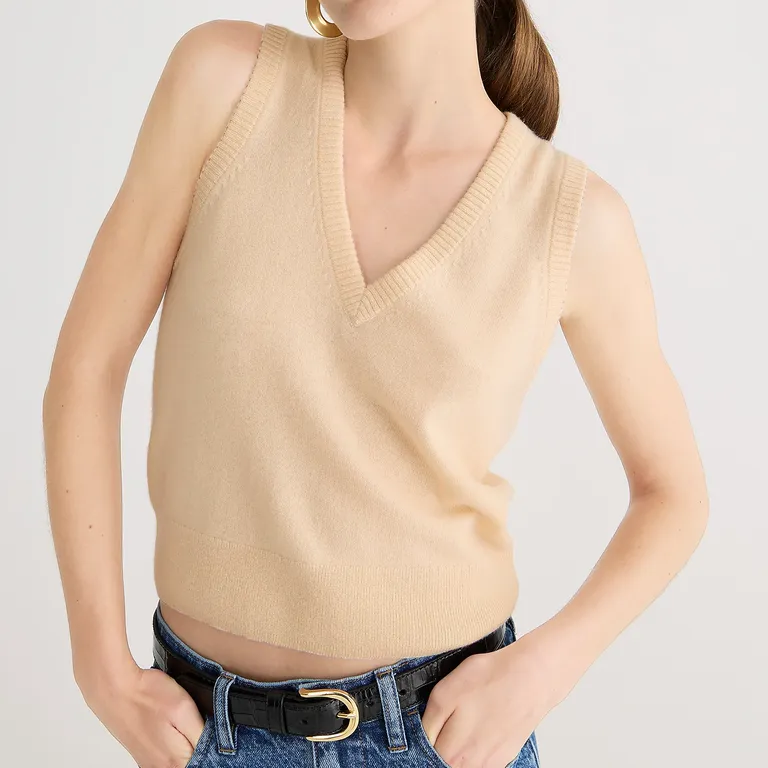 Nothing screams quiet luxury quite as well as a cashmere sweater vest does–or maybe it's just luxury. This one is soft and fitted, and can be worn as a layer over a button-up shirt or on its own as a cute tank top. It's a subtle way to get into the tenniscore trend without seeming too over-the-top.
Size Range: XXXS-3X
Rowing Blazers Terry Cloth Dress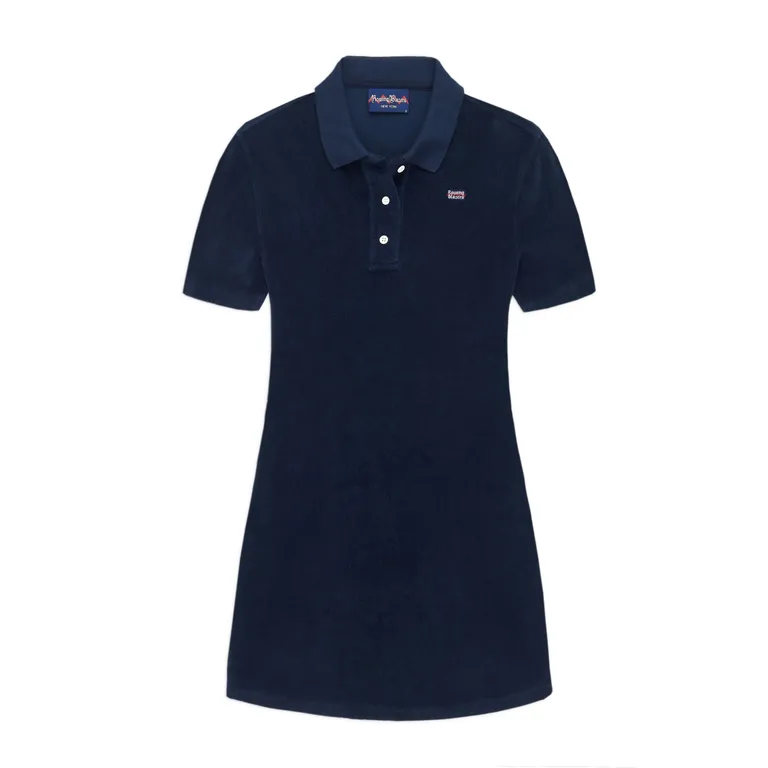 You can do the tennis aesthetic in a dress without the traditional stretchy exercise dress. This terry cloth dress has a polo collar and a cute logo on it that gives it a very preppy feel and makes it feel slightly less sporty than an exercise dress. It's cool and unique and would look so cute with a pair of white sneakers.
Size Range: XS-XXXL
Outdoor Voices FreeForm 3" Skort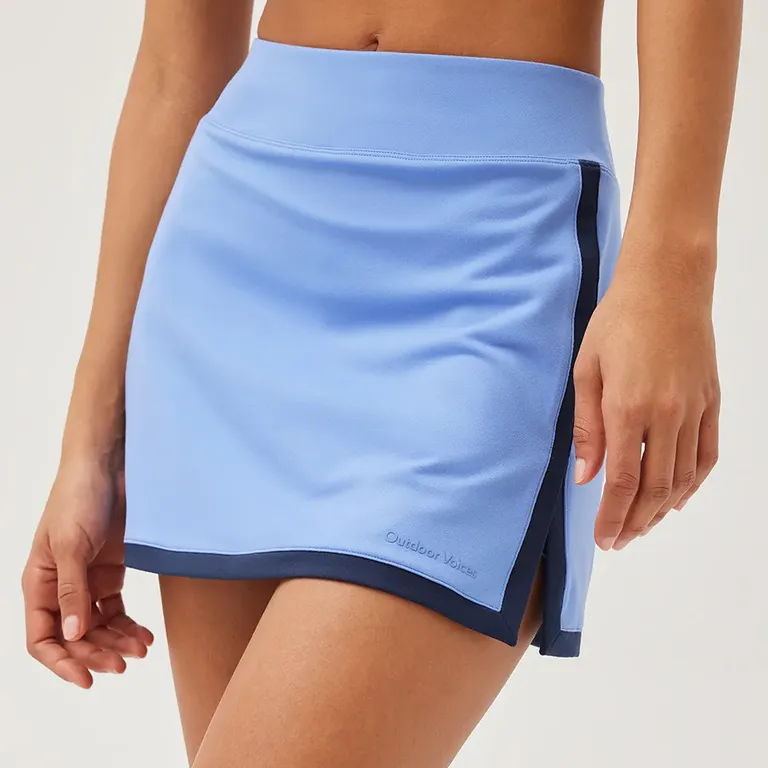 From the outside, this fitted skirt looks like, well, a skirt. But inside, it has comfy shorts that keep you covered up and make this much more functional and versatile. A little slit gives it a flirty look, and we really love the bold colors this one is available in. Wear it to the courts or out and about with friends, and you're guaranteed to get some stares.
Size Range: XXS-XXXL
Abercrombie & Fitch Vintage Tennis Sunday Crew
Soft and cozy, with a relaxed crewneck and slightly oversized feel, this is quickly going to become your new favorite sweater. It comes in green, white, or gray, and each colorway has a slightly different design on it. We love all of them and can't choose our favorite.
Size Range: XXS-XL
Urban Outfitters Snoopy Tennis Crew Socks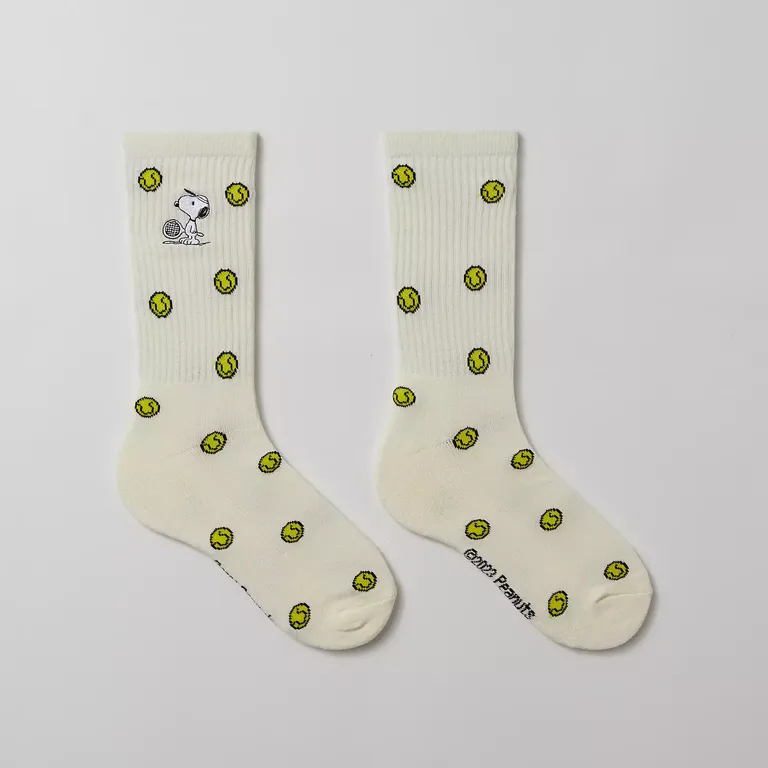 Take the tenniscore literally with these tennis ball adorned socks. They also feature tiny Snoopy images, making them even more adorable. With a crew length and ribbed ankle cuff, these were meant to be shown off on the courts (and beyond). They're fun and would look so great with an exercise dress or skort.
Size Range: One size
Splits59 Airweight Polo Cropped Top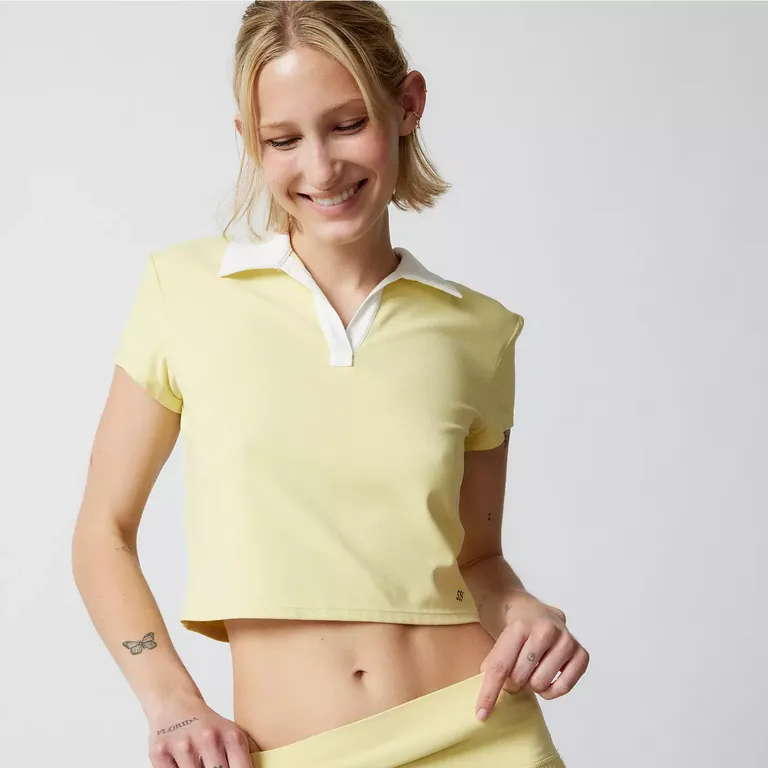 This adorable yellow polo top has a cropped fit and a contrasting collar that make it feel really unique. You can wear this with jeans or a white tennis skirt, but there's also a matching skirt that obviously looks perfect with it. This is a great casual top that can be worn to brunch and shopping.
Size Range: XS-XL
Kule The Over The Shoulder Tennis Tote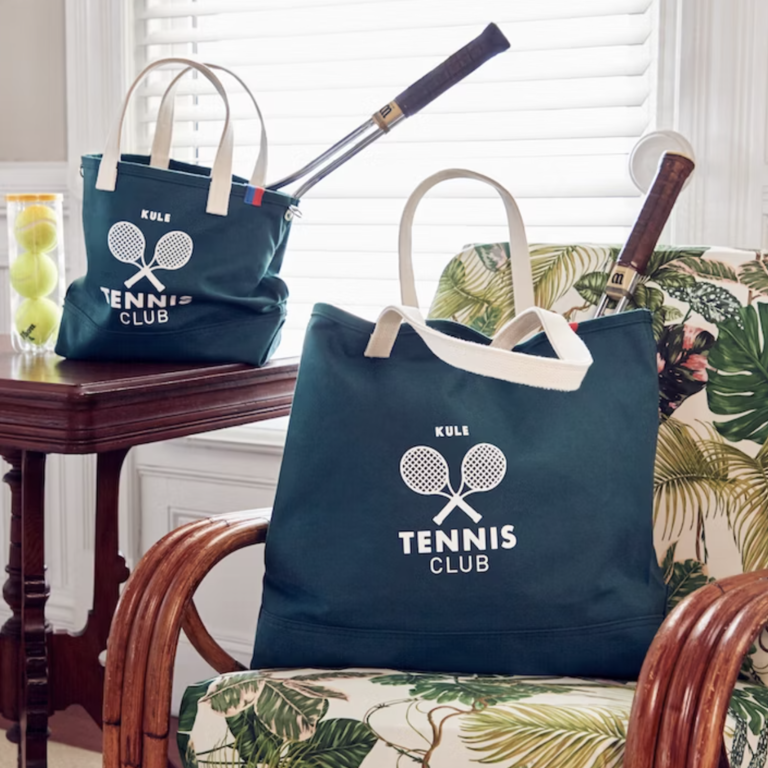 This tennis tote bag is large enough to fit tennis rackets, so it's great for taking to the court. But it can also double as a carry-on or personal item for a plane ride, with tons of space for extra clothes and all of the accessories. It's cute, simple, and looks perfect with a tennis skirt.
Ajoa by Nadri Sporty Spice Tennis Racket Necklace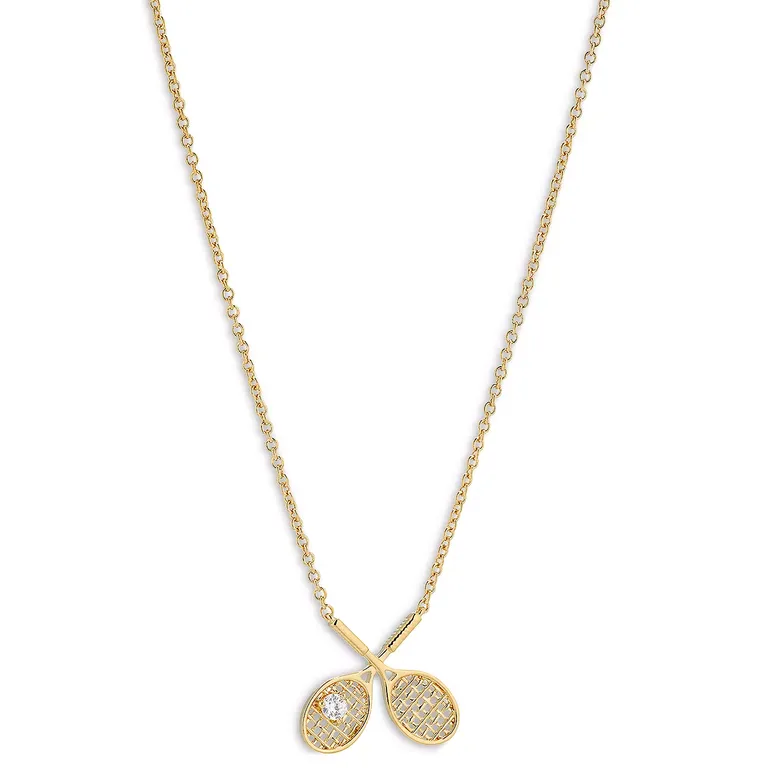 Made of 18K yellow gold, this cute necklace shows off two tiny tennis rackets. This is perfect for someone who actually loves playing tennis, but it also pairs well with all of the tennis aesthetic outfits out there. We love the delicate feel of the charm and how it adds some fun whimsy to your look.
Beach Riot Raelyn Dress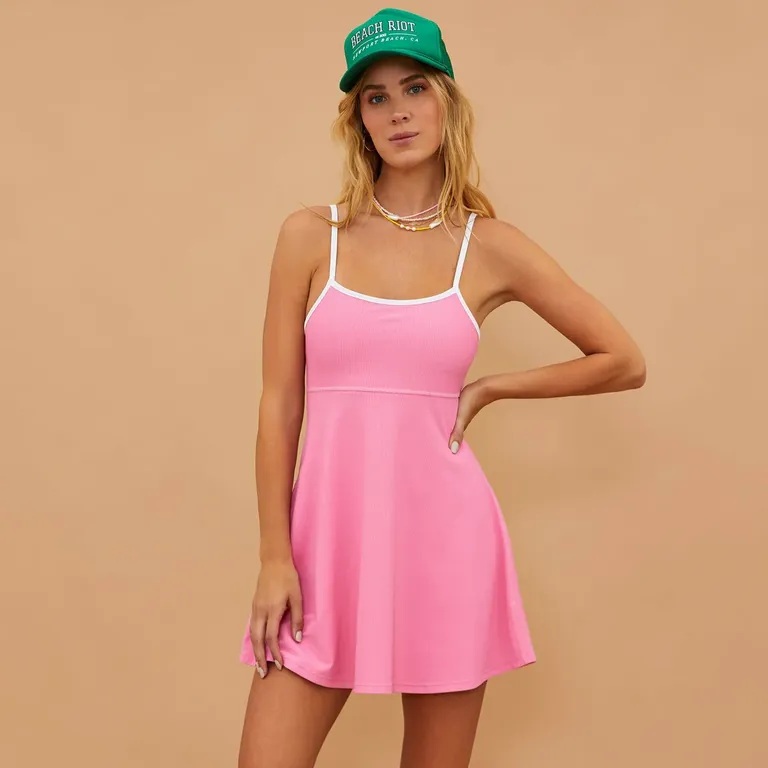 Okay, so bright pink may not be a traditional tennis color, but… it's the Barbie effect, okay? This active dress is adorable and comfy, with white edging that makes it really stand out even more. Built-in shorts make it even more functional and the stretchy material is perfect for getting active.
Size Range: XS-XL