The Knot 2017 Dream Wedding Couple Is Elena Delle Donne and Amanda Clifton!
Get excited for our favorite wedding of the year—The Knot Dream Wedding!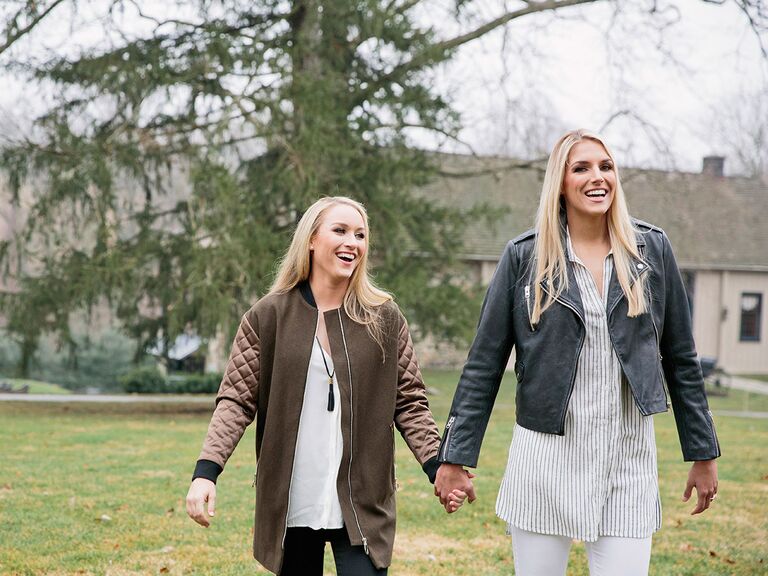 Hudson Nichols Photography
Every year, The Knot throws a seriously stunning wedding planned by top pros for a deserving couple—and this year, we're thrilled to announce that The Knot Dream Wedding couple for 2017 is Elena Delle Donne and Amanda Clifton. Elena is a WNBA basketball player for the Washington Mystics, was an Olympic gold medalist in 2016, and received the honors of WNBA MVP in 2015. Amanda is the director of the De11e Donne Academy. 
On the fifth anniversary of The Knot Dream Wedding, this year's June wedding will give back in more ways than one. Elena and Amanda are not only choosing to have a wedding to celebrate their love, but also to give back to others and the environment in a big way. In lieu of registering for gifts, the couple will create a charity registry on TheKnot.com allowing fans, family and friends to donate to the Elena Delle Donne Foundation, benefiting the special needs community and those suffering from Lyme Disease. Both causes are close to the couple, as Elena's sister Lizzie was born deaf, blind and with other disabilities, and Elena was diagnosed with Lyme Disease in 2008. 
Elena and Amanda's affinity for giving back will be brought to life throughout their entire wedding with the help of Brooklyn, New York–based renowned wedding planner and designer Jove Meyer. The wedding will be created with a highly reduced carbon footprint, making sustainable choices and keeping the environment in mind. All food and floral arrangements will be seasonal and locally sourced whenever possible, and following the festivities, extra food will be donated to homeless shelters and all flowers will be given to local hospitals and nursing homes for others to enjoy. 
"[Jove's] just so down to earth, and I think the most important thing is being able to talk to him like he's one of our friends, and he's exactly that," Amanda says of their wedding planner. "I love his style, and he's done quite a few same-sex weddings, so we're excited about that."
Elena and Amanda met four years ago after being set up by a mutual friend. Two dogs and three years later, they were both plotting proposals to one another: First, Amanda surprised Elena with an intimate Lake Michigan proposal where their Great Dane, Wrigley, was the star of the show, as Amanda asked Elena to marry her with a ring attached to his collar. A few weeks later, their other dog, Rasta, a black Labrador retriever, took the spotlight in Elena's proposal. Amanda walked into her and Elena's Chicago home to find that Elena had laid out an elaborate dinner of all their favorite meals from the places they'd lived on the rooftop of their condo. At the end of the meal, Elena brought Rasta out with a veil on, positioned next to a sign that read, "Marry me," and proposed to Amanda, ring in hand. Shortly before Elena's departure to compete in the Summer 2016 Olympic Games in Rio, the couple publicly confirmed their engagement.
After hearing the couple's story and their personal commitment to helping others, The Knot knew it wanted to give Elena and Amanda the wedding of their dreams. The couple's entire wedding—from flowers to the dresses and the cake—will all be taken care of, courtesy of The Knot.
"Working with The Knot is truly surreal," Elena says. "Amanda and I want nothing more than to bring our family and friends together and have the best time ever. Not only are we thrilled to be the first same-sex Dream Wedding couple of The Knot, we're excited to have a platform to raise money and awareness for causes we're truly passionate about."
Follow along with all of the exciting, dramatic and love-filled moments that come with preparing for a wedding on TheKnot.com/dreamwedding. Follow @TheKnot and #TheKnotDreamWedding on social media for real-time updates.