This Is the Most Popular Thing to Register for Right Now
The Knot 2017 Registry Study just dropped with the latest registry trends, including the rise of charity donations, cash gifts and registering on your phone.
by Maggie Seaver
Forget what you think you know about wedding registries. They're no longer just stuffy lists of things you're "supposed" to have when you get married. Instead, today's couples think of their registry as a version of their love story—a reflection of their unique relationship and the life they're about to begin together. And thanks to the arrival of modern gifting features (hello, Universal Registry) and a total etiquette refresh (yep, cash gifts are cool now), the process of giving and receiving wedding presents has become more versatile, personal and exciting than ever. After surveying more than 6,600 engaged and recently married couples for The Knot 2017 Registry Study, we've got the scoop on all things gifts—here are the top registry trends right now.
Traditional Registries Take the Cake
Setting up a wedding registry is still an essential part of getting married—nearly 9 in 10 couples in the US create a registry, with an average total value of $4,853 and an average of 125 items. Traditional gift registries remain the most popular, as 84 percent of couples choose to register at their favorite stores, including both go-to retailers, like Bed Bath & Beyond, Target and Amazon, as well as niche e-comm sites like Brooklinen and Society6. And by the way, the phrase "traditional registry" doesn't just refer to stand mixers and silverware anymore. One in five couples think outside the box to register for electronics such as smart home devices, robotic cleaners and wireless speakers.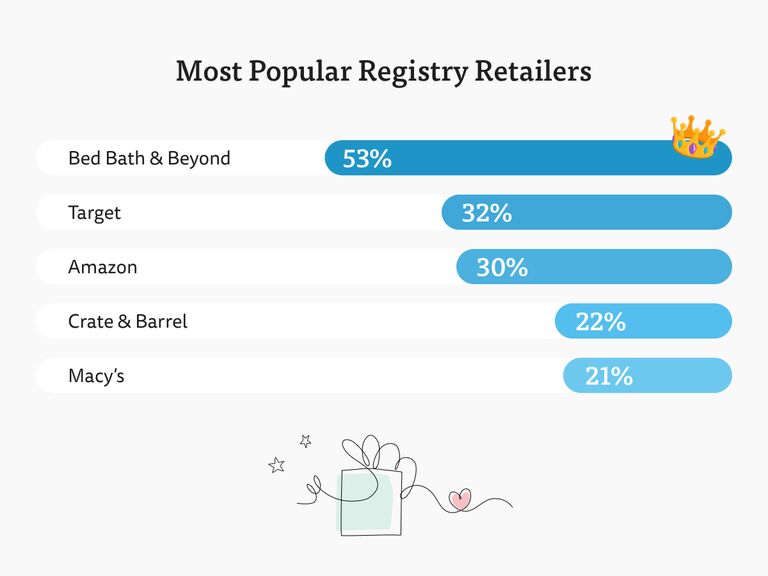 Giving Back Is Top of Mind
Going beyond physical gifts, charity registries have more than tripled in popularity since 2016. One in 10 couples now incorporate a charity component using programs like The Knot Gifts Back, which lets users leverage their registry to support a cause that hits home—at no extra cost to them or their guests. Couples raised an average of $338 in donations for their chosen philanthropies in 2017, including St. Jude Children's Research Hospital, Humane Society of the United States and the American Cancer Society.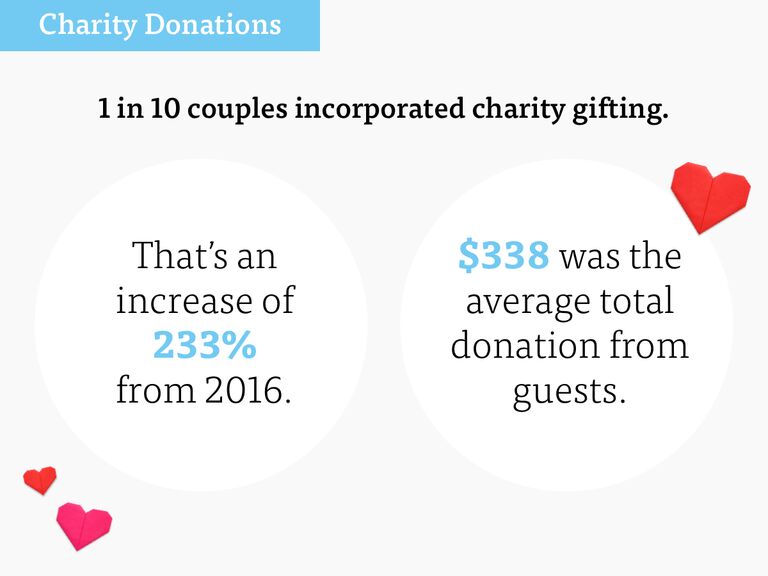 It's All About the Honeymoon Fund
To-be-weds are also crazy for cash registries, which saw a 50 percent rise in popularity since in 2017. (And not to toot our own horn or anything, but 40 percent of couples who asked for monetary gifts chose The Knot Newlywed Fund as their number one). But we're not surprised it's so popular—it's all about registering for exactly what suits your style and life stage, and not everyone wants or needs a new set of china, guest room linens or serving trays. The beauty of a cash registry is how easily guests can now contribute to their loved ones' life milestones (like IVF treatments or home renovations), one-of-a-kind experiences (safari honeymoon anyone?) or simply offbeat gift requests they can't get anywhere else (one couple dedicated theirs to funding a lifetime supply of their favorite hot sauce—seriously). The most popular things to register for are honeymoon costs (49 percent), a home down payment (27 percent), wedding expenses (25 percent) and pricey appliances (15 percent).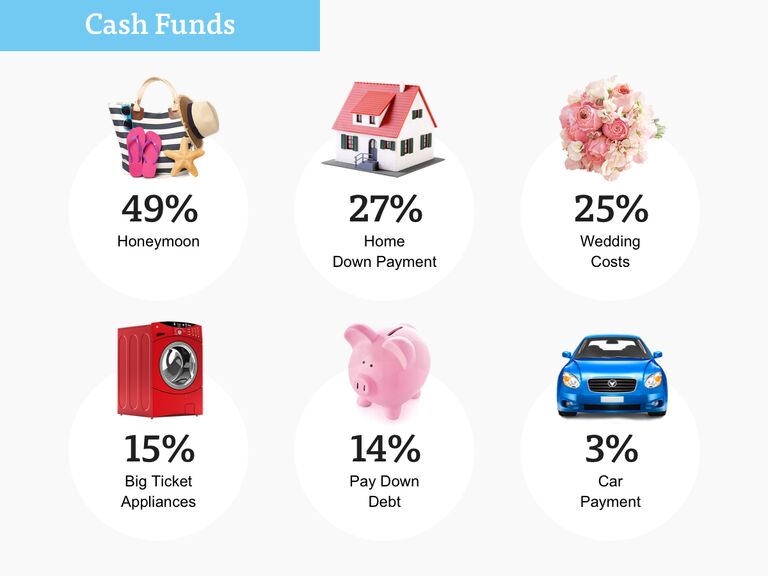 Handling Everything on Your Phone Is the Norm
With mobile apps like The Knot Wedding planner, you can now carry your wedding registry with you in your pocket. And for most couples, the ability to handle everything right on their phone is the deciding factor when choosing a primary registry. Seventy percent of to-be-weds rely on their smartphones to track and manage their gifts—about half of them (49 percent) even went so far as to say digital and mobile access to their registry is "the best thing ever." And to spread the word, 85 percent choose to share registry information with their nearest and dearest on a custom wedding website.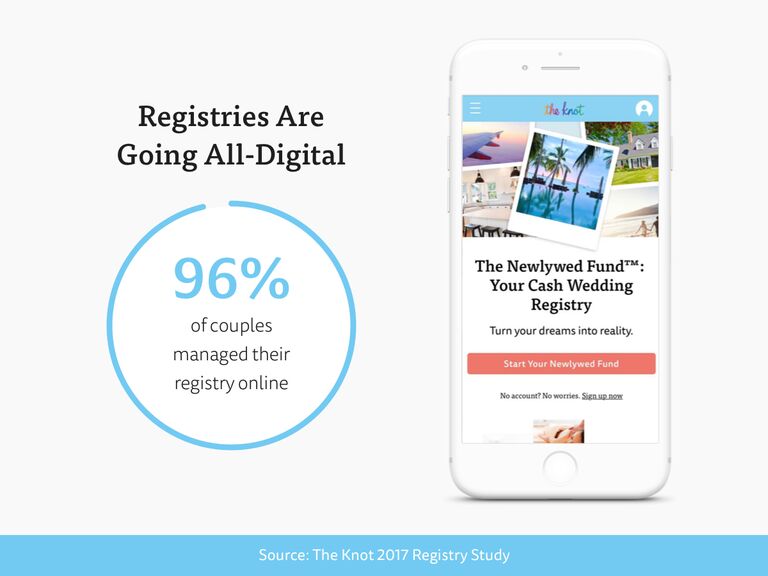 The Possibilities Are Endless 
Your wedding registry is like your fingerprint—one of a kind—and today's couples recognize and celebrate that more than ever. They crave a truly customized registry to help them kick off newlywed life right, whatever that means to them, so why should they be limited to shopping at only certain retailers? With tools like The Knot Universal Registry on the rise, couples can add one-off gifts from anywhere online to one fully aggregated wedding registry that's super easy for guests to find. Genius, right?
Start your wedding your wedding registry on The Knot right here!