These 20 Valentine's Day Wedding Invitations Make Our Hearts Soar
It's all about red roses, rose-gold foil and pretty pink palettes for V-Day nuptials.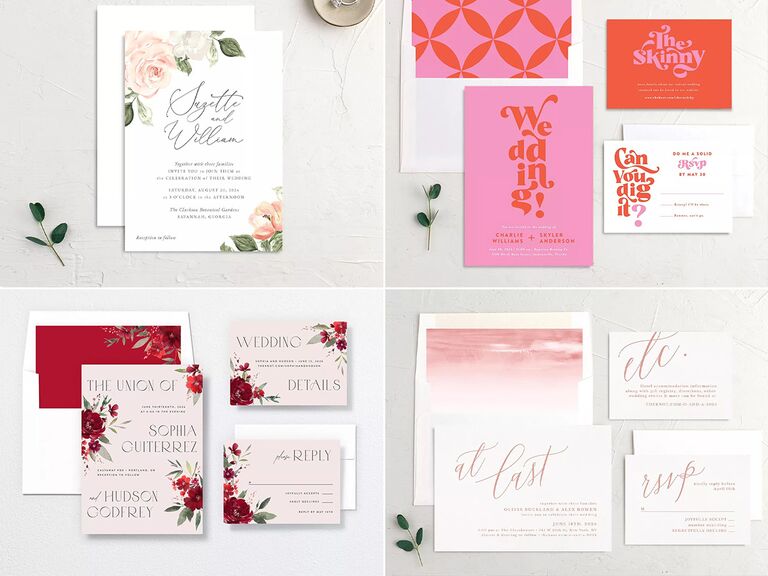 We have included third party products to help you navigate and enjoy life's biggest moments. Purchases made through links on this page may earn us a commission.
https://www.theknot.com/paper/...Valentine's Day-themed wedding invitations are a great way to celebrate a month all about love, so even if you're not planning a mid-week wedding on February 14 (you totally can if you have your heart set on Cupid witnessing you say "I do"), you can feel free to embrace all things amore. That means invitations adorned with romantic roses, rich red and blush-pink tones, soft florals and other opulent Rococo-inspired details that bring valentines to mind. We're talking serious love letter vibes here.
We're big on love here at The Knot, if you haven't noticed *wink wink*, so you won't have any trouble finding V-Day-worthy wedding invitations from our own stationery shop. For those designs and more, browse our ready-to-shop list of invites kissed with festive Valentine's Day touches.
1. The Knot Beloved Union Wedding Invitations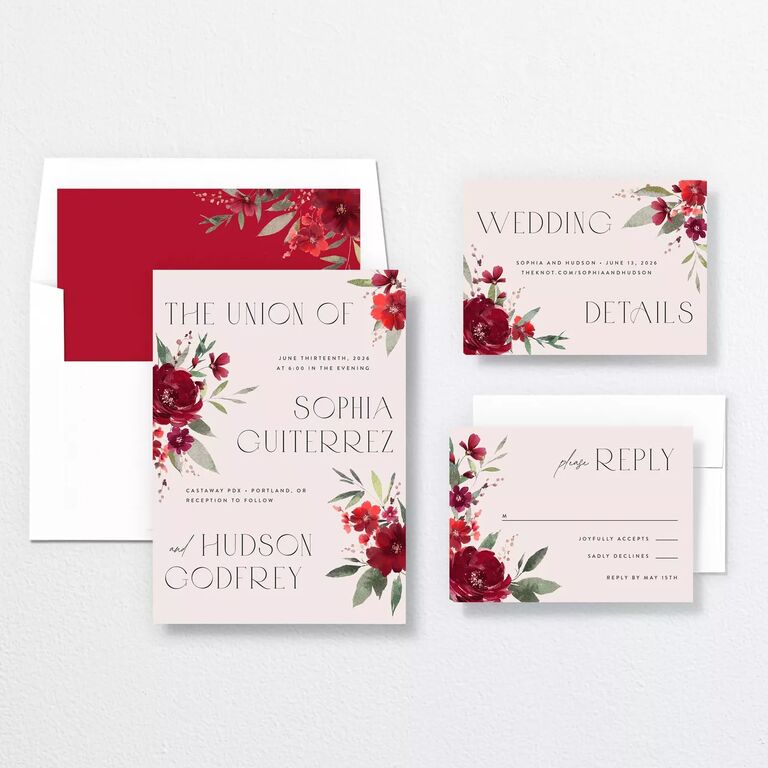 Nothing says Valentine's Day like a smattering of sweet florals. Opened blooms adorn this invitation at its edges for a soft and romantic feel, while your wedding day details are presented with crisp, clear text. Opt for the red colorway, which showcases burgundy flowers against a blush background, to be perfectly on theme. And don't forget the matching details and response cards.
2. The Knot Romantic Garden Wedding Invitations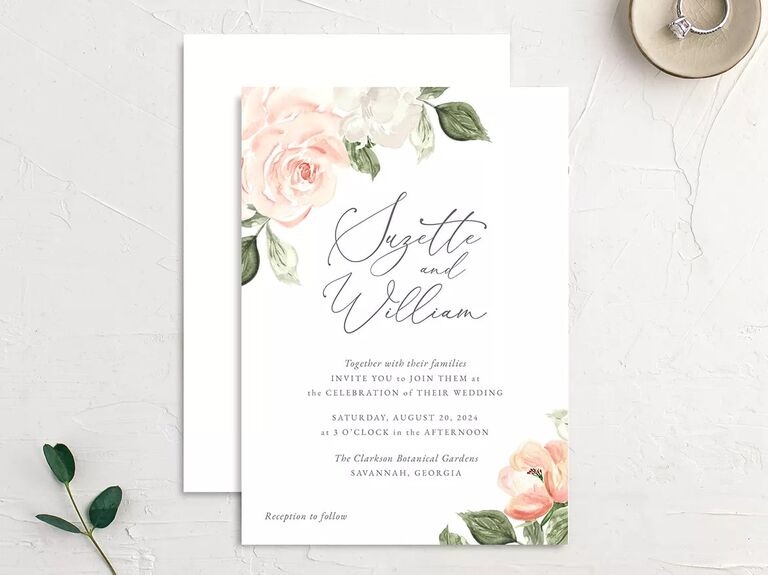 We can't help but think of a stunning Valentine's Day rose bouquet when we look at this softly romantic wedding invitation. It features a frame of elegant garden illustrations—in-bloom flowers and lush greenery—and your names in wistful calligraphy font. For timing around Valentine's Day, go with red or pink petals. They're so realistic, you can almost smell their fragrance as you open up the envelope.
3. The Knot Vintage Nouveau Wedding invitations
Vintage love is at the fore in this Art Nouveau floral invite, which features the dreamiest climbing vine pattern. They'd be lovely for V-Day nuptials in a historic venue, or one with a little French flair. (Doesn't the design just scream Parisian romance?) Choose between the rosy pink or sultry burgundy colorways depending on the overall feel of your affair.
4. The Knot Vibrant Gradient Wedding Invitations
Valentine's Day has a rep for being a pretty frilly holiday, but if your wedding style is more modern, then feel free to forego the lace and hearts on your big day. These invites offer the slightest nod to romance with the punchy pink-to-purple ombre text, while the rest of the card stays on the simple side—because your nuptials need no extra fanfare by way of invitation decoration. They're enough of a reason to celebrate!
5. The Knot Love Out Loud Wedding Invitations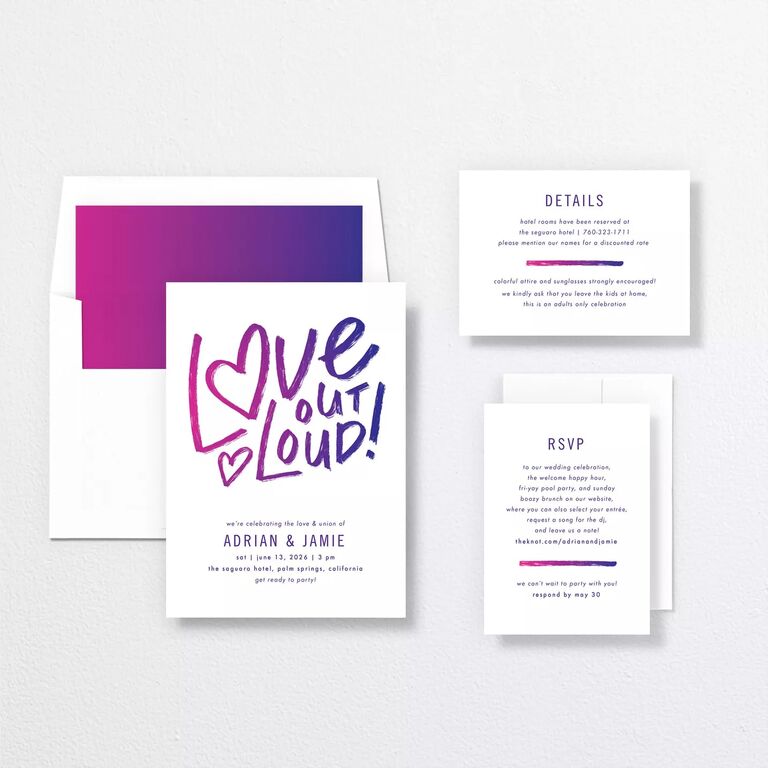 A love like yours deserves to be celebrated and this bold invitation suite makes that clear. The chunky font coupled with the sweet drawn hearts remind us of quickly composed love notes and Valentine's Day cards. The pink and purple colorway is fitting for V-Day nuptials, but the rainbow theme is another beautiful option to let your love shine!
6. The Knot Floral Canopy Wedding Invitations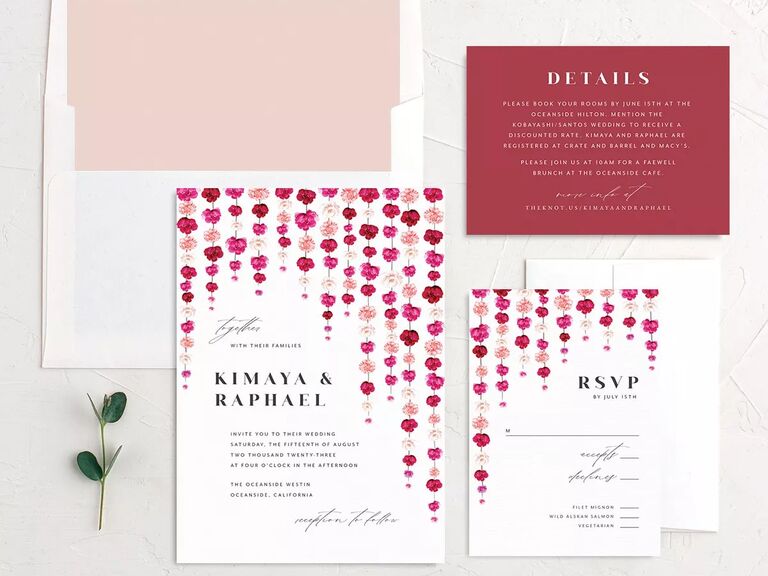 Are you having a loft wedding where strands of cascading blooms will hang from the ceiling to add romance to the room? You'll be tickled pink by this invitation suite, which mirrors that stunning design element. Not only is the pink, red, peach and ivory palette completely Cupid-approved for the celebration, but so is the interplay of delicate sans-serif and elegant script fonts.
7. Jessica Corliss Little Party Big Love All-in-One Wedding Invitations
Sure, Valentine's Day is synonymous with red and pink, but feel free to not go super on-the-nose with the color scheme. We love this forest green and blush pink colorway, which gives that Valentine's touch, but also incorporates a hint of winter color. It folds up like an old-school V-Day card, too. We're also majorly crushing on the wording: "Join us for a little party to celebrate a lot of love."
8. The Knot Retro Shapes Wedding Invitations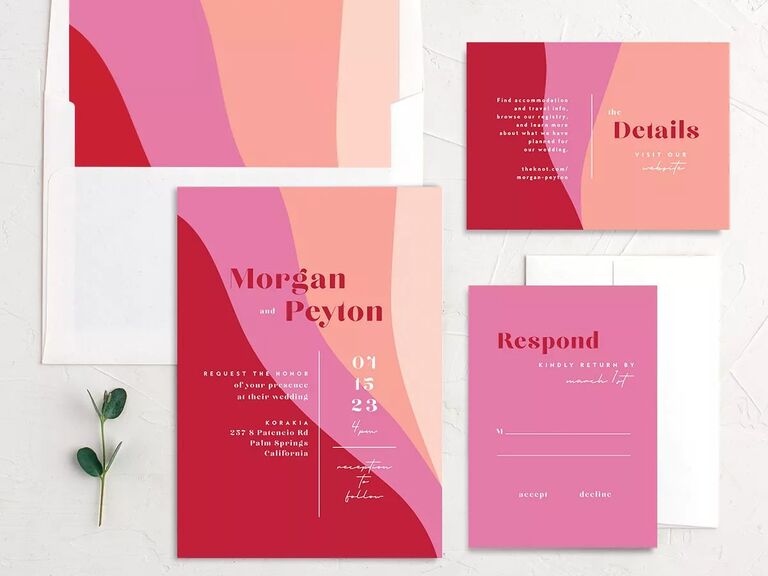 This invitation is making us blush. With swooping retro shapes and punchy typography, this is the perfect vintage-y take on a Valentine's Day card. The curved lines and peachy-rouge hues evoke romance, but it's not as obvious as floral motifs. We adore these for a '60s or '70s-inspired soiree.
9. The Knot Written In the Stars Wedding Invitations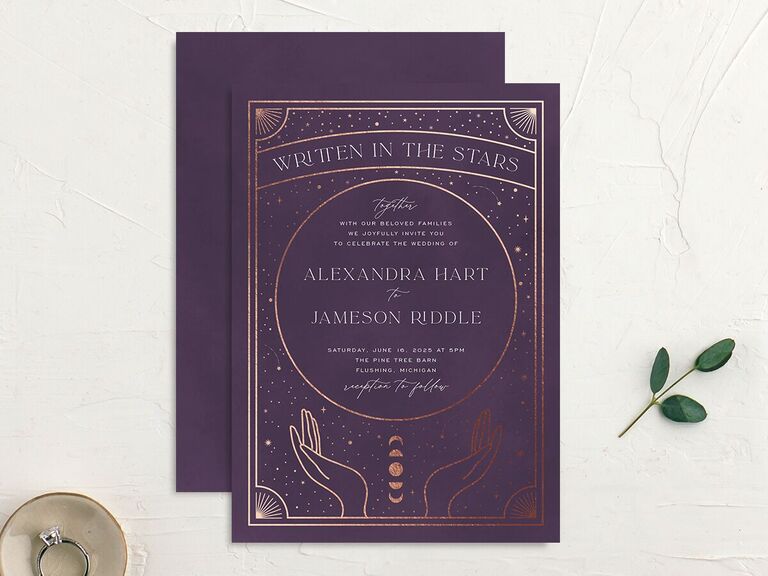 Everyone has a friend or family member who notoriously balks at Valentine's Day as a day that takes aim (and not in a good way, Cupid) at their singleness. But we think you can flip the script for all of your waiting-for-love guests. These fortune teller-inspired invitations feature shimmering foil stars and phases of the moon around the words ''written in the stars.'' It certainly speaks to your soulmate connection, and brings that extra dose of romance (and a touch of mystical magic) to your big day that's perfect for Valentine's. And after witnessing your one-of-a-kind romance, your single guests might predict they'll find love in the near future. (Even more Valentine's Day wedding bells?)
10. Little Bridge Design Shape Shift Range Red and Pink Wedding Invitations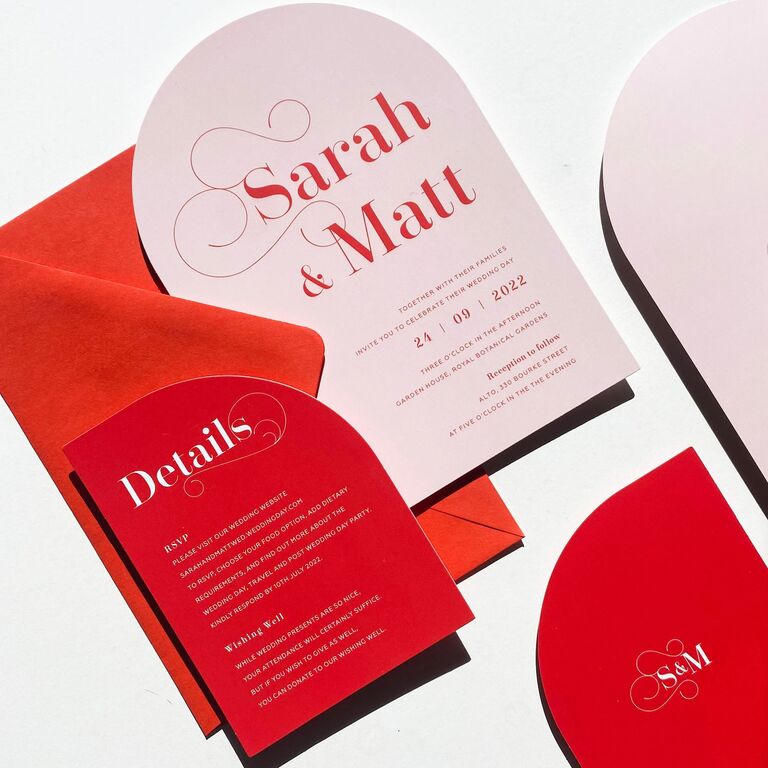 Since it's Valentine's Day, you've got permission to get a little flirty. Make your move with these modern and clean invitations featuring an arched cut. You can also request extra embellishments like half-arch enclosure cards, wax seals, envelope liners, belly bands and vellums to bring even more sass to the mix.
11. The Knot Gothic Gate Wedding Invitations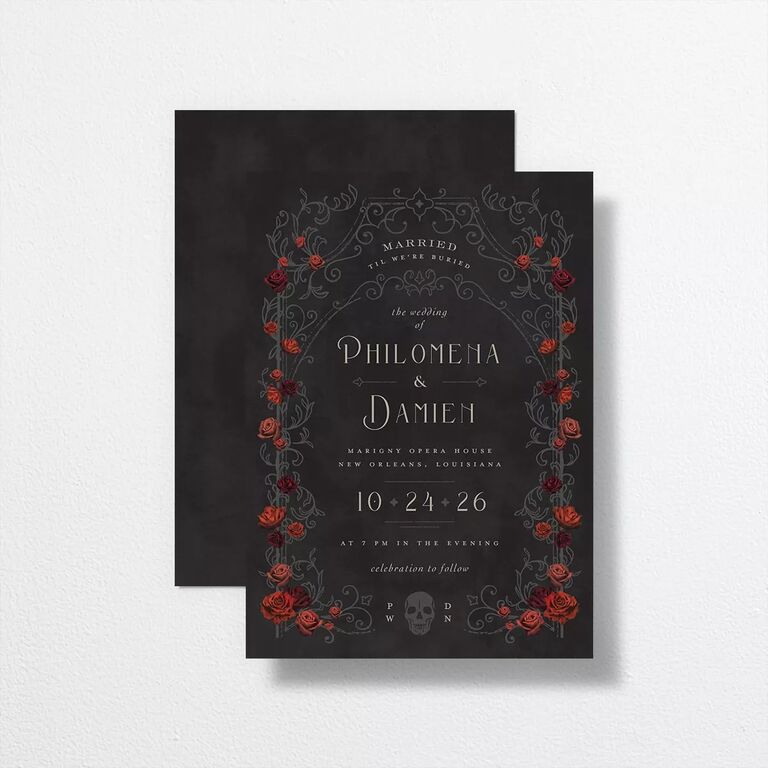 Maybe your Valentine's Day wedding errs on the edgy side, possibly set in a steampunk-esque mansion in New Orleans or a haunted hotel in Hollywood. This spooky-pretty invite perfectly captures those "till death do us part" vibes. Adorned with the ornate details of a gothic gate, your name and details are emblazoned on this wedding invitation card in dramatic script accented by flushed red roses. The eerie, yet poetic message ''married till we're buried'' curves along the top, perfectly balanced by a striking skull nestled at the bottom.
12. The Knot Romantic Rococo Wedding Invitations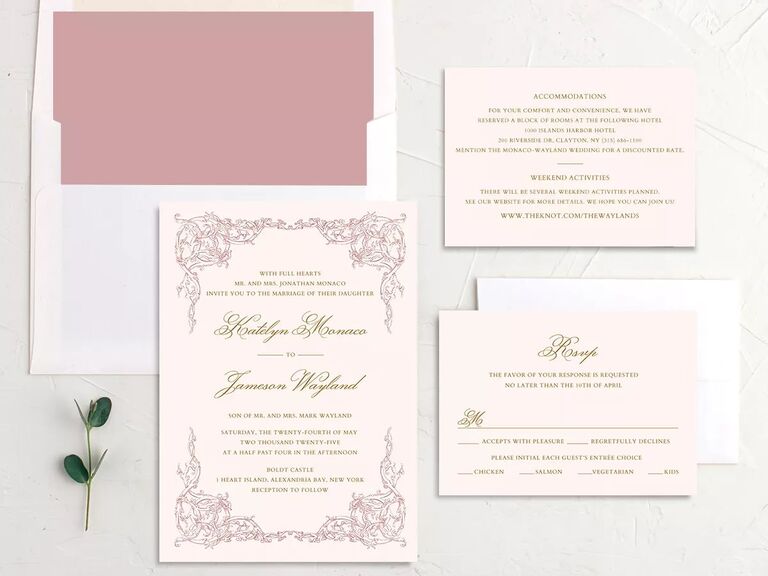 You'll wish this design came in blank stationery because its effortlessly romantic layout would be perfect for writing love letters. The blush colorway is especially enchanting—the Rococo details show up in a deeper pink hue that has just enough pop against the pastel background. Illustrated vines surround your names and event details, which are presented in swirling script and capitalized typeface. And those optional dusty rose envelope liners and stickers seal the deal. (And the "with full hearts" wording adds an extra dash of Cupid's magic.)
13. Robin Ott Pollen Wedding Invitations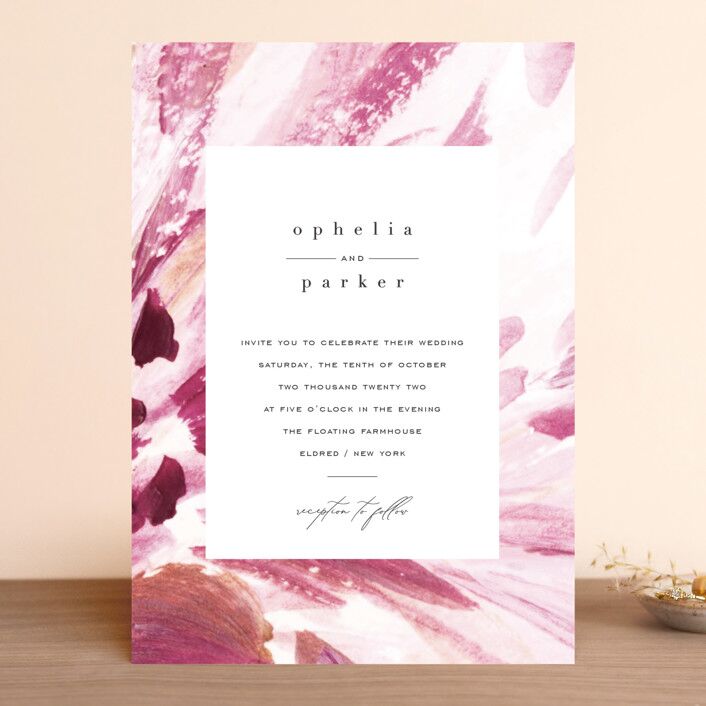 Granted, when you're shopping for Valentine's Day cards, you're bound to see a whole lot of pink and red hearts, XOXOs and S.W.A.K. sign offs on the envelopes. When it's for a Valentine's Day wedding, though, the emblems aren't as in-your-face, they're much more subtle—hinted at, rather. The vibrant brush strokes and bold abstract flower petals here are the perfect pick for your V-Day nuptials.
14. The Knot At Last Wedding Invitations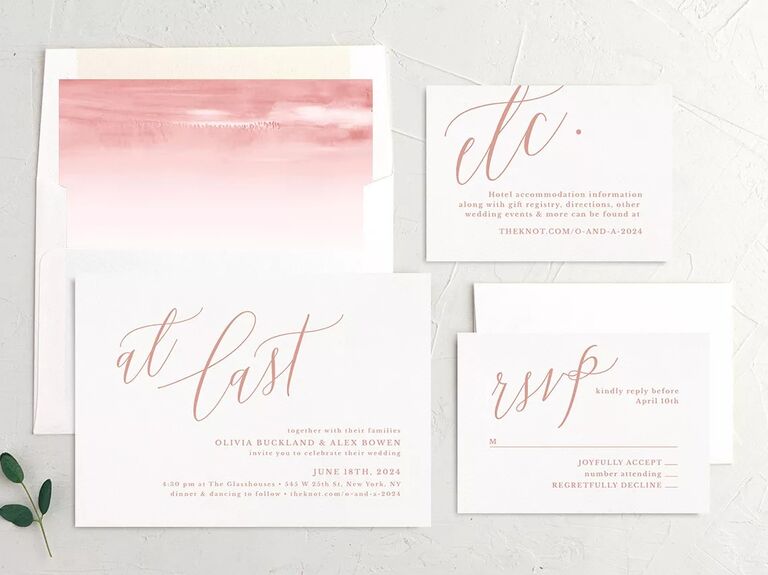 Love songs are a must at every wedding, but they're especially appropriate on a special occasion reserved for sweethearts like Valentine's Day. So, take a page out of Etta James' playbook and send word to your favorite people that you're getting married, at last. On this minimalist-romantic invite, the day's details are outlined in formal serif font on the front. And on the back, your initials are displayed against a cool-toned, neutral block of color. It's Valentine's Day ''lite'' and it hits just right.
15. The Knot Retro Stack Wedding Invitations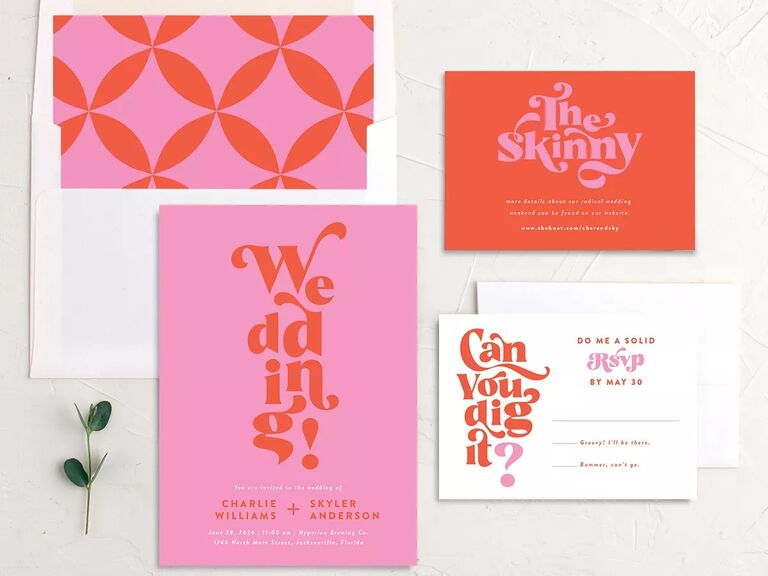 If you and your partner give off major Kelso and Jackie from "That '70s Show" vibes, then you'll probably think this psychedelic invitation is far out. It spotlights stacked typography, retro fonts and kaleidoscopic prints and patterns (go with pink and you'll have something totally V-day-worthy), and if you want to make it even groovier, opt for pearlescent paper for a little nod to a sparkling disco ball. Don't forget to add some '70s love songs to your wedding playlist—think Eric Clapton and Fleetwood Mac.
16. The Knot Vibrant Fun Wedding Invitations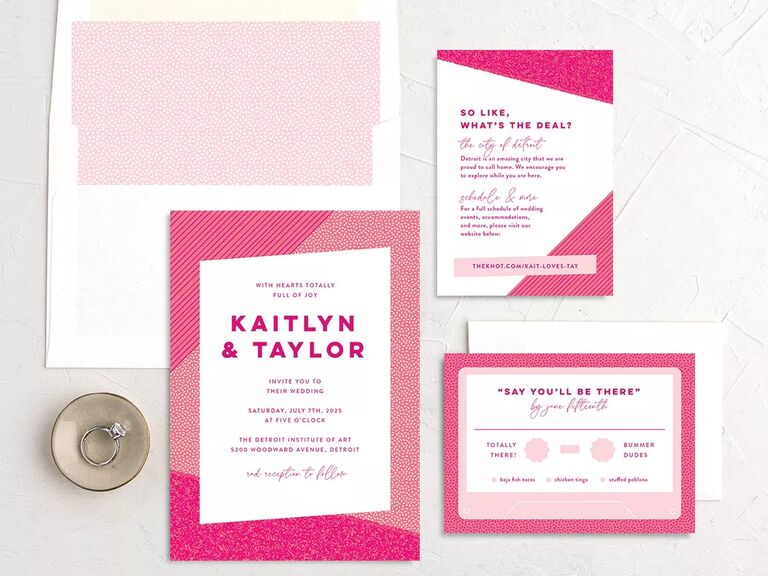 The playful dots, lines and sandpaper patterns that frame this invite remind us of the valentines of our elementary school days (you know the ones—folded in half and sealed with a shiny heart sticker). The pink, white and magenta color mashup radiates good vibes and feels all-inclusive and hopeful, too, with its ''with hearts totally full of joy'' intro. Send them out with the add-on stickers (which read, ''we're like totally in love'') and see the RSVP cards start pouring in. You guessed it, your guests-to-be are HERE FOR IT!
17. Owl and Toad Amor Wedding Invitations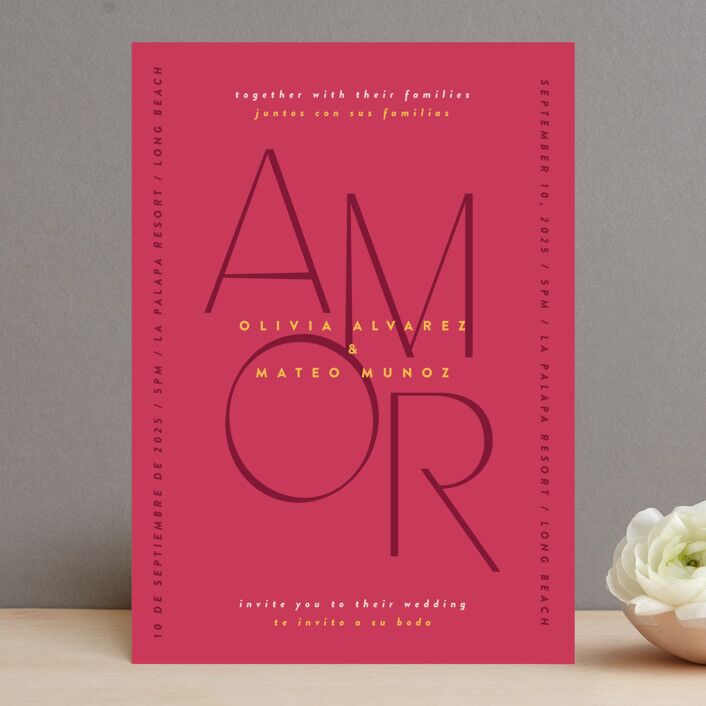 This minimalist bilingual invitation keeps love front and center, with the word "amor" serving as a chic background (and lovely reminder of the most important element of your wedding day). We love this option if you're having some Spanish-speaking guests at your affair, so they feel seen, supported and welcome. They're sure to admire the Caliente and Rosa color themes, too.
18. Lori Wemple Romantic Wedding Invitations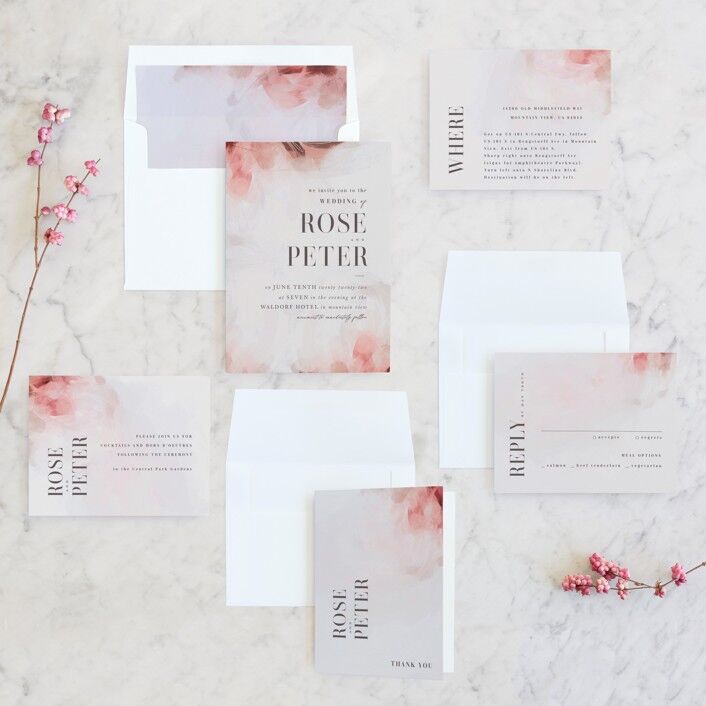 Watercolor motifs blurring blush, dusty rose and copper hues are perfect for a Valentine's Day party—you can even incorporate the tonality into your decor and florals on the wedding day. This sweet invite suite lets all of the noteworthy words about your wedding stand out over the pale shading, while a bold matte belly band cinches all of the cards together for a truly lovable look.
19. Sundae Weddings Pink Red Wedding Invitation Suite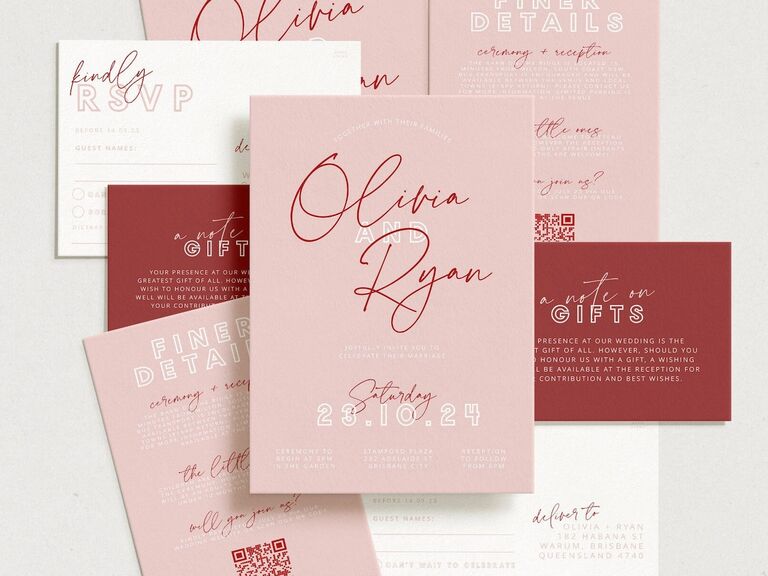 Pink and red can be soulmates, too, when they're not kitschy. And this Etsy printable understood the assignment. Included in your digital purchase are editable templates for your wedding invitation, details card, RSVP postcard and gift request card (if you'd like to tell your nearest and dearest that their presence is the only gift you need, or ask them to donate to a charity—as a way to make your hearts smile—instead).
20. Invitation Suite Floral Acrylic Wedding Invitations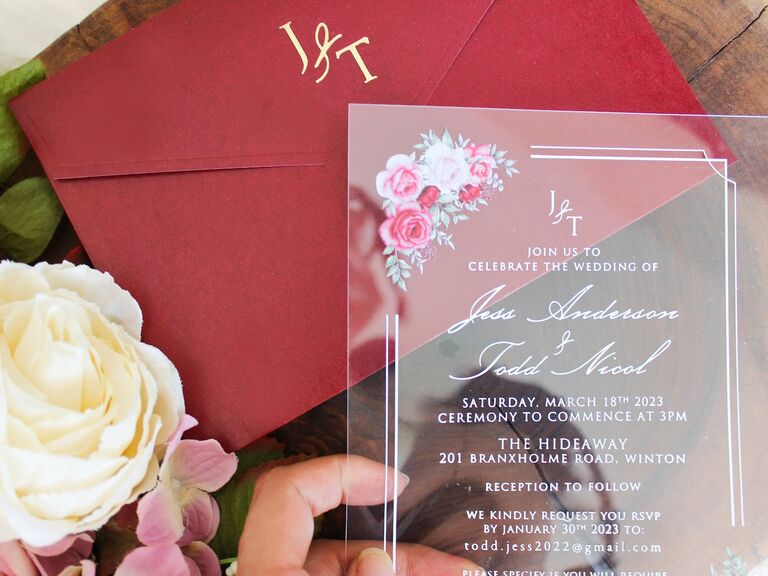 These invites toe the line between modern and classic, with a sleek acrylic base adorned with floral bouquets at its corners. It's the most lovely Valentine's Day card your guests could hope to receive. The burgundy envelope adds an extra-festive punch as well.